Californians know there is always a risk of an earthquake hitting when you least expect it. While this is an unlikely scenario, and even if one were to hit, it most likely wouldn't be THE ONE, that doesn't mean you shouldn't be prepared. Building an emergency earthquake kit will not only make your life easier in an emergency but also give you peace of mind knowing you can grab and go.
We'll break down everything you need to know about building an emergency earthquake kit and everything you might need within it to be well prepared.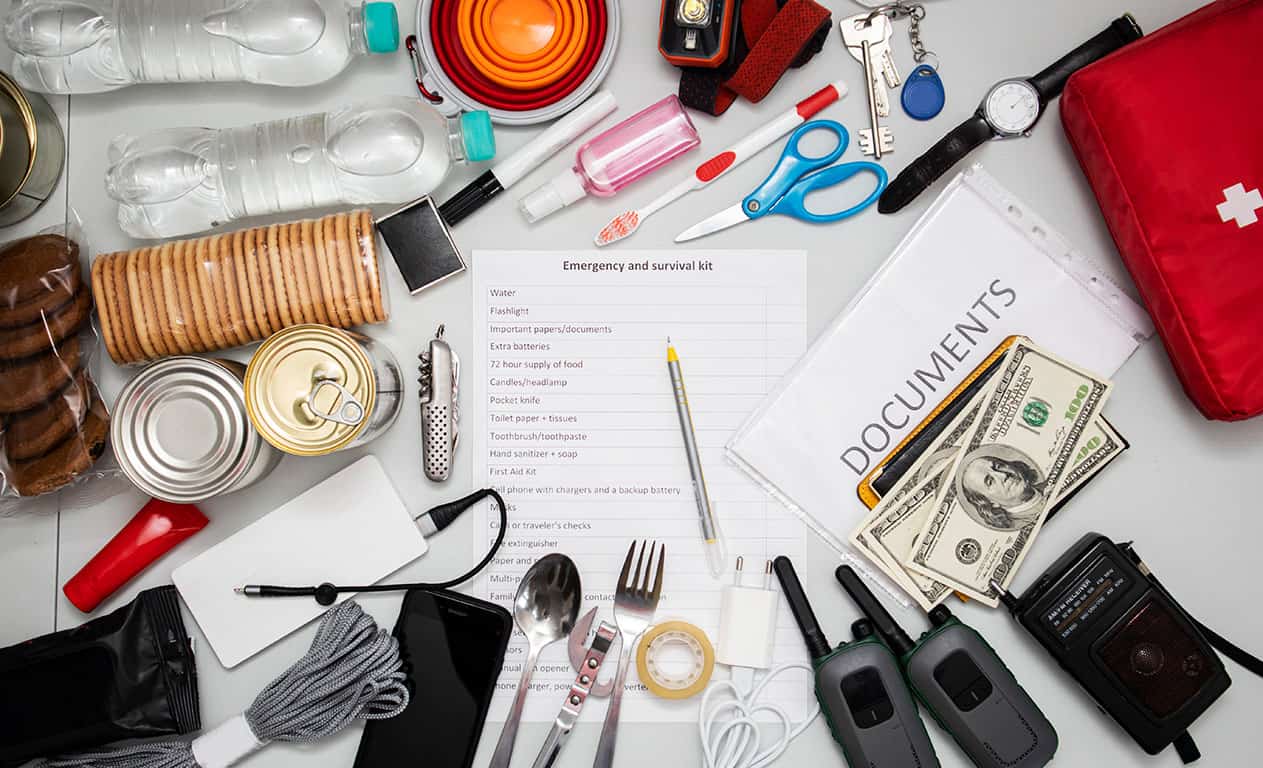 What you need to know at Earthquake Kits
General guidelines say that an emergency kit should have enough food, water, and gear for three days, per person in your household if you stay in your home. You want to store this home emergency kit where you can access it easily.
Pack your emergency earthquake kit in a box, backpack, or earthquake bag that you can reach without assistance.
Home Earthquake Kit Necessities
In 1989 a massive earthquake shook the Bay Area, leaving 12,000 residents displaced. Many houses were still intact but lacked water, electricity, and phone service for numerous days. To be prepared, you need these essential supplies at home.
Three days of water for each family member, around 1 gallon per person per day.
Three days of food that is nonperishable and a can opener
Three days of food and water for each pet in your household
Flashlights in every room, plus extra batteries
Charged power packs for cell phones
Prescription medications
Whistle
Copies of personal documents
Extra pair of glasses (if needed)
Cash
When prepping your emergency earthquake kit, you must refresh the water and food you store every six months.
What Food Should I Store for an Earthquake?
Picking the right food to store in your emergency earthquake kit is essential. You want to pick easy-to-open items and have a manual can opener handy. Experts note that choosing food that doesn't increase your thirst, we're looking at you potato chips, is imperative. These are a few ideas you can add to your kit.
Ready-to-eat canned meat, fruits, or veggies
Sweetened cereal
Peanut butter, jelly, crackers
Canned juice, milk, or soup
Granola bars, trail mix, dried fruit
Cookie, hard candy, instant coffee, tea
You might be wondering about the food in your fridge as well. Refrigerated foods are safe to eat if the power hasn't been off for more than four hours. Make sure to keep the doors closed as much as possible to stop the spoilage, and if you can, eat these foods first before diving into your kit.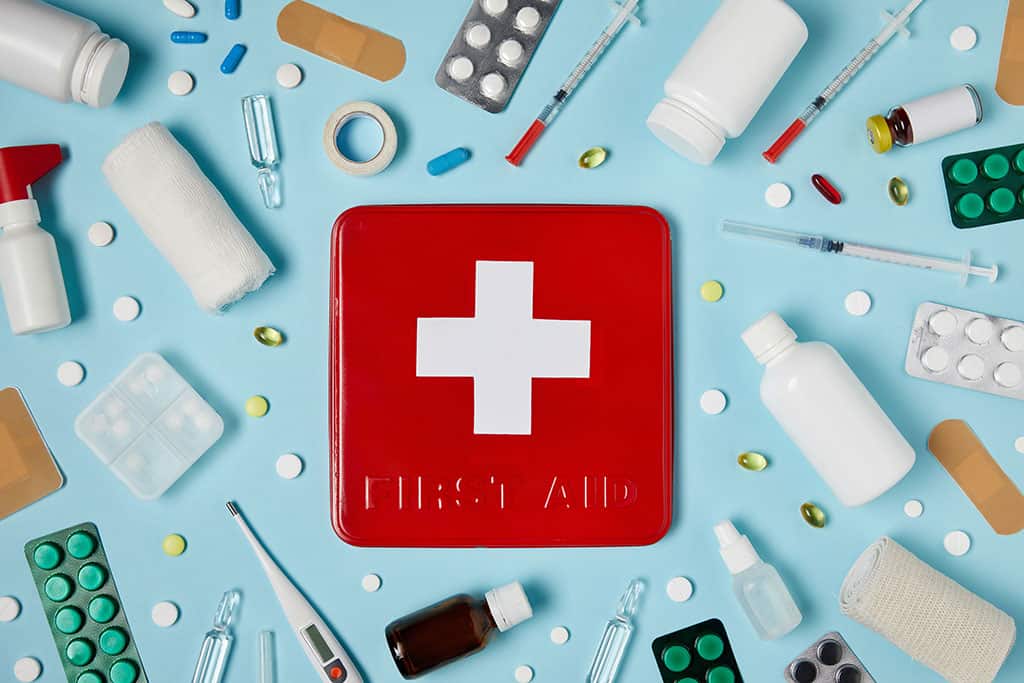 First Aid Kit Essentials
Your earthquake emergency kit should always be equipped with a first aid kit. This kit can help reduce the risk of worsening an injury during an earthquake. Your basic first aid kit should include the following items.
Adhesive bandages in all sizes
Tape roll
Gauze pad and a gauze roll
Butterfly closure bandages in all sizes
Scissors
Foil blanket
Gloves
Flashlight or glow stick
Instant cold pack
Hot pack, AKA body warmer
Antiseptic (Neosporin) cream
Aspirin or acetaminophen
Tweezers
Burn cream
Alcohol pad
Antiseptic towelettes
Finger splits or tongue depressors
Cotton swabs
Eyewash
A list of family members' medical history, medications, doctors, insurance companies, and contact persons.
This might seem like a lot to remember, but you can also buy kits with all these items.
Important Household Items You Might Need
Besides food and a first aid kit, there are some home items that you should have prepared for your earthquake emergency kit. These are items you probably already have in your house for emergencies, but it's always great as a refresher.
Emergency Earthquake Kit for your Car
California is a place that must be explored, so that means we could be in our car when one strikes. It's always a good idea to have an emergency earthquake kit in your vehicle as a precaution when you might need it the most. One important thing to remember is always to keep your car's gas tank half full if possible. These are other items to have in your car.
Water supply for three days
Nonperishable food for three days
Extra clothes and shoes
Toilet paper and trash bags
Emergency Earthquake Kit for Your Pets
Furry friends are just as important to take care of during an earthquake. Having an emergency earthquake kit ready for your pets can also give you peace of mind when one kit. Here are some important items you should keep on hand.
Extra leash, harness, and carrier
Food and water for at least ten days per animal
Cat litter and pan with scoop and trash bag
Bowls, treats, toys, and blankets
Any necessary medication and medical record
Current photos of your pet in case they get lost
It's always wise to ensure your pets are microchipped and have current ID tags. Having them up to date on vaccines is also a good idea in case they need to be boarded or are around a lot of animals during an emergency.
Emergency Earthquake Kit you Can Buy
We get it; you might not have the time to create your emergency earthquake kit. Fortunately, you can buy one online to be well prepared whenever you need it. Here are a few we recommend.
In this kit, you can choose the number of supplies you need between 1 to 6 people. It includes food, water, personal hygiene, tools, first aid, lights, and shelter items. All the items are stored in waterproof bags that easily fit in an included backpack.
This kit comes with various options, including the number of people you need to supply. It includes the essentials you need for three days during an emergency, with 33 items in the kit.
This kit comes in two backpacks with the essentials for three days. It includes food, water, a whistle, a knife, and more that you will need during an emergency.
Being prepared during an earthquake is always wise, especially since we never know when one might strike. The best part about this emergency earthquake kit is the items you need on hand are beneficial to any emergency you can have in your house. Stay safe.