Traveling with the whole family is exciting and fun, but it can also be a challenge when it comes to the bed situation. Unless you have unlimited cash to spend and can get a suite, there will never be enough bed space for everyone in your entire household, which is why you need a travel bed.
Personally, I'm a blanket hog and like my own space; thankfully, my husband runs hot and doesn't care. Now, if I throw my child into that mix, we have another whole situation.
Regardless of the age of your kids, sharing a bed probably isn't on the top of their list. While you can create beds in your hotel room with chairs, pillows, and couches, you can also bring a travel bed.
Adding a travel bed to your list will make your life easier and make your kids feel a little more special since they can have their own independent space.
We've broken down the best travel beds by age for all members of your family. Take a look, and snuggle in for a great night's sleep on your next trip.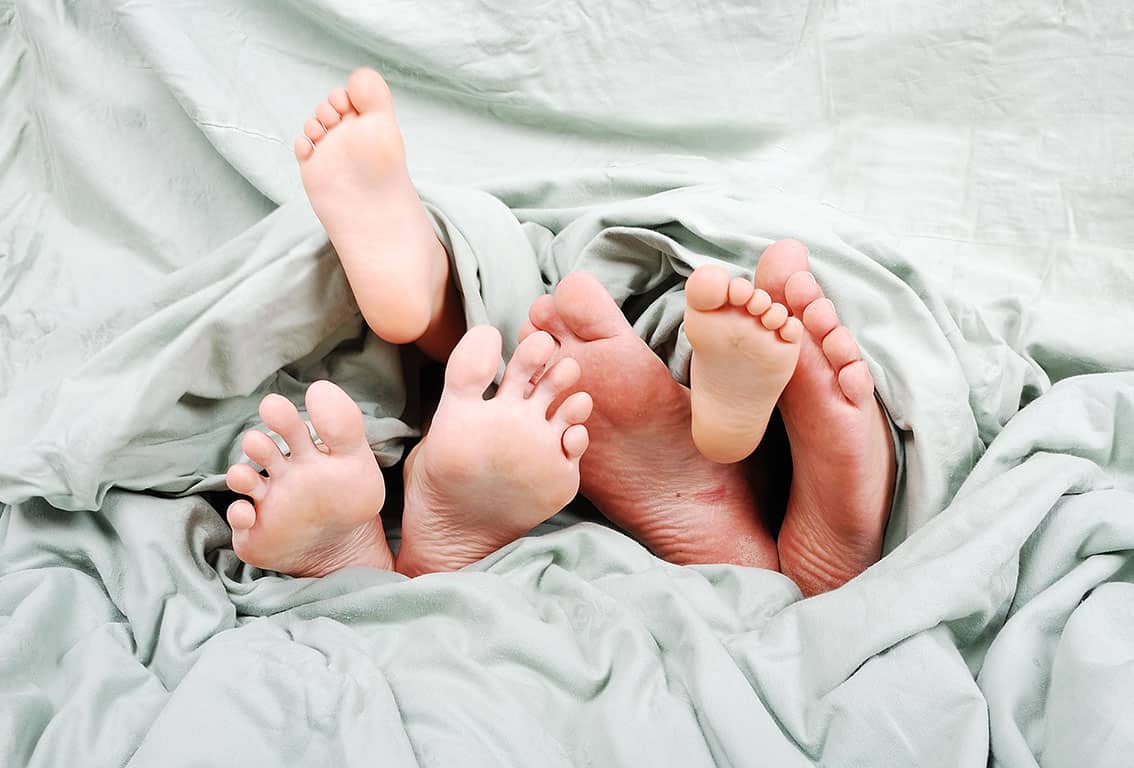 best Travel beds for babies
Beds for babies are important. You need to worry about numerous safety concerns when it comes to your infant, and a standard hotel bed won't do the trick. These travel beds for babies will help keep your baby safe while they sleep.
Lotus Travel Crib
We love the Lotus Travel Crib because it's lightweight and offers a backpack portability option. You can set the crib up in 15 seconds, and it fits on a plane as a carry-on. The side doors of the crib zip open, so you can also use it as a playpen when in the airport or hotel room.
The Lotus Travel Crib is approved for ages 0 to 3, including newborns and infants. While it is on the pricier side for a travel crib, it will help give you peace of mind if you travel often.
Dream on Me Travel Bassinet
The Dream on Me Travel Bassinet is highly rated for traveling parents. The bassinet is lightweight and easy to carry around when you're juggling a ton of items. The frame is sturdy, safe, and easy to clean.
It is recommended for newborns to babies weighing 30 pounds and 35 inches. It does take a minor assembly to get the bassinet together, but it comes at an affordable price, which makes the hassle worth it.
If you're popping on an airplane, this won't fit in the overhead bin but comes with a sturdy travel bag, making it easy to check.
Phil & Teds Travel Crib
The Phil & Teds Travel Crib is one of the lightest cribs you can buy. Weighing six pounds and rolling to the size of a yoga mat, you can't go wrong with this travel crib. There is a self-inflating mattress and fitted sheet that is included with the crib, plus it doesn't cost an arm and a leg.
The crib is perfect for newborns to kids 2 or 3 years of age if they're 35 inches or less. The crib can also fit in the overhead bin of an airplane and is simple to carry around since it's small and lightweight.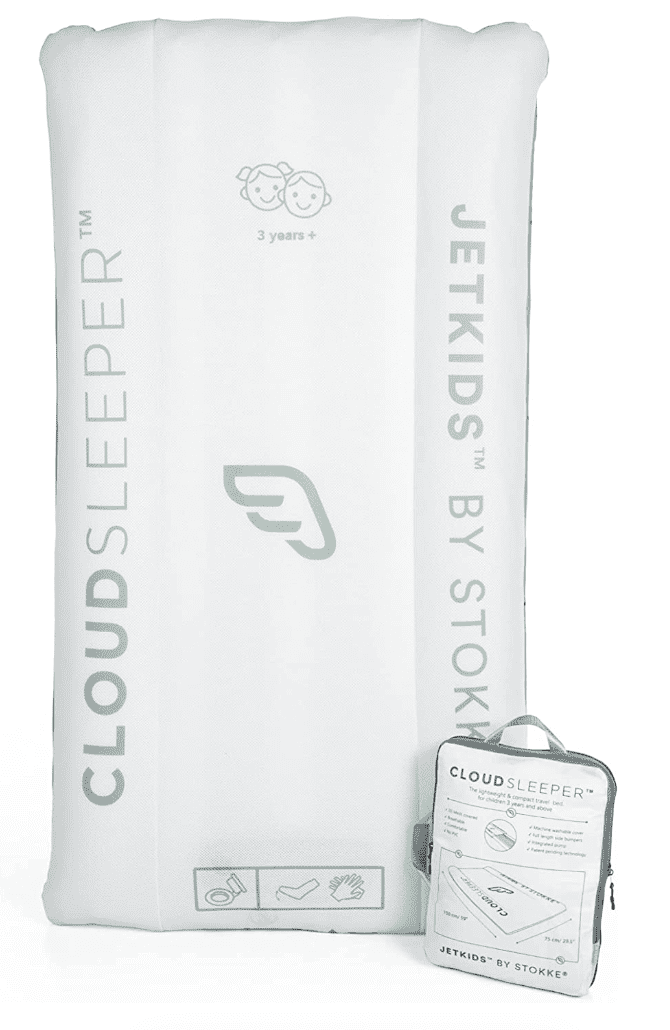 Travel beds for toddlers
With toddlers, there's a variety of bed options for traveling. You can choose between inflatable, folding cots, portable bed rails, and tents. Selecting a travel toddler bed isn't wrong, but these are our favorites.
Cloudsleeper Jetkids by Stoke
This toddler bed easily inflates in less than a minute and has full-length bumpers on three sides to help keep your little one secure when sleeping. There are fold lines on the bed to show you how to properly fold the bed for storage and a double-layer zipper bag that can easily fit in your bag.
The weight limit is 150 pounds, so it can easily go past toddler age. The cover is removable and washable, plus it can help regulate your toddler's temperature when sleeping.
Enerplex Kids Inflatable Travel Bed
The Enerplex Kids Inflatable Travel Bed is equipped with 13-inch bumpers on three sides and is made from a puncture-resistant material for durability. It comes with an electric pump to inflate, and that pump has a car adaptor, making it great for those who love camping.
The weight capacity is 150 pounds, so it's also suitable for older kids.
Regalo My Cot Portable Toddler Bed
If you're looking for a non-inflatable option, this cot is perfect. It has a durable frame that unfolds and is sturdy to support your toddler. It comes nine inches off the floor and is made from washable nylon material.
A fitted sheet can easily be placed on the cot, offering a quick and easy set-up. The best part is it's super affordable and you only need one adult to put it together, great if you're doing a solo trip with your little one. 
MORE PORTABLE TODDLER BEDS FOR KIDS
Best Travel beds for Kids
When you're looking for a portable bed for your kids, you might not need bumpers or height restrictions, but you still need something comfortable and large. These are a few great options for your kids.
Intex Dura-Beam Standard Series Deluxe Pillow Rest Raised Airbed
This larger portable travel bed is great for families because it's 16.9 inches off the floor and has a built-in pump that inflates and deflates the mattress. The mattress is a twin size and comes with a duffle bag for storage or travel needs. It has a built-in pillow rest, so you won't have to pack an extra pillow.
It can support up to 300 pounds as well. If you're running late and only have time to grab this mattress, you'll be all set. 
Regalo Deluxe Travel Bed
This travel cot is super comfortable for kids to sleep on and perfect for traveling. It comes with a washable fitted sheet and a travel bag for easy transportation, and a removable pillow is included. The cot weighs four pounds and can be set up in seconds.
We  love that you can throw it over your shoulder when running to board a plane or easily store it without the fear of weighing anything down. 
Intex Cozy Kids Inflatable Toddler Bed
The Intext Cozy Kids Inflatable Toddler Bed is a fan favorite and has a plush surface and ibeam construction for stability. The mattress is water-resistant and easy to carry around when you're on the go. It works for kids up to the age of 10, but it does not include a pump, so you will need to purchase that on the side.
The price is super affordable, so it's not a big deal that a pump doesn't come with it in our opinion. 
Travel beds for tweens
We know that tweens can create a lot of drama, so any way to minimize that is what we all strive for. Allowing your tween to have their own private space will give you a more comfortable vacation and a happier family.
Regalo Extra Long My Cot Pal
This travel cot is extra long, perfect for the growing teenager. No setup is required, all you need to do is unfold, and you're set for sleeping. It is made from a lightweight frame and can hold up to 80 pounds.
The bed is made of canvas material and comes with a fitted sheet and removable pillow. All you need to do is hand it to your tween and let them set it up for themselves. 
Sleeplux Durable Inflatable Air Mattress
You can't go wrong with a good air mattress, and the Sleeplix Durable Inflatable Air Mattress is a great choice. It easily inflates with a button and comes with an electric pump. There is a USB port for charging your phone, perfect for those teenagers, and a repair kit in emergencies.
Depending on how big you need it, the size options are twin, queen, and king. It also comes with a travel bag if you're constantly on the go.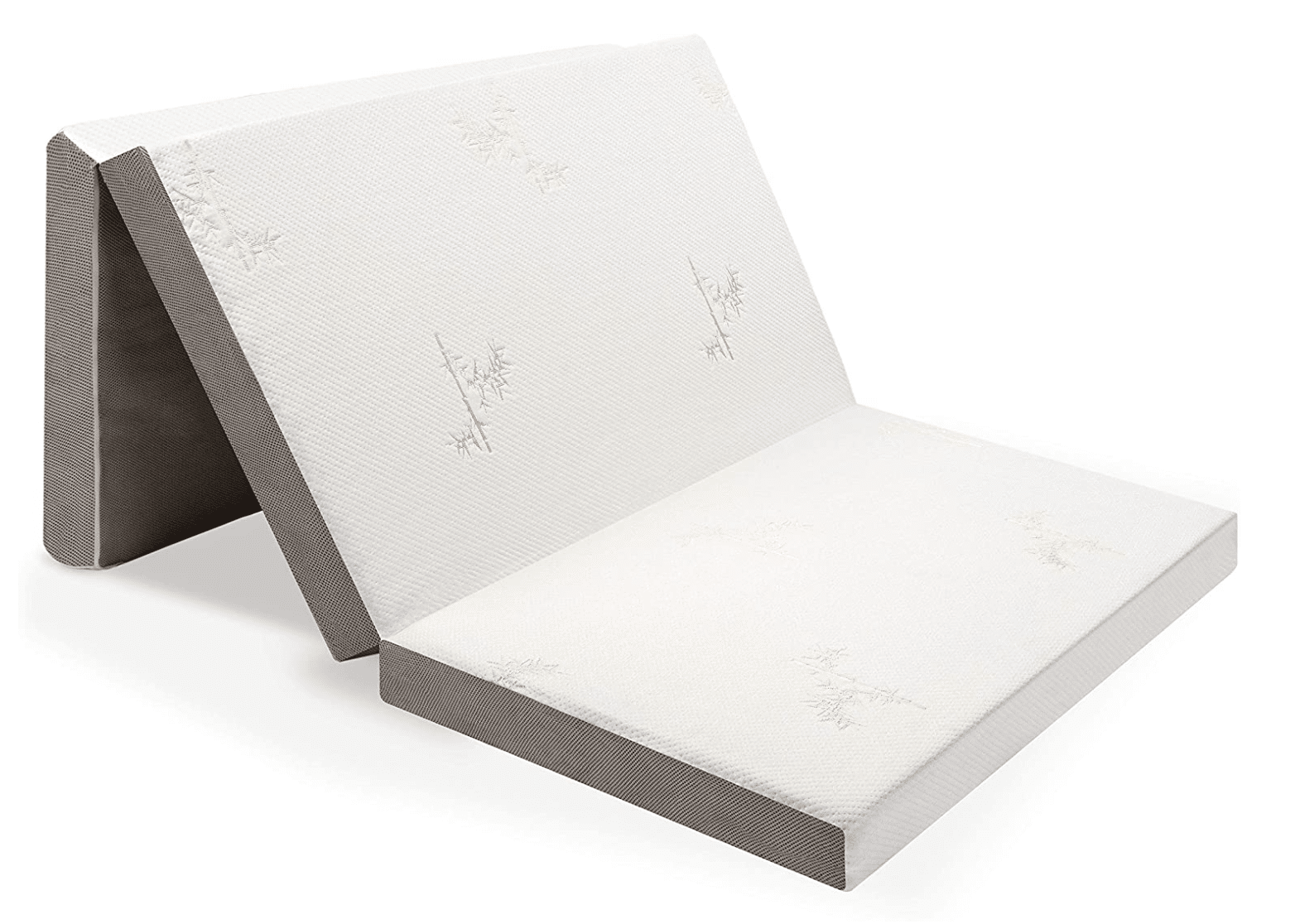 Millard Foam Tri-Fold Mattress
The Millard Foam Tri-Fold Mattress is made with CertiPUR-US foam that offers a high density, so it doesn't lose shape. The foam mattress is four inches tall, ensuring great sleep no matter where you are. It easily folds up for travel and storage but is wide enough that even adults can comfortably sleep on it.
It also comes in a variety of sizes running from single to queen.We love that you can throw it in the car and use it for a hotel room or when you're out camping. It's even great for a beach trip when you're not sleeping. 
Travel beds for Adults
As adults, we sacrifice a lot for our families, but not for comfort or sleep. If you need a great travel bed that can fit you, your partner, or your adult's kids, these are what we recommend.
Serta Raised Air Mattress with Never Flat Pump
This queen-size mattress is lightweight and designed to give you extra support. It has a built-on dual air pump system that not only inflates or deflates the mattress but also monitors and silently maintains your mattress's air pressure.
There are three firmness settings, and it is built to last. While it is on the expensive side, if you travel often, this is an excellent mattress to have and let's be real, our backs probably appreciate the expensive one.
Beautyrest Sensa Lux Air Mattress
Built with a coil-in-coil structure to provide ample support and p[ressure relief, this is a mattress worth investing in when traveling. It is strong and durable, with a top made from thick, puncture-resistant fabric. The pump can inflate and delegate the bed in minutes, promoting airflow to keep everyone cool as they sleep.
It can withstand 750 pounds and automatically adjusts the air pressure when asleep. The cooling feature is all you need to show us to get our full support. 
Intex Duar-Beam Standard Pillow Rest
For those on a budget, look no further. The Intex Dura-Beam Standard Pillow Rest is an excellent price for a queen-size mattress. It has a velvet sleep surface with an inner construction for stability and support. The built-in pump makes it easy to inflate the bed and comes with a pillow. It will quickly inflate and deflate when you need it to as well.
Don't be caught off guard when traveling and rushing to figure out sleeping arrangements. These portable travel beds are all reasonably priced and will make everyone's life a lot simpler if you bring them along.