The Ring of Kerry drive is one of the most popular things to do in Ireland with kids. Everyone wants to see the famous Kerry beaches, cliffs and the Skellig Islands featured in Star Wars: The Last Jedi. But many people don't realize that the drive is long if you don't plan your time accordingly—there is a lot to do in what seems like a small piece of land.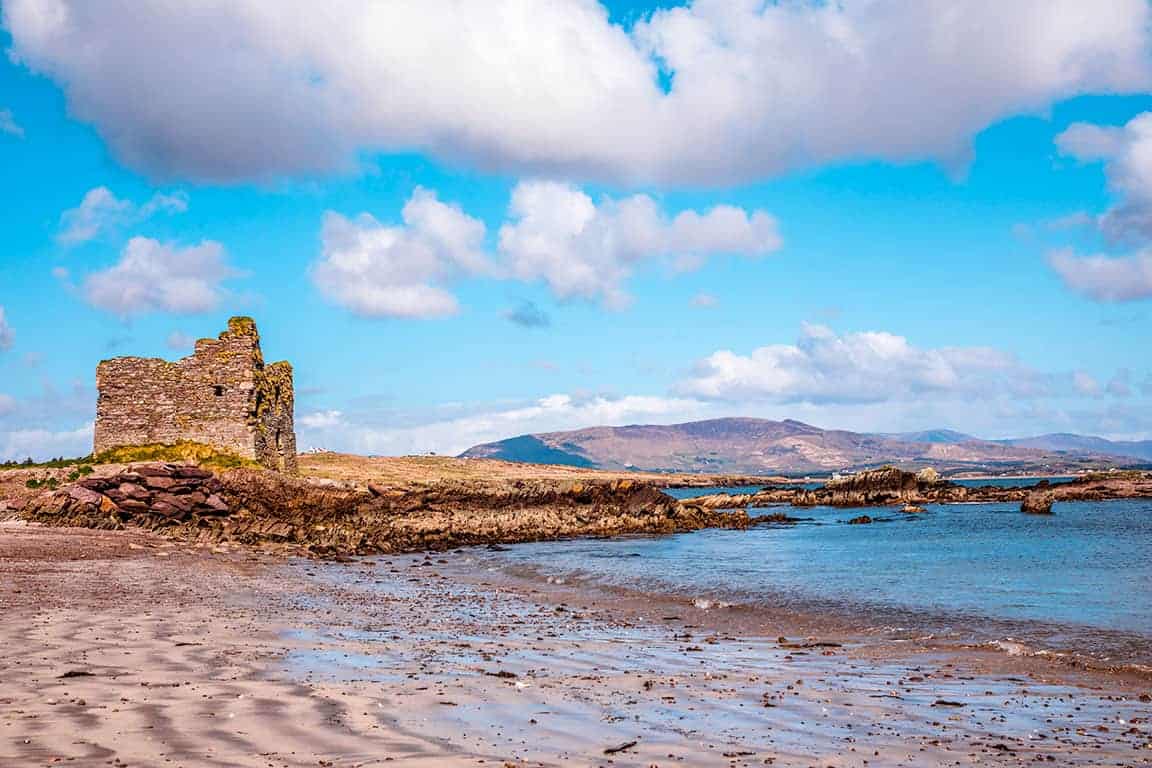 What is the Ring of Kerry?
The Ring of Kerry is a loop road that circles its way around the Iveragh Peninsula. Most visitors set up camp in Killarney and make a day trip out of the driving route. It's also possible to town hop, staying in Killarney one night and Kenmore a second night to break up the drive.
The Ring of Kerry (not to be confused with its sister to the northwest, the Dingle Peninsula) is part of the Wild Atlantic Way, and just a small part of the larger route from County Cork to County Donegal. We highly recommend you take two weeks to do the entire route, but if your time is limited, the Ring of Kerry is a great place to get some of the best scenery, historic sights and cultural experiences in southern Ireland.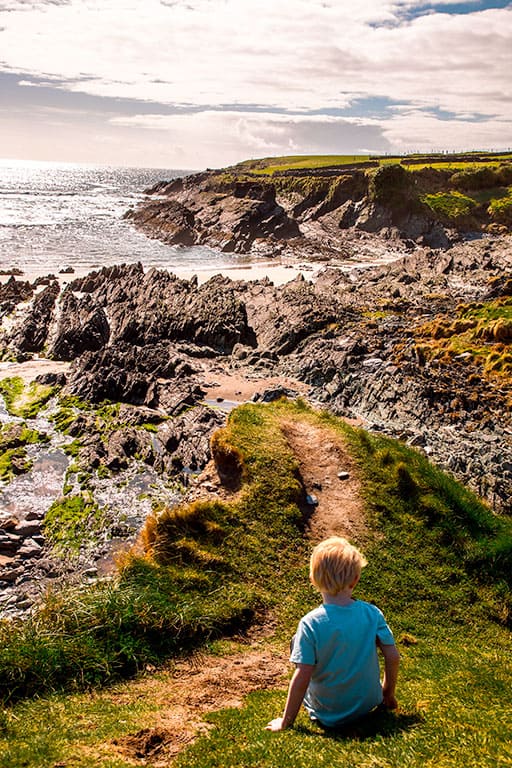 Ring of Kerry Route Planner
There are two ways you can approach your Ring of Kerry drive. While the tourist buses go counterclockwise, heading north out of Killarney, we like to go south out of Killarney towards Muckross Abbey. This avoids bus traffic, but also means you won't have time for some stops toward the end of the drive. However, you will see everything that most people don't have time to see in the morning, like Torc Waterfall.
No matter how you plan your route around the Ring of Kerry, make sure you pack snacks, water, anti-nausea medication and entertainment for the kids. There will be stretches of nothing but gorgeous scenery—no snack shops or toilets.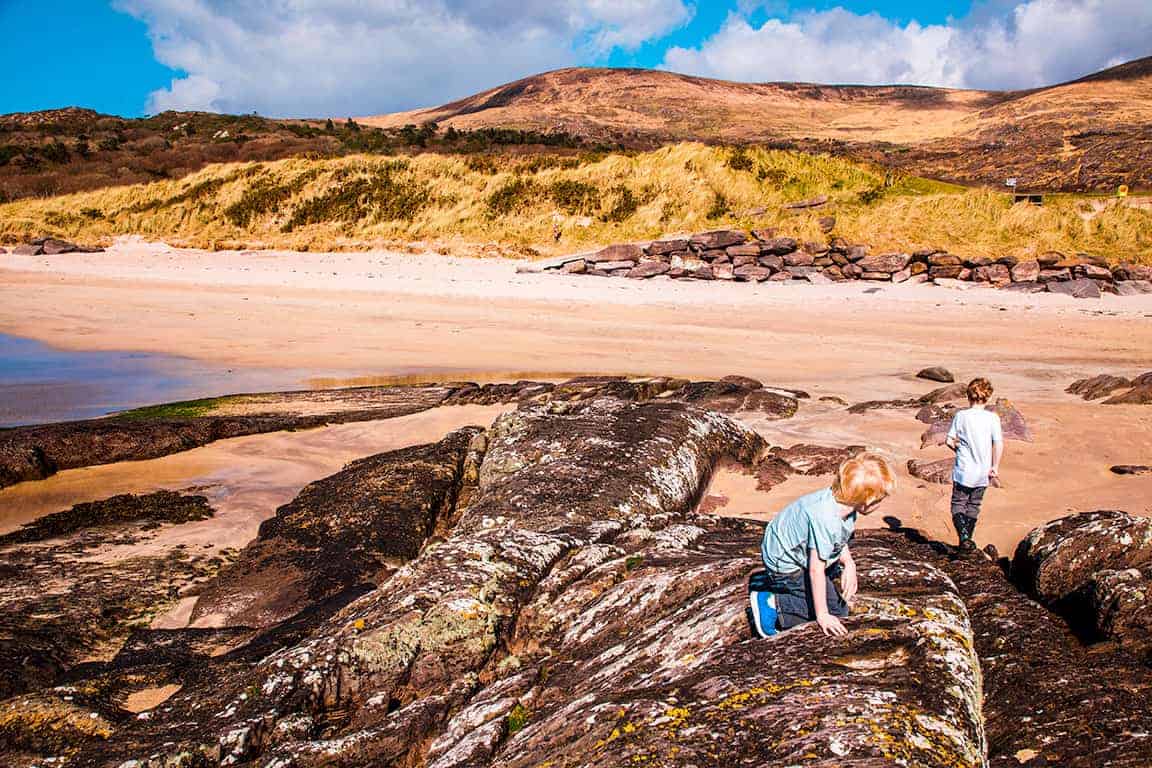 Clockwise around the Ring of Kerry Route
Most people drive counterclockwise around the Ring of Kerry. This is also the route the tour buses travel. In some ways, it's the best route to take, especially during the high season so that you don't have to pass the big buses on the opposite side of the road. However, it's possible to get stuck behind those same buses, so clockwise might be the better choice depending on your priorities.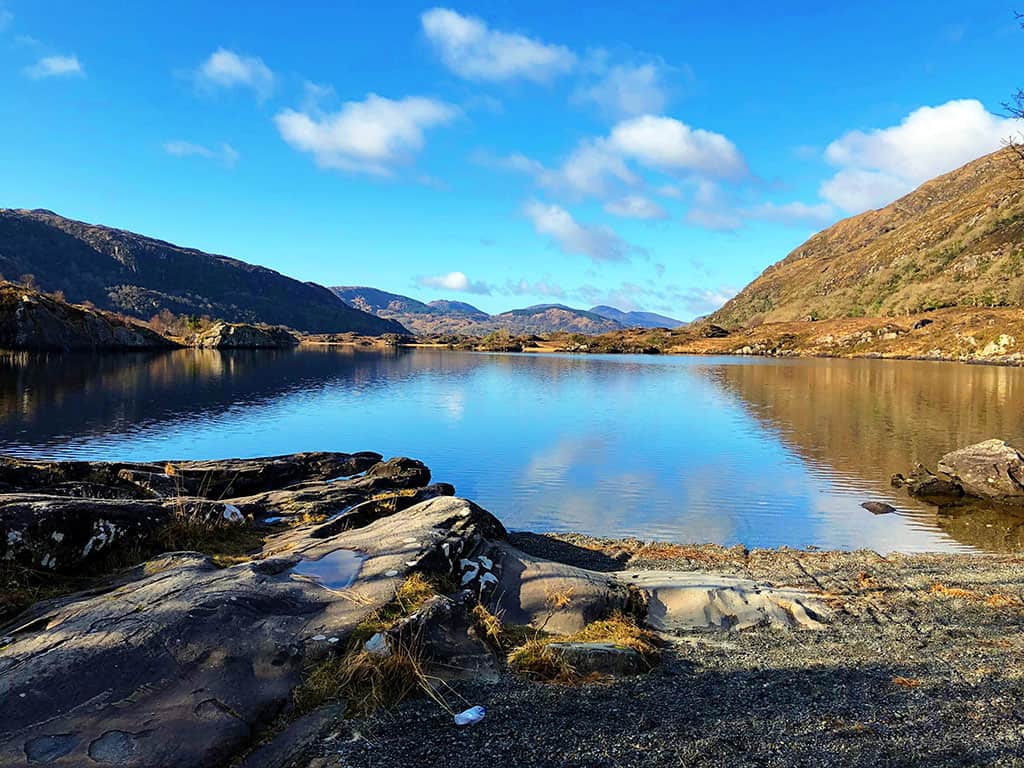 Counterclockwise Ring of Kerry Route with Kids
The drive from Killarney to Kenmore has some narrow roads, which can be harrowing if you have a tour bus coming at you. Leave early enough in the morning and you shouldn't have a problem. Hit all of the major sights on this side of the ring before the buses get to them and they become overcrowded.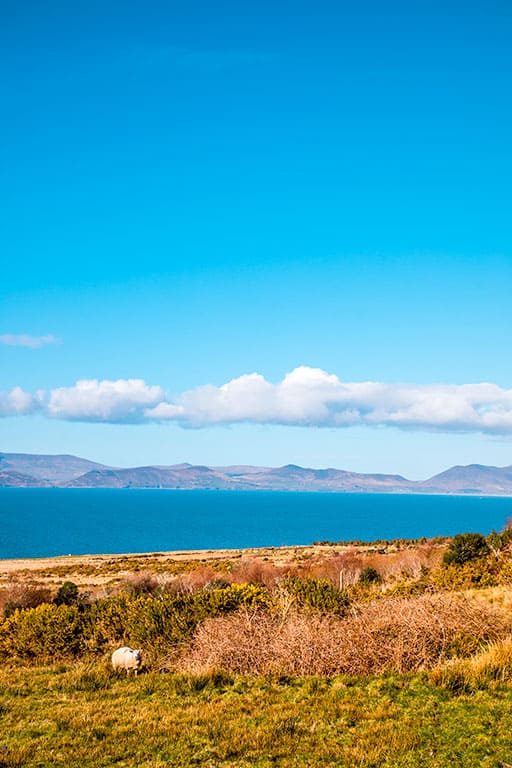 How long does the Ring of Kerry drive take?
The Ring of Kerry is 111 miles (or 179km) and can take you 3.5 hours if you drive nonstop. But what's the fun in that? Plan on spending a full day driving around the Ring of Kerry. You will make multiple stops as you go, so don't get too comfy in the car either.
Get up early, so you have plenty of time to drive before it gets dark. If you aren't as comfortable driving on the left, it's always better to be back to your hotel before it gets too dark on the roads.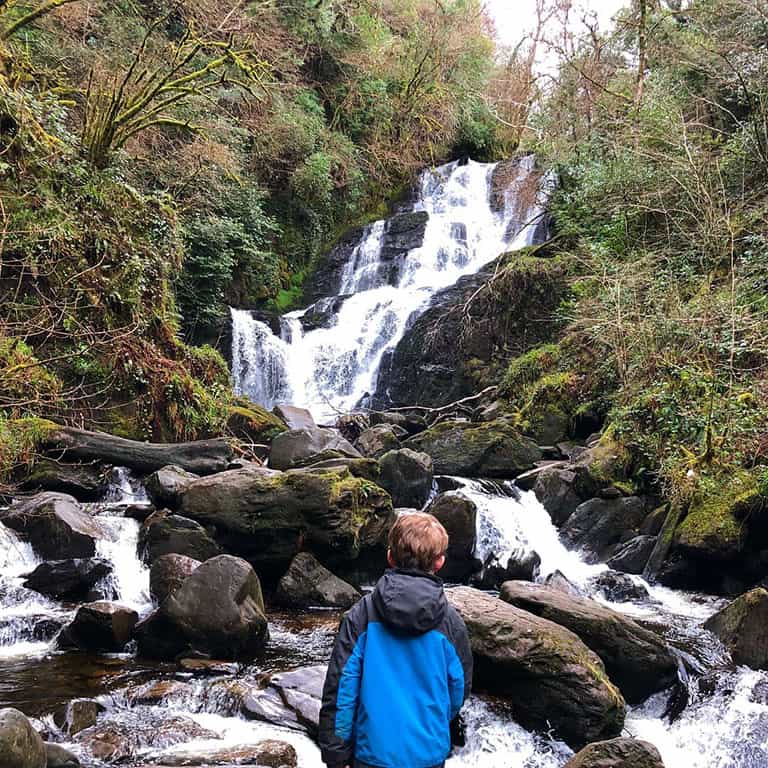 This post contains affiliate links
What to see on the Ring of Kerry
It is very easy to spend most of your time on the southern side of the Ring of Kerry. Many of the best sights are there, which is why I recommend you travel counterclockwise so you can be sure to see the highlights before dark.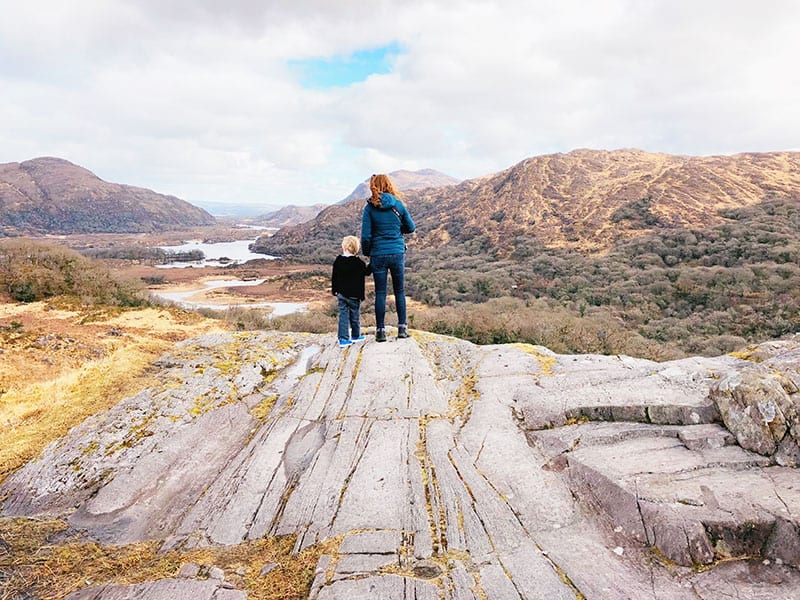 Ring of Kerry or Killarney National Park?
The good news is, you don't have to pick. Killarney National Park is on the Ring of Kerry. It is large and can fill up an entire day if you love to hike and explore. If you have two days, you should dedicate one day to driving down from Killarney to Kenmore so you can get the most of out the park.
If you only have one day to see all of the Iveragh Peninsula and Skellig Ring, see as much as you can in Killarney National Park, as fast as you can. Keep in mind though that you are missing out on a lot if you sprint through County Kerry in this way.
Major stops in the park include:
Ross Castle
Muckross Abbey
Muckross House and Gardens
Torc Waterfall
Old Weir Bridge
Snack stops, outlooks and hiking areas:
Sneem
Stop in this brightly colored town at least for a few photos. The haberdashery shop sells massive reusable plastic bags that are perfect for hauling school supplies and beach gear, or even for cereal. They also sell easy-to-pack kites and can reupholster your favorite chair (if you happened to pack it with you).
The town is relatively quiet on weekday mornings, but you can still pick up a cup of coffee as you continue your drive around the Ring of Kerry.
Staigue Fort
West of Sneem you will find Staigue or Staig, one of the largest stone ringfort ruins left on the Iveragh peninsula. It is thought to have belonged to a local lord during the Celtic period and acted as a tribal center. You can access the stone fort throughout the day and there is no entry fee. Make sure you take in the views of Kenmare Bay to the south, especially on a clear day.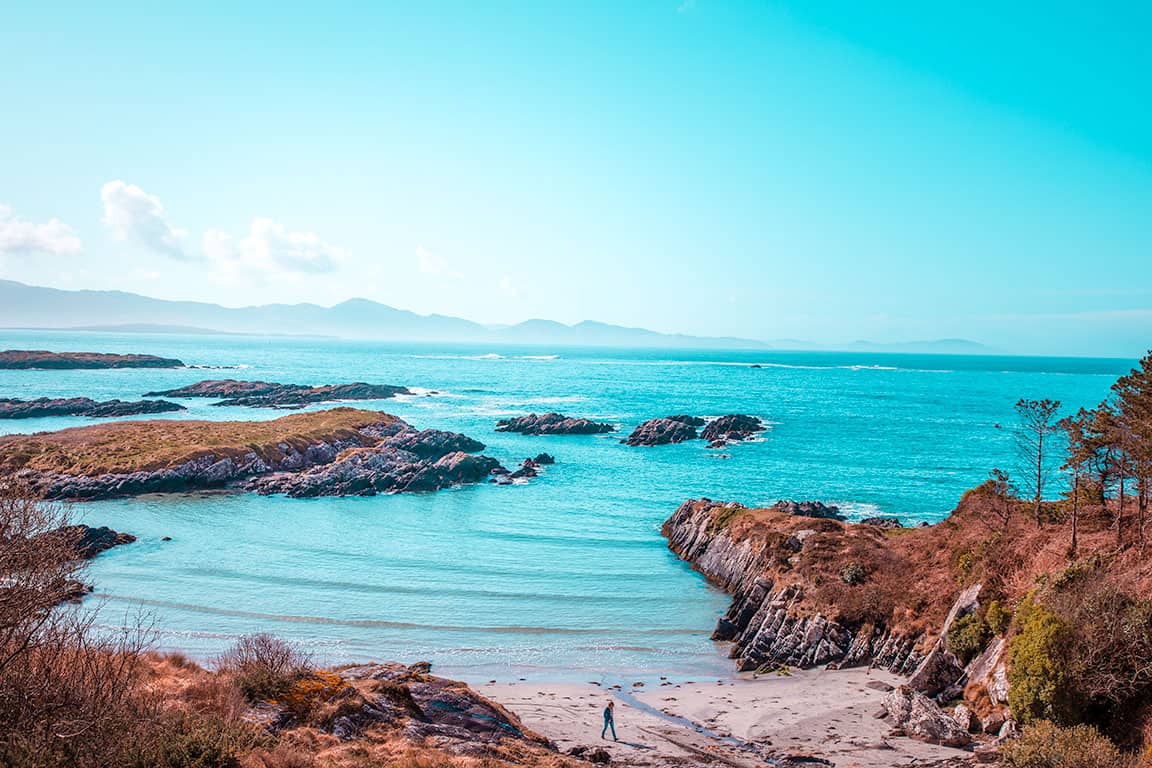 White Strand
At this point in the trip, your kids might be craving a beach stop. Put on your wellies (rainboots) and go for a walk in the white sands of White Strand beach, just three miles west of Cahersiveen Town. On a clear day you may be able to see Valentia Island and Begnis Island. Little climbers will love all of the rocks they can scramble up and around as they work out those wiggles they built up during the car ride.
This is when an extra change of clothes, a towel and a first aid kit will come in handy. You never know when someone will scrape a knee, fall in a puddle or decide that jumping into the ocean is a really good idea. Yes, this happened to us… in March.
Derrynane House and Gardens
While the house can be toured for a nominal fee, garden lovers are the ones who will want to make a stop at the historic home of Daniel O'Connell and his descendants. The old paths are maintained and easy to wander when you need a bit of tranquility during your drive. It is much easier for children to handle the gardens than the house, but if you do want to tour inside you can do that quickly with kids.
Due to the mild nature of the winters, frost-sensitive trees and shrubs are able to thrive in the gardens, as well as some South American plants not often found in Ireland. Wander towards the old Summer House where Daniel O'Connell kept his study and enjoy the 18th– and 19th-century garden design.
Dogs are welcome, but must be kept on a leash. A teahouse is on the grounds for snacks if you get peckish.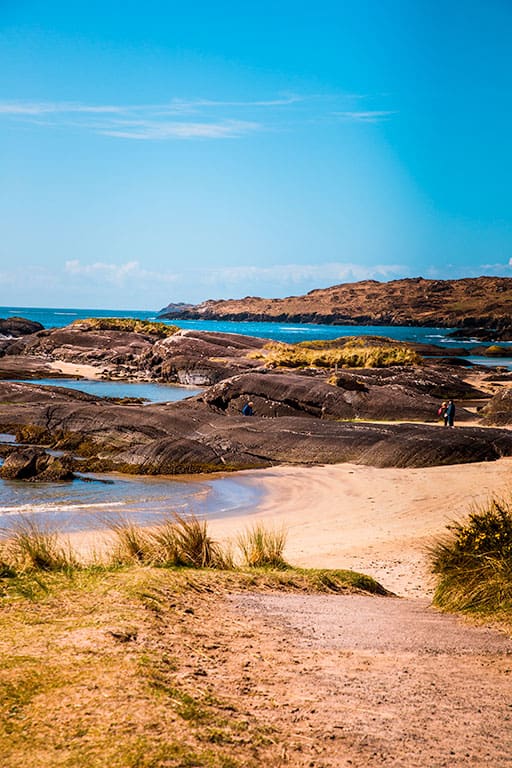 Derrynane National Historic Park
Derrynane House and Gardens is located within Derrynane National Historic Park. The larger park includes a sandy shoreline perfect for strolling, with huge rocks jutting into the water that kids will love to climb. Swimming is allowed, but stay where the lifeguard is stationed, as a strong current can be found in some sections of the beach.
Marshes and lagoons east of the house are also part of the park. You will find many locals there each day taking a morning stroll or afternoon hike with their dogs. It's a great place to let the kids run wild while you catch your breath or to get a bit of sun on a summer's afternoon.
Ballinskelling
Stop at the beach to play—bring suits if it's warm and rain boots if not because your kids will be walking through that water. Hang out at the old ruins and abbey in Ballinskelling Bay. You can buy ice cream at the café in the parking lot; there is also a decent bathroom for customers and a yard with toys for kids to play with while parents enjoy lunch.
This is a great alternative for those who are not able to do the full Skellig experience due to physical limitations, age or weather.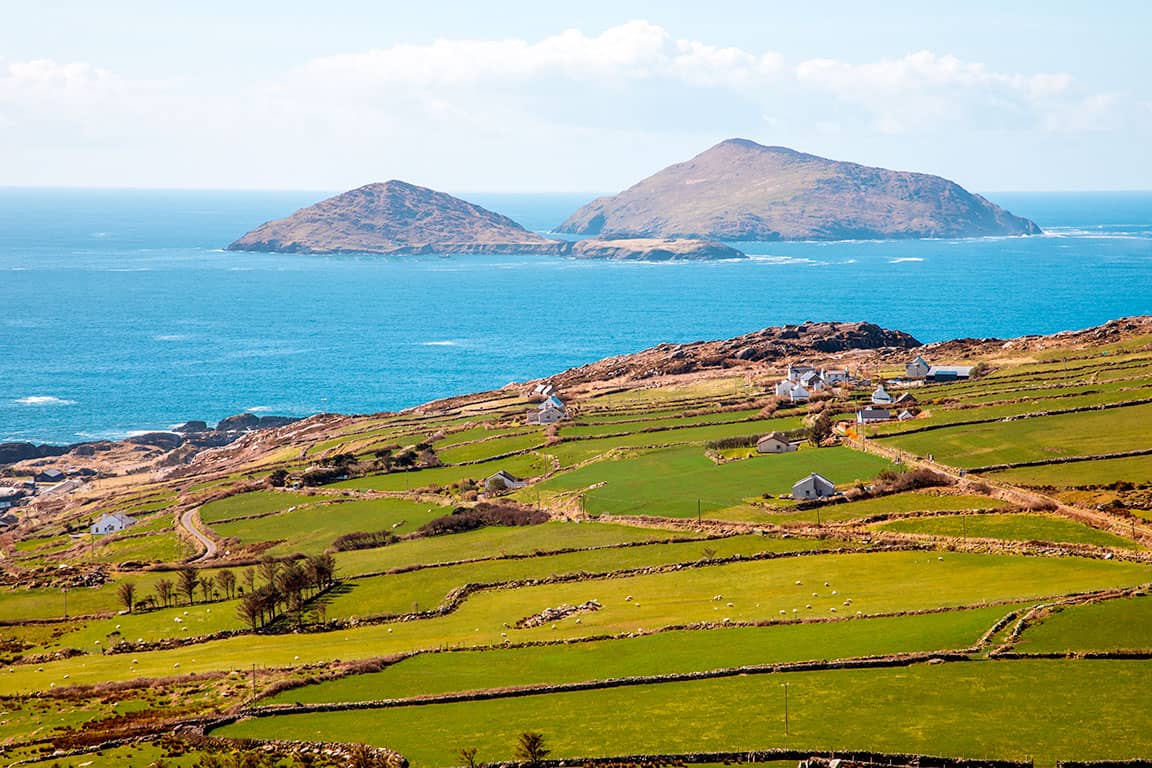 Little Skellig and Skellig Michael Islands
Just before and just after Skellig Chocolates you can get a great view of Little Skellig and Skellig Michael Islands on a clear day. You will have to pull out on the side of the road to get photos, but there are plenty of turnouts.
Kerry Bog
It's a bit touristy, but Kerry Bog Village gives you a glimpse into life in Ireland in the late 19th century. Thatched cottages are furnished with antiques and figurines. Rural farm equipment, including turf cutters, is also on display. If you want a perspective on farm life in Ireland during the great famine and beyond, Kerry Bog is the place to visit.
Dinner on the Ring of Kerry
If you are traveling counterclockwise when driving the Ring of Kerry, stop for dinner in Cahersiveen, Rossbeigh or Killorglin if you don't want to rush back to Killarney for dinner. If you are going clockwise, make reservations at a restaurant in Kenmore.
Don't forget your travel insurance!
We are big fans of the Allianz Travel household plans. Not only do they save us money as a family of four, but they cover us on multiple trips no matter who is traveling. As a mom who travels a lot more than the rest of my family, this was the economical way to go.
You might only need flight insurance or a one-trip plan. However, if you take more than two trips a year, even domestically, you will want to grab a multi-trip plan. It is much cheaper than adding flight protection to every plane ticket you book.
We've been Allianz customers for five years, and renew every Christmas. Because you just never know when accidents or delays will happen on the road.
Get the BEST POLICY for your family now.
Looking for more? Search for a great deal on Booking.com!
Need flights to Shannon or Dublin, Ireland?
We love Skyscanner because it shows us the best deals across multiple airlines and other sites. It's like a one-stop shop for the best airfare. You can also sign up for Dollar Flight Club's Premium membership (only $40/year) for email alerts on mistake fares, airfare drops and crazy deals to cities across the world.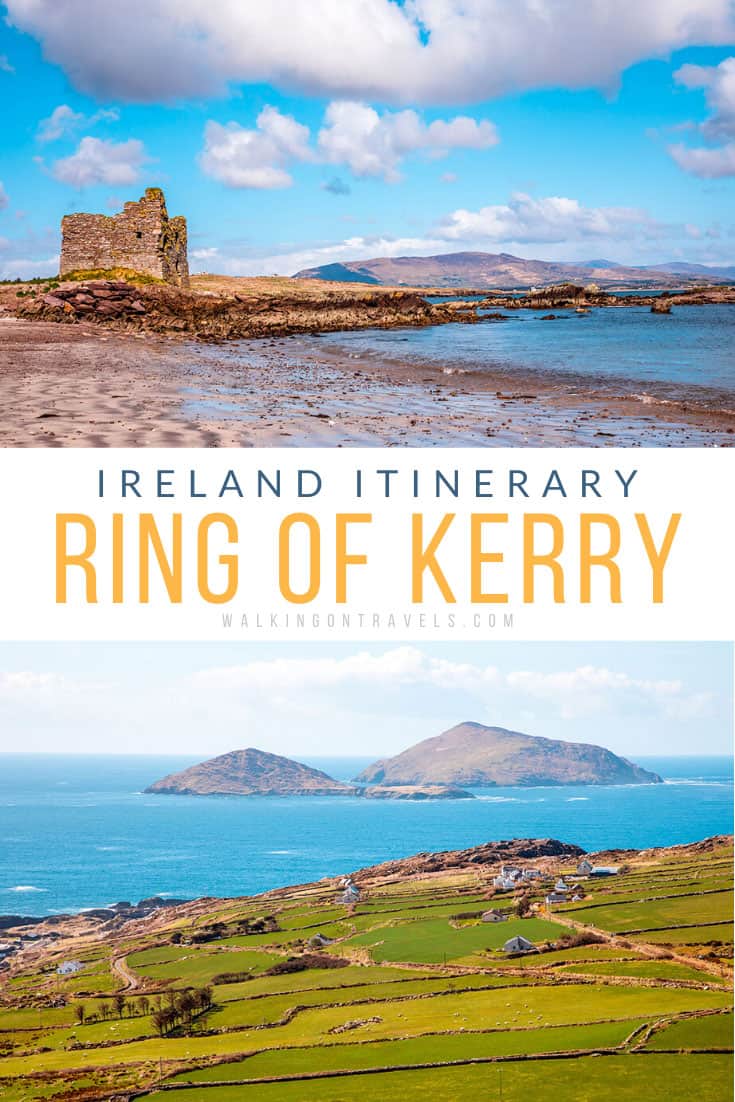 This post is part of a paid partnership with Allianz Travel. We are longtime customers and have partnered with Allianz to share the importance of travel insurance on every trip you take with your kids. As always, my opinions are my own. When they aren't, you will be the first to know.