The village of Adare wasn't always a stop on an Irish road trip. It's only because of its strategic location between Limerick city and Killarney National Park that this cute town has grown into a popular tourist destination.
Its picturesque mediaeval buildings and thatch roof cottages are reason enough to make a stop here, but there are plenty of things to do in Adare too.
Named áth dara in Gaelic which means 'ford of the oak', Adare is known for being Ireland's prettiest village (though there are lots of contenders for this title!). It's a heritage town founded in the 13th century by John FitzGerald, the 1st Earl of Kildare, with incredibly quaint 19th-century thatched cottages lining its main street.
You only need a few hours to experience the best of what Adare Village has to offer. This list includes all the best things to do in Adare including medieval churches and abbeys, interesting architecture, quirky stores, and beautiful country parks.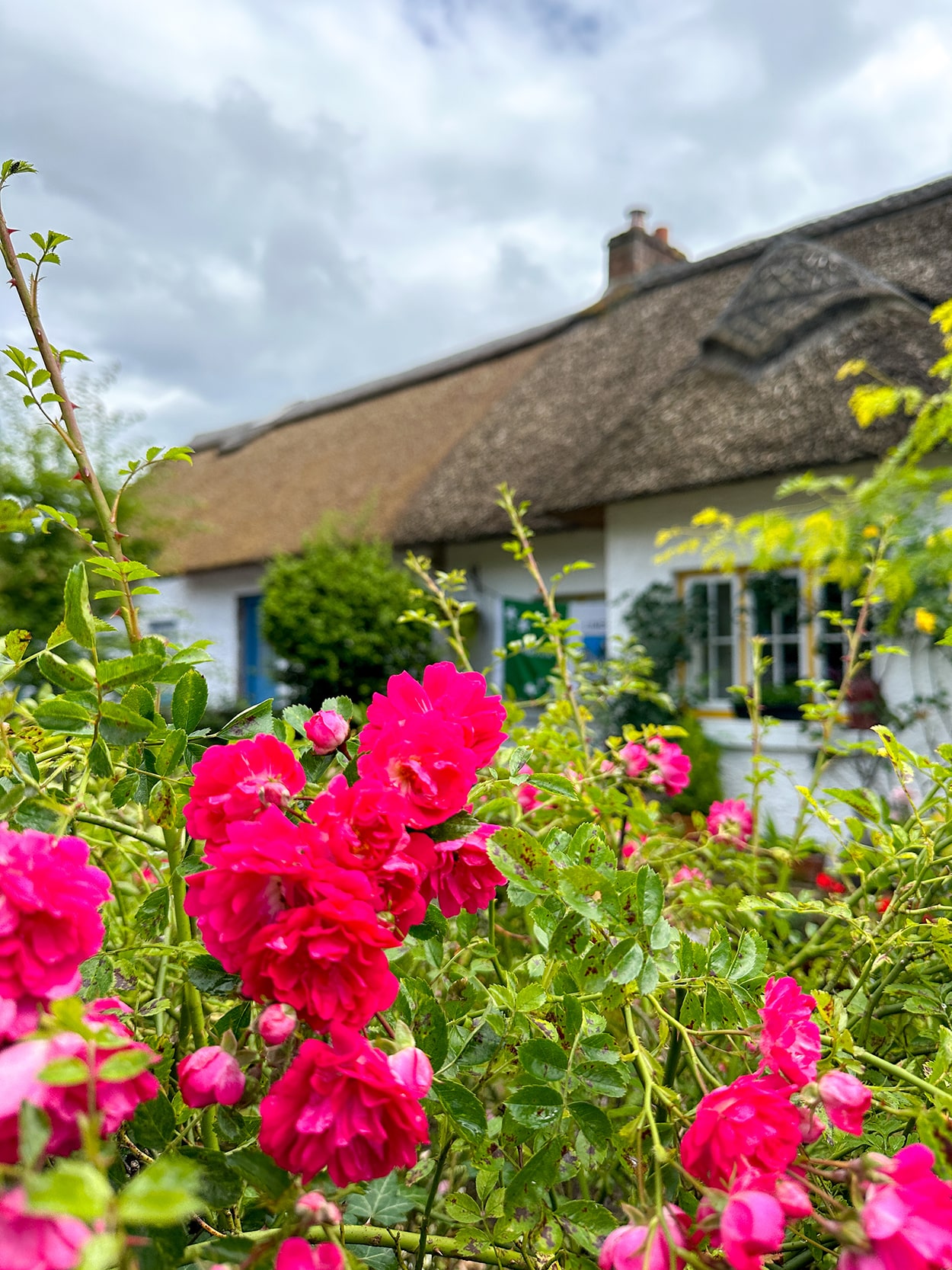 Adare Ireland Planning Guide
This post contains affiliate links, which means we may earn a small commission from your purchase. This adds NO extra cost to you.
Flying to Ireland?
Looking for the best flights to Ireland? We love to track flights via Expedia.com. Not only do we find great rates, but we earn points to use on future travel too.
You can also keep an eye on GOING deals, which is how we got to Ireland roundtrip from LAX for under $500 each. The free version is good, but the paid subscription will save you way more than the cost per year.
DON'T FORGET YOUR ESIM CARD!
We all love our smartphones, but we don't love those international roaming charges. Even if you have a travel pass, you could max out your service, which is why we always grab an eSIM card to pop into our phones. It's especially great for the kids, as it limits what they can do and how much data they can use, but still allows them to text friends back home.
Check out Airalo, our preferred eSIM card store for the best prices on eSIM cards and international data plans.
NEED A RENTAL CAR?
We use DiscoverCars.com to get the best rates and availability on rental cars. Find your car HERE, along with all of the extras you may need (insurance, car seats, ski racks, etc.)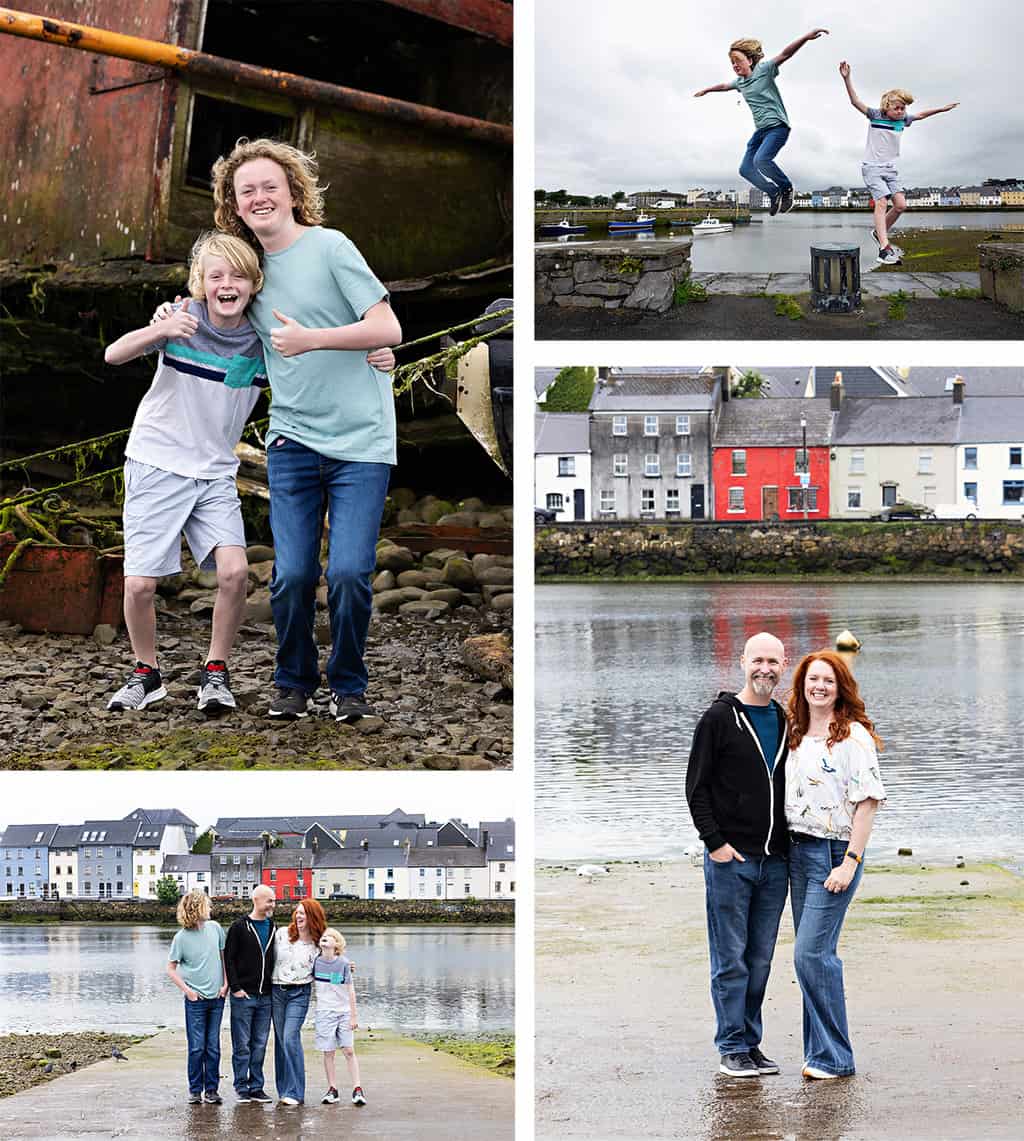 VACATION PHOTOS
Don't forget to book your Flytographer session to capture awesome memories from your trip. We do it as often as we can, even though I'm a photographer. Sometimes, this mom just wants to be in a few photos with her kiddos.
TRAVEL INSURANCE
Do NOT forget to buy travel insurance for your cruise, even if you booked through a travel agent. Things do and will happen and it's cheaper to buy travel insurance ahead of time instead of paying out of pocket later.
Check out Travelex for rates on a single trip or an annual plan that could be right for you if you take more than one or two trips a year. 
Hotels in Adare
Find more Adare hotels HERE.
Great Tours from Adare & County Limerick
How to get to Adare, Ireland
How to get to Adare By Air
The nearest major airport to Adare is Shannon Airport (SNN), which is about a 30-minute drive away.
Shannon Airport offers both domestic and international flights, although if you are looking for a direct flight from the United States, you may have to fly into Dublin.
From Shannon airport, you can rent a car, take a taxi, hire a private car and driver, or use public transportation to reach Adare.
How to get to Adare By Train
While there isn't a train station in Adare itself, you can take a train to the nearby Limerick Junction.
From Limerick Junction, you can take a bus, taxi, or arrange for other transportation to reach Adare, which is about a 20-25 minute drive away.
How to get to Adare By Bus
You can take a bus to Limerick, which is the nearest major city to Adare, and then take a local bus or a taxi to reach the village. Bus Eireann operates many of these services.
How to get to Adare By Car
We always love to rent a car in Ireland so that we have more flexibility. Adare is located off the N21 road, which connects Limerick and Tralee. You can use GPS or navigation apps to get turn-by-turn directions to Adare from your starting point.
We usually use Google Maps, which gets us where we want to go in Ireland most of the time (sometimes it takes us down some very random back roads).
Learn more about how to drive in Ireland with a U.S. driver's license.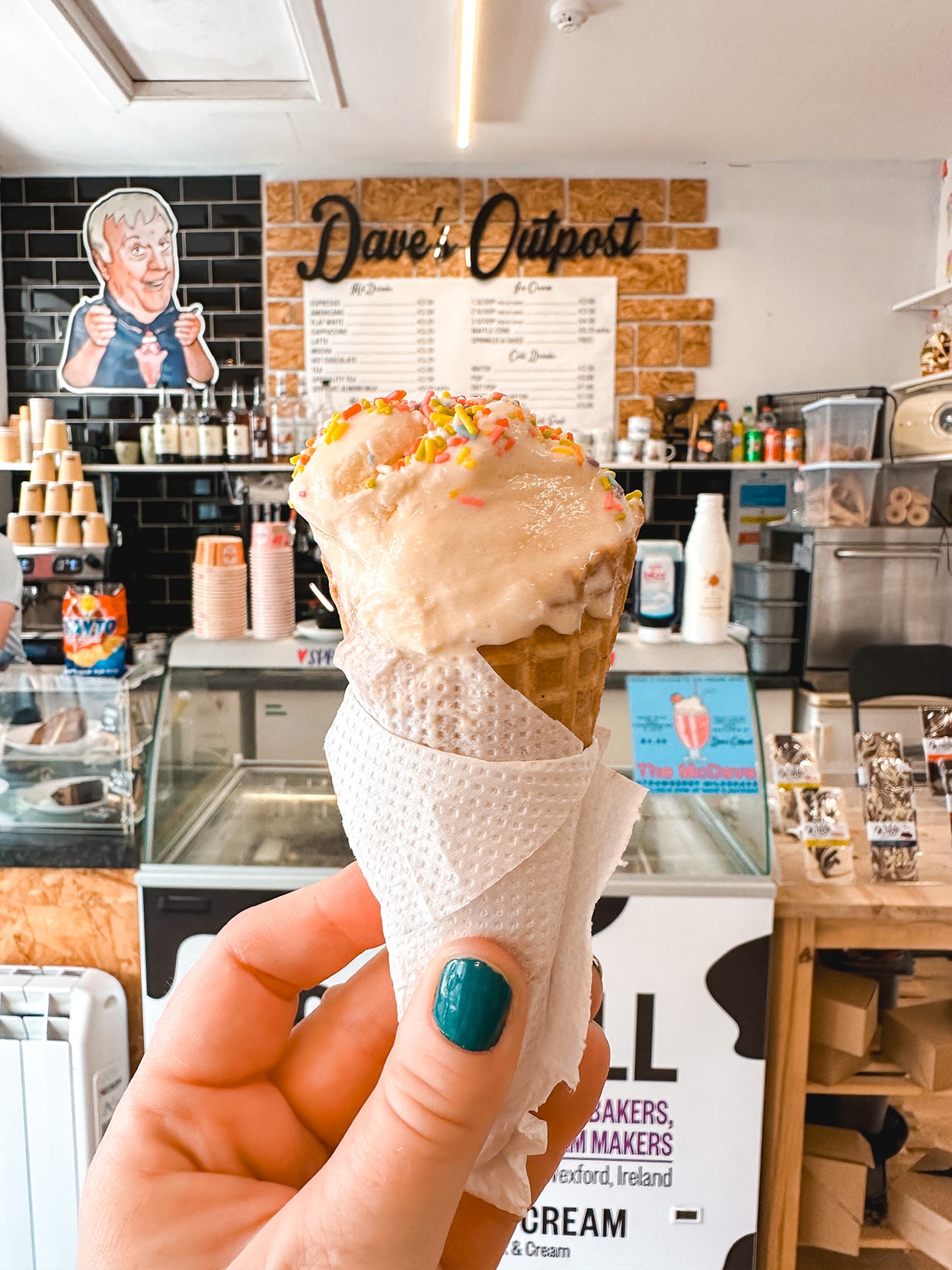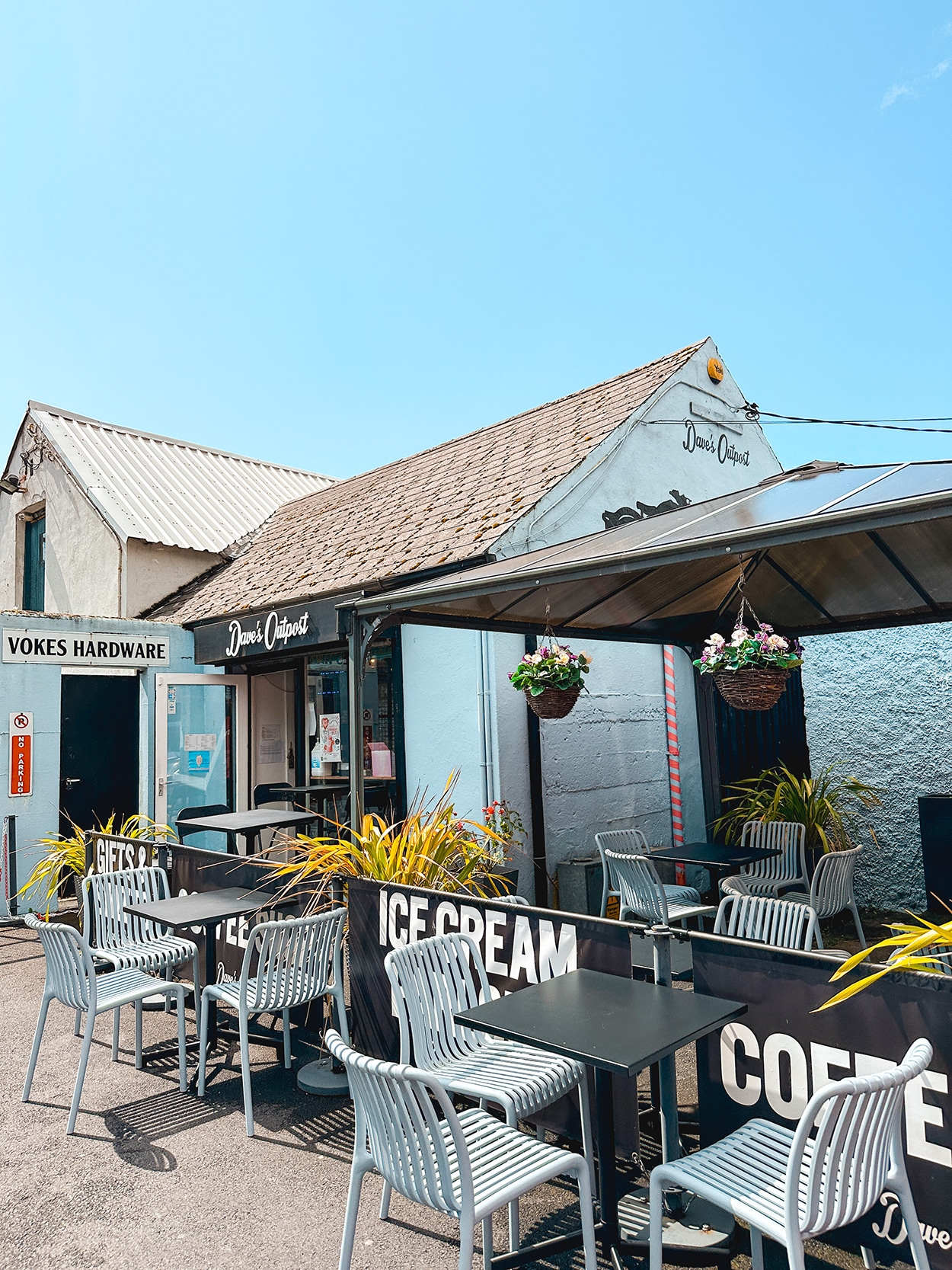 Guided Tours to Adare
If you prefer a guided experience, there are tour companies that offer day trips or guided tours to Adare and its surrounding attractions. These tours often include transportation from Dublin, Galway, Killarney or other major metro areas.
Once you've arrived in Adare, you'll find that the village is compact and pedestrian-friendly. Walking is the best thing to do, so grab a parking spot (if you are driving) and take a stroll through town.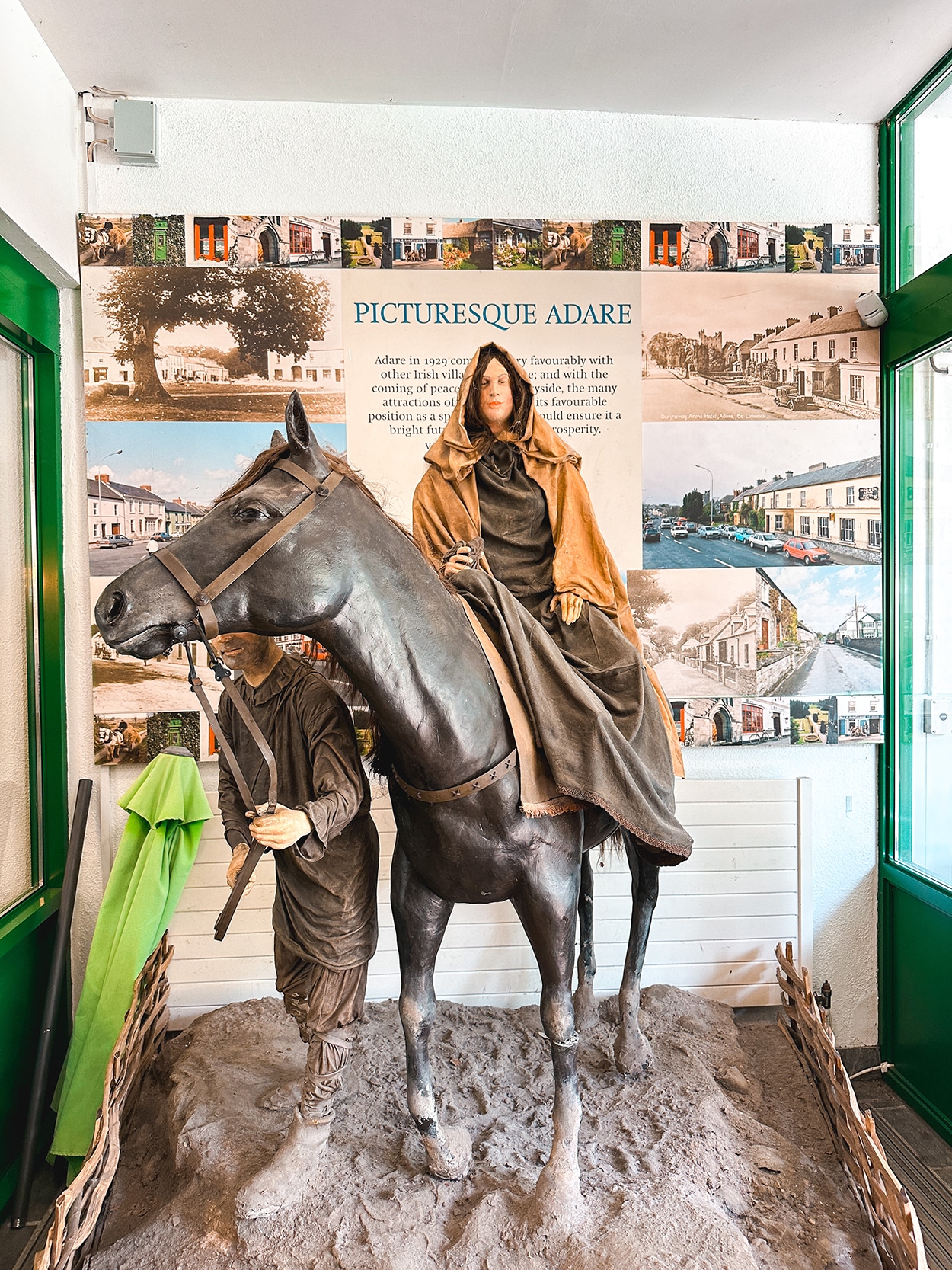 A Brief History of Adare Ireland
Early History
The earliest known settlers in the area around Adare were likely Celts, followed by the arrival of the Vikings and the Normans. The name "Adare" is believed to have originated from the Irish "Áth Dara," which means "ford of the oak."
This hints at the presence of oak trees and the importance of river crossings in the region.
Norman Settlement
Adare's history took a significant turn with the arrival of the Normans in the 12th century. The Desmond Castle, also known as the Adare Castle, was built during this time as a fortress to protect the river crossing. The castle later became a strategic stronghold for the Earls of Kildare.
Desmond Rebellion and Tudor Period
The 16th century brought about the Tudor conquest of Ireland, which significantly impacted Adare. The Desmond Rebellion, led by the Fitzgerald family, was a major conflict during this period. After the rebellion's failure, large portions of land were confiscated from the Geraldine Earls of Desmond, and Adare was given to the Earls of Thomond.
Augustinian Abbey
One of the most prominent historical sites in Adare is the Holy Trinity Abbey, an Augustinian monastery founded in the 13th century. The abbey's architecture and carvings reflect a mix of Gothic and Romanesque styles.
The abbey played a central role in the community's religious and cultural life for centuries.
Thatched Cottages
The charming thatched cottages that Adare is famous for today date back to the 19th century. These cottages were built by the Earl of Dunraven to provide housing for local tenants.
The thatched roofs, half-timbered walls, and vibrant gardens contribute to Adare's picturesque character.
Adare Manor
The transformation of Adare Manor from a Georgian house to a Neo-Gothic masterpiece occurred in the mid-19th century under the guidance of the 2nd Earl of Dunraven. The manor's design, influenced by architectural trends of the time, resulted in the stunning building that you see today (if you are a guest and allowed through the gate).
Modern Era
Adare continued to evolve through the 20th century and into the present day. The village's historical and architectural significance led to its recognition as a Heritage Town. Efforts have been made to preserve its unique character while accommodating modern needs.
TOP THINGS TO DO IN ADARE, IRELAND
ADARE MANOR HOTEL AND GOLF RESORT
Looking for a 5-star, luxury hotel to stay in County Limerick? Adare Manor and Golf Club is a very popular choice. Built during the late 19th century, Adare Manor is the former seat of the Earl of Dunraven.
Although it is a fun place to visit since it's only a short walk from the town center, the owner has closed off the hotel to the public, much to the dismay of the locals. According to Adaremanor.com, "Adare Manor is open to patrons of the resort, who are visiting to stay, dine or shop on the resort."
Thus, you can only tour the grounds if you are a guest of the property. It's true that daytrippers used to be free to explore the formal gardens, great halls, and manor museum at their leisure, but not anymore.
Adare Manor Hotel and Golf Resort will be hosting the 2027 Ryder Cup. Visit Adare now before the world finds out about how pretty Adare is and nightly rates at local hotels shoot up sky-high!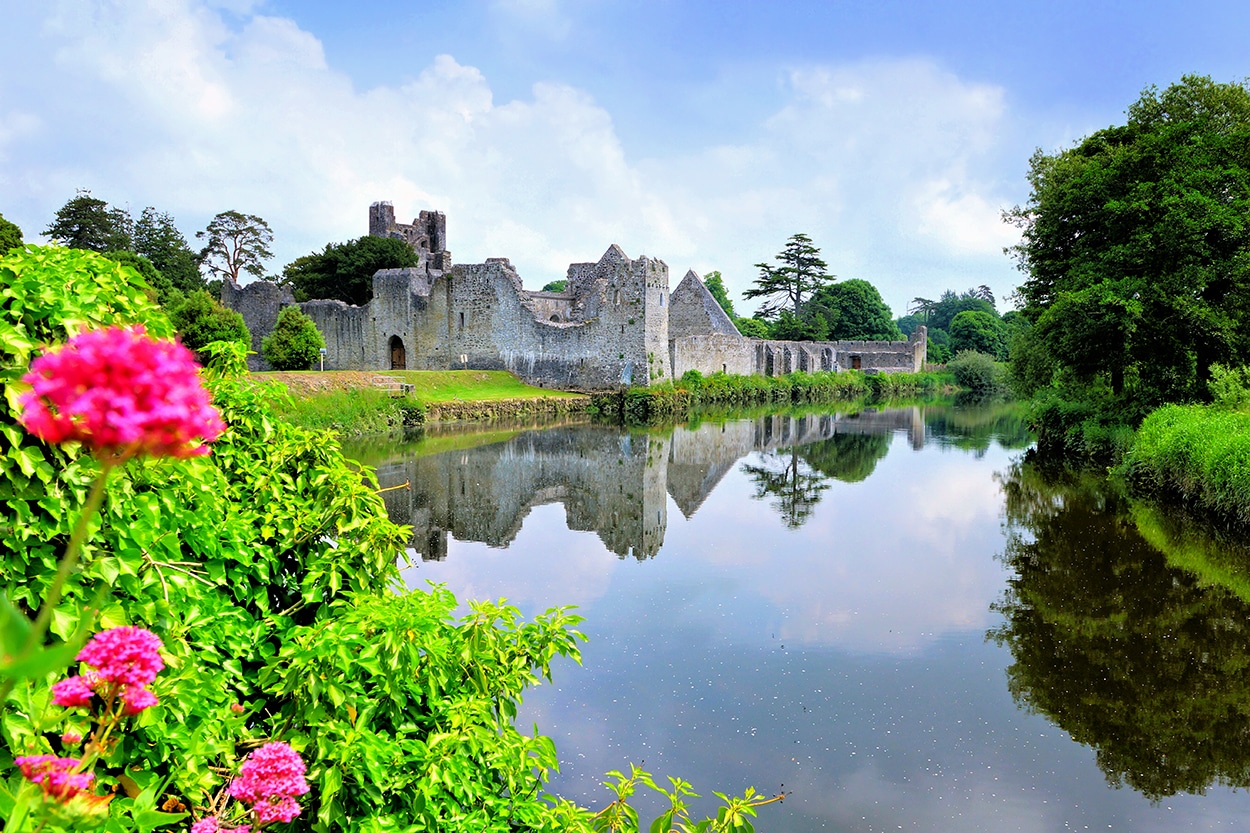 DESMOND CASTLE
Adare Castle, known as Desmond Castle due to it being the home of the Earls of Desmond, was an important stronghold in the 16th century. Even though it was a huge protective fortress, its primary purpose was as a customs house.
Desmond Castle was responsible for checking and logging the cargo that entered Adare via the River Maigue. This historic building is unfortunately in ruins but it's well worth wandering around or joining a tour in the summer months to learn more.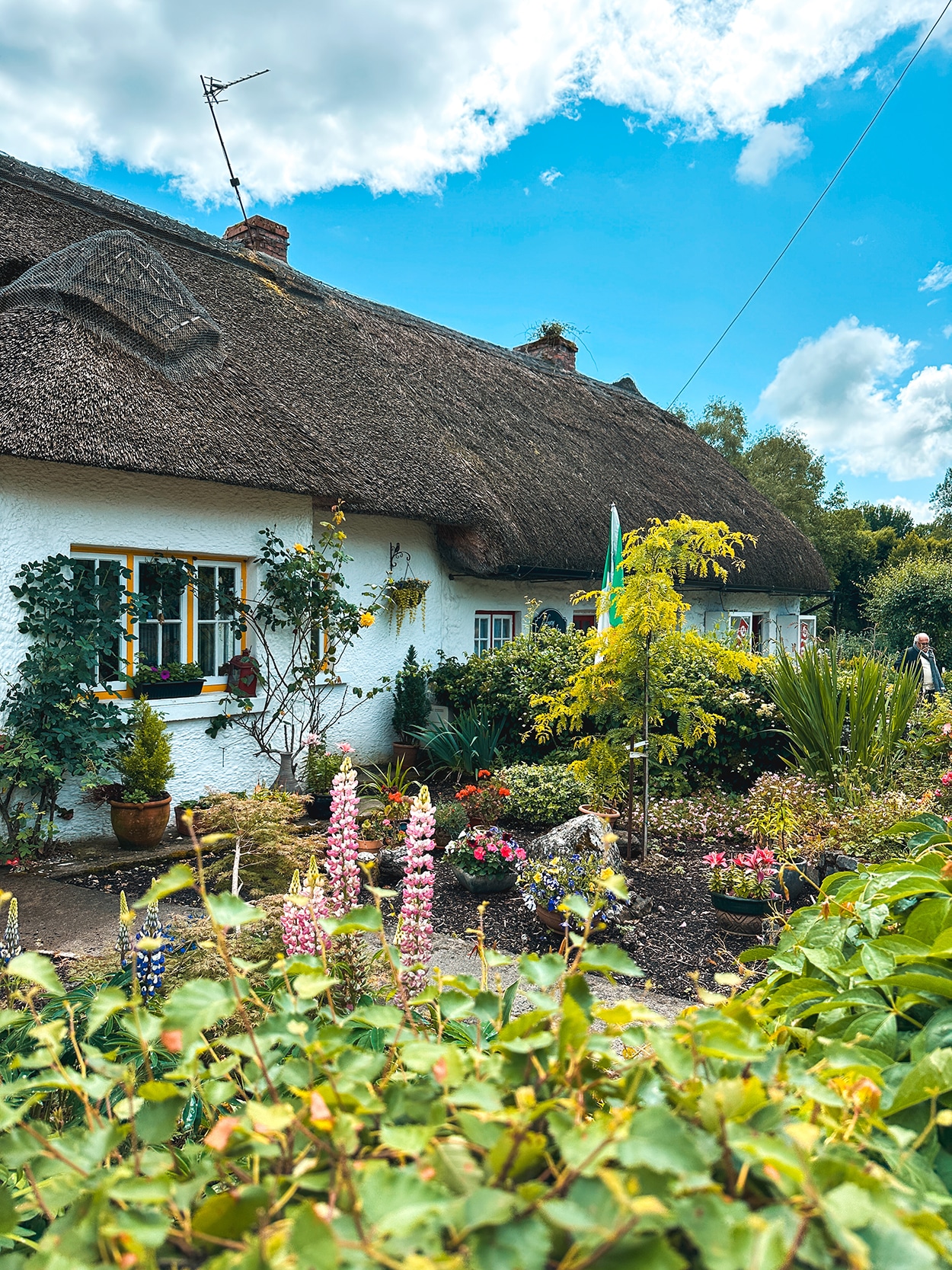 THATCHED COTTAGES
One of the best things to do in Adare, if not the top thing, is to check out as many thatched cottages around the town as possible.
The history of these cottages dates back to the 1830s when the wife of the second Earl of Dunraven ordered that all servants working on the Dunraven estate should have a home of their own.
While most of the cottages are cafes, heritage centers, guesthouses, or shops, many are still homes. Re-thatching takes place every eight years so the town really is committed to keeping these charming, quaint, historic landmarks of Adare well-preserved.
AUGUSTINIAN PRIORY
Located opposite Desmond Castle on the banks of the River Maigue, the Augustinian Priory has been a part of the local landscape since it was built in the 14th century. It was home to the Augustinian Order in County Limerick, but today it's part of the St. Nicholas Church of Ireland complex.
Without community support over the centuries, the Augustinian Priory wouldn't have stood the test of time. Visitors are welcome to check out the priory's cloisters as well as the main church.
TRINITARIAN ABBEY
Another beautiful religious building in Adare is the Trinitarian Abbey, now known as the Holy Trinity Abbey Church. It's even older than the Augustinian Priory as it dates back to 1272 when the Trinitarian Order of Monks lived there and is the only one of its kind in Ireland.
This abbey underwent significant restoration in the 19th century and there are lots of beautiful shrines, statues, and stained glass windows dedicated to the Virgin Mary you can check out.
BROAD MAIN STREET
All small towns in Ireland center around one main street and Adare is no different. Broad Street is Adare's main street, and it's where you'll find lots of traditional Irish pubs as well as tons of craft shops. It's the best place to find Irish linens, Celtic jewelry, pottery, glass, and pewter. There are also a few local fashion designers with boutiques in Adare.
Some pubs to check out for a hearty lunch or to listen to live music include Sean Collins & Sons Bar, Aunty Lena's Bar, and Bill Chawke's Bar.
ADARE HERITAGE CENTRE
Without a doubt, the best place to learn about local life and the history of the town is the Adare Heritage Centre. It's located right on the main street and features interactive displays, a gift shop, and an on-site restaurant. Oh, and ice cream too!
This is also the best place to go if you're looking for guided tours of the area, particularly the thatched cottages. Cottage tours run during the summer and you'll even get to go inside some of the cottages that you wouldn't be able to visit without a local guide.
ADARE TOWN PARK
Just a short distance away from the town center, Adare Town Park is a sprawling green space that must be 20 times bigger than the town itself. Adare Manor Hotel, Desmond Castle, and a Franciscan Friary are all located inside the park which will give you a big clue as to its size!
There are also lots of accessible walking paths, areas of thick woodland, manicured flower gardens, and pergolas. You can stroll along the banks of the River Maigue that flows through the park too.
ADARE WEEKEND MARKETS
Adare is craft-crazy and aside from its many local craft stores, there is also a weekend craft market every Sunday at the Adare Village Hall.
If crafting isn't your thing, visit on a Saturday for the Adare Country Market open from 11 am to 5 pm. You can expect homemade baked goods, artisanal soaps and candles, jewelry, and so much more.
ANNUAL EVENTS IN ADARE AND COUNTY LIMERICK
Adare is a pretty small place, but it does have a few annual events worth checking out.
Adare Village Fête/ Adare Village Festival (July)
Adare International Antiques Fair (September)
Adare Christmas Fair (December)
If you need a few more options, here are the top annual events you shouldn't miss in County Limerick if you're in the area:
Limerick Literary Festival (February)
St Patrick's Day (March 17th)
Fresh Film Festival (March)
Easter Celebrations (March – April)
Bealtaine Festival (May 1st)
Limerick Pride Parade (July)
Limerick Jazz Festival (September)
Samhain/Limerick's Halloween Festival (October – November)
Light Up Limerick (November)
Christmas Celebrations (December)
FAQ Adare Ireland
What is Adare, Ireland known for?
Adare is a picturesque village located in County Limerick, Ireland. Often referred to as "Ireland's prettiest village," Adare is renowned for its charming thatched cottages, historical sites, and beautiful landscapes.
How do I get to Adare?
Adare is easily accessible by car, bus, train and taxi. If you're flying, the nearest major airport is Shannon Airport (about 30 minutes away), with connections to various international destinations.
You can also reach Adare by train, arriving at Limerick Junction and then taking a bus or taxi to the village.
What are the must-see attractions in Adare?
Adare boasts a number of attractions that captivate visitors:
Adare Manor: A stunning luxury resort set in a historic Gothic-style manor with a championship golf course.
Desmond Castle: A medieval castle with impressive architecture and rich history.
Adare Heritage Centre: A hub for information about the village's history, offering guided tours and a heritage trail.
Holy Trinity Abbey: An ancient Augustinian abbey with intricate detailing and a peaceful atmosphere.
Thatched Cottages: Iconic thatched-roof cottages that exemplify traditional Irish architecture.
Is there accommodation available in Adare?
Yes, Adare offers luxury hotels, charming bed and breakfasts, guesthouses, and self-catering cottages. Adare Manor is a particularly famous luxury option, known for its opulent accommodations and world-class amenities, but there are much more economical, but equally as charming (if not more) spots you can stay to fit your style and budget.
When is the best time to visit Adare?
The best time to visit Adare is during the warmer months, typically from May to September. This period offers pleasant weather, blooming gardens, and a lively atmosphere. However, keep in mind that summer can be the peak tourist season, so booking accommodations and activities in advance is recommended.
Are there any annual events in Adare?
Yes, Adare hosts several annual events that showcase its culture and community spirit. The Adare Christmas Fair, Adare Village Fête, and Adare International Antiques Fair are just a few examples. These events provide opportunities to enjoy local crafts, foods, music, and entertainment.
What outdoor activities can I enjoy in Adare?
Adare is surrounded by beautiful natural landscapes, making it an ideal destination for outdoor enthusiasts. You can explore the Adare Park, which features walking paths, picnic spots, and a children's playground.
Golfers can indulge in a game at Adare Manor's championship golf course. Cycling, hiking, and fishing are also popular activities in the area.
Can I explore Adare on foot?
Yes! Yes! Yes! Adare is a pedestrian-friendly village, and exploring it on foot is one of the best ways to soak in its charm. Park your car once and see a ton, as you stroll along the tree-lined streets, visit attractions, pop into the local pub, and enjoy the small town ambiance.
Are there dining options in Adare?
Adare offers a variety of dining options, ranging from cozy cafes to upscale restaurants. You can savor traditional Irish dishes, international cuisine, and gourmet meals prepared using locally sourced ingredients.
Many establishments also offer vegetarian and vegan choices.
How can I learn about Adare's history and culture?
The Adare Heritage Centre is the perfect starting point to learn about the village's history and culture. It offers guided tours, exhibitions, and informative displays that tell the story of Adare's rich history.
You can also explore the heritage trail, which takes you through key historical sites.
Can I use Adare as a base to explore other parts of Ireland?
Absolutely! Adare's central location in County Limerick makes it a convenient base for exploring nearby attractions. You can take day trips to places like Limerick City, the Cliffs of Moher, the Burren, the Dingle Peninsula, and the Ring of Kerry.
Is Adare suitable for family vacations?
Yes, Adare is a great destination for family vacations. However, there isn't a ton for kids to do right in town.
The village's relaxed atmosphere, outdoor activities, and family-friendly accommodations make it easy to set up for a quiet weekend exploring the area though.
Children will love the playgrounds, green spaces, and the educational experiences offered by the heritage center, while parents can still eat well and enjoy some peace and quiet after bedtime.
Are there shopping opportunities in Adare?
Adare boasts a range of boutique shops and craft stores where you can find unique souvenirs, handmade crafts, clothing, and more. These stores often feature local artisans, so keep an eye out for some up and coming talents.
Can I attend religious services in Adare?
Yes, Holy Trinity Abbey offers regular religious services for those interested in attending Mass or experiencing the abbey's spiritual ambiance. Check their schedule for specific service times.
Is photography allowed in Adare's attractions?
Photography is generally allowed in most attractions and public areas of Adare. However, it's a good idea to check with staff and look for signage to ensure there are no restrictions or guidelines in place. This is particularly important at the thatched cottages, where businesses are operated, but also some are private residences.
Do not just walk into someone's yard without permission so you can get a photo.
Love it? Pin it for Later!