Bachelorette parties, hen dos and girlfriend getaways– they are all just excuses for us gals to get together for a weekend of fun. Sometimes you might want to get out of the city and take a little road trip through Tuscany, or maybe you are escaping the country by going to the city. Even better, just find your Zen and give everyone the time to relax in their own way at the beach.
Or, if you are like me, you go on a bachelorette party to Portland to eat your way through every food cart you can find. No matter how you do it, never put off having fun with your girlfriends. They've been with you through a lot, so why not celebrate that history and love for each other with a little more bonding time.
London

England is the home of the hen do, where gals get together to celebrate their best friend before she gets married. While many hen dos are now traveling outside of the country to spots like Marrakesh and Barcelona, many are choosing to have their hen do in London. Personally, I'd wander the side streets of Covent Garden and SoHo to enjoy a pint, or five. I'd shake off my night of fun with a stroll through Kensington Gardens to see the flowers in bloom, and if I was very, very lucky, a royal or two. A girl can dream, and that's just what I do every time I'm in town.
Lucca, Italy

Food, wine, shops, sunshine and old architecture—what more could a girl and her friends want? Although I've been to Tuscany a few times with my kids, I dream of the day when I have no bedtime to dictate my evening fun, and I can really enjoy life like the locals. I'd book a hotel in Lucca for the weekend, along with a rental car so we could pop to some of the nearby towns and vineyards.
Lucca has loads of shopping and a variety of sights to keep a group entertained no matter their interest. We'd eat late into the evening, because this is Italy. If you don't have kids with you, you spend hours savoring every bite as each course is brought out with more wine. When all else fails, and you have a complainer on your hands, remember, gelato flows like wine in this walled city, so really it would be a great trip no matter what.
Costa Rica

Surfing, yoga, spa treatments and sloths are why women are heading to Central America for their girlfriend getaways. Not only is the food great, and the drinks flow freely, but also there is just so much to do. I've communed with nature on the Caribbean side of Costa Rica and near the Arenal volcano, but with my girls I'd get zen together at a yoga retreat or a surf camp on the Pacific side of the country. Nothing could stop me from enjoying a massage before I brought my friends for a tour of the Costa Rican rainforest to snag a photo together with a sloth.
Washington DC

Now you may think that the nation's capital is full of stuffy politicians and boring lobbyists, but DC has had a revitalization of restaurants, boutique hotels and quite the brunch scene. Just ask any 20 year old at El Centro on a weekend for their bottomless brunch. That place is packed! I'd head back to the Graham Georgetown for two nights of drinking wine, shopping, trying new restaurants and chatting over coffee. Georgetown is within walking distance of the National Mall, so anyone from out of town could still see the sights, but the neighborhood also has some of the best shopping in the city for those of not looking to be tourists for a day.
Portland

Food trucks have long been a draw for friends to take a weekend trip to Portland, and why not? Who doesn't love food? Make a scavenger hunt out of it, or a progressive dinner. End your night at the theater or live concert in one of the old warehouses along the river. Hotels in downtown Portland are great, but I'd stay in a neighborhood when visiting on a weekend. Just like in Seattle, downtown Portland can feel shut down, especially on weekends, so the neighborhoods are where you will find all of the action, plus those cute boutique shops and restaurants you've been reading about in all of the travel magazines. Oh, and there is tax-free shopping!
Hen dos, bachelorette parties and girlfriend getaways—whatever you want to call them—don't have to be pricey, but they do need to happen. Whether your friend is getting married or you just need to be with your gals, there is always reason to celebrate together. Stop making excuses and start planning now.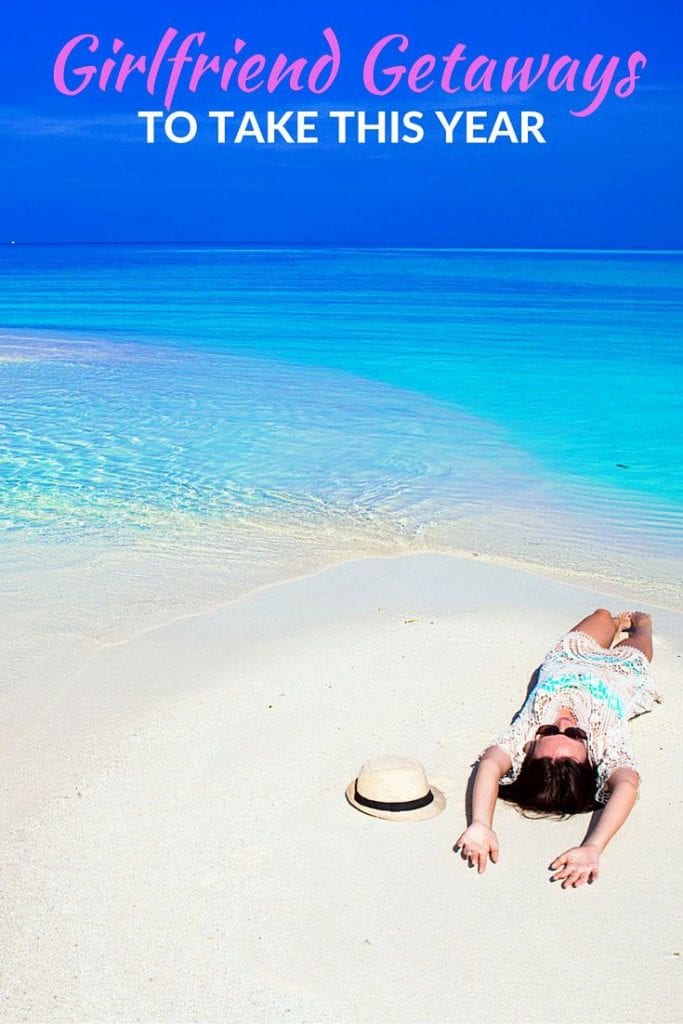 London, Lucca (Tuscany), Costa Rica, Washington DC, Portland, feet on beach and girl on beach photos via ShutterStock.com