Ireland is a land of iconic sights and amazing history, seemingly around each twist in the country's curved roads.
As you begin to plan your Ireland vacation there is one word you'll hear often– must.
You'll find that Ireland is full of musts… And all of those 'must see' sights are musts for a reason. They are fabulous. But few tourists to Ireland have had the opportunity to venture off the 'trail of musts'. Ireland is far more than a 'Top 10' list; it's a land filled with magic and mystery, history and hauntings, and hundreds of incredible sights most tourists miss.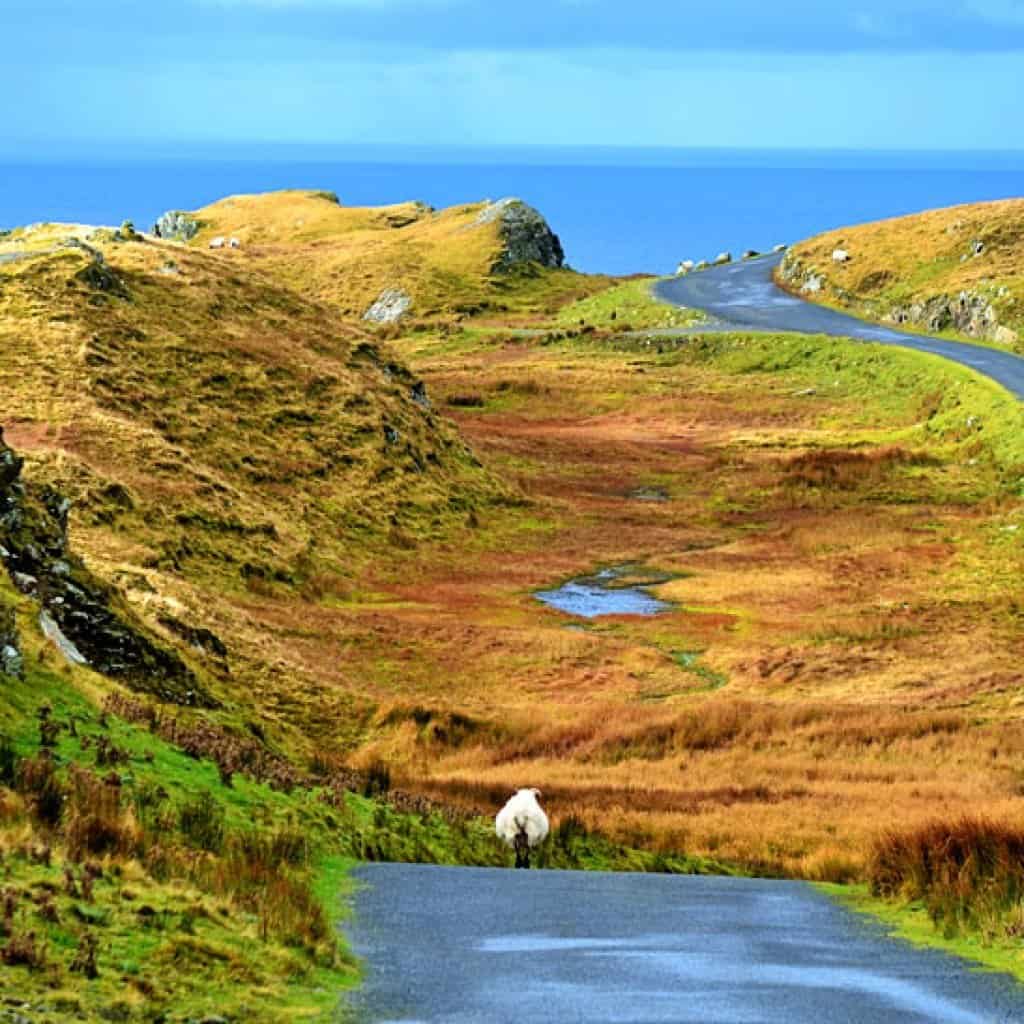 Ireland's most popular sights draw thousands of visitors and hundreds of tour buses each year. You can escape the crowds, but not Ireland's incredible beauty and history, at these incredible alternatives.

INISHOWEN PENINSULA
The natural beauty of the Ring of Kerry has drawn visitors for hundreds of years, but if you wish to escape the crowds on Ireland's most popular foreland, head north to Donegal's Inishowen Peninsula. Follow the dramatic coastline to the magnificent Grianan of Aileach (itself a terrific alternative to the Rock of Cashel), incredible Fort Dunree Military Museum and Doagh Famine Village before reaching Ireland's most northerly point at Malin Head. Be sure to drive slowly through the Mamore Gap to discover one of Ireland's 'Magic Roads'.

SLIEVE LEAGUE CLIFFS
On County Clare's west coast the Cliffs of Moher have enticed visitors and Hollywood with their staggering drops and extensive views. Few know that the Slieve League Cliffs, also in Donegal, rise higher. Be sure to wear good walking shoes as the best views are found as you walk to the high top of the mountain exploring the early Christian ruins and rugged wilderness as you pass.

CAHIR CASTLE
The majestic ruin of Blarney Castle is famed for its stone, but if it's a castle you wish to explore plan to visit Cahir Castle in the neighboring county of Tipperary. The wonderfully restored castle is one of the most accessible in Ireland. Explore below the bailey and onto the battlements, climb to the top of the keep and stand below the portcullis. Very little is off limits and you'll rarely find more than a handful of people wandering the grounds.

DERRY
While Dublin may be the 'fair city', Derry (officially Londonderry) is the gem of Northern Ireland. The only completely walled city in Ireland, Derry is a city of culture and contrast. History here is complex and sometimes heartbreaking– the story of Ireland on a small scale. To guide you along the walls and through the history of this lovely city I recommend Glenn Doherty, Derry Guided Tours. His walks are so informative and he keeps it kid-friendly.

SS NOMADIC
Built on the site of the former Harland & Wolff shipyard, Titanic Belfast is an incredible tribute to maritime history and the Titanic's tragic story. The building itself is so stunning that it is easy to miss an incredible piece of living history just yards away. The SS Nomadic is the only remaining White Star Line ship in the world. Built alongside the Titanic in 1911, this little ship was outfitted with all the luxuries of her 'big sister'. The Nomadic was used to ferry First and Second Class passengers to the Titanic from the shallow docks of Cherbourg, France, prior to the tragic sailing. The SS Nomadic has been restored to her former glory (after a rather precarious stint in two World Wars and as a restaurant) and a guided tour onboard is easily one of the best experiences you'll have in Belfast.

BIRR CASTLE DEMENSE
There is no denying that the house and gardens of Powerscourt Estate in County Wicklow are beautiful – and being an easy day trip from Dublin the estate draws many visitors. Venture inland, to County Offaly, where beautiful Birr Castle Demense offers just a bit more for families. In addition to creating stunning gardens, the Earls of Rosse were inquisitive scientists. The on-site science museum shares two centuries of scientific achievements- bridges, submarines, photography, botany… and the world's largest telescope (built in the mid-1800s). Did I mention that this is also the home of Ireland's largest tree house?

CLONMACNOISE
Located in Trinity College, the Book of Kells is a tome of mythical beauty and significance. But why just look at a book when you can go deeper into a community of monastic learning? Clonmacnoise, in western Offaly, was a major center of religion, learning, and trade from the 5th – 12th centuries. Round towers, high crosses, multiple churches, and a wonderful visitor centre bring to life the 'land of saints and scholars'.
These alternates are only a handful of places you can discover if you venture off the traditional tourist routes in Ireland. Use the interactive map at Ireland Family Vacations to discover more amazing destinations for your Ireland family vacation.
Jody Halsted has been traveling across Ireland for over a decade with her own children, discovering the most family friendly sites and activities on the tourist trail and off. Dedicated to Ireland family travel, her website Ireland Family Vacations, provides exceptional advice for a magical Ireland vacation. For families looking for a perfectly tailored Ireland vacation, Jody offers Ireland vacation coaching, working with your family to help you choose the perfect lodging, destinations, and activities to fit your budget, interests, and expectations.
Photos of panoramic Slieve League Cliffs, Slieve League Cliffs and Slieve League Cliffs with sheep via ShutterStock.com. All other images via Jody Halstead/Ireland Family Vacations. 
Ireland (Dublin) Destination Guide
This page contains affiliate links, meaning if you book or buy something through one of these links, I may earn a small commission (at no extra cost to you!)
Dublin Hotels
Looking for more? Search for the best Dublin hotel on Expedia.com.
Dublin Vacation Rentals
Need a car? Grab the best rates on rental cars HERE (and yes, we use this site for every trip).