Hiking jackets are an important accessory when tackling a hike in a colder climate. Numerous options are out on the market, and making the correct decision might seem impossible. You want to look at jackets that give you the best bang for your buck, can hold up to the elements, feel good, and look good.
However, with the endless amounts of great companies out there, it can seem daunting.
You want to ensure you find the correct jacket, because it keeps you safe and warm if you are hiking in the snow, rain or wind. The proper jacket can help you from slipping, falling, or worse, injuries when you're out on a trail.
While some of these jackets aren't cheap, in my experience the investment will be worth it.
Below is a list of some of the best hiking jackets for women that will keep you warm, safe, and cool out on the trails.
Marmot PreCip Eco-Rain Jacket
When hiking in wet weather, go for the Marmot jacket. The armpit area is zipped to allow for ventilation when needed, but there is also a drawstring on the hood to help keep your head dry. The deep pockets allow ample space but snap closed to keep everything inside safe.
It's lightweight and waterproof, plus it comes at an affordable price.
There are a few cons with this jacket, like the lining isn't up to par with other liners in jackets out there, but that is the only negative we have with this jacket.
Patagonia Torrentshell Jacket
The Patagonia Torrentshell Jacket is one of the best hiking jackets out there, but it comes at a higher cost. The jacket is lightweight, waterproof, and made with recycled PFC-free fabric that repels water.
The jacket's quality is excellent, and it has deep pockets for your phone, water, and whatever else you need.
We love how you can easily throw this hiking jacket into a backpack, and the light but breathable material it's made out of.
Some cons are the price– it's hard to spend almost $200 on a jacket, but if you're out on the trails often and the weather is terrible, you'll be happy you spent the extra money.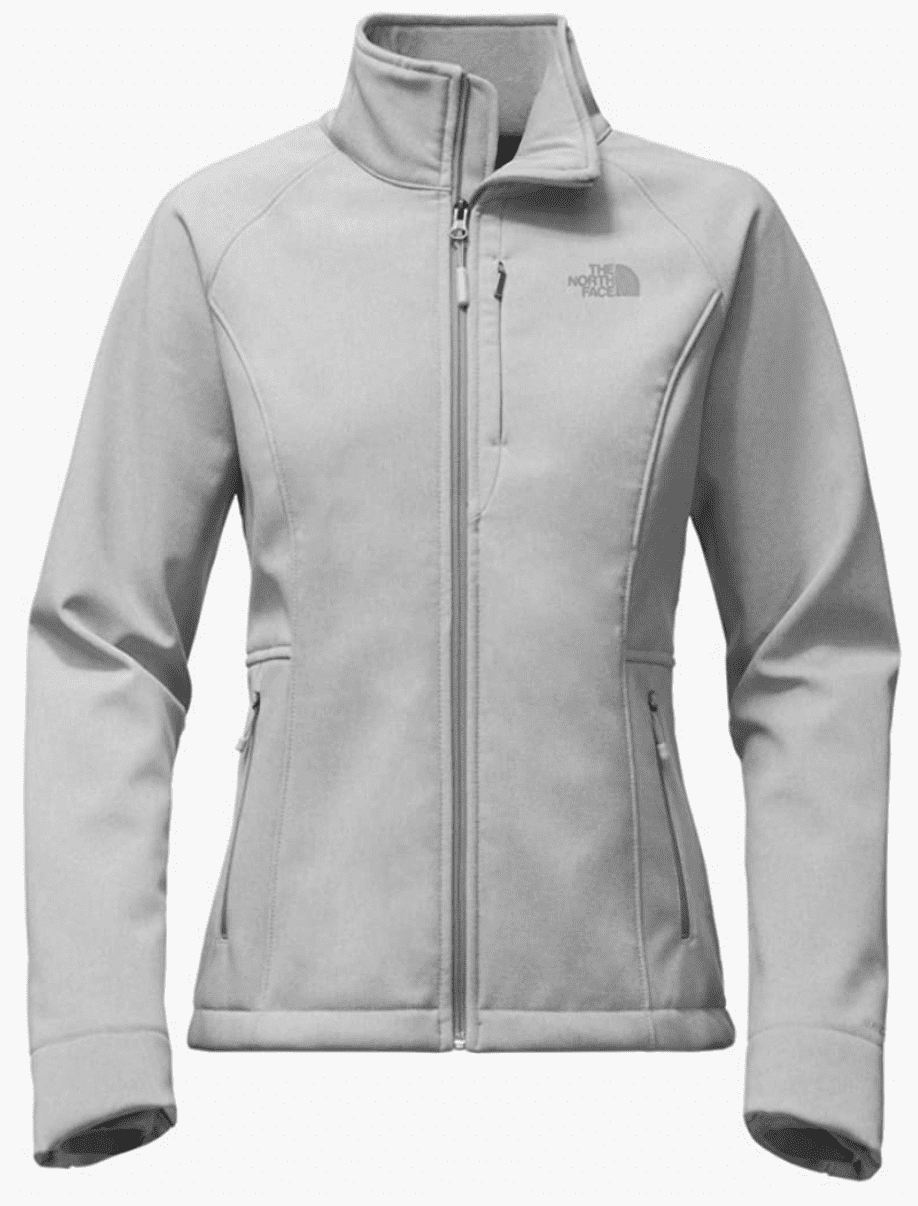 The North Face Apex Bionic 2
The North Face Apex Bionic 2 Jacket is a multi-use hiking jacket, and I'm obsessed with it. The jacket is highly durable for those rougher conditions on the trail, but it also works great if you're on a casual hike with some friends.
It offers a relaxed fit with breathability, warmth and is waterproof.
When you throw the jacket on, it's comfortable and holds up to damage for a while, which is nice since it does cost $150.
You can easily wear this jacket on a hike and then go out to brunch, and no one would know. The downside is the jacket doesn't come with a hood, so you need an extra hat or beanie for the trails.
Columbia Arcadia II
The Columbia Arcadia II jacket is so versatile you'll want to take it everywhere. It can easily be worn on any trail and a quick trip to the coffee shop.
We wouldn't take this jacket on extreme hikes, but it gets the job done for easy to moderate trails. It has the best hand pockets that are easily accessible, plus storm flaps if needed.
It's not ideal for long hikes since it is a little bulkier and doesn't pack well in bags. There also aren't any underarm vents if you're into that type of thing.
Arc'teryx Atom Heavyweight Hoody
This hiking jacket is super adaptable for any hike, but it is definitely an investment piece. The jacket is warm, breathable, and, the best part, windproof.
It is insulated with synthetic Coreloft that gives you the warmth you need and protects you from awful weather. The outside layer is water-repellant, and the hood protects you from all types of weather.
The jacket is roomy, making it simple to layer under; honestly, it is also great for snowboarding or skiing.
The hood is adjustable so you can easily add a cap or beanie under it. The downside, the price tag is huge, but sometimes it can be worth the price tag and last longer than a cheaper jacket.
Patagonia Houdini Come Along Jacket
If you're looking for the ultralight jacket, here it is. The Houdini Come Along Jacket weighs 3.5 ounces and has a minimalistic shell that keeps you safe from wind and rain, but doesn't weigh a ton. It is water-resistant and can fit inside the pocket of another jacket. It's made from recycled nylon, but not as heavy-duty as other jackets on this list.
If you hike in an area without extreme weather, this is an excellent jacket for you, plus the price tag isn't horrible. It can also easily be stored in any hydration pack or hiking backpack.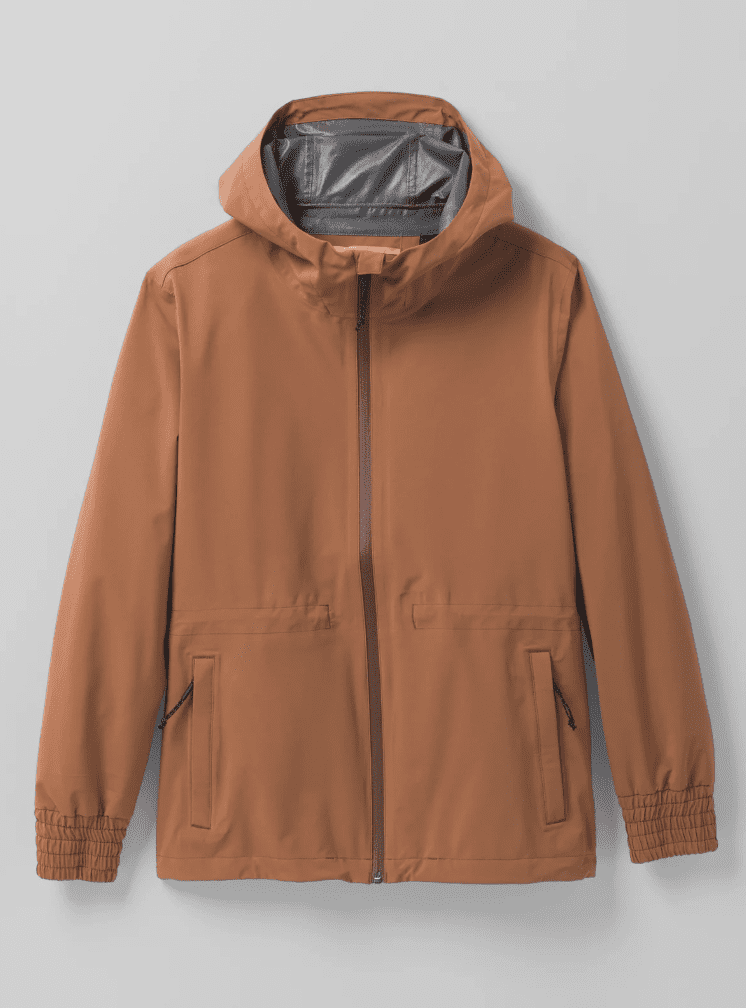 Prana Othello Falls Jacket
Not only is the Prana Othello Falls Jacket stylish, but it's also great for on-the-go or traveling hikes. The jacket comes with a full zip up past your chin, which gives you warmth and helps keep you dry.
Since the seams are taped, a downpour won't leak through your jacket, yet it's still breathable.
The jacket is made from recycled materials and has a more tailored fit, so you don't feel all bulky walking around. Similar to other jackets we mentioned, it's also perfect to wear out on the go for brunch or to stop at the grocery store on your way home.
I mean, who doesn't love an excellent multipurpose jacket.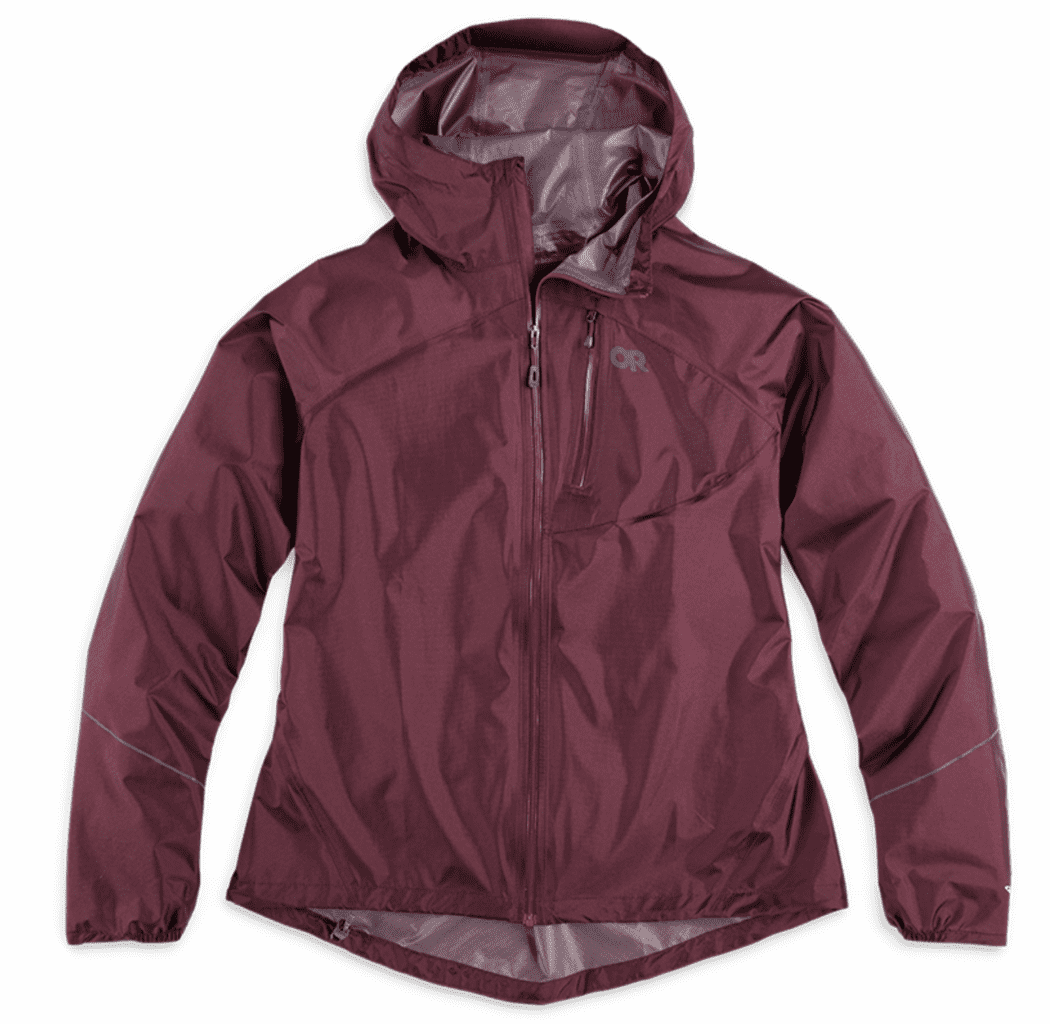 Outdoor Research Women's Helium Rain Jacket
If you know your hike will be wet, reach for the Outdoor Research Women's Helium Rain Jacket. It will protect you from cold weather, but is also durable and can protect you from the nastiest rains (like you might experience in Ireland).
It's a breathable, lightweight jacket and easy to pack in your hiking backpack. We love that the hood is adjustable and it has a chest pocket.
One huge benefit of this jacket is the sizing options. It has a wide range, going from XS to 4XL, and we love how inclusive that is.
Grab our Ireland Packing List for your next trip to the Emerald Isle.
Columbia Women's Earth Explorer Shell Jacket
First, this jacket is only $120, which is a steal for hiking gear. Other amazing benefits include how waterproof it is, the seam-sealed technology to keep you dry, and how breathable this jacket is.
The underarm panels give you extra venting so you can stay dry all day, and the torso of the jacket is designed to keep you warm and cozy, but also dry.
This jacket is another option that has inclusive sizing. It ranges from XS to XXL, with other plus sizes available.
Patagonia Nano Puff
The Patagonia Nano Puff is great for all environments when hiking. The jacket is comfortable, but lightweight, and packs easily in your hiking pack. It works well in all temperatures, and we love how reasonably priced it is.
The durability has passed our standards, which is great since you're spending over $100.
If you know the temperatures on your hike will be a little cooler than you like, you might want to skip this jacket since it doesn't do well in super cold weather. It also doesn't have a hood, so you must bring a hat or beanie.
These ten hiking jackets will be perfect for whatever trail you are looking to conquer. They all come in various sizes and prices, meaning there is something for everyone.
Have a great hike!
Pin it and Start Wandering!