My son was in heaven. I'd never thought to bring him to the mountains to get a mouth full of sand, but here we were in the Sahara trying out sand boarding for the first time. Then again, this was my first time in Morocco with kids. What did I know?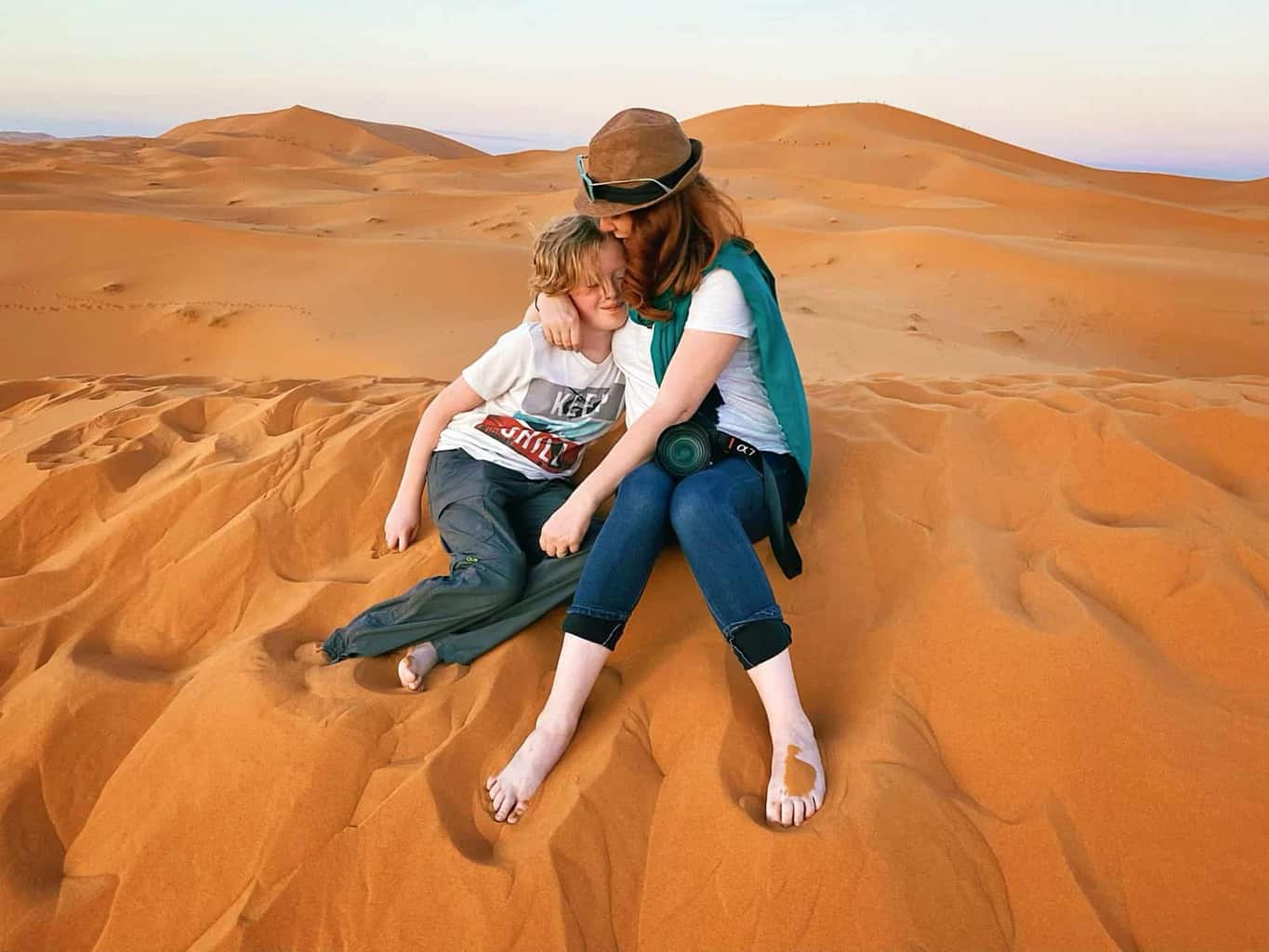 I'd grabbed my oldest to check out the new National Geographic Journey Morocco with G Adventures. We'd be heading into the Marrakech Souks, staying at Moroccan Riads, hiking through the Atlas Mountains and riding camels in the Sahara Desert.
What more could you want on a mom/son trip, right?
Trip to Morocco with My Oldest Son
I don't know about you, but as my boys hit elementary school, they began to fight a whole lot more. The oldest son, Dek, was "too cool" for the youngest, which only made the youngest try to be more annoying to get his brother's attention.
I quickly realized that although we love traveling as a family, sometimes a little one-on-one time was necessary. Since my youngest had just been to North Dakota with me, it was time for the oldest to get an adventure of his own.
Also, not going to lie, my oldest can sleep anywhere and loves almost every food. My youngest loves his schedule and PB&J sandwiches. It was pretty much a no brainer that the oldest was coming on a trip to Morocco even if it wasn't his turn.
I knew the best way to plan our first trip to Africa (our fifth continent together!) was through a G Adventures Morocco tour. Their new partnership with National Geographic Journeys gave me the excuse I needed to yank my son out of school for a week for an "educational" adventure we both were eager to do together.
Why you should visit Morocco with kids
So, why travel in Morocco? Well, it's a bucket list destination to be sure. Many of us think of coastal cities colored tiles, bustling souks and a desert oasis when we picture this North African country. However, Morocco is so much more than shopping, big cities and luxury resorts.
When you are planning a kid-friendly Morocco vacation, you need to remember that there is the ocean, small towns, mountains, forests and desert sand dunes to explore. You have the chance to ride camels, water a few nomadic donkeys, hang out with the local lizards and other creature encounters most people only see at the zoo.
Best of all, you will meet the local people. The Moroccans and Berber people are warm, value family above all else, and sure know how to welcome guests. They want to share their history, culture, food and traditions with you. It's exactly the experience you hope for your kids, but you have a little help along the way when you book a tour.
Children are cherished, not seen as a nuisance, an important distinguishing factor when you plan your next family trip. After all, no one wants to go where their family isn't welcome.
Book your own tour or Morocco HERE
Booking tickets to Morocco
There aren't a lot of nonstop flights to Morocco. New York and Washington, DC, offer nonstop flights to Casablanca on Royal Air Maroc, but only on specific days. When booking tickets to
Morocco from destinations across the U.S.A, you will most likely need to connect in Europe.
Before you buy your flights, keep in mind that many return flights from Marrakesh and other destinations in Morocco will have long layovers on the way home. Use this as an opportunity to spend a few extra nights in London, Paris, Madrid or Lisbon on your way home.
Morocco Tours
Morocco can be overwhelming. The distances between things are long, and driving can be terrifying if you don't know what you are doing. Many people book a private car with driver when exploring on their own, but Morocco group tours can be a great alternative for families.
There are many local tour operators you could go with, but we loved being a part of the G Adventures Morocco trip for families, officially called "Morocco Family Journey: Ancient Souks to the Sahara." My son had friends his own age to play with that hailed from across the globe, and I had other parents to chat with when I needed some adult conversation. Traveling solo is great, but sometimes you need a little conversation with new friends.
Marrakech to Merzouga
Our National Geographic Journey Morocco took us from Marrakech to Merzouga and back. There were some days that we were in the bus for long hours, but when you want to get to the desert, you have to drive there. No flights or trains will get out to the Sahara at a reasonable price.
Thankfully, there were stops along the way. The kids and parents on the bus were able to stretch their legs, grab coffee and snacks, and sometimes even go for a little hike. Our guides (called CEOs- Chief Exploration Officers) also listened when we needed toilet stops or wanted to stop to buy a few scarves to take home.
Morocco Itinerary
So, what does the journey look like? Here's a quick rundown.
Arrive in Marrakech to relax and enjoy a dinner with your group
Travel from Marrakech to Ouarzazate, stopping for lunch in the High Atlas Mountains.
Drive from Ouarzazate to Merzouga where you will stay for at least two nights, riding camels, sand boarding, learn about fossils, visit an oasis and meet a local Berber family.
Head to Dades, stopping for a family-friendly hike along the Todra River Gorge in Tinghir.
Travel to Ait Ben Haddou to stay in a traditional Morocco Riad, take a tagine cooking class and hike through the Kasbah, a UNESCO World Heritage site.
Return to Marrakech to explore the Medina and souks.
Check out the full itinerary HERE.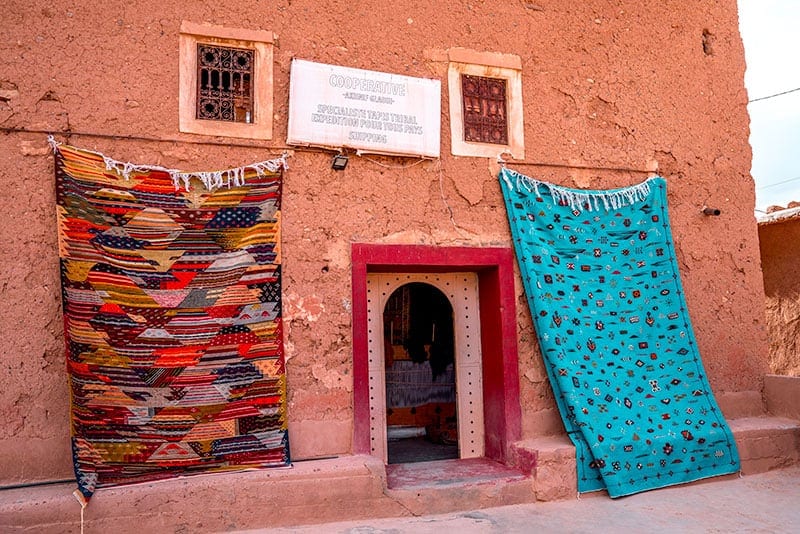 Things to do in Morocco
You will learn a lot on your National Geographic Journey with G Adventures, from your time in the city of Marrakech to your three-day trek out to the mountains, seeing the sites, eating the food, drinking mint tea (more likely green tea with mint), and yes, doing a little shopping along the way.
The guides are locals who live and breathe the country, answering random questions you might have. Every day we tackled a new topic, delving into the history, food, Berber culture, and other significant parts of Moroccan life. At night we even chatted about religion, politics and marriage.
Drive through the Atlas Mountains outside of Marrakech
During our journey, we passed through the Atlas Mountains twice. On the way out, the stops were minimal, grabbing coffee and using the toilet on the way. The highlight was an Atlas Studio tour near Ouarzazate.
The drive back through the Atlas Mountains, we stopped in Dades for the night. We snuck in a little hiking through the Todra Gorge, which I could have done much longer than 20 minutes. We passed through the Todra Valley, an oasis in the desert, with the town building itself up around the hills.
Experience the films shot at Atlas Studios
One the way to Ouarzazate, we stopped to tour Atlas Studios. We walked past helicopters, airplanes, chariots and town sets used in major Hollywood films. A few of the movies filmed on set include:
The Mummy
Black Hawk Down
Ben Hur
Gladiator
Jewel of the Nile (sequel to Romancing the Stone)
Prison Break Season 5
Troy
Game of Thrones Season 3 and 5
Prince of Persia
King Tut
Babel
Kingdom of Heaven
Disney's Aladdin (live action)
Besides learning about all of the cool movies filmed at the studio, you can take photos everywhere. There are murals on the outside of sound stages, including a gorgeous set of butterfly wings. My favorite little factoid from the tour- our guide had been an extra in Game of Thrones as an Unsullied soldier.
Sahara Desert in Morocco
For anyone looking to head out to the mountains, you can expect a 10-12-hour drive to get from Marrakech to Merzouga. Morocco desert tours are a big draw for travelers, which is why they make the drive.
We broke the trip to Merzouga into two days, and spent two nights in the desert. Everyone was ready for a nice break from the bus after two days of driving. Our hotel, the Nomade Palace, sat right at the foot of the Sahara, giving us stunning sunrise and sunset views over the desert each day.
We took a desert tour, meeting a Berber family (nomads), stopping by a water well to say hello to a few free-range donkeys and learned all about the ocean fossils the locals are finding, and mining to sell.
CLICK HERE to Book your trip to Morocco to see the Sahara for yourself!
Fossils of Morocco
In case you forget, the Moroccan desert used to be underwater. There are a lot of critters to see and find in the local rocks. Desert sand roses (formations of crystal clusters of gypsum or baryte which include abundant sand grains) are also being found, giving scientists a deeper look at the geological make up of an area and the ocean floor that once existed.
We stopped by one part of the desert that they are still finding these fossils. The kids climbed all over the rocks, finding squid fossils as they leap from boulder to boulder. Splashing a little water on the rocks made the fossils appear much clearer, so everyone wanted a turn playing archeologist.
We also went to a facility where they are carving the fossils out of the rocks. Our guides were able to tell us more about the creatures they were finding, including squid, starfish, and I even spotted a horseshoe crab (or ancestor of one). These fossils are now being turned into pieces of art, tables, sinks, platters, small jewelry dishes, and even necklaces. Of course, we all had to bring at least one fossil home.
Sunset Camel Ride into the Sahara
As the sun began to set, we jumped on camels to trek into Erg Chebbi, a sweeping sea of sand dunes that are constantly changed by the wind. This was the adventure the kids had been looking forward to the most. The Sahara Desert was one sight none of us wanted to miss.
A few camels had snowboards strapped to them. No, there wasn't any snow; we were going sand boarding! My son Dek could have stayed there all night, getting a face full of sand every time they came down a mountainous dune.
I was too much of a chicken to try (uncontrolled speeds aren't my thing), but Dek went up over and over again. Even standing up behind a friend on the tour a few times. He was in heaven.
If we had allowed it, all of the kids would have stayed in the dune for the night. But the thing about the desert is, while it is warm during the day, it can get very chilly at night, especially in February. It was dark by the time we got back to the Nomade Palace. We were all ready for our last meal in Merzouga before we started heading back to Marrakech.
Our hosts had a special surprise for us too. We would be eating under the stars in the courtyard and then heading away from the property for a bonfire, music with the local Gnaoua musicians and stargazing.
Stargazing in Merzouga
And oh, there stars. Lots of them! I was so thankful that I had brought my tripod on this trip, as I was able to capture more stars than I have seen since I was in Wadi Rum in Jordan.
Very little ambient light showed us the Milky Way, and constellations like Orion, the Big Dipper, and we think we saw the planet Venus.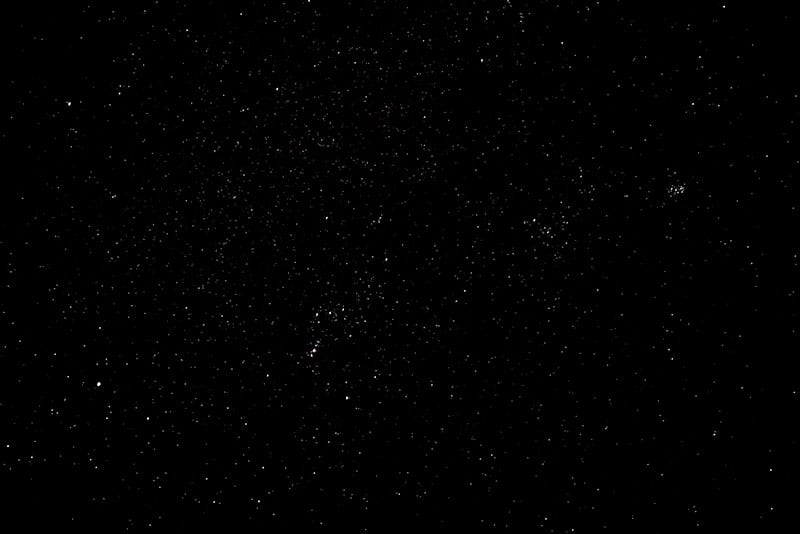 Five tips for photographing the night sky as pinpoints of light
Put your camera on a tripod
Set your aperture (f/stop) as wide as it will go.
Try a 20 second exposure (shutter speed) to start. The stars can start to blur if you go higher than 20-30 seconds.
Up your ISO as needed for an optimal exposure.
Take a lot of photos and don't touch your camera. Putting your camera on a shutter delay (most cameras have 2 or 10 second delays), will stop you from shaking the camera as you start your shot.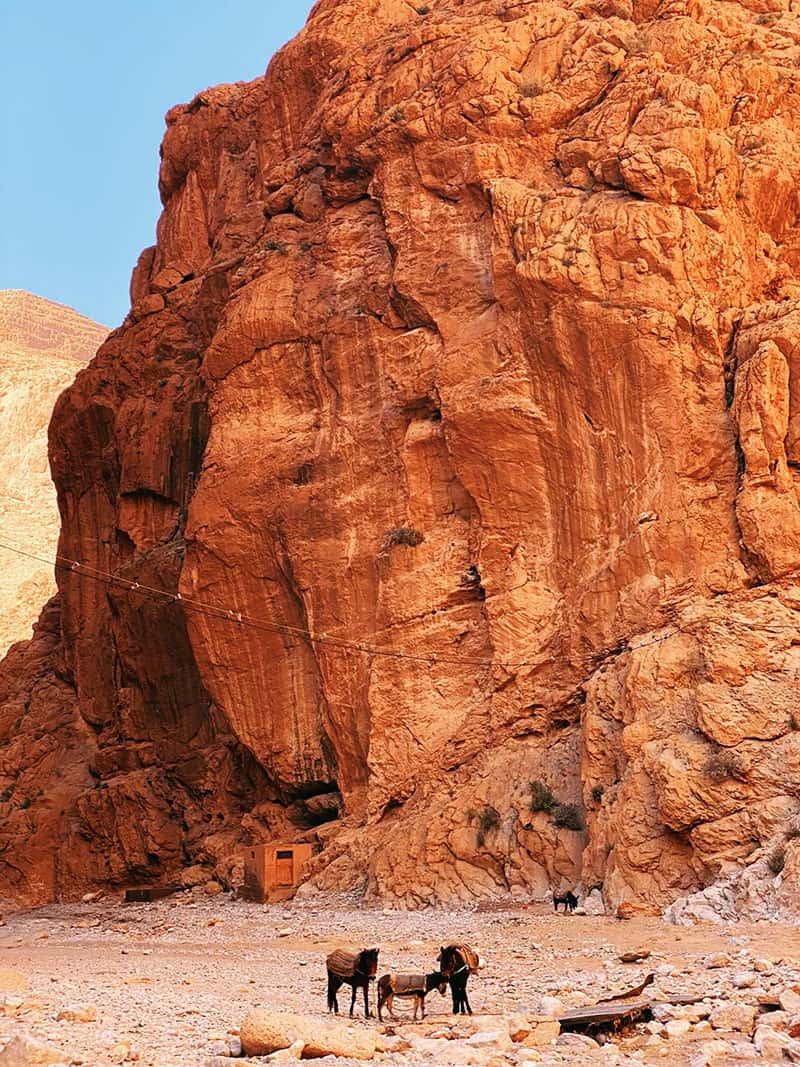 Driving from Merzouga to Marrekech
We took a bit more time to get back to Marrekech on our way out of Merzouga. This allowed us to hike for a half hour through the Todra Gorge, stop for lunch and even stay in Dades at the hilltop Hotel Xaluca Dades Morocco.
The kids got to play in the pool, while the moms hit the Hamman, a traditional Middle Eastern spa also known as a Turkish Bath, for massages and scrubs. Keep in mind, if you want to go to the Hammam, you will need to make an appointment at the hotel front desk.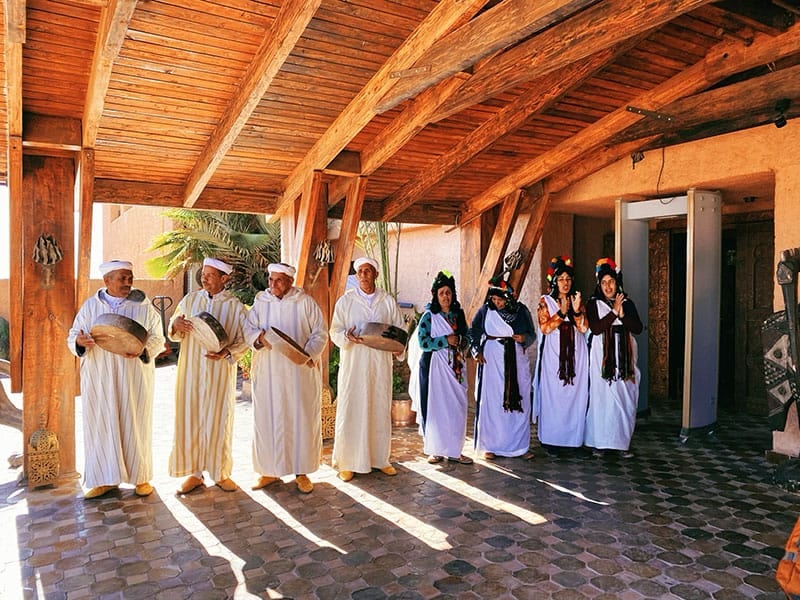 Nudity also isn't blinked at when you are getting a massage or a scrub. The staff can get a bit more personal than Westerners are used to, but everything is above board. Massage and scrubs are thought of as more medical, to ease your pain and remove dead skin. Sometimes you have to get a little "up close and personal" to make that happen. If you are uncomfortable, especially in the massage, just leave your undergarments on.
Dades to Ait Ben Haddou
From Dades, we headed back into the Atlas Mountains to Ait Ben Haddou, just west of Ourazazate. We made a few stops to buy the local Damascus rose infused products (lotions, clay masks, scrubs, lip balm, essential oils) and at an herbalist.
The herbalist was by far my favorite stop along the way. We all got a short class describing the different herbs and oils, and their healing properties. The prices were so good in the shop, we all loaded up on our favorites. I picked up some saffron, turmeric, jasmine oil and a special essential oil blend that is great for migraines while traveling.
Arriving in Ait Ben Haddou
As we pulled up to Ait Ben Haddou, we stared in wonder at the hill across the river. There was a serious fortress town spilling down a mountain. We dumped our things at the Riad Maktoub and headed into the town.
Before we went to the fortress, we met with a women's cooperative that makes the traditional Berber rugs. The kids found this interesting for a bit as we learned the process of dying the wool and weaving each carpet, but once the shopping started, they all mentally checked out.
Thankfully, we headed across the mostly-dry Asif Ounila river bed, watching as dust clouds flew in our direction. The scarves we had bought earlier in the trip came in handy to keep the dust out of our faces, while sunglasses kept and dust particles out of our eyes.
Explore the UNESCO world heritage Kasbah of Morocco
The Ksar of Ait Ben Haddou, a former ighrem or fortified village, was built into the side of a mountain for strategic military vantage points. Why here? It was along the former caravan route that ran from the Sahara to Marrakech.
This site is a big movie filming location, as well as tourist attraction, as it's an intact Moroccan fortress. There are multiple living quarters and shops inside of this earthen clay village for movie directors to use in feature films.
Even though it is now a UNESCO World Heritage site, about three or four families still live in the ancient village, despite there being no electricity. Most locals live just across the river in the newer town.
As you walk up through the entrance and up the hill, you will see loads of shops and even a few cafes taking over many parts of the complex. During your hike to the top (or on the way back down) you can buy paintings, rugs, ceramics and other trinkets to commemorate your journey.
Remember- haggling is the norm in the markets across Morocco. The Kasbah is no different. If you need help, just ask one of your guides.
Sampling of the films shot in Ait Benhaddou
Time Bandits (1981)
The Jewel of the Nile (1985)
Kundun (1997)
The Mummy (1999)
Gladiator (2000)
Alexander (2004)
Kingdom of Heaven (2005)
Babel (2006)
One Night with the King (2006)
Prince of Persia (2010)
Hanna (2011)
Son of God (film) (2014)
Queen of the Desert (film) (2015)
Learn to make tajine and msemen
While many of us may be familiar with tagine (or tajine depending on how you like to spell it. Both are correct), you may not have ever heard of msemen. This local flatbread bread is most often found at breakfast in parts of North Africa. Add a little smattering of honey and you have a delicious breakfast bread similar to a crepe (but quite a bit thicker).
During our stay at the Riad Maktoub, we took a cooking class to make this local bread and a chicken tagine. Parents were in charge of the tagines we would eat for dinner that night, while the kids worked on the msemen. I'm pretty sure the kids had more fun.
We parents got to see how the spices were blended with the chicken, and then create our own tagine, placing the chicken in the base of the tagine, and then covering the meat with fresh vegetables before going on the stove top to cook for a couple hours.
Meanwhile, the kids were getting their hands dirty mixing dough. I had to get in on the action with my son once they began to roll out little balls of dough. While the baker who was teaching the kids had made perfect little balls of dough to flatten out, the kids (ages 6-12) made more age appropriate balls that fit their little hands.
Needless to say, we saw a wide range of shapes when our msemen was brought out for dessert that night. The kids were so excited and so proud of their accomplishment.
Ait Ben Haddou to Marrakech
The drive back to Marrakech from Ait Ben Haddou was pretty uneventful, although very winding. My son and I both had to take extra Dramamine and Bonine (anti-nausea) pills. We already had our Sea Bands on as we made our way over the High Atlas Mountains and back into the city.
Getting Henna Tattoos in Morocco
One thing my son and I had been looking forward to most was getting tattoos together. No, these weren't permanent; they were organic henna tattoos that would last about two weeks. Our group popped into the Henna Art Café, co-run by a retired American woman. I couldn't wait to get started. We met the henna artists who would be doing out tattoos and got to work selecting our design.
Dek went for a simple square style design on his forearm, while I went all out with a Henna tattoo that covered my left hand and pointer finger. We were impatient for the henna to dry, and just couldn't wait the 6-8 hours you are supposed to leave it on. After three hours we peeled it off, but they still lasted a good week.
Bahia Palace Marrakech
Arms still sporting our fresh henna, we headed to one of Marrakech's top sites- the Bahia Palace. Here is where you see the Moorish designs that are so popular in Spain. Colorful tile work, Italian Carrara marble and intricate wood work make up the splendor inside this Marrakech site.
Our local guides gave the history of the palace. The kids didn't always pay attention to the facts being thrown at them. However, the story of the many wives and concubines who called this palace home caught everyone's attention. Who doesn't love a salacious story, even the kids (it was kept rated G for them). They couldn't fathom how there were so many moms who lived in one spot.
Today, the palace is open to visitors, but also used for important cultural events today.
Last night of our Morocco trip
Our last night on our G Adventures Morocco group tour wasn't spent at the pool, but in the Marrakech Medina for shopping, exploring and a final dinner. Despite my son being a bit nervous in the souks as they were crowded and chaotic, I highly recommend you pop in to explore. I kept my son close, and he even let me hold his hand, something I know won't last much longer as he heads into the teen years.
Our final dinner was filled with fresh orange juice, Moroccan wine, tagine, couscous, pastilla (spiced chicken baked in phyllo dough with cinnamon and suger dusted on top), and briouat (like little egg rolls stuffed with cheese- a favorite with the kids… and me!).
We were exhausted, invigorated, and ready for a good night's sleep. Most people on our family-travel tour would be heading home, while a few of us had opted to stay in Marrakech another night on our own. There was more shopping and exploring for us to do, as well as checking out a luxury riad just off the Marrakech Medina before we headed home.
Many thanks to National Geographic Journeys with G Adventures for hosting us on this trip with other media, to test out their new family travel options. As always, my opinion is my own. When it is not, you will be the first to know. This post contains affiliate links.