Georgia peaches will always have a soft spot in my heart. Despite the fact that I actually loathe the fuzzy exterior flesh, I love this sweet, juicy stone fruit in just about anything you can imagine. A homemade peach ice cream is no exception, especially when you swirl in a little blueberry compote and graham cracker crumble to make the perfect peach blueberry crisp ice cream.
Why Georgia peaches?
I met my husband oh-so-many moons ago in Savannah, GA, while attending the Savannah College of Art and Design. We were both broke art students who worked a variety of jobs to get through school.
Georgia is well-known for its peaches, so as a waitress I served a lot of peach desserts, and also indulged in more than a few when we started dating.
In fact, my husband thought I was a bit crazy when we first went out (or that I had an eating disorder). Every time we went on a date, I would only order dessert. What he didn't know was that I ate dinner early, while he always called me up late to go out after he got off work.
So, while I was already full, he was starving. I was crazy about him– what was I supposed to do, say "no" to going out to eat just because I'd already had dinner? No way!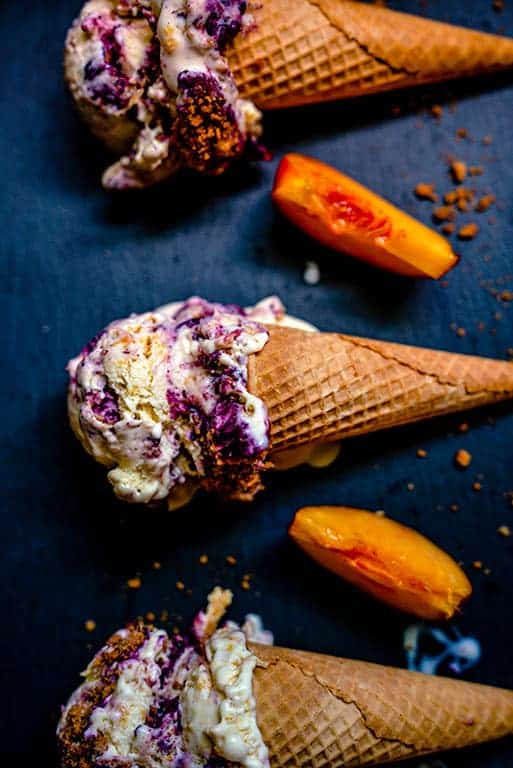 Peach crisp, peach pie, peach ice cream, peach donuts, peach whatever– I probably ate it in those early days of our relationship. I'm not ashamed. As a girl who spent 13 hours in the photo lab, sometimes I just needed to get some calories in; ones that the gas station up the street from the photo department building just couldn't supply.
So, as I broke in my Cuisinart ice cream maker this summer, I dove into my favorite flavors from the past. Trips to Morocco have been reminisced over the perfect bowl of fresh mint ice cream, while key lime pie ice cream has whisked our family back down to Florida.
As I tell the story of how their dad and I met, the boys will be slurping up a batch of homemade peach ice cream, just like their parents had on their first dates.
Fresh Peach Ice Cream Recipe Ingredients
2 cups of heavy cream
1 cup of whole milk
1 ⅓ cup of sugar (divided)
1 Vanilla bean pod (or 2 tsp of Vanilla extract)
5 egg yolks
⅛ tsp salt
4 cups of fresh ripe peaches (8 peaches or frozen peaches )
1 tbsp fresh lemon juice
Peach Ice Cream Base Instructions
Peel and slice peaches into small chunks
Combine peaches, ⅓ cup of sugar and lemon juice in a bowl
Cover the bowl and allow peaches to macerate in the refrigerator for at least 1 hour
Strain peach sauce into a separate bowl. Pure 2/3 of leftover peach mash in a food processor and add to peach sauce. Set other 1/3 peach mash aside in a bowl.
In a medium sauce pot, combine cream, milk, ⅔ cup of sugar, salt and vanilla paste from your vanilla pod.
Simmer cream mixture over medium heat until small bubbles form on the side. Do NOT let it boil!
Remove from the heat
Whisk together egg yolks with ⅓ cup of sugar in a medium bowl until sugar dissolves and eggs are a light yellow color.
Slowly whisk in one cup of the hot cream mixture to temper the eggs.
Pour the egg mixture back into the cream mixture in the pot to create a custard
Simmer on medium low for about 8 minutes, stirring constantly until custard coats the back of the wooden spoon (about 170 degrees)
Pour custard into a fine mesh sieve over a heat proof bowl that is placed in a larger bowl filled with ice.
Cool down the custard, stirring a few times.
Stir in peach sauce until combined (save peach mash for end)
Cover bowl with plastic or transfer to container with a lid
Pop in refrigerator to chill for at least 2 hours or overnight
Pour peach ice cream into your ice cream maker.
Churn for 25 minutes until it looks like soft serve ice cream (or according to manufacturer instructions for homemade ice cream)
During the last 30 seconds, add in your peach mash until just combined.
Blueberry Sauce Ingredients
2 cups of fresh blueberries
¼ cup brown sugar
¼ tsp corn starch
Zest and juice from 1 lemon
⅛ tsp cinnamon
⅛ tsp salt
Blueberry Sauce instructions
Pour blueberries into a medium sauce pan
Add sugar, lemon zest, cinnamon and salt
Stir to combine
Set over medium heat, and stir frequently for about 30 minutes
Berries should be soft and juices should be reduced down (thickened) like a syrup
Cool sauce completely
Optional: For a less chunky sauce, pulse in your food processor or blender for a few seconds to make a puree.
Graham Cracker Swirl Ingredients
8 oz Graham crackers (14 large crackers)
5 tbsp butter, melted
2 tbsp all-purpose flour
Graham Cracker Crumble Instructions
Put graham crackers in a bag. Crust with a rolling pin to make crumbles OR put graham crackers in food processor and crumble (you do not want graham dust!)
Pour crumbs into a bowl
Add butter and flour to crumbs
Mix with a fork
Bake in the oven for 15-20 minutes (or until brown), flipping the crumbs for an even bake.
Allow to graham cracker crumbs to cool completely before adding to ice cream.
Combining all parts of ice cream
Scoop half of the homemade peach ice cream into a freezer- friendly airtight container OR bread loaf pan lined with parchment paper.
Pour half of your blueberry sauce on top and swirl in with a butter knife or chopstick.
Sprinkle a thin layer of graham cracker mixture on top.
Scoop the other half of the ice cream into your container and cover with remaining sauce, swirling sauce with a knife again. Sprinkle graham crackers on top.
Cover with plastic wrap and freeze for at least 4 hours.
TIPS: You can make your custard base two days in advance. You will want to let all of your ingredients cool overnight at the very least. It's best to always work with cold ingredients. Graham cracker crumble and blueberry sauce can also be made in advance.