Although most islands in the Caribbean are not really that far apart from one another, island hopping is often far more difficult than it may seem. For visitors heading to the small island of Vieques in Puerto Rico, it's important to be well informed of your options for getting to the island as it often requires a great deal of planning.
There are a variety of options for getting to Vieques and no matter which one you choose, it's always best to plan ahead to avoid headaches in the future!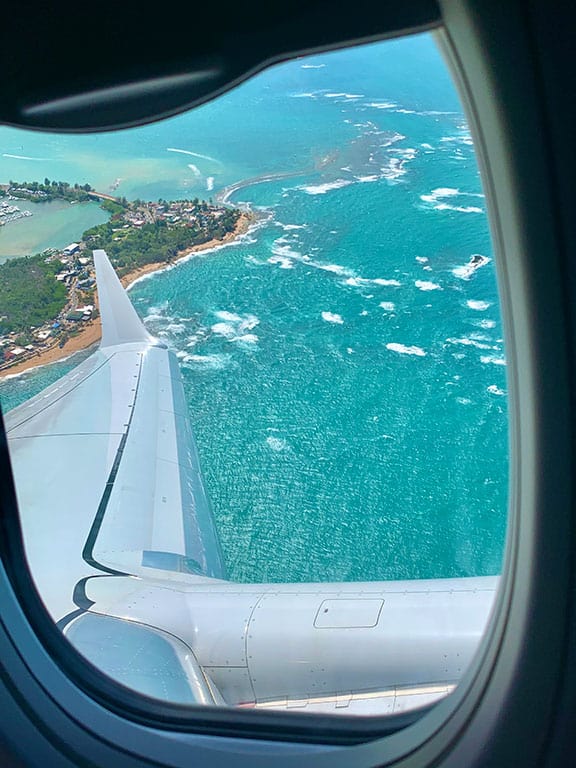 Getting to Puerto Rico
Puerto Rico is a popular destination among travelers within in the United States and getting to the main island of Puerto Rico is as easy as booking a ticket on any major airline.
While the majority of flights make a stop in Miami, nonstop flights from New York City are operated on Delta or JetBlue airlines.
Most commercial airline flights arriving on the island will touch down at Luis Muñoz Marín International Airport (SJU), the main international airport in Puerto Rico. From here, visitors have a variety of options for getting from San Juan to the island of Vieques including flying or taking the public ferry.
Flight Options from San Juan to Vieques
Flying from San Juan to Vieques is by far the fastest and most convenient way to get to get to the island island. The only airport on the island is Antonio Rivera Rodríguez (VQS) airport and the two main airlines offering service from San Juan to Vieques are Cape Air and Vieques Air Link (VAL).
The flights from SJU are less than 30 minutes in duration, but make sure you pack light because these small, eight passenger planes have a weight limit and you luggage may have to catch the next plane if there's not enough space.
Both airlines offer daily services from SJU to Vieques, and the prices for each airline are about the same price with average roundtrip prices starting at around $240.
Other Vieques Flight Options
The biggest issue that travelers may encounter when trying to book a flight from SJU to Vieques is lack of available flights or cancellations on Cape Air and VAL. Travelers are encouraged to book their flights early to avoid running into issues with sold out flights, but in the event of a cancellation there may be a few other flight options.
Isla Grande to Vieques
Just a short 15 minute drive from SJU airport, visitors can find Isla Grande (SIG) airport which offers service to Vieques via Vieques Air Link.
Although flights from this airport to Vieques may be slightly cheaper, it's not generally worth the hassle of finding a taxi or Uber to get there. However, this route may be a helpful last minute option for travelers with cancelled flights or missed connections.
Ceiba to Vieques
A popular choice among locals, flights to and from the Ceiba International Airport (RVR) are just $40 each way on Vieques Air Link. Although Ceiba is a little over an hour drive from San Juan, most locals who have the means prefer to spend the $40 to fly as it's much faster than taking the ferry.
For visitors, hiring a taxi or Uber can cost up to $100 and flying from SJU or SIG is generally a much better option.
Book a Private Charter
Depending on your budget or the size of your party, booking a private charter from the main island to Vieques may make sense for some travelers.
There are three companies offering private charters and prices for each one vary, so travelers considering this option should reach out to the airlines for reservations.
Test Your Luck on the Ferry
While flying to Vieques is certainly the most efficient option, it is not necessarily the cheapest option. Under the right circumstances, taking the ferry from Ceiba to Vieques can save a ton of money for budget-conscious travelers.
However, travelers should keep in mind that this route requires transportation from San Juan to Ceiba which takes about an hour and a half and is typically between $80-100 each way with either a taxi or Uber.
For solo travelers, the price of flying ends up being about the same as taking the ferry, but for larger groups taking the ferry may be a great money saving alternative to flying.
Passengers taking the ferry are encouraged to book their tickets online ahead of time and arrive at the ferry terminal 30-60 minutes prior to departure. The ferry ride from Ceiba to Vieques is approximately 30 minutes on the passenger ferry and once on the island, visitors will need to secure transportation while on Vieques.
Getting Around Vieques
After arriving on Vieques, visitors have a variety of options for getting around the island, but some are more reliable than others. Although the island is relatively small being only 22 miles from end to end, getting around can be quite a challenge.
Access to many of the beaches require driving through difficult terrain and having a reliable vehicle will give visitors the best possible experience when visiting Vieques.
Rent a Car
Renting a car is highly recommended when visiting the island as this is the most reliable option for getting around as most cars can handle the rough terrain on routes to the beaches.
While there are plenty of car rental companies, the number of rental cars is actually fairly low due to limited supplies and access to mechanics. Visitors are encouraged to reserve their rental car at least three months in advance to avoid missing.
Rent a Golf Cart or UTV
In addition to car rentals, Fun Brothers and Vieques UTV offer golf cart and UTV rentals for visitors, which is another popular option for transportation on the island.
Most golf cart rental companies do not allow children under 16 years of age on the carts as this mode of transportation can be quite dangerous on the island.
The carts only travel up to 25 miles per hour and while visitors renting golf carts may still be able to reach most of the beaches on the island, they should maintain awareness of their surroundings while driving.
Scooter Rental
A scooter may be more for just enjoying an afternoon of fun, scooter rental is also available at Fun Brothers as well as Scooters For Rent Vieques.
These moped style scooters have a maximum occupancy of two passengers and drivers should take care to avoid the numerous potholes found on the roads throughout the island.
Bicycle Rental
Getting around the island by bicycle is becoming a more popular option each day with Vieques Cycles offering budget friendly bicycle rentals for a healthy and fun way to explore Vieques.
Travelers choosing this option can also enjoy guided bicycle tours of the island and access to many breathtaking ocean views in this tropical paradise.
Biking around the island is not without risk and visitors are encouraged to wear helmets and follow safety guidelines.
Take a Taxi or Publico
You might be surprised to find there are no rideshare services in Vieques like Uber or Lfyt, but what you will find are local taxi companies and public transportation vehicles known as Publicos. Although these options exist on the island, they can be quite expensive and the demand often outweighs the availability, making them difficult to come by.
For visitors planning to utilize taxi services on Vieques, it's highly encouraged to call ahead and maintain contact with the same driver throughout your stay.
Although getting around Vieques can often be quite challenging, there's plenty to see and do that keeps visitors busy all week long. If you're ready to explore the unspoilt beaches of this island paradise, make sure you plan ahead so you don't miss out on any of the fun!