Christmas vacation is upon us, and once again you may be feeling trapped. Your kids want to be home for Santa, but you just want to escape. When you need a few alternate Christmas vacation ideas to tempt the family out of the house, you have to go big. But you don't have to break your family travel budget.
Not every Christmas family vacation has to put you into debt. Yes, some will be splurges, others are more manageable. So… let's dive into our favorite Christmas vacation ideas for the season.
Go Skiing in Jasper National Park
While all of your friends are at home stressing over the ham and turkey, you can be on the slopes of Marmot Basin getting in some time on that fresh Canadian powder. Marmot is never jam packed with skiers and snowboarders, but the holidays are definitely one of our favorite times to go. For those not into skiing, you can also snowshoe and ice climb Maligne Canyon.
Winter is also the quieter season in Jasper National Park, which means you can actually get a room at the limited number of hotels in town. If you want to splurge, book a room at the Fairmont Jasper Park Lodge. Nighttime stargazing is worth bundling up to see through the hotel's star program. If you are lucky, you may catch the Northern Lights while you are there.
Read our complete guide to Jasper Canada
Christmas Markets in London
London is one of the top five Christmas breaks UK and for good reason. Our family has been in Covent Garden, toured the museums and walked across the Thames mere weeks before Christmas. I always wished we had stayed through the holidays.
The city is decked out in lights and decorations, from Hamleys Toy Shop to Portobello Road. Live music is being played on the streets, in churches and random squares. Everyone has a bit of festive cheer in their step, even if the skies are grey, as they stroll down the cobblestoned streets of England's capital city.
If European Christmas markets are on your UK Christmas list, then head to the Winter Wonderland Hyde Park. You can also find holiday cheer at Christmas on the River by London Bridge.
Want even more? Here's just a peek at the annual Christmas markets the city has to offer:
Christmas Market at Tate Modern
Southbank Winter Festival
Christmas at Flat Iron Square
Kingston Christmas Market
Ally Pally Christmas Carnival
Christmas at Camden Market
Leicester Square Christmas Market
Greenwich Christmas Market
Maltby Street Night Market
Canopy Market
Warm up in Panama
Don't you just want to be warm in the winter? I know I do. I want to strip off the layers and head south. I just need to get back into my tank top and shorts with a swimsuit underneath (my summer uniform). This year, let's all meet up in Panama. No, not Florida. The country of Panama.
Here, Christmas is a serious business. Nativity scenes, many larger than life, are set up across the country for everyone to enjoy. Food takes over the table, with a Panamanian twist on turkey, arroz con pollo, tamales, and a little alcoholic egg nog (ron ponche) for the adults.
But don't feel like you have to partake. If you are just looking for a nice beach escape, you can do that too. Chill out and enjoy with this easy guide to things to do in Panama.
Booking your own trip? Whether you buy airplane tickets through Expedia or another site, make sure you add on travel insurance, especially during the holiday seasons. From flight delays to mishaps along the way, you want to make sure you have the right amount of coverage for your trip (no more, no less). When you purchase an Allianz Travel Insurance plan through travel booking sites and travel agents, the benefits and limits are tailored to be cost-effective and protect you from some of the most common concerns based on your type of travel, so you only buy what you're most likely to use, not a mega plan that only a high-risk traveler would need. Learn more here.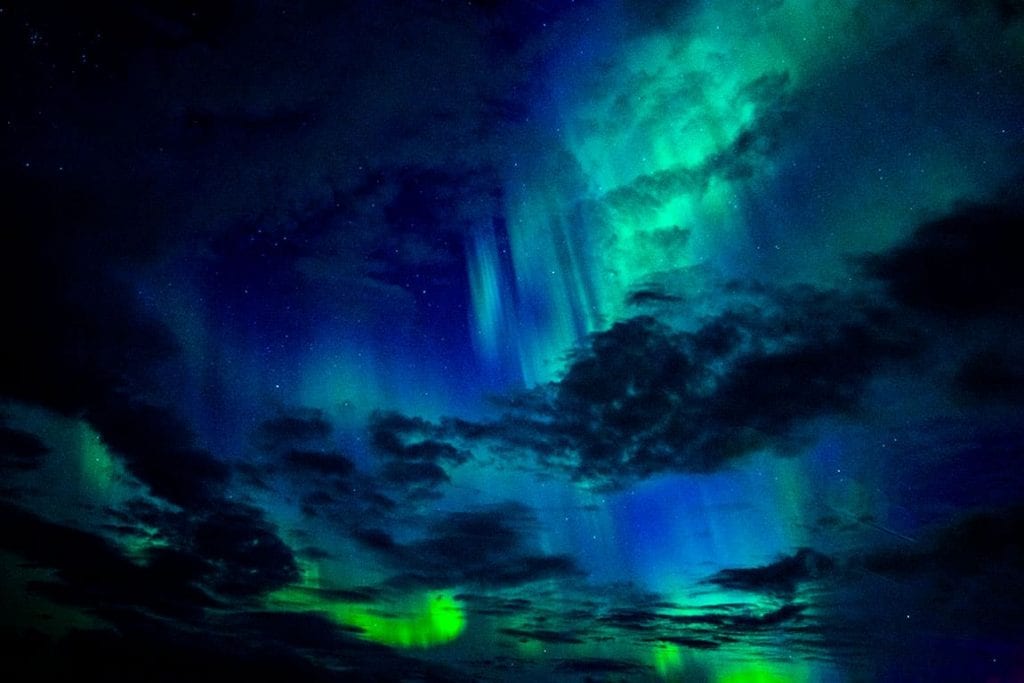 Look for the Northern Lights in Iceland
What could be better than a Christmas trip to see the Northern Lights in Iceland? While there is a whole lot more to see than just the Aurora Borealis, it sure is a good reason to book your tickets. Well, that, and you are guaranteed a white Christmas in Iceland.
We love traveling with our friends at Hidden Iceland, who can cater tours to any family's needs. Traveling with babies and toddlers to Iceland? No problem, they can customize any of their tours for you. Want to get out of Reykjavik so you actually see the unspoiled coastline, hike the ice caves and get away from the light pollution of the city? That's not a problem at all. Their South Coast tour will get you there.
NOTE: Now, they can't control the weather or the Northern Lights, but they will stalk all of the weather apps for you to make sure you get the best opportunity possible.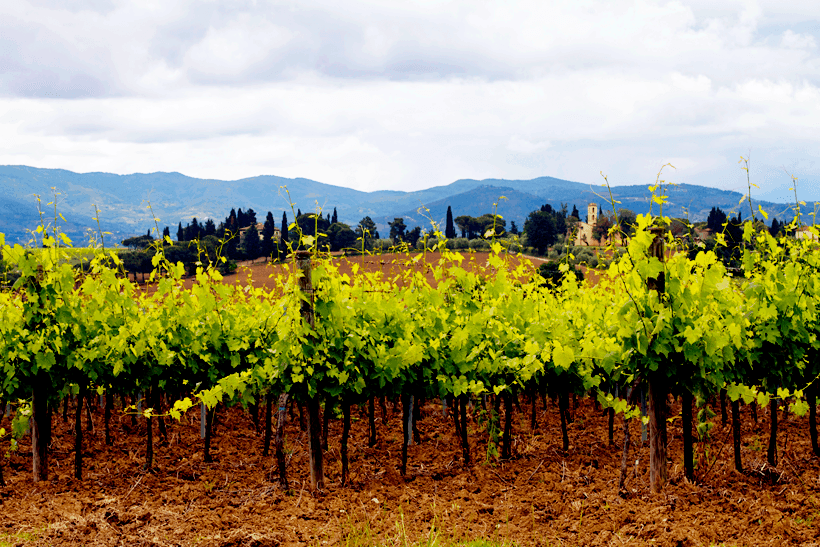 Slow Down in the Italian Countryside
Italy is always a good idea, but not everyone thinks of a Christmas Italy trip. Northern Italy will see cooler temperatures with highs in the 40s, but southern Italy will stay around 55-60 degrees (13-16 degrees Celsius). Tuscany generally sees temperatures around 44-55 degrees, which is chilly, but not unbearable.
With a few layers, you can enjoy all of the holiday décor, Italian Christmas concerts at the cathedral in Siena, or Christmas carols at churches in the smaller hill towns. Chestnuts are literally roasting on an open fire, mushrooms are in season and Panforte Christmas dessert every night is a must.
Best of all, the normal load of tourists won't be in your way. You will be hanging out with mostly other Italians and Europeans for the holiday season.
Get your wand out at the Wizarding World of Harry Potter
We can't say no to spending the holidays in Harry Potter land at Universal Orlando Resort in Florida. There is nothing quite like stepping into Hogsmeade or Diagon Alley and soaking up the holiday spirit with your fellow Potter heads. It instantly gets us in that festive mood, even if we are in shorts.
Drink and taste six different types of Butterbeer, listen to the Holiday Frog Choir sing songs only sung during the Christmas season, and enjoy The Magic of Christmas at Hogwarts, a special light and music show on the castle. A trip to Universal Orlando is a gift in and of itself. No need for presents, although I'm sure you will want to hit up a gift shop or two.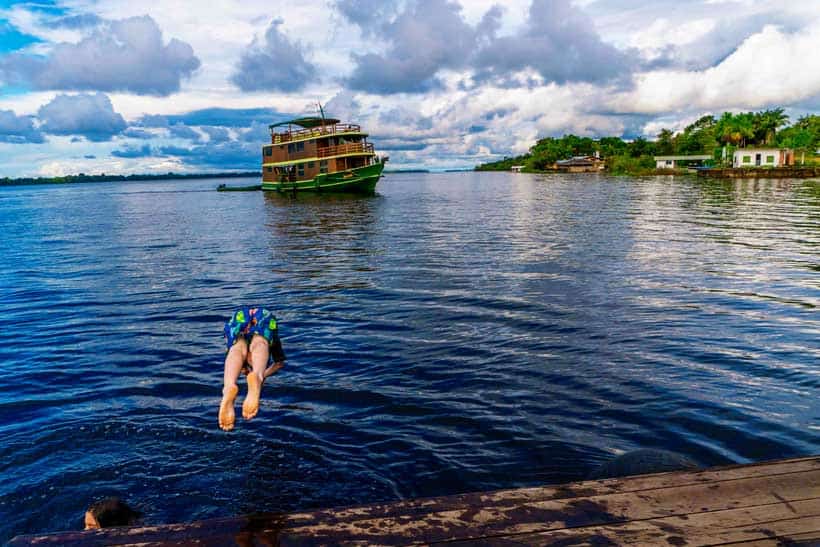 Unplug on a River Cruise through Brazil
Christmas travel is the best time to unplug from life back home. Sometimes, you have to do it by force. A river cruise up the Rio Negro on a trip to Brazil with Our Whole Village will take you out of cell service and there is no Wi-Fi onboard.
You will head deep into the Amazon rainforest, reconnecting as a family, with no screens to stop you. We loved this trip in June during the wet season, but the beaches show up in the dry season, giving you a very different experience. Let's just say, we are quite jealous if you make this trip. Go! Book it right now.
Booking a family tour? Don't forget to ask your travel agent about Allianz travel insurance. No matter how you book a trip, you want to make sure you are protected, especially during the holidays when more people are flying than most times during the year. Get your quote now.
Find the Real Desert in Tempe, AZ
Everyone thinks they know what the desert looks like, but until you are actually in it, you might think palm trees are a natural part of the landscape. When you head to Tempe, AZ, home to Arizona State University, you will see palm trees decorated for Christmas, but they show off their love for the desert in a lot more ways than with twinkly Christmas lights.
Spend time at the Desert Botanical Garden to learn about all the different types of cactus in the desert and why each is so important to the ecosystem. Go on a horse trail ride with KOLI Equestrian Center at the Gila River Indian Community. Your guide will give you the inside scoop on the Arizona desert, what creatures are native to the area, and why palm trees just aren't part of their everyday existence.
Most importantly, eat when you are in town. Tempe restaurants are filled with local and international flavors, and some of our favorite cocktails. And don't worry, there is a full schedule of Tempe holiday events to make sure you get into the Christmas spirit, even when you are wearing jeans and a t-shirt in December.
Get Out of this World in Huntsville, AL
Space, the final frontier. OK, so Huntsville is not an episode of Star Trek, but they do have a whole lot of jet power down in Rocket City. If you didn't know already, the U.S. Space and Rocket Center is located in Huntsville, AL, so there needs to be a bit of bedazzling when it comes to all of the things to do in Huntsville over the holidays.
The Huntsville Botanical Garden celebrates with a Galaxy of Lights display and a Tinsel Trail through Downtown Huntsville. Don't miss out on skating in the park at the Huntsville Museum of Art. Who knew you could even get ice in Alabama? I guess with all of those scientists down there, they could figure it out, or maybe Santa Claus lends a hand. (Actually, it does get chilly in Huntsville, so make sure you pack your jacket and mittens).
Using award miles to get down to Huntsville? Yes, you can still get trip insurance on that flight. Allianz Global Assistance partners with most major airlines to offer flat rate plans that cost only $16-28 per award flight. Check it out now.
Find Broadway in New York City
Never was there a better time to visit the Big Apple than during Christmas. Just the weeks leading up to Christmas in New York City is worth the train ride or flight into town. Cozy up with afternoon tea at the Plaza, ice skate in Central Park and do some shopping with the masses in Time Square.
Ok, maybe skip that last one. Time Square makes me break out into hives if I am there for too long. There are so many other places you could shop and avoid the endless crowds on Christmas Eve.
Most important of all, there are all of the Broadway Shows. Take your pick—Hamilton, Come from Way, Harry Potter and the Cursed Child, Waitress, and what could be more seasonal than Frozen. Take the kids to see the big Christmas tree at Rockefeller Plaza, go ice skating in Bryant Park, and then go see the show you have been dying to see. If you need to stay festive, you can always see the Rockettes in the Christmas Spectacular Show NYC at Radio City Music Hall.
And yes, there are Broadway show performances on Christmas Day. You may get lucky and actually get some decent seats. Just remember, not everyone in New York celebrates Christmas, so they will be there with you too. It's not like you will be in an empty theater.
Don't forget to protect your trip
Remember, when you are booking your flights, hotels, rental cars, tours, etc., don't forget to grab that travel insurance when it is offered. More often than not, when you go back to add travel insurance later, the quote will be higher.
Don't stress about buyer's remorse either. According to Allianz Travel Insurance, if you're not completely satisfied with the plan you purchased from them (whether direct or through one of their partners), you have a 10-day review period (or more days, depending on your state of residence) to request a refund, provided you haven't started your trip or initiated a claim.
Travel more than twice per year? Check out the Allianz multi-trip plans. We have had an annual plan for more than five years and don't regret it one bit!
This post is part of a paid partnership with Allianz Travel. As always, my opinions are my own. When they aren't, you will be the first to know. This post contains affiliate links. If you make a purchase after clicking one of those links I will receive a small commission.