When it comes to rainy days, toddlers love nothing more then running outside and jumping in puddles. While allowing your toddler to frolic in nature and explore the puddles to their hearts desire, having the right rain gear will only make your life easier.
Toddler rain pants are indeed essential, because not only will these waterproof pants keep your toddler dry, but they can help regulate their body temperature and keep them warm when it starts to get a little chilly out.
Toddler rain pants can also be versatile and used for more than letting your kid play out in the rain.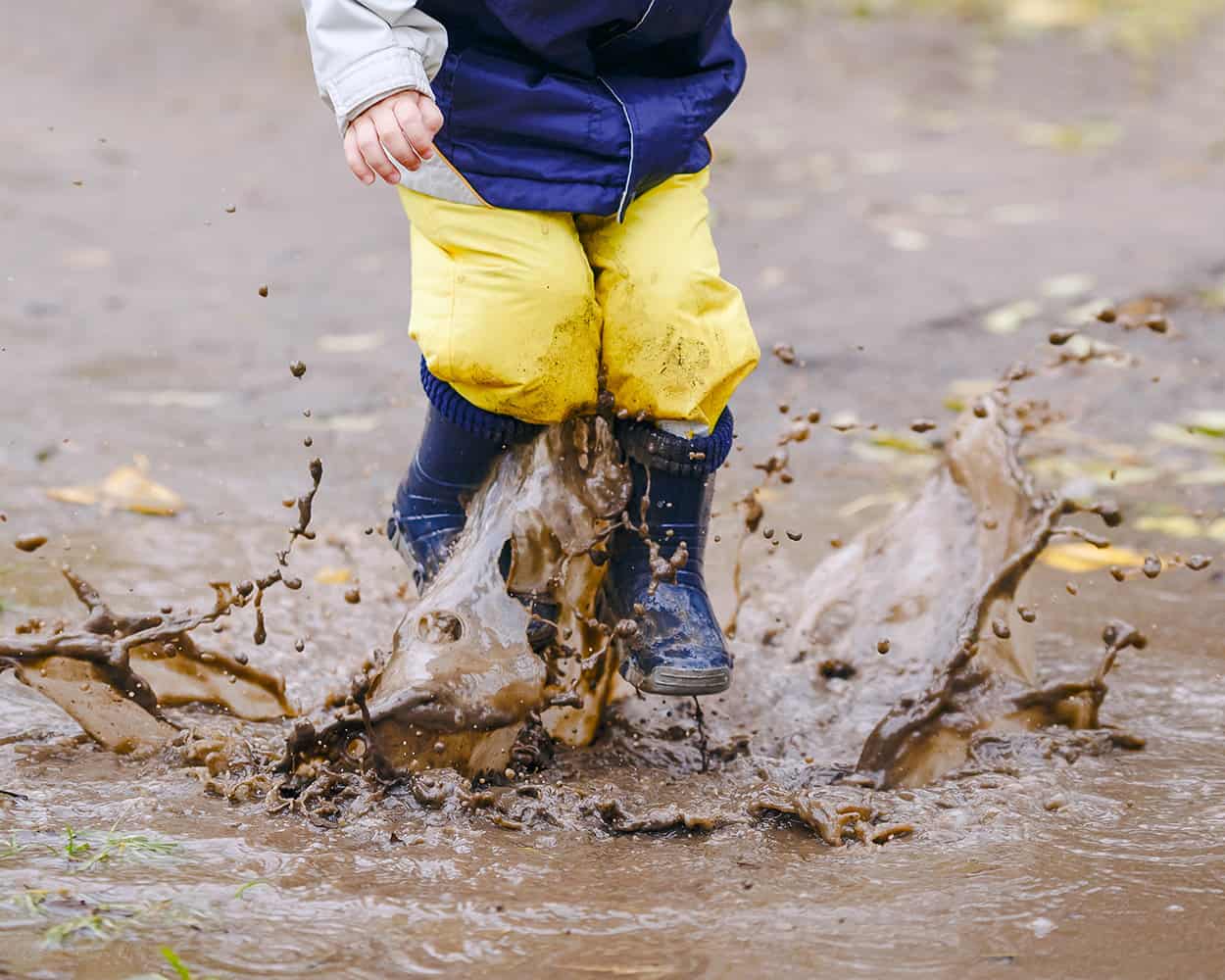 Finding the best rain pants that don't restrict their movement, but keep them dry can be challenging, but we did the hard work for you and found some of our favorite toddler rain pants that are a must.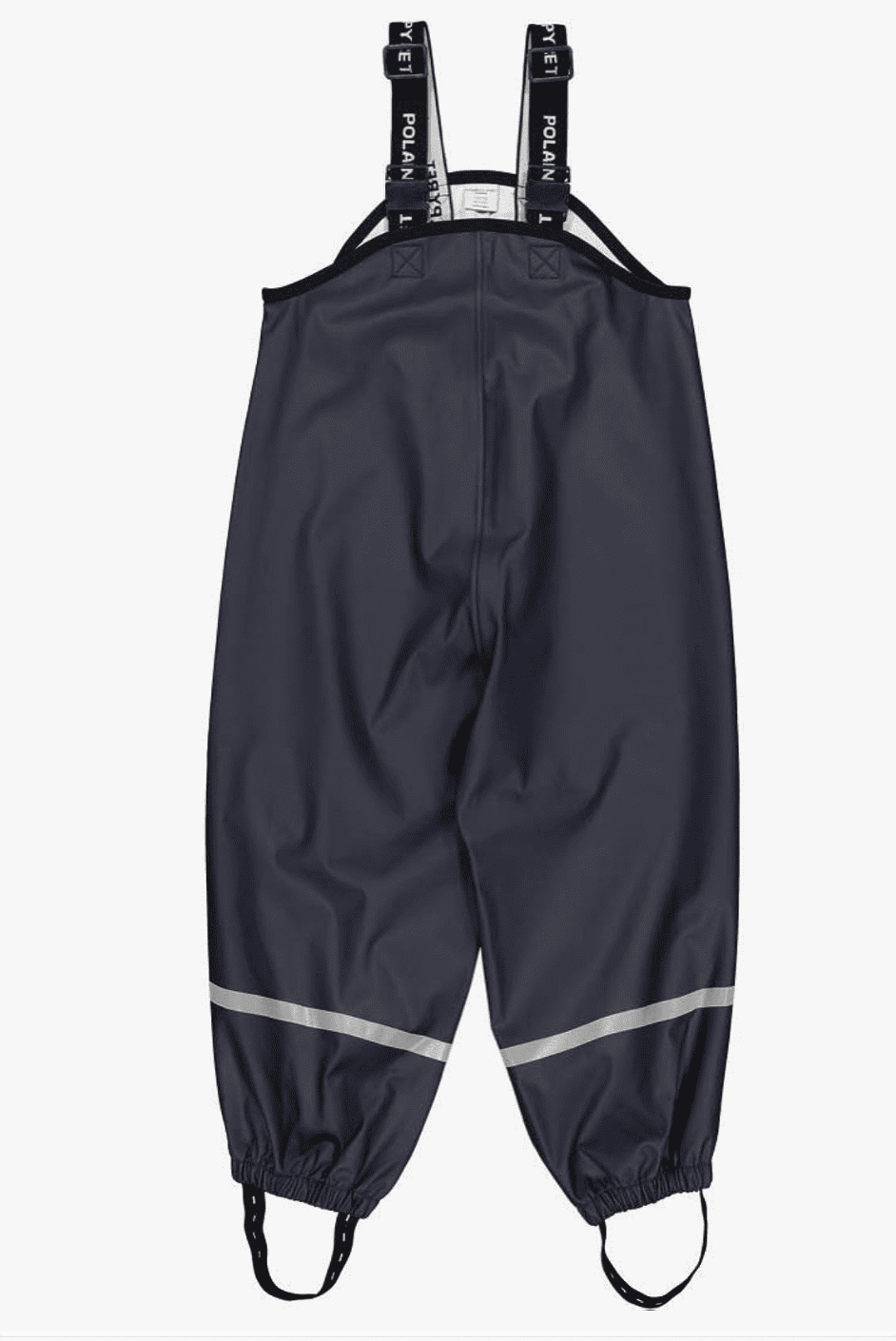 Polarn O. Pyret Waterproof Suspender Rain Pants
These rain pants are a great option for your toddler, because they can easily be adjusted as your child grows. They're great for adding layers underneath to keep your toddler warm and the suspenders keep them in place when your kid is running around.
The pants are water and wind proof (perfect for your Ireland packing list!), plus they can be machined washed or wiped clean after a day in the mud. The seams on the pants are also welded shut, to help prevent water from leaking in.
The best part is the pants aren't too expensive if you want to stay on budget, and the rain pants will grow with your kid, so you won't have to constantly buy more pants.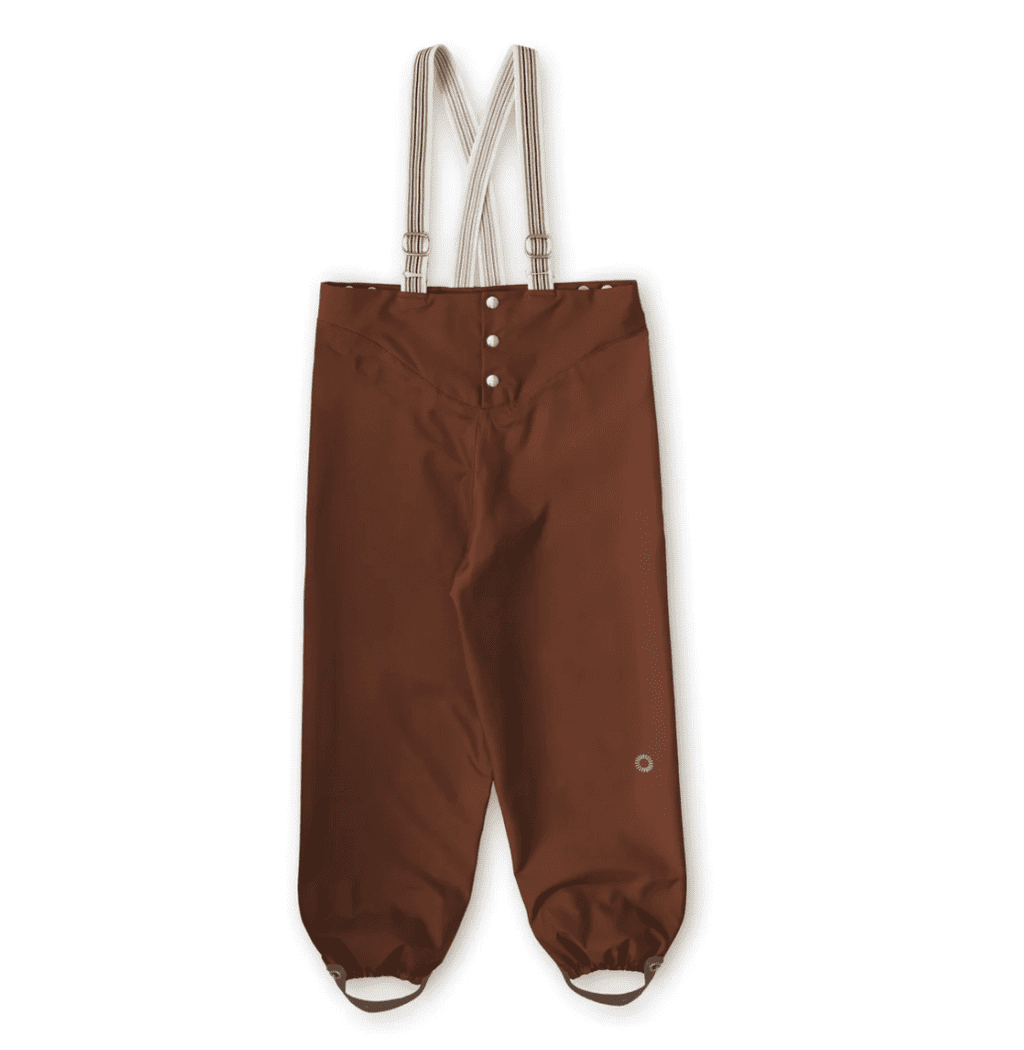 Fairechild Rain Pant
The Fairechild Rain Pant is a super stylish option when it comes to rain pants for your toddler. This brand offers a number of different sizes that allow your kid to stay dry while exploring puddles.
The bottom cuffs are adjustable and the snap waist gives your toddler a secure fit.
The pants are made to grow with your toddler, lasting at least three years on average. You can machine wash the pants and they are designed to repel mud, dirt and water.
Some downsides, these pants are expensive and some might not like the colors they come in.
Grundens Children's Zenith 294 Sport Fishing Bib Pants
Yes, these are labeled a fishing pant for kids, but that means they will keep your toddler dry in any wet environment. We love to throw these waterproof pants over a warmer pair of pants when the weather isn't the best, and they will ensure to keep your kids dry and warm.
Let your little ones stomp around in puddles and grass without you having to worry if their clothes underneath are getting destroyed.
The rain pants come with a side opening for easier access and the detachable foot straps make it comfortable for your kids to wear.
They come with reflective stripes and in two colors if that matters. The down side is they're hand wash only.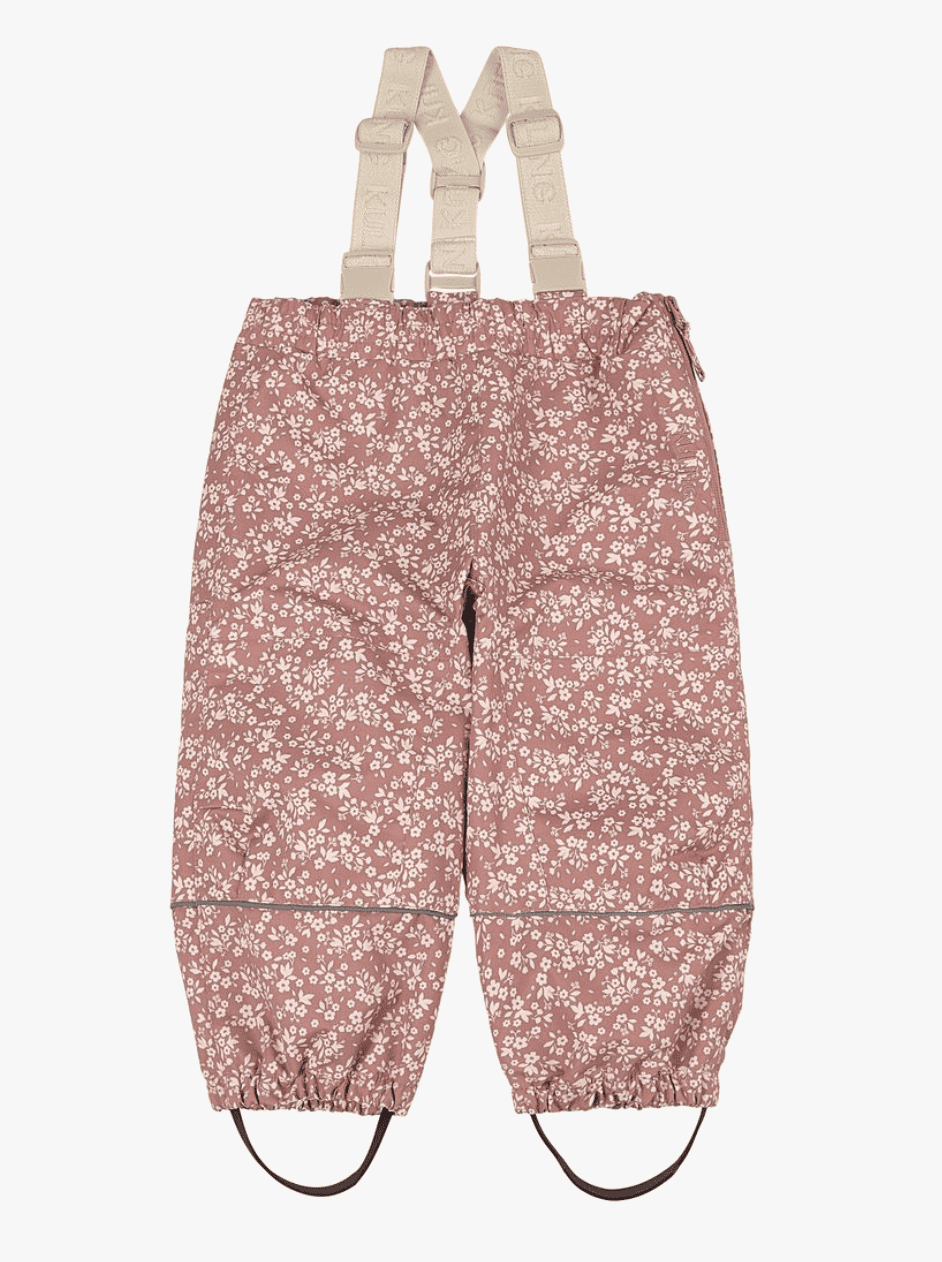 melijoe Kuling Going Shell Pants
The Kuling Going Shell Pants are versatile when it comes to the age and size of your toddler. These rain pants are thick and sturdy, so even the roughest toddler can't take them down.
This shell pant is easy to get on and off due to the side zipper and the pants are made to pull over your kids rain boots for a secure and max protection.
For $55 you are getting a legit pair of pants that will last your toddler a few rainy seasons and the color options and patterns are simply stunning. We just wish they made these for adults!
Didriksons Waterman Kid's Rain Set
Didriksons is known for their all weather gear and their rain pants are no exception. Their waterman rain set, which includes a rain jacket and rain pants, is durable, comfortable, and flexible to allow your toddler an optimal range of motion as they play.
The pants come with insulation to keep your toddler warm, but are waterproof to help keep them dry, so even if that rain turns to sleet, your kids will still be able to play outside.
The pants are adjustable and have snap fasteners on the sides for easy access on and off. The reflection detailing keeps them visible and the elastic cuffs helps from water slipping in.
The brand offers a massive range of colors and patterns, but they are a little pricey. Keep in mind that this is a set though, so you are getting the rain coat and pants together instead of having to buy two separate pieces.
Jan and Jul Puddle Dry Rain Bibs
Jan and Jul have great rain pants for the colder weather. This shell is nice and soft on the inside but will keep your kids dry in the rain weather.
The seams are taped to keep water out and the windproof feature will also keep them warm, even on a blustery day in Dingle Ireland.
The fabric is breathable, but durable when your kids want to play. We love the roomy design that snaps close for easy on and off accessibility, and the adjustable straps make the bib easy to grow with your toddler.
Reima Lammikko Rain Bibs
These rain bibs are made for your kids to grow and last. They are extremely long lasting, so if your kids love playing in rougher conditions you don't need to worry.
The bibs are water and windproof with a high waist for full coverage. The adjustable straps allow the pants to grow with your toddler and all seams are sealed for more coverage. The foot loops are detachable and there are pockets that zip.
The pants do come at a little higher of a price but you get what you pay for in this high-quality rain gear.
CeLaVi Classic Rain Bibs Kids
For a thick and sturdy pair of rain pants, go with the CeLaVi Classic Rain bib. They come in numerous sizes and are super easy to clean if your kids get a little muddy and dirty.
The pants snap at the waist for a trim fit and are a flexible material that allows a comfortable fit when your kids want to run, jump and play. T
he pants aren't lined, so in the colder months you will need to add warmer layers underneath, but they come with reflective strips and boot elastics for keep the pants from riding up.
We also love the affordable price and the plethora of color options.
Oakie Children's Rain Pant
If you don't want a bib style rain pant, try out the Oakie Children's Rain Pant. They come in a variety of sizes with an elastic waistband that Velcro straps for a secure and easy fit.
The drawstring on the pants allow the pants to grow with your little one and they are made with a durable, waterproof material.
We love how well these hold up and keep your toddler dry, but are also very easy to clean off. The pants are hand wash only, but come at a great price and numerous colors, so are worth the hand-washing inconvenience.
Splashy Nylon Children's Rain Pants
Splashy offers some super affordable rain pants for your toddler that will keep them dry during those wetter months, or trips to Scotland with kids. The pants are water and windproof, plus they're made using a sturdy material.
The rain pants have a front pocket and can be machine washed (wahoo!). The reflective stripes help keep them safe as they play around the neighborhood, but the pants do run on the bigger size so you may need to size down a little.
The color options are great, but one downside is that these pants do NOT come with any foot straps.
All of these rain pants are perfect for your toddler so they can safely play in the wettest conditions without fear of being drenched. We love that most are affordable and durable, plus they easily grow with your toddlers so you aren't constantly buying pants.
Which toddler rain pants do you love?
Pin it and Start Wandering!