A tiny hamlet in the center of the incomparably beautiful UNESCO heritage Orcia Valley, Bagno Vignoni is accessed from Montepulciano by a small road that offers ridiculously gorgeous views of Monticchiello, if you arrive via one direction, and Pienza, via another. The village itself is barely a smudge – population 30, according to the 2001 census.
However, it has a huge historical footprint: the Etruscans enjoyed bathing in the local hot springs, Romans consecrated the springs to the Nymphs, and by the 12th century, it was a significant tourist destination for Christian pilgrims heading to Rome.
Today, tourist from Italy, Germany and beyond visit the village to take advantage of the numerous springs, taking the healing waters by day and enjoying isolated silence by night.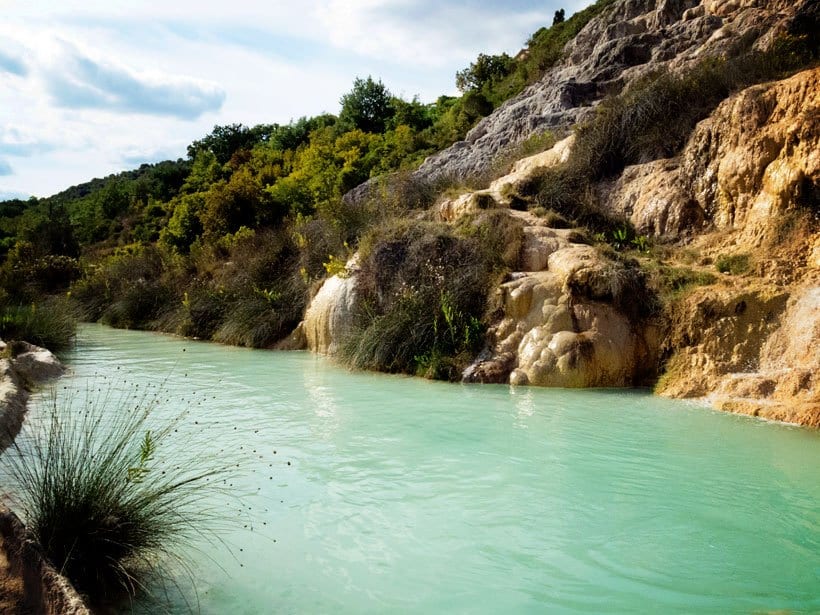 The village is centered on the "Square of Sources" – Piazza delle Sorgente. Unlike most piazzas in Italy, this one is a pool – a hot spring, at the center of town. Unfortunately it is also closed to the public. The steam rising from the water does creat a sensational setting and an unusual focal point though.
The pool is surrounded by small stone buildings, a church on the west edge; cheerful geraniums and tiled roofs reflect in the still waters, while diners enjoy the myriad of cafes flanking the piazza. A loggia on the south edge was once the public access point; it's a delight to imagine pilgrims, walking thousands of miles on treacherous roads, pausing here for restoration. Today, the hills surrounding the town are full of spa hotels, offering all manner of refined services, day packages and retreats.
Immediately south of the village and the public parking lot lies the Parco di Mulini: the park of mills. This is an archeological site, with evidence of a medieval mill house and bathing rooms that can be partially accessed via walkways and interpretive signs. The hot springs continue to bubble, and they have carved paths in the stones.
It's not uncommon to find people sitting with their feet in the waters, reading books, picnicking, and enjoying the view. The view itself is a marvel – the parco is set on the edge of a cliff, and besides the glory of the hills to the west, the turquoise spring waters themselves cascade down hundreds of meters to feed pools below. The pools are family friendly and also clothing optional – beware, should you decide to explore further!