Have you ever been intimidated to take your kids to certain cities or countries? I know I have been, especially when our kids were younger. I was never sure it it would be more of a hassle than it's worth. What we wanted to do and see would not impress the kids and they'd be bored to tears.
Lisbon, Portugal is no longer that place! If you have ever wanted to take the kids, now is your chance thanks to the brand new Martinhal Chiado Family Suites. This hotel is the hip kid-friendly jewel that sits right in the heart of the city.

Welcome to Lisbon
The ride through the bustling streets of Lisbon was a bit bumpy but filled with so much action. The trolley cars, cable wires and beautiful tiled buildings that lined the streets kept us all entertained as we pulled up to the Martinhal Chiado Family Suites. I quickly spotted the friendly blue awnings and a cafe sign inviting guests to stop in for a coffee at the M Family Cafe and I couldn't help but noticed how clean and crisp the ivory paint was.
From the outside the building may not look like a hotel. Once you step inside it doesn't seem like a traditional hotel reception either. You'll see the stroller parking area along the wall, an entrance to the Kids Club and a small library lounge of to the side. It feels a bit more like checking into a fresh, modern family retreat.


Martinhal Chiado Family Suites
There are 37 stylishly decorated, modern apartment-style suites.  We had a deluxe one bedroom that included a fun little bunk bed room for the kids. They immediately put their suitcases down and picked out their beds. Their bunk room also had a small bathroom right across the hall, which is great for any before bedtime or middle of the night emergencies.
The hallway lead us to a very large and spacious living room that then attached to a fully operational kitchen. The kitchen included a high chair, booster seat, and kid friendly kitchen supplies, as well as a nice welcome package of water, juice and milk.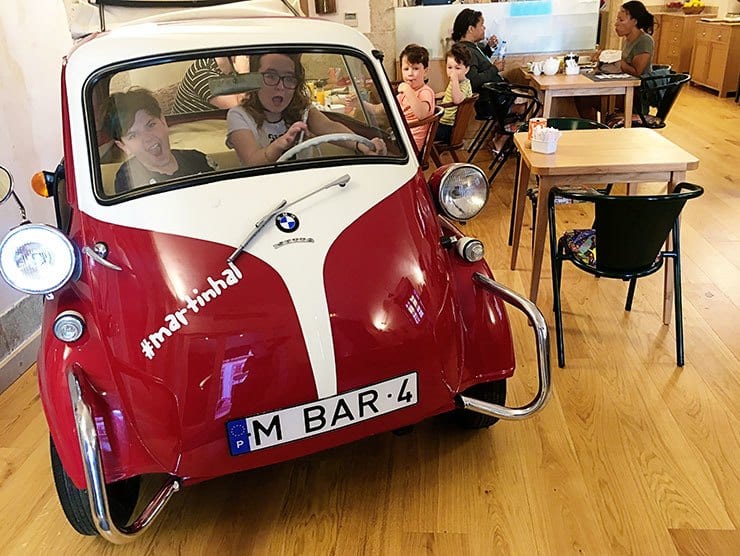 The M Cafe
We had breakfast every morning in the sunny M Cafe. They serve a full breakfast menu with scrambled eggs, muffins, croissants, fresh fruit, yogurts, cereal and more! They also make a mean cappuccino, something I even went in for late in the afternoon when I needed a pick me up and a moment alone.
The design of the cafe is open and spacious, with large tables for families with lots of plates and things going on. There is a lovely table with some comfy bench seating and pillows.
Naturally the main attraction is the little car! Everyone has to take a turn. There is also a room service menu, so if you get back late and the kids are already settled in for the night you can order them something for the room and they bring it up in little picnic basket.
Kids Club
To the left of the reception is a glass door that leads you to the colorful Kids Club that offers young children a chance to play, learn and rest while you take on the eclectic streets of Lisbon. They have a whimsical room for the babies and small toddlers with plenty of safe toys to occupy them for hours, as well as a calm resting room with cribs, soft mats and pillows under a circus-like tent. Even I wouldn't mind taking a nap in there!
For the older children they have planned daily activities. They even host pajama party nights for the parents to be able to go out for dinner and enjoy a night out on the town sans kids. At the time of our stay, all of the day sessions were free and included in your stay. This may change slightly. Please check the website and inquire about certain fees for special activities and pajama nights. They also offer babysitting services in your room as well.

Location + Extras
Martinhal Chiado Family Suites sits right in the trendy Chiado neighborhood and close to so many things. You are walking distance to the river. Even better, you are very close to the popular Time Out Market, which has a variety of food stalls from some of the city's top chefs. One street over, and just a short stroll up Rua da Misericórdia leads you to Miradouro de São Pedro de Alcântara, a very nice park with incredible views overlooking the city. On your way up or down (whenever you need reinforcements) stop at Gelatiamo for gelato. It was so good we had it twice!
You are also right around the corner from the Chiado shopping area. Moms, this is where you go in case you forgot anything or you've somehow lost a pair of shoes (wink wink mom!) Wander around here and you'll eventually spot the famous Elevador Santa Justa.
You are also very close to the Barrio Alto neighborhood. This is the spot for nightlife, with plenty of bars, restaurants and fado shows. This is definitely an area small children don't necessarily need to visit. If you are heading out for the night sans kids you may want to check it out!
I highly recommend grabbing a cab and taking the kids to Jardin da Estrela, a fantastic park with beautiful grounds and a nice playground for kids. We asked the front desk where the best place to go to find a tuk tuk tour and he just called one and they picked us up right at the front door.
The entire staff at the Martinhal Chiado Family Suites was polite and kind to us during our stay. I also heard them arranging a car rental for another family. They are really accommodating and efficient, willing to help your family have the best experience in Lisbon as possible. This type of hotel almost made me want to have a toddler again. Okay not really. However, I do wish they would have been around 10 years ago when I did have little ones in tow.
If you are traveling to Lisbon, Portugal and you'd like your kids to have a safe place for a break from all the site seeing, and you'd like to enjoy a bit of your holiday without the kids then Martinhal Chiado Family Suites is the spot for you!
Many thanks to Martinhal Chiado Family Suites for hosting my family for the purposes of this review. As always, my opinions are my own. When they aren't you will be the first to know.