Maple syrup. It reminds us of cold winter mornings when we were kids and mom (or dad) would make blueberry pancakes to get us up on Saturday morning. Or at least that was the dream, right? Maple season in Somerset, PA is no different.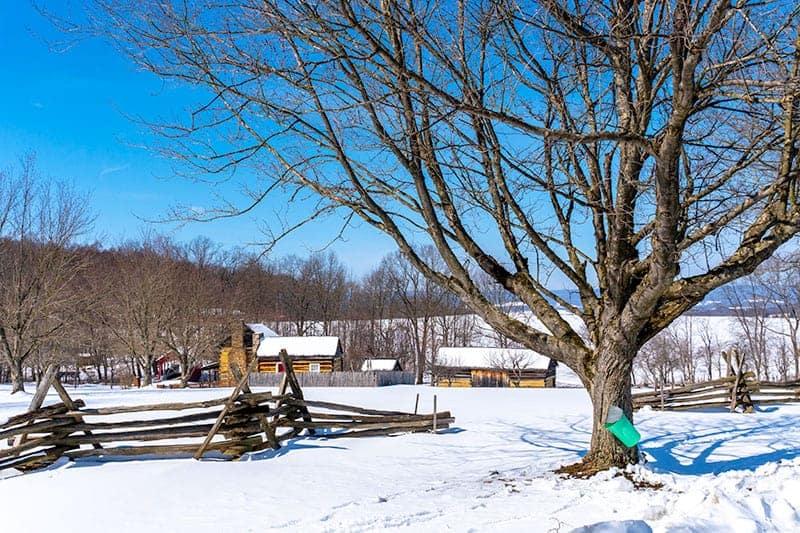 Of course, more often than not I was making French toast for myself at my house. My mom really did make some awesome pancakes. I just prefer French toast. These days, the boys and I make blueberry pancakes, eggs and smoothies for dinner at least once a week.
It's my little way of teaching them how to cook.
Every kid should know how to fend for themselves before they are released into the wild… even if the "wild" isn't going to come for another 12 years at least.

MAPLE SYRUP VIA CURIOUS GEORGE
When I announced to the boys that we were going to take a trip up to the Laurel Highlands of Pennsylvania to see where maple syrup is made, I was greeted with a level of enthusiasm even I didn't expect.
You see, Curious George once got into trouble trying to make maple syrup. Ever since the boys saw that episode years ago, they have been obsessed.
Of course, we had to tap a tree to get sap and make our own. The only problem was, we didn't have a maple tree (that I'm aware of) that would give us syrup sap. I sure wasn't going to boil it down for hours to try to make syrup either.

MAPLE SYRUP KITSCH
Into the car and away we went. The three-hour drive from D.C. had us headed into the country side of western PA.
As a city girl, I was pumped. This was a part of the country I didn't often get to see and I certainly hadn't grown up with.
I mean, we were going to a pancake breakfast at a church. My husband thought I was insane for being excited about that, he the man who had grown up in the sticks of southern Pennsylvania. I, on the other hand, thought it was pure Americana, and had always wanted to show up at some random location, whether it be a church, fire house, or lodge, to partake in a public pancake breakfast.
Lucky for me, I know a gal in the Laurel Highlands, Anna, who runs the tourism out there, so she made sure all of my maple syrup dreams came true.

MY MAPLE SYRUP OBSESSION
I should probably back up before we dive into the Somerset Maple scene.
It's not actually maple syrup that I'm obsessed with, although I do enjoy a bit of the liquid gold. No, I am a true fan of maple cakes, which until I went to the Somerset Maple Camps, I thought were called maple candies. While maple candy is hard, like a Jolly Rancher, Maple Cakes are the molded sugar treats that melt in your mouth the second they hit your tongue.
I love maple cakes so much that we had them as our wedding favors. My husband, bless his weary fingers, made 75 origami boxes to house these sweet confections for each guest. He was supposed to make 150, but we ran out of time. The other guests got their candies in cute little bags. Yes, they were the least loved at our wedding. Sorry.
But back to those Maple Camps of Western Pennsylvania.

MAPLE CAMPS NEAR SOMERSET PA
Around the second weekend in March, the maple sugar camps in and around Somerset, PA open up their doors to the public for demonstrations, sampling and other family-friendly fun. Some have face painting, while others offer up a bit of maple beer tasting. One even has maple moonshine (swoon!).
On average, 15 camps are available to tour and learn about the maple syrup and maple sugar making processes. Maple products of all shapes, sizes and consistencies are available for purchase.
The Listie Volunteer Fire Co. puts on a pancake breakfast on Saturday morning to kick off your trip. For a nominal fee, you can meet other community members, load up on all the pancakes, bacon and sausage you can devour, and your kids can run off all of that sugar with other kids in the community.

PLANNING YOUR MAPLE CAMP TOUR IN THE LAUREL HIGHLANDS
It is easy to visit at least five maple camps during a weekend visit, and still experience other things to do in Somerset PA. The Flight 93 Memorial is just 20 miles from Somerset, as is the Quecreek Mine Rescue Site. But, this is your maple syrup weekend. Let's get it started off right.
Visit the Somerset Historical Center to get your first taste of agricultural life in the Laurel Highlands. There is a small museum that walks you through the history of the area and how it developed over time, from the Native American settlements and early colonials, to how maple sugar production started. Generally, there are special activities happening in the activity room near the front of the building for guests to partake in as well. Kids can learn how to make a barrel, while parents get a taste of Spotza (kind of like maple taffy. Very chewy and sweet.)
After you get your overview, hop in the car and start driving to the maple camps. The county provides a very handy map with descriptions of the activities available at each so you can narrow down where you want to go.
Some are quite far from the others. If you have you children, you may want to stick to ones closer together. Even for a six year old, all of that driving can get draining. There is only so much maple cotton candy you can give your kids before they crash. Trust me. I've tested this one out and it ended with a nose dive into bed.

5 RECOMMENDED SOMERSET MAPLE CAMPS
Baer Bros. Maple Camp, 234 Sugar Cake Road, Somerset, PA 15501
One of our favorite camps on the maple syrup trail, Baer Bros. Maple Camp's traditional setting in the woods gave our whole family a good idea of what life was like for farmers as they tapped trees, collected sap and created maple syrup and other maple products. You will also get a better understanding of why maple syrup was important to local farmers. This was a way for them to make money for seeds to plant in the spring. If it was a bad maple syrup year, and the sap wasn't flowing, they might not make enough to plant their fields. This added source of income got them through the winter and into the next year.
Emerick's Maple LLC, 180 Ridge Road, Hyndman, PA 15545
If you weren't sure which maple products you like, this is the spot to try them all. Get a sampling of maple syrup, maple candy, maple mustard, maple sugar, maple nut topping, maple BBQ sauce, maple coffee, maple tea, maple cinnamon sugar, maple caramel corn and maple jelly. And that's just to name a few. Families can also take a horse-drawn wagon (weather dependent) to the sugar bush.
Brantview Farms, 347 Vanyo Road, Berlin, PA 15530
Step back in time in this historic barn filled with antique farming tools and a historic look at the maple syrup making process. Maple cotton candy and other maple products are available to sample and buy while you learn about the importance of the maple production in this part of Pennsylvania.
Hillgas Sugar Camp, 455 Dividing Ridge Road, Fairhope, PA 15538
All sorts of goodies are on hand to try, including maple cream, maple mustard and maple candy. Whitehorse Brewing also sets up a table for parents to try the local beer and buy a few to bring home. Kids can enjoy face and hand painting after learning about the maple syrup making process at this indoor facility.
Milroy Farms, 1724 River Road, Salisbury, PA 15558
Parents can grab a sampling of Maple Rye moonshine from the local distillery while the kids learn all about maple syrup production. Less boozy samples of maple syrup, maple cakes and maple candy are also available for the kids to try before you head back to your hotel for a little R&R or a swim.

PENNSYLVANIA MAPLE FESTIVAL
The Laurel Highlands doesn't just bring you a sugar high in the form of maple camps, oh no, they also host the Pennsylvania Maple Festival. Located in Meyersdale, PA, this festival generally runs the last weekend of March and first weekend of April each year.
Activities include a pancake breakfast, theater performances, quilt show, and even a horse pulling contest. For those who crave a little exercise to work off all of that maple sampling, there is a Maple Race 8k/5k Run/Walk.
Looking for a hotel in the Laurel Highlands of PA? Check out the following in Somerset, PA and beyond!
Need flights to visit the maple camps this season?
We love Skyscanner, because it shows us the best deals across multiple airlines and other deal sites. It's like a one-stop shop for the best airfare. OR you can sign up for Dollar Flight Club's Premium membership (only $40/year) for email alerts when mistake fares pop up, airfare drops and crazy deals pop up to cities across the world.
Note: The closest major airport will be Pittsburg, PA.
Many thanks to the Laurel Highlands tourism board for hosting my family and I for two nights to experience all of the maple syrup goodness in the area. As always, my opinions are my own. When they aren't you will be the first to know. This post contains affiliate links. If you make a purchase after clicking one of those links I will receive a small commission.