Over 500 islands are sprinkled around the coast of Ireland, mostly on the Atlantic west coast, and about 80 of those are of a substantial size, but only 20 are inhabited. Achill Island takes the accolade for being Ireland's largest island, which definitely makes it worth exploring.
If you want to spend a day or two on an island in Ireland (try saying that five times fast!), there are more fun things to do in Achill Island than any other island in the Irish Sea or Atlantic Ocean.
Plus, it's on the Wild Atlantic Way Drive, an epic road trip route along the entire west coast of Ireland which you should consider driving if you're traveling for a week or more. If you are only in Ireland for a short time, you can still tackle a portion of the Wild Atlantic Way in Killarney, the Ring of Kerry, Dingle or Doolin.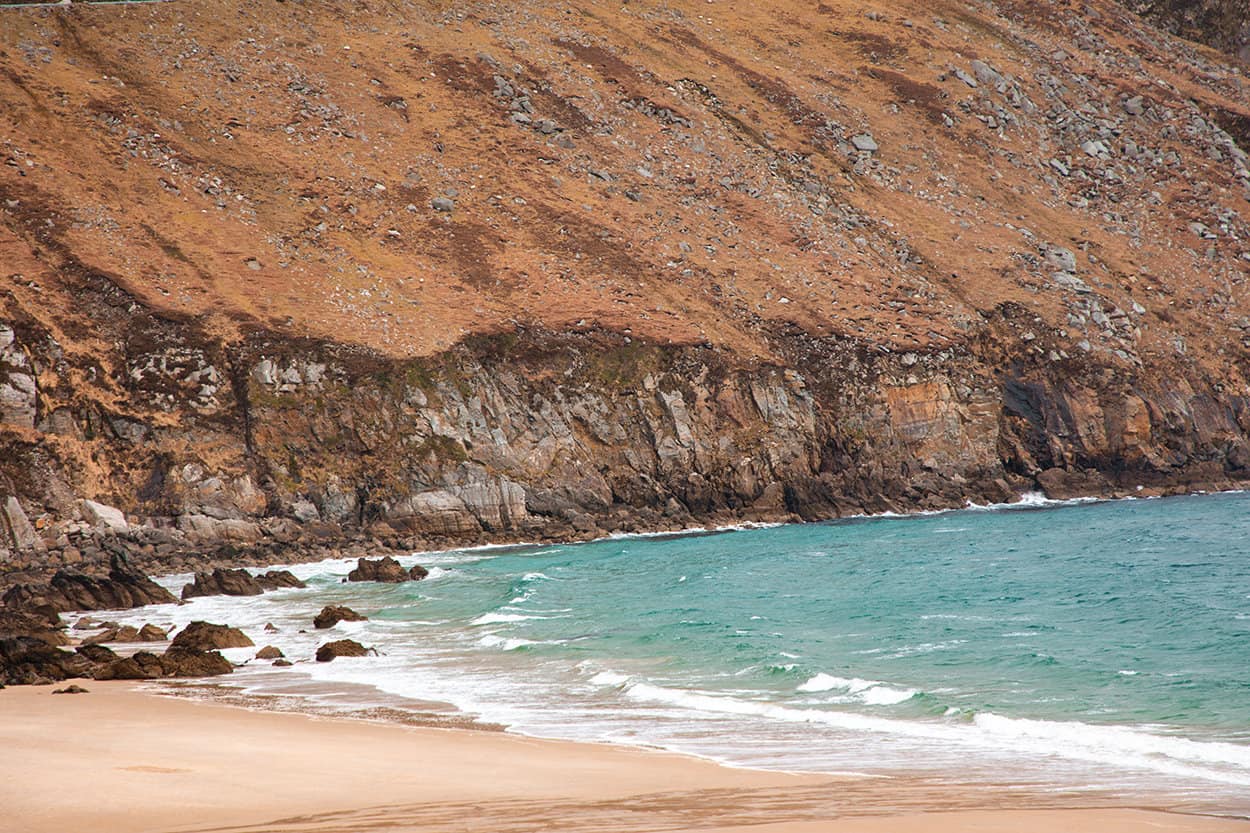 You'll find Achill Island in County Mayo close to towns like Westport and Castlebar. It boasts five Blue Flag-certified beaches, which means they are of the highest environmental quality. This island is a wonderful place for outdoor activities like windsurfing, surfing, hiking, coasteering, horseback riding, cycling, and climbing.
And the best part is that Achill Island is connected to the mainland by road. You can either drive across the Achill Island bridge or take the ferry across the Achill Sound, the choice is yours.
Let's start to plan your trip to Achill Island so that you have the best experience possible exploring traditional pubs, water sports, Blue Flag beaches, traditional music, and crystal clear waters on Ireland's west coast.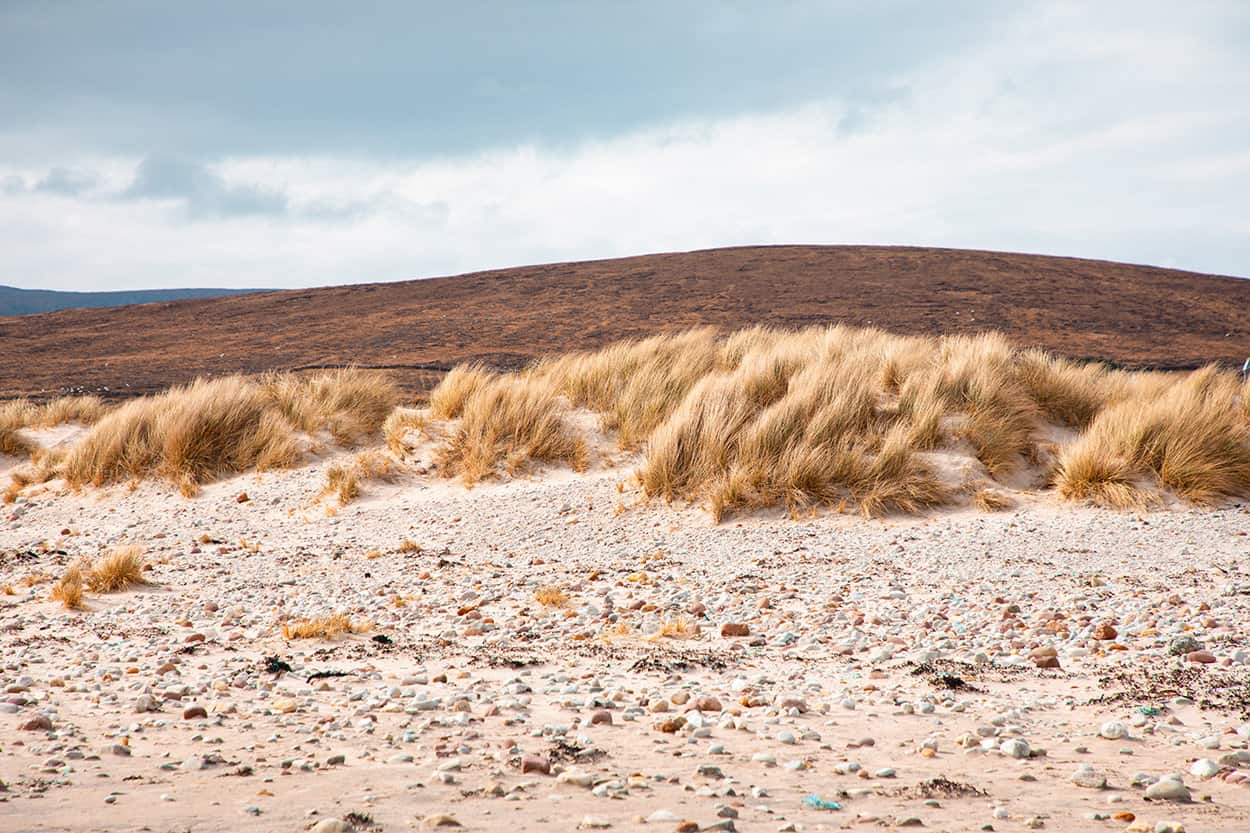 Achill Island Trip Planning Guide
This post contains affiliate links, which means we may earn a small commission from your purchase. This adds NO extra cost to you.
Flying to Ireland?
Looking for the best flights to Ireland? We love to track flights via Expedia.com. Not only do we find great rates, but we earn points to use on future travel too.
You can also keep an eye on GOING deals, which is how we got to Ireland roundtrip from LAX for under $500 each. The free version is good, but the paid subscription will save you way more than the cost per year.
DON'T FORGET YOUR ESIM CARD!
We all love our smartphones, but we don't love those international roaming charges. Even if you have a travel pass, you could max out your service, which is why we always grab an eSIM card to pop into our phones. It's especially great for the kids, as it limits what they can do and how much data they can use, but still allows them to text friends back home.
Check out Airalo, our preferred eSIM card store for the best prices on eSIM cards and international data plans.
NEED A RENTAL CAR?
We use DiscoverCars.com to get the best rates and availability on rental cars. Find your car HERE, along with all of the extras you may need (insurance, car seats, ski racks, etc.)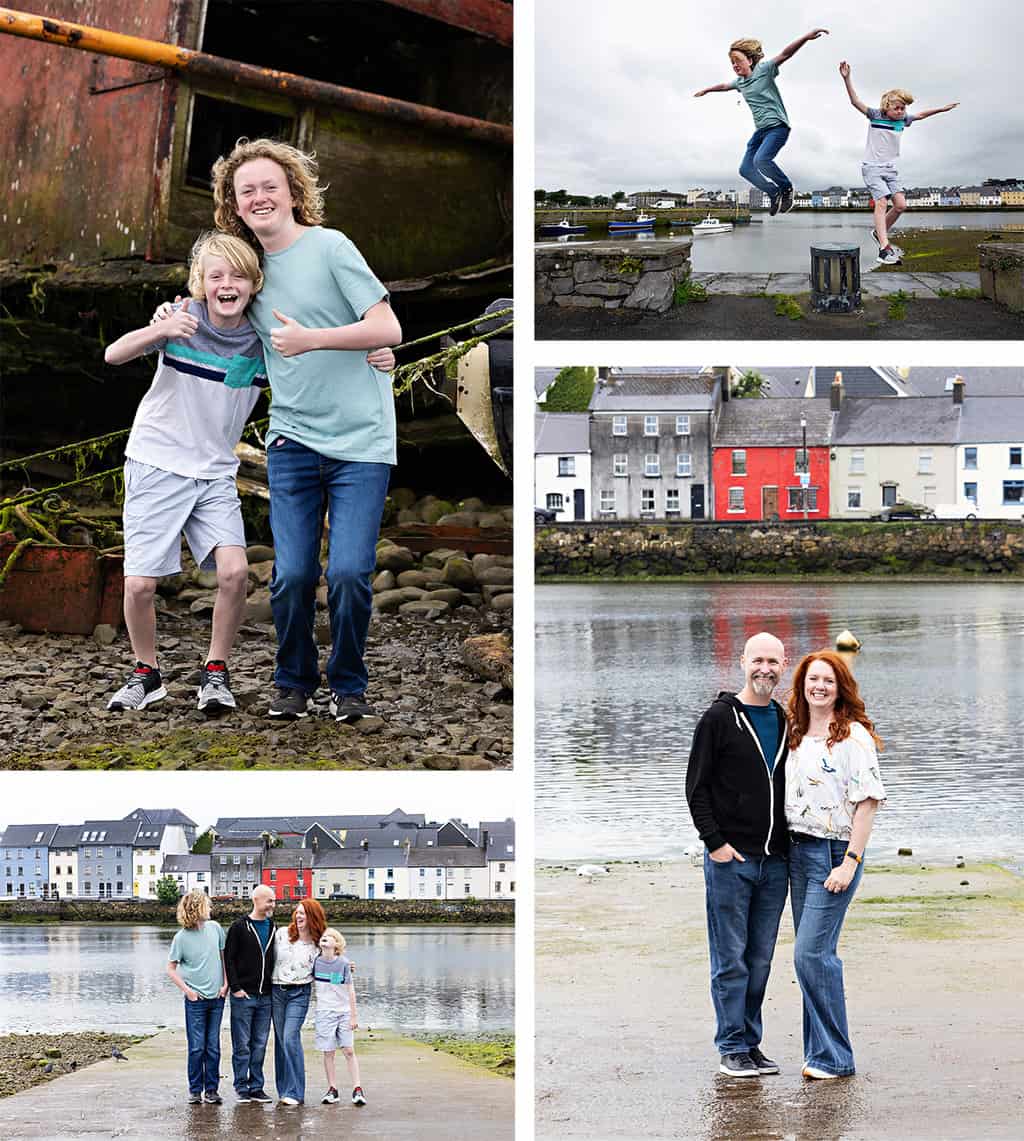 VACATION PHOTOS
Don't forget to book your Flytographer session to capture awesome memories from your trip. We do it as often as we can, even though I'm a photographer. Sometimes, this mom just wants to be in a few photos with her kiddos.
TRAVEL INSURANCE
Do NOT forget to buy travel insurance for your cruise, even if you booked through a travel agent. Things do and will happen and it's cheaper to buy travel insurance ahead of time instead of paying out of pocket later.
Check out Travelex for rates on a single trip or an annual plan that could be right for you if you take more than one or two trips a year. 
Hotels in Achill Island
Make the time to spend a few nights on Achill Island to really have a chance to explore. There is no bad spot to set up, as the island isn't huge and it is easy to explore on foot, by car, bike and even on horseback.
See all of your Achill Island hotel options HERE. If you are looking to stay in a town though, check out our favorite hotels in Westport, Ireland.
Achill Island Tours
Find all of the best tours of Achill Island HERE.
How to get to Achill Island
There are several ways to get to Achill Island, located off the west coast of Ireland, but here are the main ways you will get there.
Achill Island By Car
If you have access to a car, driving to Achill Island is your best option. From Dublin, you can take the N4 and N5 highways to Westport in County Mayo.
From Westport, you can follow the signs to Achill Island, which is about a 45-minute drive. The roads are well-maintained, and the drive offers stunning views of the countryside.
Best of all, you get to cross the Michael Davitt Bridge, a swing bridge on the R319, to get from the mainland to Achill Island.
Achill IslandBy Public Transportation
How to get to Achill Island by Train
From Dublin, you can take a train from Heuston Station to Westport. Irish Rail operates regular services, and the journey takes approximately 3 to 3.5 hours. Once you arrive in Westport, you can catch a bus operated by Bus Éireann to Achill Island. Buses to Achill Island run several times a day, and the journey takes approximately 1 hour and 15 minutes.
How to get to Achill Island by Bus
Another option is to take a direct bus from Dublin to Achill Island via Westport.
Flying to Achill Island
Ireland West Airport Knock (also known as Knock Airport or Ireland West Airport) is the closest airport to Achill Island. It is located in County Mayo, approximately a one-hour drive from Achill Island. The airport offers domestic and international flights, connecting to various destinations in Ireland and the United Kingdom.
Once you arrive on Achill Island, having your own transportation (car or bike rental) is necessary for exploring the island at your own pace. However, if you don't have access to a vehicle, taxis and local bus services are available on the island for transportation around the island.
A Brief History of Achill Island
The history of Achill Island is rich, complicated and spans thousands of years. Understanding the history of the island and the west of Ireland will give you a better understand of the Irish coast and how it has developed over the centuries.
Early History
Archaeological evidence suggests that Achill Island has been inhabited since prehistoric times. Stone structures, including megalithic tombs and standing stones, can be found on the island, indicating a long history of human settlement.
The first known inhabitants were likely early farming communities, like much of the rest of Ireland.
Early Christian Period
During the early Christian period, Achill Island was part of the monastic movement that spread throughout Ireland. The island became an important center of learning and religious activity.
The remains of early Christian churches and crosses can still be seen on the island, including the Kildownet Church (Old St. Dympna's Church, Holy Well, and Cemetery).
Norman and Early Medieval Times
In the 12th century, the Normans arrived in Ireland and exerted their influence over Achill Island. The Anglo-Norman family of the De Búrca (Burke) established a stronghold on the island and built Kildownet Castle.
The castle was later seized by the O'Malley clan, who were powerful sea-faring chieftains.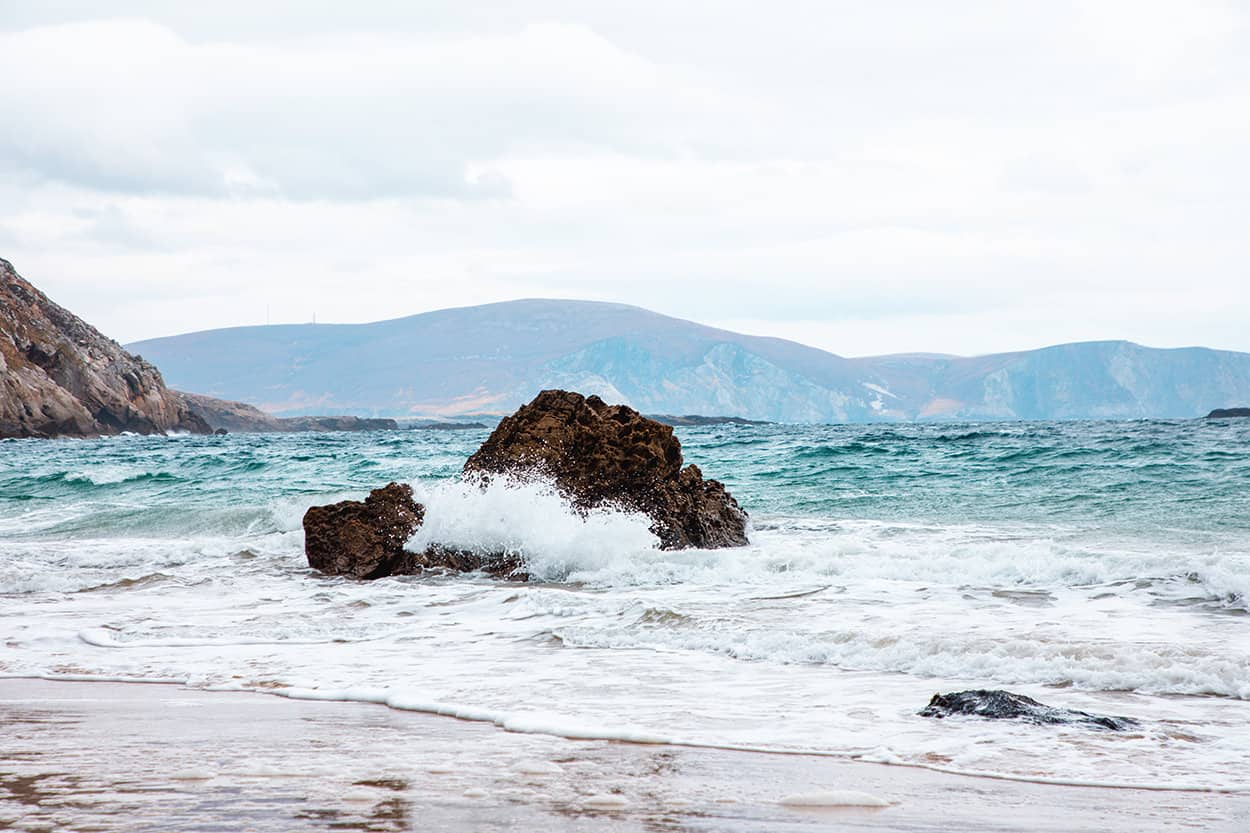 The Great Famine
Like the rest of Ireland, Achill Island was deeply effected by the Great Famine (1845-1852). The potato blight, which destroyed the potato crop, led to widespread hunger, disease, and mass emigration.
The population of Achill Island was severely affected, and many people were forced to leave in search of better opportunities and food for their families, leaving the golden beaches behind in this part of Co. Mayo.
Missionary Settlement
In the 19th century, Achill Island became the site of a notable missionary settlement. Reverend Edward Nangle established the Achill Mission Colony in 1831 with the aim of providing education, healthcare, and spiritual guidance to the local population.
The colony attracted both Irish and English settlers, and had a significant impact on the social and religious leanings of the island off the coast of County Mayo.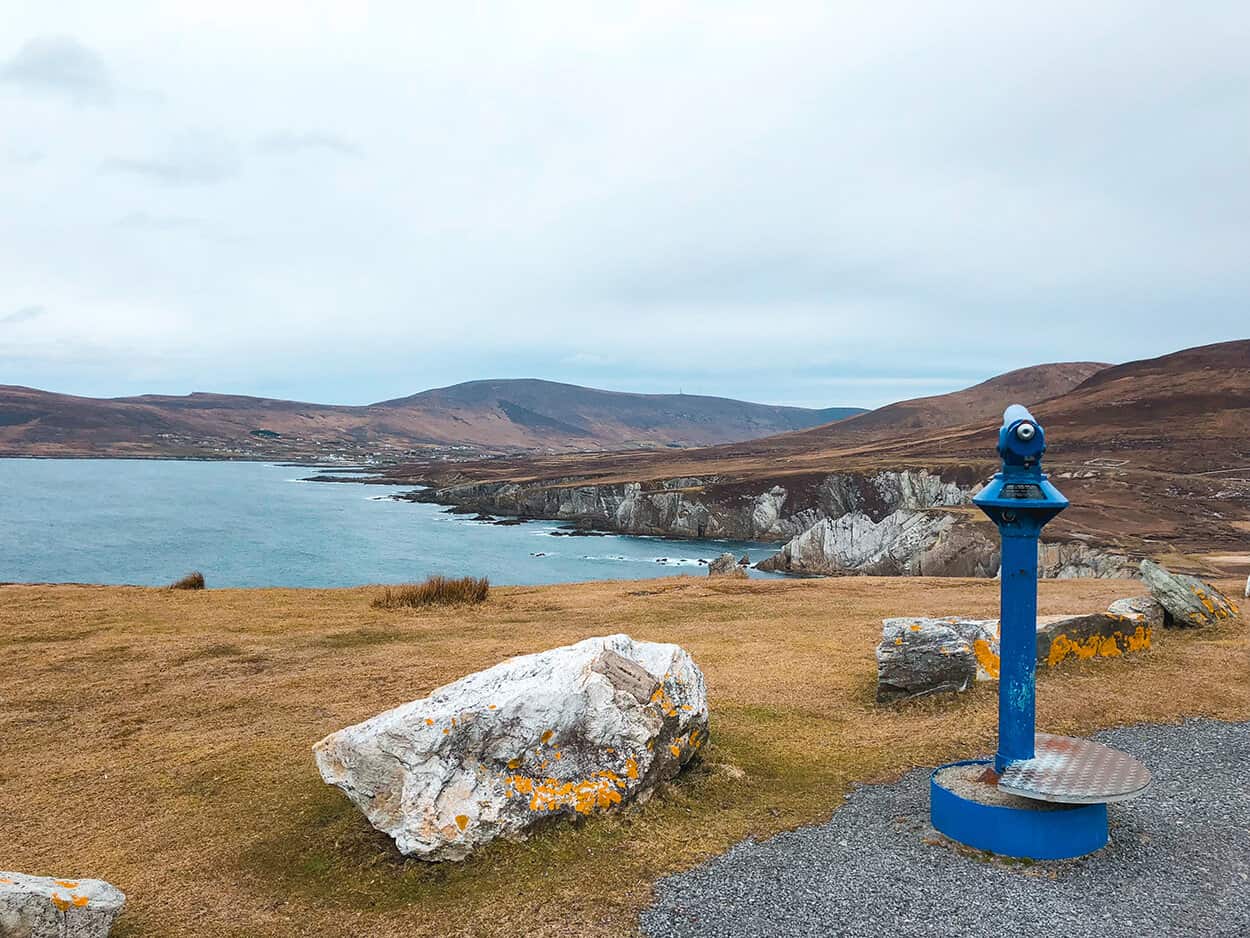 20th Century and Modern Times
In the early 20th century, Achill Island experienced economic decline and depopulation due to emigration, changing agricultural practices, and the decline of traditional industries.
However, in recent decades, the island has seen a revival in tourism, with visitors drawn to its stunning landscapes, calm waters at many of its beaches, outdoor activities, and unique cultural heritage. It is also part of the Wild Atlantic Way, one of the best coastal road trips in Ireland.
Today, Achill Island is a popular tourist destination that offers a blend of natural beauty, historical sites, and a vibrant cultural scene.
It continues to attract visitors from around the world who come to explore its stunning sandy beaches, hike its rugged mountains, and immerse themselves in its fascinating history and welcoming community.
TOP THINGS TO DO IN ACHILL ISLAND
THE ACHILL EXPERIENCE AQUARIUM
One of the best things to do in Achill Island if you are visiting with kids is to check out the Achill Experience Aquarium. It's close to the village of Keel, one of the biggest towns on the island, so it's in a super convenient spot and perfect for those Irish rainy days.
The Achill Experience Aquarium houses crustaceans like lobsters and crabs, tropical fish, and rays. There are also exhibits on the history of diving in the area and the local fishing industry on the island.
You only need to spend an hour or two in the Achill Experience Aquarium as it's not a huge spot, but then again, neither is Achill Island!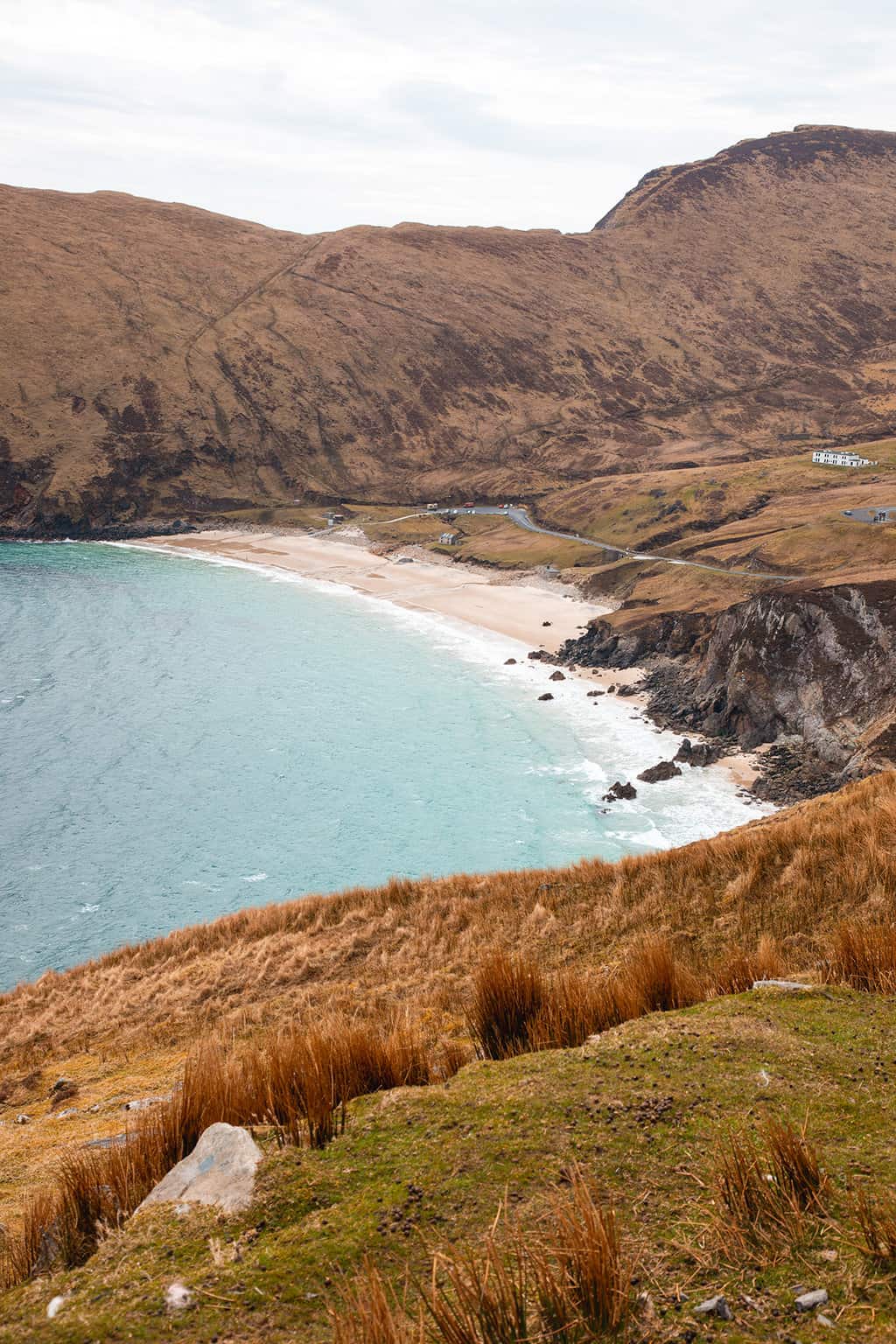 KEEM BAY AND KEEM BEACH
There are so many beaches dotted around Achill Island's coastline, it might be difficult to decide which to visit if you're short on time. Well, Keem Bay and Keem Beach is pretty special and should be the one you head to first.
Keem Beach is one of the most beautiful beaches on Achill Island, within an inlet which makes it feel more secluded and shields it from the worst of the Atlantic Ocean's stormy winds. It's surrounded by dramatic cliffs and lush green hills.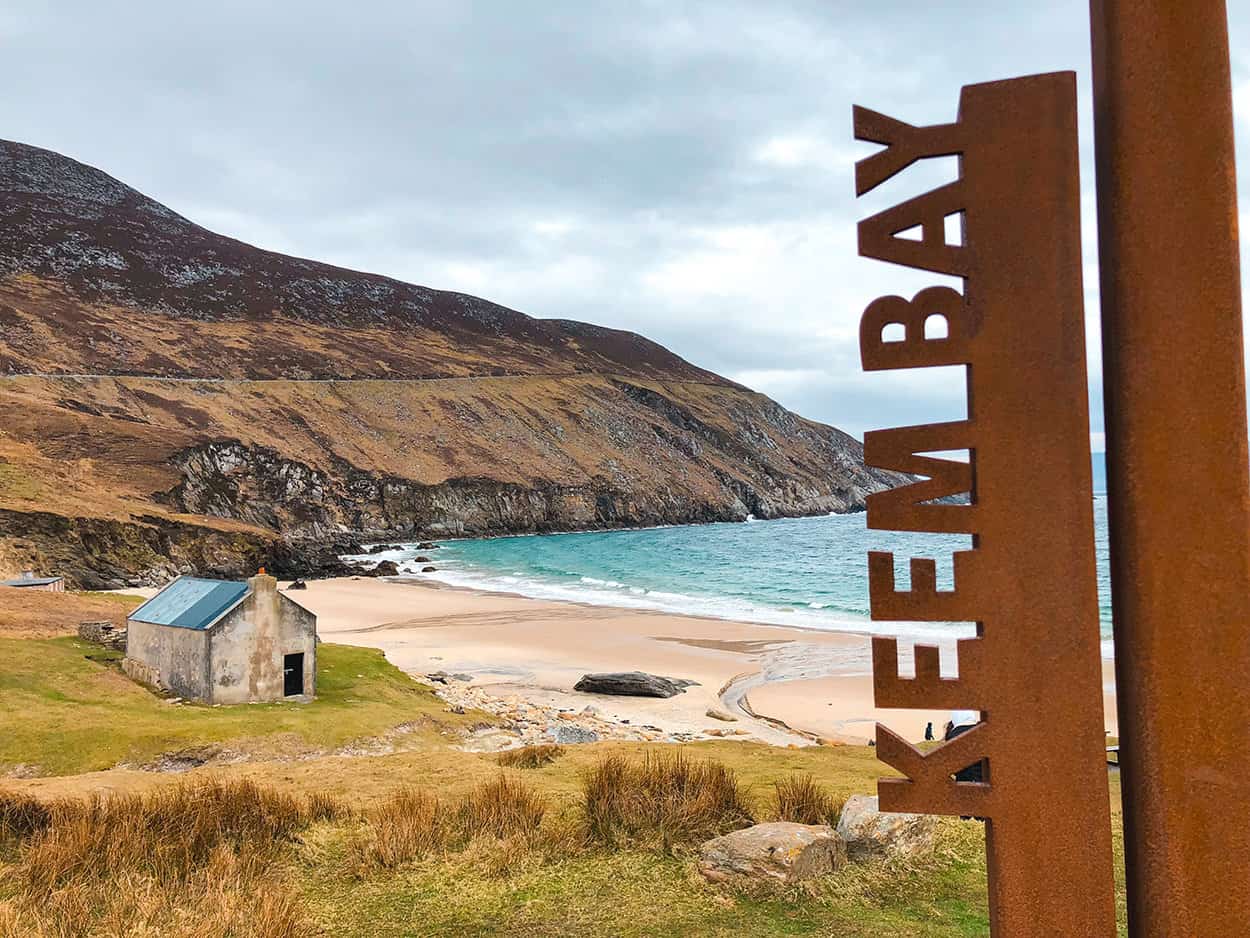 Stand on Moyteoge Head to get the best views of the bay, and marvel at how the local sheep navigate up and down those cliffs. We still can't figure out how a sheep got itself onto one rock shelf on the western end of the island.
Croaghaun West Cliffs
From Keem Beach you can hike the Croaghaun West Cliffs trail or the Cliffs of Croaghaun, and then on out to Achill Head, the western-most tip of the island. This hike is not for the faint of heart, so pack enough snacks, water and your walking poles.
SLIEVEMORE DESERTED VILLAGE
Believed to have been first occupied in the 1700s, Slievemore Deserted Village is the remains of approximately 80 – 100 traditional stone cottages. To make the crumbling houses seem even more eerie, the only other structures that exist nearby are two graveyards. It's named after the nearby Slievemore Mountain and is completely free to visit.
Luckily, there was nothing suspicious about why this village was abandoned. Residents either couldn't pay their rent, died in the Irish potato famine, or emigrated elsewhere. Not a great end to a small village, but its still one of the best places to get a look at early life on the island.
MINAUN HEIGHTS
Most of the best things to do in Achill Island are totally free, like the spectacular views you can witness on top of Minaun Heights on the southern coast of the island. You can drive up to the cliffs before taking a short walk to the top of the peak where you can see Purteen Harbour and Keel Bay on one side and the Minaun Cliffs on the other.
SURF ON KEEL BEACH
Speaking of Keel Beach, it's one of the best beaches to visit on the island if you want to try surfing in Ireland in the Atlantic Ocean. Granted, the water is freezing year-round, but with the right wetsuit, the strong winds and big waves are worth the frigid temperatures.
Keel Beach is home to the Achill Surf School & Activity Adventure Centre where you can book lessons and rent surf equipment.
WHITE CLIFFS OF ASHLEAM
Move over Dover and the Seven Sisters Cliffs in the south of England, you can find chalky white cliffs in Ireland too! If you know where to look, of course.
You can see the White Cliffs of Ashleam (some rising more than 100 feet up from Ashleam Bay) from a scenic viewpoint on the Wild Atlantic Way route.
ACHILL-HENGE
Whereas the original Stonehenge is approximately 5,000 years old, Achill-Henge only dates back to 2011. It's not a religious or spiritual monument, but an art installation made by property developer and convicted criminal, Joe McNamara, from 30 blocks of concrete.
It stands 13 feet high and 330 feet in circumference and was built without planning permission. Courts are still battling with the artist as he claims it's an 'ornamental garden' and therefore legal, so the impressive structure still stands.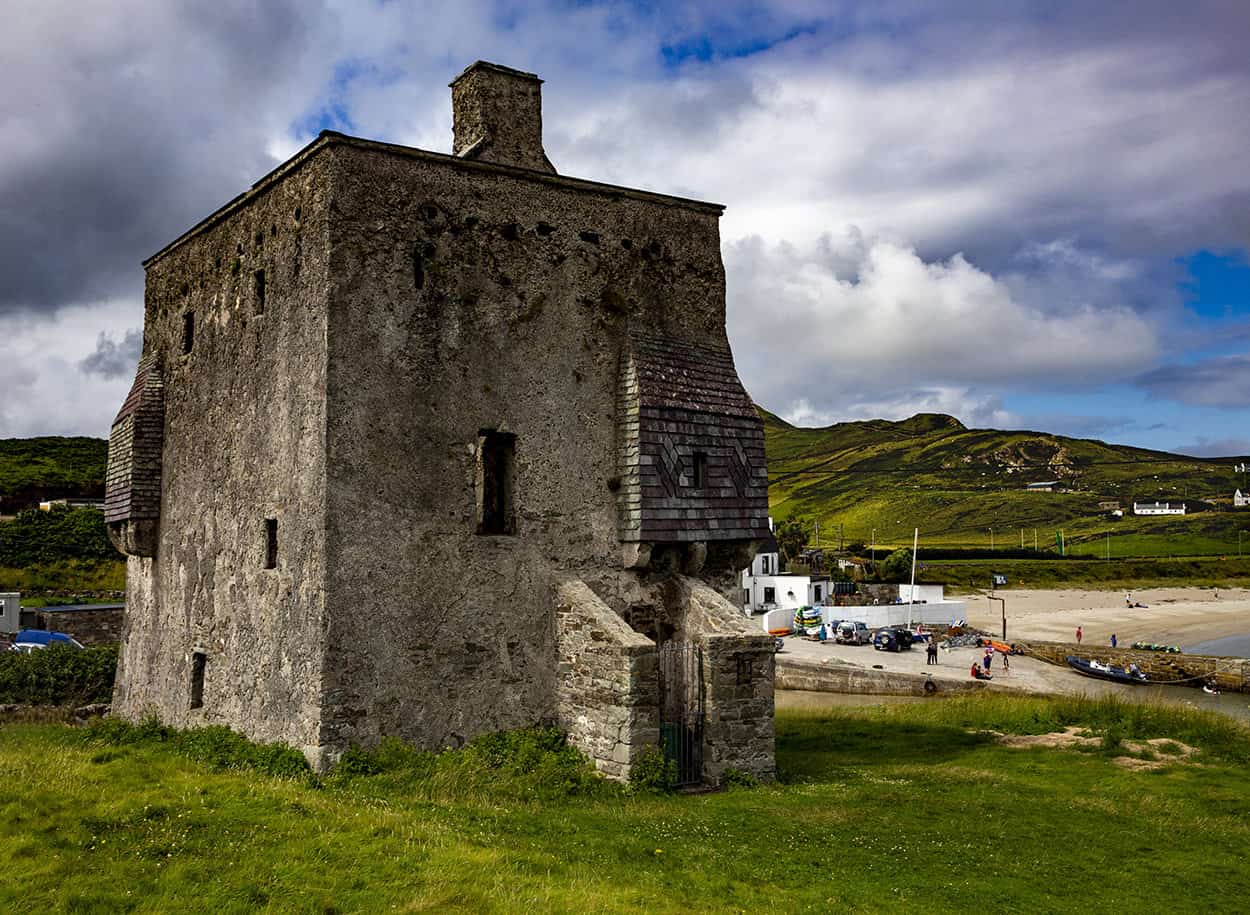 GRACE O'MALLEY'S TOWER HOUSE
In the 16th century, a tenacious young woman by the name of Grace O'Malley was known by the locals in West Ireland and her hometown of Westport as the Pirate Queen.
She acquired several properties around the area, including the Kildavet Tower which is also known as Grace O'Malley's Towerhouse.
It's fallen into ruin, but it has such a fascinating history. Plus, it's right off the main road so you won't have to go far to admire this castle and its scenic location.
Learn more about Grace O'Malley in one of our favorite Irish Children's Books.
CATHEDRAL ROCKS
Not an actual place of worship, Cathedral Rocks describes a series of caves and arches in the cliffs that are accessible from Trawmore Sand during low tide.
Few people who visit Achill Island make the effort to check out these natural caves and rock formations, so you'll feel like you've stumbled across a hidden gem.
DUGORT BEACH
Keel Beach and Keem Beach are both on Achill Island's south coast and are two of the most popular beaches. If you want to check out a beach that's a little more secluded on the north coast, head to Dugort Beach.
Somehow, the water is a clear blue which contrasts the dark blue-green waters of the south coast. The sand is softer and less rocky so it's ideal for sunbathing on those rare hot summer days in Ireland.
CLIFFS OF CROAGHAUN HIKING PATH
Achill Island has lots of hiking trails, but by far the best is the path along the Cliffs of Croaghaunin in the southwest corner of the island. These are the highest sea cliffs in Ireland (three times taller than the Cliffs of Moher!), so by walking along them, you can appreciate their scale from different scenic vantage points.
It's a fairly steep climb and the winds can make the hike dangerous, so only attempt it on a calm day. There are different starting points for this trail, but most climbers start near Keem.
This trail takes between one and a half to two hours (depending on how many stops you make to look at the views) to complete. Be warned: end up on the wrong path and you could be hiking for six hours.
BUNAFREVA SWIMMING LAKE
Sometimes the fierce winds and waves make it almost impossible to swim in the sea. Luckily, there is another place you can wild swim in a freshwater lake on Achill Island near the northwest coast called Bunafreva Lake.
You'll need to climb a little to reach this lake but it will be 100% worth it once you're there. This lake looks like a volcanic crater and the water is a deep, rich blue.
Bring towels and flasks of coffee or hot tea to warm up with after your swim, as the cold water can shock your system. Ease in slowly so your body can adjust; jumping in could put your body into shock much more quickly. And as always, never swim alone.
GREAT DAY TRIPS FROM ACHILL ISLAND
Achill Island is the perfect escape from the crowds and city life. In fact, Galway is the nearest 'big' city and it's a two-hour drive away! But if you want to explore new places in County Mayo, here are some suggestions for fun day trips from Achill Island.
Ballycroy National Park
Ireland has six national parks and by far the closest to Achill Island is Ballycroy National Park. It's super close as you can be at Ballycroy Visitor Centre in as little as 30 minutes.
Like Achill Island, Ballycroy is an almost unspoiled area of 15,000 hectares with amazing views. It's less popular than some of the other national parks, like Killarney National Park, so it's the perfect place to cycle or walk along the trails in peace. The Ballycroy Visitor's Centre at the park is also worth checking out because it has a modern art exhibition space, knowledgeable guides, and a café where you can grab lunch.
Westport
Approximately one hour's drive from Achill Island, Westport is a large town on the rugged Atlantic coast with connections to the Pirate Queen of County Mayo. Grace O'Malley was a female pirate during the 16th century and her legacy is evident all over the town.
The Great Western Greenway starts in Westport and is Ireland's longest cycleway. There are no cars in sight so it's ideal if you're a cycling novice seeking picturesque cycling paths. Check out Clew Bay Bike Hire if you are looking to rent a bike during your stay.
Westport also has mountains, historic ruins, and stately homes so you'll find plenty to do. It's also easier to find a hotel room or vacation rental than on Achill Island, especially if you want more amenities.
Read our full guide to the best things to do in Westport Ireland
Clare Island
If Achill Island has given you island fever, why not check out another island in County Mayo? Ferries depart from Cloughmore Pier on Achill Island to Clare Island every Wednesday and Sunday. As long as you're in Achill during those days, it's a totally doable day trip.
Clare Island has unique ruins and historic sites, like the Clare Island Abbey and The Napoleonic Signal Tower. It's an outdoor lover's playground with lots of signposted walking paths and there are some highly-rated eateries too.
Village of Cong
Cong is a village in County Mayo located between two great loughs (Irish for 'lake'), Lough Mask and Lough Corrib. On the surface, Cong seems like any other small Irish village but its appearance in John Wayne's The Quiet Man means it still attracts thousands of tourists every year despite the movie being 70 years old!
There's a Quiet Man Museum and even a statue of John Wayne holding his leading lady, Maureen O'Hara. Guided tours of the top locations run during the summer months, too. If you're a movie fan, you have to add a visit to Cong to your Ireland itinerary.
ANNUAL EVENTS ON ACHILL ISLAND
St Patrick's Day, when the Irish celebrate their patron saint, is celebrated in every corner of the country, but there are more festivals on Achill Island worth exploring when you are planning a trip to Ireland.
Surprisingly, there are lots of annual events and festivals in the local area in and around Achill Island that you can attend. Here are some recommendations if you are on Achill Island during these events.
St Patrick's Day (March 17th)
Easter Celebrations (March/April)
Heinrich Böll Memorial Arts Festival (April)
Achill Island Film Festival (May)
Achill Yawl Sailing Festival (July)
Achill Seafood Festival (July)
Féile Inis Bigil Heritage Festival (August)
Battle for the Lake (September)
Tour de Achill (September)
Achill International Harp Festival (October)
RESTAURANTS ON ACHILL ISLAND
For anyone traveling to Achill Island, one of the essential things to note is that many of the restaurants, bars, and food trucks are only open during the peak summer season. This means that you can expect more choices from around Easter to September, but way less in the winter months.
For such a small and sparsely-populated island, however, there are many options. Here are some top suggestions whether you want a decent cup of coffee, a traditional fried Irish breakfast, or to visit a friendly Irish pub on Achill Island.
BREAKFASTS ON ACHILL ISLAND
The Diner
The Aleph by Meg's
The Cross Bar
The Cottage
LUNCH SPOTS
Nevin's Newfield Inn
Hotspot Takeaway Achill Sound
The Islander – Megs
The Currach
DINNER RESTAURANTS
Gielty's Bar and Restaurant
Chalet Seafood Restaurant
The Amethyst Bar
Pure Magic Achill Lodge
SWEET TREATS & COFFEE ON ACHILL ISLAND
Lavelles Shop
Emerald Sourdough Bakery
Achill Island Kitchen
Lán Mara Coffee
IRISH BARS & PUBS ON ACHILL ISLAND
Connaughton's Bar
McLoughlin's Bar
Lynott's Pub
Mickey's Bar
FAQ Achill Island Ireland
Where is Achill Island located?
Achill Island is located off the west coast of Ireland. It is the largest island in Ireland and is situated in County Mayo.
How do I get to Achill Island?
There are several ways to reach Achill Island. If you're traveling from Dublin, you can take a train or bus to Westport, County Mayo, and then catch a bus or taxi to Achill Island.
Alternatively, you can drive from Dublin to Achill Island, which takes approximately 3.5 hours. The nearest airport is Ireland West Airport Knock, which is about an hour's drive from Achill Island.
What is the best time to visit Achill Island?
Achill Island can be visited year-round, but the best time to visit depends on your preferences. The summer months (June to August) are popular due to the warmer weather and longer daylight hours.
However, if you prefer a quieter and more peaceful experience, you might consider visiting during the shoulder seasons of spring (April to May) or autumn (September to October).
Keep in mind that not as many businesses stay open during the late fall-early spring months, so you may want to bring your own food if you plan on making a day trip to Achill Island.
What are some popular attractions on Achill Island?
Achill Island offers a wide range of activities for anyone looking to explore the outdoors in Ireland. Keem Bay is a stunning beach with crystal-clear waters and breathtaking cliffs.
The Deserted Village at Slievemore is an abandoned village that provides a glimpse into Achill's past.
The Great Western Greenway is a popular cycling and walking trail that offers picturesque views of the island.
Other notable attractions include Achill Island Sea Salt, the Atlantic Drive, Achill Folklife Centre, Achill Archaeological Field School, and the Achill Experience.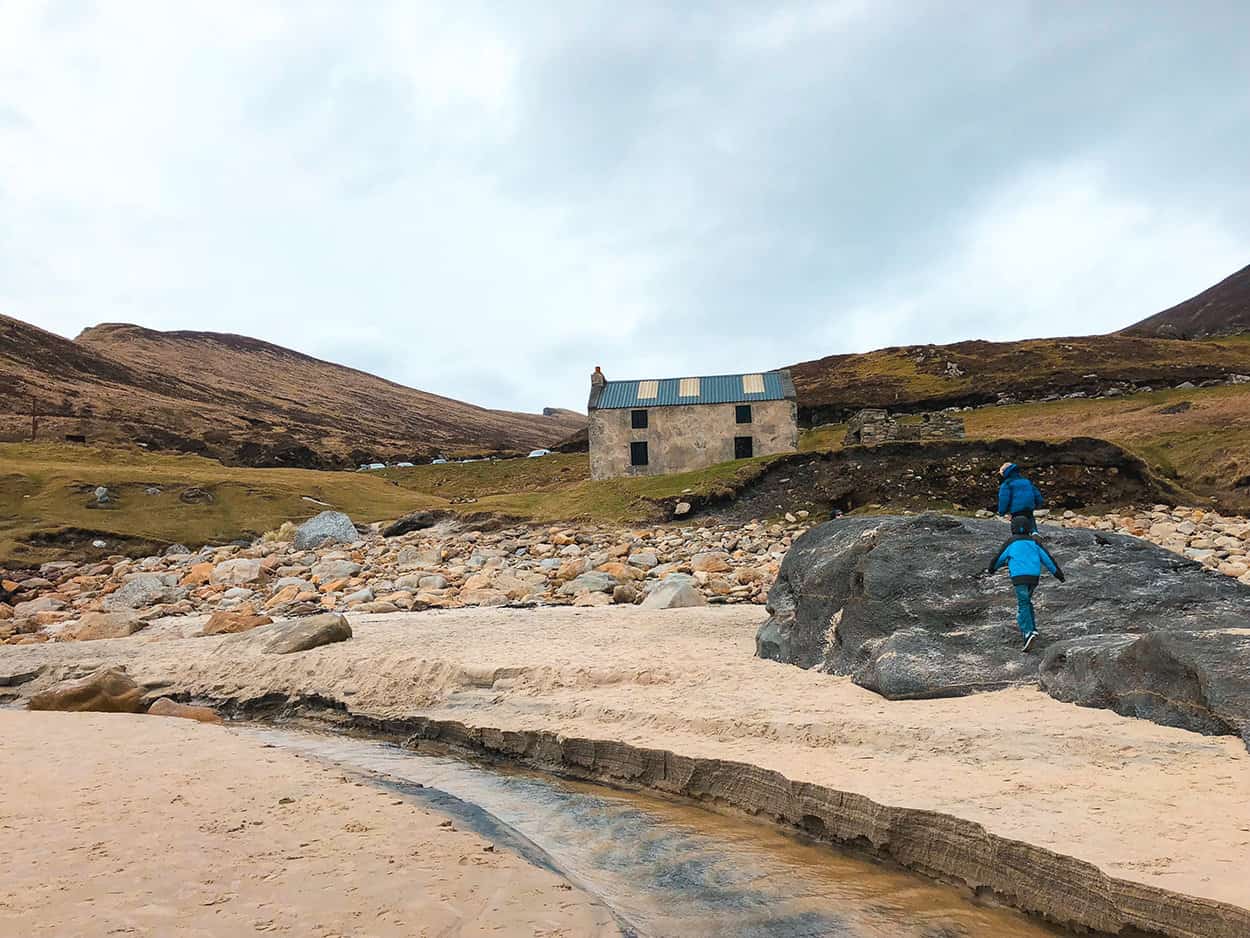 Are there any outdoor activities to do on Achill Island?
Yes, Achill Island is an outdoor-lovers wonderland. You can enjoy activities such as surfing, kiteboarding, kayaking, fishing, hillwalking, and cycling. The island's diverse landscapes, including mountains, cliffs, and beaches, provide plenty of opportunities for outdoor adventures.
Are there accommodations on Achill Island?
Yes, Achill Island offers a range of accommodations to suit different preferences and budgets. There are hotels, guesthouses, bed and breakfasts, self-catering cottages, and camping sites available. You will want to book your accommodations in advance, especially during the peak summer tourist season.
Check out all of your Achill Island hotel and vacation rental options.
Are there restaurants and shops on Achill Island?
Yes, there are several restaurants, cafes, and pubs on Achill Island where you can enjoy local cuisine and traditional Irish dishes. You'll also find shops and supermarkets where you can purchase groceries and essentials. However, keep in mind that the options may be more limited compared to larger towns and cities, and many shops are only open seasonally.
Is Achill Island suitable for families?
Achill Island is a great destination for families. Our kids love exploring the beaches, tide pools, and even a few of the cliff walks.
The island offers family-friendly accommodations and a variety of outdoor activities that can be enjoyed by all ages. The beaches provide opportunities for building sandcastles and ocean kayaking, while the Great Western Greenway offers a safe and scenic route for cycling or walking with children.
Can I visit Achill Island for a day trip?
While it's possible to visit Achill Island for a day trip, you will want to spend at least a couple of days to fully experience what the island has to offer. There is a lot to see and do, and rushing through the island may not allow you to fully appreciate its natural beauty and attractions.
If you have limited time though, it's still worth visiting for a day to get a taste of Achill Island's beaches and charm. Plus, it's on the the Wild Atlantic Way, so your Ireland road trip itinerary won't want to skip this hot spot for adventure.
Are there any cultural events or festivals on Achill Island?
Achill Island hosts various cultural events and festivals throughout the year. The Achill Heinrich Böll Association organizes the Heinrich Böll Memorial Weekend, a literary and cultural festival dedicated to the Nobel laureate.
The annual seafood festival in Achill celebrates all of the beauty and nourishment that can be found off the coast of the island.
The Scoil Acla Summer School is a week-long event that celebrates traditional Irish music, song, and dance.
Additionally, you may come across local music sessions and events at the island's pubs throughout the year.
Can I hike on Achill Island?
Yes, Achill Island offers several hiking trails that allow you to explore its beautiful landscapes. The Slievemore Loop Walk takes you through the Deserted Village and offers panoramic views of the surrounding area. The Minaun Cliffs Walk provides stunning views of the Atlantic Ocean and the neighboring islands.
Check out our favorite hiking shoes, and always be prepared for changing weather conditions when hiking on the island.
Are there any historical sites on Achill Island?
Achill Island has a rich history, and there are several historical sites worth visiting. In addition to the Deserted Village at Slievemore, you can explore the ruins of Kildownet Castle, a medieval tower house.
The Achill Mission Colony is a historic settlement that was established in the 19th century. The Achill Missionary Herald and Museum provides insights into the island's missionary history too.
Love it? Pin it for Later!