Every road trip needs a few stops, and when you are road tripping with little ones there is no exception to that rule. Your kids need time to run, jump, stretch and eat. When we took an 8-hour drive from Seattle to Crater Lake in Oregon, at least one longer stop that day was a must. Three and a half hours into our drive we "discovered" Multnomah Falls.
I had to put "discovered" in quotes because I've known about the falls for ages. A Portland friend has told me repeatedly to take my boys there anytime I head to Oregon. It's about a 45-minute drive outside of the city. The hiking is easy and kid-friendly, although little ones will need to be carried if you want to go all the way to the top.
If you travel in the summer you will want to dress appropriately, as it will get hot, especially if you plan on hiking to the top. Keep an eye on kids as you come back down. The hills can be steep for little legs and falls are apt to happen.
Snow and ice have taken over the falls in the past, creating an electric image of the power in a waterfall, and the strength of Mother Nature to stop it in its' tracks, at least on the outside. Hiking the trail is more perilous and may be forbidden in the winter, but a climb to the viewing platform is worth bundling the kids up in their snowsuits and boots to capture a photo and explore what a waterfall looks like when it is crusted in snow and ice on all sides, but can still crash down as if nothing will stop this powerful force.
Whether you go in summer or winter, or just want to catch some fall colors in the autumn, Multnomah Falls needs to be on your list of stops when traveling through Oregon. If you don't like waterfalls (crazy, but some people don't), stop anyway. Have lunch in the restaurant and let the kids run for a bit. It's either that or go bonkers in the car as the kids lose it from being strapped in for too long.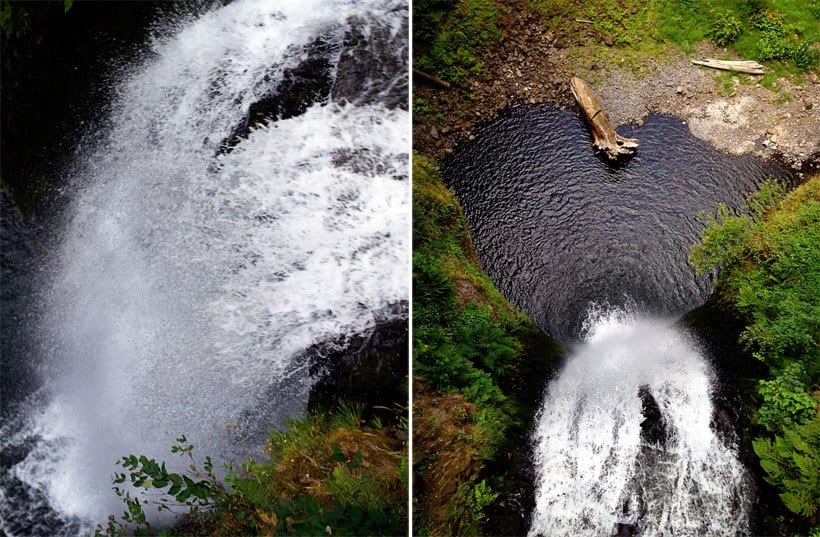 Know before you go
Baby carrier: if you want to go to the top of the falls opt for a baby carrier instead of a stroller
Stroller: the path to the lower falls is perfect for strollers, although maybe not for the crowds that come with this roadside attraction
Food: There are a few spots to grab food on the go or you can sit down at the Multnomah Falls Lodge. If the weather is behaving, ask for a seat outside so you can gaze up at the falls while you wait for your food.
First aid kit: Pack a first aid kit if you plan to hike or even walk to the different viewpoints of the falls. The steep decline as you go back down can be tough on little legs. Hold hands when necessary. If you forget your first aid kit ask the gift shop if they have a band-aid for you. They were nice enough to help us out.