Any mom with a spring baby will let you know that the winter pregnancy months can be both joyful and boring. The joy comes from knowing you don't have to carry a baby through the hot summer months. However, you can get bored being cooped up in the house all winter.
Have no fear! You can still get outside while pregnant in the snow during the winter months.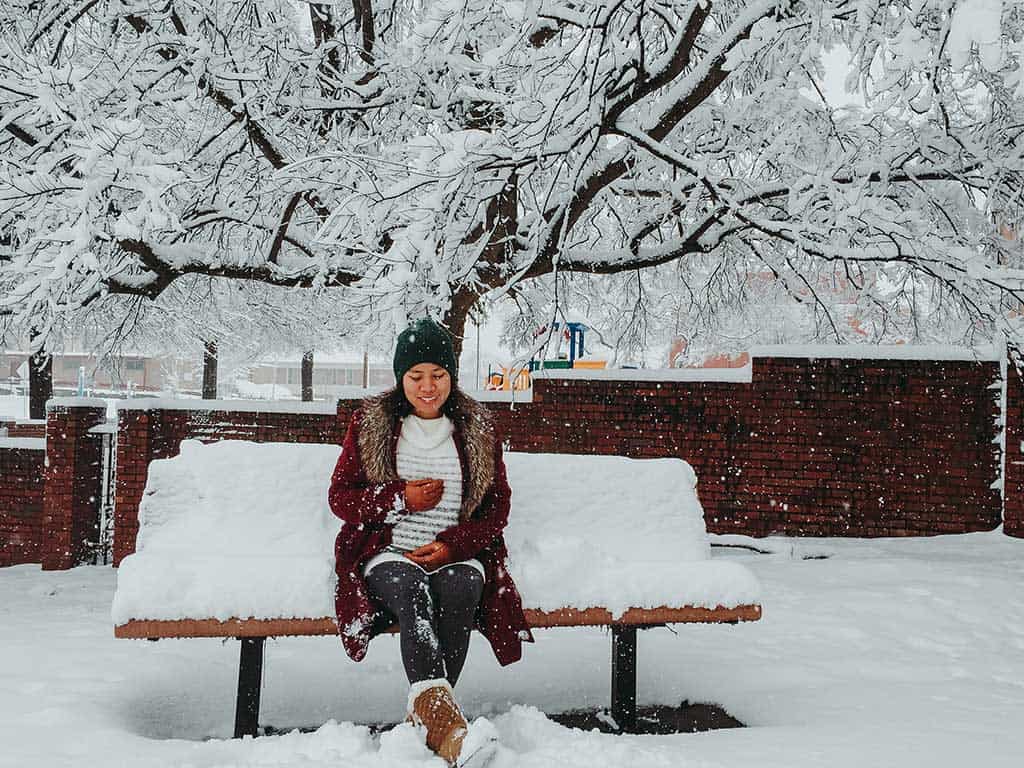 Traveling through A Winter Pregnancy
Pre-pregnancy, you didn't have to worry about things like your center of gravity, or slipping and falling (to a certain degree).
Pregnant women have a lot more to think about when they layer up agains the cold winter air and step outside into slick and slippery conditions.
Tips for Winter Travel While Pregnant
Similar to when you head to the tropics, you need to take care of yourself when you are playing in the cold weather.
You are using up more energy than you may realize and dehydrating faster as you go from heated interiors to cold exteriors over and over.
With a few simple reminders, you can have a fabulous and safe time whether you are headed to the Swiss Alps or just a weekend in Whistler.
Drink lots of water
You may be cold and think you are absorbing more snow than necessary through your skin, but you still need to keep rehydrating.
More water is better when pregnant, even in the winter.
Get a Flu Shot
If you plan on being around a lot of people this winter, it's a good idea to get a flu shot to protect you and your baby from cold and flu season.
For those who aren't sure, chat with your doctor about the pros and cons of a flu shot to your immune system.
Keep your footing secure
As you advance into your third trimester you will become even more off balance. Be sure to have good shoes and boots with traction to avoid falling.
Ditch the heels in the snow too. It's not worth the risk.
Footwear is one thing you can definitely splurge on throughout your pregnancy.
Put your feet up
Walking in snow is like walking through sand. You use up more energy doing it. Remember to rest and take a little nap if necessary after you have been outside to play.
Know your restrooms
If you are drinking water, as you should, you will be headed to the restroom more than usual. Know where the restrooms are in the ski lodge and other public spaces you will be close to.
Coffee shops are always a great option.
Pack a snack
If you will be doing any winter activities that involve more than sitting on a couch be sure to pack a snack in your jacket pocket.
Grab granola bars, a bag of almonds, fruit snacks or anything else that is handy and can keep your blood sugar up.
Easy snacks to stick in your pocket or bag
Granola bars
Fruit leather
Nuts
Packing for Pregnancy in Winter
Body lotion
Since you will probably be in and out of hot and cold temperatures, your already dry skin will get even worse. Make sure you have a bottle on hand and extra to rub on your belly.
An itchy pregnant belly is a real thing, especially at night.
Our favorite belly Butters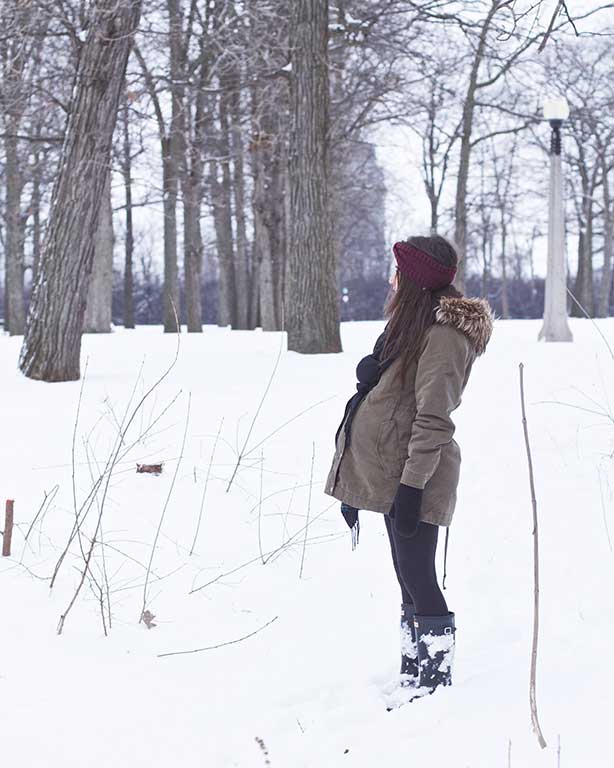 Good snow boots
Grab a pair of snow boots that will keep your toes toasty warm, have good traction, are waterproof and super cute. I love my Sorel Cumberland boots.
You definitely don't want to be slipping and sliding in the snow.
And since the rest of you might be feeling like an abominable snowman, depending on what trimester you are in, at least your feet can look adorable.
Best Winter Boots for Pregnancy
A Reusable Water Bottle
Walking in the snow takes even more energy than a regular walk. Stay hydrated so you and your baby get the liquids you need to keep moving.
Our favorite reusable water bottles
Load up on Snacks!
I know I talk about snacks a lot, but your blood sugar is going to be all over the place. Always have something nutricious on hand when you travel in winter.
Bring granola, fruit bars and other things that can give you energy and keep you moving.
Where Comfortable Layers
You will get hot. You will get cold. Layering can help you combat these temperature ups and downs and feel comfortable throughout the day.
Tank top, light long sleeve, zip-up hoodies and jacket can be the easy answer to your layering needs.
Don't forget the long johns under your pants. Check your existing ones before you invest in maternity long johns. Your regular ones may still fit under your belly.
My REI.com long john bottoms worked throughout my pregnancy.
Invest in a good pregnancy winter coat
The best pregnancy winter coats can expand with your belly, but also make you feel beautiful and not too bulky.
I felt like a whale throughout most of my pregnancy, so anything that made me feel like me, from my ski hats and scarves to my coat, was worth the investment.
A few of our favorite Maternity Winter Coats
Please note that all advice is my own and what I have gleaned from my travels and experiences. Doctors have not verified this information. Use your judgement and ask you OB/GYN or midwife if you are uncertain or have concerns.
Snow Activities and Pregnancy
Check with your doctor before you take on any winter activity, especially as you get farther along in your pregnancy.
Downhill skiing and snowboarding is generally frowned upon once you begin to show. If you fall you can hurt yourself and the baby. Ice-skating is pretty much out too.
What CAN you do while pregnant in winter?
Again, check with your doctor FIRST, but these low-impact sports may still be permitted, especially in the first and second trimester.
Cross country skiing
Snowshoeing
Walking
Build a snowman
Hiking
Sledding down extremely small hills
Drink the best hot chocolate
I did go sledding with my son when he was two and I was pregnant with his brother. I told her that I did go sledding. She was just happy I hadn't snuck in any snowboarding at 6 months pregnant! She was also impressed I could get off the sled.
Pin it and Start Planning!