Traveling with children can be tricky when you are on a budget and have limited places to lay your head in a small hotel room. While driving across the country with my (then) 2 and 5-year-old boys I had to get creative with bed arrangements so one of the boys wasn't always stuck on the floor.
We needed to create more hotel beds in a hotel room and quick.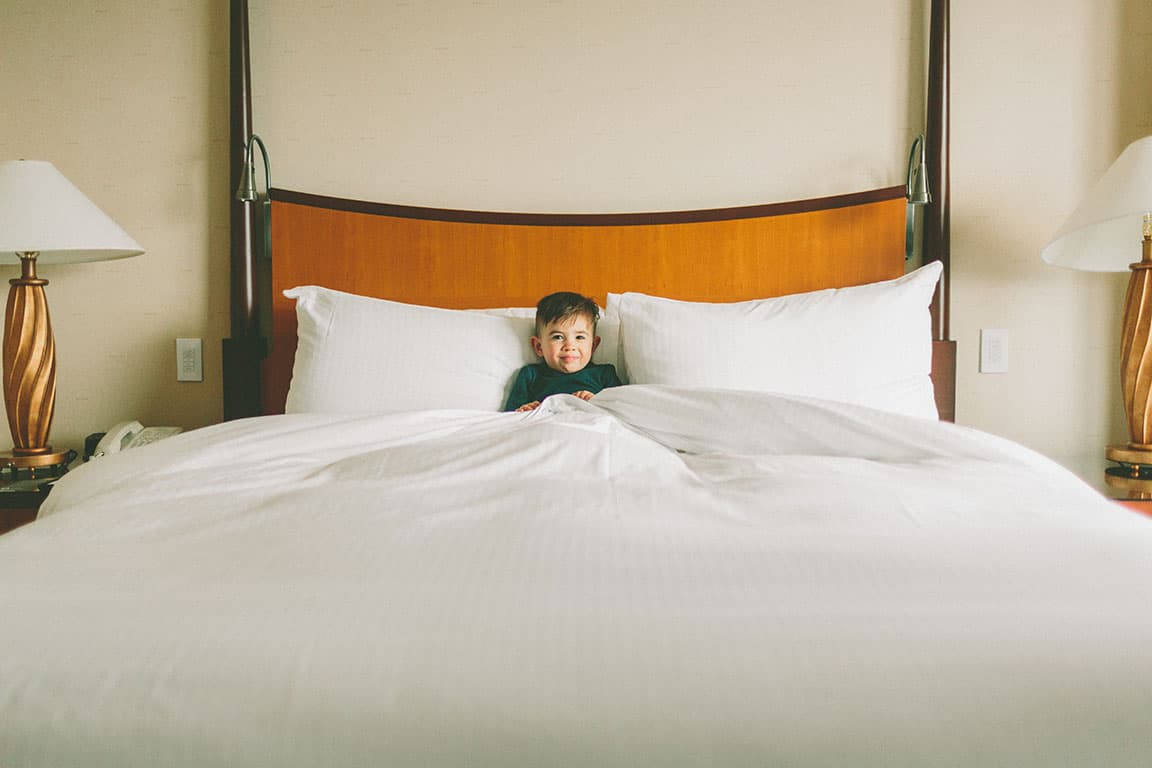 Why can't kids share a hotel bed?
Your kids can definitely share a hotel bed if you book a room with two queen beds. However, your kids might kick up a fuss when you arrive.
No matter if we are staying at hotels and resorts with memory foam beds, Sealy Posturepedic or other some sort of mattress toppers, the boys fight over having to share a bed. .
As my boys get older, it has gotten harder for them to share a bed. My oldest is over five feet, and hasn't even had his teen growth spurt yet. As a tween, he doesn't want to share a bed with his brother; he wants his space.
My youngest doesn't want to share with his big brother because his brother moves a lot when he sleeps and snores. He also loves pillows as much as his mama, and wants a big bed all to himself.
So, you need to get creative whether you sleeping on a plush pillow top at the Ritz Carlton or on a Westin Heavenly bed.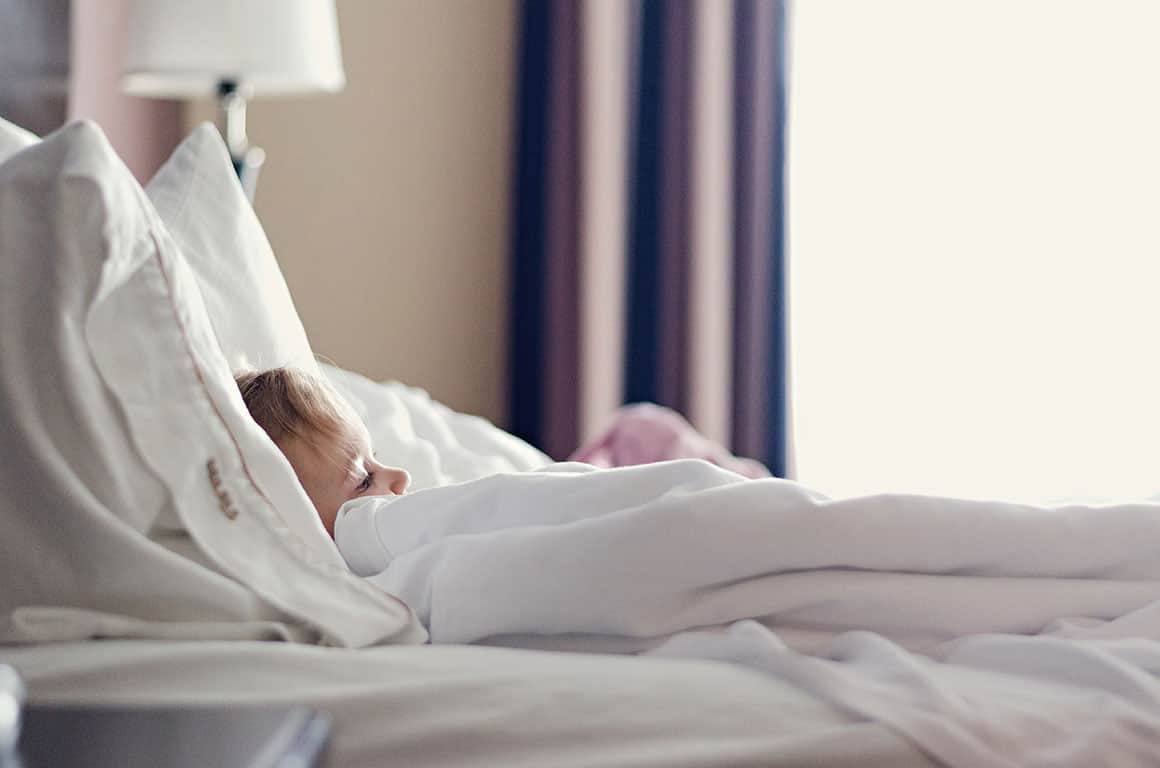 CREATE MORE BEDS IN A HOTEL ROOM
When my youngest was just starting to sleep in his own bed after moving out of his crib and climbing out of his travel crib, we had to figure out how to have the kids share a hotel bed.
For the most part, if the boys tried to sleep next to each other they would giggle and play instead of sleep.
Some hotel rooms were easier than others, especially if we had a suite, but most families don't have suites when they travel. I had to get creative with our double and two- queen-bed hotel rooms.
If you need some help figuring out the hotel bed situation when traveling with kids, there are a few easy solutions if you just get a little creative.

Split a bed horizontally
If you are in a room with two double, queen or king beds, you can make one of those beds into two sleeping spots with very little effort. You may need one extra blanket from housekeeping depending on how much your children move at night.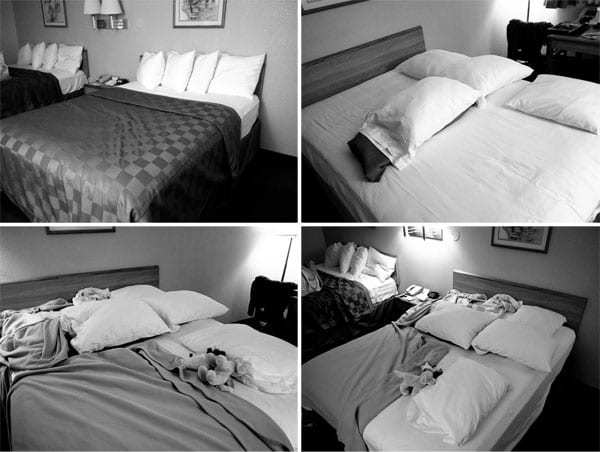 How to turn one hotel bed into two:
Take the blanket and top sheet off of the bed
Create a low pillow wall in the middle of the bed, just high enough so your youngest can't see their sibling sleeping next to them.
Give each side of the bed a pillow and a blanket.
Your youngest should sleep at the top of the bed, closest to the headboard so they have barriers on both sides of them and are less likely to fall out in the middle of the night
This may sound silly, but it was one of the best ways I found for my boys to share a bed while on the road when they were little. My husband and I could still sleep in one bed together and both of our boys were comfortable in their warm, cozy beds.
We generally do not get housekeeping when we stay in hotels, so it wasn't added work for the housekeeping team. I also made sure to leave a generous tip when we checked out to help with any extra clean up.
Push two chairs together
If your room has two chairs with arms, push them together to make a safe little space for your toddler or small older child.
Request an extra sheet to line the chairs. Tuck the sheet in tightly to help the chairs stay together. Add an extra pillow and blanket for a cozy bed your little one won't want to get out of anytime soon.
Again, before you check out, put the furniture back and place the sheets and pillow you used on one of the hotel beds. It just makes life easier for housekeeping.

Sofa bed plus cushions = two beds
Book a room with a sofa bed. Make sure you ask for extra sheets and blankets upon arrival.
If your children don't want to share the sofa bed, splitting it horizontally doesn't work (see above), or you have more children than bed space, grab the sofa cushions to make a comfy bed on the floor for your child, placing a sheet under and on top of the cushions.
That cushion bed could end up being more comfortable than the sofa bed.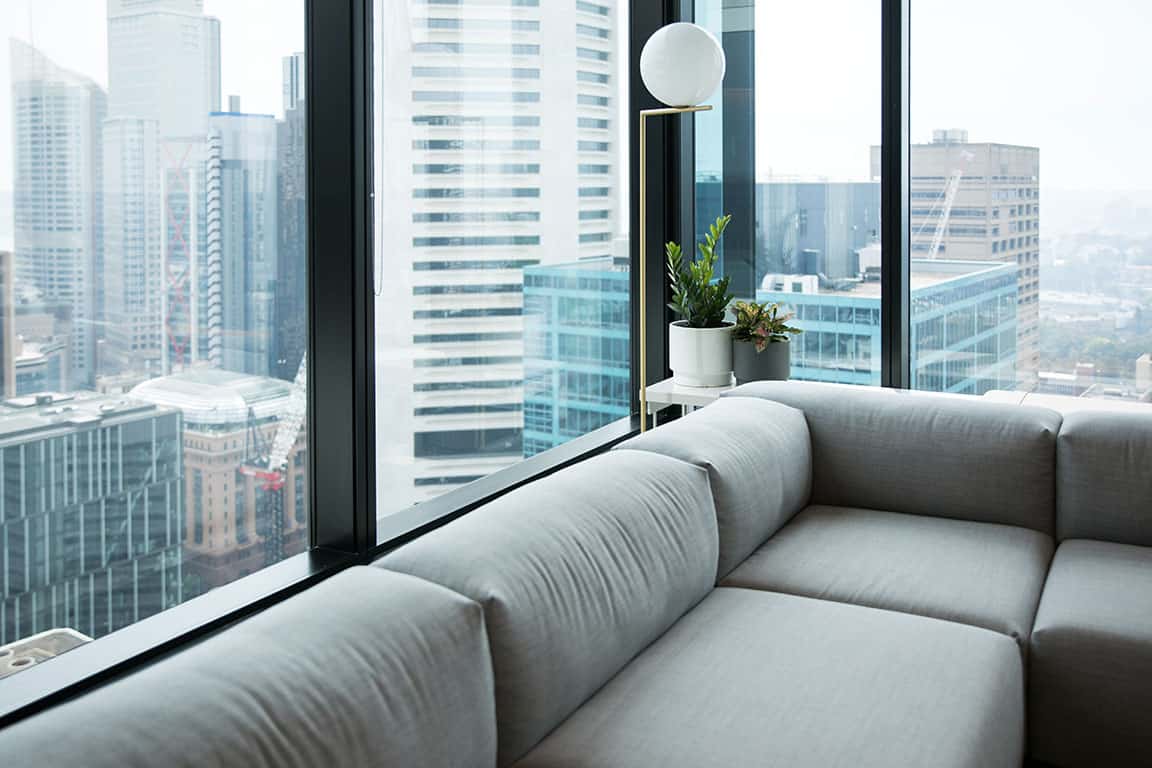 Turn a sectional sofa into two beds
You won't find a sectional sofa in most hotels, but when you do you have hit the jackpot.
Small and large children can fit on a sectional. Simply ask housekeeping for a few extra blankets and pillows to make up two beds on the sectional.
Travel Crib to toddler bed
Request a travel crib for your room if you have a toddler who has recently started sleeping in a "big bed."
You can have your toddler sleep in the crib, but it they keep climbing out, place a spare sheet or towel on the floor. Take out the mattress and put it on the floor.
Cover the mattress with a sheet, add a pillow and a blanket. Instant toddler bed.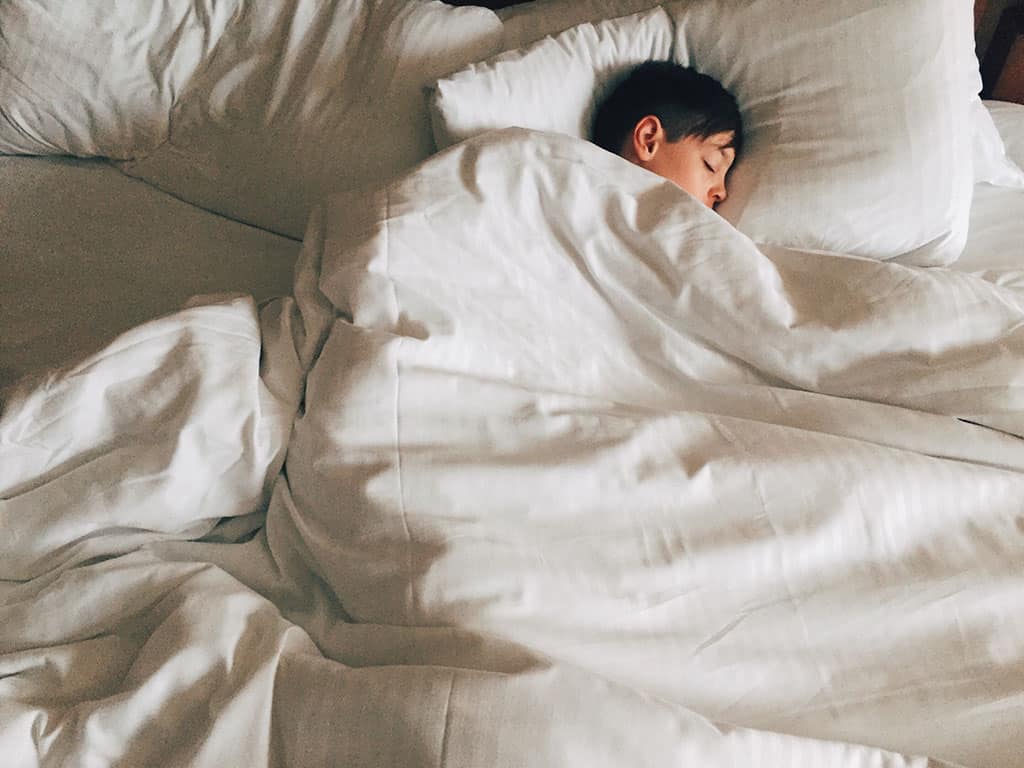 Get Creative with Hotel Beds
Hotel
Closets
Before I explain this, take note: NEVER close your child in a closet. It is a fire hazard if you have to evacuate quickly and can be very scary for little ones. You could also forget they are in there and leave for breakfast without one of the kids!
No, instead, if you are looking for some extra room in your hotel room, open up the closet doors for added floor space. Put cushions down on the floor or extra blankets to make a safe place for your kids to sleep in peace and quiet.
Even better, pack a small sleeping bag and camp pad! We love our REI sleeping bag (similar to this one) and this super small, yet cozy camp pad when we travel with the boys. I have shoes that take up more space in a suitcase than these two bed items combined.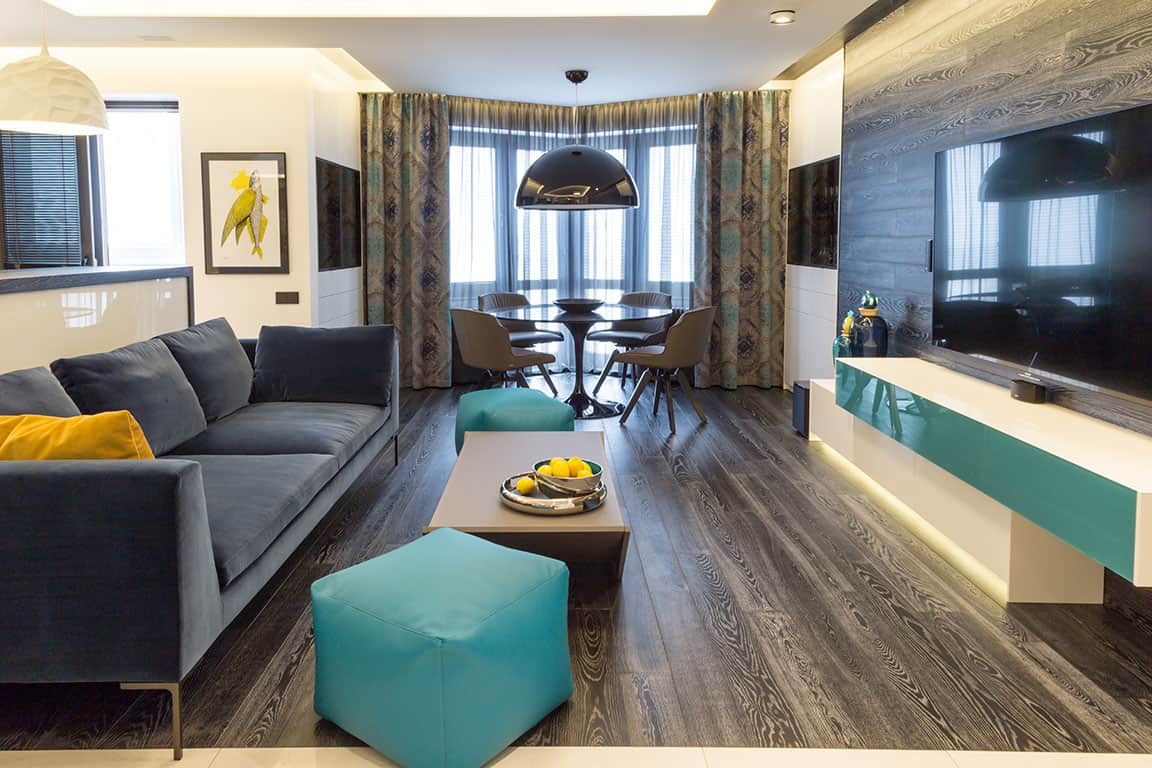 Turn a Desk into a Tent
Sometimes it is fun for kids to have their own space. Ask housekeeping for an extra sheet and throw it over the room desk. Add a comfy blanket and your child's favorite stuffed animals and you have a nice fort for your child to sleep in.
Just don't leave anything on top of the sheet over the desk incase the sheet moves. You don't want a phone or lamp falling on your child at night.
Two Queen beds
Most families traveling on a budget will book a room with two beds. To make sure everyone is comfortable you can do the horizontal split to let your two smaller children fit in one bed OR you can have one child with one parent in each bed.
I've snuggled up with my youngest more times than I can count so my oldest can have his own bed.
You can also make a cozy bed on the floor with an extra comforter and towels, or pack a sleeping bag for one kid to use.
Sleeping in a Hotel
Bathtub

?

I have never slept in or had my children sleep in a bathtub before, but have you seen the size of the tubs in hotels lately?

Some are bigger than a bed it feels like. If you get really desperate you can line the tub with a few towels and this packable comforter.

At least you know your child won't fall out of the bed, and if they have a nighttime accident, well, at least you didn't wreck the mattress.

But please, use this as a last resort. There are much better options.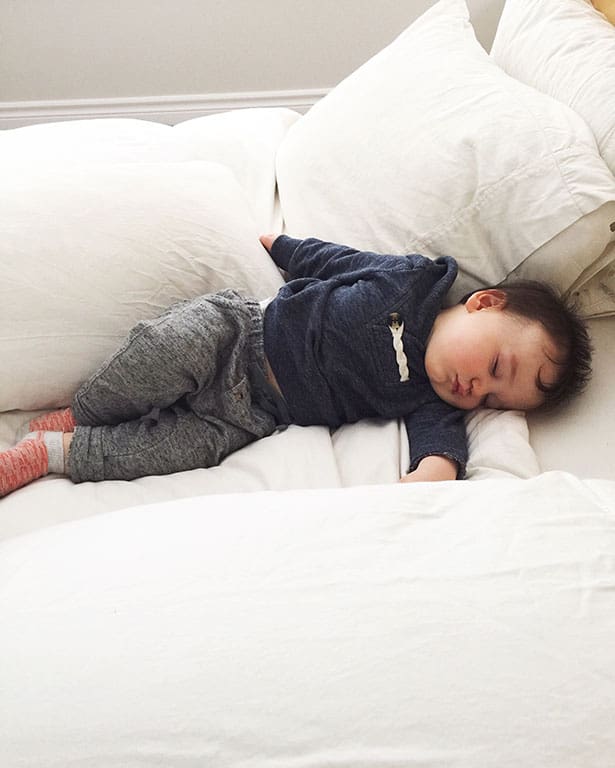 Hotel
Rollaway Bed
Don't forget that many hotels do have rollaway beds. Not every hotel will allow you to use them in a double room, but if you have young children who have trouble sleeping together you may be able to play the sympathy card, especially after you arrive.
If you have a younger child in a rollaway bed remember to put a few pillows on the ground just in case they roll out at night.

BRING YOUR OWN Bed
There are several toddler bed and portable bed options now on the market that make it easy to give your child a bit of space, without having to make him or her sleep on the floor.
The Shrunks Sleepover Kids Travel Bed can fit in the back of your car, although we would not bring this on a plane.
It's great for kids up to eight years old, but here are a few other options we like:
Not only are these great travel beds for when you are on vacation, but they are perfect for when family comes to visit.
My boys are kicked out of their room all of the time for grandma and grandpa. They get to sleep in my office on their own little air mattresses instead of the hard floor.
Pin it and Start Planning