As any pumpkin lover knows, pumpkin pie spice is just this side of heaven. While I'm not a big fan of pumpkin spiced lattes (oh, the horror!), I do love a good pumpkin cocktail with all of the luscious flavors that cinnamon sticks, nutmeg and clove bring to it.
What are pumpkin cocktails?
Pumpkin cocktails are alcoholic beverages that contain pumpkin purée, pumpkin liqueur or pumpkin butter, along with a number of spices reminiscent of pumpkin pie.
They are the perfect autumn cocktail to celebrate the fall season and a great addition to your Halloween and Thanksgiving celebrations.
Some popular pumpkin cocktails include the pumpkin martini, pumpkin spice margarita, and pumpkin spice latte martini.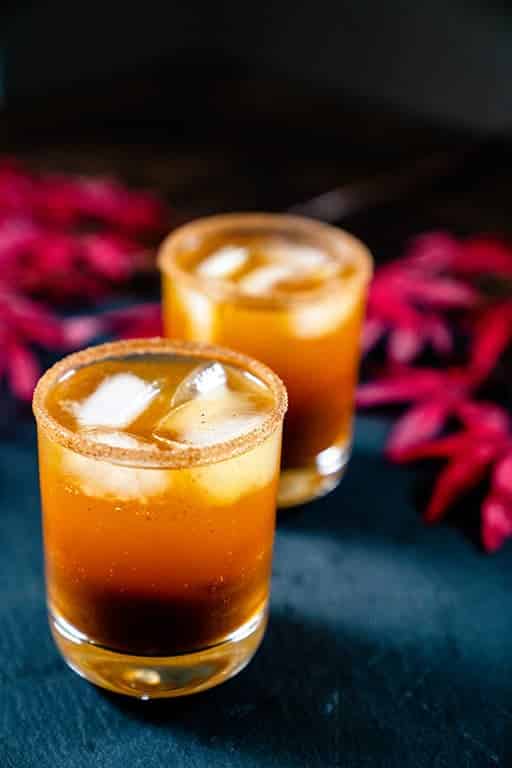 How do I make pumpkin cocktails?
There are many different recipes for pumpkin cocktails, including ours that you won't find many other places (if anywhere but a tiny bar in Virginia).
Most recipes call ingredients like pumpkin purée, pumpkin liqueur, pumpkin butter, vodka, rum, whiskey, cream, and spices like cinnamon, nutmeg, cloves and ginger. The cocktails are typically mixed in a shaker with ice and then strained into a glass. Some are also topped with soda or cream.
What are some popular pumpkin cocktail recipes?
Pumpkin Martini: Combine 2 ounces pumpkin liqueur, 1 ounce vodka, and 1/2 ounce cream in a shaker with ice. Shake until well chilled, then strain into a chilled martini glass. Garnish with a cinnamon stick or pumpkin seed.
Pumpkin Spice Margarita: Combine 2 ounces pumpkin liqueur, 1 ounce tequila, 1 ounce lime juice, and 1/2 ounce orange liqueur in a shaker with ice. Shake until well chilled, then strain into a chilled margarita glass rimmed with cinnamon sugar. Garnish with a lime wedge.
Pumpkin Spice Latte Martini: Combine 2 ounces pumpkin liqueur, 1 ounce vodka, 1 ounce espresso, and 1/2 ounce cream in a shaker with ice. Shake until well chilled, then strain into a chilled martini glass. Garnish with a sprinkle of cinnamon and nutmeg.
Inspired by the Shenandoah Mountains
While my husband and I were on a recent trip to Shenandoah National Park, we popped over to Luray, VA for dinner. A cute little wine bar had popped up there, and it also serves cocktails.
When I saw that they used pumpkin butter in one, I was intrigued. I asked our waitress if it was actually any good. She assured me it was sweetly spiced and delicious.
So, I went for it and ordered the Harvest Moon pumpkin cocktail they had created.
As the bartender saw me eyeballing his every move, he started to call out the ingredients and measurements for me. While I can't claim that I was the first to develop a pumpkin whiskey cocktail recipe, I did make a few adjustments once I got home to make it my own.
Creating my own Pumpkin Whiskey Cocktail
First, I made my own pumpkin butter to make this pumpkin-flavored cocktail. I couldn't find pumpkin butter anywhere since Halloween had already passed… and apparently no one sells it after October. I liked making my own (see pumpkin butter recipe below), because I could control the spice, adding more ground clove and ginger to give it an extra kick.
Second, I used Woodford Reserve Straight Bourbon Whiskey, instead of Jack Daniels, which the restaurant used. I had Woodford on hand and found it to have a much smoother taste.
I could have used Scotch, but we only have a bottle of REALLY good Scotch in our house right now, which I wasn't going to waste on a whiskey cocktail. Good Scotch should always be enjoyed on its own.
Third, while the restaurant used a Tom Collins glass (tall and narrow glass), I grabbed a lowball glass (AKA Old Fashion glass), which worked just as well. Since it was getting chillier when I was making this, I wanted less ice and more drink, which made the lowball the perfect size.
If you like to go heavy on the whiskey, go for it. Sometimes I add another half ounce to one ounce more to this pumpkin drink.
So, let's dive into one of the most perfect autumn cocktails that will transport you back to Shenandoah National Park, all covered in fall colors.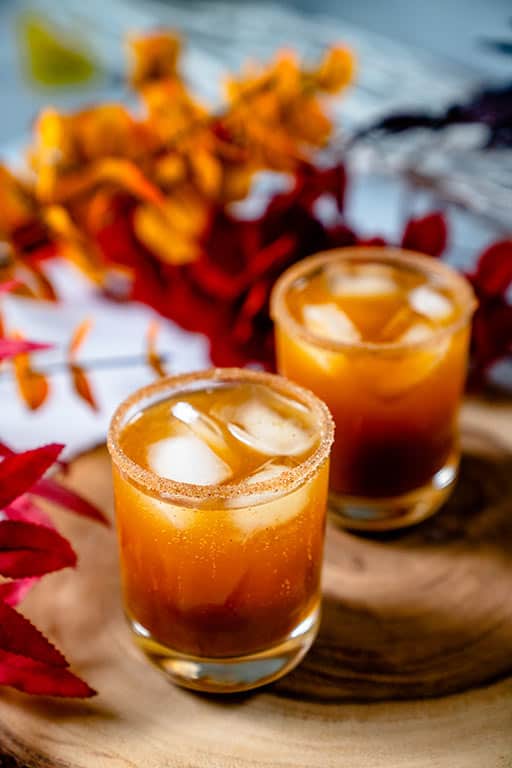 Harvest Pumpkin Cocktail
2-3 tablespoons of Pumpkin Butter (recipe below)
1.5oz Whiskey (Woodford Reserve, Jack Daniels or your bourbon or whiskey of choice)
Splash of lime juice (about 1/2 oz)
Ginger Ale (NOT ginger beer!)
Tom Collins glass or lowball glass
Cinnamon sugar (1tsp cinnamon to 4tsp white sugar)
Combine the pumpkin butter, whiskey and lime juice in a cocktail shaker with ice.
Give it a good shake
Strain into your cinnamon sugar rimmed Tom Collins glass.
Top with ginger ale
Note: if your pumpkin butter gets too thick, add a splash of apple cider into your cocktail shaker to thin it out a bit.
Cinnamon Sugar Rim instructions
Pour a bit of honey onto a plate
Dip the rim of your Tom Collins glass into the honey
Pour cinnamon sugar onto a clean plate and dip honey rimmed glass into the sugar mix until coated. It's OK if the honey is dripping, it's just more sweet to enjoy.
Bringing your Harvest Pumpkin drink together
Fill glass with ice
Carefully strain your cocktail into the honey rimmed glass.
Super Easy Pumpkin Butter Recipe
Combine all ingredients into a large sauce pan, whisking to combine.
Bring pumpkin butter mixture to a boil.
Turn down heat to simmer for 25 minutes (don't let it get too thick), stirring frequently.
Store in a glass container in the fridge, like a Ball jam jar.
How long does pumpkin butter last?
If you have your pumpkin butter in an airtight container, like a mason jar, and stick it in the refrigerator, it can last about 2-3 weeks.
You can freeze pumpkin butter for up to a year, which makes it much easier to enjoy this pumpkin cocktail recipe, pumpkin pancakes, and pumpkin toast for an extended period of time.
Can I can pumpkin butter?
The short answer is no. It is not recommended to can pumpkin butter, because botulism spores can more easily grow in pumpkin (and other squashes) thanks to low acidity. The density of pumpkin butter also doesn't allow the center of your jar to reach the temperature needed to prevent botulism.
pin it & Start Shaking one Up!
Apple butter Cocktail
Now, if you just can't find pumpkin butter and you don't want to make your own, you can use apple butter. The flavors aren't quite the same, as the apple butter may be much more mellow in terms of spice.
You can switch out the whiskey or bourbon for a dark rum or spiced rum, and a splash of lemon juice which will heighten the flavor a bit.
You could also make a pumpkin spice syrup, using just sugar, water and the spices in your pumpkin butter, essentially making a pumpkin simple syrup. Strain it through a fine mesh strainer, and you are good to go.
Just skip the pumpkin beer people. It's weird. Stick to your cocktails and lattes.