After the grey days of winter, nothing feels quite as fresh as a palette of beautiful pastels: from clothes, to flowers, bright colors bloom everywhere. Why not expand that rainbow right on into cocktail hour and celebrate spring with a bright array of floral flavors using Empress gin?
Get ingredients delivered straight to your home via
Drizly
We are in a renaissance of gin right now. Dominated for centuries by the London Dry style, characterized by a definitive juniper nose, modern distillers are turning the rules upside down and creating a variety of profiles that feature more florals, citrus and other unique ingredients.
What is Empress 1908 Gin?
One of the most impressive of these new gin distillers comes from Victoria, BC, Canada. Empress 1908 Gin is a distinctive deep indigo blue in the bottle – a natural colorant derived from butterfly pea flower. It started out as a a collaboration between Victoria Distillers and the Fairmont Empress Hotel in Victoria, British Columbia, quickly taking the cocktail scene by storm.
Combined with traditional botanicals like juniper and citrus, as well as some unusual additions like ginger, grapefruit peel and tea, Empress is lovely and smooth on its own. But the magic really happens when you blend it with some acid like tonic, or a squeeze of fresh citrus: the indigo color shifts from blue to pinks, creating a gorgeous palette perfect for spring cocktails.
Why Whitley Neil Distillers?
Another unusual gin comes from the UK, from Whitley Neil Distillers: the Rhubarb Ginger gin. The floral, herb and zing of this gin takes the distinctive flavors of spring – rhubarb, bright florals – and ties it to the classic juniper backbone.
The delicate symphony of classic flavors and modern notes, combined with the beautiful visuals, inspired these travel themed cocktails. Enjoy!
. Double or more as needed!
Afternoon In Paris
You've just whiled away the afternoon at the Musee d'Orsay in Paris, killing time in the galleries before passing the flower vendors pouring out of their shops, on the way to apertifs at a Parisian chic cafe. Floral, bright, layered, and beautiful, this cocktail is like a late afternoon stroll through the City of Light.
Fill a shaker with ice. Mix Empress gin, rose liqueur, bitters, vinegar and saffron syrup; shake well until frothy. Pour into a highball; top with a splash of soda water and a squeeze of lemon juice. Crack fresh pink peppercorn on top.
Kyoto Sunrise
Yuzu, a wonderful Japanese citrus, plays with Empress to create the rich pink of cherry blossoms in full bloom in this brunch-ready delight. Serve in a coupe for an elegant vintage feel.
In a coupe, layer in Empress gin, then the yuzu. Top with prosecco and garnish with pomegranate arils.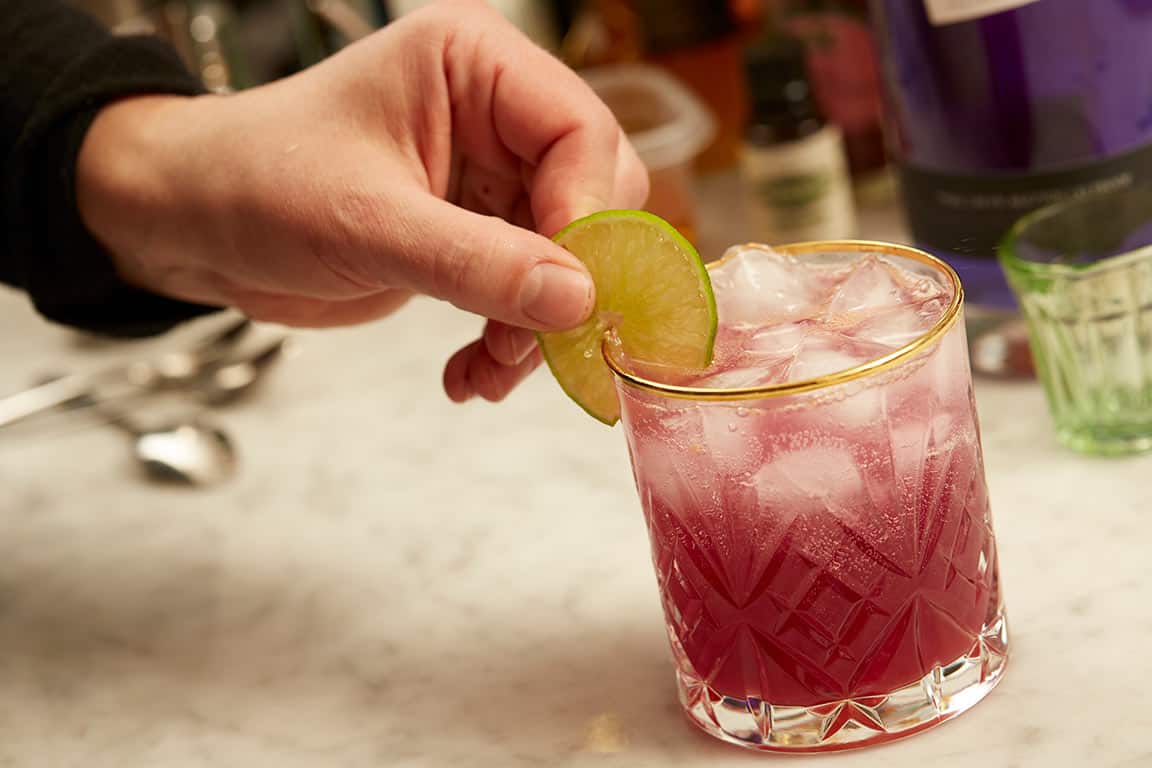 International Relations
Gin from Canada, hibiscus syrup inspired by a beachside cafe in Mexico, Japanese satsumas: this round-the-world list of ingredients is very easy to source and delicious when combined.
2oz Empress Gin
1oz Hibiscus syrup
Juice of 1 satsuma or mandarin (or, in a pinch, cuties)
Soda water
Lime for garnish
Measure out the hibiscus syrup and satsuma juice into a rocks glass. Fill with ice, then pour in Empress gin. Top with soda water and garnish with a lime.
The Duty Free
Duty free sunny afternoons were brought about by a quick stop at the Duty Free leaving London. Luckily, the gin is now available at select vendors worldwide, so you may not need your passport to get a glass of this perfect garden party sipper!
Fill a rocks glass with ice. Pour in gin and pickled ginger juice. Squeeze in lemon juice, then top with soda water. Garnish with crystalized ginger.
Stock your Cocktail Cart
Rose Liqueur
We used Wild Rose liqueur from Vom Fass; there are many alcoholic and non alcoholic options on the market though.
Yuzu juice
Bottled yuzu juice can be found at specialty foods stores and Asian markets. If unavailable, substitute 3 tablespoons fresh lime juice and 1/2 tablespoon fresh orange juice.
Hibiscus syrup
Common in many cuisines, including Mexico, Provence, and Morocco and often mixed with still or sparkling water for a refreshing non-alcoholic drink.
I buy dried hibiscus at my local latino market in bulk and make my own:
Take 1 cup sugar and 1 cup water in a saucepan.
Bring to a boil, stirring to dissolve sugar.
When sugar is dissolved, turn off heat.
Add hibiscus petals.
Let steep 20 minutes or more; strain out petals.
Keeps for up to a month in the fridge.
Satsumas
Satsumas are a loose-skinned orange, basically a type of seedless mandarin orange with thin skin. In most citrus producing areas, satsuma mandarin is the preferred name, but satsuma tangerine is also used.
They have a short growing season, usually available in the U.S. in January. You can substitute with other sweet citrus: tangerine, mandarin orange and Cuties are all close cousins.
Love Gin? Pin these Recipes for Later!
Photographs by TylerMallory.com