Welcome!
Have you ever been in a car accident? Are you worried about that possibility? What about when you travel? Are you stressing over the thought of rental car accident?
Whether you are at home or traveling, a car accident is never a fun possibility, but it does happen, even to the best driver. It's not the end of the world.
Just like at home, you can take steps to make sure everyone is OK, your claim gets filed, and even see if your credit card will cover the damages.
Now, take a deep breath.
Car accidents happen. The most important thing is to make sure you and anyone else involved is OK. You and your children are more important than a car.
I've been in rental car accidents and accidents with my own car at home. I'm going to take you through each step, one by one.
We are going to walk through the following together:
What to do at the scene of the accident
Calls to make
Forms you will need to fill out
What actually constitutes damage according to your rental car company
And what that supplemental insurance means after an accident

LET'S GET STARTED!
At the scene of the accident
If you or someone involved is injured call 911 immediately. The most important thing is that everyone is safe. If anyone may need medical attention make sure they get it right away, no matter whose fault you think the accident was.
Cars can be replaced; people cannot.
Request a police accident report. If no one is injured, but damage is done, call the police. Y
ou will need to have an accident report to show your insurance company, even if it is a hit-and-run while your car was parked.
Take notes and pictures. No matter how the accident happened, take notes on what occurred and pictures of any and all damage.
Exchange insurance information with any parties involved.
Gather witnesses if necessary.
Keep this information on hand to relay to the rental agency and your insurance company.
Calls to make and forms to fill out
Fill out an accident report at your rental car agency. Notify your rental car agent immediately when damage is done to the vehicle.
If you are unable to drive the car they may be able to get you a replacement and they will definitely need to make plans to have the car repaired.
Call your insurance company. Depending on your policy, your car insurance company may be able to cover damage done to a rental vehicle.
You will still need to pay your deductible, but it could save you hundreds, if not thousands of dollars, if you are in a bad accident.
Call your credit card company. Many credit card companies now offer rental car damage coverage.
Check with your credit card company before you rent to see what the limitations are on renting a vehicle.
I once had my rental car for 31 days; my credit card would only cover rentals up to two weeks in the United States, and 30 days abroad.

Make sure you pay for your rental car with that credit card.

If you don't, they may not cover you.
Also, call your credit card company as soon as possible after your accident. There is a time limitation on claim after the accident. They may not cover you. Call whether you have all of the insurance paperwork and police report or not, just to get it into their system.
Optional rental car insurance. If you bought the optional rental car insurance you may not have to deal with too much of this.
You will still have to fill out an accident report, and you will certainly want to get anyone medical attention who needs it. However, you may not have to deal with your personal car insurance or credit card companies.
Then again, you might. Read any extra insurance you buy very carefully and clarify with the agent what is covered and what is not.

WHAT CONSTITUTES DAMAGES?
Even if you aren't in an accident, you may have to pay for any of the vehicle's damage. When are you liable and when aren't you can be tricky.
To make it simple, just know that any and all things that happen to that car once you leave the lot are your fault. Here are some examples from a few large U.S. rental car companies.
Avis – You are responsible for any and all loss of or damage to the car resulting from any cause including but not limited to collision, rollover, theft, tire damage and vandalism, seizure/medical condition, flood, fire, hail or other acts of Nature.
Budget- Budget has the same legalize as Avis (sister companies). They go on to say that if the accident isn't your fault you should "ensure that you get the other party's contact information so we may pursue them and/or their insurance company on your behalf for damages. Please note that our pursuit of the other party does not absolve you from your contractual obligation to pay for the damage."
Dollar Rental Car– regardless of who or what caused the accident, the renter and additional drivers are liable for any loss or damage to the rental vehicle, as well as actual towing/storage charges, loss of use, diminution in value, etc.
Yes, this seems like a lot of work, but it can save you a lot of time and even more money in the end if you address a car rental accident correctly.
The most important tip of all is– always call your rental car company as soon as damage is done to a vehicle, no matter how minor. They can walk you through their process and help you get back to your vacation quickly.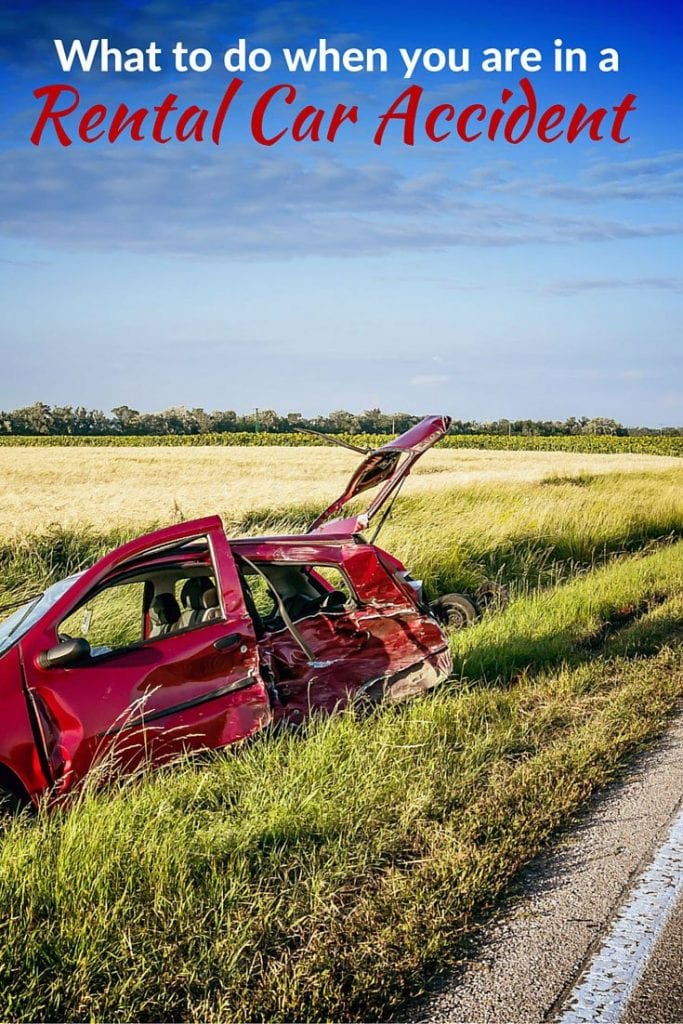 Photo of car accident on road via ShutterStock.com