There are a few things in travel that you just can't avoid. Airline fees, delays and lost luggage are always going to be there, and the biggest of the bunch is jet lag, especially jet lag with babies. Everyone wants a quick fix for it; I have yet to meet someone who has a fast and easy solution for jet lag with babies.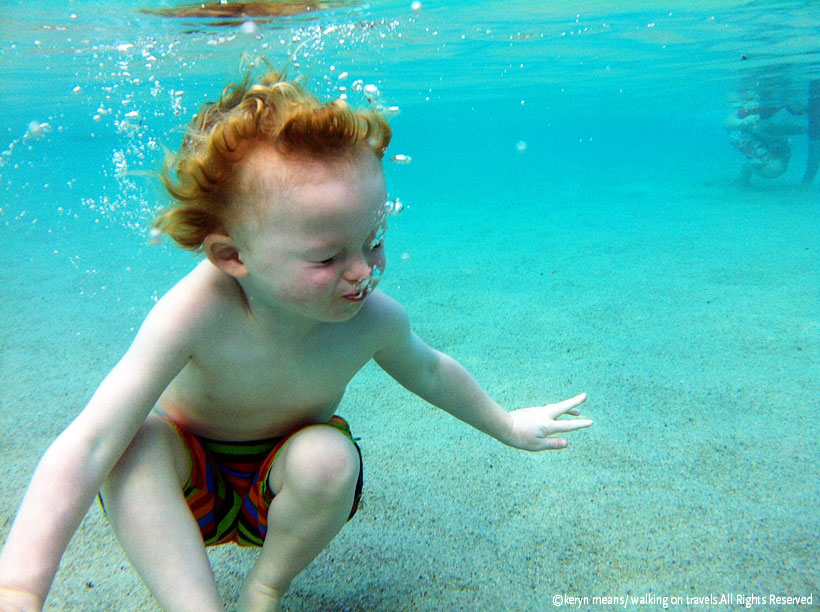 When you travel alone across time zones you can trick your body into staying awake and force yourself onto local time. Babies don't really go for this.
If it is 4am locally and 10am back home, well you better believe your baby's jet lag will have him up even if you put him to bed at 11pm last night (local time of course).
Time to accept the reality of jet lag with babies and move on.
If you are mentally prepared to not sleep very well for a night or two, your trip will be a hundred times better. I promise. If you try to force it those first few days you will only get frustrated and will pay for it in the long run.
I've been traveling with my boys for over four years. I've made so many mistakes, but I have learned a lot about jet lag along the way. I think I almost have a jet lag with babies system figured out.

Get up
Your kids are going to wake up when you want to sleep. This is inevitable even at home when you have a baby and/or toddler.
Try to go to bed when your kids do so you can both get a few hour of sleep before your baby's jet lag tells them it is time to wake up.
Once that happens, get up. Don't play pacifier ping pong, try to force them back to sleep or ignore it.
Just get up and deal with your jet lagged baby. Play for a bit, have some food, and pretend to be awake.
You may not like it, but this is the reality of the situation.

Get some food
As soon as you land at your destination find the local market and grab milk, yogurt and cereal, or whatever your family likes to eat first thing in the morning.
When the kids wake up at 4am give them breakfast. Don't fight it. Don't try to give them a glass of water and put them back to bed. Their jet lag baby bodies just told them it is time to eat. They will make you listen to their needs even if it means crying for the next four hours.
Feed your baby so he doesn't cry for the next four hours. No one, especially you, wants to hear that.

Get entertained
After breakfast read a few favorite books, play with the toys you brought or take a bath.
Do something quiet that can keep your kids entertained, but will not over stimulate them.
If you are way too tired to play a rousing game of peek-a-boo with your jet lag baby, pop some Curious George on or another favorite show.
Get yourself through the wee-hours of baby jet lag anyway you can.

Get back in bed
After about 1-3 hours, do your normal bedtime routine again.
Your kids are probably still in their pajamas, but you can brush their teeth, have them sit on the toilet, change diapers, read stories and have a cup of milk.
Lay the baby down, tuck your toddler in and crawl back into bed. Stay very still as you pray that your kids will go back to sleep.
Chances are they will. If not, well, you may be watching the sun come up wherever you are. It's not that bad. Sunrises are pretty awesome.

Jet Lag with Babies and Toddlers Conquered!
Now that I have figured out the system that works for us and gets us through jet lag with toddlers, I'm sure my boys will change on me. However, after our disastrous first night in Switzerland last year, I have learned to just go with the flow. Even in Hawaii we were all up at 4:30am, but back in bed by 7am for a nice three-hour nap.
It's not perfect, but anything you try is better than nothing with it comes to jet lag with babies.
What are your baby jet lag tips? Tell us in the comments below.