A quaint, Danish-style gem located in Southern California's Santa Ynez Valley, the town of Solvang (Danish for "sunny field") has been recognized by TIME magazine as one of the most "Christmassy Towns in America." And it's not difficult to understand why.
The Danish village comes alive with sparkling Christmas lights, musical performances, an enchanting parade, seasonal treats at the local bakeries and unique shopping opportunities each holiday season.
Every time you turn a corner, you'll feel as if the magic of a Northern European Christmas has been brought to you in Southern California.
Your Solvang Christmas Guide
If you're looking for a new way to celebrate the holidays with your loved ones, here is your ultimate guide to one of the best Christmas towns in the U.S.
Always remember to double-check dates, opening times, and weather conditions before traveling.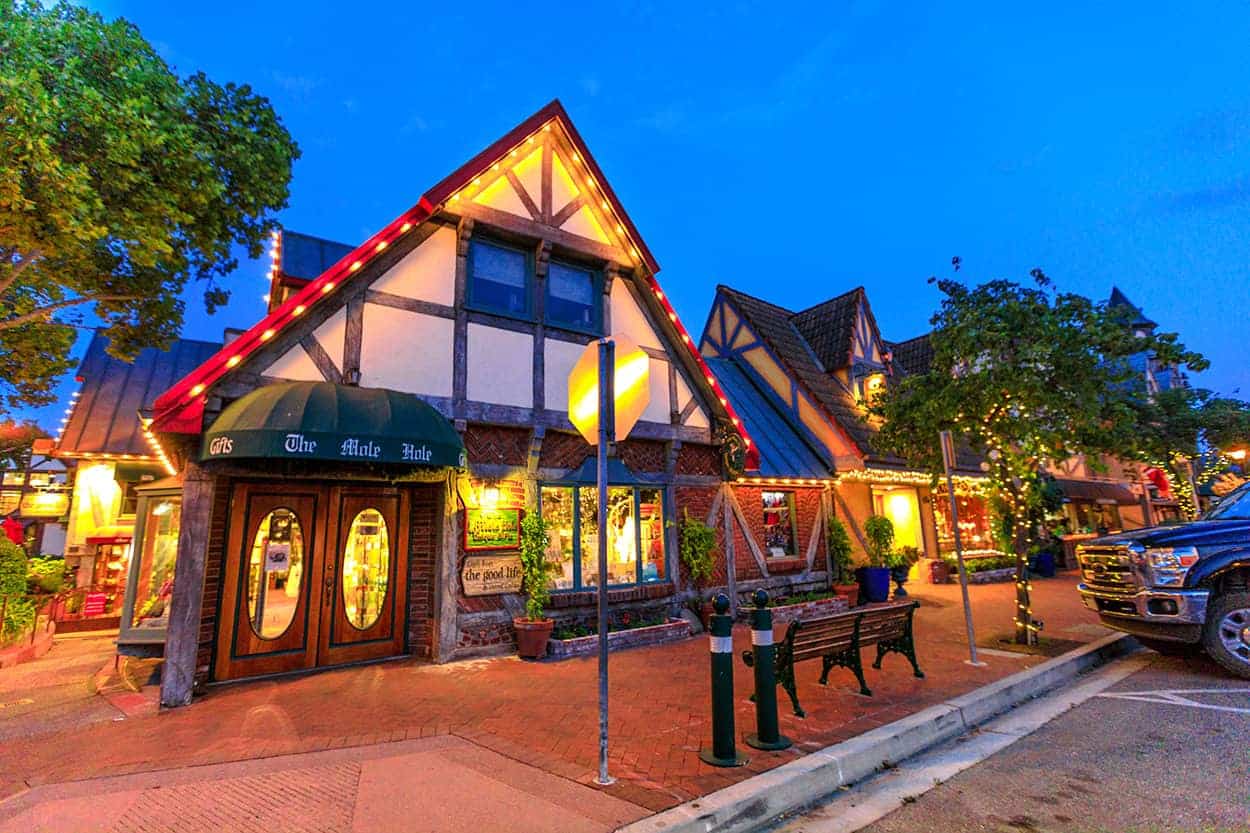 Top Things to do in Solvang During Christmas
Solvang Julefest
Dates: Late November to early January
Location: Solvang Park (corner of Mission Dr. & First St.), Solvang, CA
One of the town's most beloved holiday traditions, Solvang's Julefest is a month-long celebration filled to the brim with family fun, sweet treats and plenty of holiday cheer.
With festive events like the Solvang Christmas Tree-Lighting Ceremony (early December), the Julefest Parade (early December) and food tours, a highlight is the annual Nisse Adventure. It features a city-wide hunt for the mysterious Solvang Nisse (Christmas elves), which will have hidden themselves throughout downtown Solvang.
Another favorite are the candlelight tours at Christmas time, which include an LED candle to light your way up and down the village streets. With the help of a costumed guide, you'll learn about the history of this quaint hamlet and its many Danish holiday traditions.
At the end of the tour, you'll enjoy some complimentary hot chocolate, Christmas carols, holiday music, and a meet-and-greet with Santa Claus and Mrs. Claus. (Spots are limited to ensure a more personalized and intimate experience for everyone.)
If you're in the area during this time of year, this is one of the best ways to conjure the Christmas spirit near Santa Barbara.
Solvang Santa's Village
Dates: Every Saturday from the last one in November through Christmas Day
Location: Solvang Park (corner of Mission Dr. & First St.), Solvang, CA
Did your little ones make the Nice List this year? Then let them tell Old St. Nick what they'd like for Christmas at Santa's Village in Solvang Park. Photos are free to all and the perfect way to commemorate your family's holiday trip to the small town of Solvang.
Don't miss the chance for Santa visits in Solvang, one of the area's most cherished Christmas activities for the whole family.
More Winter Activities for Your Christmas in Solvang, CA
Solvang Julefest's Christmas celebrations are just the beginning of all the amazing ways to have a "holly jolly" holiday in the Santa Ynez Valley. Here are even more spots where you can enjoy the Christmas season during your visit.
Buellton Winter Fest
Date: First Sunday in December
Location: Village Park, 330 Valley Vineyard Cir., Buellton, CA
Situated just 5 miles northwest of Solvang, the town of Buellton ushers in the season with an annual Winter Fest on the first Sunday in December.
Breakfast with Santa kickstarts the event followed by a neighborhood parade. You'll also want to stick around for the afternoon's Holiday Village opening because it features 20 tons of "snow," vendors and live-music performances. At the end of the day, enjoy the lighting of Buellton's Christmas tree.
Christmas Shopping in the Village
You won't find your typical mall in the Danish Capital of America. After all, the village is home to over 150 shops, boutiques and souvenir shops, each offering unique gifts shops and goods for everyone on your shopping list.
From authentic European clogs to antique collectibles, you'll find something to delight your loved ones on Christmas morning. You may even want to treat yourself to something new!
Even if you're not in town during the holiday season, you can shop year-round at the Christmas gift shop Jule Hus (1580 Mission Dr.), set along Solvang's main drag. From traditional ornaments to glass-blown ones, nutcrackers and numerous hand-crafted gift, this is an absolute "must visit" during the holiday season.
Fall in love with Solvang Christmas Lights
Warm weather is more common than snowfall in Southern California, but the abundance of Christmas decorations and lights in Solvang will make a stroll through the village feel like you're lost in a winter wonderland.
Thousands of lights illuminate the Danish village, and hundreds of small Christmas trees are decorated outside of local businesses. Some of the best spots to see the lights are Copenhagen Drive, Alisal Road and Solvang Park.
Los Olivos Olde Fashioned Christmas
Date: First Saturday in December
Location: Main Street, Olives, CA
You're invited to nearby Los Olivos for an Olde Fashioned Christmas!
Main Street Olives is shut down for the festivities. Holiday lights, roasted walnuts, hot coco and an abundance of Christmas shopping bring people from all over the Santa Ynez Valley to this friendly town on the first Saturday in December.
Los Olivos is only 11 minutes north of Solvang, so you won't have to travel far to take part in the fun.
Santa Ynez Valley Botanic Garden
Address: 151 Sycamore Dr., Buellton, CA
Located just a 10-minute drive northwest from Solvang in the town of Buellton, the Santa Ynez Valley Botanic Garden hosts an all-ages holiday light show and celebration over the first three weekends in early December.
Featuring one-of-a-kind light displays like a light maze, as well as photos with Santa, live reindeer (typically two Sundays during the celebration), Christmas carolers (select days), merchants and food vendors, plus beer and wine for the parents, get your tickets to the Holiday Lights Festival here.
Solvang Bakery Gingerbread Houses
Address: 438 Alisal Rd., Solvang, CA
The town's premier Danish bakery since 1981, Solvang Bakery offers a wide variety of Danish and American desserts. But the business is most famous for its incredible gingerbread houses.
Each holiday season, the aromas of sugar and spice pour from the bakery's windows as they prepare custom gingerbread houses by the dozens. These special treats usually sell out well in advance, so we highly recommend you order one ahead of time. Or at least stop in the bakery and catch a glimpse of their yummy, festive creations.
Or you can always pop in to buy Gingerbread House Decorating Kits to bring home a sweet new tradition. Each kit comes with two containers of icing, assorted candy and faux pine trees.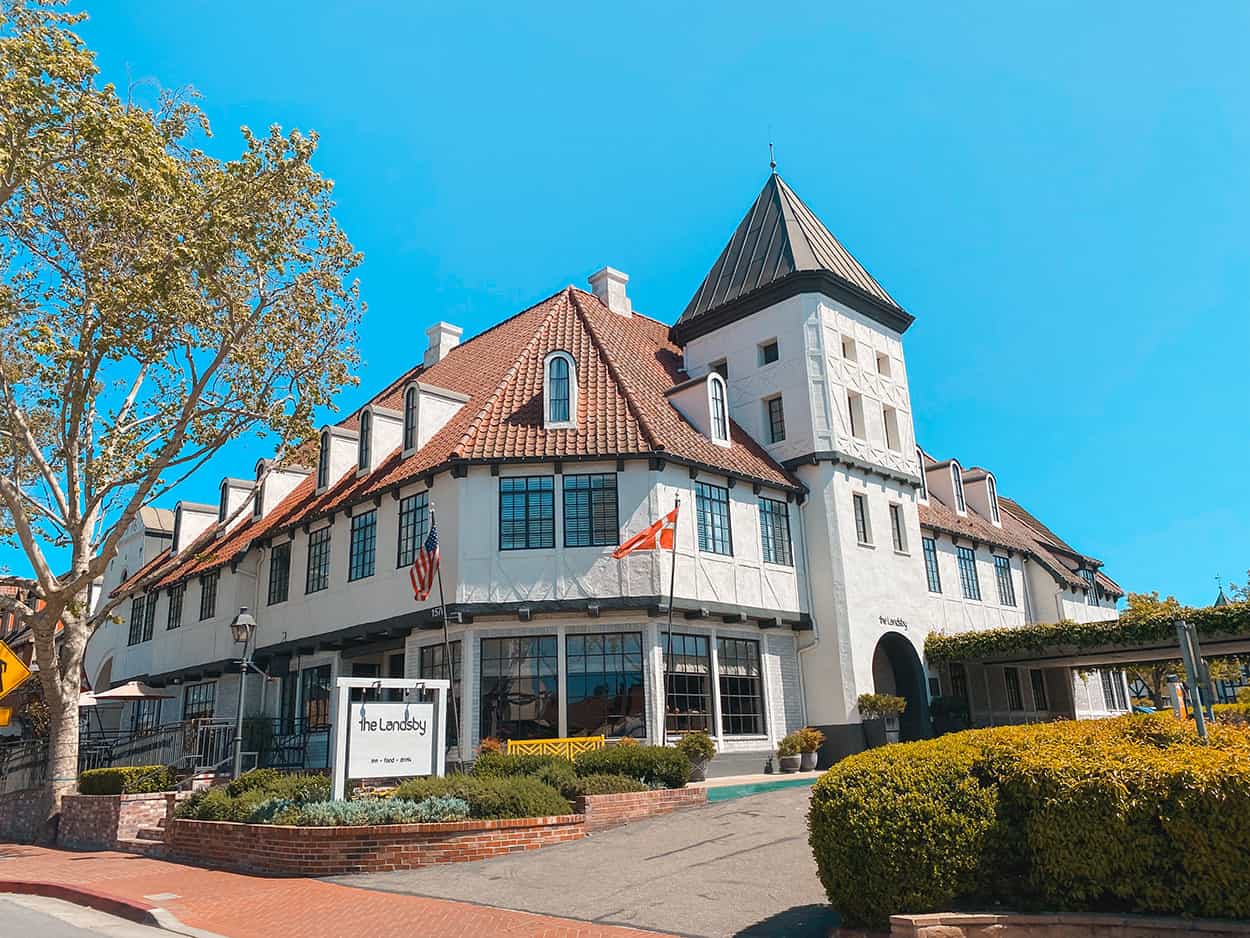 Looking for a Hotel in Solvang?
Here are a few of our favorite Solvang Hotels
Don't see something you like? Check out more Santa Ynez Valley HERE.
This post contains affiliate links, which means we may earn a small commission from your purchase. This adds NO extra cost to you.
Frequently Asked Questions about Christmas in Solvang, CA (FAQ)
What is Solvang, CA, and why is it special during Christmas?
Founded in 1911 by three Danish immigrants, this charming Danish-inspired town is nestled in the heart of California's Santa Ynez Valley. Its unique makes it a magical destination for Christmas, with its festive decorations and traditions reminiscent of a Danish Christmas market.
When does the Christmas season start in Solvang?
It usually kicks off the day after Thanksgiving, often starting with a grand tree-lighting ceremony and continuing throughout December.
What are the main attractions during Christmas in Solvang?
Solvang's streets come alive with holiday spirit. You can enjoy festive decorations, visit Santa's Village and explore the town's many boutique shops. Don't forget the picturesque Nativity scenes throughout town! In fact, as part of Julefest, you can watch the Solvang Nativity Pageant, an artistic representation of the Biblical Nativity Story by Solvang Performing Arts featuring local actors, musicians and live animals.
Are there any special events during Christmas in Solvang?
It's the "most Christmassy town," so the answer is "YES." The town hosts various events throughout the season, including parades, holiday concerts and the Solvang Julefest, which features a candlelit procession and live entertainment.
Where can I see Christmas lights in Solvang?
Solvang Park is a great place to see enchanting Christmas lights. Many businesses and homes throughout the town also participate in decorating, creating a delightful atmosphere.
Is there a Christmas market in Solvang?
Yes, Solvang has a traditional Christmas market with vendors selling gifts, crafts and delicious holiday treats. It's a fantastic place to find unique gifts and immerse yourself in Danish Christmas traditions.
What traditional Danish holiday treats can I enjoy in Solvang during Christmas?
While in Solvang, you must try æbleskiver, a round, fluffy pancake-like pastry served with powdered sugar and jam. You can also savor authentic Danish pastries, gingerbread cookies and gløgg (mulled wine).
Is there ice skating in Solvang during Christmas?
Of course! Solvang typically sets up an outdoor ice skating rink where you can enjoy some winter fun with your friends and family.
Can I meet Santa Claus in Solvang?
Absolutely! Santa's Village in Solvang is a popular attraction where kids can meet Santa, share their wishes and take memorable photos.
What is the best way to get around Solvang during Christmas?
Solvang is a walkable town, and the best way to immerse yourself in the festive atmosphere is by strolling through the streets. There is also free parking available, making it easy to access the town by car.
Do I need to make reservations for restaurants during the Christmas season?
It's a good idea to make reservations for popular restaurants in advance, especially during the holiday season. Solvang offers a variety of dining options, including Danish cuisine, so plan your meals accordingly.
Is there a New Year's Eve celebration in Solvang?
Solvang celebrates New Year's Eve with various events, including special dinners and parties. You can enjoy the festive atmosphere and welcome the New Year in style.
What should I wear for Christmas in Solvang?
Dress warmly in layers as the weather can be chilly during the Christmas season. Don't forget to wear comfortable shoes for walking and exploring the town.