Did you know that there are more than 120 wineries in the Santa Ynez Valley? With so many beautiful vineyards and award-winning wines to experience, its wine industry draws both casual and seasoned wine drinkers from all over the world.
Whether you're looking for something fun to do in the area or planning a private events for a special occasion calling for a vino toast, these are the best Solvang wineries that provide a taste of California's Central Coast.
Why Visit Solvang Wineries
High-quality wines. Solvang is located in the Santa Ynez Valley, which is one of the premier wine regions in California. Solvang wineries produce a wide variety of high-quality wines, from Pinot Noir and Chardonnay to Cabernet Sauvignon and Syrah.
A unique wine tasting experience. Solvang wineries offer a variety of wine tasting experiences, from traditional tastings in the tasting room to more personalized tours and tastings in the vineyards. Some wineries even offer tastings paired with food or live music.
A beautiful setting. Solvang is a charming Danish village located in the heart of the Santa Ynez Valley. The wineries are surrounded by rolling hills, vineyards, and oak trees, making for a beautiful and relaxing setting for wine tasting and even a picnic.
A fun and festive atmosphere. Many Solvang wineries offer live music, food pairings, and other events throughout the year. This makes them a great place to go for a fun and festive day out with friends or family.
Why Solvang?
Located in Southern California's Santa Barbara County, Solvang is known for its Danish-style architecture, windmills and Scandinavian culture. Drawing travelers from around the world who are exploring the Pacific Ocean Coast, it's also part of the renowned Santa Barbara Wine Country. So Solvang's area wineries are the perfect place for oenophiles.
Originally founded in 1911 by a group of Danish immigrants who wanted to create a community that reminded them of their homeland. Today, Solvang is a popular spot for tourists, who come for the town's variety of shops, restaurants and attractions that celebrate its Danish heritage. (And its wine-tasting rooms!)
Some of the most popular attractions include the Elverhøj Museum of History & Art, the Solvang Vintage Motorcycle Museum and the Hans Christian Andersen Museum. The city is also home to several annual festivals and events, including Danish Days (September), Julefest (Christmas Festival) and Taste of Solvang (March).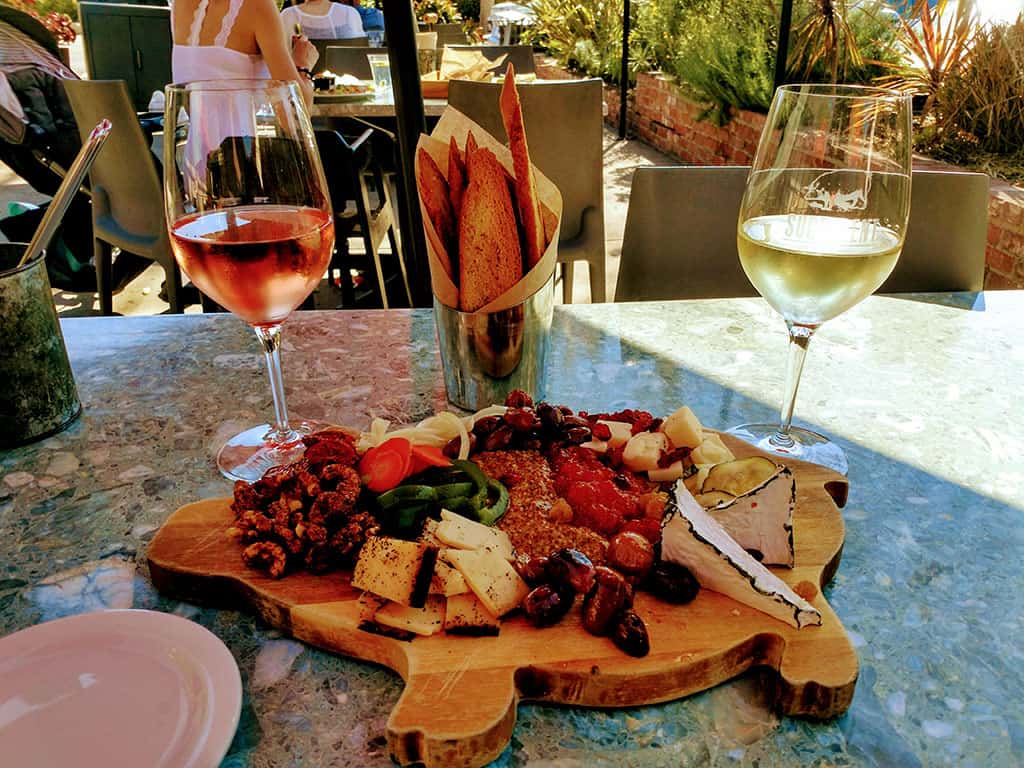 DISCOVER THE BEST WINERIES IN SOLVANG
The quaint village of Solvang is peacefully tucked away in the valley's rolling hills, treating its wine-loving visitors to old-world Scandinavian charm and proximity to the area's top-notch wineries.
One of Santa Barbara County's seven distinct American Viticultural Areas, Santa Ynez Valley's diverse climate produces a variety of delicious wines, from pinot noir to chardonnay and syrah.
Wine lovers will have plenty of good spots to visit amid Solvang's wine scene, from the boutique winery to large vineyards.
Alma Rosa Winery & Vineyards
Address: 1623 Mission Dr., Solvang, CA
For one of the best urban wine-tasting experiences in Solvang, Alma Rosa Winery should be a first stop.
Their downtown Solvang tasting room offers both indoor spaces and an outdoor patio. Here you can enjoy wine crafted from grapes grown on the north-facing slopes of the Santa Barbara Hills. Just grab a seat, and the friendly staff will help you find selections for wine tastings that are tailored to your palette.
If you're on the search for a more personalized wine excursion, Alma Rosa's nearby ranch offers private tastings by appointment.
Blackjack Ranch Vineyards and Winery
Address: 2205 Alamo Pintado Rd., Solvang, CA
Indulging in a delectable glass of wine at a beautiful vineyard will never be a gamble at Blackjack Ranch Vineyards and Winery.
The name for this family-owned winery was coined by the winemaker's original casino card game called "California Blackjack." While his game climbed in popularity in cities like Los Angeles, his European-inspired wines were claiming the attention of several wine critics, including the world-famous Robert Parker, Jr.
During your visit to the lovely tasting room surrounded by almond and olive trees, you'll be treated to a variety of Bordeaux and Burgundy selections as delicious as views over one to the best vinyards in Solvang. Critics have highly praised the Billy Goat Hill Merlot and Harmonie wines, both a must during your tasting.
Buttonwood Farm Winery & Vineyard
Address: 1500 Alamo Pintado Rd., Solvang, CA
At Buttonwood Farm Winery & Vineyard, you'll be welcomed like a member of the family to taste world-class wines and make lifelong memories with your loved ones.
This local gem has quickly grown to become one of the best Santa Ynez wineries, and for more reasons than their fabulous Bordeaux and Rhone varietals. The 106-acre working farm is also abundant with bounties like olives, pomegranates, vegetables and their famous peaches.
The tasting room in the garden is open daily and will provide each member of your party with a flight of five seasonal wines. If you make a reservation in advance, you can bring a picnic lunch and purchase wine by the bottle or glass.
Casa Cassara Winery & Vineyard
Address: 1607 Mission Dr. #112, Solvang, CA
Recognized in 2020 as Solvang's best winery, this local favorite is an Italian wine-lover's dream. It's also one of the most frequented wine-tasting rooms in town. And there's no question: This is one of our favorite wine tasting rooms in Solvang.
Casa Cassara Winery and Vineyard specializes in handmade wines crafted from grapes grown in the Santa Rita Hills and Santa Ynez Valley. You can try them all in their beautiful downtown tasting room, which feels like a comfortable family living room.
Drop in to experience their inviting atmosphere and irresistible wines like the flagship Estate Pinot Noir or a white wine like Sauvignon Blanc.
Dascomb Cellars
Address:1623 Mission Dr. Suite E, Solvang, CA
This boutique vineyard specializes in handcrafted wines from the Central California Coast. Make sure to sample one of their tried-and-true red blends, featuring a cultivation of classic grape varietals like Merlot, Cabernet Sauvignon, Petit Verdot and Cabernet Franc.
A family-owned and operated boutique winery that first planted in 1974, the Estate vineyard, East Valley Vineyard, is home to one of the oldest vineyards in Santa Barbara County.
Kaena Wine Company
Address: 800 E. Hwy. 246, Solvang, CA
Just a short drive north from Solvang in nearby Los Olivos, this scenic vineyard offers excellent wines and a large barn setting, allowing you a good time tasting fabulous wines on an outdoor patio surrounded by mature trees.
Offering more than 18 varietals to sample, including the Kaena Noir Bordeaux, the vineyard's name translates from the Hawaiian language to "potential for greatness." Its "greatness" is most evident in its Rhone and Grenache production, producing more than 2,000 cases of wine in these varieties.
Lincourt Vineyards
Address: 1711 Alamo Pintado Rd., Solvang, CA
Emanating the simplicity and charm of a bygone era, Lincourt Vineyards produces a wide array of small-lot red wines and whites. And they do so using sustainable and modern techniques.
Stop by their hillside tasting room, and you'll be greeted by the picturesque Alamo Pintado Vineyard. Among lush California pepper trees and a laid-back atmosphere, you'll find friendly faces ready to help you find your new favorite wine.
Whatever your wine cravings demand, you find just the right selection from Lincourt's lengthy menu of Bordeaux and Burgundian varieties.
Lucas & Lewellen Vineyards
Address: 1645 Copenhagen Dr., Solvang, CA
Forged by the friendship of two passionate winemakers, Lucas & Lewellen welcomes guests to experience the vineyards of Italy in the heart of the Santa Ynez Valley.
Their popular Toccata Tasting Room offers versatile food-friendly wines within a relaxed Mediterranean-inspired atmosphere. If you find them during your visit to Downtown Solvang, go inside for a taste of the 2018 Pinot Noir. This is a selection that Wine Spectator describes as "suave and open-textured."
Rideau Vineyard
Address: 1562 Alamo Pintado Rd., Solvang, CA
Often counted among the top wineries in Solvang, Rideau Vineyard has specialized for more than 20 years in their own wine, specifically Rhone wines produced on a gorgeous slice of the valley resembling an enchanting fairytale land.
Visit the El Alamo Pintado Adobe tasting room and enter a fantasy world filled with new friends, live music performances, and elegant wines hand-harvested from the estate's vineyard.
After grabbing a glass of grenache, Viognier, or syrah, find a sunny spot on the tasting room's lawn surrounded by blooming flowers, singing birds, and a peaceful ambiance.
Royal Oaks Winery
Address: 1687 Mission Dr., Solvang, CA
If your taste in vino is reminiscent of your insatiable sweet tooth, Royal Oaks Winery will be sure to satisfy. In fact, it takes pride in producing some of the most delicious dessert wines served among all the Solvang wineries.
There are three ways to enjoy your experience with Royal Oaks. Arrange a private tasting at Royal Oaks Ranch. This way, you'll be able to enjoy a quick glass or two in their downtown tasting room. For a more intimate experience, you can also book a romantic dinner for two. Whatever you choose, you'll be in for the wine tasting of a lifetime.
Oh, and do you enjoy chocolate as much as wine? Don't forget to pair your vino with truffles provided by local chocolatiers during your tasting.
Rusack Vineyards
Address: 1819 Ballard Canyon Rd., Solvang, CA
Gorgeous views of Ballard Canyon's oak-studded hills perfectly pair with a glass of handcrafted wine at Rusack Vineyards. (Ballard Canyon AVA is another wine region of Santa Barbara County's seven AVAs.)
The family-owned winery boasts 17 acres of vineyards divided into small lots to ensure each one receives personalized attention. They also work closely with select growers that meet high-quality parameters to produce only the most delicious grapes.
Enjoy some of their best-produced wines, including Pinot Noirs and Chardonnay, on either the Canyon Terrace or Oak Deck for an incredible wine-tasting experience on a picture-perfect background.
More Solvang Wineries to check out
Crawford Family Wines
Lions Peak Vineyard
McClain Cellars
Sunstone Winery
There are numerous tasting rooms along Copenhagen Drive and other main streets of downtown Solvang. Check here for an alphabetical listing of Solvang tasting rooms, including Dana V. Wines, the Toccata Tasting Room and others.
Find complete information on any required tasting fee, self-directed wine tours and more at individual sites.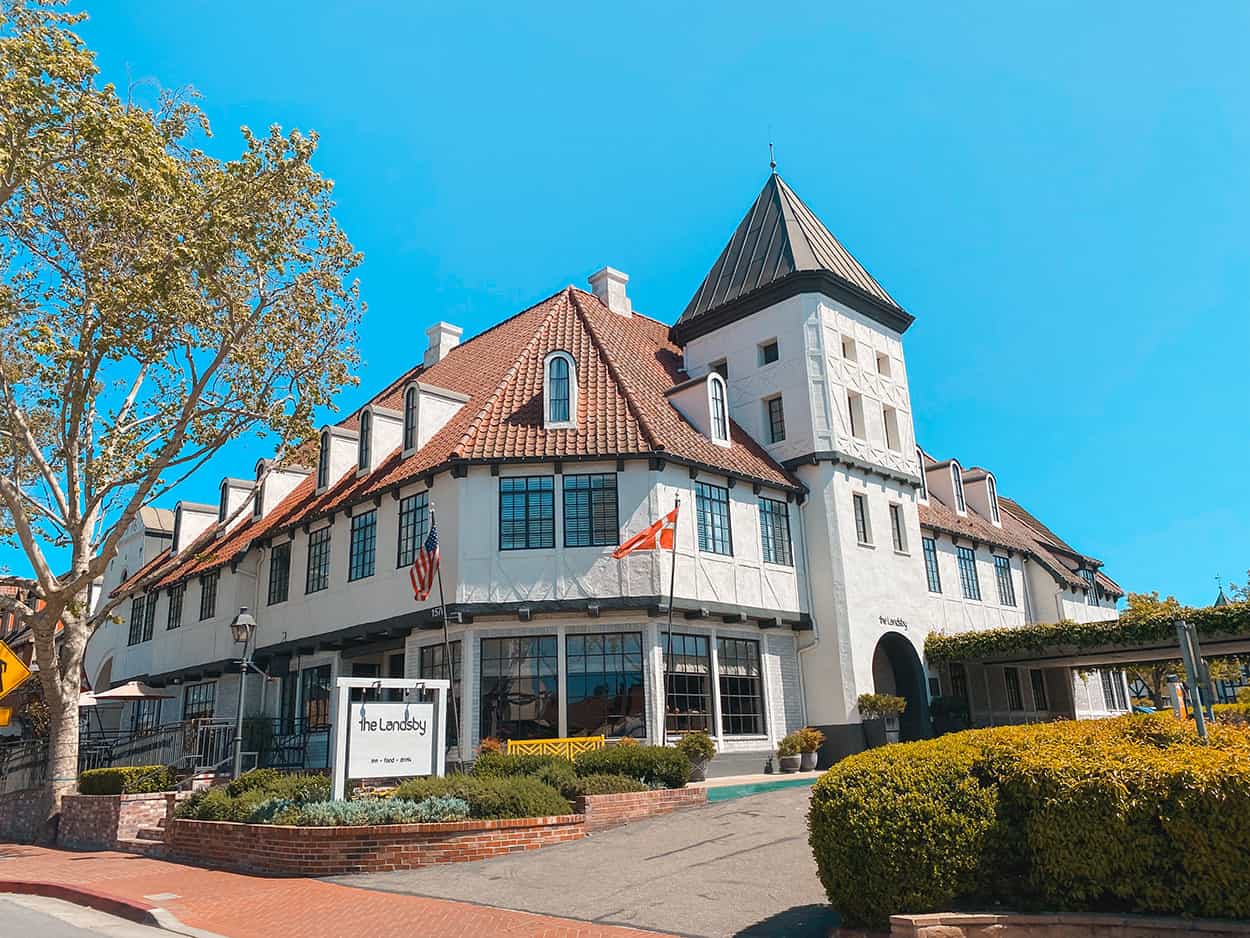 Looking for a Hotel in Solvang?
Need a Rental Car in Solvang? Get the best rates HERE.