The old-world charm and fairytale setting of a Northern European village is something everyone should experience at least once in their lifetime.
Luckily, visitors to coastal California won't have to travel "across the pond" to immerse in the colorful culture of traditional Scandinavia.
What You can Expect on a Trip to Solvang, CA?
Danish Heritage: Solvang is known for its Danish-inspired architecture, culture and cuisine. You'll get a taste of Denmark right in California.
Quaint Village Atmosphere: The town's cobblestone streets, windmills, and half-timbered buildings make for a cozy ambiance that's perfect for a relaxing getaway, but also has all the modern charms you need (like wine tasting rooms).
Danish Pastries: Solvang is famous for its delicious pastries. You can indulge in a variety of Danish treats, such as aebleskiver (Danish pancakes), gingerbread houses, and buttery pastries.
Wine Tasting: The Santa Ynez Valley, where Solvang is located, is a wine lover's dream. There are numerous wineries and tasting rooms in the area, making it an excellent destination for wine enthusiasts. There are enough wine tasting rooms in town to fill a weekend so you don't even have to worry about driving; everything is walkable to your hotel.
Outdoor Activities: The surrounding region offers hiking, cycling, and horseback riding, which highight the beautiful landscapes of the Cental Coast of California.
Art and Culture: Solvang has galleries, museums, and theaters that showcase the region's art and history. Poke around and look for some new-to-you local artists' work to take home.
Boutique Shopping: You can explore a variety of charming boutiques offering unique gifts, antiques, and clothing. And wine, did we mention that there is a lot of wine here? And you can even order a custom gingerbread house.
Solvang Festival Theater: This open-air theater hosts a variety of events and performances throughout the year. Check the events calender and plan a weekend trip to Solvang around it.
Historical Landmarks: Visit historical landmarks like the Old Mission Santa Inés, which provides insight into the region's past, both culturally and from a religious perspective.
Seasonal Events: Solvang hosts seasonal events like the Danish Days festival and Julefest (it's why you need to go to Christmas in Solvang), celebrating Danish traditions and holiday festivities.
Where is Solvang, CA?
Located just 35 miles north of Santa Barbara, Solvang, celebrates its rich European heritage with Danish-inspired architecture, restaurants, bakeries and more. Known as the Danish Capital of America, it's the perfect place to experience European culture right along the California Coast.
The quaint village also stays true to its central California roots by providing jaw-dropping Santa Ynez Valley scenery and some of the best wineries in the region.
Whether you're planning a one-of-a-kind trip with your friends or a romantic getaway for two, here are some of the best things to do in Solvang that you'll want to add to your itinerary.
Start Planning Your trip to Solvang
This post contains affiliate links, which means we may earn a small commission from your purchase. This adds NO extra cost to you.
Flying into Solvang?
The closest spot to fly into is the Santa Barbara Airport (SBA), a short drive from Solvang (roughly a 45-minute trip). You could also fly into Los Angles International Airport (LAX) and drive a rental car just under three hours north along the coast to Solvang.
We love to track flights via Expedia.com. Not only do we find great rates, but we earn points to use on future travel too.
You can also keep an eye on GOING deals, which is how we got to Ireland roundtrip from LAX for under $500 each. The free version is good, but the paid subscription will save you way more than the cost of the actual subscription.
Hotels in Solvang
Find more Solvang Hotels HERE.
Need a Rental Car?
We use DiscoverCars.com to get the best rates and availability on rental cars. Find your car HERE, along with all of the extras you may need (insurance, car seats, ski racks, etc.)
Don't Forget about Your Vacation Photos!
Don't forget to book your Flytographer session to capture awesome memories from your trip. We do it as often as we can. Sometimes, this mom just wants to be in a few photos with her kiddos, or gorgeous shots at sunset.
A Brief History of Solvang
Solvang was founded in 1911 by a group of Danish immigrants led by Reverend Benedict Nordentoft.
The name "Solvang" means "sunny field" in Danish, reflecting the region's picturesque landscape and climate.
The town's architectural style was heavily influenced by traditional Danish design, featuring half-timbered buildings, windmills and decorative elements reminiscent of Denmark.
Solvang gained popularity in the 1940s and 1950s, attracting tourists with its unique Danish charm and culture.
In 1947, Solvang's merchants and residents officially adopted Danish-style architecture to preserve the town's distinctive character.
The community celebrates its Danish heritage with special events such as Danish Days, a fall festival featuring Danish music, food and traditional performances.
Solvang is known for its many bakeries, offering Danish pastries and treats, including aebleskiver (a spherical Danish pancake).
The town is home to several museums, including the Elverhøj Museum of History and Art, which showcases Danish-American history and local art.
Wine tourism has also become a significant attraction, with numerous vineyards and tasting rooms in the surrounding Santa Ynez Valley.
Today, Solvang remains a popular tourist destination worth visiting, offering a taste of Danish culture in a picturesque American setting.
Things to do in Solvang
Enjoy Restaurants in Solvang
After a full day of exploring, Solvang's wide variety of restaurants, cafes and artisan coffee shops will cater to any of your cravings. Indulge in a quick bite or surprise a loved one with an unforgettable fine-dining experience at one of these must-visit eateries.
Mad & Vin
Address: 1576 Mission Dr., Solvang, CA
Tucked inside The Landsby Hotel, Mad & Vin presents farm-to-table eats and craft cocktails in a stylish setting. Each dish utilizes seasonal ingredients from California's central coast to create unique flavors you won't find anywhere else.
peasants FEAST
Address: 487 Atterdag Rd., Solvang, CA
This spot may be one of Solvang's newest restaurants (est. 2020), but it's already made a name for itself in the town's dining scene. This New American restaurant offers a lovely outdoor-seating space, and a menu filled with tasty lunch and dinner options such as sandwiches, tacos and salads.
Solvang Restaurant
Address: 1672 Copenhagen Dr. #2759, Solvang, CA
Located in the heart of downtown, Solvang Restaurant is one of the best places to to taste authentic Danish and American food. It's also home to Arne's Famous Aebleskiver, a traditional Danish dessert complete with raspberry jam and powdered sugar.
Succulent Cafe
Address: 1557 Mission Dr., Solvang, CA
Succulent Cafe is a family-owned hot spot well-known for its breakfast and brunch menu. But they also serve great lunch and dinner options. Don't forget to pair your scratch-made meal with a classic cocktail or glass of local wine.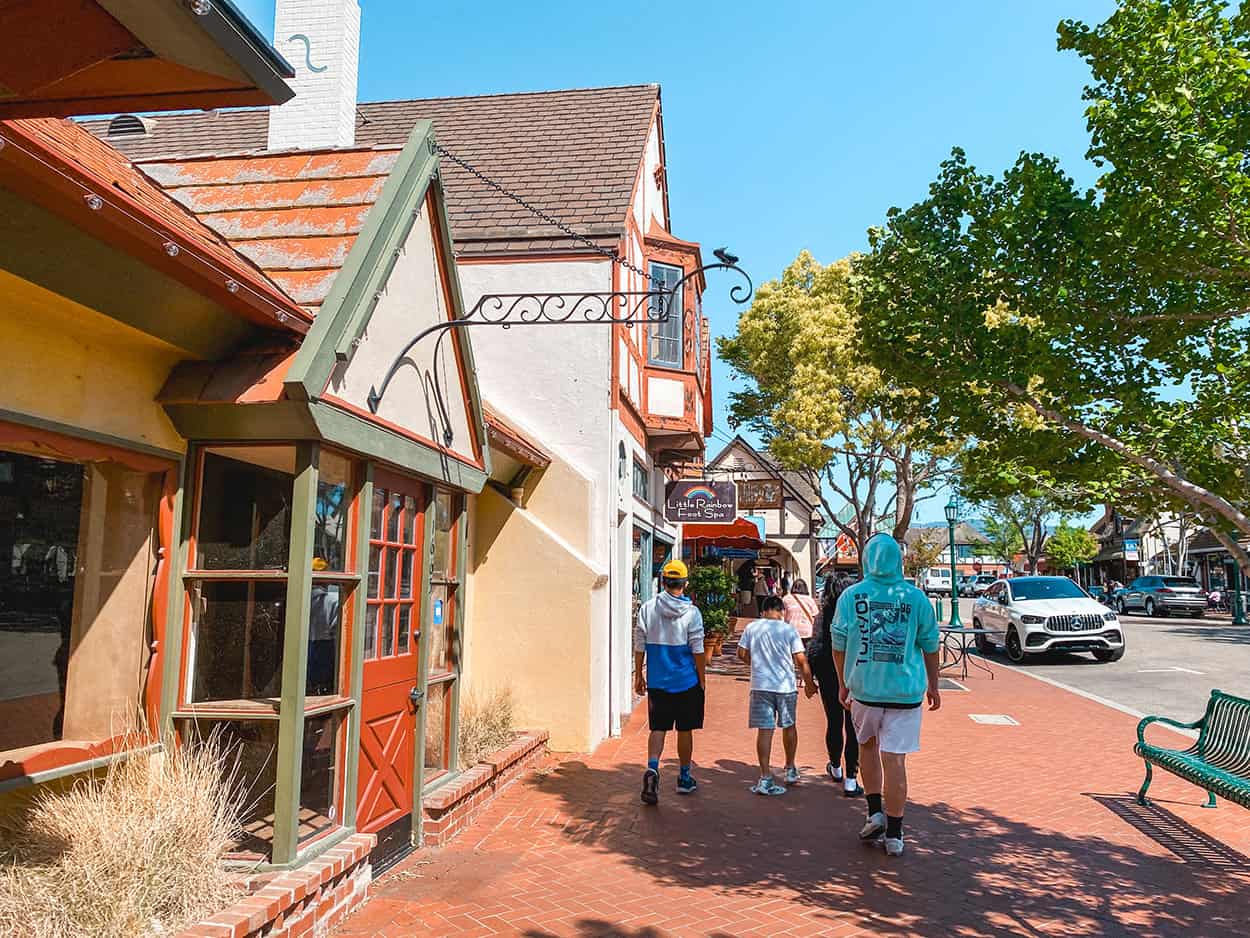 Explore Downtown Solvang
A visit to Solvang is never complete without a stroll around the downtown area, especially along its main road, Mission Drive. This small yet inviting space is the perfect place to begin your adventure in this quaint Danish village.
A majority of the town's Danish architecture is found here, making it the go-to spot to experience Solvang's vibrant culture and take Instagram-worthy photos. The iconic windmills and Copenhagen Round Tower replica will make perfect backdrops for your European-style getaway in Coastal California.
And did we mention the Danish bakeries?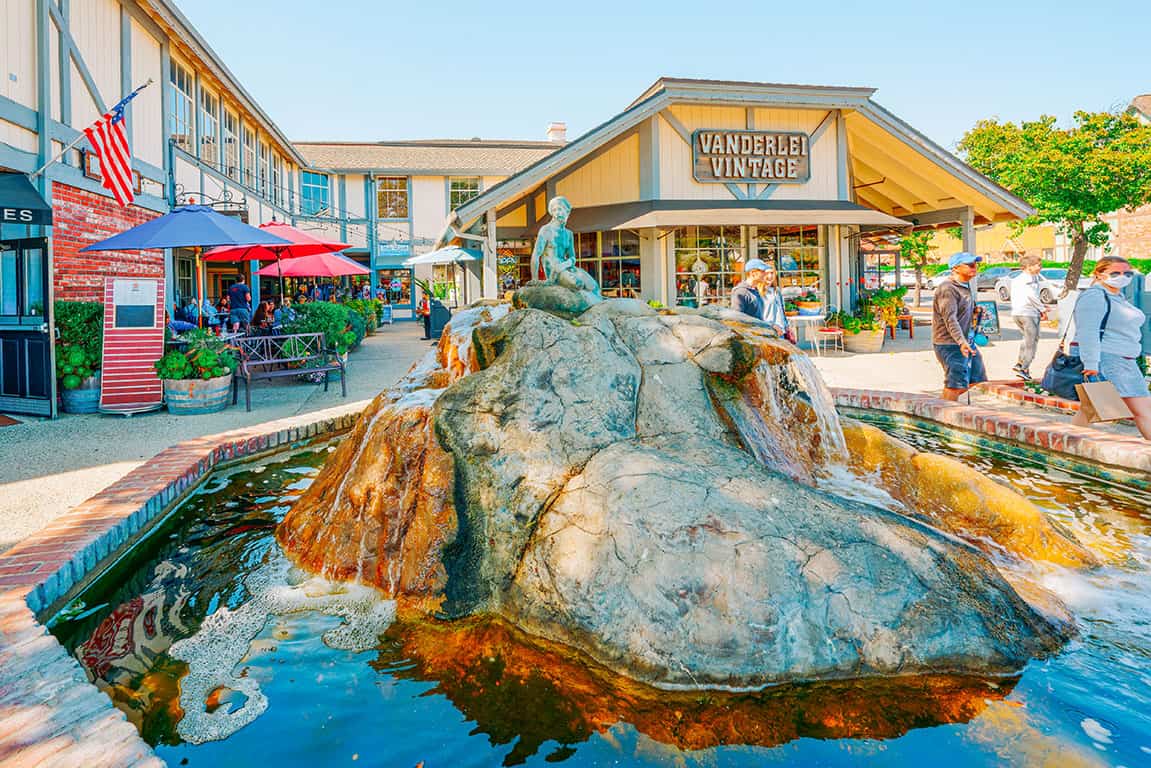 Another popular downtown gem is Hans Christian Andersen Park, which pays homage to to famous 19th-century Danish author with a statue in his likeness and a replica of Copenhagen's Little Mermaid statue.
Visitors to the park will also enjoy walking paths surrounded by large live oak trees, a rock-climbing wall, skate park, children's playground and more.
And be sure to walk a few blocks from the main street to see the Solvang Wind Harp, California's oldest wind harp (or Aeolian harp). It originally topped one of the towers of the Danish Pavilion at San Francisco's 1915 Panama Pacific International Exposition. Located at 636 Atterdag Road, it's now great place to listen peacefully to the wind chimes while making your way through this beautiful place.
Get Lost in the Local Museums in Solvang
Whether you're interested in Scandanavian history, art or vintage motorcycles, you'll find a Solvang museum to pique your curiosity. Learn something new at one or all of these fascinating exhibitions.
Elverhøj Museum of History
Address: 1624 Elverhoy Way, Solvang, CA
Housed within an 18th Century-style Danish house, the Elverhoj Museum of History is one of the only museums outside of Denmark devoted to Danish culture. The exhibits showcase the town's fascinating history and the cultural heritage of Denmark.
Hans Christian Andersen Museum
Address: 1680 Mission Dr., Solvang, CA
A main attraction in Solvang, the Hans Christian Andersen Museum is housed on the second floor of The Book Loft building, apropos considering it pays homage to one of the world's most beloved authors.
The museum is dedicated to the life of the most-famous Danish writer and his legendary works including, "The Little Mermaid," "The Emperor's New Clothes" and "The Ugly Duckling."
Solvang Amber Museum
Address: 1660 Copenhagen Dr.
Inspired by its "sister museum" in Copenhagen, this small museum is located in The Copenhagen House (on Copenhagen Drive, another main road in Solvang), a great spot to buy jewelry, furniture, lighting and more (all by Danish companies).
The amber museum displays some pieces that are 80 million years old, including a wide array of entombed insects from prehistoric times, as well as amber antiques and artifacts.
Solvang Vintage Motorcycle Museum
Address: 320 Alisal Rd., Solvang, CA
About 95 rare motorcycles and European race bikes call the Solvang Vintage Motorcycle Museum home. The owners believe that bikes like these don't belong behind a rope, so you'll be able to get an up-close look at each one that strikes your fancy.
The Wildling Museum of Art & Nature
Address: 1511-B Mission Dr., Solvang, CA
With a mission of using art to educate and inspire people to better understand and care for our dwindling natural and wilderness areas, enjoy works by the likes of Ansel Adams and Georgia O'Keeffe.
Open weekdays 11 a.m.-4 p.m.; weekends 10 a.m.-5 p.m. Closed Tuesdays & Wednesdays.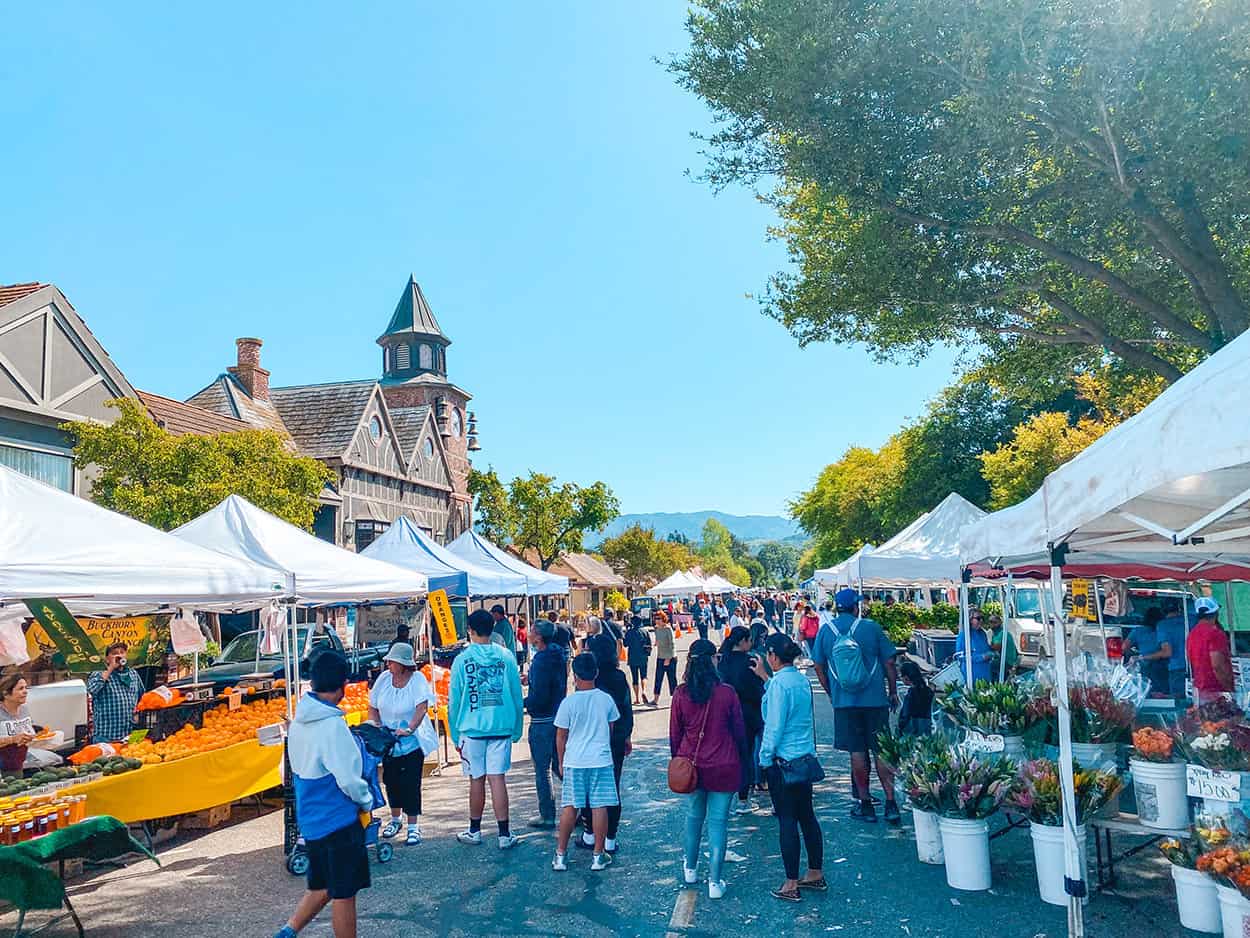 Get Outdoors
A natural wonderland of exploration awaits just outside the small town of Solvang. You'll have no problem finding ways to enjoy the Santa Ynez Valley and that famous California sunshine.
Extensive hiking trails, horseback riding tours, and hot-air balloon rides are just some of the best ways to experience the great outdoors and the beauty of the sun-drenched foothills.
If you're traveling with kids, head to Nojoqui Falls Park to run off some energy at this 80-acre county park. Highlights include a playground, picnic tables/picnic area, and an 80-foot waterfall. Or check out another good Solvang park, Sunny Fields Park, a recreation area featuring a unique wooden playground and water mister, plus a BBQ pit with a rotating spit. Fun for the whole family!
And for active travelers, check out biking tours through wine country or kayaking in nearby Santa Barbara. Here are a couple we recommend: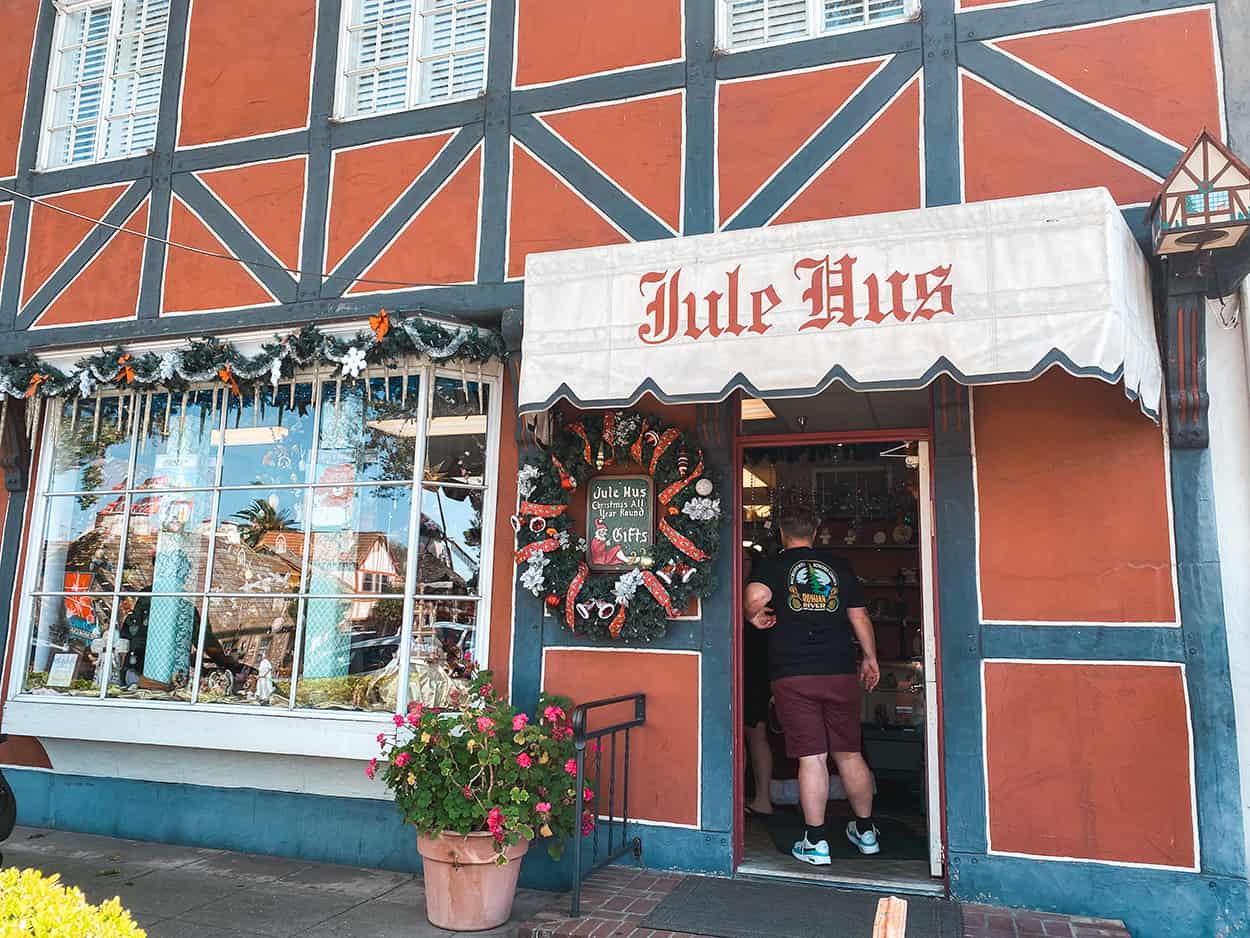 Go Shopping in Solvang
This little town is home to over 150 boutique shops that offer everything from unique home goods to vintage flea market finds. Hunt for the perfect souvenir to commemorate your visit or find a thoughtful gift for loved ones at one of these local shops.
A Piece of the Past
Address: 425 Alisal Rd., Suite D, Solvang, CA
True to its name, A Piece of the Past supplies shoppers with over 4,000-square-feet of beautiful antique furniture and collectibles. There will be something new to see each time you stop by this local favorite.
Jule Hus
Address: 1580 Mission Dr., Solvang, CA
The most wonderful time of the year never ends at Jule Hus! Christmas traditions from all around the world come together in this warm and inviting shop. Glass-blown ornaments, nutcrackers, and hand-crafted gifts are a few of the items you'll want to add to your own holiday collection.
Solvang Shoe Stor
Address: 1663 Copenhagen Dr., Solvang,
Clogs have been the go-to footwear in Europe for centuries, and you can grab a pair to call your own at Solvang Shoe Store. Unlike regular shoes, clogs won't compress, meaning they offer more support for your feet and back.
Sample Santa Ynez Valley Wine
Sipping on a glass of wine underneath the California sunshine is one of the best things to do in Solvang for couples, a girls' getaway, or a perfect day trip for to sample some of the food and drink in Santa Barbary Wine Country.
Set in the scenic Santa Ynez Valley of Central California, the area is of four primary wine-producing regions (American Viticultural Areas) in the state: North Coast, Central Coast, Central Valley and South Coast.
Rich with fertile vineyards, Solvang offers more than 120 area vineyards and tasting rooms to impress even the biggest wine enthusiasts. Here are just a few to visit when you're spending time in the Solvang area: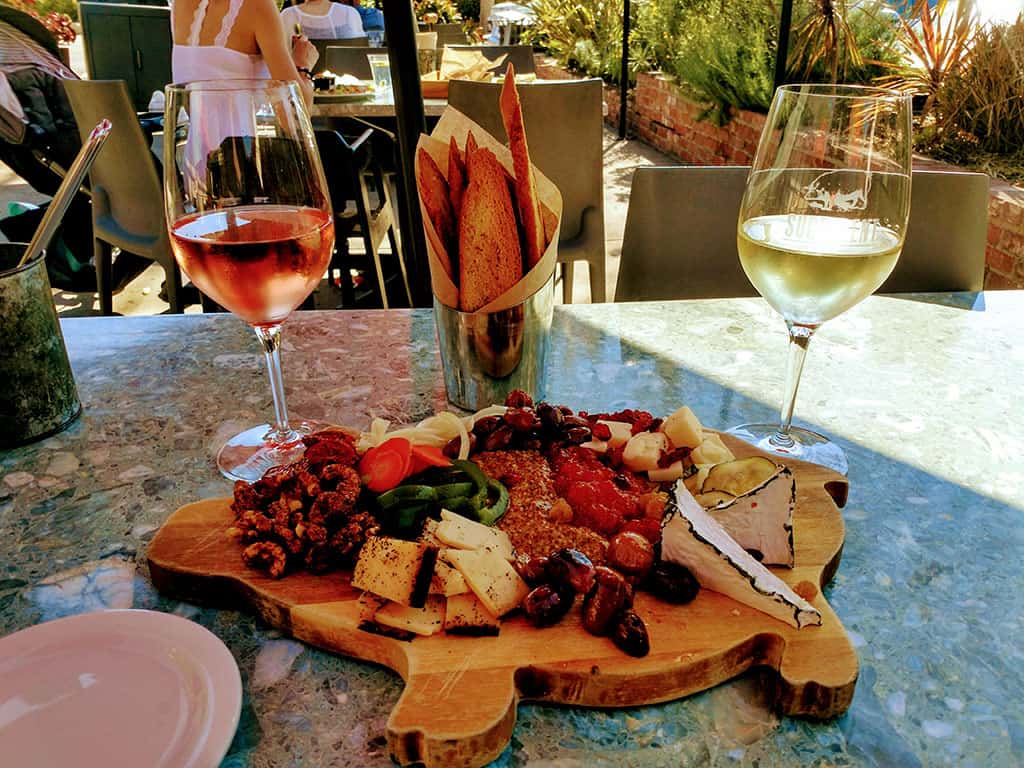 Buttonwood Farm Winery and Vineyard
Address: 1500 Alamo Pintado Rd., Solvang, CA
Widely considered to be a hidden gem of the Santa Ynez Valley, Buttonwood Winery consistently impresses with its Bordeaux-style grapes and family-friendly vibe.
The vineyard is also a working family farm that produces an assortment of fruit, vegetables, herbs and oils. You'll want to check out the farm stand to score some green chili peach salsa, pomegranate shrub and fresh olive oil.
Rideau Vineyard
Address: 1562 Alamo Pintado Rd., Solvang, CA
Rideau Vineyard is made from the stuff of fairy tales, featuring a charming cottage-style tasting room, several tree-lined paths and enchanting flower gardens.
Some of their most popular wines include Grenache, Viognier, Mourvèdre, Syrah and Roussanne.
Rusack Vineyards
Address: 1819 Ballard Canyon Rd., Solvang, CA
Nestled on 48 rolling acres, Rusack Vineyards attracts wine lovers from all over the world with its unique Syrah grapes and inspiring Ballard Canyon scenery. Be sure to visit their tasting room and indulge in your favorite vino on the oversized redwood deck overlooking the property.
Satisfy Your Sweet Tooth at a Solvang Bakery
Another way to immerse yourself in Solvang's culture is by treating yourself to a traditional dessert. There are many Solvang bakeries to choose from, but these local favorites will surely offer the irresistibly sweet Danish treat you're craving.
Mortensen's Danish Bakery
Address: 1588 Mission Dr, Solvang, CA
If a Danish waffle is what your taste buds desire, then a visit to Mortensen's Danish Bakery is in order. Other options like stroopwafels, cream puffs and butter cookies shouldn't be overlooked.
Olsen's Danish Village Bakery
Address: 1529 Mission Dr., Solvang, CA
Owned by a third-generation master baker, Olsen's Village Bakery specializes in a large variety of award-winning Danish treats, including almond tarts, butter rings and the popular Danish Custard Kringle.
Solvang Bakery
Address: 438 Alisal Rd., Solvang, CA
Since 1981, Solvang Bakery has held the title of Solvang's premiere Danish bakery. You won't want to leave without trying their special almond butter rings and hand-iced short dough cookies. YUM!
Take a Horse-Drawn Trolley Ride
Address: 1618 Copenhagen Dr., Solvang, CA
The Solvang Trolley & Carriage Tours' trolley, better known as "The Honen," is an early 1900s Danish-style streetcar that was pulled by Belgian Draft Horse. So hop for a journey back in time, viewing the village through a 20th-century perspective.
One of the top things to do in Solvang, thousands of visitors have enjoyed narrated carriage tours through the village streets since it started in 1973.
Tour OstrichLand USA
Address: 610 E. Hwy. 246, Solvang, CA
Yet another must-see spot in Solvang is OstrichLand USA, one of the most unique things to add to your bucket list!
Located just outside of Solvang and considered to be a California Central Coast landmark, OstrichLand is home to more than 100 ostriches and emus just waiting to meet you.
Visitors are welcomed and encouraged to get up close and personal with these amazing animals; you can even feed them for only $1 per bowl. Don't skip shopping for quirky souvenirs such as farm-fresh ostrich eggs and eggshell art from the gift shop.
Visit Old Mission Santa Inés
Address: 1760 Mission Dr., Solvang, CA
The Old Mission Santa Inés was founded in 1804 by Father Estevan Tapis, becoming the first European settlement in Southern California's SantaYnez Valley. Today, it is one of the best-preserved Spanish mission structures in the United States.
The church holds regular services that you may attend, but visitors are also invited to explore the grounds, enjoy the beautiful garden and take in the valley views.
If you'd like to learn more about the history of the church and its role in the community, tours are available seven days a week.
Frequently Asked Questions About Solvang (FAQ)
What is Solvang, California?
Solvang is a charming town located in Santa Barbara County, California. It's known for its distinctive Danish-style architecture and culture, making it a popular tourist destination and a one-of-a-kind place to visit.
Why is Solvang called the "Danish Capital of America"?
Solvang earned the title of the "Danish Capital of America" due to its rich Danish heritage. The city was founded by Danish immigrants in 1911, and it has proudly preserved its Danish culture through its architecture, festivals and traditions.
How can I get to Solvang?
Solvang is situated in the Santa Ynez Valley, approximately 45 minutes north of Santa Barbara and about 2.5 hours north of Los Angeles. The nearest major airports are Santa Barbara Airport (SBA) and Los Angeles International Airport (LAX). You can access Solvang by car via U.S. Route 101, State Route 154 or State Route 246.
What is the best time to visit Solvang?
That depends on your preferences. Generally the spring and fall seasons are considered the most pleasant, as the weather is mild and there are fewer tourists. If you enjoy the festive holiday atmosphere, however, the winter months (especially December) are popular due to Solvang's Christmas events and decorations.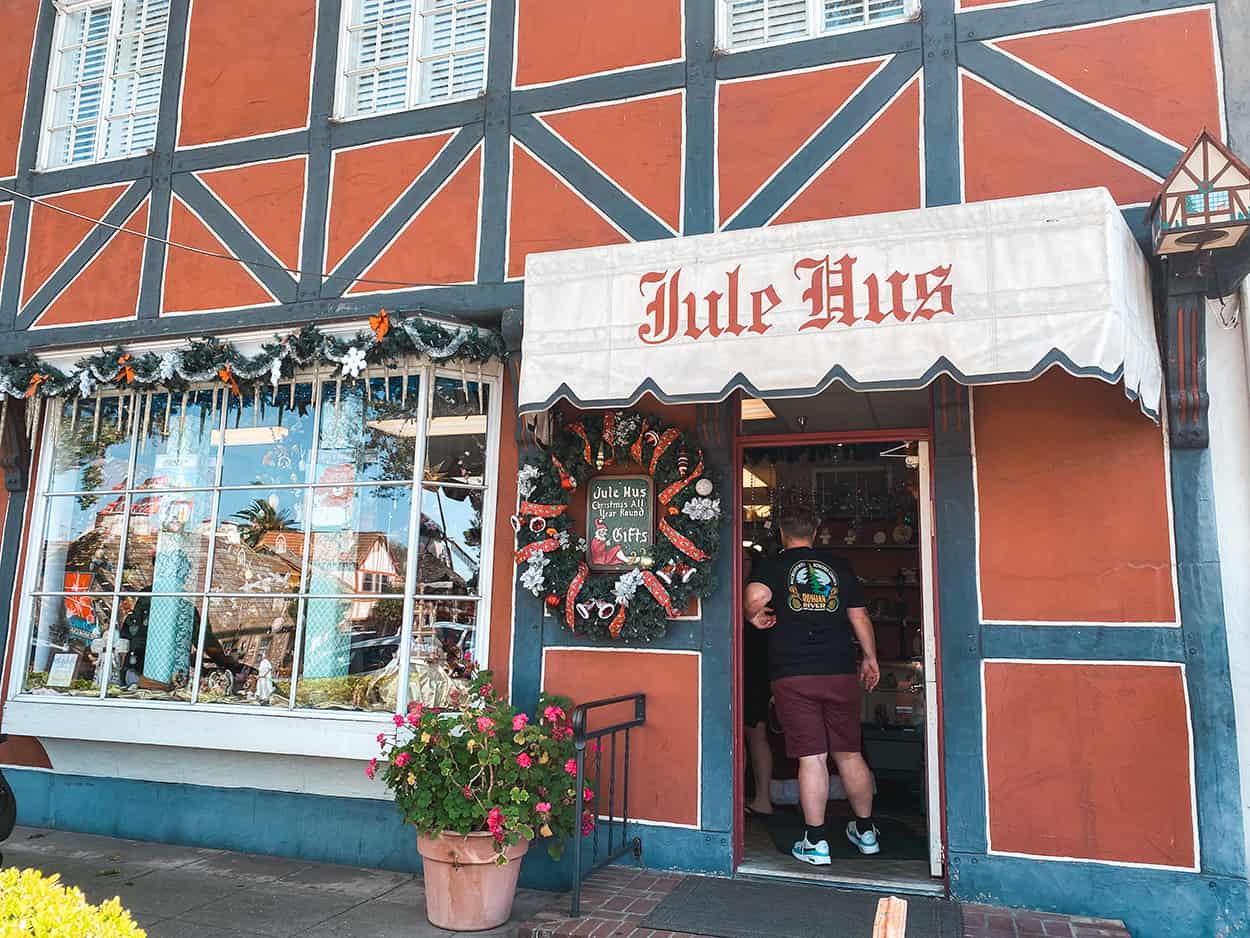 What are some must-see attractions in Solvang?
Solvang offers a variety of attractions to explore, including the Old Mission Santa Ines, the Hans Christian Andersen Museum, the Elverhøj Museum of History and Art and the Solvang Vintage Motorcycle Museum. Don't forget to stroll through the charming streets, admire the Danish architecture and visit its famous wineries located in Santa Barbara Wine Country.
Is Solvang known for its wineries?
Yes! Solvang is part of the Santa Ynez Valley wine country, boasting numerous wineries and tasting rooms. Wineries like Sunstone Vineyards & Winery, Rusack Vineyards and Kalyra Winery are popular choices for wine enthusiasts.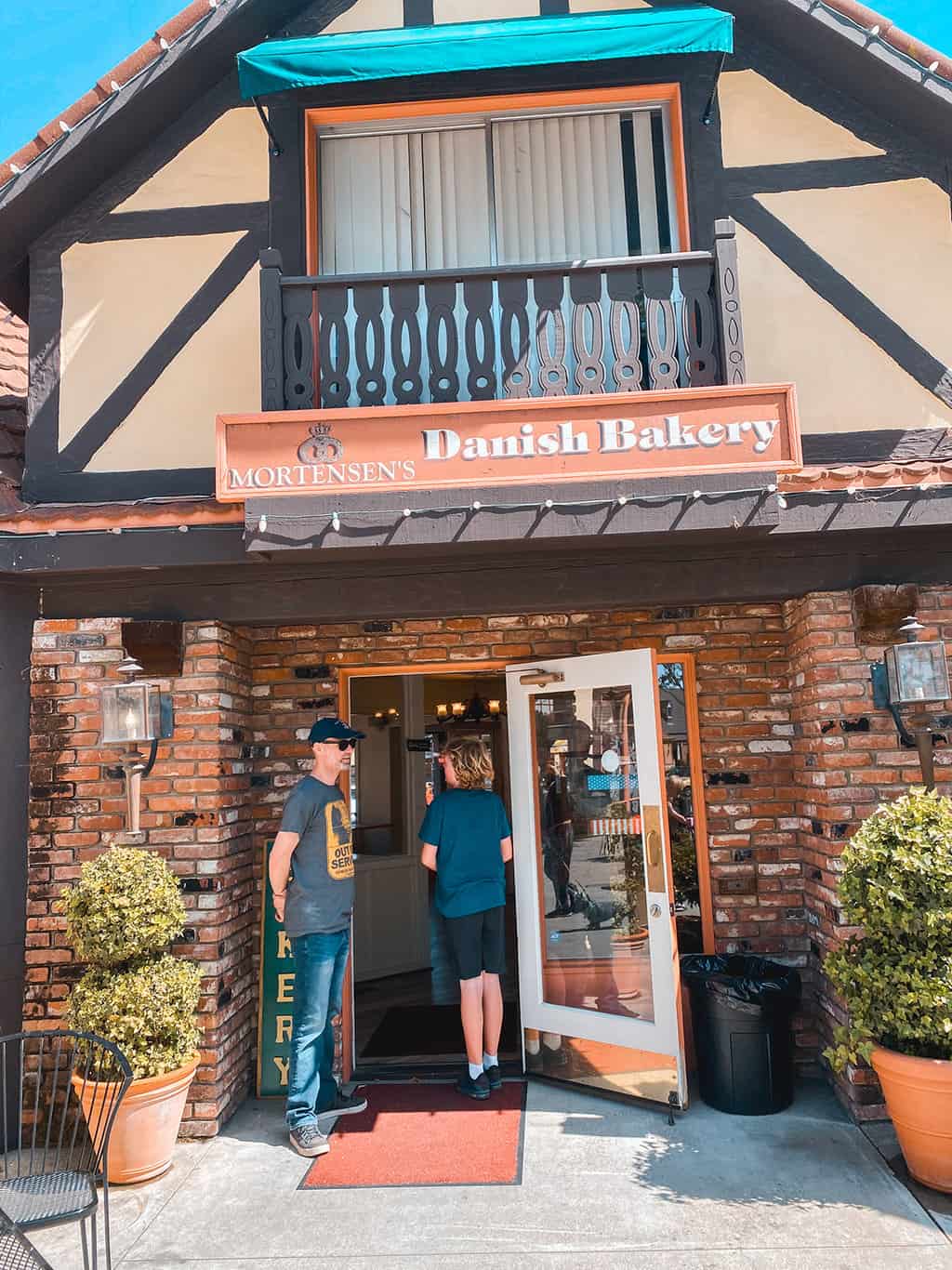 What are the Danish-style pastries available in Solvang?
Solvang is renowned for its delicious Danish pastries. Some of the must-try ones include aebleskiver (round, pancake-like pastries served with powdered sugar and jam), kringle (a Danish pastry), and flødeboller (chocolate-covered marshmallow treats).
Are there any annual events or festivals in Solvang?
Solvang hosts several annual events and festivals, including the Solvang Danish Days (September), Solvang Julefest (Christmas Festival) and Taste of Solvang (March). These events celebrate the city's Danish heritage and offer a chance to enjoy traditional food, music and activities.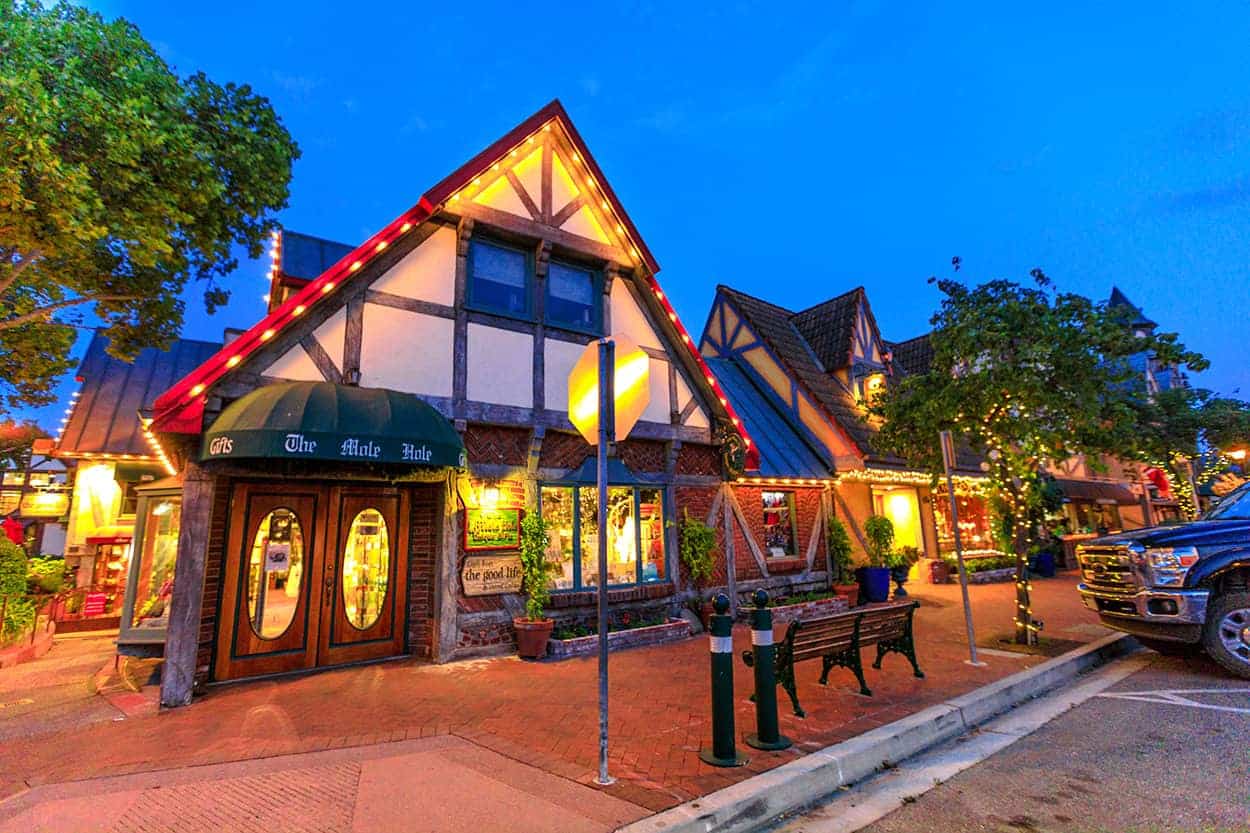 Can I take a horse-drawn carriage ride in Solvang?
Yes, horse-drawn carriage rides are a popular and romantic way to explore Solvang, providing Old World charm and a unique way to appreciate the city's Danish architecture.
What outdoor activities are available in Solvang?
Solvang offers a variety of outdoor activities, including hiking, cycling and golf. The surrounding Santa Ynez Valley is perfect for outdoor enthusiasts, with opportunities for horseback riding, hot-air ballooning and wine tasting in the beautiful countryside.
Is Solvang family-friendly?
Of course! Solvang is a family-friendly destination with a range of activities suitable for all ages. You can visit the Hans Christian Andersen Park, explore the local museums, enjoy the delicious pastries and take part in family-oriented events and festivals.
Can I purchase Danish souvenirs in Solvang?
Certainly! Solvang is known for its numerous specialty shops and boutiques that offer Danish-inspired gifts and souvenirs. You can find a variety of items, including wooden clogs, Danish flags, porcelain figurines and more.
What are some nearby attractions in the Santa Ynez Valley?
The Santa Ynez Valley offers a range of attractions, including the Chumash Casino Resort, Lake Cachuma, the town of Santa Ynez and the charming town of Los Olivos, which is known for its art galleries and wine tasting rooms.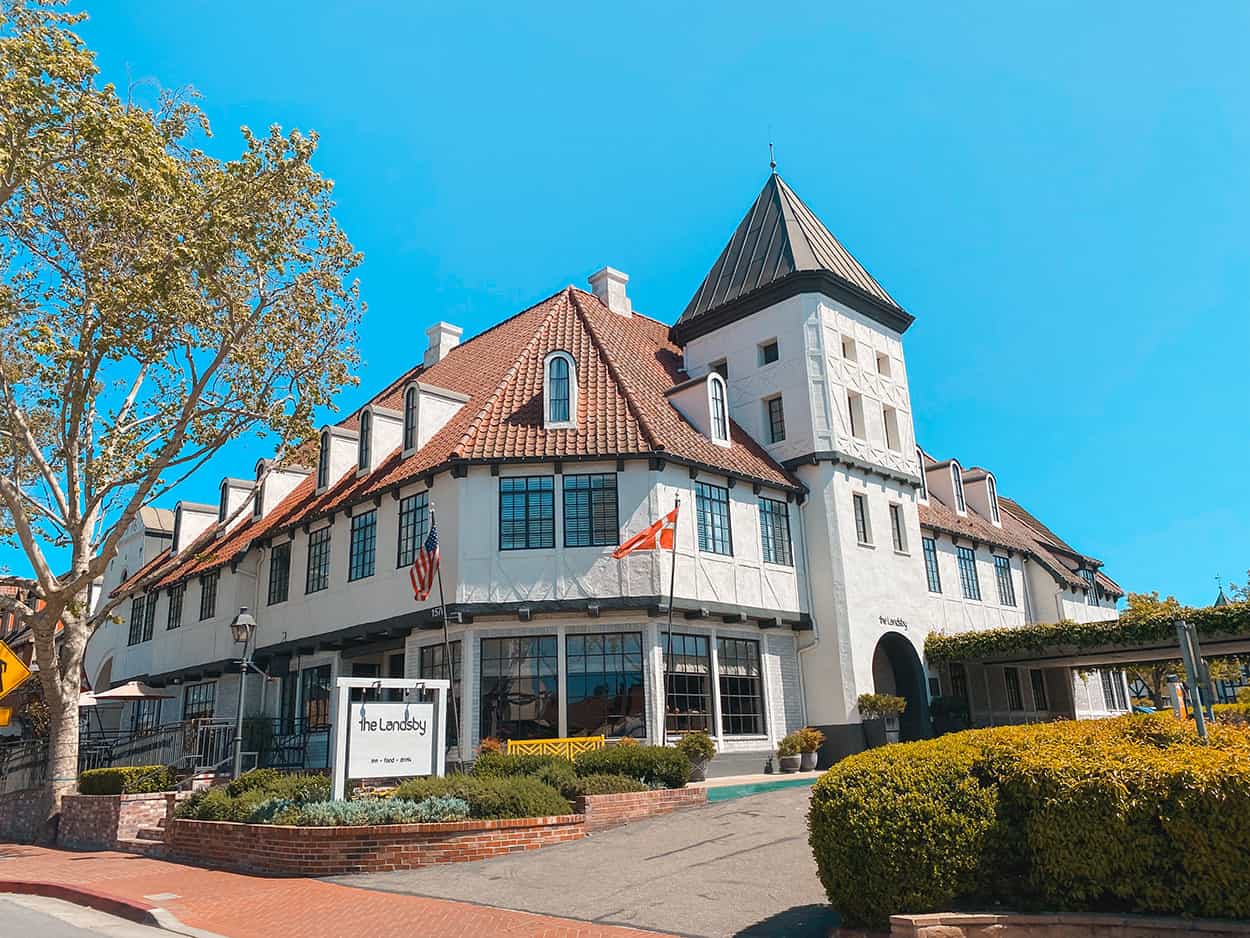 Can I stay overnight in Solvang?
Solvang offers a wide range of accommodation options, including hotels, motels, bed and breakfasts and vacation rentals, many featuring Danish-inspired decor.
Is there a Danish royal connection to Solvang?
Solvang has a unique connection to Danish royalty. In 1939, Denmark's Crown Prince Frederik and Princess Ingrid visited the city, leaving a legacy of the Little Mermaid fountain, which commemorates their visit.
Can I learn about the history of Solvang in a museum?
Yes, the Elverhøj Museum of History and Art is dedicated to preserving and sharing the history of Solvang and the surrounding areas. You can explore exhibits and artifacts that highlight the city's Danish heritage and development.
What is the Solvang Trolley?
The Solvang Trolley provides narrated tours, taking you through the city's main attractions and landmarks while offering insight into Solvang's history and culture.
How do I plan a wine tasting tour in Solvang?
It's easy in Solvang, given its proximity to wineries. You can either explore the local wineries on your own or join a guided wine tour, where experts will help you navigate the region's wine offerings.
Are there any camping facilities near Solvang?
You can find camping options near Solvang, such as Cachuma Lake Recreation Area, which offers a beautiful natural setting and camping facilities.
Can I visit Solvang in a day trip from Los Angeles?
It's possible to visit Solvang on a day trip from Los Angeles for a quick snapshot of Danish culture. But it's recommended to plan for an overnight stay to fully enjoy all that the city and the Santa Ynez Valley have to offer.