Not your typical college town, Tempe, AZ brings together a youthful vibe, great food, Broadway theater and enough outdoor activities to keep everyone entertained during a weekend away.
Whenever we are in the city, we shack up at the Tempe Mission Palms Hotel for a little luxury or the Graduate Hotel Tempe when we want a place with a funkier feel. If we have the kids with us and need some space, the Residence Inn Downtown/Tempe is where we go for the rooftop pool, complimentary breakfast and extra bedrooms.
While there are plenty of things to do throughout the year, one event you won't want to miss if you are in Tempe on a Sunday is the 6th Street Market. You'll find artists selling their wares, local produce, live music and fresh foods ready to eat on the go.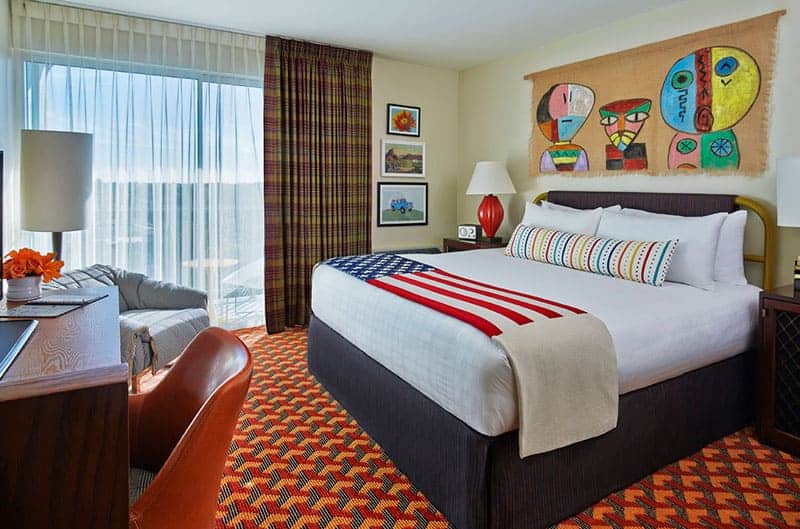 FIRST DAY: Take in the Arts and Entertainment Scene
Start your visit to Tempe right with a healthy, straight-from-the-farm breakfast from the Farmer's Market at Singh Meadows. Yes, they have a market, but there is also a café with a covered patio in the back. You may never want to leave.
Afterwards, head downtown to South Mill Avenue for a little walking tour of Tempe's public art. You will find more sculptures than murals here, thanks to the scorching heat and sand. Paint doesn't hold up for more than a few years, while bronze and other sculpture mediums last for decades in the desert climate.
You don't have to go far either. Keep your eyes peeled as you stroll down the streets and alleys of Tempe —you may walk by and miss a piece of art, especially at the Light Rail stops. Additionally, the ASU Art Museum is free and open to the public, and the post office always has a local exhibition in the windows.
The arts scene here is not limited to street art—Tempe has the only theater in Arizona that gets the big Broadway shows. Missed Hamilton? Tempe didn't. Want to see Come From Away? See it in Tempe thanks to the Frank Llyod Wright-designed ASU Gammage Auditorium.
Grab tickets to a matinee or evening performance before you come to town as tickets do sell out. Make sure you have dinner at Tempe Public Market Café before or after the show: the outdoor patio is the perfect spot to rehash the performance over great food and drinks, even with the kids in tow.
SECOND DAY: Hikes, Horses and Hedgehog Cacti
Get up early to climb to the top of Hayden Butte, lovingly referred to as "A" Mountain by Arizona State University students thanks to the giant "A" they placed up there. After all that hiking, you'll deserve a breakfast at Daily Jam at the base of the hill. Don't get too comfy though—drive over to the Desert Botanical Garden before the sun gets too high to get a real taste of what this area has to offer.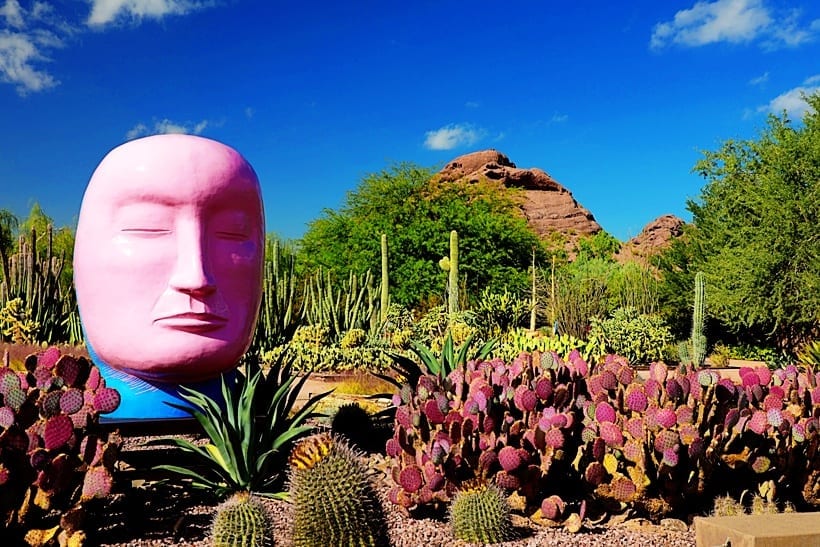 You won't see a lot of leafy green spilling onto the pathways, but you'll still want to watch your step to avoid falling over. Prickly Hedgehog cacti are beautiful when they flower, but give a nasty bite if you try and touch those pointy spikes.
Wander through different desert terrains and check out the art exhibit in the garden.
There is always something spectacular to look at, and butterflies flutter around the pavilion.
Enjoy lunch at Perfect Pear Bistro before you drive to the KOLI Equestrian Center at the Gila River Indian Community.
Later in the day is better if the temperature is already making you sweat. You also have a better chance then of seeing Arizona wild horses.
What you won't see are any palm trees because they aren't native to the desert. You will see a lot of brush, jack rabbits, and smaller cacti: the real desert landscape.
End the day at Postino Annex, where the bruschetta is spectacular and always paired perfectly with a glass of Cava.
THIRD DAY: Stay in Town
You've been busy, but we aren't done yet. Grab a coffee at Romancing the Bean, or if you need a full breakfast go to Snooze, an A.M. Eatery before you head to Tempe Town Lake to do a little paddle boarding or kayaking.
Yes, there is kayaking in Arizona. Who knew?!
You will want a little exercise to work out those muscles you used on horseback yesterday.
If you prefer to bike, Papago Park has several trails that will take you across flat terrain for hours if you so choose, or you could just bike to your next lunch spot.
Speaking of lunch, Sweetest Season Bakery & Café is where you will find small-batch, made-from-scratch artisan breads and pastries, as well as a nice lunch to get you through the afternoon.
Get in touch with your creative side at Burst of Butterflies art studio.
You can walk in at any time for glass painting, glass fusing and painting on canvas, and make some souvenirs to bring home.
End the day on a high note with a leisurely dinner at House of Tricks, one of the best restaurants in the city of Tempe. This restaurant is literally in an old house and extends into the front yard.
It features a cocktail menu that shouldn't be ignored; grab the Lavender Salty Dog.
If you have boisterous children with you, have no fear—head to the Thirsty Lion Gastro Pub in Tempe Marketplace. You can even do a little shopping after your meal or listen to a band on the District Stage.