Finding just the right hotel when you fly into Tempe, AZ can be a bit like Goldilocks trying to find the right bed at the three little bears' house. One may be perfect for kids, while the other is a great spot for a girl's getaway. While we do believe hotels can cater to multiple types of travelers, sometimes, one really does fit better than another.
We are breaking down some of the best hotels in Tempe based on your style, why you are traveling and who is traveling with you. Naturally, outdoor pools are all the rage, but we want to know who has a business center, fitness centers, shuttle service, and free WiFi to keep you connected your entire trip.

AC HOTEL BY MARRIOTT PHOENIX TEMPE DOWNTOWN: BUSINESS TRAVELER
Located right on Tempe Town Lake, the Ace Hotel by Marriott is one of the newer properties in town. Excellent coffee is just steps outside of the door at Romancing the Bean, as well as a great jogging path along Tempe Town Lake for your morning run. You can also rent a kayak or paddle board if you prefer to get your exercise on the water.
The rooftop pool offers magnificent views over the city, where you can work on your tan in between meetings. The lobby restaurant is an excellent spot to meet up with clients for a drink, or strategize with colleagues over breakfast before a presentation in the morning.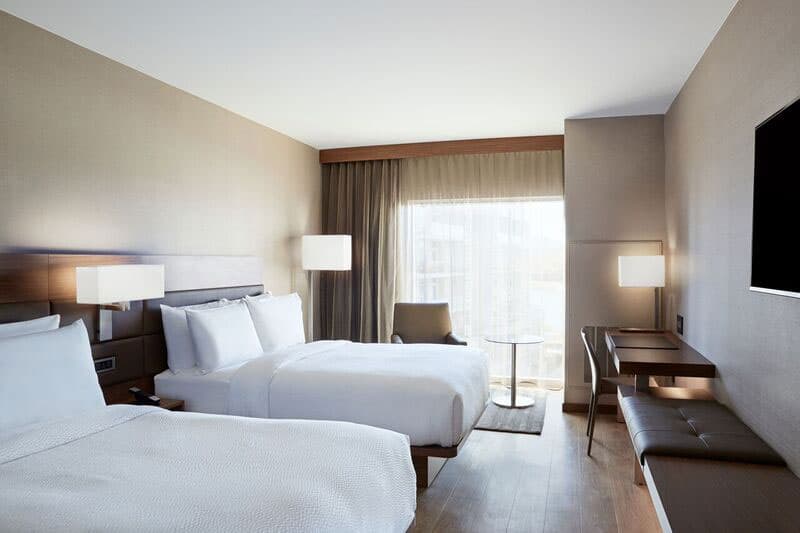 Rooms with a king bed and pull-out sofa, two double beds, or a king suite with balcony are all available to book. Snag a room with a lake view for a gorgeous start to every morning. Because you are off the main drag, the rooms tend to be quieter than those right on South Mill Ave. However, the hotel is near the airplane path of flights landing at Phoenix Sky Harbor, so we do recommend a sound machine or earplugs if you are a light sleeper.
Amenities:
Smoke-free property
Complimentary water
Mini-fridge in room
Free WiFi
Bed frame power outlets
Heated rooftop pool (towels provided)

DINING OPTIONS:
Convenience Store selling limited goods on site
AC Lounge
AC Dining
Off-site dining within easy driving distance or walk

GRADUATE TEMPE: ARTS AND BROADWAY ENTHUSIASTS
Anyone who has ever stayed near a major university knows about the Graduate hotel line. It's a funky boutique hotel that always likes to pay homage to the school nearby. While in Charlottesville, VA, we got a taste of this brand, their hotel room keycards that look like student I.D.s, funky Virginian, upper crust antiques and the library card catalog front desk.
Guests at the Graduate Tempe can expect an equal level of of fun with a nod to southwest style. The hotel is within walking distance of the ASU Gammage, where Arizonians flock to see Broadway shows, like Hamilton, Wicked and Come From Away. Think Phoenix gets all those big Broadway musicals? Think again. Tempe is the only spot to see these top shows in Arizona.
Not sure where to eat?
Grab our Tempe Restaurant guide!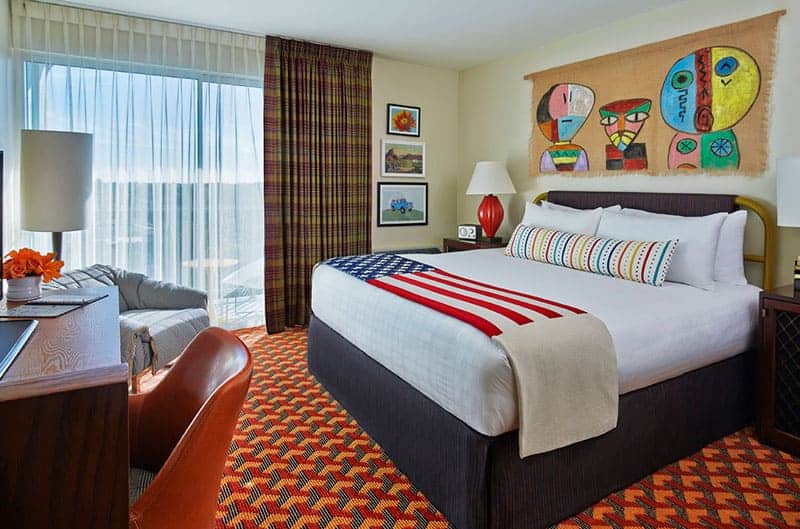 Rooms range from King, one queen to double queen beds with Garden or Campus views. The pool will cool you down in the desert heat, while "The Normal" restaurant will keep you fed from breakfast to dinner.
Amenities:
Complimentary bike rentals
Outdoor pool and hot tub
Pet Friendly
24-hour fitness center
Shuttle Service around town and to the airport (based on availability)
Loaner headphones (custom LSTN headphones to listen to your tunes!)
Dining:
The Normal Restaurant: offers breakfast through dinner and drinks, plus vegan and gluten-free options.

RESIDENCE INN TEMPE DOWNTOWN: TRAVELING WITH KIDS
Nestled just a 3-minute walk (or one minute drive) off of South Mill Avenue, the Residence Inn Tempe is perfect for families visiting Tempe. Parents with hungry, growing children will rejoice at the all-you-can-eat complimentary breakfast each morning. Kids will whoop with glee when they see the rooftop pool and hot tub. Don't worry mom, there are plenty of shady spots to hide out in if you need to protect your skin from the desert sun.
Guest rooms can be booked as Studios, One-Bedroom or Two-bedroom suites, including a kitchen with refrigerator and microwave. The living room includes a pull-out couch if the kids just can't share a bed any longer. All rooms come with a balcony option. Ask for a room facing "A" Mountain. Your kids will spend endless minutes making jokes while you make your morning coffee.
Amenities:
Smoke-free policy
Apartment style suites
Private balconies in select rooms
Free WiFi
Free grocery shopping service
24/7 Fitness Center
Rooftop heated pool (towels provided)
Rent car office on site
Dining:
Small convenience/sundry shop
Complimentary hot buffet breakfast each morning
The Residence Inn Mix (3 nights a week mingling and nibbles)
Walking distance to most of the city's top restaurants

TEMPE MISSION PALMS HOTEL: GIRLS GETAWAY
When the girls get together, you can't stay just anywhere. No. You need a hotel with a little extra something, and the Tempe Mission Palms Hotel is where it is at. Pull into the circular drive, leave your car with the valet, and get ready to step into a desert oasis.
Deluxe king rooms up to one-bedroom suites are available for you and the girls to kick off your shoes, binge watch Big Little Liars on HBONow and sleep off all of those margaritas you were sipping at the Cabana Bar & Grill by the pool. If you happened to bring your pup under 50lbs, he or she is welcome to snuggle up with you to for a nominal fee.
Not sure what to do with the girls?
Read our girls' guide to Tempe, Arizona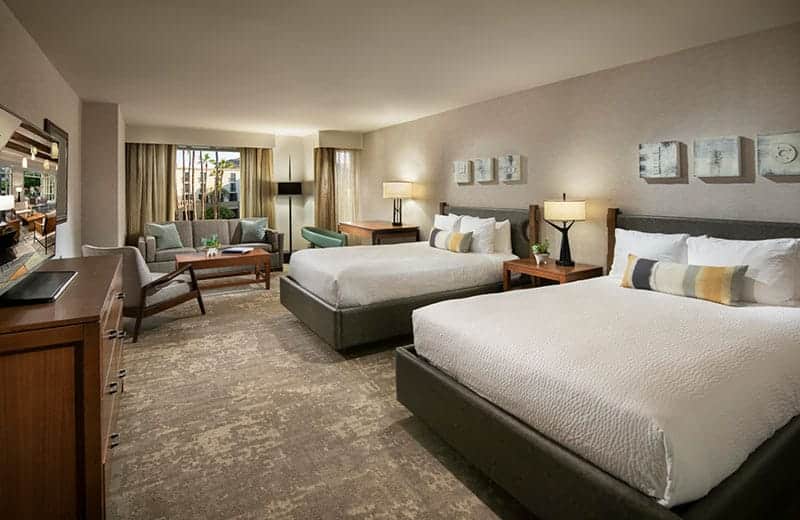 This Tempe hotel is just steps from South Mill Ave, which means you don't have to worry about driving to any of the top dining spots around town. Want to pop into Phoenix and Mesa? The Valley Metro light rail train is just feet from the hotel as well. So, park your car and enjoy just how convenient Tempe is as your home base when you come to catch up with friends.
Shopping is close at hand, but so is the natural beauty of Tempe, including Tempe Beach Park. Grab a kayak to enjoy the lake with your friends, or simply sip a Moscow Mule on the deck of Tempe Center for the Arts during on of their live music nights.
Amenities:
NEST Fragrances Scented Bath Products
Mini-Fridge in room
Airport transfers
Valet parking
Workout facility
Internet access
Garden courtyard
Rooftop heated pool plus two hot tubs
Rental car office on site
Dining:
Mission Grille restaurant
Cabana Bar & Grill
Harry's Place

COURTYARD TEMPE DOWNTOWN: ASU PARENTS
ASU students may think they are independent, but Arizona State University parents sure like to come and visit a lot. When they do, there is no better spot to stay than the Courtyard Tempe Downtown. Hotel features include free WiFi and a pool, which means that any younger siblings will stay happy, while visiting big brother or sister. Mom and dad should definitely take advantage of the one-bedroom suites available, as well as rooms with 2 queen beds or one king bed with a sofa bed.
But you aren't here for the WiFi or the pool. No, you came to see your college student. The Courtyard Tempe is an easy walk to campus, so you can sneak over to the dorm to surprise your collegiate, or they can come over to ask you for money. Either way, it's a win. For someone in the family.
Best of all, multiple discounts are available, even on weekends, and the price just can't be beat at this Marriott hotel.
Amenities:
Smoke-free policy
Pull-out sofas in select rooms
free WiFi
Onsite fitness center
Heated outdoor pool (towels provided)
Dining:
Grills and picnic tables available outside for guest use
The Bistro: offers breakfast and dinner 7 days a week. Starbucks coffee is served when you need a pick-me-up.