On the trail through Champagne region you will come across the small city of Chateau Thierry in France. At first glance this city is a drive by destination, but you could easily fill a day wandering with your kids. Better yet, it is an easy day trip from Paris with kids to the region, and a great place to set up while touring the WWI sights and memorials of eastern France.
Stroll along the Marne River
Getting the true sense of Chateau Thierry is easy to do if you just follow the river. Strap on your walking shoes, hand the kids their scooters or put the baby in a stroller or baby carrier, and you are on your way to meeting the locals, playing at the playgrounds set up along the river, and seeing how this city moves and flows. Park near the Chateau Thierry visitor's center at Place des Etats-Unis or just east at Place Jean Moulin
Walk the ruins of the Chateau Medieval
High above the rest of the city you will find the medieval chateau that has watched over Chateau Thierry for generations. Climb the steps to the base of the chateau, or if you have a stroller, push your way up the road that wraps around the right side of the chateau. Take a peek at the historic Hotel de Ville as you stroll by. Place de l'Hotel de Ville, in front of the hotel, is a great place to park in the center of the activities in town.
Watch the falconry show
Twice per day English language shows are offered for families traveling in the area. If your children aren't interested in falconry at all, skip this activity, as it can be pricey. BONUS: with your ticket you get access to the ropes play area to the right of the falconry compound. You will need a ticket to play though. They do have someone checking to make sure you have paid.
Tour the Musee Jean de la Fontaine
This museum celebrates the life of one of the most renowned French fabulists and poets in French history. A self-guided tour brings you through the poet's home where you will see original artwork and books created by Jean de la Fontaine, as well as other artists' work that was inspired by his words. This is an easy 30-minute stop as you explore Chateau Thierry. Just make sure you read a few of Fontaine's fables (largely inspired by Aesop's Fables) before you arrive so your children will understand the significance of the house. Nominal entry fee for self-guided tours. Guided tours are available in English.
Discover WWI History near Chateau Thierry
Aisne Marne Cemetery. This is the 2nd largest American cemetery in France. The remains of 6,012 American soldiers who lost their lives in the vicinity around 1918 during WWI were laid to rest here. Walk around the chapel and up the hill for beautiful views of the cemetery and surrounding area.
Bois Belleau (Belleau Wood). This is probably one of the best spots to explore with kids. The WWI cannons make for a fun walk from the Aisne Marne Cemetery through Bois Belleau, which is essentially a forest with a well-maintained walkway through it. Cannons are scattered along the walkway and through the hiking paths. Make sure you take all valuables out of your rental car as thieves do check out the cars parked in the lots while walkers hike the trails.
Cote 204. On this spot is where American troops stopped German soldiers from marching closer to Paris in the summer of 1918. There is plenty of land for your kids to run while you reflect on the sacrifice of soldiers from across the globe who fought to protect France.
Village of Chamery. There isn't much to this village. WWI hit the area hard and farming is the main industry in the region. Chamery does hold one very important memorial though- this is where the plane of Quentin Roosevelt, the son of Theodore Roosevelt, was shot down during WWI aerial fighting on July 14, 1918. There is still a tombstone in a field where his plane was found, and the Roosevelt family built a fountain for the village after the war to memorialize him. Quentin's body was later buried next to his brother in 1955 at Omaha Beach American Cemetery. His brother Theodore Jr. died after the allies landed during WWII in 1944.
Know Before You Go
Parking in Chateau Thierry. Parking is free in many lots across the city, but check signs carefully for pay zones. If you are looking to park close to the city's attractions, park along Avenue Jules Lefebvre at Place des Etats-Unis or Place Jean Moulin. Just north of these lots you will find Place de l'Hotel de Ville, which will put you in the center of most attractions in town, but may be harder to get out of when you head to your hotel.
Need a great guide? Set up a tour with Mr. Jean-Bernard Caper. He is fantastic with children and helping the whole family understand the significance of the WWI in this part of France. He has even created a fun scavenger hunt through Aisne cemetery to keep children moving through history. Contact: [email protected], +33 (0) 6 95 05 35 01
Where to Stay
Chateau de la Marjolaine, Hameau d'Aulnois- 02400 Essomes-Sur-Marne, France. Jeanne Pierre and Bruno, the owners of this beautiful guesthouse and restaurant, welcome families to stay with them in one of their two-bedroom suites, complete with a sitting room, two washrooms and two double beds. There is an indoor pool located in a greenhouse structure that keeps the water nice and warm, even on chilly nights, as well as a beautiful garden that leads down to views of the river Marne. Breakfast is a simple affair with coffee, tea and hot chocolate for the kids, along with yogurt, fresh croissants, meats, cheeses and fruit. The guesthouse is located just outside of Chateau Thierry in France, but provides plenty of space for your kids to safely run around after a long day of traveling and sightseeing around the Champagne region.
Click to check availability and prices for the best hotels in Chateau Thierry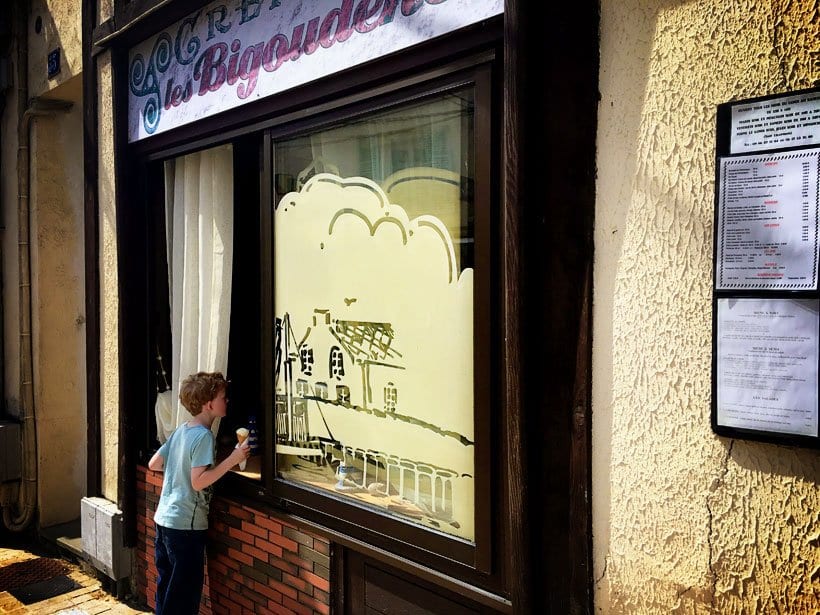 Where to Eat
If you are sticking to the historic center of town your options are easy and definitely delicious. Restaurants may be closed on certain days, especially in the summer months when owners may go on holiday, so always have a back up plan before you set your heart on one spot.
Creperie Les Bigoudènes, 55 Grande Rue, 02400 Château-Thierry, France. A small crepe restaurant with delicious offerings of sweet and savory crepes and salads. Grab a table outside if one is free on a nice day. It's a great place to people watch and the kids can wander a bit while you enjoy your meal.
Au Gourmet :Maitre Patissier (bakery), 71 Grande Rue, 02400 Château-Thierry, France. When your child is screaming for ice cream, you will always find great flavors at this bakery. While your children chill out with their cones, you can delight in the sophisticated chocolates and treats. The staff is generous and kind as you try to speak/butcher the French language.
Many thanks to ATOUT France and the Aisne tourism board for hosting my family and I as we explored the WWI History of eastern France and things to do in Chateau Thierry with kids in France. As always, my opinions are my own. When it isn't you will be the first to know.