It's the holiday season and that means it's the time of year for candy canes, hot cocoa, a generous man in a red suit, and flying reindeer.
We've compiled a list of the best holiday cookies that are perfect for any holiday cookie swap. These easy Christmas cookies are sure to wow at your next gathering and office party.
Festive Linzer Cookies
One of the iconic cookies that usually adorns a holiday cookie tray are the sugar-dusted linzer cookies. This recipe is one of the best holiday cookie recipes as it packs a flavorful punch and is fun for the whole family to make.
The origin of linzer cookies derives from the linzer tarte, a popular Austrian treat. The tarte has a nutty pastry crust and a criss-cross lattice top. The filling is typically raspberry or black currant jam.
While almond is the preferred nut flour of choice for the cookie base, you can also substitute with hazelnuts, walnuts, and pecans.
For those with nut allergies, you can always omit the nut flour and replace it with all-purpose flour, the cookies just won't have the signature nutty flavor.
While linzer cookies are traditionally round, star, or heart shaped, you can gives your batch a little festive flare by using a snowflake cookie cutter. Plus, with the powdered sugar dusting, they'll look like delicious morsels of fresh snow.
A key step to remember when making linzer cookies is to refrigerate the dough before you bake the cookie. This will prevent them from spreading in the oven.
Now, what are you waiting for? Click here to find our recipe for holiday linzer cookies.
Gluten-Free Irish Oatmeal Lace Cookies
These delicate and delicious treats are the perfect holiday cookie to include in your cookie tin. Lace cookies are believed to have first originated in France but the Irish, English, and Swedish also claim these intricate treats.
We make our batch gluten-free, but feel free to substitute your favorite brand of oatmeal (gluten-free or otherwise).
To make our gluten-free Irish oatmeal lace cookies at home, all you need is eight ingredients, most of which you might already have: rolled oats (we used gluten-free), almond flour (if you're not making your cookies gluten-free, you can substitute with the flour of your choice), fine salt, granulated sugar, heavy cream, organic brown rice syrup, unsalted butter, and vanilla extract.
With the prepping, cooling, and baking time included, it will take you about 40 minutes start-to-finish to make these delicious goodies.
The best part is these cookies are thin, so you can indulge in a couple without feeling guilty. And if, like us, the cookies end up melding together in the oven, you can simply break them into pieces and call it "bark".
These easy cookies can be made to fit the holiday motif with great additions including: festive sprinkles, crushed up candy canes, chocolate drizzle, and more.
Find the recipe to our yummy gluten-free Irish oatmeal lace cookies here.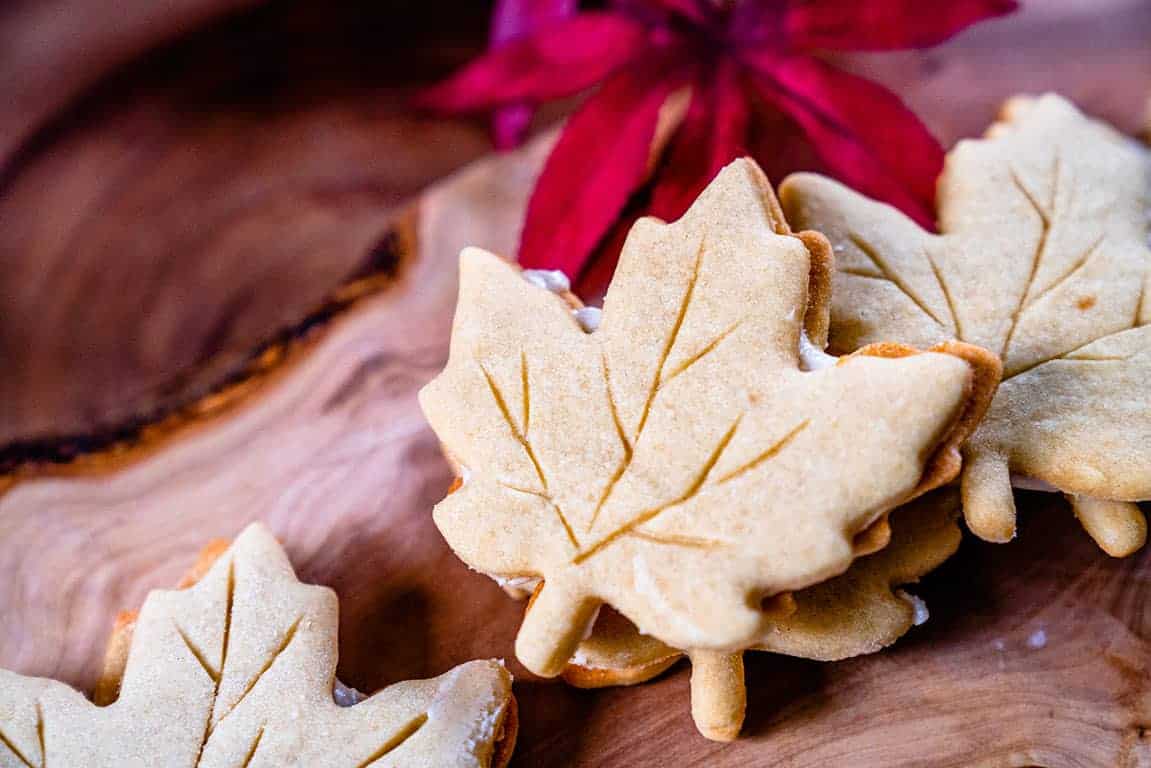 Canadian Maple Cream Cookies
To truly make it the most wonderful time of the year, why not bake cookies with a creamy maple filling? As soon as the first leaves start to turn, we bust out this recipe.
My obsession with maple cream cookies started in Canada and been my favorite souvenir ever since. As traveling to Canada with every craving can get a little costly, I decided to try my hand at making them myself. Add these to my list of favorite cookies.
These buttery cookies can be dipped or filled with the maple cream and are perfect for nearly an occasion. Bring a taste of Canada to your holiday party and wow guests with these delicious holiday cookies. If you want to get really festive, forgo the maple leaf cookie cutter for a Christmas tree, snowman, or snowflake!
Our Canadian maple cream cookie recipe calls for maple sugar, however if you can't find a bag nearby, you can order one here, or you can take the vanilla out of the recipe and use 1/4 cup sugar and 3/4 maple extract.
Click here for our amazing Canadian maple cream cookie recipe.
German Gingerbread Sandwich Cookies
This cookie is one of our holiday favorites. Gingerbread sandwich cookies are a decadent and delicious way to celebrate the holiday season. The warm flavors of cinnamon, ginger, cloves, and nutmeg remind us of hanging stockings and cozying up by a crackling fire.
While classic gingerbread cookies are popular in Germany (thanks to a little fairytale called "Hansel and Gretel"), gingerbread actually dates back to early Greece.
In fact, it wasn't until the Middle Ages that this tasty treat made its way to Germany and England. This is one of our favorite recipes for the holidays and is sure to be a people pleaser.
Contrary to the hard, structured gingerbread men and houses you may be accustomed to, our gingerbread cookies are soft and chewy. We fill these chewy cookies with a delicious cream cheese frosting. And because of said frosting, they're best eaten as soon as possible.
If your family can't polish them off, spread the love to your neighbors and friends. I promise they'll be grateful that you did!
Click here for our German gingerbread cookie recipe.
Peanut Butter Blossoms
These cookies somehow make an appearance in at least one holiday cookie platter or holiday cookie exchange every year. This recipe produces a simple and easy peanut butter cookie. Enlist the kiddos to unwrap the Hershey kisses and add them to the top of your buttery cookie.
Kisses also come in a variety of flavors. We like to add peppermint kisses if we want our cookies to really pop!
Click here for a tried and true peanut butter blossoms recipe.
Pro tip: if you don't want your cookies to spread too much in the oven, refrigerate the cookie dough for at least one hour before baking.
Merry and Bright (and Delicious)
We hope you were able to find a few festive holiday cookies to try this season. Gifting out homemade goodies is one of the best ways to spread the holiday spirit.
If you want to go the extra mile, you can even include a recipe so that your friends and family can add it to their recipe box at home. We can attest that receiving a good recipe is one of our favorite things!
Wishing you and yours a very merry (and delicious) holiday season!