When I told friends and family that I was taking toddler to Paris (she was four at the time), everyone was thrilled, but also concerned—what would we do there? The museums are too much for a kid, and she's just not that into Proust…how would she be entertained?
As it turns out, Paris is a wonderful playground for small kids. From carousels to ice cream shops, Eiffel Tower sightings to pigeon chasing, and trampoline parks to amusement rides, the City of Light is a delight for all ages.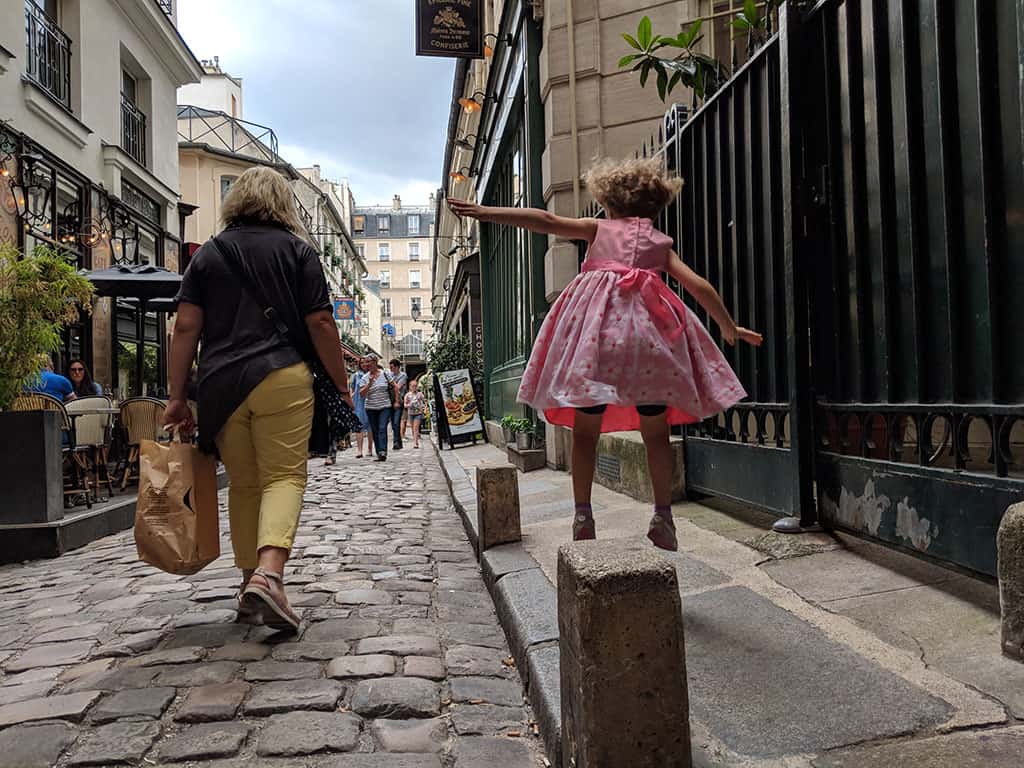 The place des vosges
We arrived in Paris in the middle of July during a heat wave. Highs were in the 90s, and very little air conditioning was in sight. After the flight and the trek to the apartment, we decided we needed to stretch our legs.
We walked the few short blocks to the Place des Vosges, the storied 17th-century square in the Marais. Planted with mature trees, lined with shaded allées, and dotted with fountains and benches, this was an ideal space to let Avi dash around and burn some energy.
Plenty of people were lounging on the grass, reading on the benches, and even playing petanque. Avalon quickly spotted her favorite park denizen: le pigeon! She quickly made friends with other kids intent on the same adventure, and they ran around for a good hour.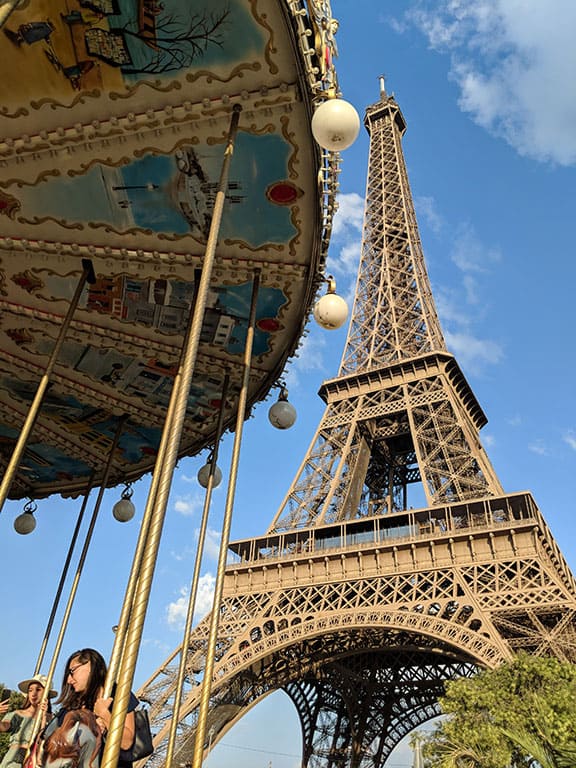 rue de rivoli
Hopping back into the stroller to continue our explorations, we arrived at Rue de Rivoli, near the St. Paul Metro entrance, and discovered another classic Parisian pastime: the carousel.
In the late 1800s and early 1900s, an interest in mechanics and an attention to crafted detail combined to create a sort of golden age of elaborately decorated carousels. The St. Paul carousel is a modern version, but there are gorgeous vintage carousels all over the City of Light, including at the Eiffel Tower, in the Jardin des Tuileries, and at the foot of Sacre Coeur in Montmartre.
Rides range from 1 euro to 3 euro each, and most vendors provide a multiple-ride discount (5 rides for 10 euro, for example). An attendant walks around the carousel and takes each ticket (often a plastic chip) before starting the ride. Some allow parents to stand alongside their children for free, if the child is young enough. A few spins while listening to the comptine (nursery rhymes) is a delightful way to spend some time, and guaranteed to elicit smiles from all!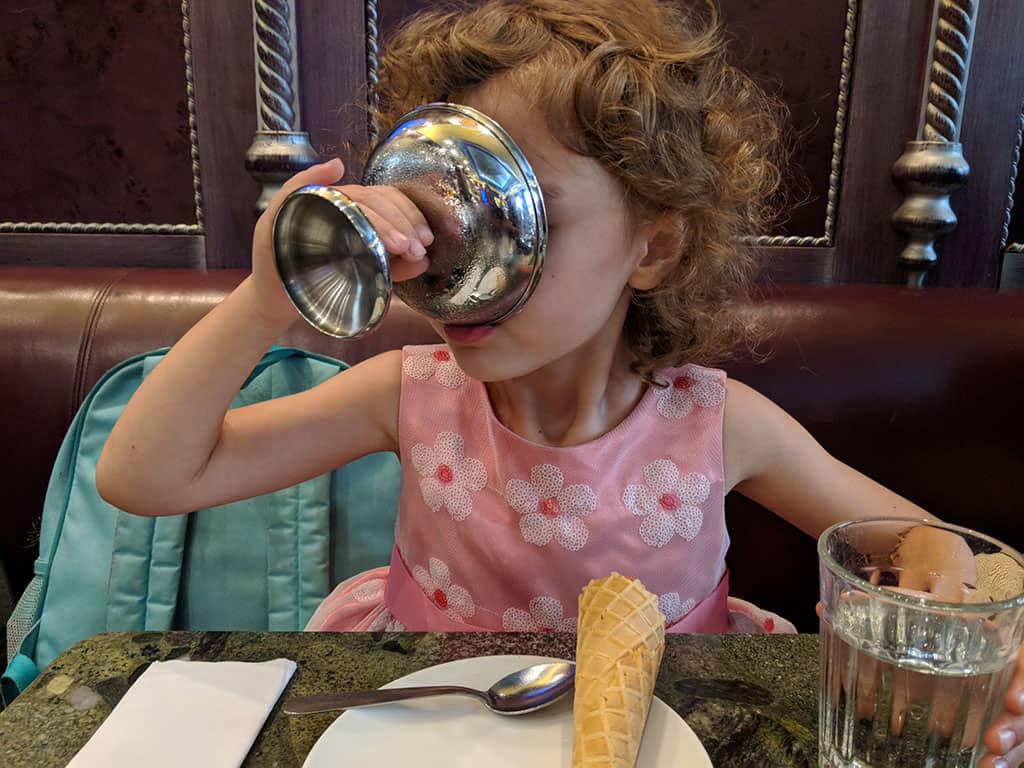 berthillon glacier
Wander down to Ile St. Louis, and you'll discover the next wonder of Paris: la crème glacée (ice cream)! Berthillon Glacier is one of the most famous ice cream shops in Paris, serving scoops of sorbet and ice cream in distinctive elongated cones.
The take-away window line can stretch for a block, but right next door is a lovely plush tea room with table service (and air conditioning!). The creations there are grander and even more elaborate.
I'm a simple girl and love the apricot/raspberry sorbet, but the towering coupes studded with fresh fruit and mounded with chantilly whipped cream look pretty amazing as well.
the jardin des tuileries
The Jardin des Tuileries is a fantastic destination for all ages. Flanked by the Louvre, Musée de l'Orangerie, and Jeu de Palmes, it's the perfect place to recover from museum fatigue, which we avoided altogether by skipping the museums (well, mostly—we did enjoy the Monets in the Musée de l'Orangerie).
The Jardin is defined by a very wide central gravel pathway which is ideal for strolling, although on hot days you'll want to head into the shade of the trees on the north and south sides of the garden. Hidden within the north side, at Allée de Castiglione, is the Aire de Jeux—a children's playground.
Just west is a fabulous vintage carousel, and beyond that is a trampoline park, for children ages 2-12! There are 6 trampolines, enclosed in a fenced area, which cost 3 euro for 5 minutes.
This is the perfect destination to vacuum some energy out of your tinies. It's an unshaded area, so be sure to bring some water and gatorade along on hot days, or purchase some from the ubiquitous vendors. In July and August, the Fete Foraine sets up immediately north. This fun fair offers a classic collection of rides including a gravity-defying pendulum that can be seen for miles, games of chance and luck, and food vendors.
beaches within the city
One of the Paris summer classics are the Paris Plages, or Paris Beaches. Every summer since 2002, different sections of the Seine are populated with beach chairs, cabanas, sandy areas and palm trees, bringing a taste of the seaside to Paris.
The Canal at La Villette even includes swimming areas with wide decks! One evening, we were delighted to stumble upon a big band blasting old classics, and joined in for some lindy hopping and twirling with the joyous crowd.
Le musee des egouts: An unconventional attraction
If your kid loves Remy from Disney's Ratatouille, you might enjoy one of Paris's best gross-out opportunities: the Musée des Egouts de Paris is a museum dedicated to the dirty underbelly of the glittering city and one of the world's only sewer museums! This is an incredible experience that shows the reality of managing a bustling city.
Visitors will likely want to hold their nose for a good portion of the tour, which explores the historical and technical aspects of sewage management and includes a fascinating display of some of the many items found in the sewers: dueling swords! Diamond rings! The renovations are slated to include a dynamic new interactive component.
le Jardin d'acclimation
The best discovery of our recent trip was the Jardin d'Acclimatation, found at the west side of the city just off the Metro stop Les Sablons. Founded in 1860 as a zoo and with a questionable history as an anthropological attraction, it now operates as a kid-focused entertainment destination. Steampunky Jules-Verne-styled carousels, rocket rides and rollercoasters offer options for all ages and interests, while a lazy riverboat ride recalls classic entertainments of 19th-century Paris and a Breton farm showcases nearby agricultural life.
Avi delighted in the pony ride, proudly donning her riding helmet with a big smile. The piece de resistance was the zero-depth splash pad adjacent to the Fondation Louis Vuitton: jets and sprays and mists activated variably, eliciting shrieks of delight.
General admission to the Jardin is 5 euro per adult, and most of the rides require extra admission tickets. We purchased a book of 25 tickets for the 2 of us. Pro tip: order your tickets in advance online and bring the printout with you; the self-serve ticket kiosks were having technical difficulties the day we went, and the line to purchase tickets was far longer and slower than the pre-purchase line. Also be sure to bring lots of sunscreen, water and snacks, or be prepared to spend minor fortunes.
where to eat in Paris
Eating with children in Paris is remarkably easy, as long as you didn't have your heart set on a multi-course fine dining experience (although, even some of the top restaurants are kid-friendly)! Cafes and bakeries offer endless options for crepes, croissants, baguettes, small sandwiches and other treats.
Bistros and brasseries abound, and have a wonderful array of easy foods: omelettes, roasted chicken with french fries, simple fish dishes—as well as more complex flavors the parents will love.
There are also plenty of contemporary restaurants with hamburgers and fries, pasta and other familiar options: some with a French twist, all delicious. And if all else fails, or you just want a change of pace, Rue des Petits Champs just off the Palais Royale has a great array of sushi and ramen joints. We also stopped at a number of markets for fresh fruits and veggies for snacks throughout the day, and happily enjoyed picnics along the Seine and in various parks.
3 Tips to make your Paris adventures seamless
Sometimes, in spite of planning, research, and experience, I make a bunch of mistakes. Here's my list from my Paris trip, to help you avoid them!
Mistake Number 1: Getting to Paris: Metro or Car?
For a traveler used to public transportation and saving some money whenever possible, this seems like a no-brainer. The RER train from CDG to central Paris is only about 10 Euro per adult (7 euro per child age 4-9), runs every 15 to 20 minutes from 5am to midnight, and takes you straight into the heart of the City in about 50 minutes. Given that a cab can run anywhere from 50 – 70 Euro plus, and traffic in Paris is a nightmare, I've never actually done this any other way.
However, if you're traveling solo with a kid, too much luggage, and a stroller, you may want to consider a hired car. Navigating the Metro is stupendously challenging with added luggage and a small child that wants to explore. Also, the Metro was originally built before elevators were commonly included, and some stations do not offer any alternatives to stairs.
More than once, I carried the stroller up, made sure the wheels were locked, prayed my kid would listen and stay put and ran back down a dozen steps to lug the suitcase up. Really, I should have taken a car.
Mistake Number 2: Not Reading the Fine Print on my Rental
I had selected a wonderful private apartment—great location, full kitchen, deep bathtub, plenty of space. But it was a 4th-floor walk up in a vintage building, no air conditioning. I almost cried. Those endless, beautiful, worn stairs became a major component in our daily planning.
I had to be sure I had packed everything—EVERYTHING—I needed for the day before leaving, and had to make sure to return back to the apartment when the kid was awake and able to walk herself up those stairs, rather than sacked out in the stroller.
It was 86 steps, in case you were wondering!
In retrospect, a hotel, or smaller apartment, with elevator access would have been better for us. We would have had a more comfortable stay and would have used the apartment more as a home base, rather than trying to avoid those stairs as much as possible.
Mistake Number 3: Not Visiting the Cafe at the Bottom of our Building Before I REALLY Needed Wifi
This is just administrative, but on our last day, having learned from my previous "overloaded on the Metro" experience, I called an Uber to take us to the train station, then left the apartment (all 4 floors, remember?) and got to the street—with no data.
I couldn't track my car!
When I stepped in to the cafe to ask for wifi in my poor French, I received an arched eyebrow and no support. It would have been so easy to order a coffee some other day when I had more time, and get that wifi in my "saved" list, rather than the last-minute flail. Ultimately, we grabbed a cab and paid a 7-euro fine for "missing" the car, but made it to the train station in time to catch our speed train to Marseille.
Though we went to Paris more than a year ago, the sparkling Eiffel Tower, trampolines, macarons and pigeons remain some of Avi's favorite memories—she talks about them all the time. There's nothing like starting a love of adventure at a young age. And with that, bon voyage to you and yours!