As a woman with annoyingly curly hair, I've had my fair share of bad hair days. You know, the type of curls that aren't those perfect ringlets everyone loves unless you wash, blow dry and throw a curling iron threw it curls.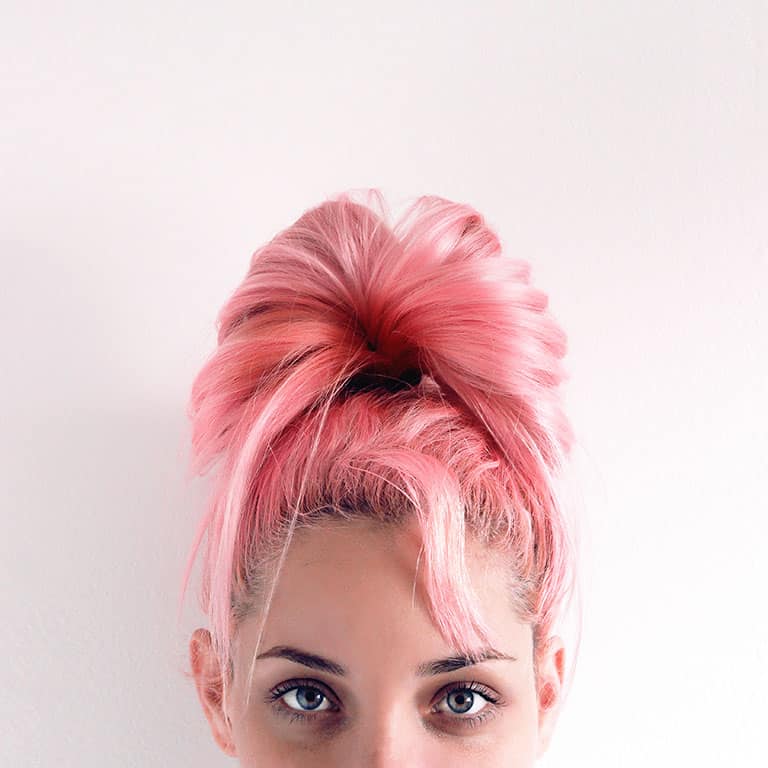 Yes, my hair can do that perfect blow out once I put in all the work, but let it air dry and you will see why my hair is in a top knot most of the time. Bad hair days used to be my norm.
But how do you fix a bad hair day when you are traveling?
If you are me, you ask your stylist first and then you do a lot of test runs on the road and at home.
Fixing a Bad Hair Day
I've used a lot of hair products throughout my life. I've worn my hair long and straight, short and curly, long and wavy, and these days, I like the long luscious blow out.
Friends still make fun of me that I got a blow out before hiking the Narrows in Zion National Park. In my defense, the airline had lost my luggage after a long day. I felt gross and just needed to feel pretty for a moment.
Is it my fault that a good blow out can last me up to five days? I mean, by the end of the hike my hair way definitely up in a top knot people! I'm not that crazy.
Best Travel Hair Products
One day, while getting my low-lights redone I grilled my stylist, Christina Robles at Bang Salon DC about her favorite products.
She is a beauty sample hoarder, so I knew she'd gone through several different hair products in her years doing hair, just like me.
We came up with a list of what works on straight, curly and frizzy hair, no matter how long you are on the road.
Hair products for right after you wash your hair
Yes, you need to shampoo your hair, and sometimes condition it. Even more important though are the sprays, creams and serums you use once you get out of the shower.
Our favorite products include leave-in conditioner, creams that help your hair air dry faster, and making frizz a thing of the past.
Pureology Colour Fanatic Hair Leave in Treatment Spray with 21 Benefits
This is one of the best hair preps to add to wet hair just after you get out of the shower. It acts as a detangler, heat protectant and shine spray, as well as an antifade complex for colored hair.
You can also put this on dry hair to refresh you locks for restyling.
Plus, it smells great, which is probably why my son always asks me to use it in his hair when I have to brush it out after his shower.
Now that he is in his "surfer dude" hair phase, he needs all the help he can get to control that rats nest that grows in the back of his hair each night.
Redkin No Blow Dry
Grab it for:
No Blow Dry is your perfect antidote to that tropical frizz that takes over when you head to the beach. Three different strengths help your hair look sleek all day long, whether you have fine, medium or coarse hair, wild curls or straight locks.
Your hair won't wilt, but have texture, separation and a matte finish.
No need to revert to the "Monica" braids from that Barbados "Friends" episode. While some may be able to pull the look off, let's just admit it right now ladies, not all of us can, or at least should.
Great for getting straight hair
I have naturally curly hair, but like most gals, I want hair I wasn't born with from time to time. When I want to go straight, I use these products.
Friends who also have straight hair want to control the frizz and maintain shine. As you will see, a little product can go a long way.
Bumble & Bumble Bb Straight Blow Dry Balm
Get smooth and straight hair for up to three days with this B&B straight blow dry balm. I've used it for years to get my curly hair to blow out straight and stay straight with a flat iron.
It's light weight, not sticky at all, and even controls frizz if you just apply to wet hair and walk out the door.
Good Behavior by IGK
IGK's keratin-like spray is perfect when you are blowdrying your hair for a straight look. Not only will it help you blow dry faster, but it will also fix those fly aways that need to be smoothed away.
Even if you have luscious curls you want to show off, IGK Good Behavior can help lay down those fly aways at the top that just won't behave, even on your best hair day.
Best Anti-Frizz Hair products
I hate frizz. Despise it, which is why I will try anything that claims to tame the crazy. Shampoos are the best bet, according to my stylist, but a few post-shower products will do wonders too.
Living Proof No-Frizz Shampoo
I have frizzy, curly hair, so anti-frizz shampoo that actually works is the key. Living Proof's key ingredient, PolyfluoroEster, creates an invisible shield on the hair to lock in moisture-proof smoothness and repel dirt and oil, so you can go longer between washes to break the frizz and damage cycle.
I love that it is sulfate-and silicone-free too. Naturally, the longer you use it, the better it works, especially with the conditioner.
Living Proof Anti-Frizz Conditioner
Anyone with curly, frizzy hair knows that a weighty conditioner is NOT your friend. It seems like the opposite would be true, but when it comes to frizz, you want weightless conditioners to block humidity, so your hair still has some bounce and texture.
The less you have to wash and condition your hair, the less frizz you have to deal with.
Living Proof weightlessly blocks humidity 70% better than silicones and oils, keeping your hair cleaner, longer, which means less washing. Best of all, it's safe for color and chemically treated hair.
ReDkEn Frizz Dismiss Rebel Leave-In Smoothing Control Cream
You don't need a lot of this Redken Frizz Dismiss Rebel leave-in smoothing control cream to pack a powerful punch against humidity and weather that wants to wreck your hairstyle. The cream can get a bit heavy, so use it sparingly.
What will you get? Soft and silky hair that won't spring out of control on you, especially if you are a fan of super straight hair that can only be gained with a flat iron.
Packing up your flat iron? Read
how to use your hot hair tools abroad!
Curly hair
Diva Curl Coconut Super Cream
Curly hair girls unite- Diva Curl is here for you. Hydrate your curls with this lightweight cream that fights frizz, leaves your hair smelling fresh (lemon and lime zest!) plus it is paraben and silicone free (vegan, wheat and cruelty-free too).
You can scrunch your hair up for definition or glide your fingers through your hair for curl lengthening and that beach wave look.
Making your hair style last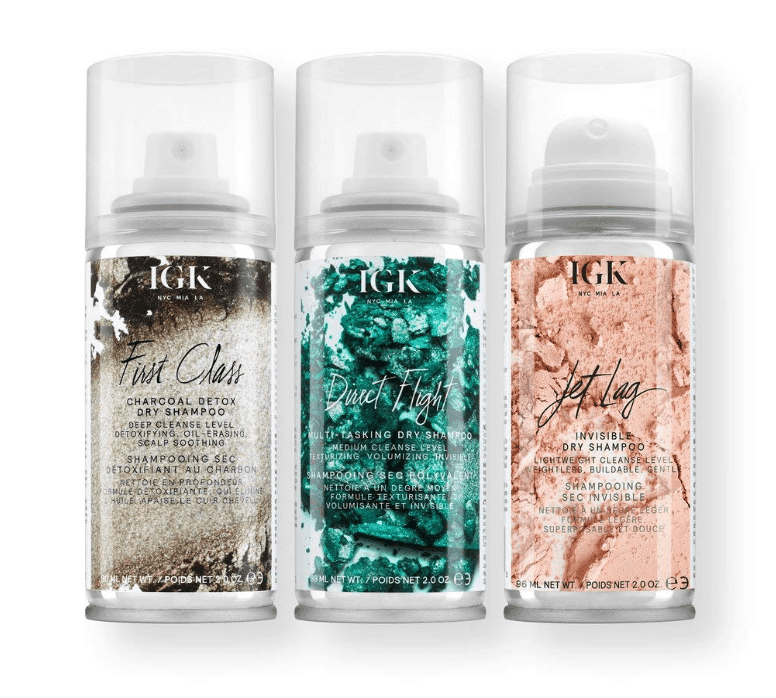 IGK Direct Flight Invisible Dry Shampoo
Dry shampoo is all the rage these days, but there really isn't a one size fits all when it comes to your dry shampoo. Just like your regular shampoo and conditioner, you need to find the right one for you.
IGK has come out with a line of regular and travel size dry shampoos for every type of hair.
While I love the Jet Lag and Direct Flight Invisible Dry Shampoo (no more of that white coating that I have to rub into my scalp), others may need IGK First Class Dry Shampoo (travel size) to fight more oil that likes to hit their locks and scalp.
Hair Spray
Anyone who wants their style to stay knows a little hairspray can go a long way if you use a good one. Which is right for you though? We have three that we trust to keep our curls intact, but also those flyaways in straight hair staying put.
Redken Triple Dry 15
Redken likes to do a little bit of everything, which is why we like the Triple Dry 15. It adds a bit of texture to your hair and then sets your style too. If you don't know what texture is good for, it can help hold that curl from your curling iron and keep your up do up when you have freshly washed hair. When your stylist asks you for "dirty" hair, this will get you there more quickly.
Redken 23 Forceful Hairspray
Redken 23 Forceful has ultimate strength without the sticky feeling or weight that other hairsprays can leave behind. It also adds shine back into your hair, leaving you with just the right look for an evening out or day around a new city.
I hate crunchy hairspray hair. Yes, I want my hair to keep its perfect curl and stay where I want it to stay, but I don't want to feel like I used a can of Aquanet from 1985 either.
Best of all, it comes in a travel size. No more checked back just to bring your favorite hairspray!
Alternate: grab DryBar Money Maker Flexible Hairspray, which also does a great job of keeping your hair soft and bouncy, without all the mess.
Ouai Hairspray
Hairspray shouldn't stink. If you can't stand the smell of your own hair then no one else will want to be around you either.
Ouai Hairspray is my stylist Christina's favorite hairspray to use on her own hair and she continually pushes it on me too. It adds a little perfume to your hair, is perfect for all hair types and is lightweight.
Interesting to note- it combines the power of dry shampoo and hairspray into one, leaving you with volume and texture without having to use extra products. And it will absorb oil and refresh your hair, so that's one less wash you will have to do this week.
Achieving the best blow out
Believe it or not, I now wash my hair every three to five days, especially if I get or give myself a blowout.
Yes, I still shower every day. I just don't wash my hair.
A lot of women cringe at this idea, but it's actually the best thing for your locks. You will get a better blow out that will last longer every time.
Stop washing your hair every day!
It took a year and a half to train my hair to accept this blow dry schedule. It was not overnight. It started with washing my hair every other day for six months. Then every three days.
Once I got to that point it was easy to make the jump to four and five days.
I don't like to go longer than four days. If I have to, I can stretch it to five days, which does come in handy when I travel.
Think about it- you are in a water poor country like Jordan, where hot water can be limited in Bedouin tents. You don't want to sit under a freezing shower at night.
A bad hair day may happen, but you now have the knowledge to prevent them.
If I air dry my hair, the style won't look as good, but if I blow dry my hair, I can either flat iron it and it will stay straight for a few days (pending humidity levels), or I put a curling iron through it and it lasts for days.
Because I have naturally curly hair I can also just blow dry my hair and twist it up to add that defined curl back in. It just isn't as pronounced without a curling iron to make ringlets.
It's not magic, it just takes good products that I know work for my hair. Thankfully, almost any hair product that can fix a bad hair day when you are traveling comes in travel size.
This is the best way to see if a hair product is right for you. Like make up, not every product works on everyone, so find the one that is right for you.
Pin it and get better hair!