Sitting along the Pacific coastline, Big Sur is a beautiful destination for nature lovers and explorers. Close to Monterey (less than 30 miles south), Big Sur is a great place to get you out of the big cities and into the great outdoors.
Known for its photogenic sunsets and breathtaking natural attractions, Big Sur offers one of the most scenic drives along the California coast.
So get ready to learn about all of our favorite spots in Big Sur!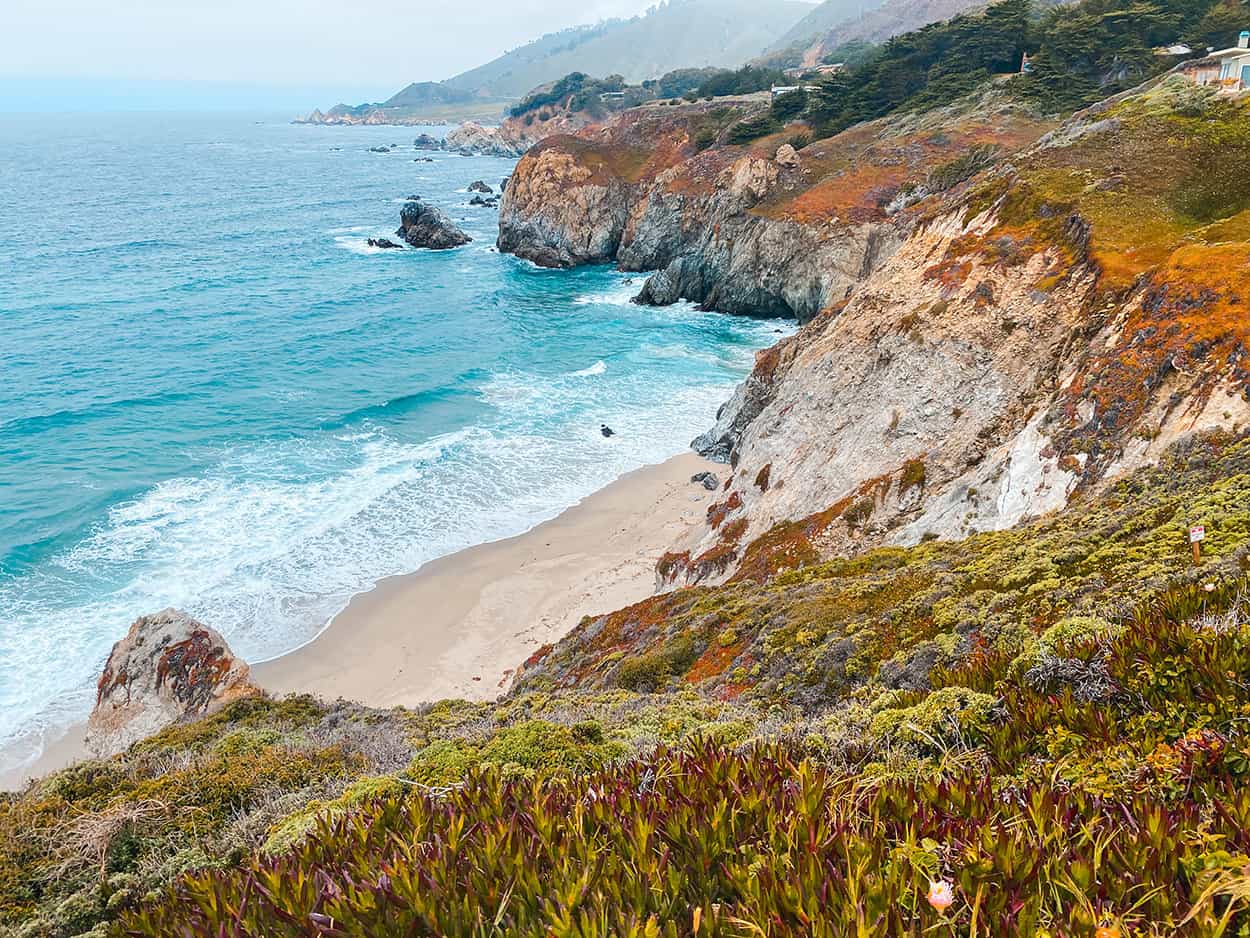 Start planning your trip to Big Sur!
This post contains affiliate links, which means we may earn a small commission from your purchase. This adds NO extra cost to you.
The closest airport to Big Sur, CA, is Monterey (MRY) Airport. We love to track flights via Expedia.com. Not only do we find great rates, but we earn points to use on future travel too.
You can also keep an eye on GOING deals, which is how we got to Ireland roundtrip from LAX for under $500 each. The free version is good, but the paid subscription will save you way more than the cost of the actual subscription.
Hotels in Big Sur
Need a Rental Car?
We use DiscoverCars.com to get the best rates and availability on rental cars. Find your car HERE, along with all of the extras you may need (insurance, car seats, ski racks, etc.)
Travel Insurance
Do NOT forget to buy travel insurance for your trip, even if you booked through a travel agent.
Things do and will happen, and it's cheaper to buy travel insurance ahead of time instead of paying out-of-pocket later.
Check out Travelex for rates on a single trip or an annual plan that could be right for you if you take more than one or two trips a year. And travel insurance usually covers you if you are more than 100 miles from home, meaning that road trip to the national parks is covered too.
Don't Forget about Your Vacation Photos!
Don't forget to book your Flytographer session to capture awesome memories from your trip. We do it as often as we can. Sometimes, this mom just wants to be in a few photos with her kiddos, or gorgeous shots at sunset.
Check out each state park's website mentioned in this article to be sure it is open to the public and if a reservation is required before arriving.
The Best Things to Do in Big Sur for a Memorable Adventure
Julia Pfeiffer Burns State Park
By far, one of the most popular Big Sur attractions is Julia Pfeiffer Burns State Park. Before heading into the area, check out their website to see if they are closed due to weather (o( or other) conditions.
While visiting, you can choose from numerous hiking trails that allow you to explore the gorgeous redwoods, some even leading to waterfalls. The trails range from a short walk to difficult routes, so be sure to grab a map to figure out which trail is the best for you.
Pfeiffer Beach
Address: 9100 Sycamore Canyon Rd.
Want a really unique spot to explore in Big Sur? Head to Pfeiffer Beach, a secluded stop with stunning rock formations and beautiful bluffs.
One big attraction at the beach is the Pfeiffer Keyhole Rock, easy to spot for its distinctive arch. You can enjoy a stroll along the water and look at tide pools during low tide, but it is not recommended to swim here.
Andrew Molera State Park
The largest state park on the Big Sur coast, Andrew Molera State Park offers 4,800 acres of beautiful land filled with hiking trails, redwood groves and meadows that offer a picture-perfect backdrop to your day.
Ride bikes or horses in the park, or simply head out to Pfeiffer Beach, which connects to the park via a trail.
Garrapata State Park
Smaller than the two previously mentioned parks, the Garrapata Stata Park features 3,000 acres right below the St. Lucia Mountains. There are five main trails throughout this park: Four of them group together and head into the St. Lucia Mountains.
The trails can also take you out to Garrapata Beach, most of which are a little easier to hike if you're not ready to work up a sweat.
Pfeiffer Big Sur State Park
Address: Pfeiffer Big Sur Rd.
This smaller park offers 1,600 acres of outdoor space and runs adjacent to the Los Padres National Forest. Highlights of Pfeiffer Big Sur State Park include 8 miles of trails, including a hike to a the waterfall the 1.4-mile Pfeiffer Falls hike to a stunning 60-foot waterfall.
Sand Dollar Beach
Address: 69232 Cabrillo Hwy.
Sand Dollar Beach is a great spot for relaxing and hanging out in the Big Sur area, especially if you don't want to hike or explore the state parks. The largest unbroken stretch of beach in Big Sur, it offers plenty of surfing and fishing, and, of course, sand dollars and stunning views.
Limekiln State Park
Address: 63025 CA-1
Seven miles from Sand Dollar Beach is a 716-acre park named after a limestone business that once operated there during the 17th century, the Rockland Lime and Lumber Company, which produced powdered lime and other ingredients to make cement.
Today, the state park is located on one of the steepest coastal canyons in the United States and is the only state park in Big Sur offering immediate beach access via a simple trail.
Since the park is on the smaller side, offering only two trails that are less than 1 mile each (one leads to a 100-foot waterfall, the other to old limekilns), it's a perfect spot for first-time hikers or anyone on a time limit.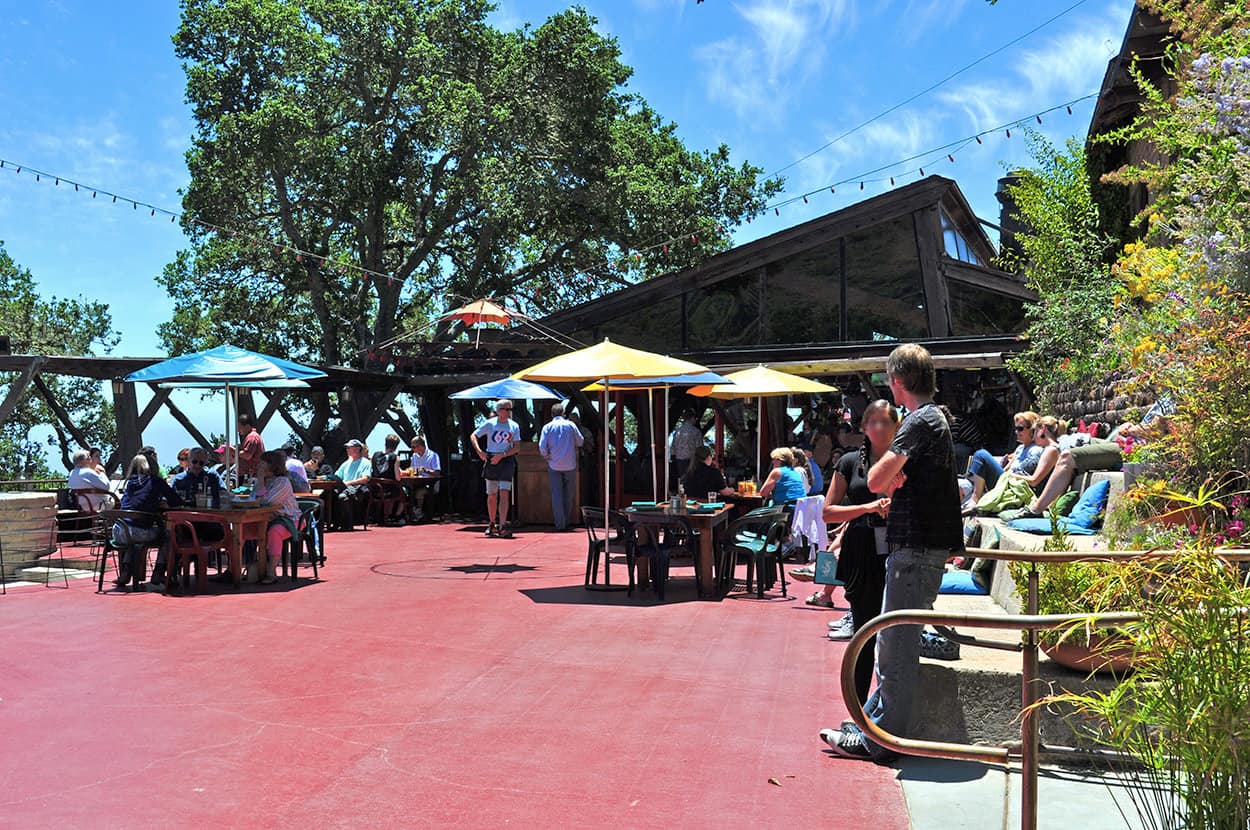 Nepenthe
After working up an appetite at all of Big Sur's beautiful sandy beaches and state parks, stop in Nepenthe for good food and stunning cliffside views.
Located about midway between Julia Pfeiffer Burns State Park and Monterey, the eatery serves typical American fares, like veggie burgers, French dips, and shrimp BLT. Top off your visit at The Phoenix Shop, a gift store located beneath the restaurant.
Big Sur Roadhouse
Address: 47080 CA-1
Serving locally and seasonally sourced California cuisine in a modern-rustic setting, Big Sur Roadhouse is open Monday through Friday from 8 a.m. to 2:30 p.m. Menu items include burgers, fried shrimp, and salads. If the weather is nice, sit outside and enjoy beautiful views of the redwoods.
A Quick Look at the History of Big Sur
A place of rich history, from its indigenous roots to its modern status as a haven for nature enthusiasts and artists, Big Sur's evolution has been shaped by waves of settlers and a unique cultural legacy, making it a cherished and iconic destination on California's central coast.
Prehistoric Inhabitants
Situated along the rugged central coast of California, Big Sur has a long history dating back thousands of years. The area was originally inhabited by the Esselen and Rumsen tribes, indigenous peoples who lived off the abundant natural resources of the region.
Spanish Exploration
The first European explorers to encounter the Big Sur coastline were late 18th century Spanish explorers like Juan Cabrillo and Sebastian Vizcaino, who documented their findings along this once-unknown stretch of California.
Mexican Era
Following Spanish rule, California became a Mexican territory in the early 19th century. During this time, ranchos (large land grants) were established, including Rancho El Sur, which covered much of what we know today as Big Sur.
American Settlement
In 1848, California became part of the United States after the Treaty of Guadalupe Hidalgo ended the Mexican-American War. Soon after, American settlers began moving into Big Sur, engaging in activities like ranching, logging and farming.
The Homestead Act
The late 19th century brought more settlers to the region with the Homestead Act of 1862, which granted land to those willing to develop and cultivate it, creating several new ranches and communities.
Henry Miller
One of the most influential figures in Big Sur's history was Henry Miller, a cattle rancher who played a pivotal role in the region's development. Not only did his ranching operations contribute to the local economy, but he also shaped the landscape and culture of Big Sur.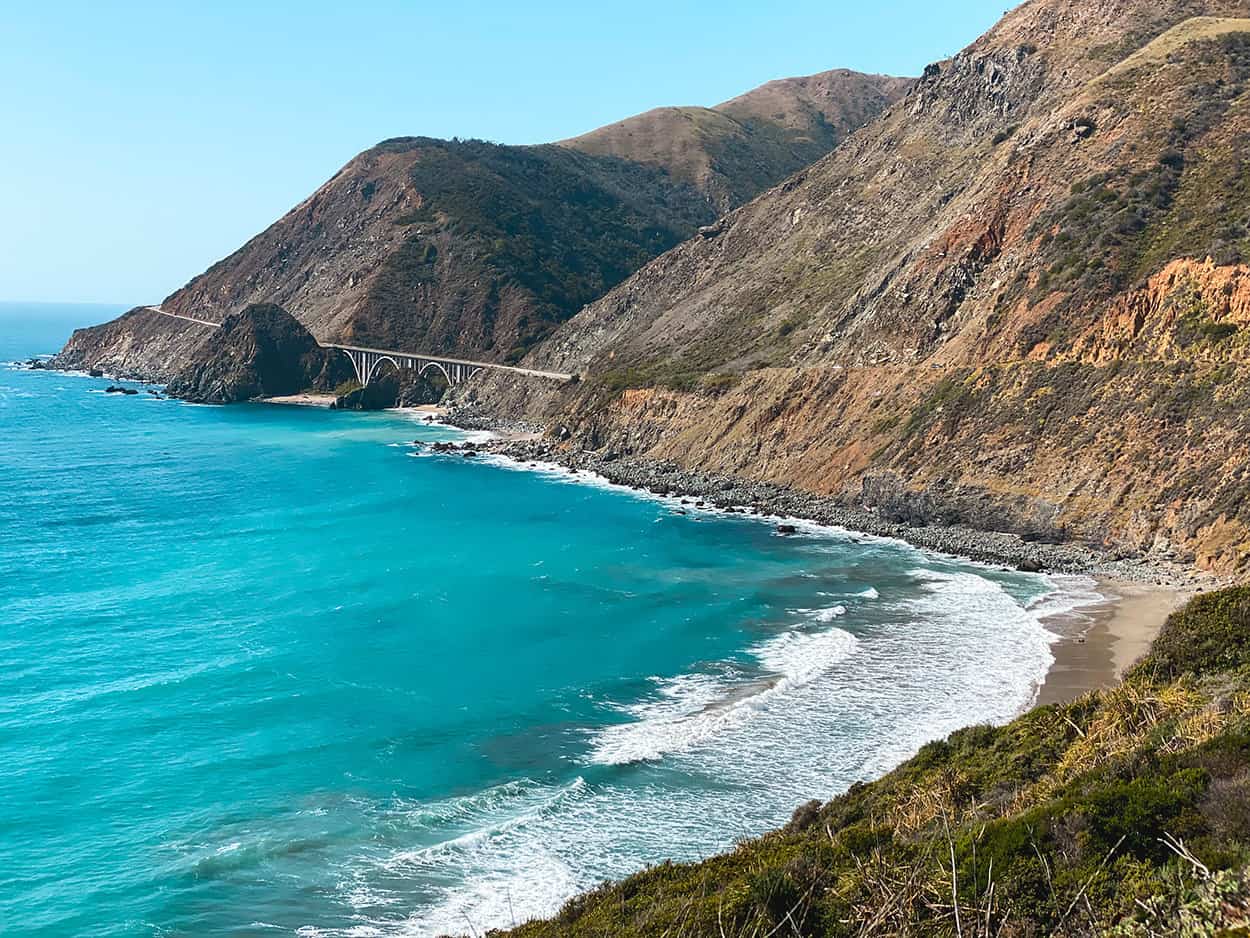 Highway 1
The 20th century saw the construction of Highway 1, also known as the Pacific Coast Highway, in the 1930s, making Big Sur more accessible and contributing to the growth of tourism in the area.
Literary and Artistic Inspiration
Big Sur's stunning landscapes, isolation and natural beauty have attracted artists, writers and creative minds for generations. Authors like Robinson Jeffers, an early 20th century poet nicknamed the "Whitman of Big Sur," found inspiration in the region, incorporating its rugged beauty into his works.
The Bohemian Era
The 1950s and 1960s brought a surge of counterculture and the Beat Generation to Big Sur. Iconic figures like Jack Kerouac, Henry Miller (the writer) and Hunter S. Thompson frequented the area, leaving a lasting cultural imprint.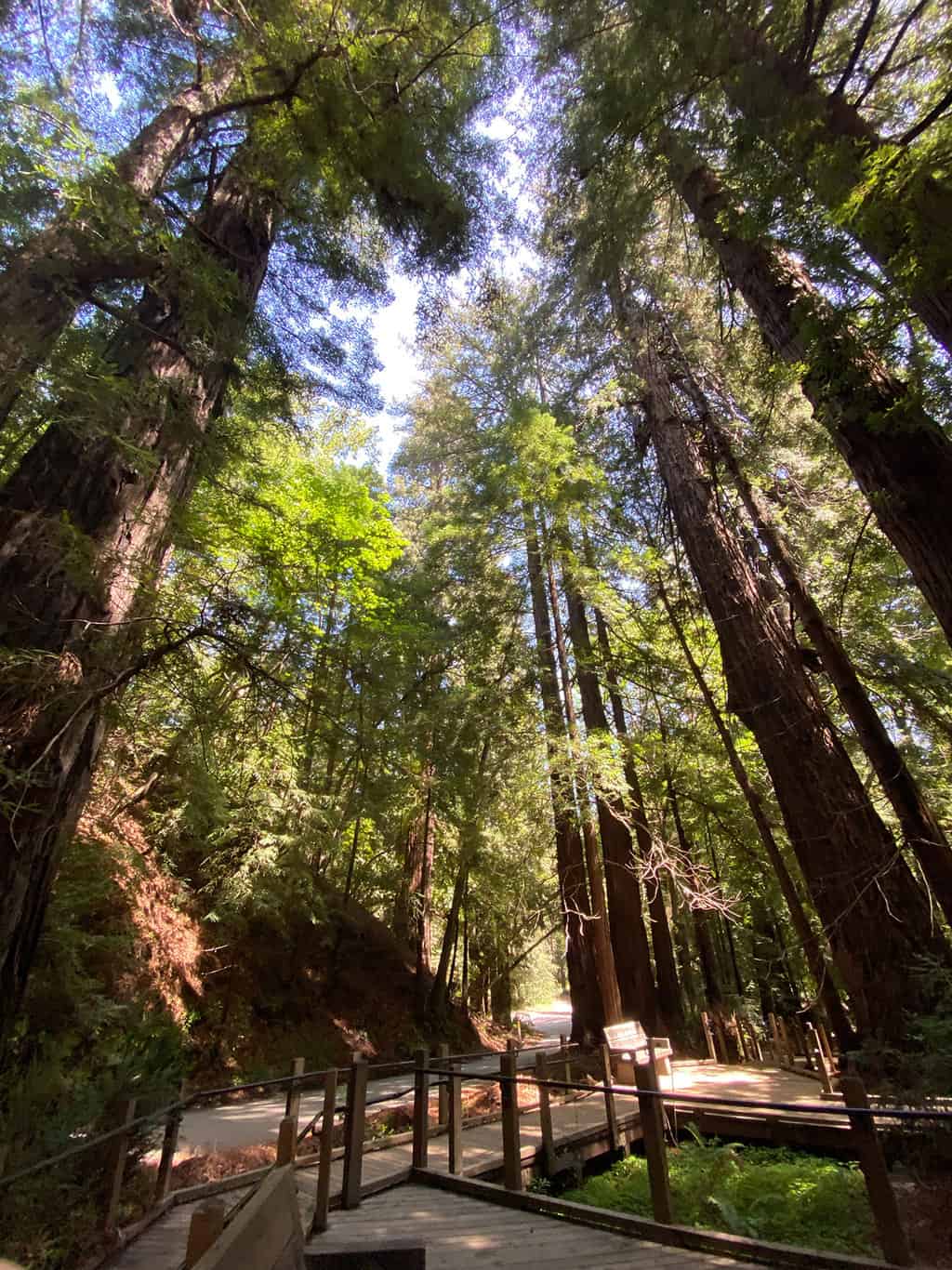 Conservation Efforts
Concerns over environmental preservation and unchecked development led to the establishment of the Big Sur Land Trust in 1978, aiming to protect the area's natural beauty, wildlife and ecosystems.
Wildfires
Wildfires like the Basin Complex Fire, which in 2008 burned over 160,000 acres, have been a recurring challenge in Big Sur's history that highlight the region's vulnerability to these natural disasters.
Tourism and Preservation
Today, Big Sur remains a popular tourist destination, known for its dramatic coastline, towering redwoods and numerous outdoor recreational opportunities. The region aims to balance tourism with environmental preservation.
Land Ownership
Much of Big Sur is still privately owned, but conservation easements and land trusts help safeguard large swaths of pristine wilderness.
Literary and Cultural Legacy
Big Sur's literary and cultural legacy endures, with its breathtaking scenery continuing to inspire artists, writers and musicians.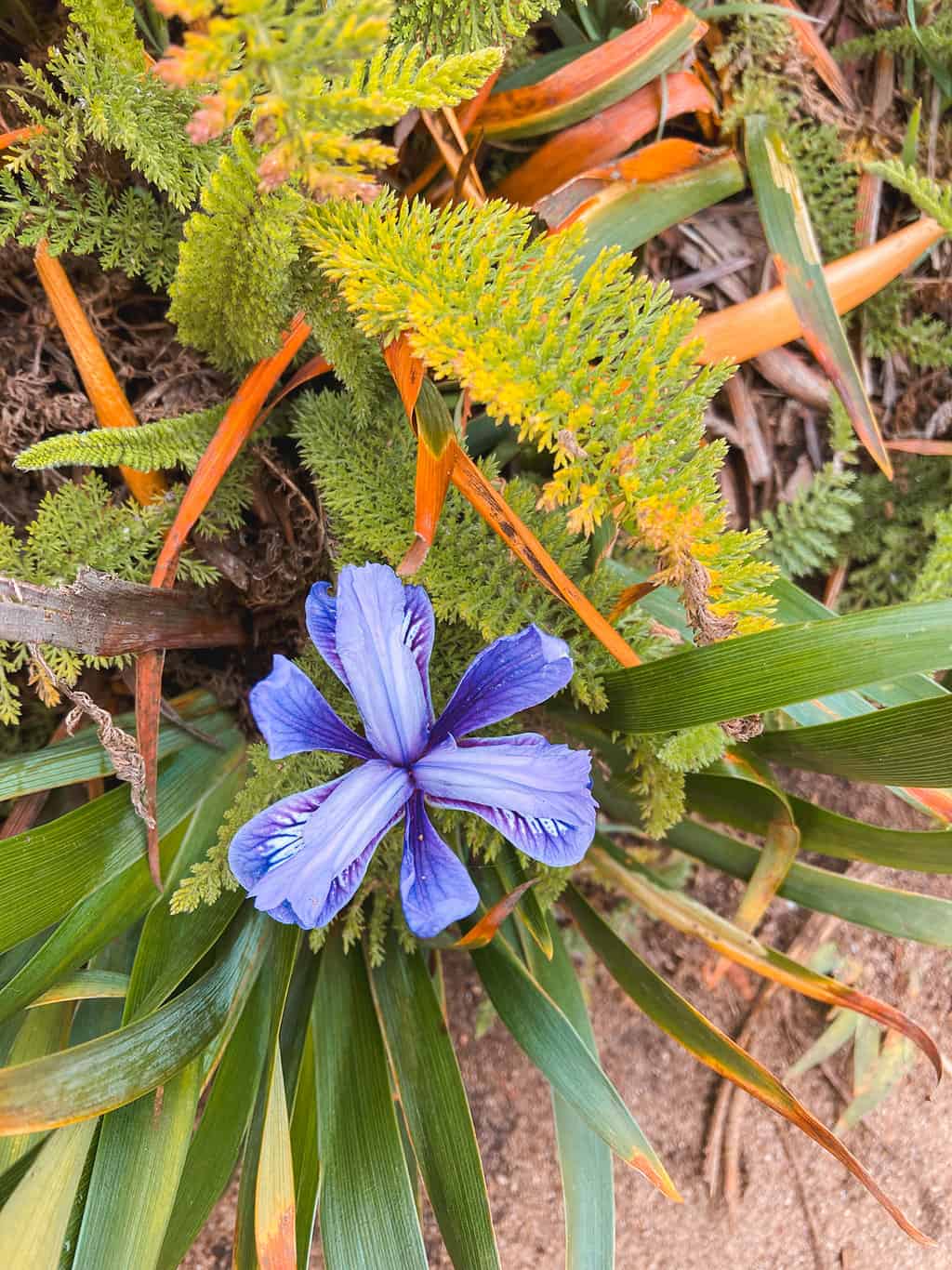 Modern Challenges
Maintaining infrastructure and disaster preparedness remain ongoing challenges due to Big Sur's remote location and susceptibility to natural disasters.
Sustainable Practices
Efforts are ongoing to promote sustainable tourism and agriculture in the region, preserving its unique character and natural beauty for future generations.
Iconic Landmarks
Key landmarks like Bixby Creek Bridge, Pfeiffer Beach and McWay Falls are some of the many features that draw visitors from around the world.
Natural Beauty
Characterized by its steep cliffs, pristine beaches and ancient redwoods, Big Sur is one of the best places to experience California's central coast.
Frequently Asked Questions about Big Sur, CA (FAQ)
What is Big Sur, California?
It is a rugged stretch of coastline located along California's Highway 1, known for its dramatic cliffs, redwood forests and stunning ocean views.
Where is Big Sur located?
It's located on the central coast of California, about midway between San Francisco and Los Angeles.
How did Big Sur get its name?
The name "Big Sur" is derived from the Spanish language meaning "Big South" or "Big South Country," referring to its location south of Monterey.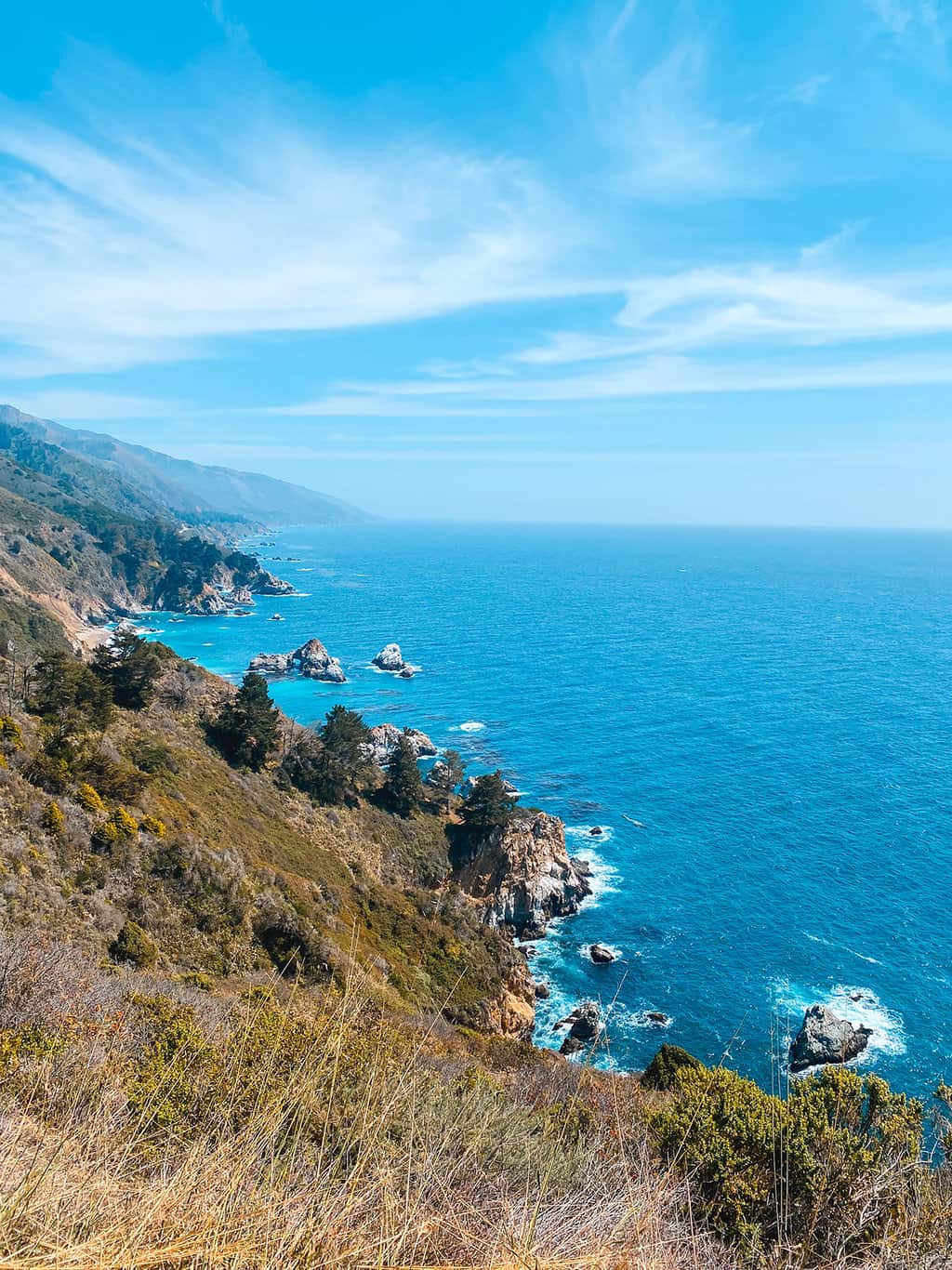 What are the main attractions in Big Sur?
Some of the best stops in Big Sur include McWay Falls, Bixby Creek Bridge, Pfeiffer Beach, Julia Pfeiffer Burns State Park and the scenic drive along Highway 1.
What is the best time to visit Big Sur?
The best time to visit Big Sur is during the spring and fall, when the weather is mild and there are fewer crowds. Summers can be crowded, and winters can bring rain and road closures.
Can I camp in Big Sur?
Yes, there are several campgrounds in Big Sur, including Pfeiffer Big Sur State Park, Andrew Molera State Park, and Kirk Creek Campground. Reservations are recommended, especially during peak seasons.
Are there hiking trails in Big Sur?
Yes, Big Sur offers numerous hiking trails, ranging from easy walks to challenging backpacking trips. Some popular trails include the Ewoldsen Trail, McWay Falls Trail, and the Ventana Wilderness.
Is it possible to see wildlife in Big Sur?
Yes, Big Sur is home to a variety of wildlife, including sea otters, whales, condors and deer. Birdwatching and wildlife spotting are popular activities.
What is the weather like in Big Sur?
It generally offers a mild coastal climate. Summers are typically dry and warm, while winters can be wet and cool. Fog is common, especially in the mornings.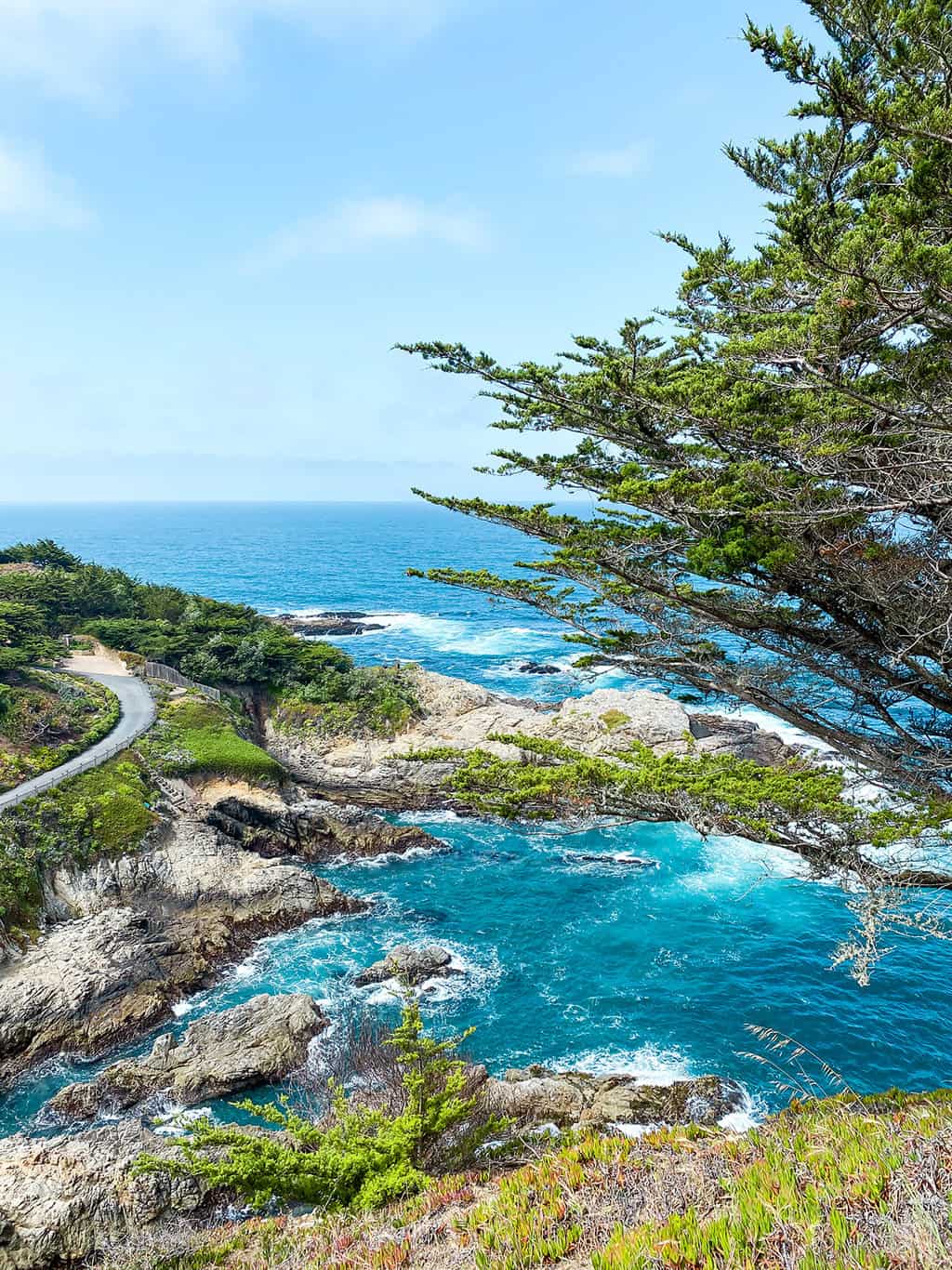 Can I swim in the ocean in Big Sur?
Swimming in the ocean in Big Sur can be challenging due to cold water temperatures and strong currents. Some beaches, like Pfeiffer Beach, have areas where swimming is possible, but it's essential to exercise caution.
Are there any famous restaurants in Big Sur?
Big Sur is known for its upscale dining options, including the Big Sur River Inn Restaurant and Nepenthe, both offering delicious cuisine with stunning views of the coast.
Is there cell phone reception in Big Sur?
Cell phone reception can be spotty in Big Sur due to its remote location and rugged terrain. It's a good idea to plan accordingly and have a map or GPS device.
Are there art galleries or cultural events in Big Sur?
Big Sur boasts a vibrant arts community with several galleries and cultural events throughout the year, including music festivals and art exhibits.
Can I visit Big Sur in a day trip from San Francisco or Los Angeles?
It's entirely possible to visit Big Sur in a day trip from both San Francisco and Los Angeles, but it's recommended to spend at least a weekend to fully appreciate the area's beauty.
Are there any famous landmarks in Big Sur?
Bixby Creek Bridge is one of the most famous landmarks in Big Sur, known for its stunning architecture and scenic views.
Can I bring my pet to Big Sur?
Pets are allowed in some areas of Big Sur, but they must be kept on a leash, and there are restrictions in certain parks and beaches.
Check before your visit to confirm where your pet is welcome, as many of the state parks and hiking trails prohibit dogs.
Are there any hot springs in Big Sur?
Yes, there are natural hot springs in the area, including the Esalen Institute, which offers hot spring baths with a view of the Pacific Ocean.
What should I pack when visiting Big Sur?
Like any outdoor vacation, you should pack layers of clothing, comfortable shoes for hiking, sunscreen, insect repellent and, of course, a camera to captures some memories.
Are there any safety concerns when visiting Big Sur?
Watch out for wildlife on the roads, drive cautiously on Highway 1 and be mindful of the changing weather conditions, especially in winter.
Is there a fee to enter Big Sur parks?
Most state parks in Big Sur require an entrance fee, which varies depending on the park. You should check the specific park's website for up-to-date fee information and any pass options that may be available.
Looking for more places to visit in Central Coast California? Check these posts!
Exciting and spectacular things to do in Santa Cruz, CA
Amazing and memorable things to do in Cambria, CA
Unique things to do in Monterey, CA
The ultimate guide to wineries in Carmel Valley, CA
Photos by Keryn Means