Death Valley National Park, the largest national park in the United States, as well as the lowest-elevation national park–in fact, the lowest in North America, at 282 feet (86 meters) below sea level–is also one of the most annoying to access, since it's literally in the middle of nowhere.
You can drive six hours from Los Angeles in Southern California, or fly into Las Vegas and drive about two hours to the park.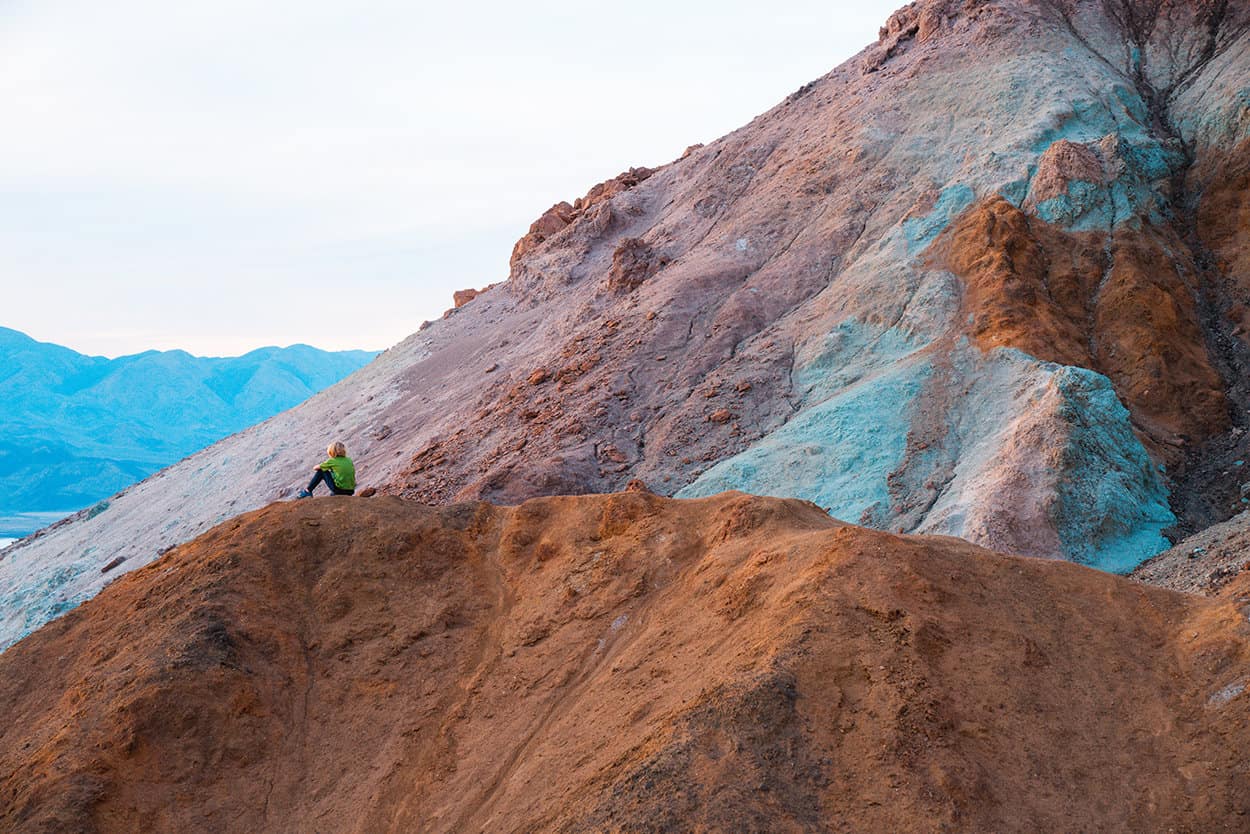 Death Valley Planning Guide
Flying to Death Valley?
You will want to fly into Las Vegas, which is the closest major airport to Death Valley (and Zion National Park, if you plan to go there too). We love to track flights via Expedia.com. Not only do we find great rates, but we earn points to use on future travel too.
You can also keep an eye on GOING deals, which is how we got to Ireland roundtrip from LAX for under $500 each. The free version is good, but the paid subscription will save you way more than the cost of the actual subscription.
Need a Rental Car?
We use DiscoverCars.com to get the best rates and availability on rental cars. Find your car HERE, along with all of the extras you may need (insurance, car seats, ski racks, etc.).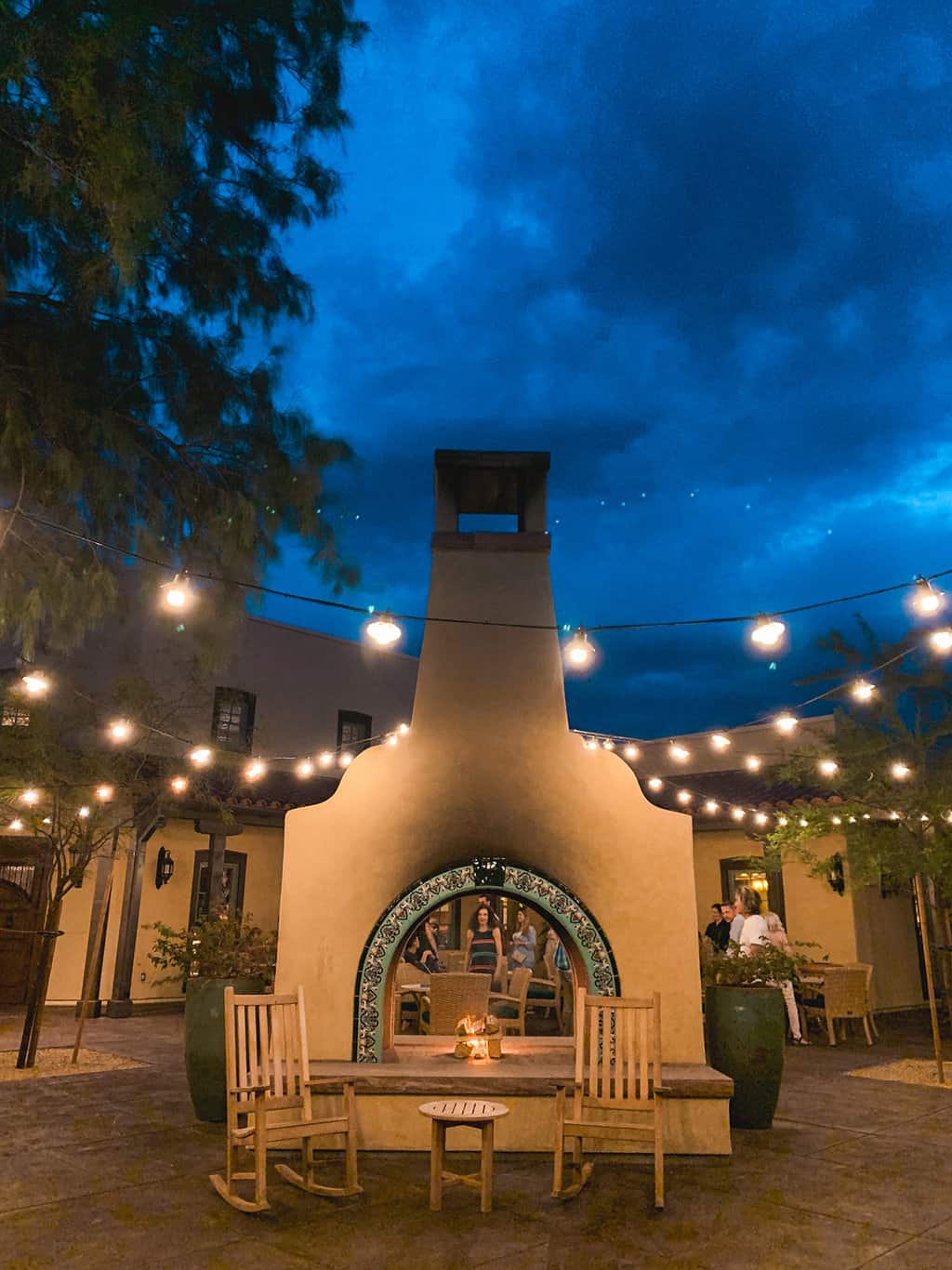 Our Favorite Hotels in Death Valley
Both of these hotels are right inside of the national park park, and we love them for different reasons. Each has swimming pools and dining onsite but vary in price point and amenities if you are traveling with kids.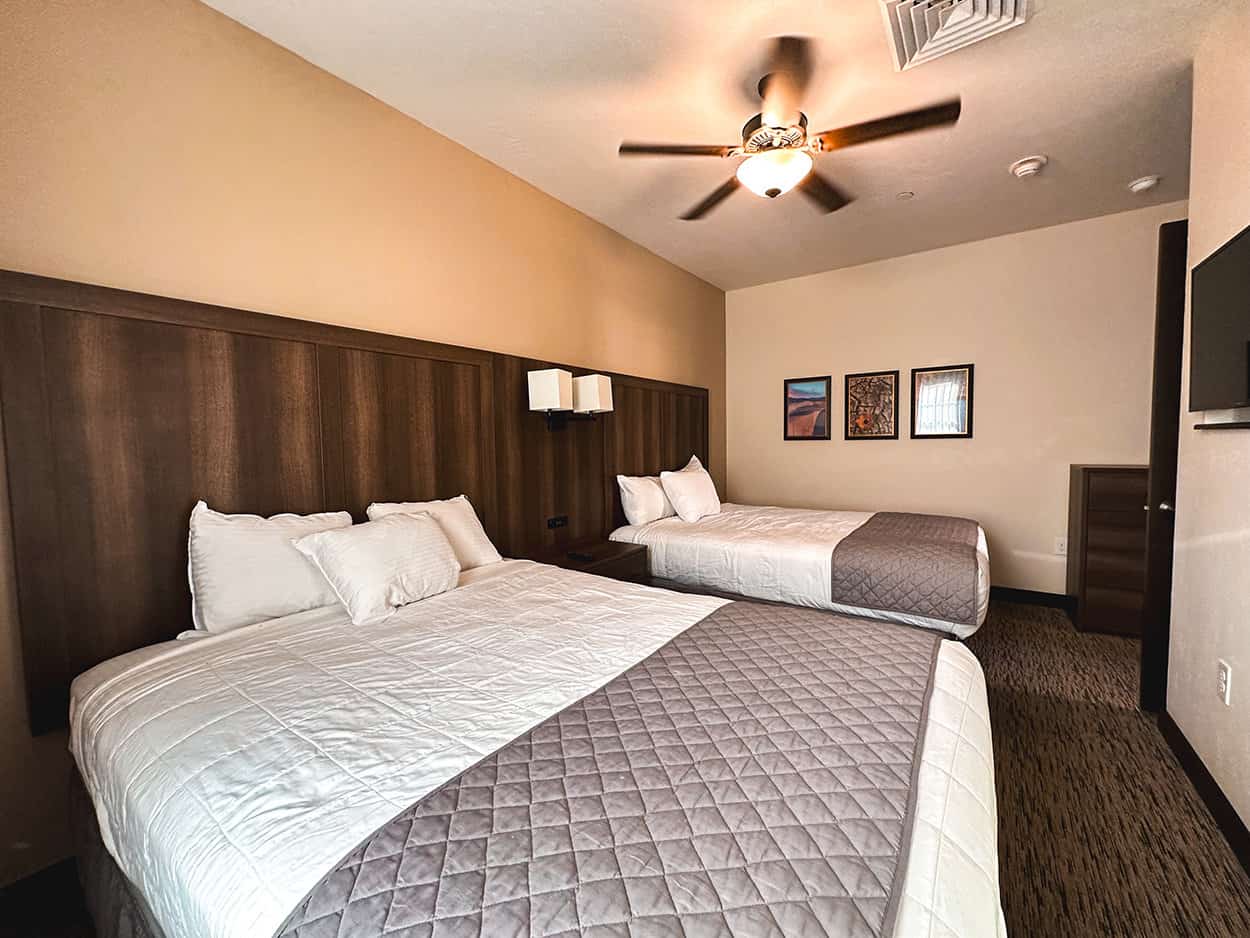 Hotels near Death Valley National Park
If you can swing it, do try to stay inside of Death Valley NPS, as it saves you a ton of driving time. You'll also be able to do more stargazing and watch the sunrise without having to get up extra, extra early.
Here are a few decent spots just outside of the park.
Find more Death Valley hotels HERE.
Vacation Rentals near Death Valley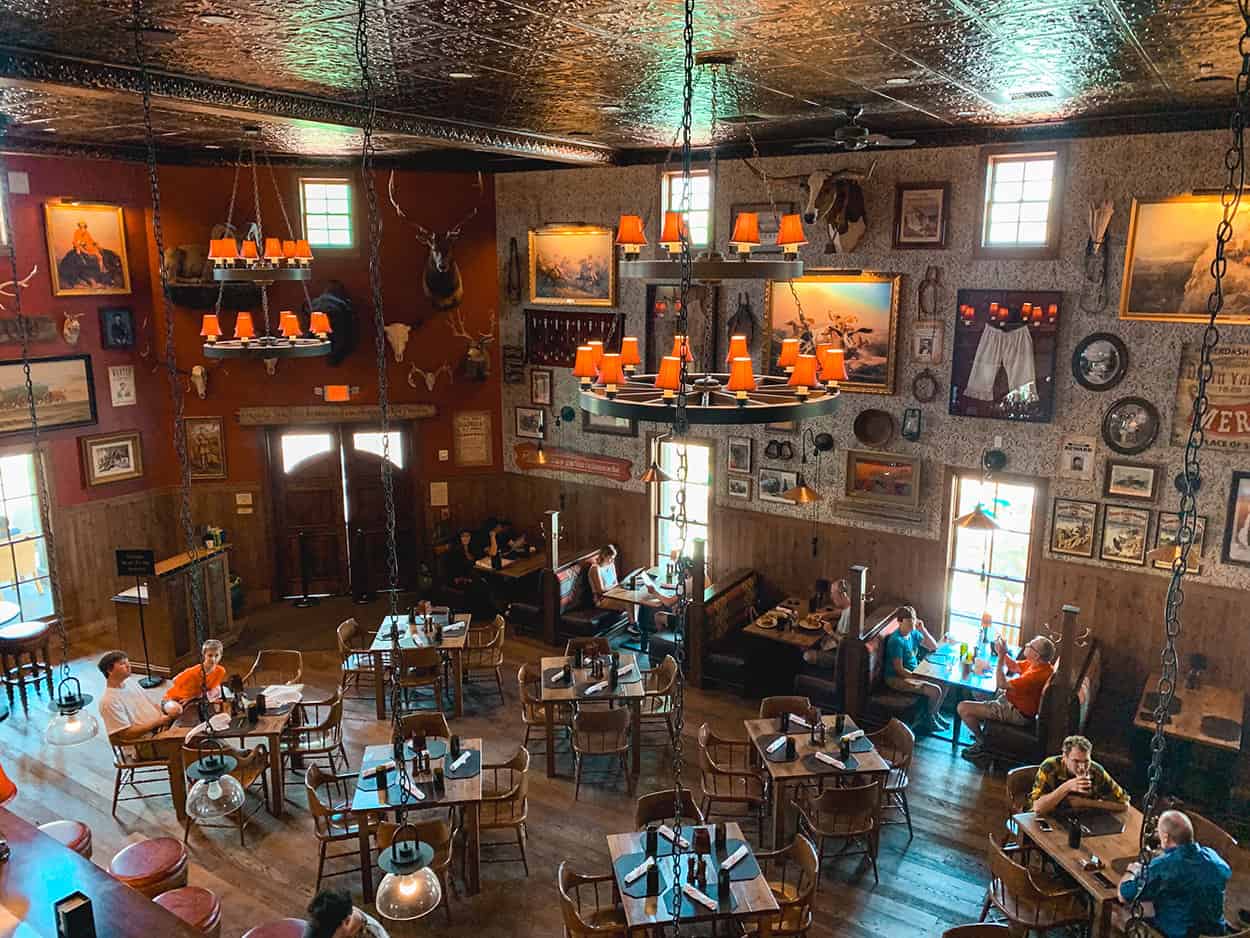 Death Valley Restaurants
The Ranch at Death Valley Restaurants
The Ranch 1849 Buffet
19th Hole at the Furnace Creek Golf Course at Death Valley
Ice Cream Parlor
General Store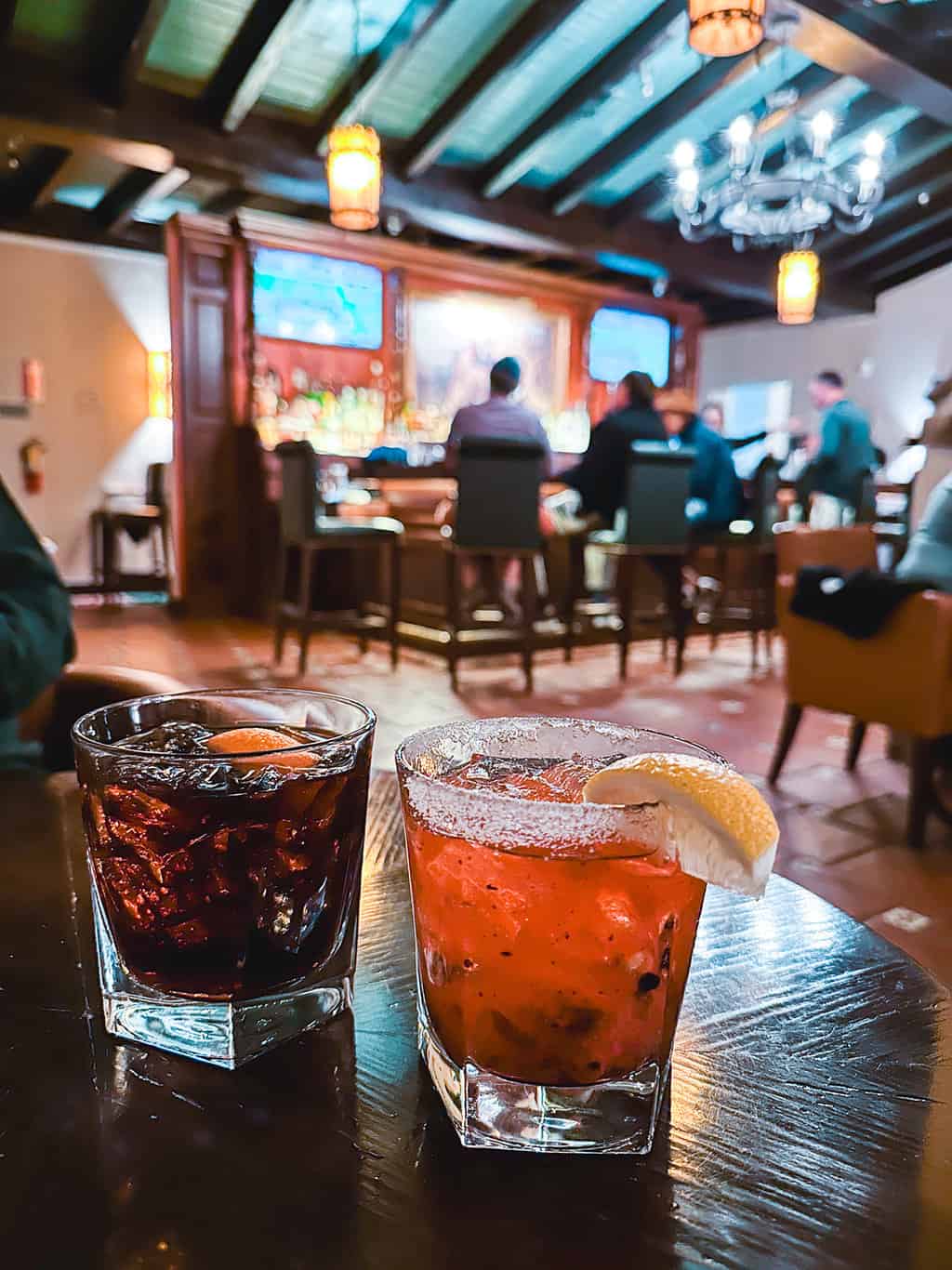 The Oasis at Death Valley
The Oasis Lounge
The Inn Dining Room
The Inn Pool Cafe
Stovepipe Wells Village Restaurants
Toll Road Restaurant and Saloon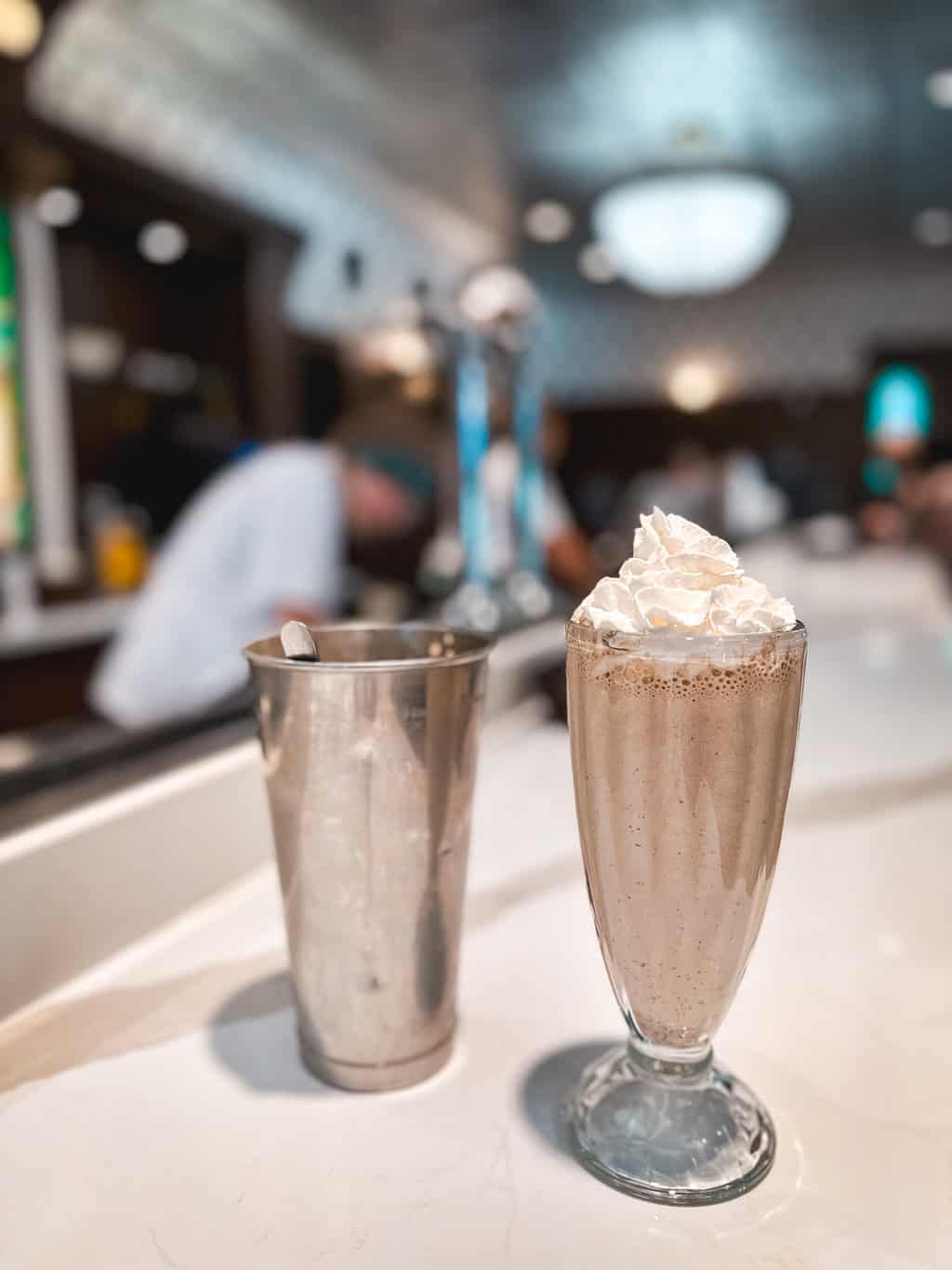 Travel Insurance
Do NOT forget to buy travel insurance for your trip, even if you booked through a travel agent. Yes, even if you aren't flying internationally, travel insurance is worth it. Most plans will cover any hiccups that happen 100 miles or more from your home.
Things do and will happen and it's cheaper to buy travel insurance ahead of time instead of paying out of pocket later.
Check out Travelex for rates on a single trip or an annual plan that could be right for you if you take more than one or two trips a year.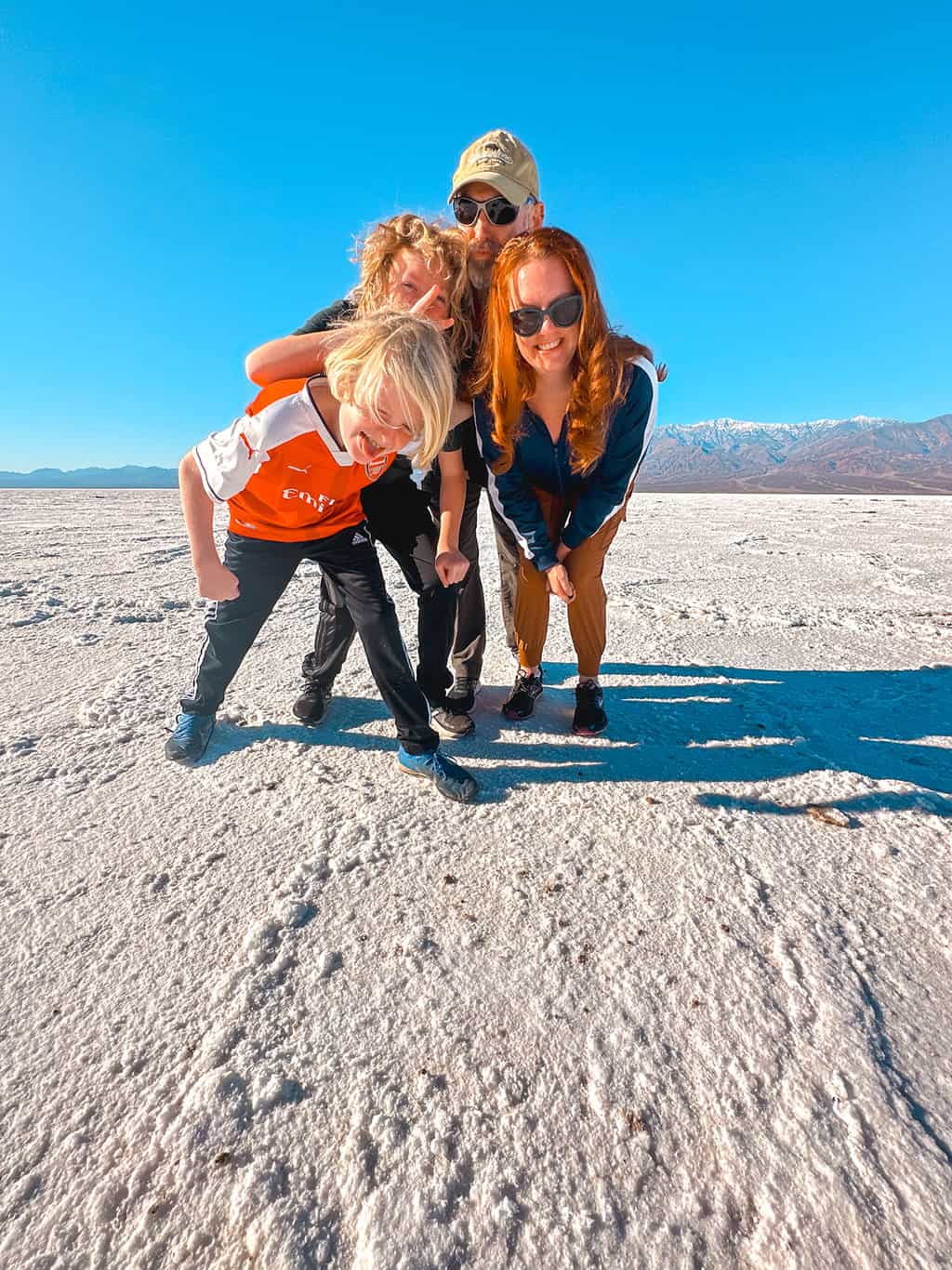 Don't Forget about Your Vacation Photos!
Don't forget to book your Flytographer session to capture awesome memories from your trip. You can book a photographer from Las Vegas, but keep in mind they may charge an additional travel fee. Or simply get your photos taken near Las Vegas, LA or San Francisco before you head to the park.
We book a vacation photoshoot with a Flytographer photographer as often as we can. Sometimes, this mom just wants to be in a few photos with her kiddos.
Looking for more parks to explore? Check out our guide to the best national parks in the U.S.
How to get to Death Valley
By Car
From Las Vegas, Nevada: If you're starting from Las Vegas, take U.S. Route 95 West and then connect to California State Route 190 West. This will take you into the eastern part of the park.
From Los Angeles, California: If you're coming from Los Angeles, take Interstate 15 North to California State Route 127 North, and then continue on California State Route 190 East into the park's western side.
From Bakersfield, California: If you're coming from Bakersfield, take California State Route 178 East, which will lead you into the southern part of the park.
By Air
The nearest major airports to Death Valley are McCarran International Airport (LAS) in Las Vegas, Nevada, and Los Angeles International Airport (LAX) in Los Angeles, California. You can rent a car at these airports and drive to the park. If you plan on going to Yosemite National Park, you can fly into San Francisco (SFO), drive to Yosemite and then down to Death Valley.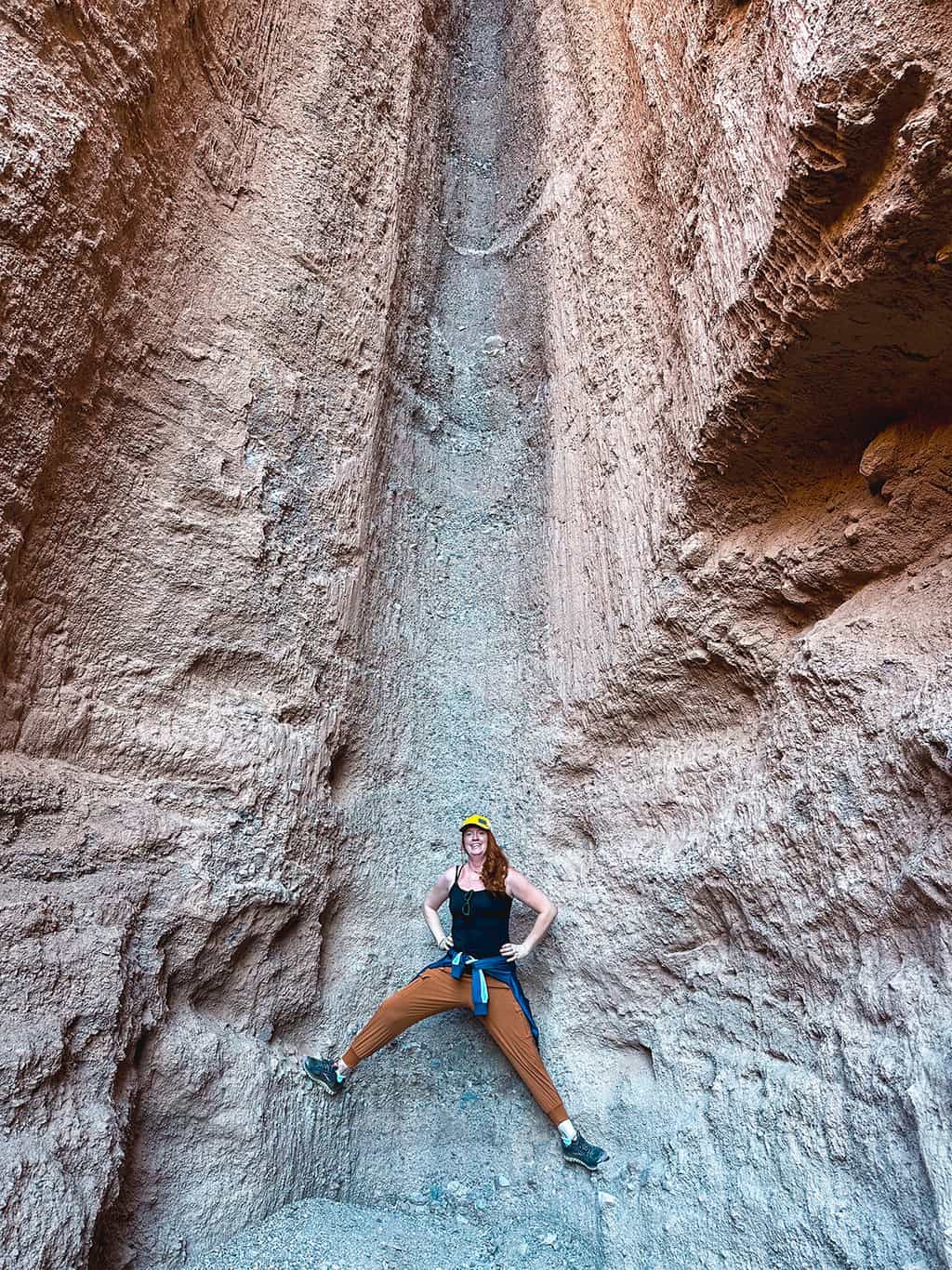 By Bus or Tour
Some tour companies offer guided tours to Death Valley from various cities, including Las Vegas and Los Angeles.
By RV or Camper
If you're traveling in an RV or camper, there are campgrounds within the park that can accommodate larger vehicles. Be sure to check the park's website for information on RV facilities and road conditions.
Road Conditions
Keep in mind that road conditions in Death Valley can vary depending on the time of year and weather conditions. Some roads may be closed due to extreme heat or flooding. It's essential to check the park's website or contact the visitor center for up-to-date road and weather information before your trip.
Entrance Fees
When you enter Death Valley National Park, you'll likely need to pay an entrance fee, which helps support the maintenance and preservation of the park. Make sure to check the current entrance fees on the park's website.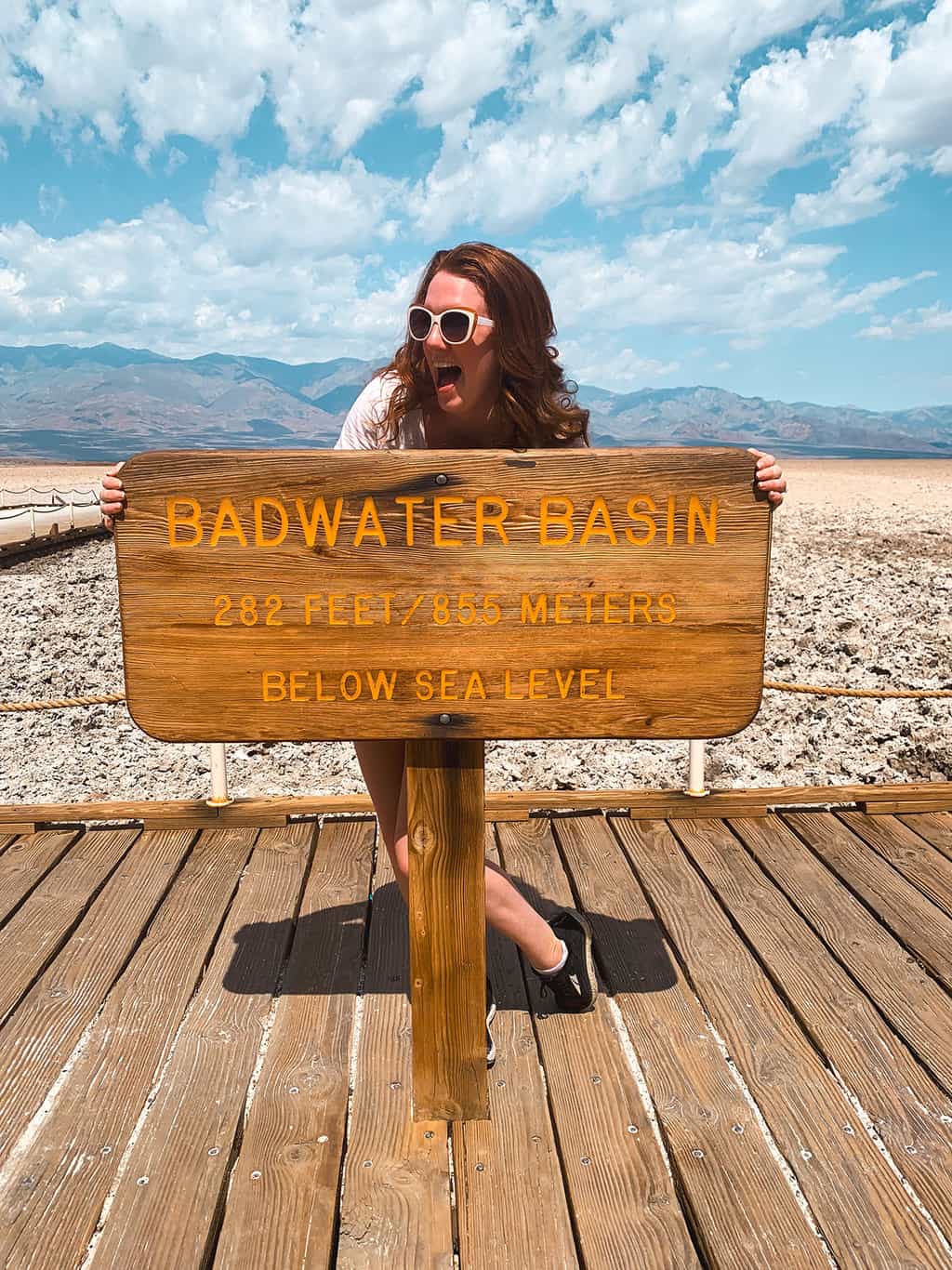 Best Time to Visit Death Valley National Park
Death Valley is known for its weather extremes, which is why you will want to pick when you visit very carefully. The summer months are HOT, reaching well past 110 F (hottest at 134 F in 1913, and most recently, 129 F in 2023).
As the lowest point in North America (282 ft (86 m) below sea level), as well as one of the driest paces in the U.S., summer isn't the best time to visit. If you can only visit in summer, though, stick to the early morning and late afternoon to explore outside. There are signs everywhere warning you to be out of the sun by 10 a.m. (or earlier), so please heed those warnings. People have died from heat stroke in Death Valley.
If you want cooler temperatures, early spring, fall and the winter months (October-April) are the best times to visit the park. It's warm enough during the day to hike one of the most beautiful places in the country, but is still cold enough for a jacket in the early morning even though you are in Southeastern California.
Only have a day to explore? Check out our guide to Death Valley in one day!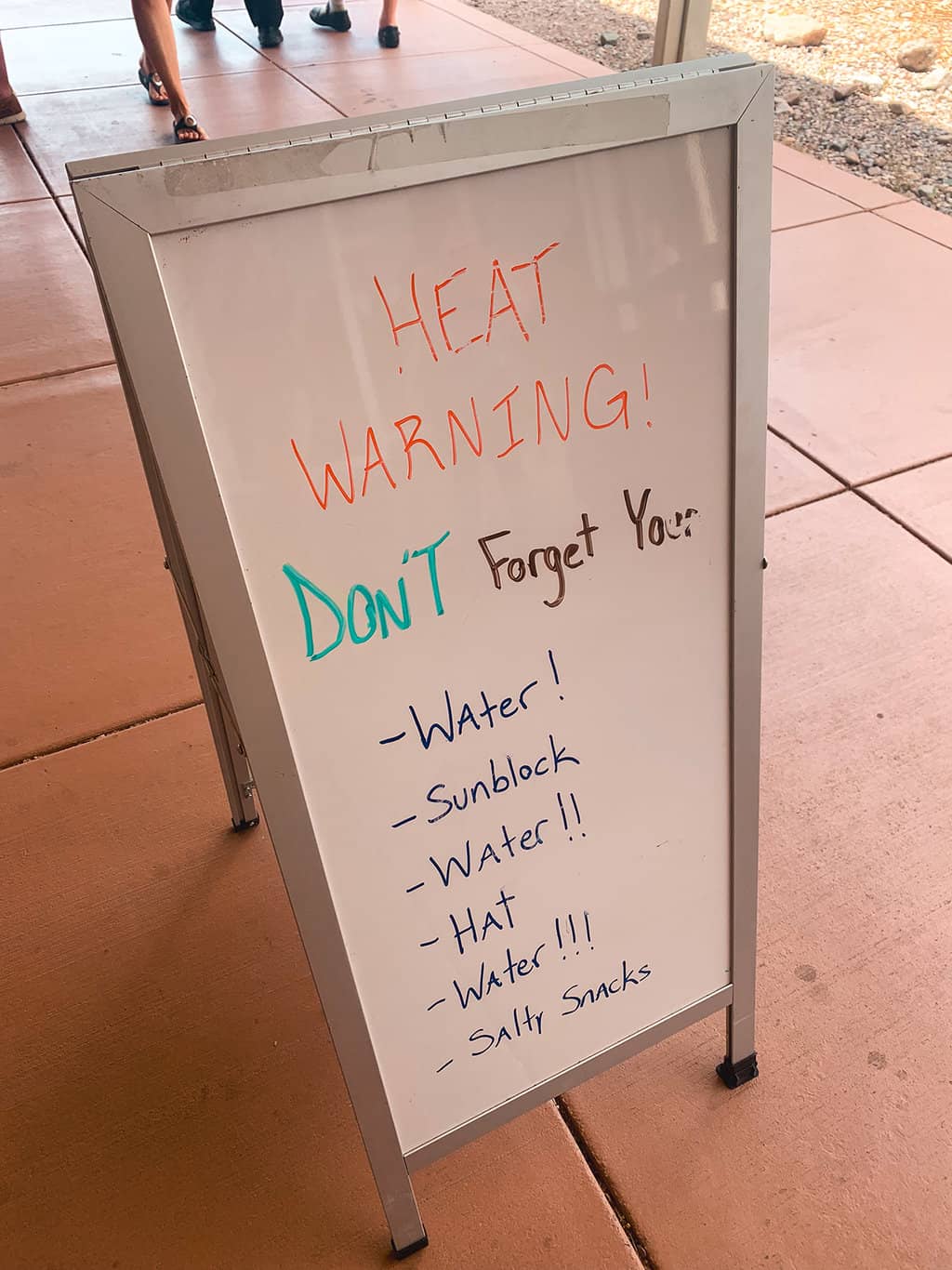 Hiking Safety Tips
Death Valley, as you might have guessed, is not a forgiving landscape, especially when it comes to the sun. There is very little shade to be found on trails throughout the day. Even if it is chilly out, you will need to wear sunscreen. We weren't hot but definitely felt the oppressive rays of the sun even in November, having to take a break back at our hotel midday.
Drink plenty of water
Pack plenty of water, even a larger water cooler to refill reusable water bottles. We always have a gallon jug of water in the car just in case. Everyone should have their own water bottle in this park, as you will need to stay hydrated at all times.
Eat chips and salty snacks
If you are still feeling dehydrated, eat a few pretzels or chips. It sounds counter-intuitive, but the salt helps your body absorb the water. This is particularly important for kids who may not realize just how thirsty they are.
To get my own to drink more water, I bribe them with a small bag of chips and tell them if they want chips, they have to drink an entire bottle of water before lunch. It works every time.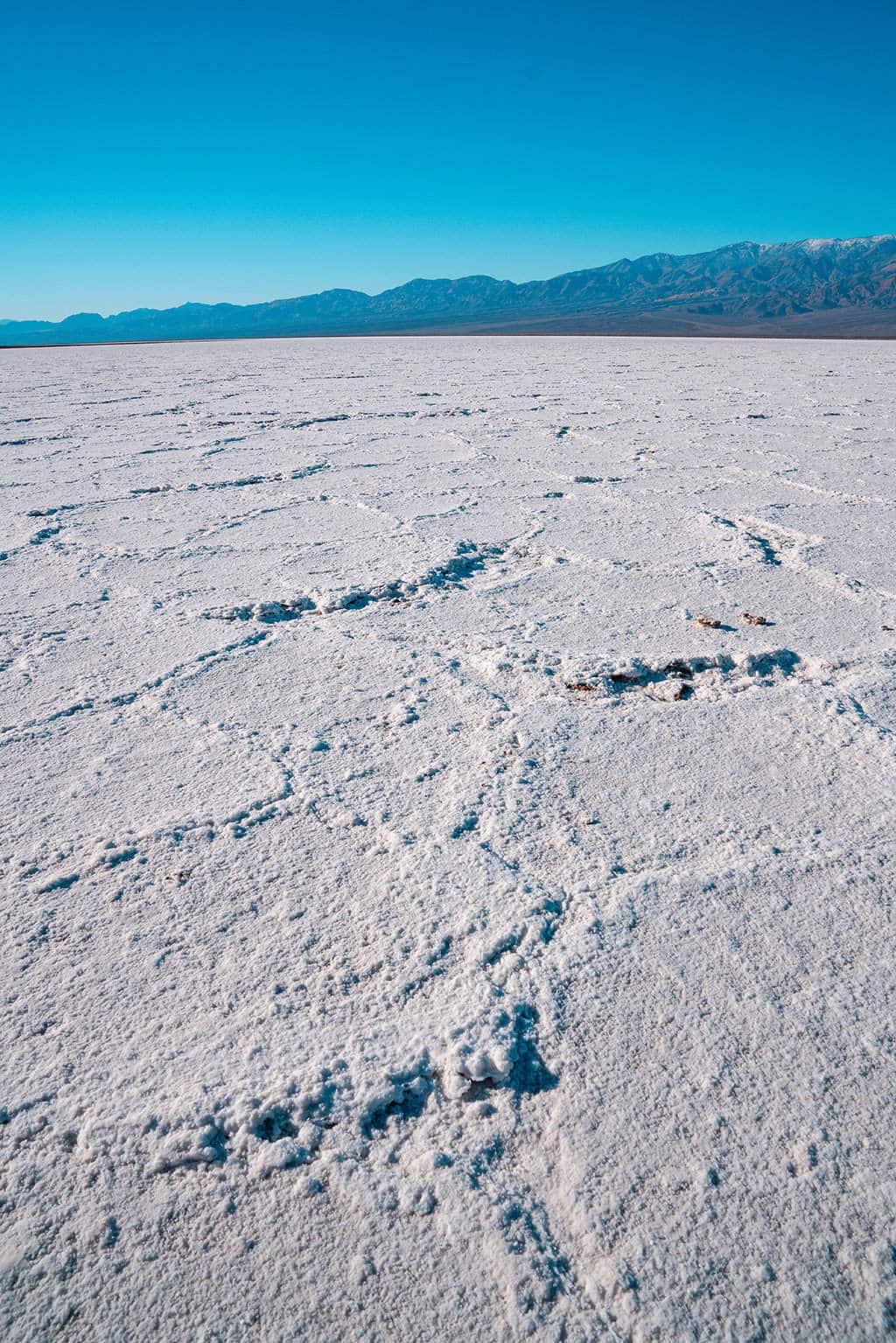 A Brief History of Death Valley
Located in the eastern part of California and extending into Nevada, Death Valley National Park has an incredible history that started thousands of years ago and is still thriving to this day.
Native American Presence
Long before European settlers arrived, various Native American tribes inhabited the Death Valley region. These included the Timbisha Shoshone, Paiute, and Chemehuevi people.
These indigenous communities adapted to the harsh desert environment, relying on hunting, gathering, and trading routes that traversed the area.
Spanish Exploration
In the late 18th century, Spanish explorers ventured into the region, marking the first recorded European contact with Death Valley. They gave it the forbidding name "Valley of Death."
American Pioneers
In the 1840s and 1850s, during the westward expansion of the U.S., pioneers and gold seekers passed through Death Valley on their way to California.
The ill-fated 1849 wagon train of the Bennett-Arcane Party tragically experienced the harsh conditions of the valley, resulting in deaths and suffering.
Borax Mining
The late 19th century brought commercial interests to Death Valley when borax, a salt most often used for cleaning, was discovered in the area. The Harmony Borax Works, famous for its 20-mule teams, began operations in the 1880s, hauling borax out of the valley.
Formation as a National Monument
Death Valley was designated as a National Monument by President Herbert Hoover in 1933, due in part to its unique geological features, extreme climate, and remarkable landscapes.
National Park Status
In 1994, Death Valley National Monument was upgraded to National Park status by the U.S. Congress. Today, it is the largest national park in the contiguous United States.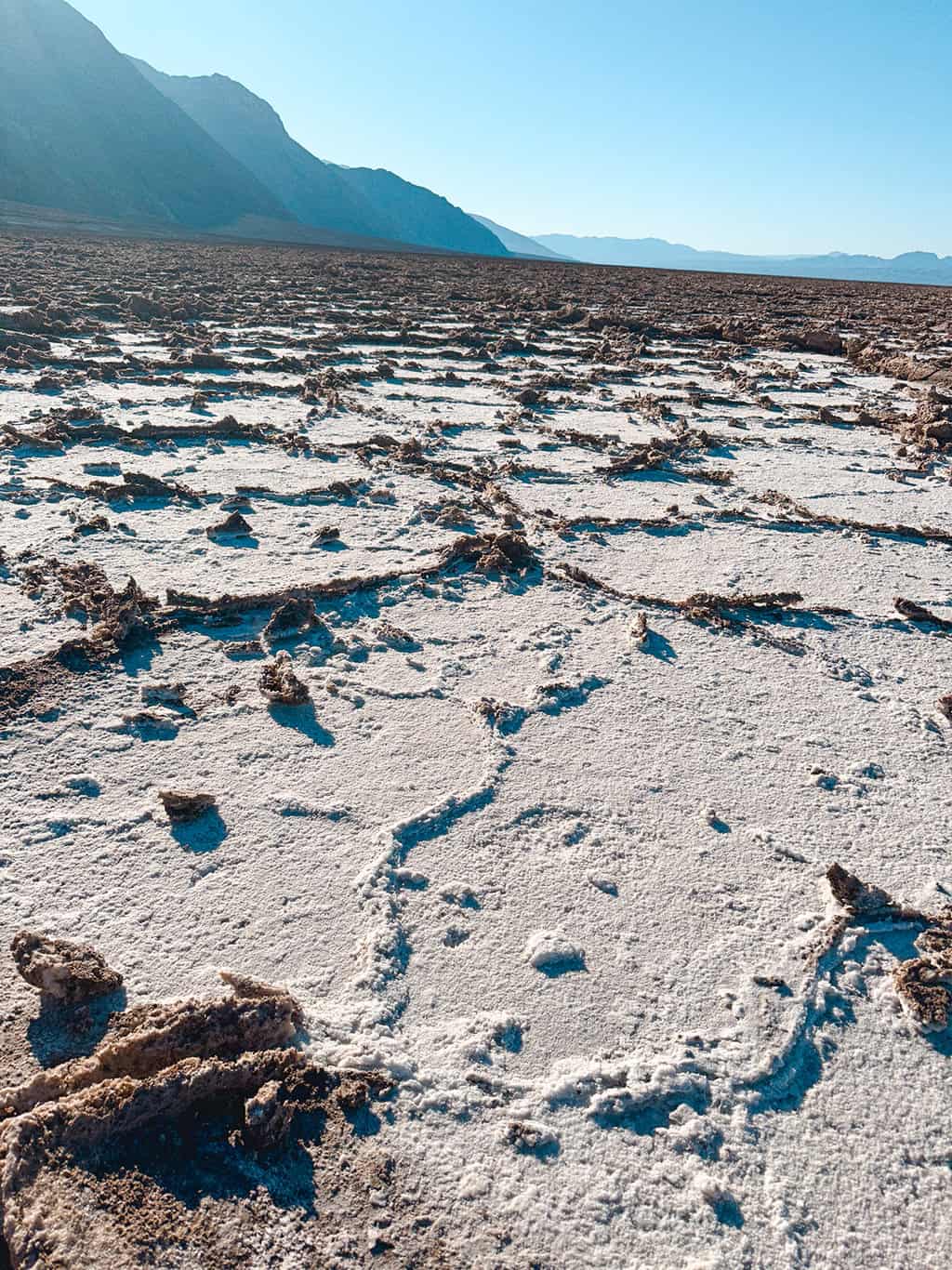 Unique Features
Death Valley is known for its extreme temperatures, including some of the hottest recorded on Earth, as well as its striking geological formations such as Badwater Basin, the lowest point in North America, and the colorful Artist's Palette.
The park also features unique flora and fauna that have adapted to the harsh desert environment, including the iconic Joshua tree.
Death Valley Visitor Attractions
Death Valley National Park offers a range of recreational opportunities, including hiking, camping, and stargazing due to its designation as a Dark Sky Park.
Popular attractions include:
Zabriskie Point
Dante's View
the Mesquite Flat Sand Dunes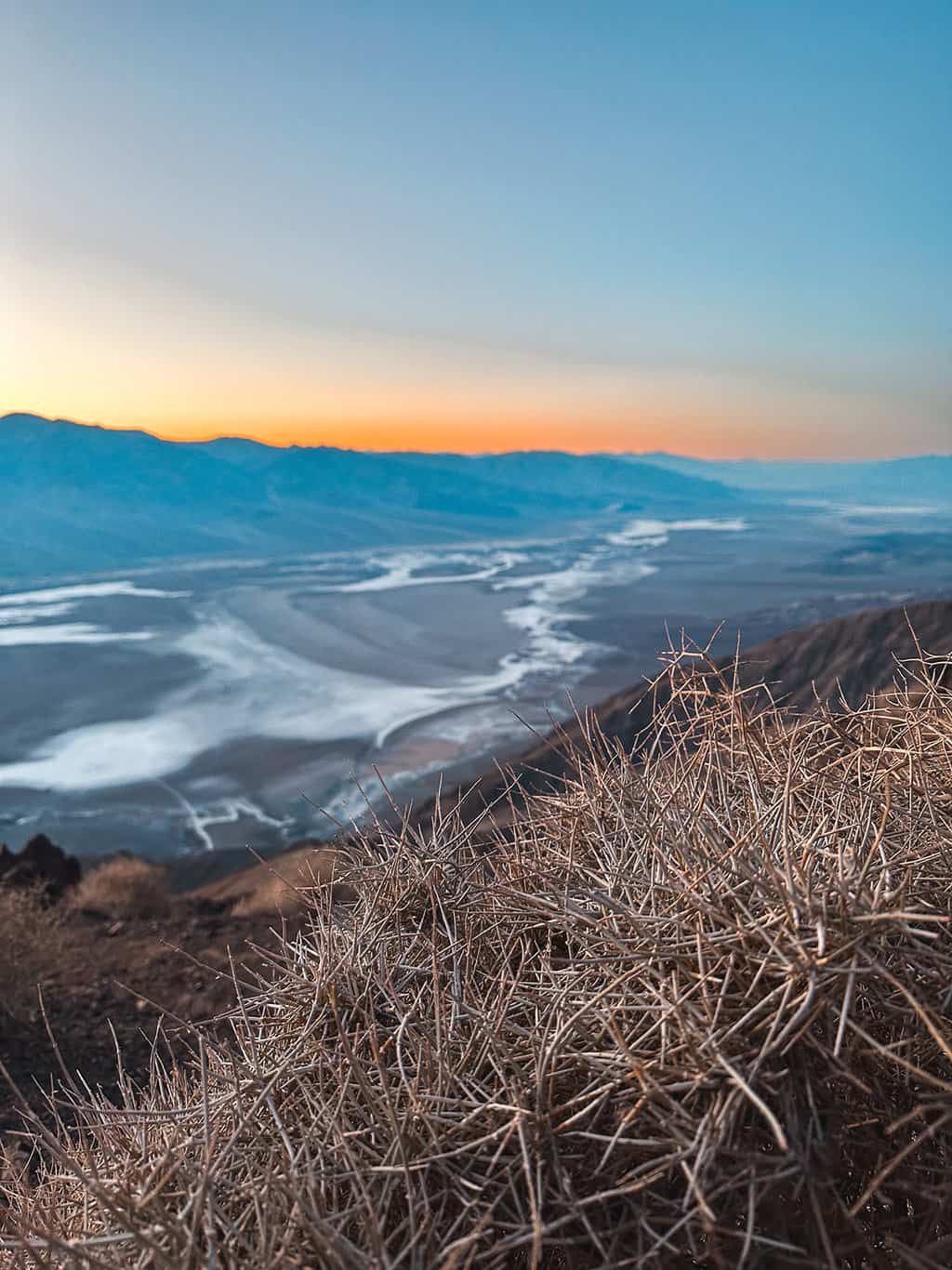 Best Things to do in Death Valley
I've been to Death Valley National Park in summer on my own, but bringing kids adds a whole new level to the experience. First of all, summer is a horrible time to try to hike, so going in November provided the perfect temperatures for longer hikes and exploration throughout the day.
We saw wildlife in Death Valley (no, it's not literally all dead), and discovered rocks and mountains that changed colors throughout the day. We also found hidden passageways and even walked across the famous salt flats of Badwater Basin, probably one of the most recognizable sites in Death Valley National Park.
While we did a lot in three days, there is certainly endless possibilities on things to do with kids in Death Valley, so let's dig in.
Exploring CA? Read more all of our guides to California Travel.
Animals in Death Valley National Park
Although it's a desert, critters still live in Death Valley National Park. There are even fish!
Pupfish
Go to the Salt Creek interpretive Center to see pupfish in the salt under the boardwalk. (Do not step on the salt!) Sadly, we didn't see any, but I know they are there somewhere.
Coyotes
We saw one coyote while in the park. Actually two, but we think it was the same one two nights in a row, both around sunset. You will often find coyotes closer to civilization and campgrounds as the scavenge for food. They've become accustomed to people feeding them, so they go looking for food where humans congregate. This isn't good, as they should be eating off the land, but people are known to be dumb and feed wildlife anyway.
Bighorn Sheep
You will see signs for desert bighorn sheep, but you will rarely see a bighorn (at least we didn't) if you stick to the main area of the park. Backcountry campers and backpackers have a better chance of catching these herd animals in the wold.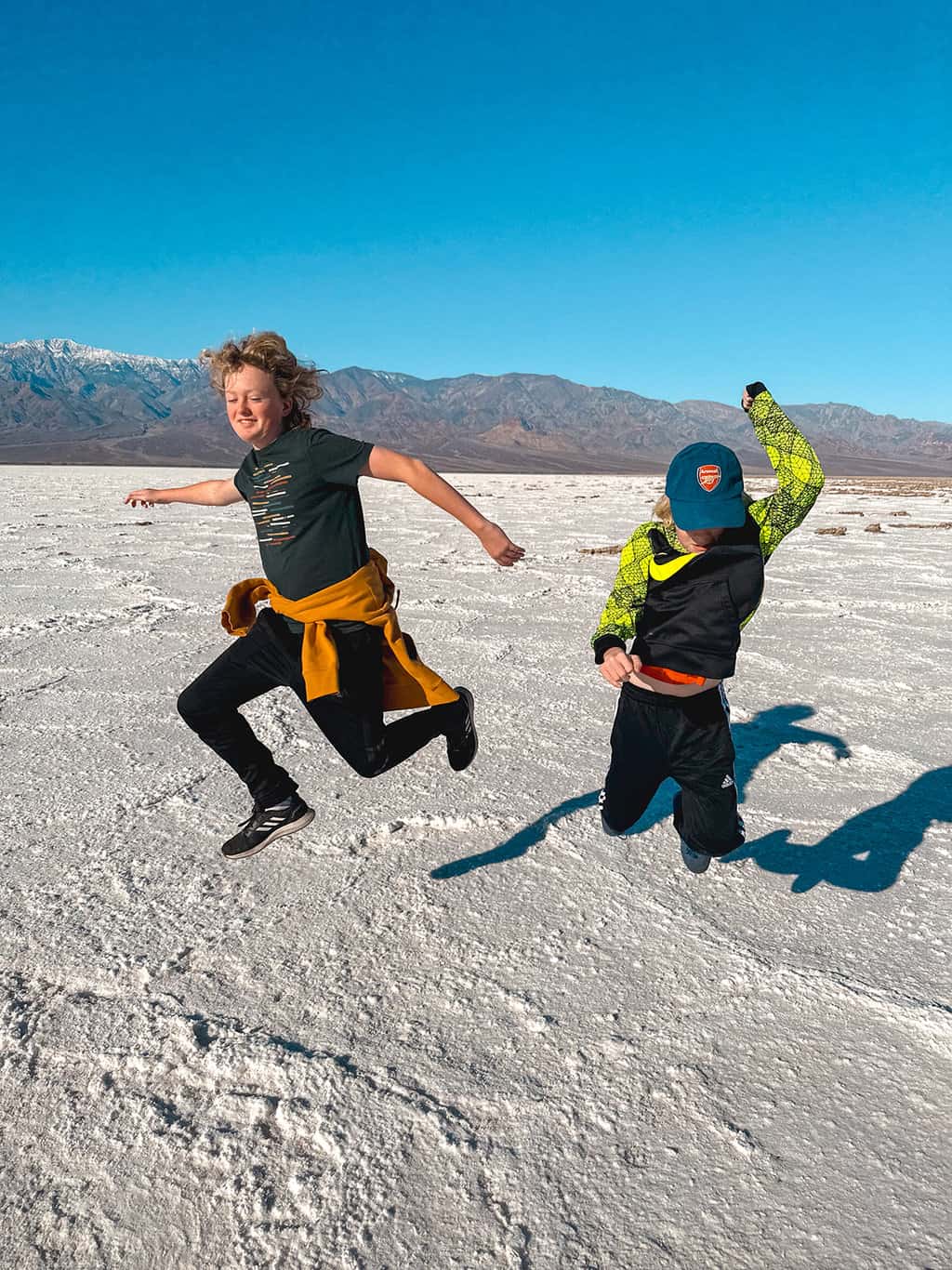 Hiking in Death Valley
Hiking with kids in the national park is probably one of the easiest things you can do. There are loads of flat trails or trails with slight inclines, as well as plenty of rocks for them to hop around, mountain ridges to wander (and hopefully not fall off of), and adventures to be had.
Even my "ugh, this is going to be miserable" kid has a blast hiking in national parks. He found loads of fun in Death Valley, particularly the hike from Zabriskie Point down to the Badlands Loop and across to the Golden Canyon hiking trail. Both boys had zero complaints. (Maybe say how long this hike was, to give parents an idea?)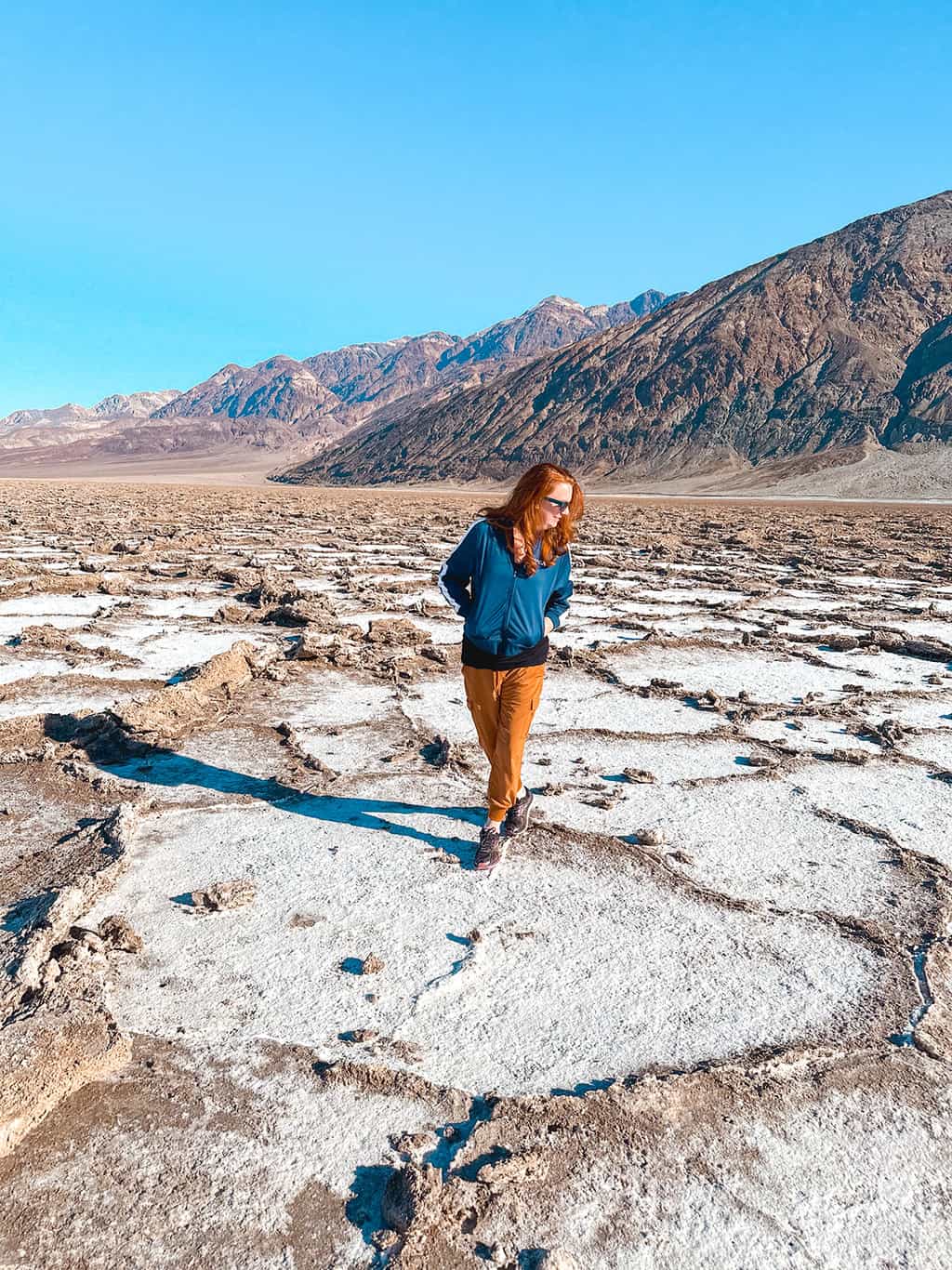 Badwater Basin
One of the best times to see Badwater Basin is first thing in the morning before the sun starts to bake the salt flats. Be prepared to walk about 20 minutes to where the salt formations start to take shape.
As you pass the smooth surface for the first 20 minutes or so, you will start to see the crystallizations begin to take shape, as fewer people have walked over these spots, preserving them for others to enjoy.
You can also walk out before sunset, but remember that the sun will go down EARLIER than you think thanks to the mountains and being well below sea level at Badwater Basin. Be prepared to walk back in low light or the dark.
Artist's Drive
Artist's Drive is the only way to get to the Artist's Palette in Death Valley.
This one-way road will wind you through the foothills of Death Valley, dipping way down through water run-off channels (don't worry, unless it's raining these are bone dry), and giving you a few key spots to pull over and hike around to stretch your legs and get closer to the landscape.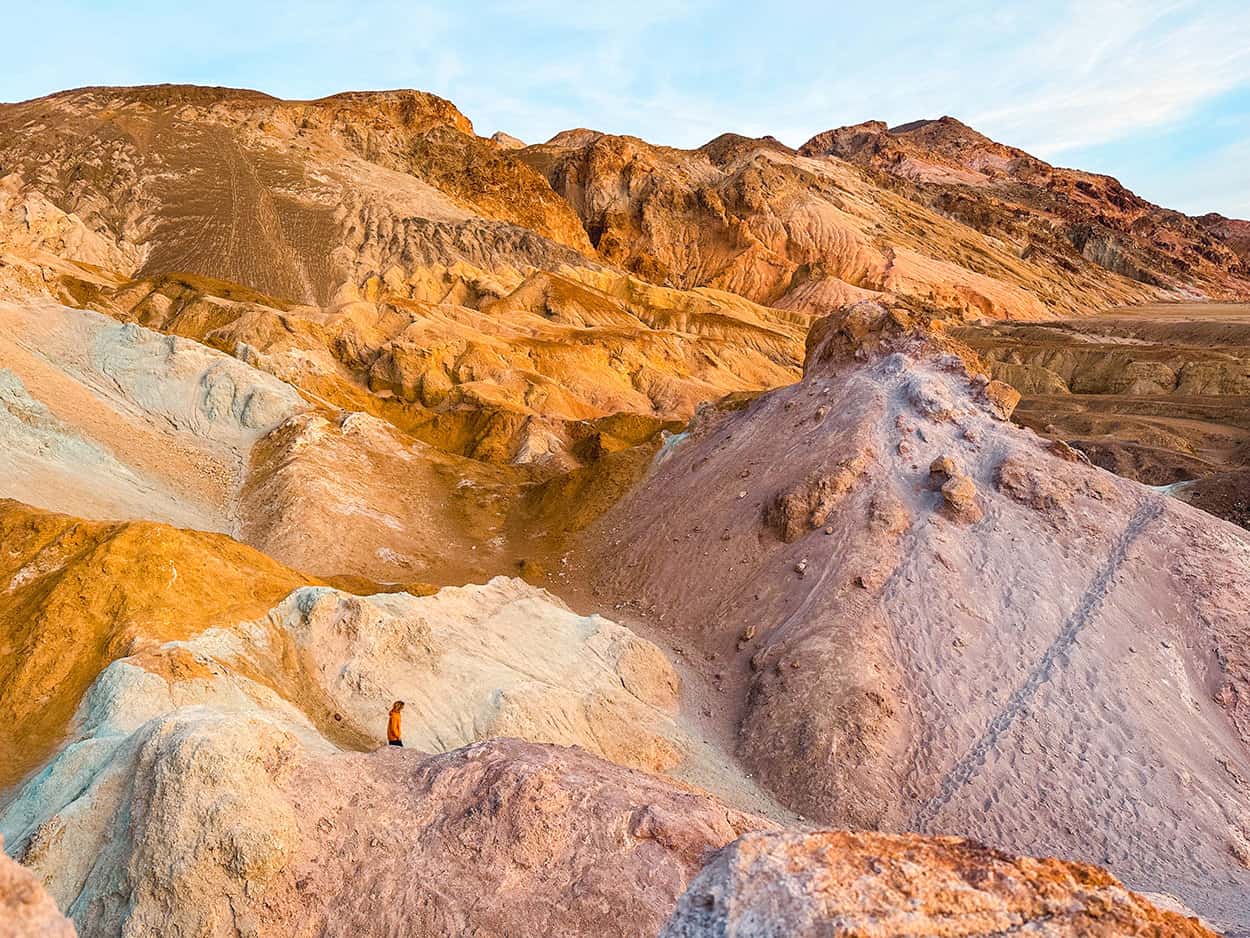 Artist's Palatte
You can take the Artist's Drive (a one-way road) to the Artist's Palette, pulling off at various viewpoints along the way. People will recognize the Artist's Palette section of this drive as the part of the park that changes color with the light.
If you want to see these dramatic purples, yellows, greens and blues, you should head over after 3 p.m., closer to sunset. The colors are magnificent and one of the highlights of our trip.
The kids had plenty of spots to climb, run, and get "lost" while we searched around for the perfect spot to perch. We were so busy exploring and facing away from the sunset to see all of the mineral colors dusting the rocks that we missed the actual moment when the sun dipped below the mountains.
No matter, we came for the palette of colors at sunset, not the actual sun setting, so we were still happy. Next time, I'll bring a little picnic to enjoy, as there were plenty of spots to sit just off of the parking lot and enjoy the views.
Devils Golf Course
Sadly, this isn't actually a golf course you can play. If you want to play golf, head up to the Inn at the Oasis golf course.
At the Death Valley Devil's Golf Course, you will find rock salt eroded for centuries by the wind and rain (yes, Death Valley gets rain). Definitely wear good, closed-toed shoes to walk on this landscape, as the small jagged peaks will dig into feet if you are in flip flops.
Listen carefully to hear the pings and pops of tiny salt crystals expanding and contracting with the heat. It's a pretty crazy sound, and one that may remind you of the driving range.
But why is it really called the Devils Golf Course? According to a 1934 NPS Death Valley guidebook, "only the devil could play golf on such rough links."
Zabriskie Point
Zabriskie Point ended up being our favorite spot in the park. Not only are there fantastic lookouts, which are wheelchair accessible and provide a quick stop if you have kids sleeping in the car, but the hike into the canyon below was pretty darn magical and one we didn't want to stop exploring.
The hike into Zabriskie Point starts with a downhill hike, but then flattens out as you walk through the canyons and riverbeds. You can continue on in the flats OR you could start going up the hill on the Badlands Loop trail, which walks you up along the ridges of the hills, providing views of the surrounding yellow and white swirling rocks for days.
If you walk far enough the trail meets up with the Golden Canyon trail, but you will need to have a car waiting for you there if you plan on walking the entire trail.
Golden Canyon Trail
Get ready to find hidden passages as you tackle the Golden Canyon hike. You can walk along the canyon floor or you can find one of the openings that bring you up (VAGUE). These are from past rockslides and rain erosion, so please use your brain a little when deciding to explore them. The paths can be steep and slippery, so it's not a trail for families with toddlers and babies in backpacks.
Keep walking and you will see the trailhead for Zabriskie Point; loop back around via the Gower Gulch trail or you can keep going to the Red Cathedral.
Natural Bridge
Note: This is a very rough road. If your car rides low, consider skipping this hike to save the undercarriage of your vehicle.
Natural Bridge in Death Valley National Park is a short hike but can go longer if you desire. If the kids are getting tired, you can get to the bridge in about 1-fifteen minutes. If you go a little farther, you will see a waterfall… or at least where a waterfall happens when there is rain.
Wear good sneakers or hiking shoes, as the trail is like many others: lots of sand and the gravel bed of a river when there is water in the valley.
Mesquite Flat Sand Dunes
If you've ever wanted to visit the Sahara Desert but didn't have the money to make the trip, the Mesquite Flat Sand Dunes are about as close as you will get. Smack in the middle of a park filled with minerals, gravel, salt flats and crazy rock formations, you will find sand dunes with epic swirls and ridges. Many people come for the sunset, as the colors transform from blasted beige to a beautiful orange and rose.
Bring your jacket if you come for sunset, especially in late autumn and winter. Once the temperature drops in the desert, it gets chilly. Kids (and even adults) are known to roll down the dunes; we even saw some visitors trying to sled down the dunes with boogie boards. Being the desert, do keep an eye out for snakes, spiders and scorpions. Coyotes are also out here, although we only saw one on the side of the road during our trip.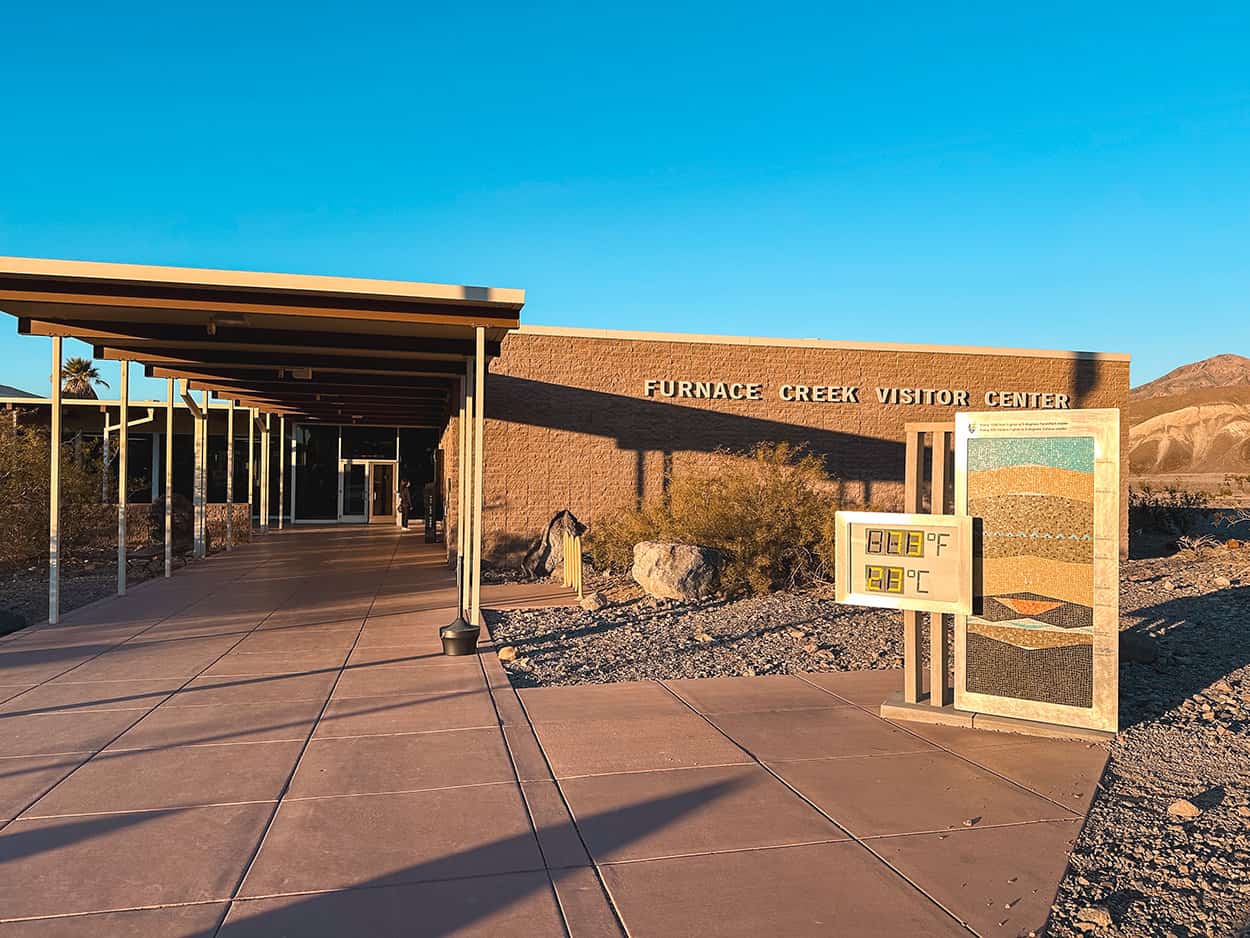 Furnace Creek Visitor Center
If you want to know more about Death Valley, from the mountain ranges to the valley floor, you should stop into the Furnace Creek Visitor Center, which is part of the National Park Service. You can ask park rangers for tips on hiking trails, find out where animals have been spotted, learn about the hottest place in America and what hours you will want to stay inside, as well as why this is one of the best national parks for stargazing in the U.S.
There are also bathrooms and a gift shop so you can take goodies home.
If you haven't grabbed your park pass on the way into the park, you will need to pick up your park pass at the visitor center. If you do not have a pass displayed, you will get ticketed. For those with an annual park pass, you can also go to the visitors center for your Death Valley printed pass to stick on your dashboard. This won't cost you any more money; it's just an easy way for park rangers to see who has or hasn't paid.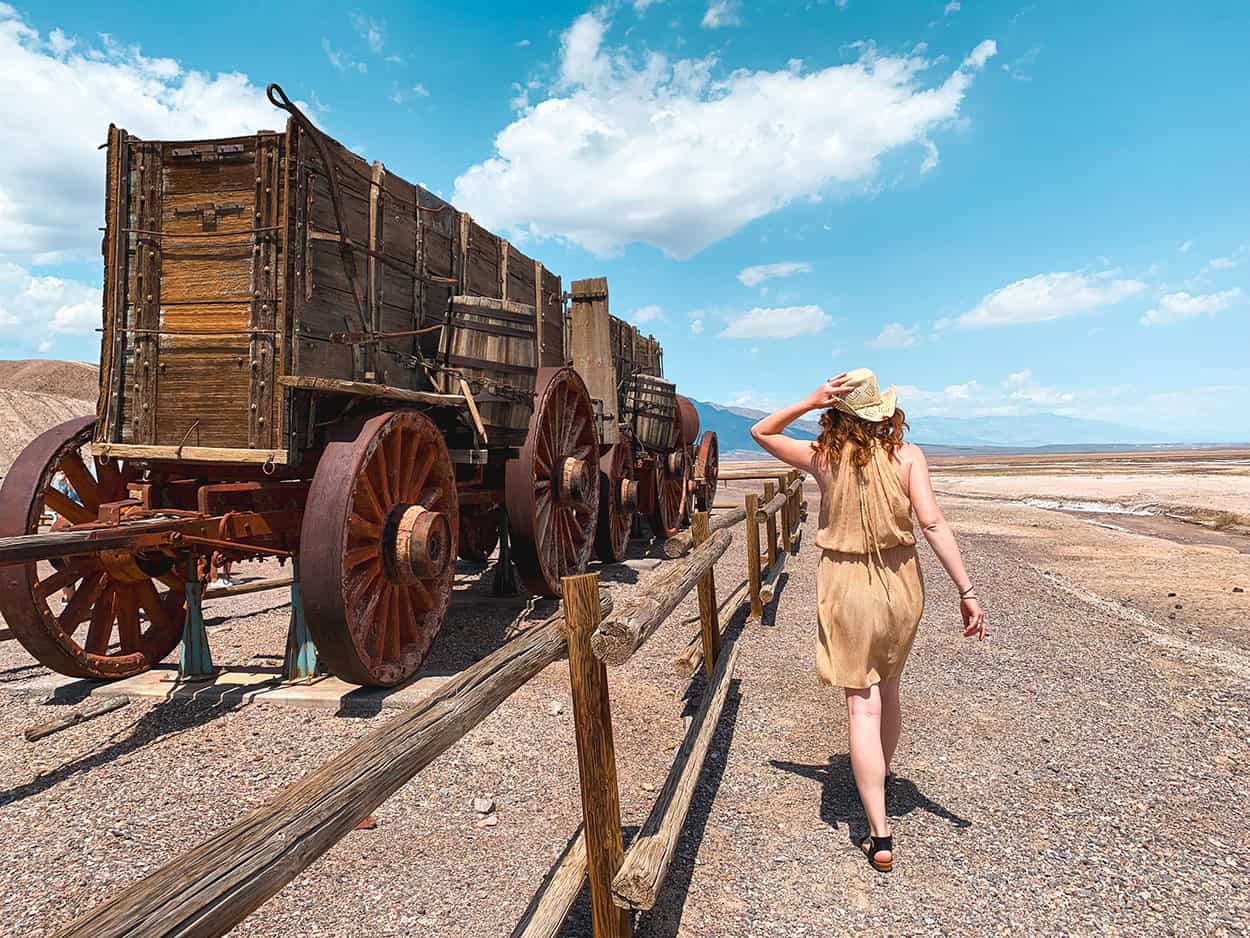 Death Valley Overlooks
Every stop you make in Death Valley NPS will give you different views. From the swirling hills of Zabriskie Point to the mineral rich rocks of Artists Palette, you can't go wrong when you drive or hike to these viewpoints.
Zabriskie Point
Dante's View
Artists Drive
Artists Palette
Harmony Borax Works
Badwater Basin
Devils Golf Course
Mesquite Flat Sand Dunes
Telescope Peak
Furnace Creek
Harmony Borax Works
Natural Bridge
Salt Creek Interpretive Trail
Views near Scotty's Castle
Scotty's Castle (if open)
Eureka Dunes
Ubehebe Crater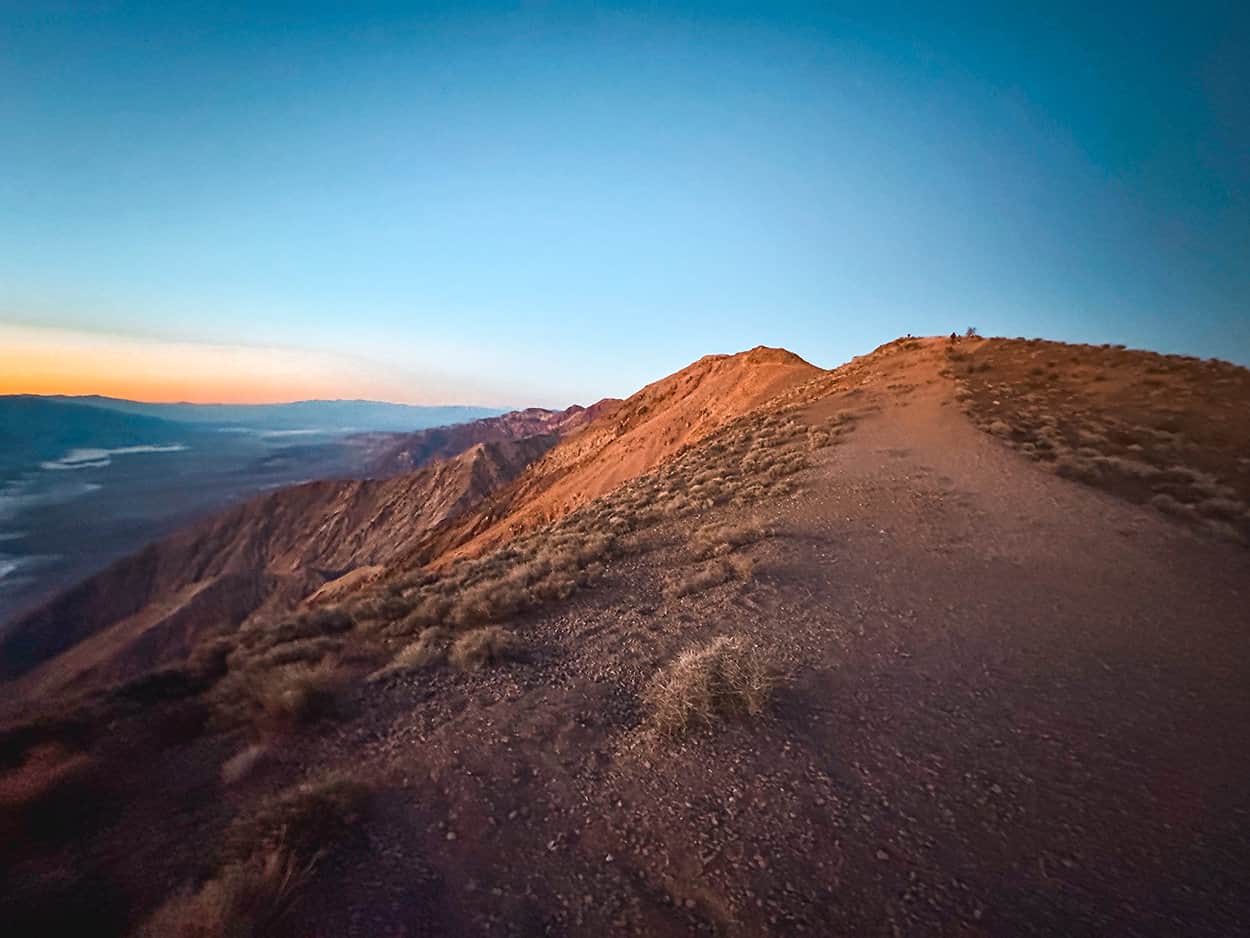 Death Valley Scenic Drives
For anyone with babies and toddlers, or you want to see more but not hike it all, the scenic drives in Death Valley are worth cruising around. Many are great for sunrise and sunset, with pullouts and scenic overlooks to enjoy the views.
NOTE: Double check that all roads are open during your visit. Weather conditions will affect road closures, as washouts, mudslides, debris and other natural barriers block the scenic drives through Death Valley.
Artists Drive
Ashford Canyon Road
Big Four Mines Road
Chloride City Road
Death Valley West Side Road
Death Valley Scenic Drive Road
Goler Canyon Road
Goler Wash and Mengal Pass Route
Hanaupah Canyon Drive
Harry Wade Road
Hidden Valley Drive
Johnson Canyon Road
Lippincott Mine Road
Monarch Canyon Road and Mine Trail
Mustard Canyon Drive
Racetrack Valley Road
Ridgecrest to Death Valley Road
Saline Valley Road
Skidoo Road
Titus Canyon Road
Twenty Mule Team Canyon
Horseback Riding at the Furnace Creek Stables
Located at the Ranch at Death Valley, visitors are welcome to book a horseback ride across the desert plains of Death Valley.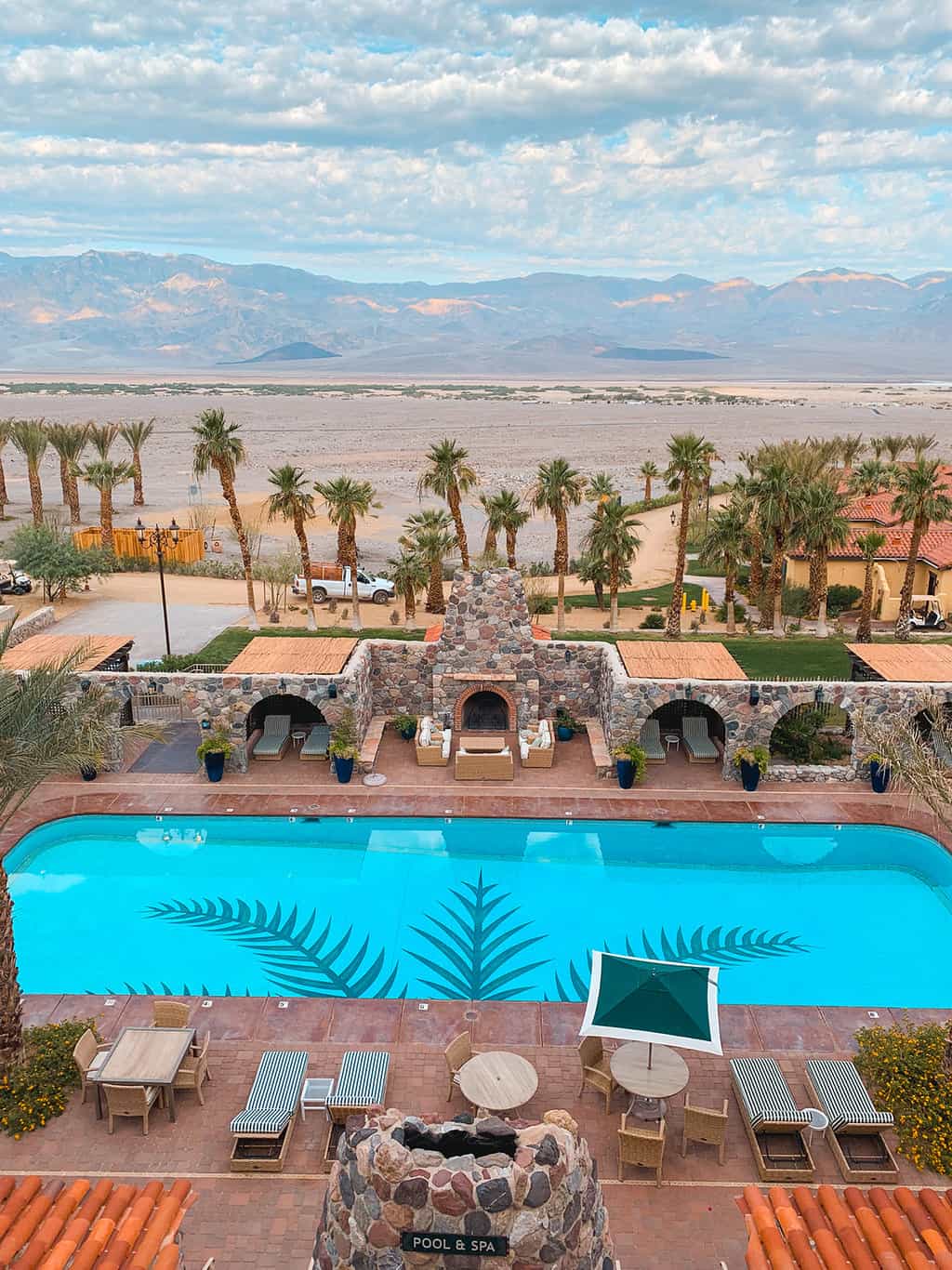 Swimming
Yes, you can swim in Death Valley, but it's all man made, and you will have to be a guest of the hotel in order to access the pool.
Swimming pool at the Ranch at Death Valley
Swimming pool at the Inn at the Oasis
Swimming pool at the Death Valley Lodging Company
Best Stargazing in Death Valley
Death Valley is a Dark Sky Preserve, meaning it is a dark enough place in the world at night to be able to view endless stars and even the Milky Way. In winter, especially after Daylight Saving Time occurs, you can easily have dinner and go stargazing by 7 p.m., getting the kids into bed on time (or at least not too long past bedtime).
Here's a few of the best spots for stargazing in Death Valley National Park
Zabriskie Point
Badwaters
Harmony Borax
Artist's Palatte
Dantes View
Mesquite Flat Sand Dunes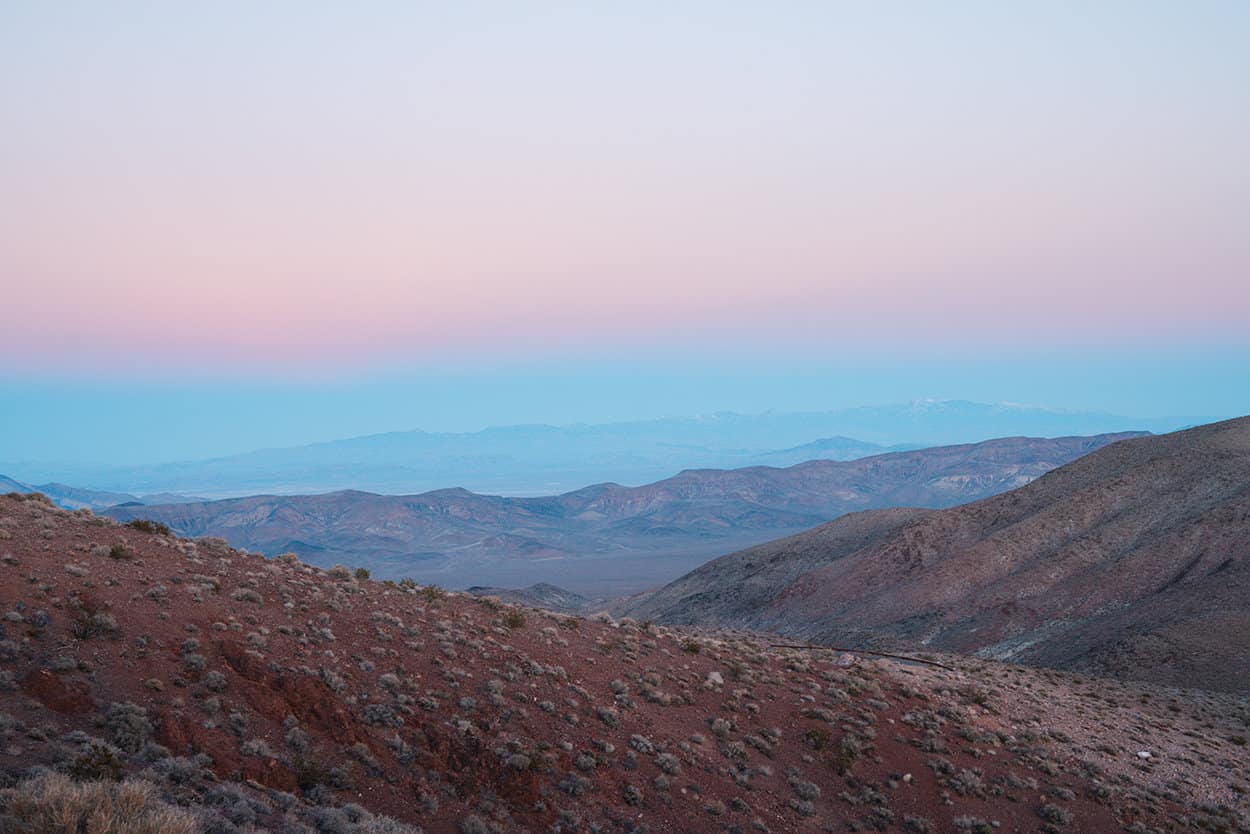 Best Sunrise in Death Valley
If you thought the stars were epic, just wait until you check out the sunrise over Death Valley. There are a few spots that are more beautiful than the others, but really you can't go wrong anywhere in the park.
Just remember, the higher up you go, the more you will see the sun start to peek over the horizon, lighting up the sky. Alternatively, if you wait in the basin, you may have a much brighter sky than you expected.
Zabriskie Point
Dantes View
Mesquite Flat Sand Dunes
Best Sunset in Death Valley
A Death Valley sunset shouldn't be ignored either. Again, you will want to get up high for longer view times. But to be honest, our favorite sunset was in the Artist's Palette. This is a VERY popular spot to watch the sunset, as the colors of the minerals on the rocks really start to show their colors when the bright noon light starts to fade; the shadows get longer and the sun is no longer washing out all of the colors.
Badwater Basin
Mesquite Flat Sand Dunes
Dantes View
Zabriskie Point
More Things to do in Death Valley National Park (and nearby)
Aquereberry
Wildrose Charcoal Kilns
Father Crowley Vista Point
Racetrack Playa
Darwin Falls
Keane Wonder Mine
Ashford Mill Ruins
Sidewinder Canyon
Stovepipe Wells Ranger Station
Amargosa River
Dante's Ridge (Mt Perry) Trailhead
Frequently Asked Questions about Death Valley National Park (FAQ)
What is Death Valley National Park?
Death Valley National Park is a vast desert wilderness located in eastern California and extending into Nevada. It is known for its extreme temperatures, unique geological features, and stunning landscapes, making it a popular destination for nature enthusiasts, photographers, and adventurers.
When is the best time to visit Death Valley National Park?
The best time to visit Death Valley is during the fall, winter, or early spring when temperatures are milder. Avoid the scorching summer months when temperatures can exceed 120 F (49 C). Spring offers beautiful wildflower blooms, while fall and winter provide comfortable hiking and camping conditions.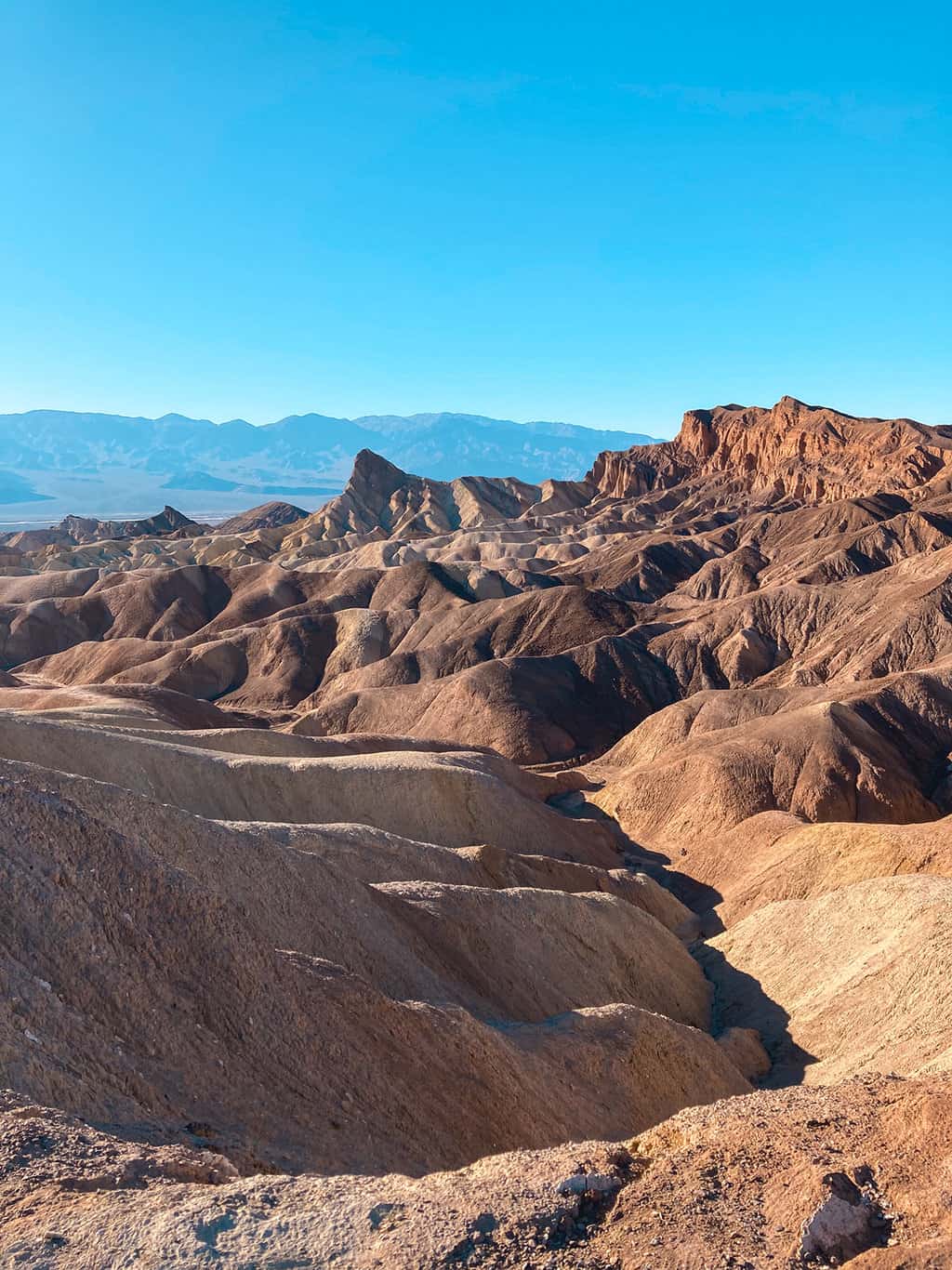 What are the major attractions in Death Valley National Park?
Some of the must-see attractions in Death Valley include:
Badwater Basin: The lowest point in North America.
Zabriskie Point: Offering panoramic views of the badlands.
Artist's Palette: A colorful mineral deposit.
Mesquite Flat Sand Dunes: Ideal for sunrise and sunset photography.
Dante's View: A viewpoint with breathtaking vistas.
Golden Canyon: A popular hiking trail.
Scotty's Castle: A historic mansion (currently closed for repairs).
Ubehebe Crater: A massive volcanic crater.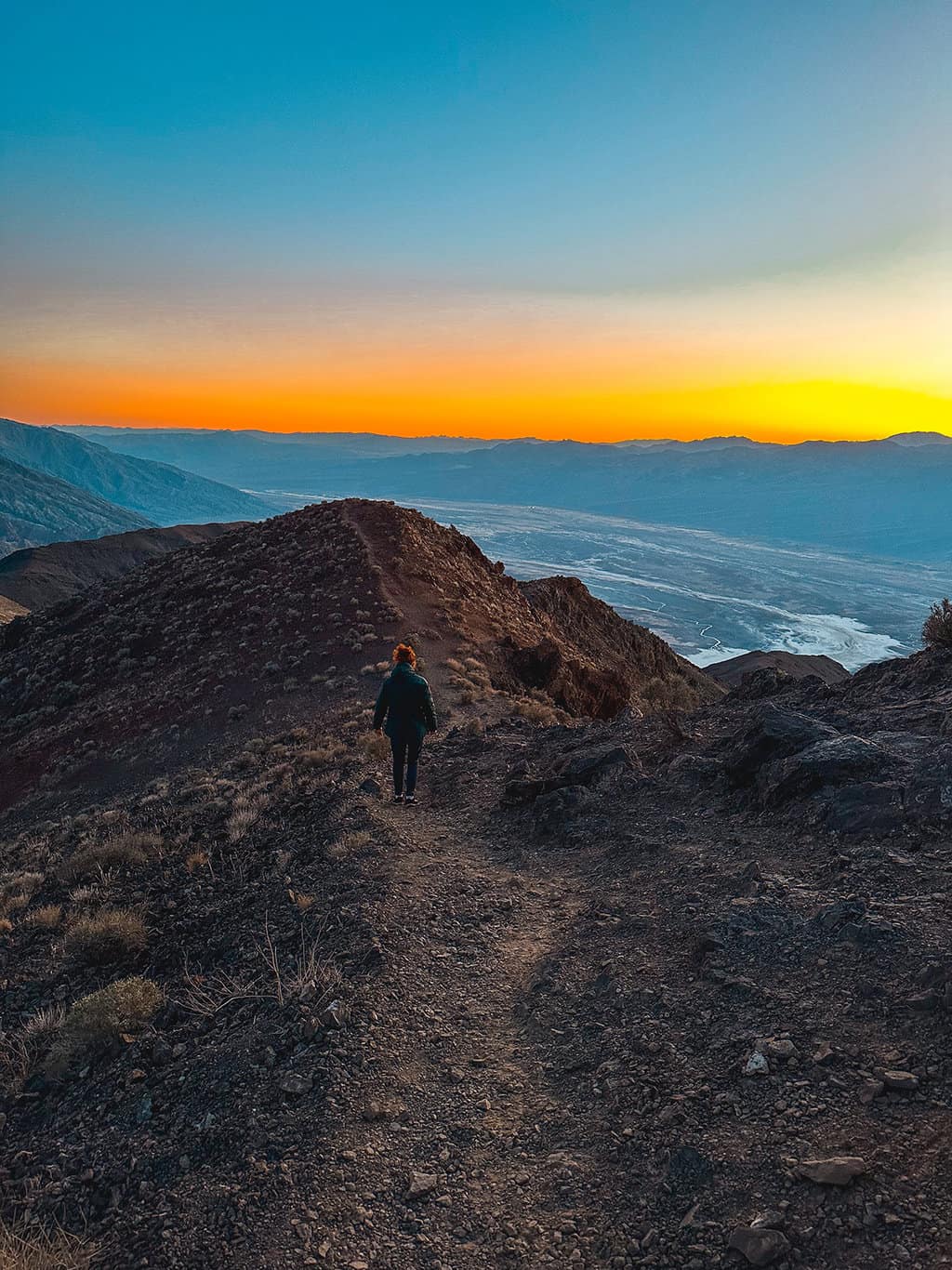 Are there any guided tours available in Death Valley?
Yes, guided tours are available for visitors who prefer expert-led experiences. These tours cover various aspects of the park's history, geology, and ecology. You can find others that focus on stargazing, photography, and more. Check with the park's visitor center for current tour options and availability.
Can I camp in Death Valley National Park?
Yes, camping is allowed in Death Valley, and the park offers a range of campgrounds. Some offer basic amenities, while others are more remote and primitive. Popular campgrounds include Furnace Creek, Texas Springs, and Mesquite Spring. Be sure to check campground availability and make reservations if necessary, especially during the peak season.
Is it safe to hike in Death Valley?
Hiking in Death Valley can be enjoyable but also challenging due to the extreme heat. To stay safe while hiking:
Choose trails suitable for your skill level.
Hike in the cooler months.
Carry plenty of water (at least one gallon per person per day).
Wear appropriate clothing and sunscreen.
Let someone know your hiking plans.
Are there any restrictions on where I can hike or explore in the park?
Some areas in Death Valley National Park may be temporarily closed due to weather conditions, maintenance, or safety concerns. Always check for park alerts and closure information before embarking on your adventure. Additionally, wilderness areas may have specific regulations, so review these guidelines before exploring.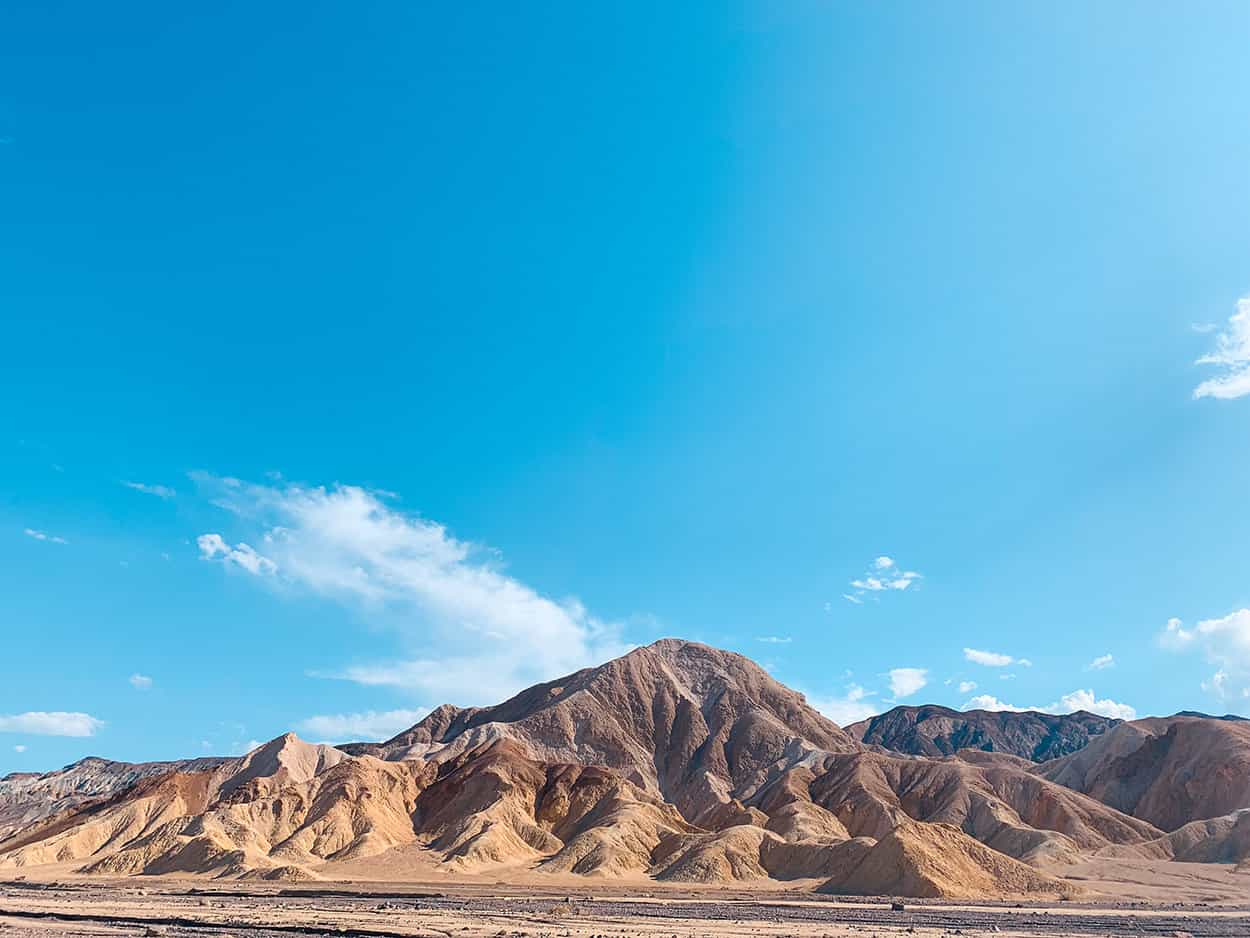 Can I bring my pet to Death Valley National Park?
Yes, you can bring your pet, but there are restrictions. Pets must be kept on a leash no longer than 6 feet at all times, and they are not allowed in buildings, on trails, or in wilderness areas. Ensure you have enough water and supplies for your pet, as the desert can be harsh for animals.
What should I know about the weather in Death Valley?
Death Valley experiences extreme weather conditions. Summers are scorching, with daytime temperatures often exceeding 100 F (38 C) or more. Winters are milder, but nighttime temperatures can still drop significantly. Check the weather forecast and be prepared for rapid temperature changes, especially in higher elevations.
Are there any safety tips for traveling in Death Valley?
Safety is paramount in Death Valley:
Carry adequate water and supplies.
Inform someone of your travel plans.
Stay on designated roads and trails.
Be cautious of flash floods during rainstorms.
Protect yourself from the sun.
Can I stargaze in Death Valley National Park?
Yes, Death Valley is an excellent place for stargazing due to its remote location and dark skies. You can join ranger-led stargazing programs or simply find a spot away from artificial light to enjoy the celestial display. Don't forget to bring binoculars or a telescope for a closer look at the stars and planets.
Is there a fee to enter Death Valley National Park?
Yes, there is an entrance fee to access the park. The fee helps support the maintenance and preservation of the park's resources. Be sure to check the current entrance fees on the park's website.
Are there any dining options within Death Valley National Park?
There are dining options within the park, primarily located in the Furnace Creek area. These include restaurants, cafes, and a general store where you can purchase food and supplies. However, it's advisable to bring some of your food and water, especially if you plan to explore remote areas of the park.
Can I collect rocks or minerals in Death Valley?
NOPE– Collecting rocks, minerals, or any natural resources in national parks, including Death Valley, is prohibited. Leave natural features and resources undisturbed to preserve the park's unique beauty.
Are there accommodations available within the park?
Yes, there are accommodations in Death Valley, including hotels and lodges. Furnace Creek and Stovepipe Wells offer lodging options, but it's advisable to make reservations in advance, especially during the busy season.
What should I do in case of an emergency in Death Valley?
In case of an emergency, dial 911. Cell phone coverage can be limited in some areas of the park, so it's a good idea to inform someone of your itinerary before your visit. Park rangers are also available to provide assistance.
Are there any educational programs or visitor centers in Death Valley National Park?
Yes, the park has visitor centers where you can learn more about its natural and cultural history. The Furnace Creek Visitor Center is a great place to start your visit. Ranger-led programs and talks are offered, providing valuable insights into the park's features and conservation efforts.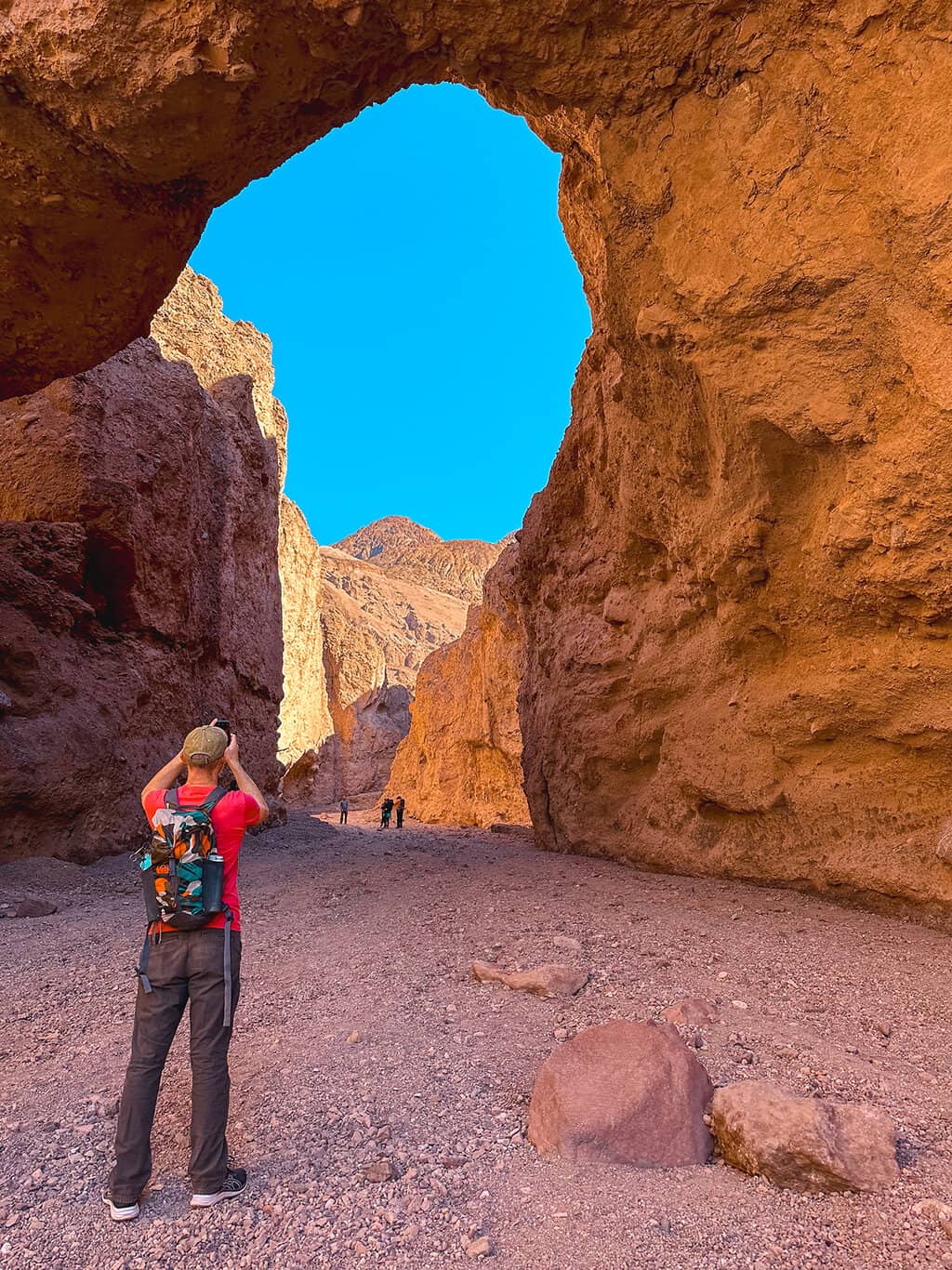 Can I bring my drone to Death Valley National Park?
As of my last update in September 2021, flying drones in national parks, including Death Valley, was generally prohibited due to concerns about wildlife disturbance and visitor safety. Regulations may change, so check with the park's website or visitor center for the most up-to-date information on drone use within the park.
Can I visit nearby attractions outside the park while in Death Valley?
Yes, there are several interesting attractions located near Death Valley, including the ghost town of Rhyolite, the Amargosa Opera House, and the Ash Meadows National Wildlife Refuge. These sites offer additional opportunities to explore the region's history and natural beauty.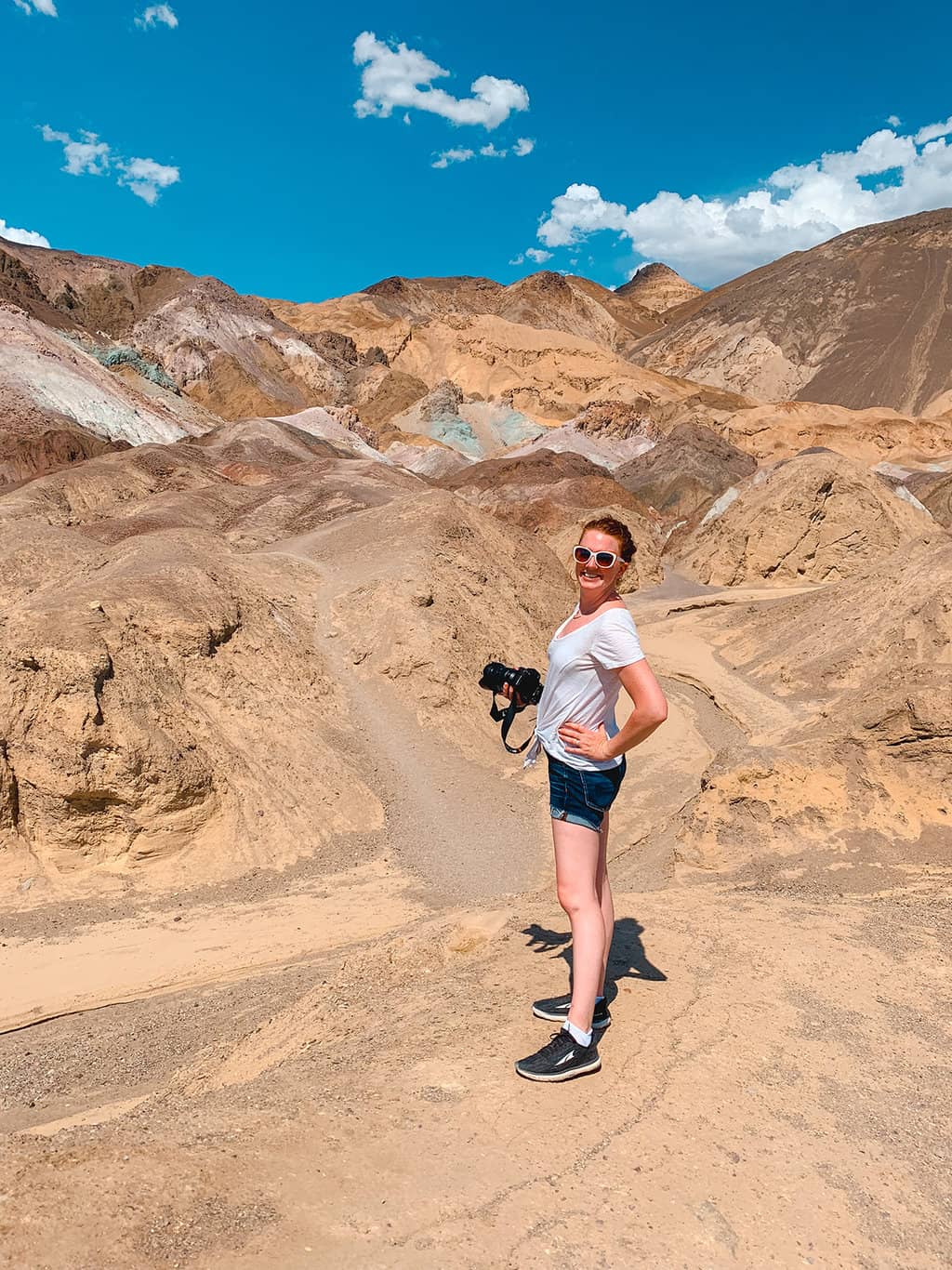 How can I stay informed about current conditions and updates in Death Valley National Park?
To stay informed about current conditions, road closures, and other updates, visit the official Death Valley National Park website or contact the park's visitor center. You can also follow the park's social media channels for real-time information.