A toddler rain jacket is a must if you live in an area that is frequented by rain or you love being outdoors and don't want to be caught in a storm.
These rain jackets for toddlers need to keep your little one dry, warm, and safe when wearing them though, and there are a ton of options out there to choose from.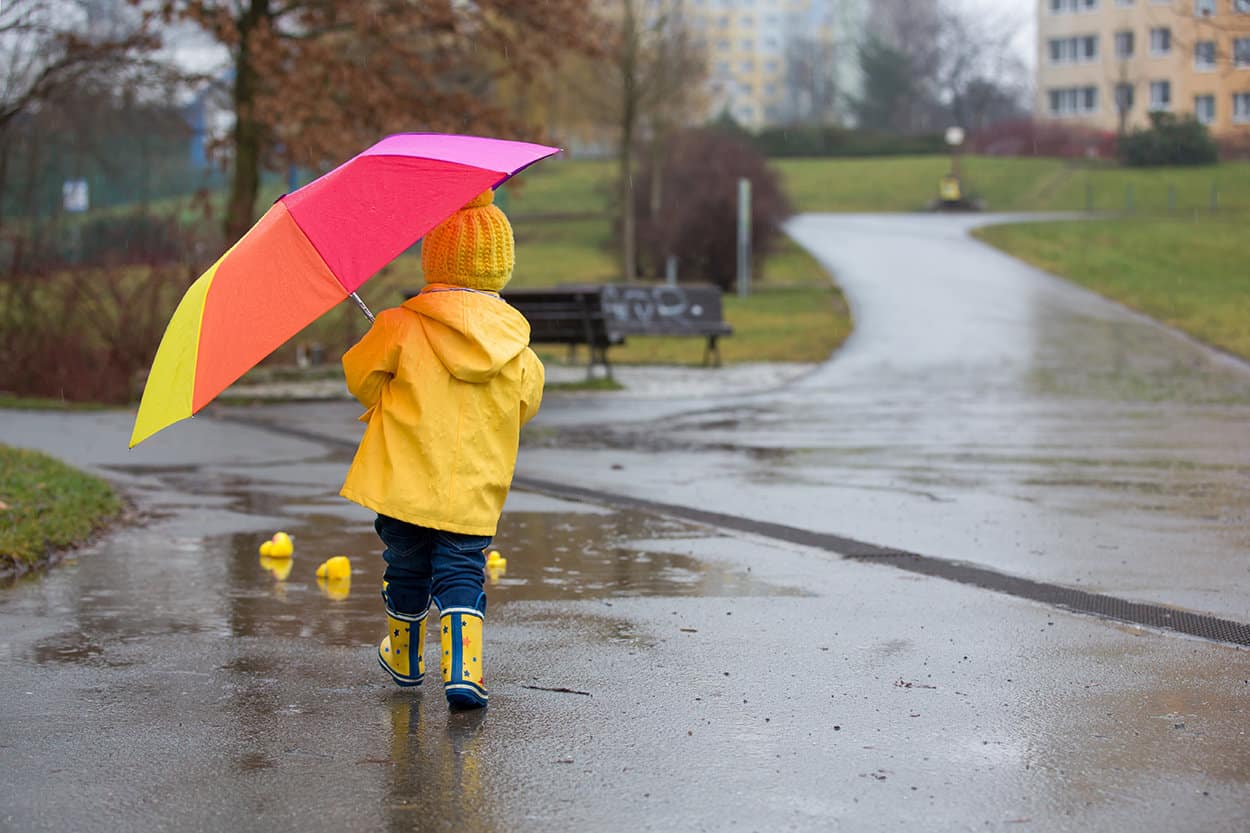 It could seem overwhelming at times to find the perfect jacket but we did a little research and picked out a few of our favorite rain jackets that are perfect when you are researching the best toddler rain jacket to invest in this season.
Columbia Glennaker Rain Jacket
The Columbia Glennaker Rain Jacket is a great option to keep your little one dry and comfortable throughout the rainy season (or if you live in the Pacific Northwest and just need things to do in Seattle in the rain).
The jacket is durable and made from waterproof material that will keep your kids dry all day.
There are two pockets to keep little treasures safe, and a hood for extra protection, plus the reflective detailing can help keep everyone safe.
The jacket is lightweight, so it can easily be thrown into a bag, and best of all, it can be washed in the washing machine!
Sizing runs from 2T to XL, but you might need to layer with this one since there is no inside liner.
L.L. Bean Kids' Discovery Rain Jacket
Price: $55
Age: 2T-4T (+ babies 6mo-18mo)
L.L. Bean makes great rain gear for the kids and their rain jacket is top notch when looking for something durable and comfortable.
The jacket is lightweight with a breathable material that will keep your kids dry, but not sweaty.
It can be machine washed and the underarm vents are great if you live in a warmer climate with occasional showers.
The taped seams will keep the kids dry and it ranges in a good amount of sizes and colors.
Hatley Baby Raincoat
Price: $49
Age: 9 Mo to 2T
If you need a rain jacket for smaller kids, go with the Hatley Baby Raincoat. The coat changes colors when it gets wet, which can be fun for little ones, and the material is easy to clean if your toddler wants to splash around in some puddles.
You can throw this baby rain jacket into the washing machine if you need to and it comes with an attached hood to protect your baby's head from rain drops.
The downside to this jacket is that it closes with snaps and not a zipper, which can take a little more time. But we do love all of the adorable patterns and colors that Hatley rain coats come in for both babies and toddlers.
Carter's Rainslicker Rain Jacket
Price: $34
Age: 12 Mo to 14 years
Carter's has an incredible rain jacket for your toddler all the way until they are teenagers. The Rainslicker Rain Jacket will keep the kids dry and warm when weather strikes, plus it can be tossed in the washing machine.
This rain jacket comes with a sewn-in name tag, so if it's left at school everyone will know who it belongs to, saving you a bit of time and energy digging through those massive lost and found preschool bins.
The zipper opening makes it quick and easy to get on, but the material is thin and might need to be layered if you live in a colder climate.
For under $35, it's a steal of a jacket that can grow with your toddler.
Arshiner Kids Lightweight Rain Jacket
If you need a jacket that you can easily carry around or pack away, look no further then the Arshiner Kids Lightweight Rain Jacket.
This jacket will keep the kids dry, but doesn't weigh down a hiking backpack or fall off your waist. It comes in great sizing, 2T all the way to 6 years old, and the material will keep your kids dry in case of a downpour.
The jacket isn't lined, but for $21 you can easily layer some clothes underneath. It can also be machined washed and comes in a variety of fun colors.
Mountain Warehouse Lightning 3 in 1 Waterproof Ran Jacket
The Mountain Warehouse Rain Jacket will be there when you need it. This three in one jacket has a detachable hood and stretch cuffs, making it versatile and easy to use wherever you go.
The taped seams and waterproof material will keep your toddler dry, but it also offers a secure and comfortable fit.
Since this can be removed or added on, you can easily use this jacket for numerous things, making the price tag hurt a little less.
The jacket does run small though, so size up.
Younger Tree Duck Raincoat
Price: $28
Age: 12mo to 5T
The Younger Tree rain jackets are great, easy to find, and will keep your toddler nice and dry. They have a zipper front with an inner lining to keep your toddler comfortable and warm.
The elastic cuffs will keep the jacket in place and the adorable hood will help keep their head dry.
This is a great lightweight option, and if your kids don't like ducks, this rain coat comes in other animal options as well.
Arctix Kids Stream Rain Jacket
The ventilation in the Arctix Kids Stream Rain Jacket makes this a winner in our book. Your kids will be dry, but not hot, wearing this jacket and the mesh lining will help keep their little bodies from overheating.
The jacket is machine washable and lightweight, making it easy to pack if need be.
With adjustable cuffs your kids gets a secure, but comfortable, jacket and the hood will keep them extra dry. We love that it comes in a fun assortment of colors too.
Hiheart Water Resistance Hooded Jacket
For a little older toddler, go with the Hiheart Hooded Jacket. The outside shell is waterproof and the hood is weighted to help keep it in place, even when it's windy.
The inside lining keeps everyone warm and the front zipper makes it easy to get on and off. The fabric is breathable and the colors are adorable.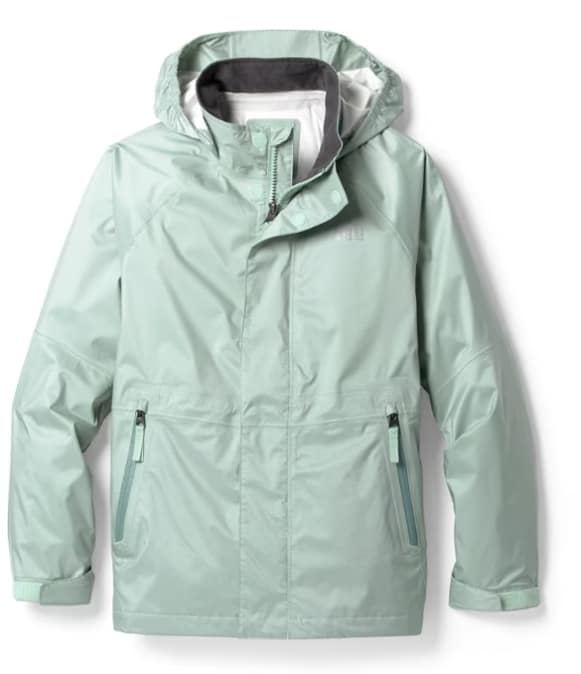 REI Co-Op Rainwall Rain Jacket
You know we needed an REI jacket on this list! The Co-Op Rainwall Rain Jacket is a great option for your toddler because the outside shell is water and windproof with seams that are sealed to keep moisture out.
The three panel hood has a rain brim and a hook, plus anadjustable loop tab to keep it from opening. The elastic cuffs keep water from running down your child's arm, and the lined collar will keep your toddlers neck nice and warm.
There is a write-on ID label inside the jacket, best of all, this rain coat is heavy-duty enough to last several seasons.
What more do we need to say?
With these rain jackets your toddler will stay dry and warm whenever they are outside. Most of these jackets are super affordable as well, ,so you don't need to worry about breaking the bank to keep your toddler dry.
Pin it and Start Wandering!