Galway is one of my favorite cities in Ireland, and yet, I still haven't spent enough time there to know all of its secrets.
This port town in County Galway on Ireland's West Coast is a highlight on the Wild Atlantic Way route, which stretches all the way down the Irish west coast offering dramatic coastlines, remote islands, and charming towns.
Galway is known for its long maritime history and harbor. But it's also a young, university town with brightly-colored pubs, famous festivals, art galleries, and a fondness for live music of all genres.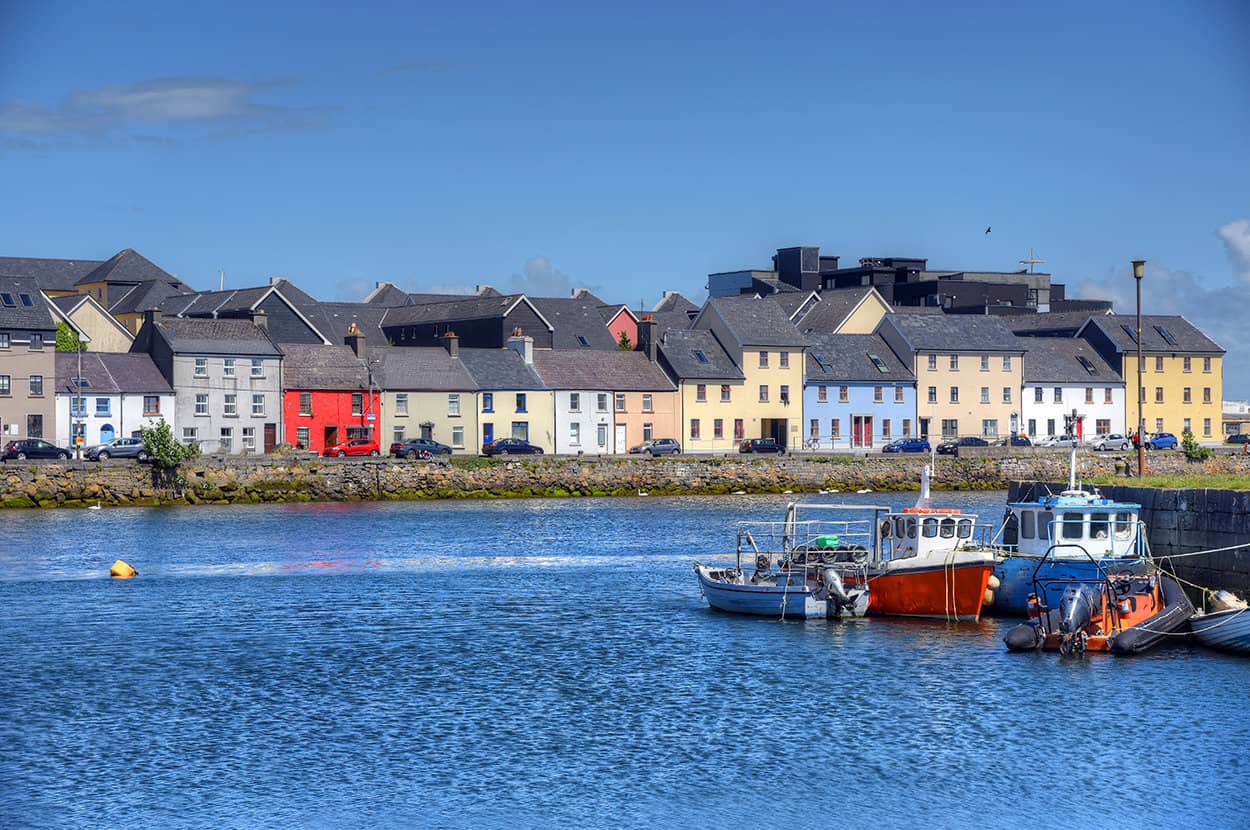 There are plenty of things to do in Galway that will appeal to visitors of all ages, whether you are a couple looking for romance, a family in need of things to do with kids, or a solo traveler looking for adventure.
Let's dig into the best travel tips for Galway, Ireland, whether you're visiting the area on your Ireland road trip or sticking around for a longer city break. We'll dig into the best day trips you can take from the city around County Galway, including the famous Cliffs of Moher in Doolin, as well as the top things to do, great restaurants, and the best traditional Irish pubs.
Galway Trip Planning Guide
Flying to Ireland?
Looking for the best flights to Ireland? We love to track flights via Expedia.com. Not only do we find great rates, but we earn points to use on future travel too.
You can also keep an eye on GOING deals, which is how we got to Ireland roundtrip from LAX for under $500 each. The free version is good, but the paid subscription will save you way more than the cost per year.
DON'T FORGET YOUR ESIM CARD!
We all love our smartphones, but we don't love those international roaming charges. Even if you have a travel pass, you could max out your service, which is why we always grab an eSIM card to pop into our phones. It's especially great for the kids, as it limits what they can do and how much data they can use, but still allows them to text friends back home.
Check out Airalo, our preferred eSIM card store for the best prices on eSIM cards and international data plans.
NEED A RENTAL CAR?
We use DiscoverCars.com to get the best rates and availability on rental cars. Find your car HERE, along with all of the extras you may need (insurance, car seats, ski racks, etc.)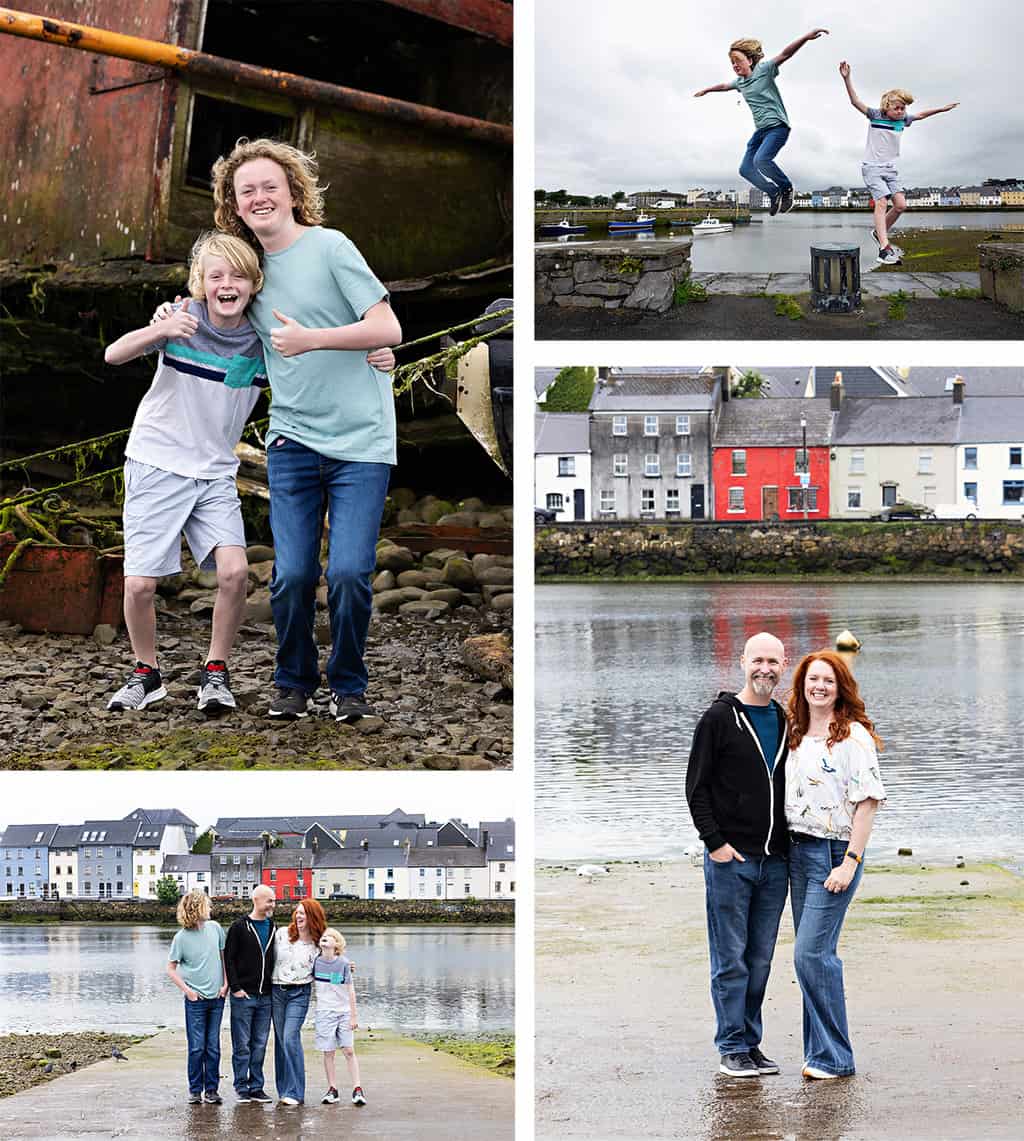 VACATION PHOTOS
Don't forget to book your Flytographer session to capture awesome memories from your trip. We do it as often as we can, even though I'm a photographer. Sometimes, this mom just wants to be in a few photos with her kiddos.
TRAVEL INSURANCE
Do NOT forget to buy travel insurance for your cruise, even if you booked through a travel agent. Things do and will happen and it's cheaper to buy travel insurance ahead of time instead of paying out of pocket later.
Check out Travelex for rates on a single trip or an annual plan that could be right for you if you take more than one or two trips a year. 
GALWAY TOURS AND ACTIVITIES TO BOOK
More Galway tours HERE.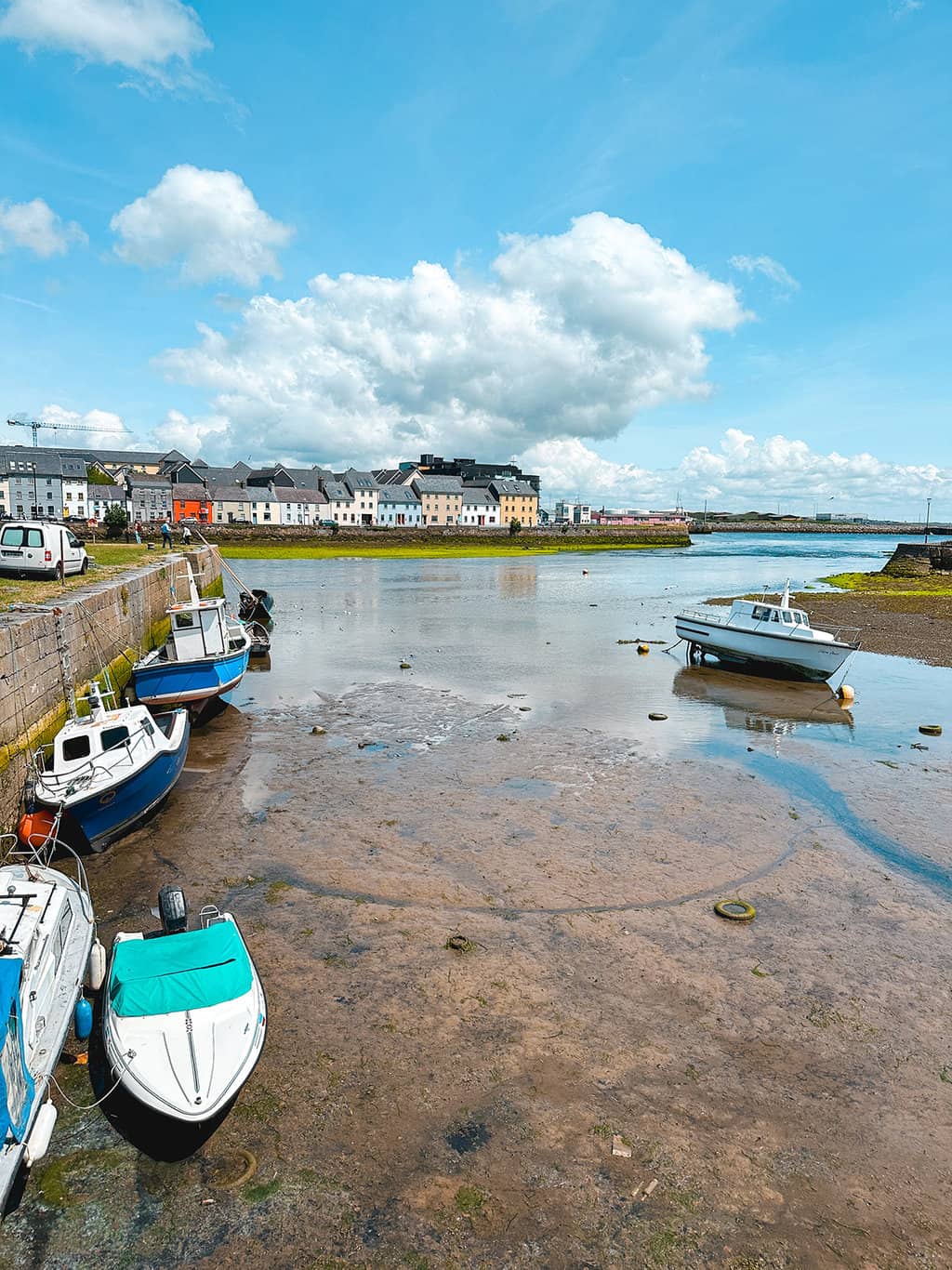 Hotels in Galway
Sometimes you want a luxury hotel in Ireland, while other times you might be looking for an Ireland vacation rental that can fit your entire family in Galway. Either way, you can find your perfect Galway City Centre Hotels HERE.
Browse through hotels and VRBO Galway rentals via our preferred search engine, Stay22, that gives you the best rates from multiple sites.
How to get to Galway Ireland
There are several ways to get to Galway, Ireland, but it all depends on where you start. Lucky for you, there are quite a few options, and an airport nearby.
By Air
If you're traveling from outside of Ireland, the most convenient way to reach Galway is by flying into one of the major airports
Shannon Airport (SNN): Located approximately 85 kilometers (53 miles) south of Galway, Shannon Airport is the closest international airport to Galway. From the airport, you can take a bus, taxi, or rent a car to reach Galway.
Ireland West Airport Knock (NOC): Situated about 90 kilometers (56 miles) northeast of Galway, this airport offers domestic and a few international flights. You can then grab tickets for the bus, grab a taxi or get a rental car to take you to Galway.
Dublin Airport (DUB): You will have the most international flight options when you fly into Dublin. It's only about 210 kilometers (or 130 miles) east of Galway, so you could easily fly into Dublin and then drive to Galway, or take the train or bus from Dublin to Galway. It's a great way to hit up two cities in one trip too.
By Train
Galway is well-connected by Irish Rail (Iarnród Éireann) and there is regular train service operated from Dublin's Heuston Station to Galway. The journey takes approximately 2.5 to 3 hours, depending on the train. You can also get to Galway from Limerick, Cork, Dingle, Killarney and other cities across Ireland. 
By Bus
Bus travel can be a cheaper way to get to Galway. Bus Éireann operates regular services from Dublin and other major cities in Ireland to Galway. The journey from Dublin typically takes around 2.5 to 3 hours, depending on traffic (it can be slow getting out of Dublin, especially during rush hour). There are also bus connections from Shannon Airport and Ireland West Airport Knock to Galway.
By Car
We always prefer to rent a car in Ireland, which makes travel to Galway by road super easy.
From Dublin: Take the M4 motorway westbound, which connects to the M6 motorway leading directly to Galway.
From Shannon Airport: Follow the N18 road northbound, which takes you directly to Galway.
From Ireland West Airport Knock: Take the N17 road southbound, which connects to the N84 road leading to Galway.
Always remember that driving in Ireland means you will need to drive on the left-hand side of the road. There are also toll roads in Ireland, especially when you are leaving Dublin.
Once you arrive in Galway, the city itself is super easy to explored on foot. Public transportation options, including buses and taxis, are available for getting around the city and there are plenty of tours from Galway to get you out to Doolin to see Burren National Park and the Cliffs of Moher, as well as Achill Island.
Just remember: rental cars, train tickets and buses do sell out during the high summer season and St. Patrick's Day, so if you have a set Ireland itinerary, make sure you book in advance.
A Brief History of Galway Ireland
The history of Galway, Ireland dates back centuries and is intertwined with the cultural, political, and economic developments of Western Ireland. Let's look at how Galway has developed over the centuries and why it is not the town it is today.
Early History
The area around Galway has evidence of human habitation dating back to prehistoric times, just like most of the rest of Ireland. The earliest known settlement in the region was the Dun Aengus fort on the nearby Aran Islands, which dates to around 1500 BCE. The Celtic tribes of the Tuatha Dé Danann and the Fir Bolg are believed to have inhabited the area during ancient times.
Medieval Era
Galway's history as a town begins in the 12th century when a small fort was built by the King of Connacht, Tairrdelbach Ua Conchobair, at the mouth of the River Corrib. The fort grew into a trading settlement and received a charter in 1396 from Richard II of England, which granted it the status of a borough.
This charter allowed Galway to become an important trading hub, attracting merchants from England, Spain, and France.
The 14th to 16th centuries were a period of significant growth for Galway. The city developed a strong maritime industry, with its ships taking part in such activities as trade, fishing, and piracy. It became known as "The City of the Tribes" due to the prominence of 14 merchant families, who held considerable influence in the city.
Galway's walls were constructed during this time to protect the town from attacks (pirates anyone?).
Galway's prosperity and independence were challenged by political unrest and conflicts, facing threats from Gaelic clans, English forces, and the influence of the English crown. Despite these challenges, Galway managed to maintain its autonomy and economic success, particularly through its trade in wine, fish, and other goods.
17th to 19th Centuries
The 17th century brought significant changes to Galway. The city was impacted by the Cromwellian conquest of Ireland in the mid-17th century, which resulted in the decline of the Gaelic nobility, as well as their lands being taken away from them. Cromwell partially dismantled the town walls as punishment for resisting his battle for Ireland.
The 18th century saw a revival of Galway's economy thanks to the linen and wool industries. The city continued to grow with international trade and the importation of luxury goods.
The 19th century the Great Famine (1845-1852) caused a decline in population, and hit the lands surrounding Galway particularly hard.
20th Century and Beyond
In the 20th century, the Irish War of Independence (1919-1921) , and then the Irish Civil War (1922-1923) had an impact on the city, with several key events taking place in Galway as the city and country struggled for Irish independence.
More recently, Galway has undergone a transformation, becoming a vibrant cultural center. Galway has seen significant growth in technology, education, and tourism, and it is known for its arts festivals, lively music scene, and fantastic universities.
TOP THINGS TO DO IN GALWAY
GALWAY CITY MUSEUM
One of the best museums in the city has to be the Galway City Museum. It's a sprawling, modern complex on the harbor with documents, photographs, and other interactive exhibits detailing everyday life in Galway across the city's history.
The City Museum has interactive games for children and is built into part of the old medieval walls. One of the Galway City Museum's most prized artifacts is its medieval stone collection from Medieval times, which is how the museum started before it grew into the urban building you can see today.
SPANISH ARCH
Just next to the City Museum is the Spanish Arch, an 18th-century addition to Galway's 16th-century city walls. It became an important access point for loading and unloading goods from the ships that would sail into the docks.
Join a walking tour in Galway, Ireland to learn more about the fascinating history of the Spanish Arch, the trade industry and more travel tips from a local guide. Or book yourself a photo shoot with Flytographer to capture photos of you and your family at the Spanish Arch and in wandering through the Latin Quarter before the crowds take over.
EYRE SQUARE PARK AND GARDEN
One of the most popular parks in Galway, Eyre Square is where you'll find the Christmas Markets in winter and people sitting on the grass on warm days. This park is sometimes referred to as the John F. Kennedy Memorial Park, as there is a sculpture dedicated to US President John. F Kennedy.
There are lots of other interesting sculptures and places in the park like The Browne Doorway and Quincentennial Fountain which offer a deeper insight into Galway's history.
BLACKROCK DIVING TOWER
Over the last few years, people living all over the coast of Ireland have gotten into wild swimming in the Atlantic Ocean. Wild swimming is another name for open-water swimming and before you ask, yes the sea is extremely cold no matter what time of year you swim in it!
Blackrock Diving Tower is literally a multi-level diving board where you can jump off and plunge straight into the icy waters. If you're used to the warm waters found in southern Europe, like Greece, then this local activity might be too much and you need to be careful that the cold doesn't shock your system.
But if you like to push your comfort zone when you travel then pack your swimsuit.
THE LATIN QUARTER
Galway's Latin Quarter is a pedestrianized, cobblestone neighborhood covered in bunting and lined with colorful pubs and cafes. It's one of the main streets in Galway, as well as a great spot for people watching.
This neighborhood is the beating heart of the city and you cannot travel to Galway without walking through the Latin Quarter to soak up the atmosphere.You will see street performers and artists busking on corners, as well as find some of the best restaurants and amazing shopping throughout the city.
QUAY STREET JEWELERS
Want to pick up a souvenir from your trip to Galway? There's nothing more apt than a Claddagh ring. These rings always have the same design: a heart in the center to signify love, a crown on top to symbolize loyalty, and two hands on either side as a symbol of friendship.
Tons of jewelers line Quay Street where you can find one of these rings in any color, metal, and price point that works for you. Quay Street is in the Latin Quarter, so you won't have to travel far to find a reputable seller.
THE LONG WALK
Saunter down this row of colorful homes along the River Corrib, just past the Galway City Museum, where the river meets up with Galway Bay for photos or just a peaceful moment.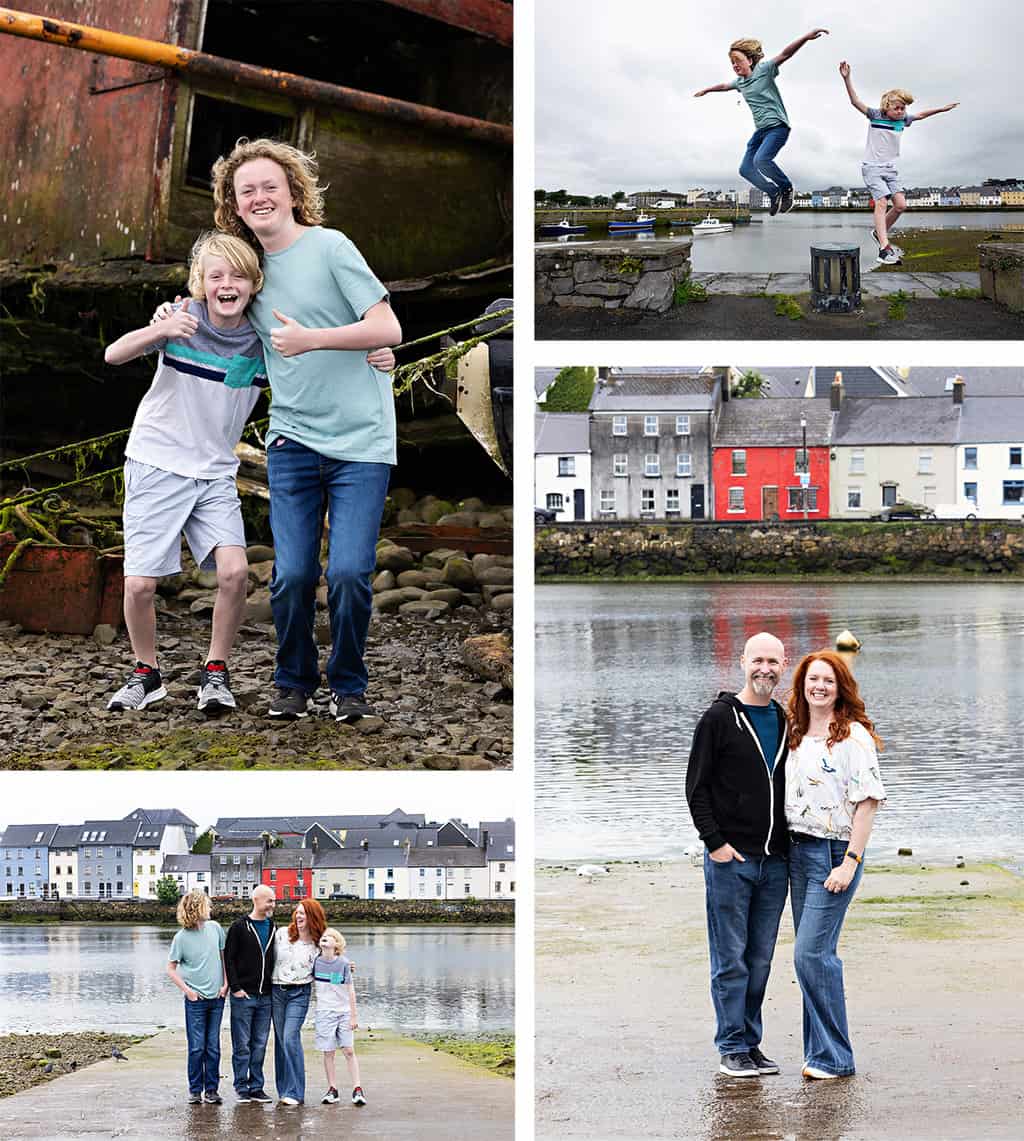 We loved using it as a backdrop when we had photos taken with Flytographer, especially since right across the bay, near Claddagh Hall (a community center with a great playground for kids), there is an old ship just aching to be photographed!
Just watch your step as the rocks are slippery during low tide. .
SALTHILL PROMENADE
Despite being a beautiful coastal city, Galway doesn't have many beaches. The beaches it does have (Grattan Beach and Deadmans Beach, for example) are rocky and narrow.
Still, one of the best things to do in Galway is to walk along the Galway coast on the Salthill Promenade. This path stretches from the western neighborhood of Salthill all the way to the harbor. One of our best Ireland travel tips is to visit around sunset on a clear day as the view will be spectacular, showing off this beautiful city in its best light.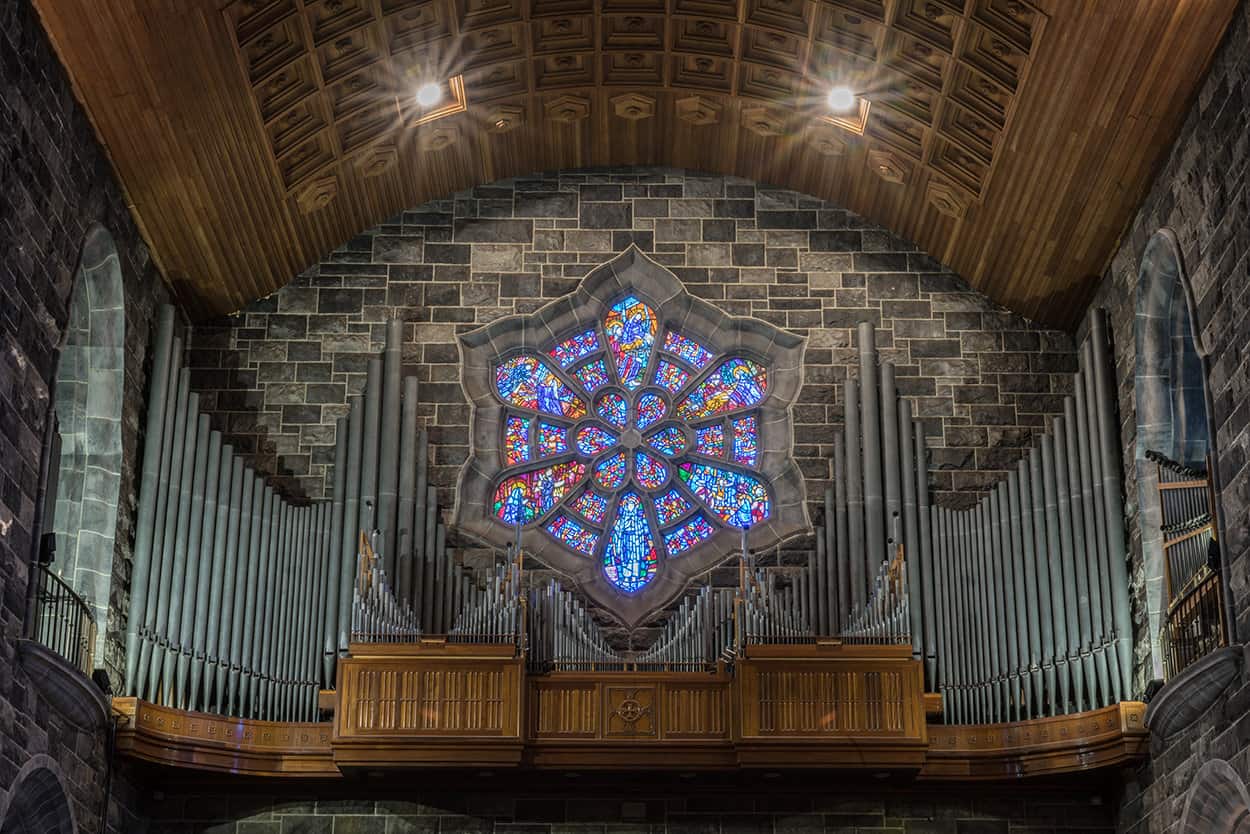 GALWAY CATHEDRAL
One of the more modern cathedrals in Ireland, Galway Cathedral, also known as The Cathedral of Our Lady Assumed into Heaven and St Nicholas, was only built in 1965 in a Renaissance Revival architectural style in place of an old prison.
Galway Cathedral has much more light than most cathedrals with lots of beautiful stained glass windows, including one dedicated to John F. Kennedy, so on sunny days make sure you pop in for a visit.
SAINT NICHOLAS' COLLEGIATE CHURCH
As well as Galway Cathedral, another great church to visit while you're in the city is the Saint Nicholas' Collegiate Church.
Unlike most churches in Ireland, which are Catholic, this is an Anglican church dating back to the 14th century and has even counted Christopher Columbus and notable British politician Oliver Cromwell as parishioners.
MENLO CASTLE
Just a 10-minute drive north of the city along the River Corrib is Menlo Castle, which is without a doubt one of the best things to do in Galway. Unfortunately, it's a 15th-century castle in ruins, but the ivy-covered walls and stunning landscape that surrounds the castle still make it a must-do on your Galway itinerary.
LOUGH CORRIB
Head further north of Menlo Castle along the River Corrib and you'll soon reach Lough Corrib, the second-largest lake in Ireland. Lough means 'lake' in Irish and it is pronounced 'lock', exactly like the Scots word "loch."
It's a fantastic place for to spot wildlife, and bird watchers will definitely want to plan a visit. If you love fishing, there are plenty of fishing tours you can join during the summer months too.
GALWAY BAY AND DOCKS
Sung about in hundreds of folk songs, Galway Bay is a 31-mile bay with lots of villages and cliffs dotted around, as well as within the city of Galway. The only way to truly appreciate the beauty of Galway Bay is to head out on a cruise from the docks where you can see the multicolored houses and boats you see so regularly on postcards of this part of Ireland.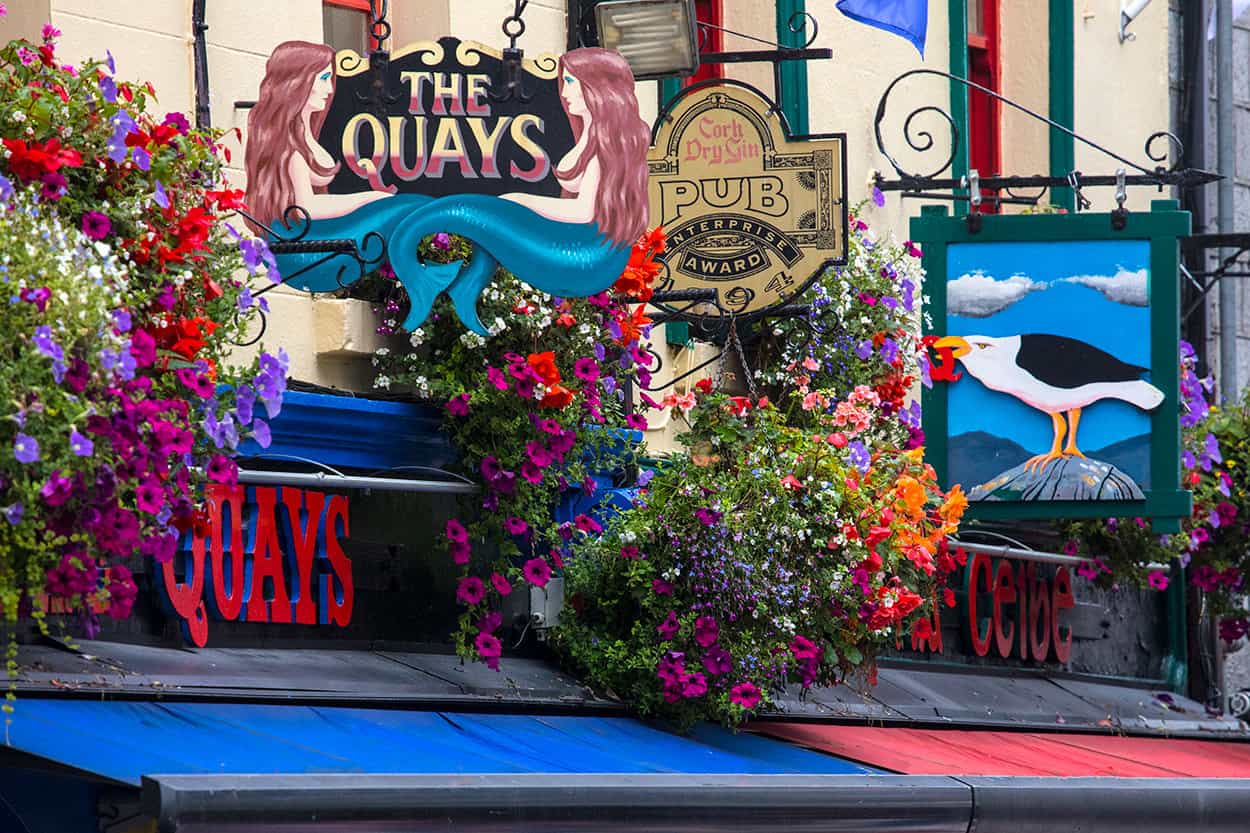 TRADITIONAL IRISH MUSIC PUBS IN GALWAY
Galway is a lively city and you can hear traditional Irish music pouring out onto the streets every night of the week.
Some pubs specialize in traditional Irish folk music 'sessions' where musicians come together to improvise and jam while pubgoers listen and nod along. Others book local musicians to perform Irish music and well-known songs on stage.
Here are some recommendations for both types of traditional Irish music pubs in Galway.
RÓISÍN DUBH
A Galway institution, the Róisín Dubh is your go-to pub for professional up-and-coming musicians as well as comedians. They have two separate stages as well as a club so they're popular with the young crowd, but they still keep the old school charm.
THE QUAYS BAR AND RESTAURANT
With a green-tiled exterior, stained glass windows, and a ceiling with wooden beams, The Quays might possibly be the most beautiful pub in Galway. They also have a small stage for relaxed Irish music performances.
MONROE'S TAVERN
Monroe's Tavern must be one of the biggest, if not the biggest, pub in Galway and probably looks exactly the same today as it did 40 years ago. They guarantee traditional Irish music nightly and lots of seating space.
THE CRANE BAR
This cozy pub just outside of Galway city center is the best option for the more low-key Irish folk music sessions that you can find in small pubs all around the country. As long as you're prepared to stand up while drinking your pint of Guinness, you'll have a grand (as the Irish like to say) time.
TAYLOR'S BAR AND BEER GARDEN
There's nothing better than soaking up a rare Irish sunny day from a beer garden. Taylor's Bar is one of the more refined Galway pubs (they actually serve cocktails!), but they always book musicians on the weekends too.
GREAT DAY TRIPS FROM GALWAY
Galway City is a fantastic base for exploring the highlights in the middle of the Wild Atlantic Way road trip route. Here are some suggestions of places outside of the city you can easily explore on a day trip from Galway.
CONNEMARA NATIONAL PARK
Connemara National Park is one of six national parks in Ireland and boasts more than 7,000 acres of mountains, bogs and moors you can explore on the many walking trails through the area. It truly is a hiker's paradise.
Diamond Hill is one of the most popular walks in Connemara National Park, but there are shorter and easier ones like the Sruffaunboy Trail or Ellis Wood Nature Trail.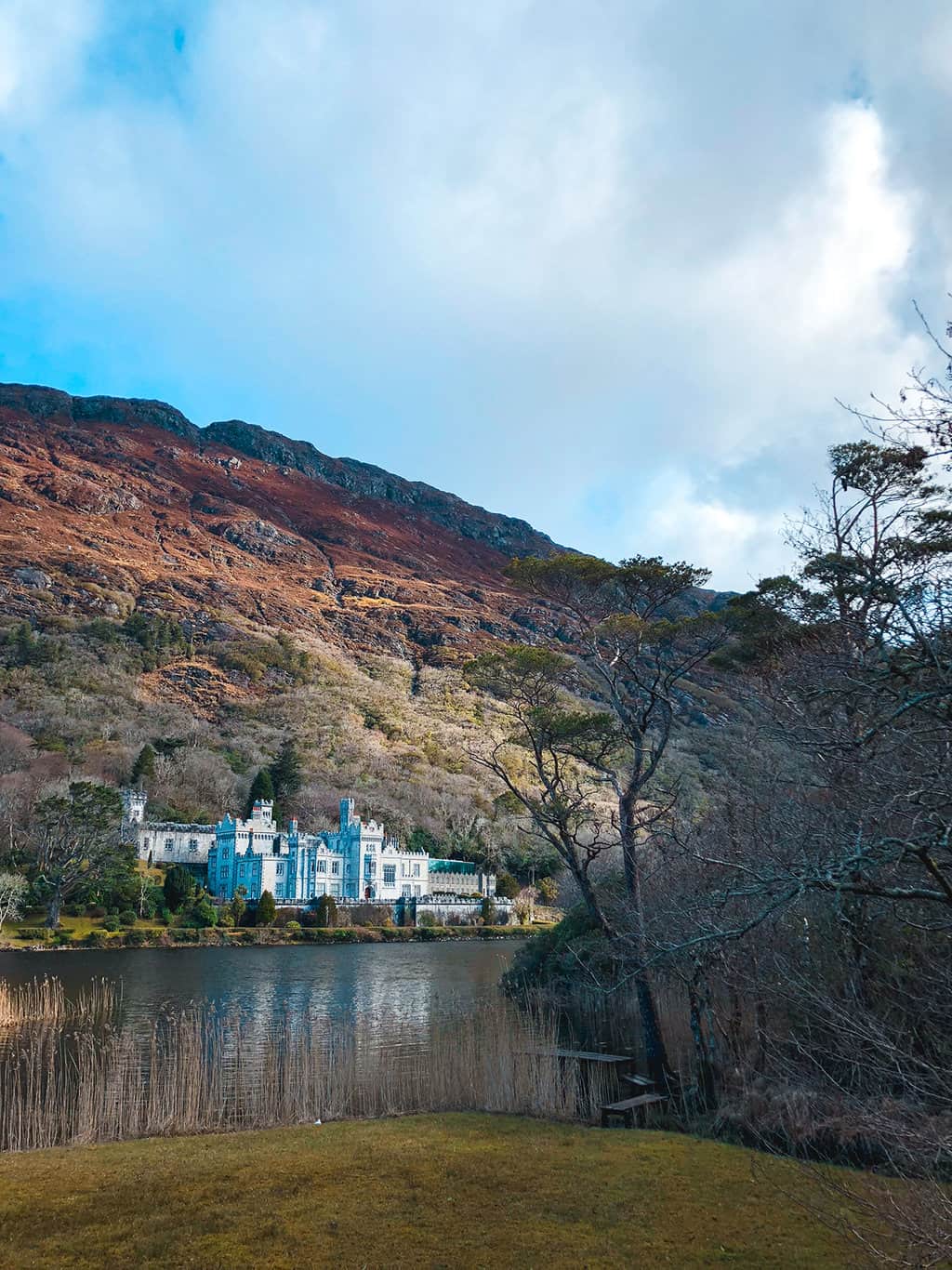 Just outside of Connemara National Park are Kylemore Abbey & The Victorian Walled Garden. This stately Gothic-style residence is a former Benedictine nunnery and you can take tours of the well-appointed apartments.
Don't miss the extensive grounds either, as there are waterfalls and stunning views over Pollacapall Lough. The walled garden and farm shouldn't be skipped either.
All this is available less than a 90-minute drive from Galway City, and more than one bus tour company are happy to bring you out for the day.
Read our complete guide to Connemara National Park.
ARAN ISLANDS
The Aran Islands consist of three separate islands: Inishmore (the biggest), Inishmaan, and Inisheer. The largest island is only a 90-minute ferry tour from Galway City so it's a super easy day trip.
Not only do the Aran Islands offer jaw-dropping cliff edges and wild beauty, but you'll regularly spot dolphins, puffins (in summer) and other sea life from the boat ride.
DUNGUAIRE CASTLE
Only a 30-minute drive from Galway City, Dunguaire Castle is a picturesque 16th-century castle that sits on the coastline within a secluded bay. This fortress has been recently restored and when you visit you can learn all about its military and literary heritage.
CLIFFS OF MOHER
Can you really visit a city in Ireland that's only 90 minutes away from the Cliffs of Moher and not visit them?!
Just south of County Galway in County Clare, the Cliffs of Moher are amongst the longest and most dramatic cliffs you'll ever see in your life. They stretch 11 miles along the Wild Atlantic coast and need to be witnessed to be appreciated.
If you aren't staying in Doolin, you can easily take one of these guided tours from Galway.
ANNUAL EVENTS IN GALWAY
The biggest event on the calendar of many other Irish cities will be March 17th, St Patrick's Day, but NOT in Galway! Every year, the Galway International Arts Festival takes over the city with parades, fireworks, color, and an endless list of performers. Galway sure does love a celebration and a festival. Here's a few more you won't want to skip!
St Patrick's Day (March 17th)
Easter Celebrations (March/April)
Cúirt International Festival of Literature (April)
Galway Early Music Festival (May)
Trad on the Prom (May to September)
The Galway Sessions (June)
Galway Film Fleadh (July)
Galway Arts Festival (July)
Galway Races (July)
Galway International Oyster Festival (September)
Galway Comedy Festival (October)
Galway Christmas Market (November and December)
RESTAURANTS IN GALWAY
Restaurants in Galway City excel at serving fresh and local seafood (whether that's in a fancy restaurant or fish and chip shop!), fried Irish breakfasts, and other traditional dishes.
Galway's young and diverse student population means you can also find great international cuisine, but you probably want to sample the local cuisine. Here are some great restaurant recommendations and suggestions for when you need a sugary pick-me-up.
IRISH BREAKFASTS IN GALWAY
56 Central Restaurant Cafe
The Cellar Bar
Dela Restaurant
Upstairs at McCambridge's
LUNCH SPOTS
McDonagh's Fish and Chips
BóTOWN
The Lighthouse Café
Ard Bia at Nimmos
DINNER RESTAURANTS
The Dough Bros
Kai Restaurant
Brasserie On The Corner
Rúibín Bar & Restaurant
SWEET TREATS IN GALWAY
Gourmet Tart Company
Murphy's Ice Cream
O'Connors Bakery
Truffle
FAQ Galway Ireland
Where is Galway located in Ireland?
Galway is a city located on the west coast of Ireland, in County Galway. It sits on the River Corrib and is bordered by Galway Bay.
How can I get to Galway?
You can access Galway by flying into Shannon Airport or Ireland West Airport Knock and then take a bus or train to Galway. There are also direct bus and train connections from Dublin and other cities around Ireland Ireland.
What is the best time to visit Galway?
The summer months (June to August) are generally considered the best time to visit Galway, as the weather is mild and there are many festivals to check out. Christmas is also a great time to visit, as the holidays bring markets and Christmas events for the whole family.
What are some popular attractions in Galway?
Galway has loads of sites to see, including Eyre Square, Galway Cathedral, the Spanish Arch, the Claddagh, and the Galway City Museum. You'll also want to check out this univerity town's vibrant arts scene and numerous street performers.
Are there any nearby natural attractions worth visiting?
It's super easy to access many of Western Ireland's natural beauty. You can day trip to The Cliffs of Moher, Connemara National Park, the Aran Islands, and the Burren, which are all within a short distance (under 2 hours) from Galway.
What is the Galway International Arts Festival?
The Galway International Arts Festival is one of Ireland's largest arts festivals, which takes place every July. It showcases a huge range of art forms, including theater, music, visual arts, and street performances. The festival attracts both local and international artists, so make sure you book your hotel early so you don't miss out on a single part of the festival.
Is Galway a good place for food lovers?
Galway is known for its active culinary scene, with a wide range of dining options. From traditional Irish pub fare to international cuisine, seafood, and Michelin-starred restaurants, there is something for everyone, even the picky eater in your family. Galway also hosts the annual Galway Food Festival in September/October, which celebrates local food, farmers and producers.
Can I explore the nearby Aran Islands from Galway?
Yes, you can take a ferry from Galway to the Aran Islands, which are a group of three islands known for their rugged terrain and ancient heritage. Inis Mór (Inishmore) is the largest and most visited island, followed by Inis Meáin (Inishmaan) and Inis Oírr (Inisheer).
Are there any traditional music sessions in Galway?
Galway is renowned for its traditional Irish music scene with several pubs and venues in the city hosting regular traditional "sessions" where you can enjoy live performances of traditional music, often accompanied by dancing and singing.
Is Galway a pedestrian-friendly city?
Yes, Galway is a compact city with a pedestrian-friendly center. The main shopping streets, such as Shop Street and Quay Street (Latin Quarter), are closed to traffic, allowing pedestrians to stroll around and explore the city on foot. The city also has a bike-sharing scheme and excellent public transportation.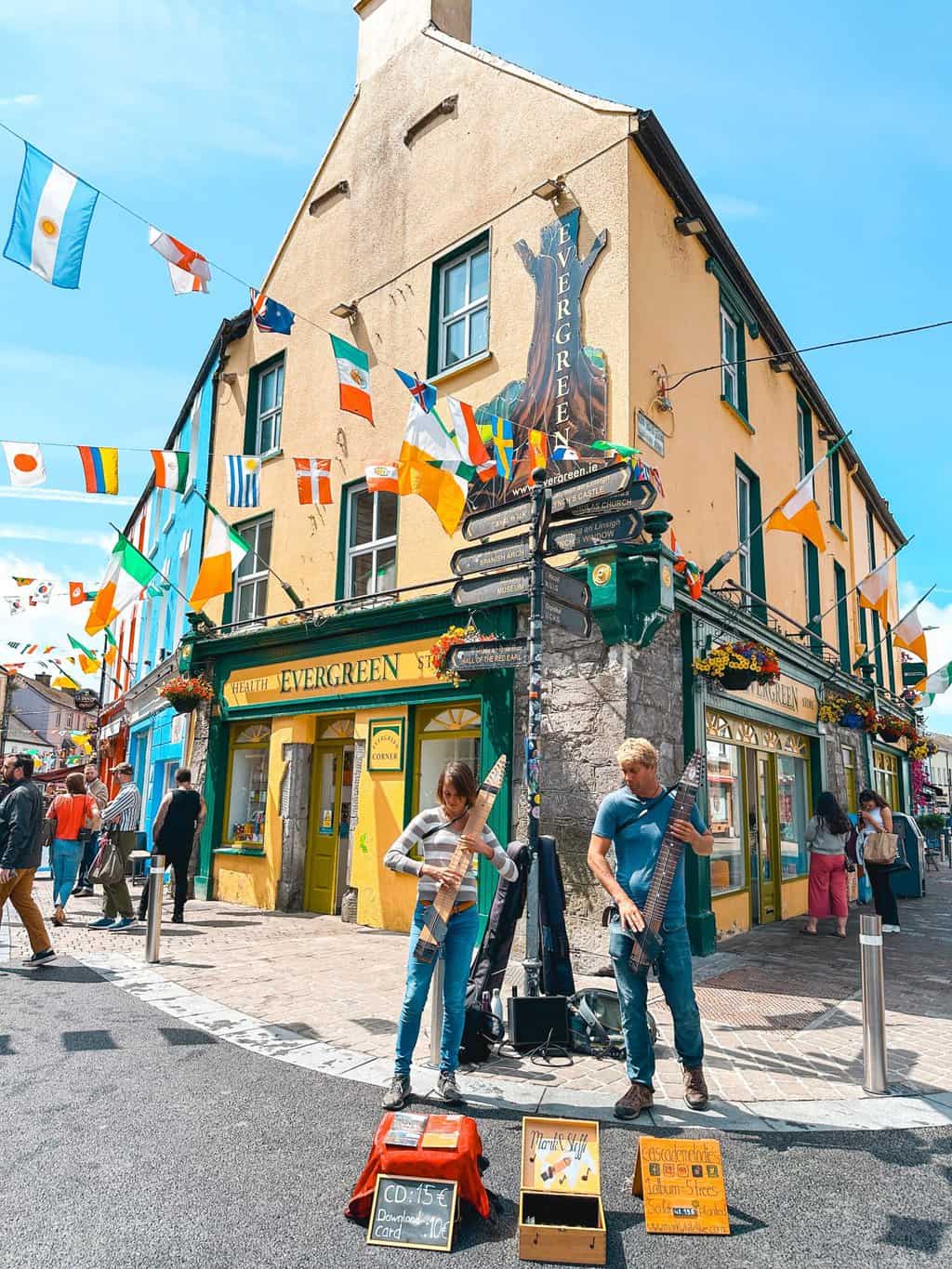 Are there any annual events in Galway that I should know about?
Yes, Galway hosts several annual events that attract visitors, including the Galway International Arts Festival and the Galway Food Festival, plus the Galway Races, the Galway Oyster Festival, and the Galway Christmas Market.
Can I take day trips from Galway?
Absolutely! Galway is a great base for exploring the surrounding area. You can take day trips to the Cliffs of Moher, Connemara National Park, the Burren, Kylemore Abbey, and other nearby attractions. There are organized tours available or you can rent a car and explore at your own pace.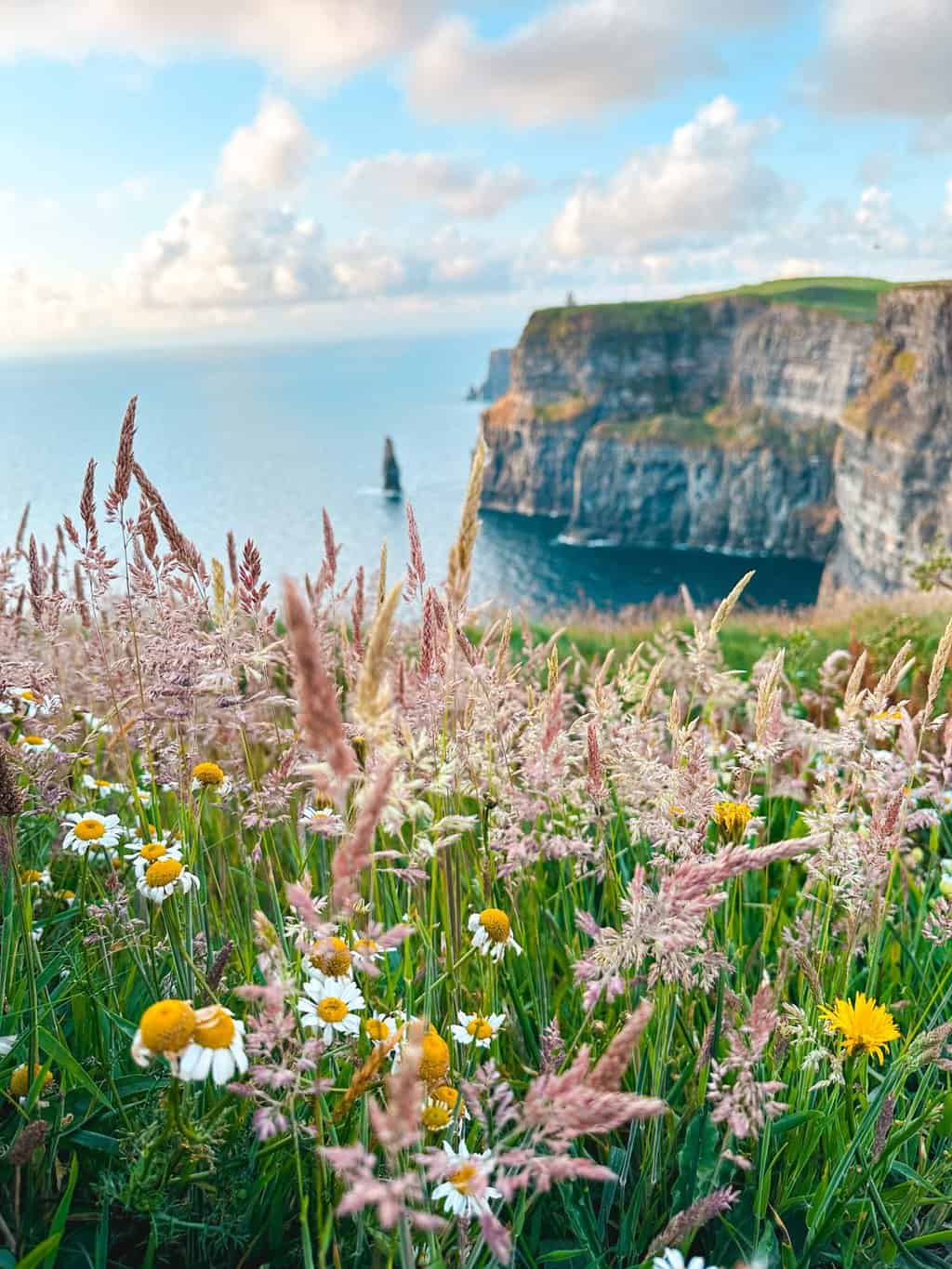 Is Galway a safe city for tourists?
Galway is generally considered a safe city for tourists. However, as with any destination, it's always advisable to take normal precautions and be aware of your surroundings, especially in crowded areas. Keep an eye on your belongings and follow any local guidelines or advice provided.
Can I use public transportation to get around Galway?
Yes, Galway has a decent public transportation network. There are regular bus services operated by Bus Éireann that cover the city and its surrounding areas. The city also has a train station with connections to other parts of Ireland. Taxis and rideshare services are also available if you need it.
Are there accommodations to suit different budgets in Galway?
Yes, Galway offers lots of accommodations to suit different budgets, including luxury hotels and boutique guesthouses, budget-friendly hostels and self-catering apartments.
​Check out the best option for your Galway hotel budget using this handy map that pulls together rates from multiple sites, as well as vacation rentals.
What should I pack for a trip to Galway?
It's always a good idea to pack layers when visiting Galway, as well as your rain gear. Even in the summer, you will want to bring a light rain jacket or waterproof layer.
Comfortable walking shoes, a hat, and sunscreen are also needed in summer, and yes, my entire family has gotten a sunburn in Ireland, which proves there IS sun on the Emerald Isle.
Grab our Ireland Packing List
Is there a tourist information center in Galway?
Yes, there is a tourist information center located in the heart of Galway City on Forster Street. The staff can provide maps, brochures, and information about the city's attractions, events, and tours, and answer questions you might have.
Can I use credit cards in Galway?
Yes, credit cards are widely accepted in Galway, especially in hotels, restaurants, and shops. In fact, post 2020, many businesses are contactless, meaning they don't take cash at all. We generally carry a few euros just in case, but rarely have ever had to use them, even in the countryside.
ATMs can be found throughout the city, but go to an actual bank location or ATM for a specific bank to withdraw cash whenever possible to avoid even more transaction fees.
What is the time zone in Galway?
Galway follows Greenwich Mean Time (GMT) during the winter months and Irish Standard Time (IST) during daylight saving time, which starts on the last Sunday in March and ends on the last Sunday in October. Depending on where you live in the world, you may be 5 hours ahead of New York time or 8 hours ahead from California.
What is the currency in Galway?
The currency used in Galway, as well as in the Republic of Ireland, is the Euro (€). Credit Cards work everywhere– Mastercard and Visa most of all. Discover and American Express are NOT accepted everywhere.
Love it? Pin it for Later!