Oh, the beach. A time to read trashy romance novels, yell at the kids to stop trying to drown in the waves, and work on my sunburn. That's what a beach vacation has meant to me in the past. There never seemed to be much else. Honestly, I never really looked around.
When we started going down to Carolina Beach with kids in the spring to thaw out after the chilly winters in Washington, D.C., I did start to poke around though. For me it was just too cold to jump in the water (my kids were a different story). I wanted to get out and explore.
I was shocked by how much I found.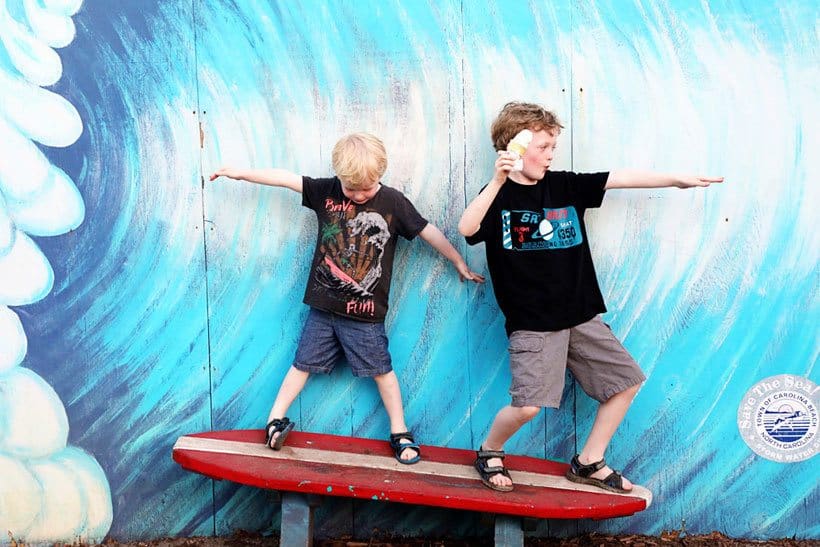 Even more shocking was that my kids were excited to get off the beach and explore with me. My oldest was actually mad at me when I made a second trip to Fort Fisher State Historic Site, a nearby Civil War fort, without him. I was just trying to get some cool photos of trees as the light got good later in the day. He wanted to continue to read the plaques!
Between the North Carolina nature, Civil War history, and boogie boarding waves, my boys might start begging to take that six-hour drive a little more often.

Nature
You may be thinking that the beach is pretty much nature as good as it gets, and you are right. However, Carolina Beach with kids has a few extra special nature experiences you don't want to miss out on. This beach town holds the secret to one of the most curious plants in the world and a great little aquarium that can fill a rainy day or offer a break from the sun.

Carolina Beach State Park
Venus flytraps and kayaking is just the start of what I found in Carolina Beach State Park. If I'm really honest, this state park had me at Venus flytraps. Every Saturday morning at 10am in the summer months (11am in winter) park rangers arrive at the flytrap trailhead to lead whomever wants to join them on a walk that lasts about an hour. They give the history of the area and why this particular spot is one of the last in the world that has the perfect conditions for the Venus flytraps to grow (these little devils are very particular).
Cool off after your hike with a kayak ride with Paddle NC just down the road from the Venus Flytrap Trailhead. If the winds are kicking up you might not want to go on the water with young kids, but on a calm day it's the perfect spot to be.
Just don't forget to load up on your picnic goodies at The Veggie Wagon in town. They have loads of fresh fruits, veggies, breads, meats and cheeses. Oh and organic fruit slushies for kids and amazing coffee for mom and dad for that morning hike. Lifesaver!

North Carolina Aquarium at Fort Fisher
I am a huge fan of the North Carolina Aquariums. They are small, but they pack a powerful punch. The volunteers at the North Carolina Aquarium at Fort Fisher are great with kids.
My oldest asks a lot of questions. A LOT. He also likes to make a lot of statements (if you have a seven year old you know what this means). They are very patient with him and help him understand what he is seeing and what it all means in the grand scheme of things.
On a hot spring day we could escape the sun for a couple hours at the aquarium to see sharks, horseshoe crabs, rays, clown fish, snakes, a bald eagle and alligators. There were multiple native North Carolina animal exhibits, as well as a few exotic creature habitats.
There were feeding hours and diver chats in the main tanks, as well as special presentations throughout the day. If your kids need to get out a bit of the wiggles, head outside to the playground. It's the perfect place for parents to grab a snack and sit for a bit while the kids climb and jump with some new friends.

Civil War History at Fort Fisher State Historic Site
Now nature is what we expect to see at the beach. I mean, the ocean is right there. It's full of wildlife (i.e. nature). What I don't expect to see is Civil War history.
I know I'm not alone when I say that I grew up sitting on a lot of Civil War cannons. My dad was a huge Civil War buff. I've been to Gettysburg, Valley Forge and even where Washington crossed the Delaware. I was raised in Philadelphia though, a daughter of the north. So, what I haven't seen is a lot of the Civil War sights of the south. Carolina Beach and the island have more than a few spots to dive into this part of history.

Fort Fisher State Historic Site
Nearby Fort Fisher is a free museum and fort that is perfect for parents and grandparents who want to explore Civil War history with kids, but aren't sure how the kids will handle it. There are plenty of spaces for the kids to run around while the adults read the plaque that explains the history of this earthen fortification that acted as a blockade runner for anyone trying to get to Wilmington.
Why is its significant?
This fort was unique because it was not brick and mortar.

It was literally made of earth.

Cannons were set into hills to take down the enemy.
Here's your quick history lesson:
Two major battles were held at Fort Fisher.

Ultimately it fell to Union soldiers.

This cut off a major supply line to the Army of Northern Virginia led by General Lee.
The museum houses several artifacts and dioramas that showcase the battles and fort set up. A small gift shop offers goodies for parents to bribe their kids with after touring the fort, and several good books for history buffs.
Just across the way, you can get a good look at how forceful the winds are in the area and what soldiers might have faced during the war. Trees bend inland, having been pushed over and over again by ocean breezes. It's beautiful to see now, and must have been a relief in summer for soldiers, but brutal on cold winter nights.
Self-guided bike ride
If you are staying in Carolina Beach, especially near the boardwalk, you can easily rent bikes from Wheel Fun Rentals. They have bikes for parents, tandems for kids and bike seats for little ones. Ride from Carolina Beach down to Fort Fisher on a self-guided bike tour of Civil War history. Plaques are posted all along S Lake Park Boulevard.
Stop for snacks and to read what happened at each spot along the way. Take a longer break at Fort Fisher State Historic Site before heading deep into the park to fly a kite, visit the aquarium or cool off in the ocean.
This post is part of a campaign with Carolina Beach, NC. As always, my opinions are my own. When they aren't you will be the first to know.
This post contains affiliate links. If you make a purchase after clicking one of those links I will receive a small commission.