Harvest season is in full swing, which means heading out to one of our favorite San Francisco Bay area pumpkin patches. The Bay Area is filled with some of the best pumpkin patches to make enjoy the crisper weather, find some good carving pumpkins, and experience the festive fall season.
Either way, spending time in the Bay Area in the fall is great for the crisp weather, beautiful scenery, and all the fall fun you can experience the area.
Here are the pumpkin patches around the Bay Area that are a must-stop when you're looking for your perfect gourd for the whole family.
Alameda Pumpkin Patches
Alameda Point Pumpkin Patch at Speer Family Farms
Address: 2453 Hancock St., Alameda, CA
Your entire family will love visiting the Alameda Point Pumpkin Patch, featuring a variety of pumpkins plus activities that your kids will love.
Have fun on their four-story ship slide and the bouncy houses, check out the mini train that goes around the patch, or walk around the petting zoo.
Older kids and adults can play in the human hamster balls! Adults without kids, don't worry, there is an kid-free area that serves pumpkin shooters. The patch opens in late September.
Find more fun things to do in California during the Halloween season.
Pumpkin Patches in Berkeley
Westbrae Nursery Mini Patch
Address: 1272 Gilman St., Berkeley, CA
The Westbrae Nursery in Berkeley sections off a corner of their shop dedicated it to everything fall and pumpkins. Pop in to grab a gourd and be sure to snag a few photos in their stunning patch.
Pumpkins range from $5 to $25, and all proceeds go to Cornell Elementary PTA. Their patch officially opens October 1st and runs through Halloween from 9 a.m. to 5:30 p.m.
Don't forget to grab more plants and any plant supplies you might need.
Pumpkin Patches in Brentwood
Three Nunns Farm
Address: 550 Walnut Blvd., Brentwood, CA
Over at the Three Nunns Farm, you can find 40 varieties of pumpkins! They cost $.75 per pound or $1 each for their mini pumpkins. They also offer a massive corn maze that will help run some energy out of the kids.
And for $12, you can take track rides that take you around two of their corn mazes instead of having to walk around them.
Be sure to check out their seasonal produce as well. The pumpkin patch opens in late September.
Smith Family Farm's Pumpkin Harvest
Address: 4350 Sellers Ave., Brentwood, CA
Starting September 30th, you can pop into the Smith Family Farm for their pumpkin patch that also offers hay rides, seasonal fruit and veggies, and pumpkins as far as the eye can see.
It also features an observation beehive, herb garden, and a design-your-own-bouquet are, where you can take home beautiful, self-made arrangements.
On weekends, they also host live music, cooking demos, cornhole tournaments, tractor expos and more. There is an admission fee of $13.50, CASH ONLY, which includes a pumpkin of to take home.
G&S Farms Pumpkin Patch and Corn Maze
Address: 2490 Sellers Ave., Brentwood, CA
Autumn is right around the corner at G&S Farms Pumpkin Patch and Corn Maze.
Beginning on the last weekend in September, your family will love picking pumpkins, getting lost in their corn maze or having a little competition with their pumpkin cannons. The patch even offers a corn-kernel sensory pool for the little ones who are joining the patch.
Their standard hours are 9 a.m. to 6 p.m., but check their website because some dates offer different times. Don't forget to shop their seasonal produce and check out the u-pick area of their farm.
Pumpkin Patches in Nicasio
Nicasio Valley Pumpkin Patch
Address: 5300 Nicasio Valley Rd, Nicasio, CA
Thirty minutes from the Golden Gate Bridge sits Nicasio Valley Pumpkin Patch, a rural area that's been a staple of Marin County for over 25 years. The patch includes hay rides, farm animals, hay mazes, bounce castles and a slide.
On the weekends, you will be greeted with BBQ and live music, and your kids are sure to find the perfect pumpkin to take home with them. Open 10 a.m. to 4 p.m. daily.
Pumpkin Patches in Oakland
Piedmont Avenue Pumpkin Patch
Address: 4414 Piedmont Ave., Oakland, CA
Piedmont pumpkin patch is all about convenience and choosing your pumpkin.
Although there are no hayrides or mazes, there are dozens of varieties of pumpkins from which to choose, plus a small haunted house. There are over a dozen varieties of pumpkins, and they have a small haunted house.
Bonus: The pumpkin patch is also located right behind a Halloween store, so you can shop for costumes and decorations at the same stop. Head out to the patch from 9 a.m. to 8 p.m. daily.
Pumpkin Patches in San Gregoria
Blue House Farm
Address: 950 La Honda Rd., San Gregoria, CA
For 16 years, Blue House Farm has been bringing fall fun to all of San Gregoria. There is a huge variety of pumpkins from which to choose. Or if you're in a rush, head to their farm stand and grab one that's already been selected.
Your family can also take a tractor ride, zip through a kid-size maze of hay bales and enjoy the property's fall festivals. Be sure to grab some veggies from their farm stand if you need a little produce.
Open on weekends from 12 p.m. to 5 p.m.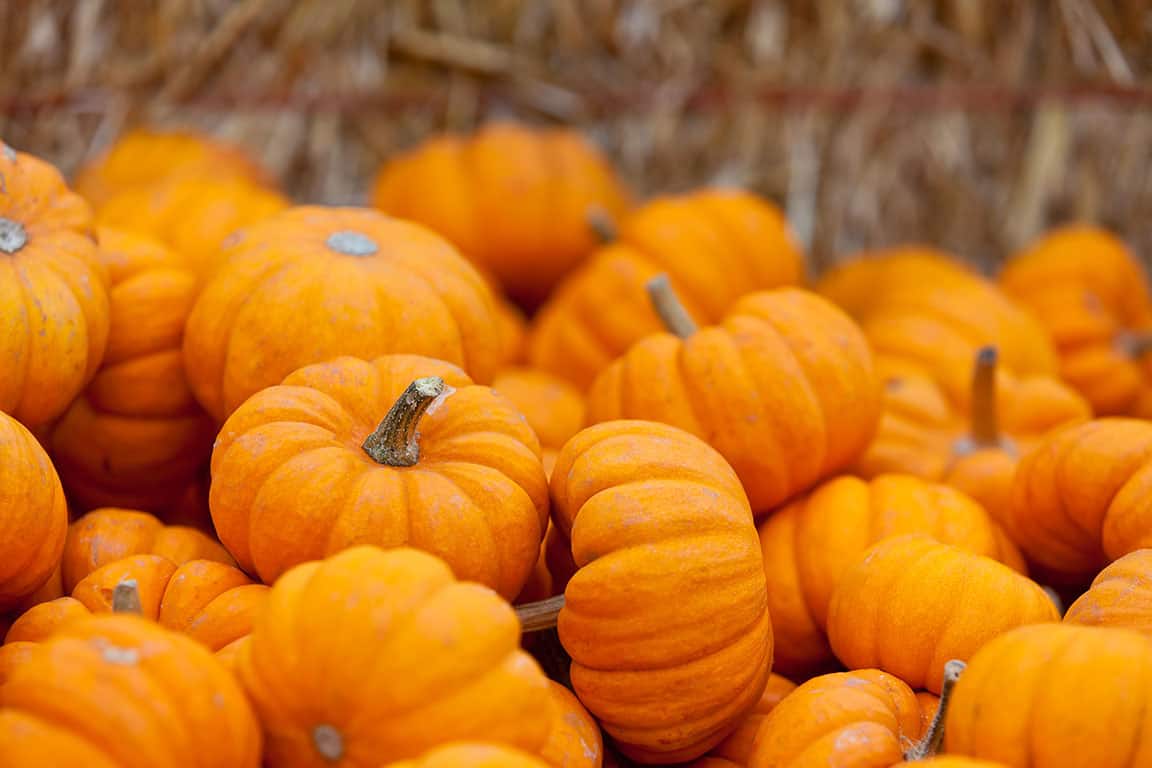 Pumpkin Patches in San Francisco
Clancy's Christmas Tree and Pumpkin Patch
Address: 7th Ave., Inner Sunset, San Francisco, CA
Since 1979 Clancy's has been bringing a pumpkin patch to not one but two locations in San Francisco. Choose your favorite site for pumpkin picking, either by the San Francisco Zoo or in the Inner Sunset, and enjoy a fantastic time with the family.
Clancy's Pumpkin Patch offers pumpkins of all shapes and sizes, plus you can choose from numerous gourds, Indian corn stalks, and more to make a festive display at your house.
Your kids will love the hay maze, scarecrows and ghosts littered throughout the patch as well.
The Great Pumpkin Patch at Emerald Forest
Address: 317 Sloat Blvd., San Francisco, CA
The Great Pumpkin Patch has a little bit of everything for the kids. Pick the best pumpkin to take home with you, then head to the bounce houses and an on-site picnic area enjoy an entire day of fun.
Children can run through the corn mazes and hay-bale mazes, or get a little adventurous and try their hand at the adult corn maze. The property also provides wagons to help carry the pumpkins to the cars.
Open daily from 10 a.m. to 8 p.m.
The Guardsmen Pumpkin Patch
Address: Fort Mason Center, 2 Marina Blvd., San Francisco, CA
Starting in mid-October, head out to the Guardsmen Pumpkin Patch for some fall fun. Set up at the Fort Mason Center and with a new daily fall theme, there will be fun seasonal cocktails for adults, and, of course, delicious food you can snack on while searching for the perfect pumpkin to take home.
The best part is all the proceeds from the Guardsmen Pumpkin Patch go to at-risk youths in the community.
Worth the Drive (Outside Bay Area)
Dell'Osso Farm Pumpkins and Corn Maze
Address: 501 Manthey Rd., Lathrop, CA
This spot outside the Bay Area is worth the drive inland because it is phenomenal. Starting the last weekend in September and through Halloween, you can head to this spot, which is more than just a pumpkin patch.
There are also incredible corn mazes, a haunted castle, express train rides, a pumpkin tree house, a slide hill, a tiny town for kids to explore, a hay ride, a goat walk, duck races, and more! Stop at the property's numerous food stands, in addition to a gift shop, bakery and giant pumpkin patch for kids of all ages.
There is an admission fee: $19.95 per person on weekdays, $24.95 on Friday, and $28.95 on Saturday and Sunday. Yes, it's a heavy price tag, but the wristband includes a ton of additional activities.
For an extra fee, guests can also enjoy pony rides, gem mining, pumpkin blasters, the carousel and pumpkin painting.
Open from 12 p.m. to 7 p.m. Monday through Friday, and weekends 10 a.m. to 7 p.m., I highly recommend purchasing tickets online because the ticket line can become quite long.
Joan's Farm and Pumpkin Patch
Address: 4351 Mines Rd., Livermore, CA
Joan's Farm and Pumpkin Patch is a beautiful patch offering a variety of pumpkins that are perfect for decorating, carving or painting.
In addition to ,pumpkins you can grab a snack at their snack shack with yummy fall food like pumpkin pie, nachos and hot dogs.
Kids especially will love the property's hay-bale maze, pumpkin bowling, animal farm, inflatable slide, small farm museum and Old West town. It's the perfect area to spend a day and enjoy the fall weather with the whole family.
Open the last weekend of September to the last weekend in October.
The Bay Area is filled with fantastic pumpkin patches in San Francisco and nearby that promise to bring all the fun for your entire family!