A charming seaside village known as California's oldest beach-resort town, Capitola beckons visitors with its unique blend of natural beauty and charm.
Featuring a Mediterranean-style beachfront village with Venetian-inspired architecture that hugs the shores of beautiful Monterey Bay, its quaint shops, and vibrant cafes create a perfect atmosphere for strolling and exploring.
Capitola's inviting beaches, scenic bluffs and a lively art scene also create a haven for outdoor enthusiasts, artists and anyone seeking a relaxed coastal getaway. This Northern California destination offers a taste of the state's coastal magic, making it a must-visit locale.
Here are some of the best things to do in Capitola CA when you visit this seaside gem.
Start Planning Your Trip to Capitola, CA
Want to Fly to Capitola?
You will want to fly into Monterey (Airport) Airport, the closest option to Capitola. We love to track flights via Expedia.com. Not only do we find great rates, but we earn points to use on future travel too.
You can also keep an eye on GOING deals, which is how we got to Ireland roundtrip from LAX for under $500 each. The free version is good, but the paid subscription will save you way more than the cost of the actual subscription.
Need a Rental Car?
We use DiscoverCars.com to get the best rates and availability on rental cars. Find your car HERE, along with all of the extras you may need (insurance, car seats, ski racks, etc.).
Our Favorite Hotels in Capitola
Travel Insurance
Do NOT forget to buy travel insurance for your trip, even if you booked through a travel agent. Yes, even if you aren't flying internationally, travel insurance is worth it. Most plans will cover any hiccups that happen 100 miles or more from your home.
Things do and will happen, and it's cheaper to buy travel insurance ahead of time instead of paying out-of-pocket later.
Check out Travelex for rates on a single trip or an annual plan that could be right for you if you take more than one or two trips a year.
Don't Forget About Your Vacation Photos!
Don't forget to book your Flytographer session to capture awesome memories from your trip. We do it as often as we can because sometimes this mom just wants to be in a few photos with her kiddos.
Plan more adventures on our California Travel page.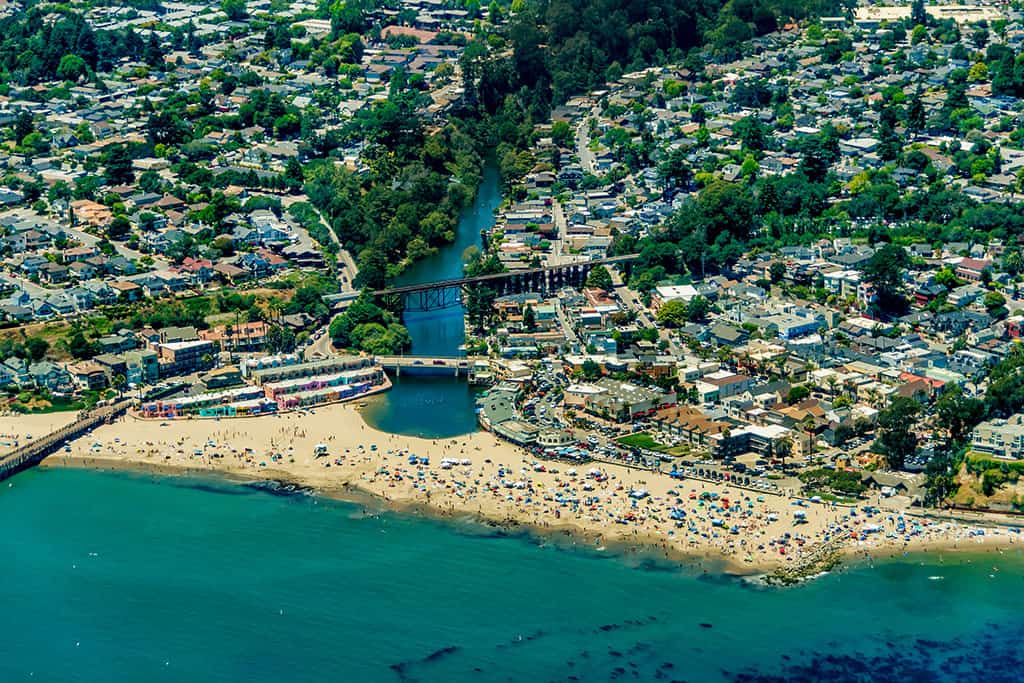 Fun facts You Need to Know about Capitola CA
I always love learning a little bit about a place I visit, whether it be the history of the town or some quirky facts that give me a better picture of where I am going.
If nothing else, these fun facts will make you look super cool when you are traveling with kids in Capitola, or at Pub Quiz at the local bar.
Oldest Beach Resort: Capitola is often referred to as the "oldest beach resort on the West Coast," with a history dating back to the 1870s when it was a popular vacation spot.
Venetian-Style Hotel: The Capitola Venetian Hotel, with its unique Venetian-inspired architecture, adds a touch of European charm to this coastal town.
Colorful Rowboats: Capitola is famous for its colorful rowboats, which can be seen floating in the lagoon, creating a picturesque scene.
Capitola Wharf: The Capitola Wharf, built in 1857, is one of the oldest operating wharfs on the West Coast, offering great fishing and dining experiences.
Esplanade Park: Esplanade Park features a whimsical collection of statues, including dolphins and sea creatures, making it a playful and artistic space.
Begonia Festival: Capitola hosts the Capitola Begonia Festival, where residents create elaborate floats adorned with begonias, showcasing their creativity.
Shadowbrook Restaurant: Shadowbrook Restaurant, a popular dining spot, is accessible by a historic cable car that adds a unique touch to the dining experience.
Mystery Spot Nearby: Just a short drive away from Capitola, you can visit the Santa Cruz Mystery Spot, a gravitational anomaly that baffles visitors.
Artistic Community: Capitola has a thriving artistic community, with numerous galleries and art events throughout the year.
Year-Round Surfing: Capitola's mild climate allows for year-round surfing, making it a haven for surf enthusiasts.
Mediterranean Vibes: The charming Mediterranean-style architecture of many buildings in Capitola sets it apart from other coastal towns in California.
Whimsical Beach Cottages: Capitola is known for its whimsical beach cottages painted in vibrant colors, adding to its unique character.
Historical Trestle Bridge: The Capitola Trestle Bridge, which spans Soquel Creek, offers a scenic spot for photos and a glimpse into the town's history.
Haunted Wharf: Rumor has it that Capitola Wharf is haunted, adding an element of mystery to this historic structure.
Beachcombing Paradise: The shoreline of Capitola Beach is perfect for beachcombing, with seashells and sea glass waiting to be discovered.
Natural Bridges State Beach: While not in Capitola, nearby Natural Bridges State Beach is famous for its rock formations and tide pools, making it a fascinating natural wonder.
Seaside Shopping: Capitola Village offers seaside shopping experiences with a variety of boutique stores and art galleries.
Mini-Golf Adventure: Visitors can enjoy a round of mini-golf at the Capitola Mini-Golf, adding a fun and quirky activity to their beach day.
Local Farmers' Market: The Capitola Farmers' Market is a great place to sample local produce and artisanal goods while enjoying the community atmosphere.
What to do in Capitola, CA
Armida Winery
Address: 103 Stockton Ave., Capitola, CA
Stopping into a winery in Capitola is a popular pastime in the area, and The Armida Winery Tasting Room offers a ton of wine options. From Chardonnay to Zinfandel, they also offer a guided tour with samples for $20. Even better: If you buy a bottle, the tasting fee is waived.
Hanging out at Armida Winery is a fabulous stop for enjoying the scenery and a good glass (or glasses!) of wine. Book a wine-tasting spot here.
More Capitola Wineries
Pelican Ranch Winery
Soquel Vineyards
Hunter Hill Vineyard & Winery
Bargetto Winery
Capitola Wine Bar & Merchants
Capitola City Beach
Address: San Jose Ave. & Esplanade, Capitola, CA
Capitola City Beach a well-known spot that's perfect for a sunrise or sunset view. There's also a volleyball court, showers, restrooms and restaurants, plus shopping is available nearby.
Surfing is a very popular sport here, so you can enjoy watching the locals catch some waves. Not a fan of crowds? The beach is more than big enough for the tourists and locals it attracts, so you won't likely notice any.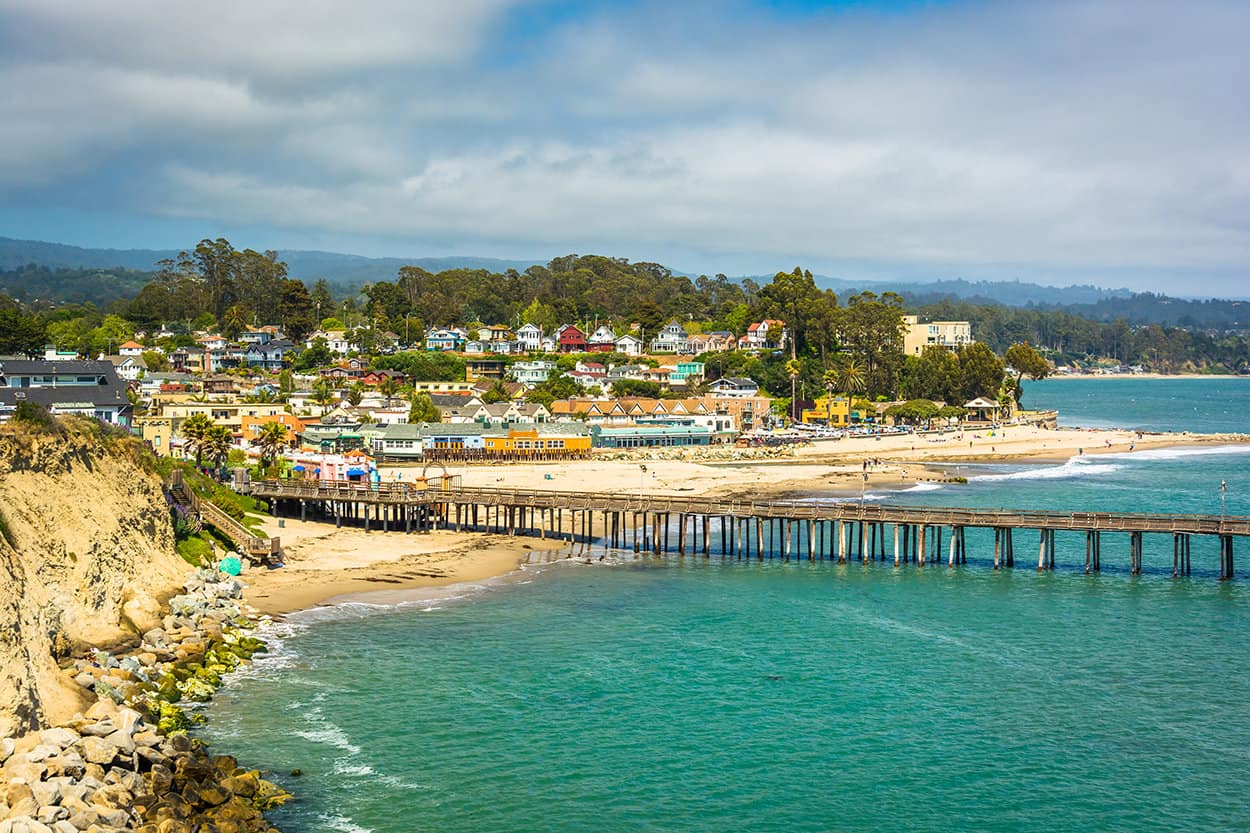 The Capitola Beach Company
Address: 131 Monterey Ave., Capitola, CA
This boutique surf shop in Capitola Village is a great spot to buy beachwear like bikinis, boardshorts, flip flops, unique gifts and more. It also offers surf and paddleboarding lessons, plus gear rentals, for a perfect day at the beach.
Capitola Historical Museum
Address: 410 Capitola Ave., Capitola, CA
This museum features rotating exhibits through its collection of artifacts and archival materials related to the history of Capitola and surrounding areas. Acknowledging its location on the ancestral homeland of the Aptos, Cajastaca (Kai-ya-stah-ka) and Uypi peoples, Capitola History Museum displays a variety of artifacts, old photos and memorabilia from Capitola's past (which began in the 1800s).
Visitors can also view a historically furnished 1907 Beach Cottage, situated in front of the main museum building. Open Thurs.-Sun, from 12 p.m. to 4 p.m.
Capitola Mall
Address: 1855 41st Ave., Capitola, CA
A traditional mall? Yes! And a stop here is fun for the whole family! Featuring more than 80 stores, restaurants and entertainment venues, plus some department stores, there are also several local-artisan shops too!
Capitola Surf and Paddle
A woman-owned, permitted surf school, this spot offers personalized instructional surf and paddleboard lessons to all skill levels. Instructors are licensed and trained in ocean safety, and certified in CPR and first aid. Visit here for more information on locations and lessons.
Capitola Wharf
Address: 1400 Wharf Rd., Capitola, CA
One of the top Capitola attractions is the Capitola Wharf Pier, extending 855 feet into the Pacific Ocean, one of the best places to enjoy this town's beachy vibe. It's not packed with shops and goods like Santa Cruz or Monterey. But it's a perfect place for leisurely stroll with plenty of other tourists but few crowds.
Be sure to stop by The Wharf House, a beautiful 18th century property set at the end of the pier that specializes in seafood fare. It also offers serves up seasonal live music and year-round, spectacular Monterey Bay views.
Esplanade Park
Address: 120 Monterey Ave., Capitola, CA
This beachside park is perfect for kiddos, featuring a kid-friendly sculpture park, public restrooms and outdoor beach showers. The area hosts several events throughout the year and features a bandstand for live performances.
Lumen Gallery
Address: 112 Capitola Ave. #100, Capitola, CA
Supporting local and regional artists and designers, this is a popular spot to shop for fun gifts and home goods that reflect the town's beach culture.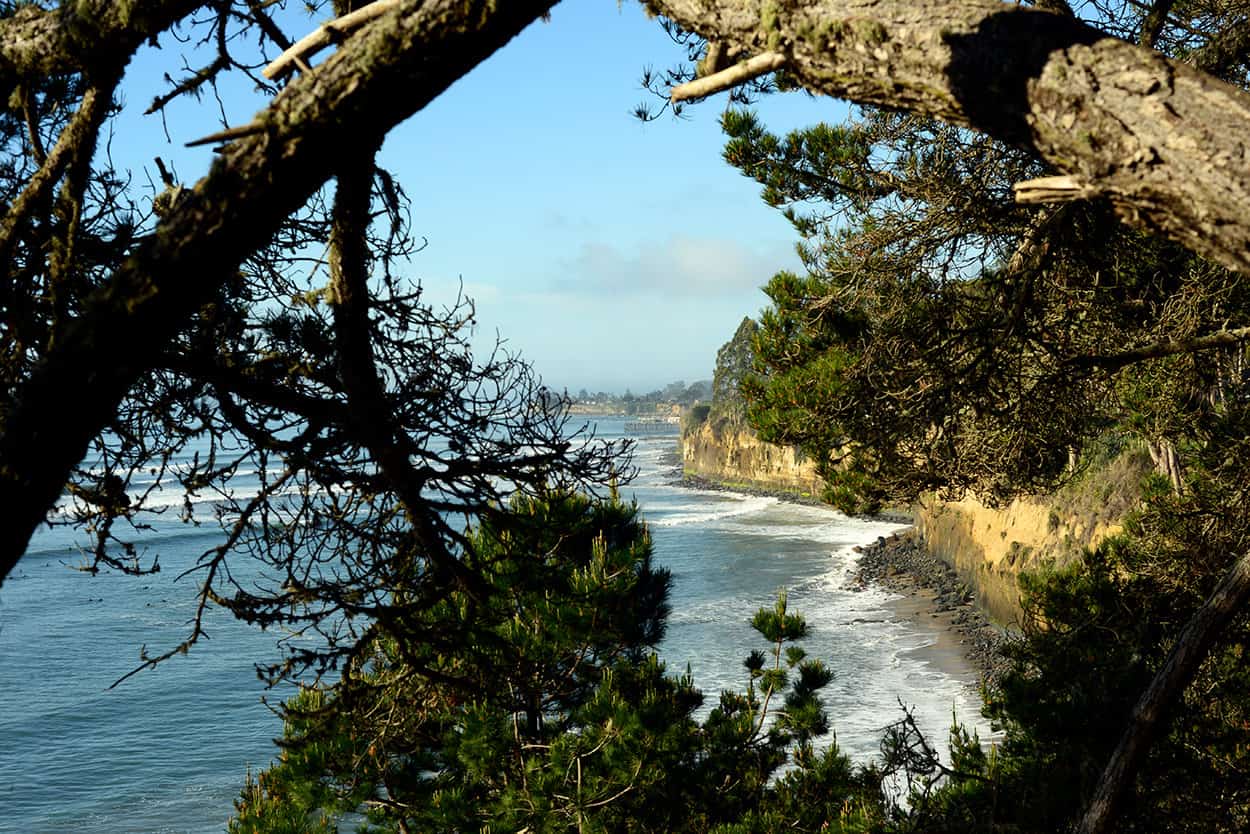 New Brighton State Beach
Address: 1500 Park Ave., Capitola, CA
If you're looking for a family-friendly beach in Capitola, New Brighton State Beach is a perfect pot to spend the day. The area offers plenty of outdoor activities: campgrounds, picnic areas, swimming, fishing and even the Monterey Pine Forest. There is a parking fee of $10 to visit, but the beach is often empty. So there's a good chance your family will have the place all to yourselves.
Pacific Migrations Visitor Center
Address: New Brighton State Beach campground (see above)
Located near the campground entrance at New Brighton State Beach, the visitor center focuses on the seasonal natural and cultural history of humans and animals around the Pacific Rim (lands around the rim of the Pacific Ocean, including North America's West Coast).
Welcoming visitors from Memorial Day through Labor Day, it features a store and programming like evening of songs, stories and star-gazing. There's also Junior Rangers program daily for children ages 7-12 years.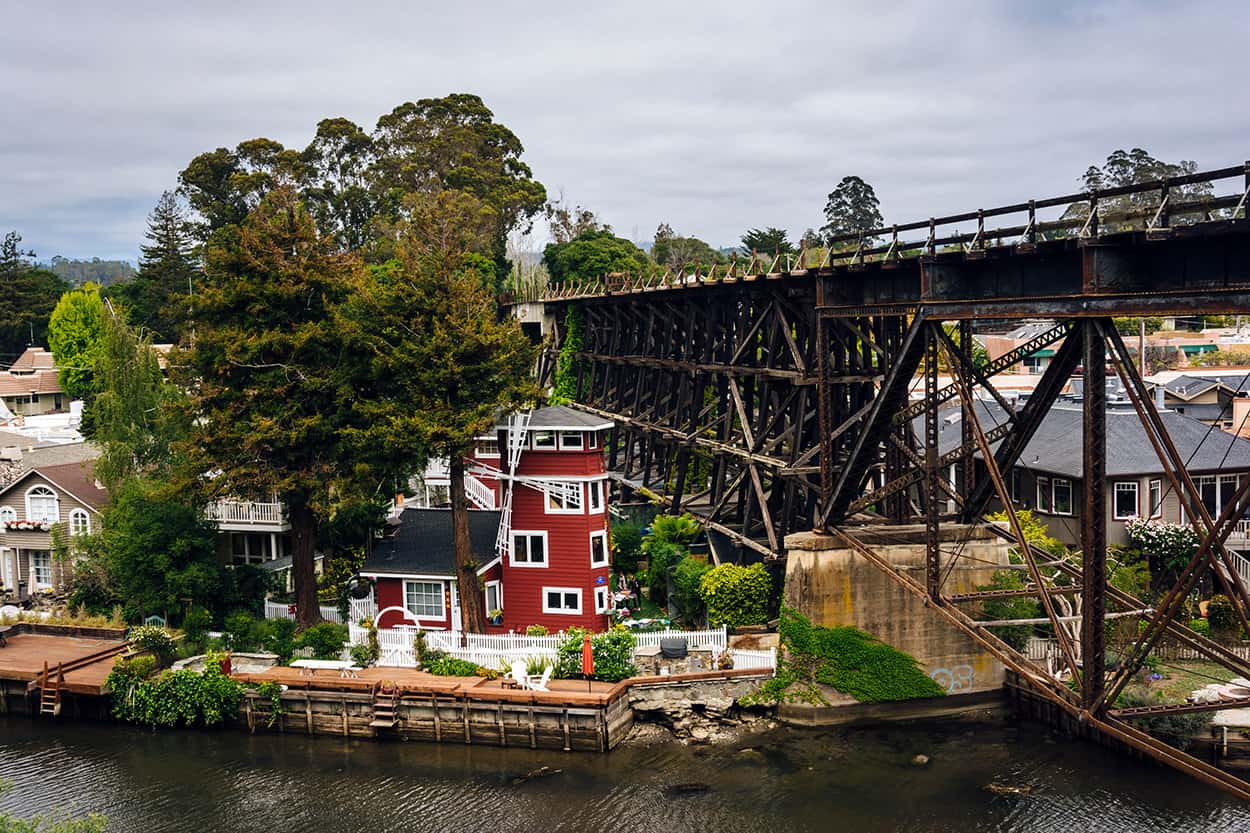 Soquel Creek
Address: Capitola State Beach
This creek begins northeast of Capitola in the Santa Cruz Mountains, emptying into Monterey Bay at Capitola Beach. So it's an especially popular place for kids and families and a fun, calm alternative to splash and play than the ocean. It's also a great place to paddleboard, particularly if you're new to the sport and need stiller waters for balance.
If you're visiting during Labor Day, be sure to catch the annual Capitola Begonia Festival, featuring floats, concerts and children's events, for starters.
The Thomas Kinkade Signature Gold Gallery
Address: 121 San Jose Ave., Capitola, CA
This art gallery features work from Thomas Kinkade, who is known as a "painter of light." Specializing in realistic, pastoral settings his artwork is a staple in many households. In fact, the gallery indicates that at least one in 20 American houses own a copy of his work. The gallery also sells signed proofs and Master Edition work from the artist.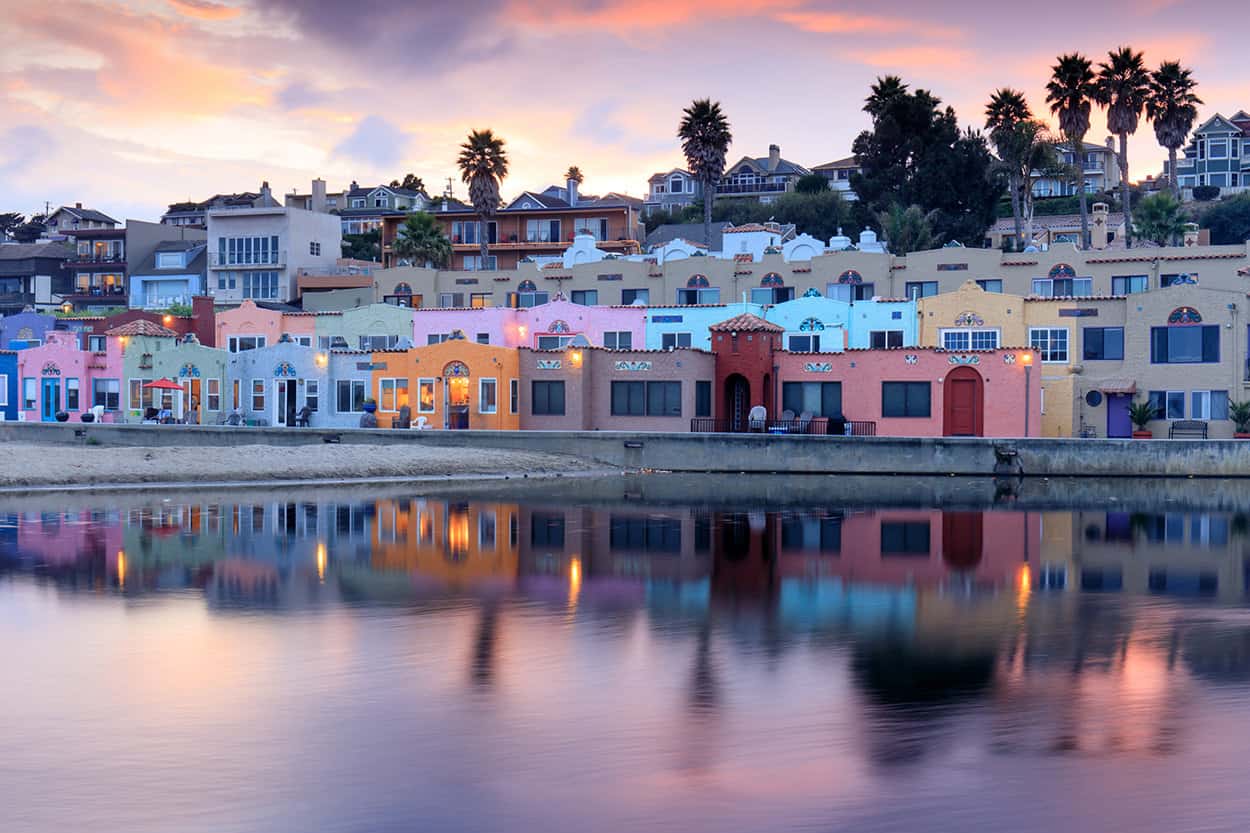 Venetian Court
Address: 1500 Wharf Rd., Capitola, CA
Venetian Court is a street filled with pastel cottages that sit right next to the wharf in Capitola.
All homes are part of a hotel and privately owned, so you can't walk through them. But no one will stop you from looking and snapping photos of the cottages' rainbow colors.
Plus they face the beach, so it's also a perfect stop for a short walk along the seaside.
Some Favorite Restaurants in Capitola, CA
The CineLux Capitola Cafe and Lounge
Address: 1475 41st Ave., Capitola, CA
Looking for dinner and a movie on your Capitola adventure? This is the spot! Featuring eight screens, plus a laid-back cafe & lounge, it's perfect for a date night or family outing.
Marianne's Ice Cream
Address: 1020 Ocean St. AND 1201 Fair Ave., Santa Cruz
Located about 5 miles west of Capitola in Santa Cruz (two locations there), Marianne's has been innovating ice cream flavors since 1947. Offering some of the creamiest and most delightful flavors–105, to be exact–including Malt Ball Fudge, Snickerdoodle Cookie Dough and Lavender.
Paradise Beach Grille
Address: 215 Esplanade, Capitola, CA
Open since 1988, the popular Paradise Beach Grille has been voted one of the best restaurants in Capitola. For good reason! Their menu includes fresh seafood with steak and vegetarian options, plus a gluten-free menu and even a kids menu. And you can enjoy it all with gorgeous beach views.
Additionally, the restaurant occasionally offers live music and always features a killer wine list.
Take a look at their menu and book a table here.
Sante Adairius Rustic Ales
Address: 103 Kennedy Dr., Capitola, CA
This brewery offers Old World ales that focus on quality and craft. In other words, their beer is nothing but extraordinary. Locals, in particular, love their American Wild Ale, Love's Armor and Maiden Fields Berliner Weisse, to name a few.
Open seven days a week (Tues.-Thurs., 2 p.m. and noon Fri.-Sun.), you can also learn more details through their website.
Shadowbrook Restaurant
Address: 1750 Wharf Rd., Capitola, CA
A well-known place to dine in Capitola, they will even send a vintage 1966 Checker Taxi to pick you up (if you're staying within 3 miles). Their menu includes fresh seafood, vegetarian options and classics like prime rib. The restaurant is a little more on the fancy side, though, so don't wear your flip flops.
More things to do near Capitola
Sage Float Spa
Seacliff State Beach
Santa Cruz Beach Boardwalk
Pleasure Point
The Forest of Nisene Mark
The Mystery Spot
Find more to do in nearby Santa Cruz and Aptos, California.
Events in Capitola, CA
Capitola Art and Wine Festival
Address: 716 Capitola Ave., Suite G, Capitola, CA
Dates: One weekend each September
A popular fall festival for tourists and locals alike, festival goers can enjoy a variety of food, including Hawaiian dishes, falafels and all your favorite deep-fried goodness. The Capitola Art and Wine Festival also showcases more than 160 local artists and some 220 wine and food vendors located throughout the region. There's also plenty of live music and dancing– even street performers.
Check programs, upcoming dates and more on the official website.
Capitola Beach Festival
Address: Capitola Village
Dates: One weekend in September
This family-friendly festival features a ton of fun events like a sand-sculpture contest, fishing derby, some rowboat races, a horseshoe tournament, plenty of children's art and chalk art.
Visitors will especially enjoy the lighted-boat nautical parade.
Capitola Plein Air Art Festival
Address: Jade Street Community Center, 4400 Jade St., Capitola, CA
Dates: October/early November
Watch as some 40 artists set up shop on the wharf, shore and streets of Capitola while painting live for four days. On the fifth day, guests will find hundreds of paintings for sale, as well as food trucks, and more.
Take home a piece of Capitola via some amazing artwork.
Capitola Village Halloween Parade
Address: Capitola City Hall, 420 Capitola Ave.
Dates: October
Families are encouraged to show up for this FREE celebration in costume and parade down Capitola Avenue and through Capitola Village. End at Esplanade Park for trick-or-treat bags and beverages. Then take the kids trick-or-treating at Capitola Village.
Surfer's Path Marathon & Capitola Half Marathon
Begin at the Santa Cruz Beach Board walk, this race offers some of the most scenic courses anywhere in the state. Enjoy cliffside views as you run toward Capitola along the magnificent coast of Santa Cruz County.
Frequently Asked Questions about Capitola, CA (FAQ)
What makes Capitola special?
Capitola is known for its picturesque coastal village, colorful seaside houses and charming Mediterranean vibe.
When is the best time to visit Capitola?
It's best to visit during the summer months, the ideal time for beach activities. Spring and fall also offer nice weather and fewer crowds.
How do I get to Capitola?
You can reach Capitola by flying into San Jose International Airport (SJC) or driving along Highway 1. It's also conveniently located near Santa Cruz.
Are there good surfing spots in Capitola?
Capitola offers excellent surfing spots for all skill levels, including the popular Capitola Wharf area.
What are the must-visit beaches in Capitola?
Capitola Beach and New Brighton State Beach are two beautiful beaches worth exploring, offering stunning views and plenty of fun.
Can I go fishing in Capitola?
Yes! Capitola Wharf is a great place for anglers to try their luck and catch some local fish.
Are there any hiking trails near Capitola?
Capitola is close to Nisene Marks State Park, which offers several scenic hiking trails amid towering redwoods and a creek.
What is Capitola Village famous?
The area is known for its boutique shops, art galleries and waterfront-dining options.
Is there public transportation in Capitola?
Yes, Capitola is served by Santa Cruz Metro buses, making it easy to get around the area without a car.
What is the weather like in Capitola?
Capitola enjoys a Mediterranean climate with mild, wet winters and warm, dry summers. Check forecast information before you visit.
Can I bring my dog to Capitola Beach?
Dogs are allowed on a leash at Capitola Beach during certain hours. Be sure to check the local regulations for specific rules.
What are some popular restaurants in Capitola?
Great dining spots in Capitola include Shadowbrook Restaurant, Zelda's on the Beach and Paradise Beach Grille.
Is Capitola a family-friendly destination?
Absolutely! Capitola offers family-friendly activities like beachcombing, paddleboarding, and mini-golf.
Can I rent water sports equipment in Capitola?
Yes, you can rent paddleboards, kayaks and other water sports equipment from several local shops near the beach.
What is the Capitola Historical Museum about?
The Capitola Historical Museum showcases the history and heritage of this coastal town through exhibits and artifacts.
Are there any annual events in Capitola I should know about?
Capitola hosts well-known events like the Capitola Art & Wine Festival and Capitola Begonia Festival. Be sure to check if they coincide with your visit dates.
Can I camp near Capitola?
While camping isn't available in Capitola itself, nearby state parks like New Brighton State Beach offer camping facilities.
Is there a vibrant nightlife scene in Capitola?
Capitola has a more relaxed atmosphere, but there is plenty of live music and beachfront bars.
Are there any historical landmarks in Capitola?
The Capitola Venetian Hotel, built-in 1924, is a historical landmark worth this visit for its unique architecture and history.
Is Capitola a good place for a romantic getaway?
Yes, Capitola's scenic beauty, beachside dining and charming atmosphere make it a great destination for couples.