Taking a family vacation is always a great idea. You get to travel with your little one and show them the world, but when it comes to sleeping for the night, there might be a problem.
Most hotel rooms aren't equipped with the proper bedding suitable for toddlers. The beds are too far off the ground, with nothing protecting them from rolling off. You also might not want to share a bed with your toddler and be kicked all night.
When traveling, one of the best options when traveling with a toddler is a portable toddler bed. This will allow your toddler to have their own space, a safe bed for sleeping, and the adults can sleep well knowing their little one won't roll out of bed during the night.
Below is a list of some of the best portable travel beds you can throw in the car when you're out exploring, and even check on the plane when traveling with babies and toddlers.
Need a bed for older kids and adults? Check out our favorite travel beds for all ages.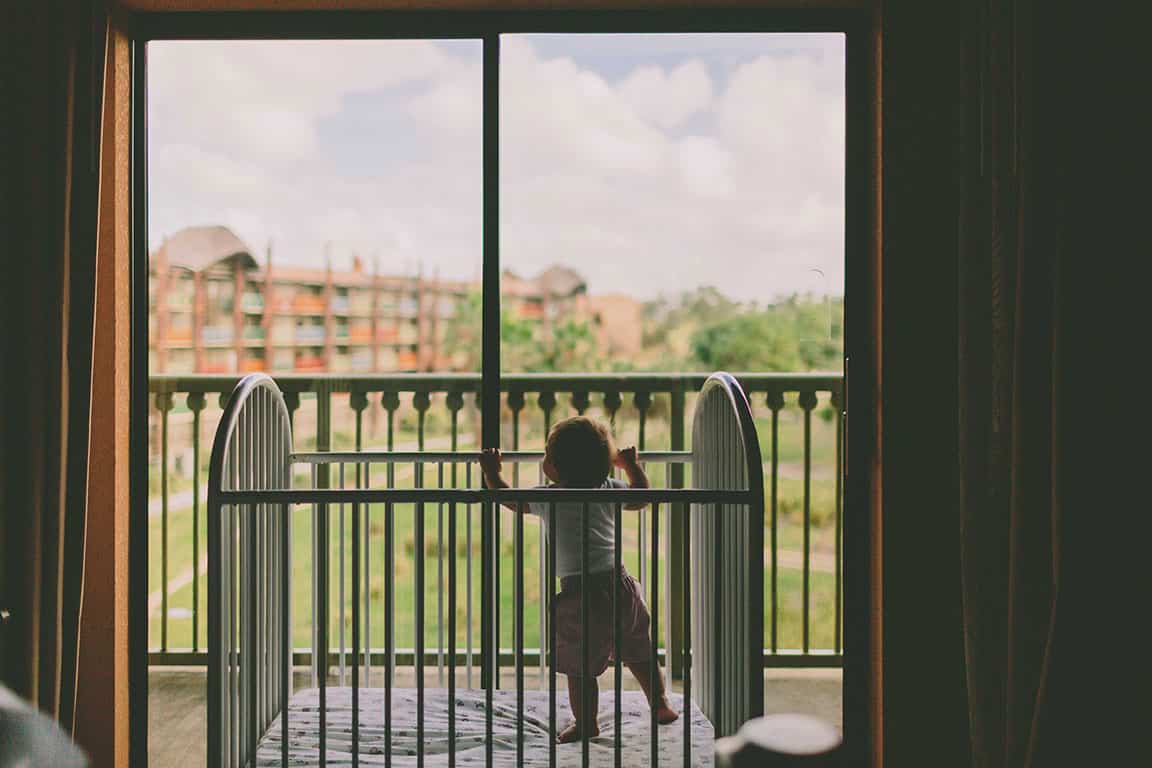 What to look for in A Toddler Bed
When you're shopping for a portable toddler bed, there are a few things you want to look for before deciding on which one will come home with you.
Price
Portable toddler beds usually run around $100, but you should consider the cost depending on how often you use them. If you only need it for one or two trips, the higher price tag might not be worth it.
Foldable size
Foldable portable toddler beds are a dream but the size matters when folded. Can you still easily pack and carry the bed once it's folded?
Sleeping surface size
The size of the bed will determine how long your toddler can use it. The bigger the surface size, the longer your toddler can sleep on it.
Quality
You want to look for a reputable company that will back their portable toddler bed. When you get a high-quality mattress, you will get the most use out of it.
Extras
The extras can make or break the bed. Look for options that include sheets, a pump, travel bags, or even a repair kit.
The Best Portable Toddler beds
EnerPlex Kids Inflatable Travel Bed
The EnerPlex Kids Inflatable Travel Bed is an excellent option for a portable toddler bed. The bed is puncture resistant and can use a standard crib sheet. The bed comes in two pieces, so you can quickly put a sheet on, and the inside mattress is made from a soft flocking material for extra comfort. There are top and side bumpers to keep your toddler in bed all night long, and the sides taper, so it's easy to jump in and out.
The portable bed comes with a travel bag and an external pump to inflate the bed and mattress. The recommended age for use is three years old, with a maximum weight of 150 pounds. If your kids like to bring a drink to bed, have no fear since the bed is also waterproof. The company has a lifetime guarantee for their bed, which is precisely what you should be looking for.
Little Sleepy Head Toddler Inflatable Bed
We love the Little Sleepy Head Toddler Inflatable Bed because the side bumpers are 12″ tall and come with a sheet. A standard-size crib sheet will also fit the bed if you need options, plus it comes with an electric pump and travel bag. The top and bottom of the portable toddler bed don't have bumpers, so if your kid is an explorer, you might need some pillows as a barrier.
The bed comes with a lifetime warranty that will cover any defects in the materials or quality of the bed. A size of 62x38x11 inches will last your toddler for a while, especially with a weight limit of 300 pounds. With the included pump, you can expect the bed to inflate within 60 seconds, and it has an extra-long power cord that's 74 inches. Once the entire thing is broken down and placed in the carry bag, it only weighs nine pounds and can fit on a plane as a carry-on.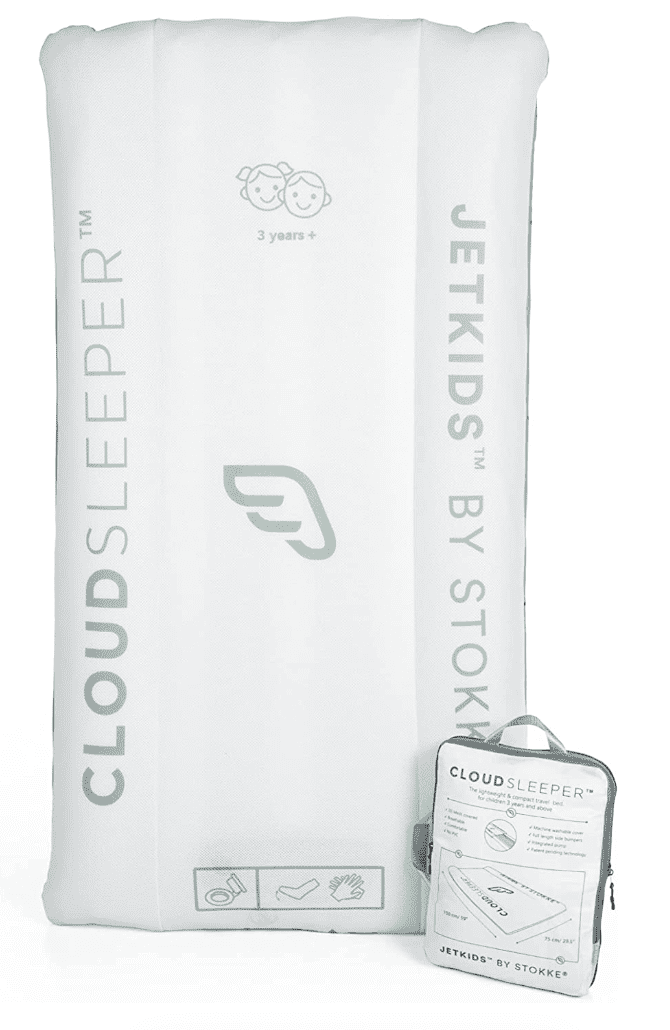 Cloudsleeper Jetkids by Stokke
The Cloudsleeper Jetkids by Stokke is an incredible portable toddler bed because it has everything you could ask for. The mattress will inflate in less than a minute since it has a built-in manual pump. The full-length bumpers will help keep your toddler secure at night; and it only takes one adult to set up. The weight limit of 150 pounds makes it longer-lasting past toddlerhood.
The cool thing that we love about this bed is the folding instructions. Printed in the portable bed are lines to show you how to properly fold the mattress so it can easily be stored once you're done using it. Once that's finished, you can keep it in the double-layered zipper bag that comes along with it. The bed is small enough to fit in your backpack or purse to take on the go when needed. Included is a removable mesh cover that you can wash but will also help regulate your child's temperature as they sleep.
Hiccapop Inflatable Travel Bed
If your toddler loves to move while they sleep, grab the Hiccapop Inflatable Travel Bed. All four sides come with bumpers that will contain even the most active sleeper, and the bumpers are extra-long and extra-tall. The bedding is made from vinyl that can withstand the roughest of kids, and it has a lifetime guarantee even with accidental damage. The included patch kit will come in handy for punctures, and it can easily be transported with a carrying bag.
This portable toddler bed can hold up to 310 pounds, so you know you will get longevity out of it. Once it's packed into the travel bag, it only weighs eight pounds and will easily store in a suitcase. The inside mattress is removable but does not come with a sheet. If you're in a hurry, don't worry since the bed will inflate within sixty seconds and comes with a pump.
Eltow Inflatable Toddler Bed
The Eltow Inflatable Toddler Bed can go toe to toe with the Stokke bed but comes at a much lower price. It is easy to set up but will take around five minutes since it comes in two parts. The inside mattress is removable for whatever reasons you may need to have it removed. The bed is easy to clean and put away yourself, plus it comes with a carrying bag for when you're finished with it.
The high-speed pump is excellent for inflating the bed, and it comes with a few patches in case of accidents. The vinyl layers will help protect the mattress from rowdy kids, and it's made to last. The downside is the bed does not come with its own sheet, so you will have to bring it along if you want them not to sleep directly on the mattress.
Hugbino Inflatable Toddler Travel Bed
The Hugbino Inflatable Toddler Travel Bed is an excellent choice for anyone on a budget. The mattress can be removed and has a soft velvet feel that will keep the kids comfortable as they sleep. The bed comes with bumpers along all four sides to keep everyone secure, and it's super easy to clean if needed. An electric pump is included, but it takes two people to attach it, unlike the other beds.
The bed is simple to store and lightweight, so you can take it along for a ride. The carrying bag makes it simple to store as well. It requires a sheet since one is omitted, but if you need a just for right now toddler bed, this one is the perfect option.
Shrunks Sleepover Travel Bed
You honestly can't go wrong with the Shrunks Sleepover Travel Bed. It's great for traveling, sleepovers, or a second mattress. The bed has bumpers along the sides to secure your toddler, and a standard-size crib sheet will fit on the mattress. It has a pump to quickly inflate it but can also roll up to 16″ x7″ x7″, making it perfect for on-go needs. The drawstring bag, which is included, makes it simple to store.
The mattress is made from squeak-free material, so nights will be quiet, and there is a sheet-tucking feature, making the blankets stay in place all night long. The maximum weight the bed can hold is 150 pounds, so even two kids can sleep on it, and you'll still be ok. The bed and pump weigh 8.5 pounds, making it simple to carry around with a toddler.
Milliard Toddler Nap Tri-Fold Mattress
We'll move away from inflatables and look at the Milliard Toddler Nap Tri-Fold Mattress. This mattress is perfect for short-term stays when you're on the go. It's easy to set up since all you need to do is unfold it wherever you're at, and the cover is removable and machine washable. The three inches of foam will give your toddler a comfortable sleep, but they're not too far off the ground in case they roll.
The inner mattress can be spot cleaned in an emergency and tucked into thirds to easily store it. The downside is it does take 48 hours for the foam to form after purchasing it, and the carrying case is sold separately. The cool thing about the mattress is it can be used for playtime and at home.
Joovy Gloo Portable Kids Travel Tent
For those who love camping, beaches, or a different type of travel bed, the Joovy Gloo Portable Kids Travel Tent is a great option. The tent protects your toddler against the elements and has UPF50 sun protection. The outside barrier will keep bugs and moisture at bay, perfect for napping on the beach or a full-fledged camping trip. The mattress inside the tent will self-inflate, keeping them off the ground and having a soft place to play when outdoors.
The entire tent can be thrown in the washing machine when you return from your trip, which is perfect for outdoor traveling. Ages 6 months to five are ideal for this tent, meaning it can be used for a while if you invest in it. When the tent is packed away, it only weighs 5.5 pounds and comes with a travel bed. No extra parts or pumps are needed for this portable toddler bed, but it can be a little tricky to fold if you're not used to tents.
BabyBjorn Travel Crib
For those who prefer to keep their toddlers in a crib while traveling, we present the BabyBjorn Travel Crib. The portable toddler bed can easily be set up or folded down in one move and comes with a comfortable mattress. Your toddler will be surrounded by an airy mesh fabric that allows you to supervise them from a distance and keeps them securely in the crib. The bed is perfect for newborns to three and has no weight limit. If your child can climb out of the crib, it's time to upgrade.
The crib weighs 13 pounds when folded up, so a little heavier than others mentioned here but still light. The mattress can fold around the frame to create a rectangle, making it easy to carry on the go or store. The cover over the bed is zippered on, making it simple to remove and wash when needed. The only downside is that your child is close to the floor, and bending over to grab them might be tough on the back.
These portable toddler beds have unique features and options that make them individually worth buying. No matter your choice, your toddler will be safe, comfortable, and happy with whatever bed you decide on.