Wander through Northern Virginia and one thing you will notice is an eclectic mix of towns, cities and rural land to explore.
Cities like Fairfax, Falls Church, Lorton and Alexandria are hopping with shops and restaurants, high-rise apartments and single-family homes with parents who commute into Washington, D.C.
Understanding Northern Virginia
The entire region around Washington, D.C. in Virginia can get a little confusing, especially when it comes to understanding the counties. Unless you live here and pay taxes into the county, most people just refer to the area as Northern Virginia, or the Capital Region.
As locals like to call it, the DMV encompasses the District, as well as the suburbs of Maryland and Virginia that loop around the Capital Beltway (I-495). Virginia and Maryland hug along the state lines and rivers, with Washington, D.C. somewhere in the middle.
Where is Fairfax County, VA?
Fairfax County is located just west of Washington, D.C. It borders both the City of Alexandria and Arlington County and is considered a suburb of the DC-metro area. While you can get some urban centers, you can also find rural spots as you head farther west towards Manassas.
The Northeastern border of Fairfax County runs along the Maryland/Virginia line of the Potomac River. It's southern edge includes Mason Neck State Park and cuts off around the Occoquan River.
Cities in Fairfax County:
Alexandria (independent city, but parts adjacent to the county)
Annandale
Burke
Centreville
Chantilly
Clifton
Dunn Loring
Fairfax
Fairfax Station
Falls Church
Fort Belvoir
Great Falls
Herndon
Lorton
Mc Lean
Oakton
Reston
Springfield
Vienna
West Mclean
Enjoy the Quiet Proximity to Washington, D.C.
If you want to visit Washington, D.C. while in the National Capital Region, you are just a quick drive, bike ride or metro stop away from downtown. It is easy to park and ride the Orange, Blue, Yellow and Silver lines.
Not everyone wants to stay at a Washington, D.C. hotel when visiting the Nation's Capital. You may want to mix your visit to the D.C. with a bit of quiet time at Virginia's state parks and Great Falls National Park. When you stay in Northern Virginia, you get the best of both worlds.
You can see all of the Smithsonian museums, the U.S. Botanical Garden, or a Nationals baseball game (or the Caps if you are into hockey). Stop in to say "hello" to the pandas at the National Zoo or plan a trip to see the D.C. cherry blossoms on the Tidal Basin in bloom come spring.
Yes, you can see and do it all, even when you stay or live just outside of the city.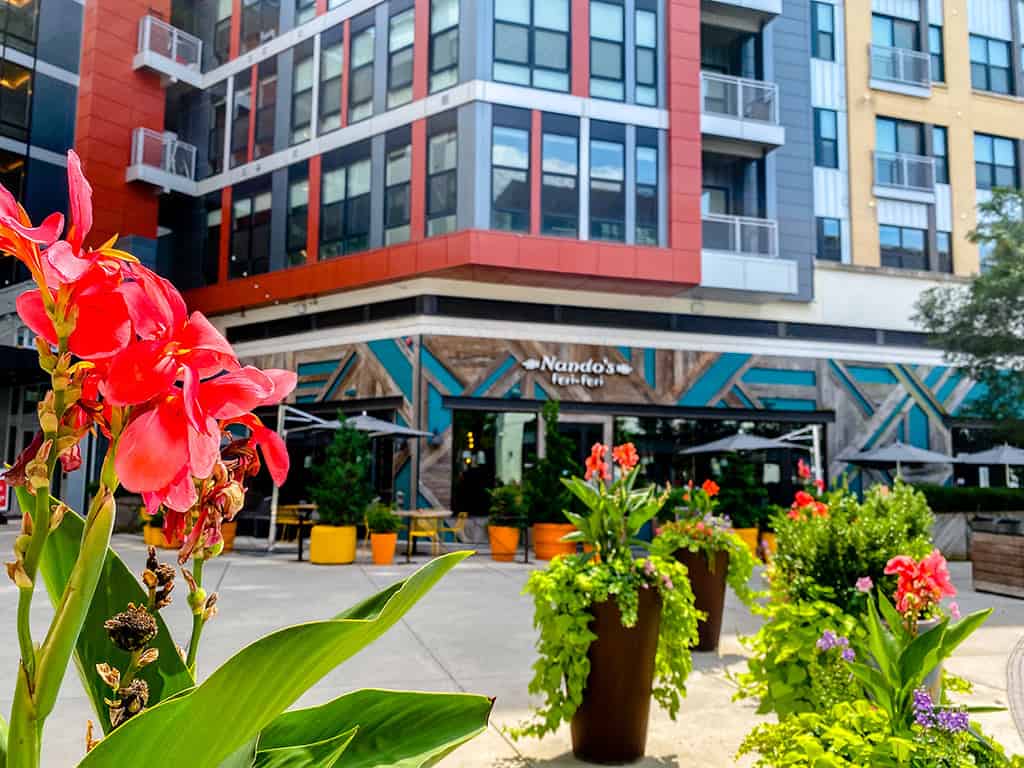 Things to do in Fairfax VA
You could fill easily plan a week of family fun things to do in Fairfax and Northern Virginia, but we have a few favorites. Mount Vernon, George Washington's home, is a must for history buffs, while an outdoor movie on the lawn in the Mosaic District may be the best way to wind down after a long day.
Explore Old Town Alexandria
Stroll down the brick-lined sidewalks of Alexandria, where 18th- and 19th-century buildings crowd in to get your attention. You will find many of the boutiques and shops of the City of Alexandria on Kings Street. If you are into history, book a tour of Gadsby's Tavern and Carlyle House Historic Park, a restored Georgian mansion.
Don't forget to stop to eat at one of the many delicious restaurants in town. We love to have a date night in Old Town Alexandria, where we can escape the kids, enjoy a nice cocktail and meal on a patio as the sunsets over the Potomac.
If you are looking for mid-century modern architecture, head into the neighborhoods of Alexandria, VA away from Old Town. Hollin Hills makes my head spin with modern lines, big windows and carefully landscaped yards that look like they should be in an architecture magazine (many are!). It's a very different vibe than Old Town Alexandra, but just as impressive.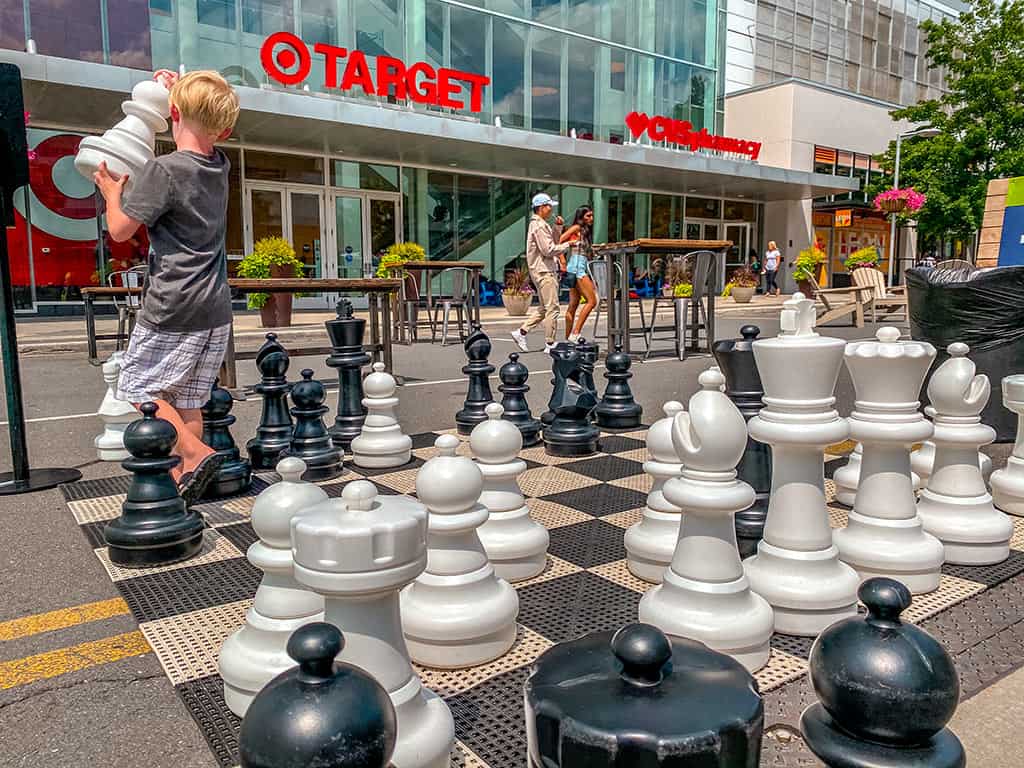 Go shopping in Fairfax County
If you love to shop, you need to poke around Tyson's Corner I and II, the Mosaic District, and all of the little boutiques and mom & pop shops in the smaller towns and cities throughout the region.
Don't be scared off by the strip malls either. Many little gems, including one of our favorite grocery stores in Eden Center, can be found in this part of Virginia.
Films in the Park at the Mosaic District
Strawberry Park brings the big screen action when the sun goes down. We love to grab an early dinner at one of the many restaurants in the Mosaic District. Our boys old standby is Cava followed up by a scoop at Dolcezza, but True Food, Oath Pizza, Jinya Ramen Bar and Bartaco are other options we try to push them towards before watching a family-friendly film.
A bowl of rolled ice cream from 520 Ice Cream and Tea is never unwelcome in our family either. It's pretty much a special event for the boys since they love to watch how it is made.
Steven F. Udvar-Hazy Center
Head into D.C. to see the museums, monuments and memorials for sure, but don't forget that the Smithsonian National Air and Space Museum also has a sight in Fairfax County.
The Udvar-Hazy Center is where the Smithsonian stores the BIG planes, rockets and space shuttles. We didn't tell my youngest that there was a second Air & Space Museum in the area for the first three years after we moved. My husband and I just knew we'd have to move in; our son would never want to leave!
The Udvar-Hazy is considered an annex of the Air & Space Museum at Washington Dulles International Airport. Walk into the open-air hanger to tour hundreds of air and spacecraft, small artifacts and more. Just be prepared to linger with kids. They will be looking up a lot to see it all and soak everything in.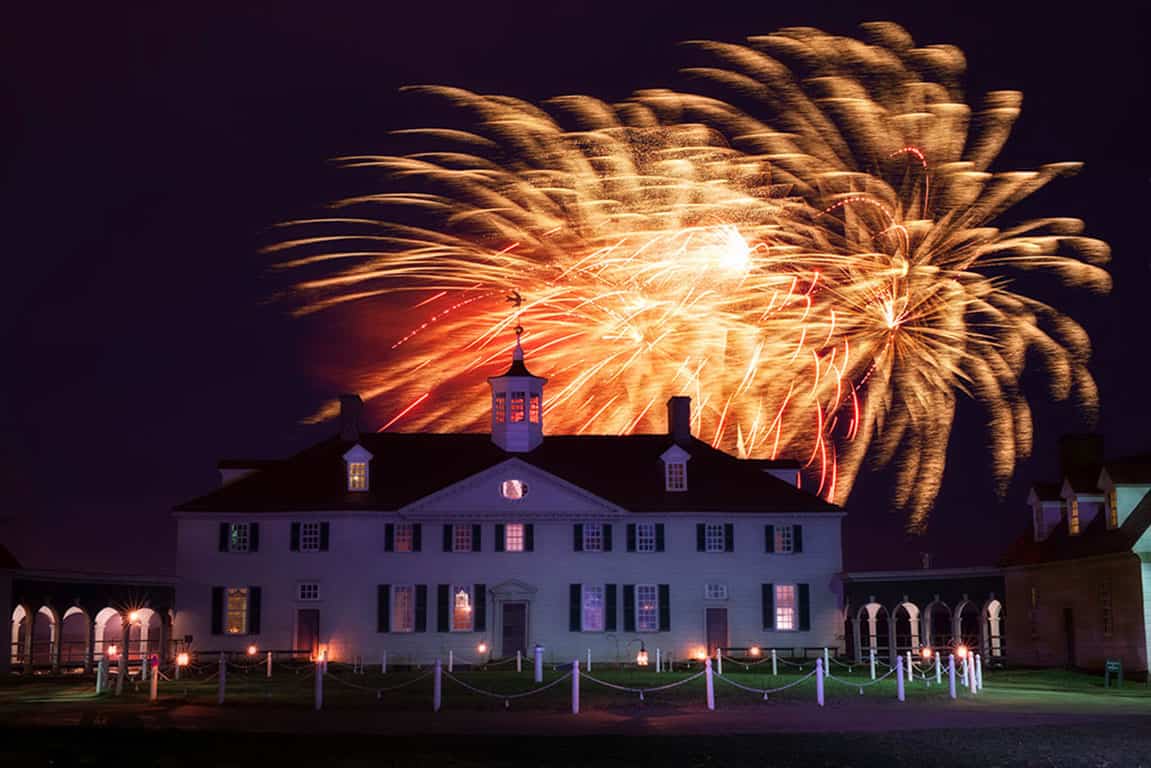 Mount Vernon Estate
George Washington's Mount Vernon is one of the DC-area's historic sites everyone should see. Guided tours are available year round, although Christmas and the 4th of July are definitely worth planning your visit around when in Northern Virginia.
Book a guided tour of the mansion and explore the grounds on your own. Family-friendly activities are available, so bring the kids with you if you have them. Check the Mount Vernon website for special events, guest lectures and ways new exhibits going up.
You can also take a tour with a costumed re-enactor, learn how the enslaved people lived on this plantation, and how America's first president spent his early years and retirement at Mount Vernon.
US Marine Corps War Memorial
You don't want to miss this impressive Arlington, VA memorial that recreates Raising the Flag on Iwo Jima, the photograph taken during the Battle of Iwo Jima by Associated Press photographer Joe Rosenthal, into sculpture form.
This moving memorial to all of the U.S. Marines who have fought and died in service to their country since 1775 is the perfect complement to your D.C. monuments and memorials tour.
If you are looking for more things to do in Northern Virginia and U.S. military history, you should pop down to Triangle, VA. Take a tour of The National Museum of the Marine Corps. The deconstructionist architecture of the museum is worth the trip alone.
Fairfax County Parks
Head west of Fairfax County and you will bump onto Manassas National Battlefield Park, Shenandoah National Park and the quaint towns of the Shenandoah Valley.
On the northern side of the county you can get lost in Great Falls National Park (one of our favorites), with loads of hiking trails and cascading waterfalls that are gorgeous in every season. Or… simply take in a show at one of the regions premiere concert venues.
WOLF TRAP NATIONAL PARK FOR THE PERFORMING ARTS
Not many of us think of performance venues when we are planning a trip to a national park, but Wolf Trap National Park for the Performing Arts is exactly that.
Wolf Trap is a haven from city life for many D.C. residents and the surrounding suburbs. The park is made up of the Filene Center (an outdoor amphitheater), The Barns at Wolf Trap, where national and international acts look forward to performing every year. It is also home to the Wolf Trap Opera and Wolf Trap Institute for Early Learning Through the Arts.
Keep an eye on their website for the latest concert series, especially in summer when big acts pop in for shows. Grab tickets early, because they will sell out.
Great Falls Park
Our favorite National Park in the D.C. area has to be Great Falls National Park. Yes, there are multiple waterfalls and it's a great place for kayaking too. The Billy Goat Trail has enough rocks for my kids to climb, but still stay away from the edge, which is a blessing any parent can relate to for sure.
There is great debate over who has the better view, Maryland or Virginia, in Great Falls National Park (they share the park as the river splits down the middle). We already know ours, but you will have to try out both sides, which offer different paths and history of the C&O Canal.
Mason Neck State Park
If you love American Bald Eagles, you are in luck– Mason Neck State Park is where you go to see them. Take a guided canoe trip of Kane's Creek and Belmont Bay to see more of the park via the water, as well as spying birds of prey on the prowl.
You can also hike through the wetlands, forest and fields to see wildlife and the natural diversity within the park.
Boats are available to rent at the Visitor's Center. Grab your state park permit, explore the small exhibits inside the visitor's center and say hello to the resident turtles before grabbing your kayak or canoe. We love to meet friends who live just down the road for a hike with the kids.
oh, and if you are into mountain biking, Mason Neck has one of the top courses in the area too. During the summer months camps will bring kids over in small groups to run the mountain bike course. Weekends will get very busy, but it is still worth checking out, and even meeting a few likeminded adrenaline junkies.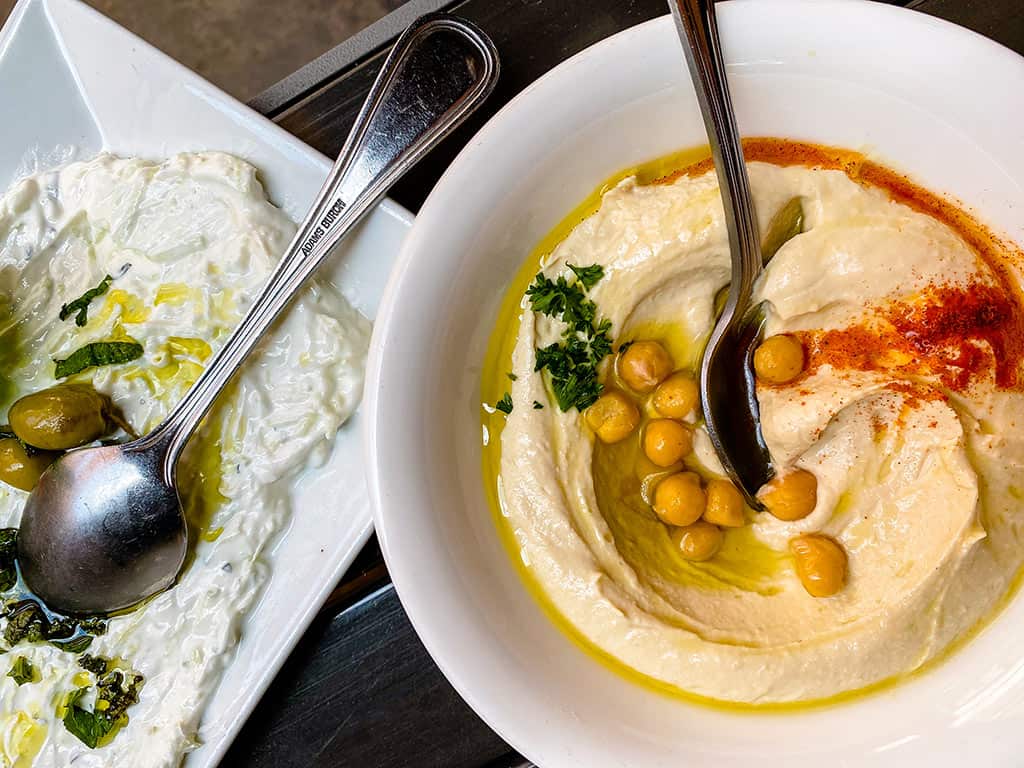 Fairfax Restaurants
Fairfax County has chain restaurants, just like any other suburb, but it also has food trucks, one-off restaurants from aspiring chefs, and more spots on the top 10 restaurant lists in the DMV than you could visit in one trip.
Peruvian, French, Thai, Yemeni, Vietnamese, Mexican, Italian and even fusions like Japanese/Korean food come together in Fairfax. You may find it difficult to pick where to eat on your next date night or family dinner. In that case, go to A Taste of Urbanspace or The Block for a food hall experience offering up several cuisines from all over the world.
Food Halls are raging across the DMV right now, and we couldn't be more excited to check out new chefs, pop-up concept restaurants and tiny coffee roasters just starting to get their product out to the locals. Personally, I never need an excuse to eat, and food halls just make it that much easier for everyone to find something they love.
Where to find a job in Fairfax County
As you read, I'm sure you've figured out that Northern Virginia is a pretty amazing spot to live. Amazon is setting up shop in Northern Virginia bringing loads of jobs, other tech companies, shops and idea people to the area.
Fairfax County is already home to several top 10 Fortune 500 companies. You'll find the headquarters of Freddie Mac, Hilton Worldwide Holdings, Capital One Financial and General Dynamics, amongst many others in Northern Virginia.
Want to work for the CIA? That's in Fairfax County. There are loads of government jobs in the county, or an easy commute away.
If you are looking for work, check out the jobs board and come live in one of the best areas of the country to play, work and eat in the Mid-Atlantic region.
Hotels in Northern Virginia
If you are looking for a job in Virginia, or are just visiting the D.C. area, you are going to need a quiet place to rest your head.
No matter your price point, you can find a hotel that matches your budget and style with some of our favorite Fairfax County hotels.
The Ritz-Carlton, Tysons Corner
Hilton McLean Tysons Corner
The Westin Tysons Corner
Hampton Inn & Suites Falls Church
Residence Inn by Marriott Fair Lakes Fairfax
Love it? Pin it for later!