It finally happened. My husband and I escaped our children on our anniversary weekend to spend a little over 24 hours in Yellowstone National Park. This less than 3-day Yellowstone vacation itinerary filled with day trips was not ideal, but it is all the time we had.
I was speaking at a conference in Montana, and my husband could only take off for a long weekend. We made the most of our time, and the free babysitting from my dad, to visit the park. It was a marathon, but one hundred percent worth it to see the first national park in the United States.
So, let's dive into planning a trip to Yellowstone National Park when when you are very short on time.
Where is Yellowstone National Park?
The bulk of Yellowstone National Park is in northwest Wyoming. A sliver pops into Idaho to the west and Montana to the north.
Best time to visit Yellowstone National Park
Spring and autumn are the best times to visit Yellowstone National Park. The weather is wild and the crowds aren't quite as bad.
Winter is the quietest time in the park. We dream about seeing Yellowstone in winter with a blanket of snow around the geothermal pools. It's a bit trickier to navigate the park and even get to the park entrance if snowfall is heavy the year you visit though. Plan carefully and fly into the closest airport possible.
Can you do one day in Yellowstone National Park?
The short answer is yes, you can do Yellowstone National Park in one day. It will be a mad dash to see the highlights, but if that is all the time you have to explore, it is still worth popping into this Wyoming national park.
Yellowstone Trip Planner
Preplanning is essential when you want to do Yellowstone quickly. We knew what sights we had to see, and what part of the park loop we needed a full day to explore.
Other parts, we could check out on our way in and out of the park.
Again, this itinerary was not ideal, but we saw a huge chunk of the park with only one full day to see it. If you can fly into Montana (especially if you are seeing Glacier National Park) and out of Wyoming (perfect if you are seeing the Grand Tetons) you will save a lot of time. Or simply fly into Jackson Hole, the closest airport to the park.
Best Airport to fly into when visiting Yellowstone
The closest airport to Yellowstone is Jackson Airport in Jackson Hole, Wyoming (JAC) in Grand Teton National Park. The cheapest would be Salt Lake City International Airport, about a five and a half hour drive away. Denver is also drivable, but will be quite a drive to Yellowstone.
Other Montana airports, as well as Wyoming, are also close enough to make it an easy drive to the park, including:
Bozeman, Montana (BZN)
Billings, Montana (BIL)
Cody, Wyoming (COD)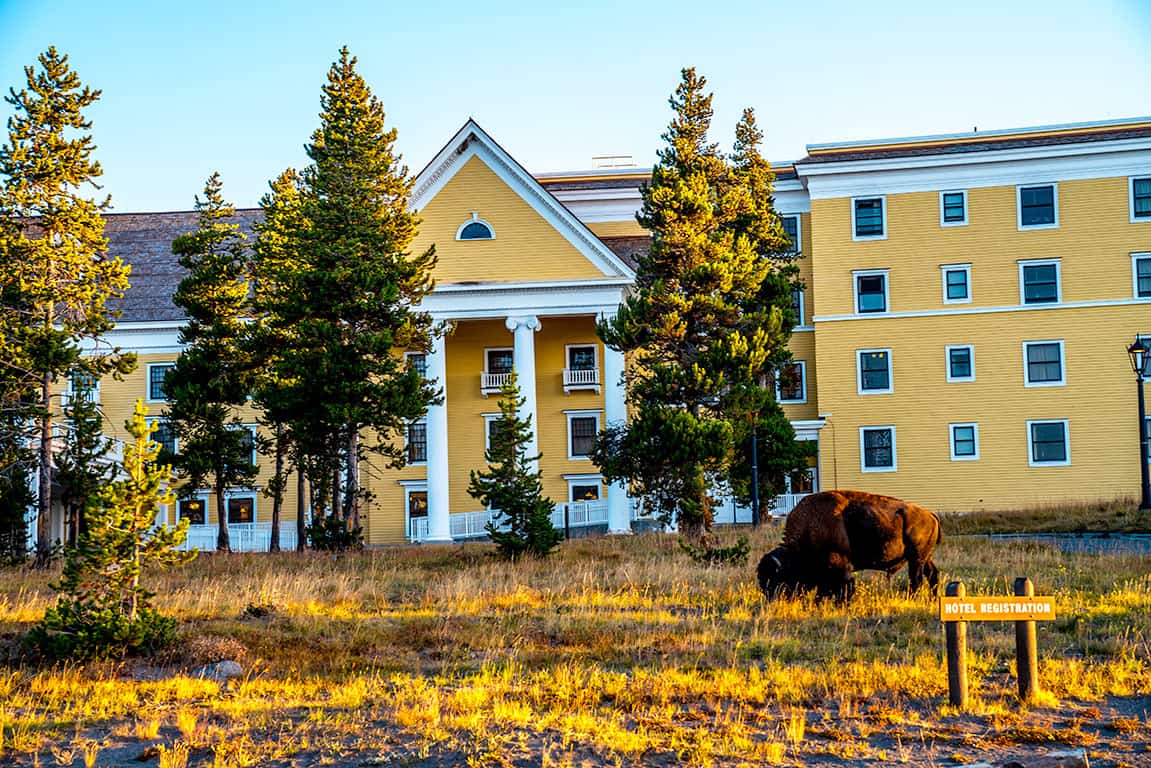 Yellowstone National Park Lodging
Book your hotel(s) way in advance. If you want your choice of lodging, do not wait a month before to book a room.
Certainly, don't drive into the park thinking you will find a room at one of the lodges. You will be trekking out of the park for sure unless it is the dead of winter. Then you will just be lucky to find one of the lodges open (many close during the off season).
The best place to stay in Yellowstone is one of the park lodges. We love the Old Faithful Lodge, Mammoth Lodge and Lake Hotel. When you stay outside of the park, you just spend too much time driving in and out of this massive expanse of land.
Looking for a Yellowstone hotel? Check out the following!
Looking for more? Search for a great deal on Booking.com!
Airbnb YELLOWSTONE
Sometimes you just want your own space, and not share with a room full of people.In that case, check out some of the Yellowstone Airbnb options.
Back Alley Urban Cabin (tiny house)
Around the Corner from Yellowstone's North Gate
Yellowstone Townhouse
Moose Cabin (Cody)
Need more options? Search for a great deal on the Airbnb map below.
Need a Rental Car? Check out the best rates to get the car you need over on RentalCars.com
Yellowstone National Park Restaurants
It's actually easier to find food in Yellowstone National Park than you might think. With several park lodges scattered throughout the park, you can pop into any of the Yellowstone National Park restaurants for breakfast, lunch or dinner. Many lodges also have cafes and shops with grab n' go options.
NOTE: if you plan on having dinner at a lodge, make your reservations as soon as possible.
Breakfast
Eat a quick breakfast at the hotel deli, in your room, or at your campsite. Coffee is available in all of the hotels and lodges, as well as a lot of the grocery stores and grills in the "towns" throughout the park.
For a sit down breakfast, head to the dining rooms at the lodges and hotels. The Lake Yellowstone Hotel has fabulous huckleberry pancakes, a breakfast buffet and other a la cart options at a very reasonable price.
Savor every bite as you kick back and enjoy a good time watching the resident bull bison that ambles around the lake.
Lunch
Pack lunch or buy groceries to save time during the day. Lunch is the easiest meal to eat on the go. Grab cheese, crackers, cured meat and some fruit. You'll be good to go, even if you don't have a cooler.
Dinner
Make dinner reservations if you want to eat at the Lake Yellowstone Hotel Restaurant. It is not necessary for breakfast or lunch, but this is a fancy restaurant people love, especially tour groups, and want to enjoy.
Old Faithful Snow Lodge Obsidian Dining Room is the perfect option if you are ending your day at Old Faithful. Grab drinks at the Old Faithful Lodge bar while you wait for a table. If you can, make a reservation at the Obsidian Dining Room so you can avoid a (sometimes very) long wait.
Other dinner suggestions:
Grant Village Dining
Mammoth Hotel Dining Room
Canyon Lodge M66 Grill
Old Faithful Inn Dining Room
Roosevelt Lodge Dining Room
Yellowstone National Park Packing Tips
Wear layers
Hiking shoes
Water bottle
Wind breaker/rain coat/waterproof shell
Blister kit
Sunscreen
Wet wipes/ antibacterial hand soap
Snacks for the car ride
Yellowstone Itinerary
Ok, it's time for the nitty gritty details of your sprint through Yellowstone National Park. Ready? Set? Go!
Oh, but wait– remember that you don't have to do the entire park. Stick to your priority list of attractions in Yellowstone.
Also, everywhere in this USA national park is amazing. You really can't go wrong no matter where you stay in the park, which sections of Yellowstone you explore, how many short walks you take, or if you just watch Old Faithful go off over and over again.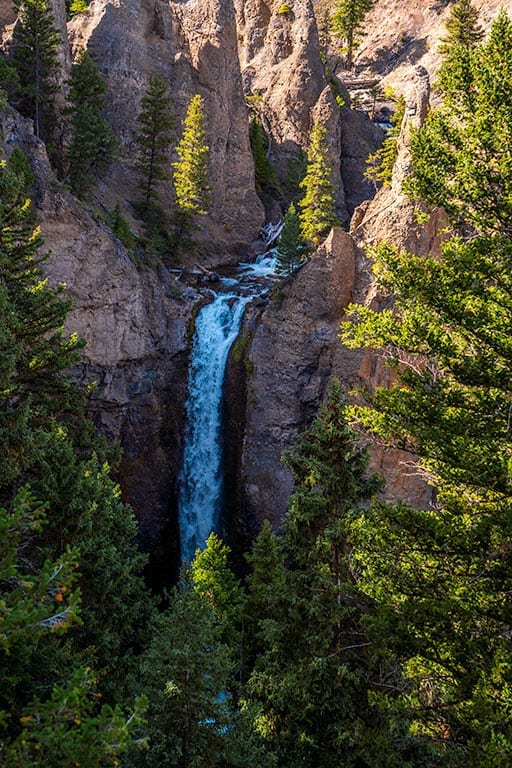 Day 1 in Yellowstone National Park
Drive west out of Billings, Montana
Take the Beartooth Highway, a section of U.S. Route 212 in Montana and Wyoming, for winding scenic views.
Grab lunch in Cooke City plus fill up on gas before you enter the park.
Enter Yellowstone through the Northeast entrance
Wander down through the Lamar Valley (tip: you may see a few Pronghorn around here)
At Tower-Roosevelt, take a left.
Stop at Tower Fall: Take a short walk to see the falls. If you are fit, hike down to the river (highly recommended). Bring water with you and remember, ice cream is back at the top at the waterfall shop. Bathrooms are also here.
Continue to drive to Canyon Village to load up on more snacks and beverages if needed.
Pop into the Canyon Village visitor's center for maps and park information.
Drive to Artist Point (South Rim Drive)
Stop to see the Sulphur Caldron and Mud Volcano in Hayden Valley.
End the your day at Lake Village and check into the Lake Yellowstone Hotel
Enjoy dinner at the deli, unless you made a reservation at the hotel dining room.
Day 2 in Yellowstone National Park
Wake up early for sunrise!
Breakfast at Lake Hotel: no reservations needed. Order the huckleberry pancakes. Super fluffy in the middle, and just a little crisp on the outside. Served with syrup and huckleberry compote.
Drive straight to Mammoth Hot Springs (you will be making your way back south. Don't get distracted!)
Tour the hot springs in the morning.
Grab take away lunch at the grill or grocery store to eat in the car as you head south.
Afternoon Stops along your route:
Golden Gate
Roaring Mountain
Norris Geyser Basin
Hike the Porcelain Basin trail
Don't skip Steamboat Geyser
If you have time (and energy) hike Back Basin, but you may want to save your energy. You still have a LOT to see.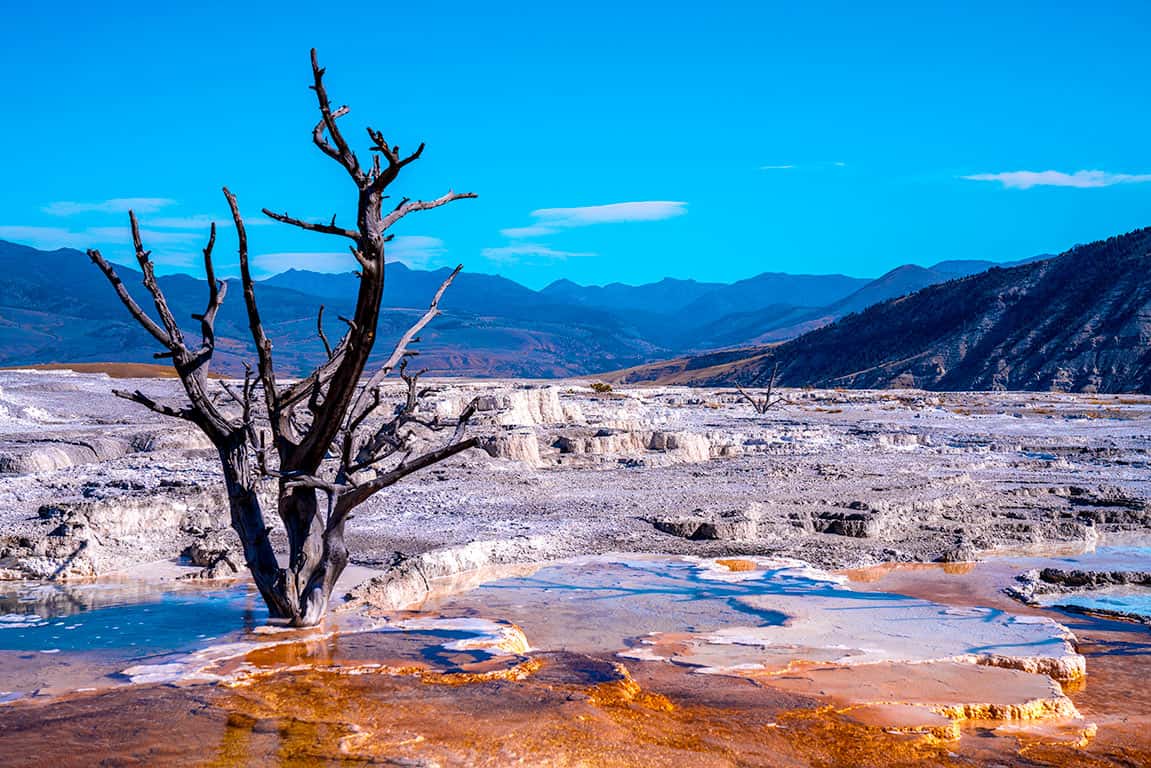 Artist Paint Pots
Gibbon Falls
Firehole Canyon Drive (this is where the swimming hole is. Pack your suit and towel if you want to take a dip)
Lower Basin Geyser Basin
Midway Geyser Basin
Biscuit Basin
Add on Upper Geyser Basin if you aren't exhausted and hungry
End at Old Faithful: Grab dinner at the Snow Lodge while you wait for Old Faithful to go off. There are approximate times listed in the lobby.
Warning: by this point, you may be all geysered out. It is OK to skip Old Faithful. You just saw a LOT of the park.
Day 3 in Yellowstone National Park
Drive back to Billings, MT. Leave EARLY to avoid construction and animal traffic jams. It can take more than four hours if you hit delays.
Depart from the south entrance if you are flying out of Jackson, WY (60 miles away).
Yellowstone National Park TIPS
Wake up EARLY to explore the park
Watch out for animals, especially in the morning and as the sun begins to set. This is when they are most active.
Check with the National Park Service for road closures, great hikes for your fitness level and day itineraries they recommend if you have more time to explore.
If you plan on hiking, bring bear spray. You can rent Bear Spray at Canyon Village.
You can drop off bear spray at Canyon Village and other drop sites around the park after your trip (you can not bring bear spray on a plane).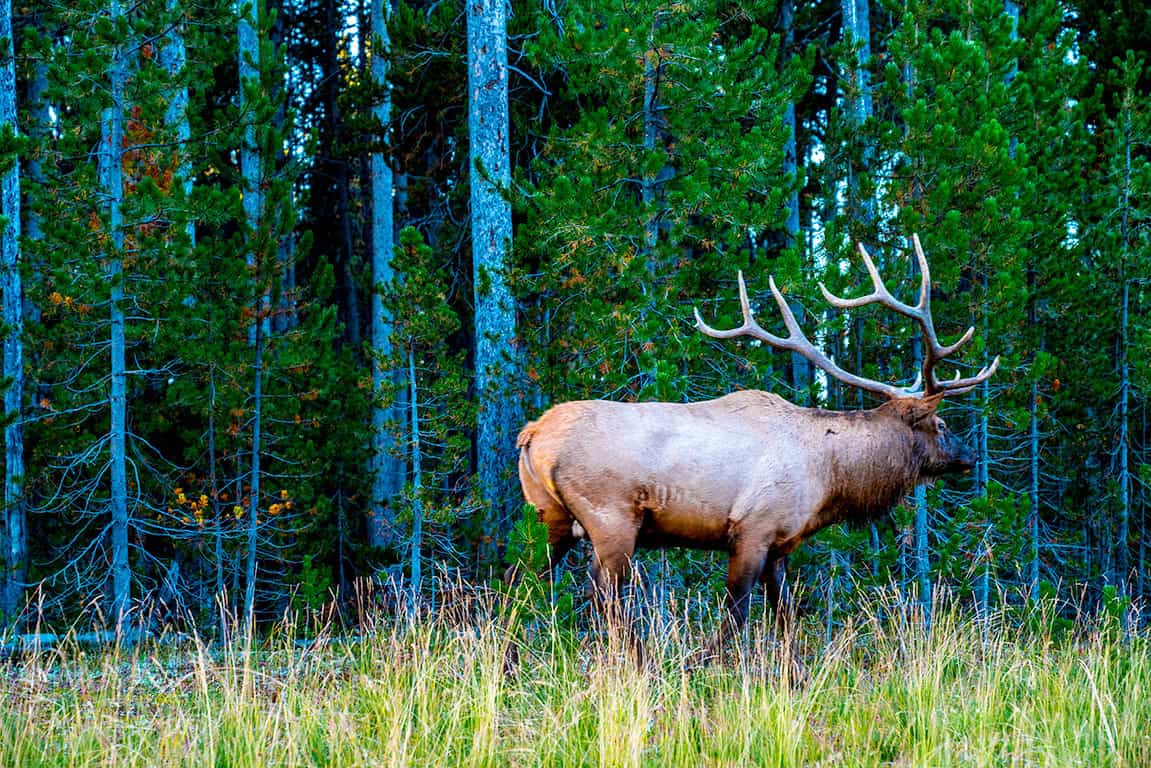 Yellowstone Wildlife
Set your expectations VERY low. You will see bison. You might not see anything else.
While others proudly proclaim that they saw grizzlies and black bears, if you are only there to do the highlights tour, and never go on a long hike off the main roads, you won't see much.
The animals like to hide out. At least from me.
Early in the morning and sunset are your best chances for seeing elk. Mule deer are like all other deer. They show up when you don't want them too—on the side of the road, terrifying you as you drive back to your hotel at night.
Yellowstone National Park Bison Warning
Bison are a huge distraction in the park. Only stop for bison that are blocking the road. If you see bison in a field, find a pull off, but do NOT walk up to a bison. Do not pet the bison.
Bison may look docile, but they can turn aggressive faster than a toddler can drop a tantrum.
More than one person is carried away in an ambulance thanks to a bison encounter. It happened while we were in the park. This is not the animal's fault. It is your fault.
Stay in your car or at least 25 meters away. If the blaring yellow and orange signs aren't warning enough, hopefully me yelling at you will be.
Also to note, at night, bison eyes do not reflect in headlights. Be extra careful while driving in the park when it is dark. A Lake Hotel employee recently fell over the resident bison because she didn't see him napping in a path as she walked back to her room.
Thankfully, he just grunted and went back to sleep. You better believe it took her a lot longer to recover from that shock.
Got more than one day in Yellowstone?
Plan more than one day in Yellowstone if at all possible. Change hotels so you don't have to trek back and retrace your steps.
Also, move east to west so the environment changes throughout the day. Seeing nothing but geysers all day can actually get tiring. Mix it up. The east side of the park is very different from the west side of the park.
Want to Visit Yellowstone? Pin it!