Hiking with baby can be a magical experience. That being said, you never know what obstacles (physical or otherwise) you might encounter. Even if you've done all your prep work: brought a suitable hiking daypack, purchased the best baby carriers, and remembered the sun hat and sun protection, it's always best to be over prepared.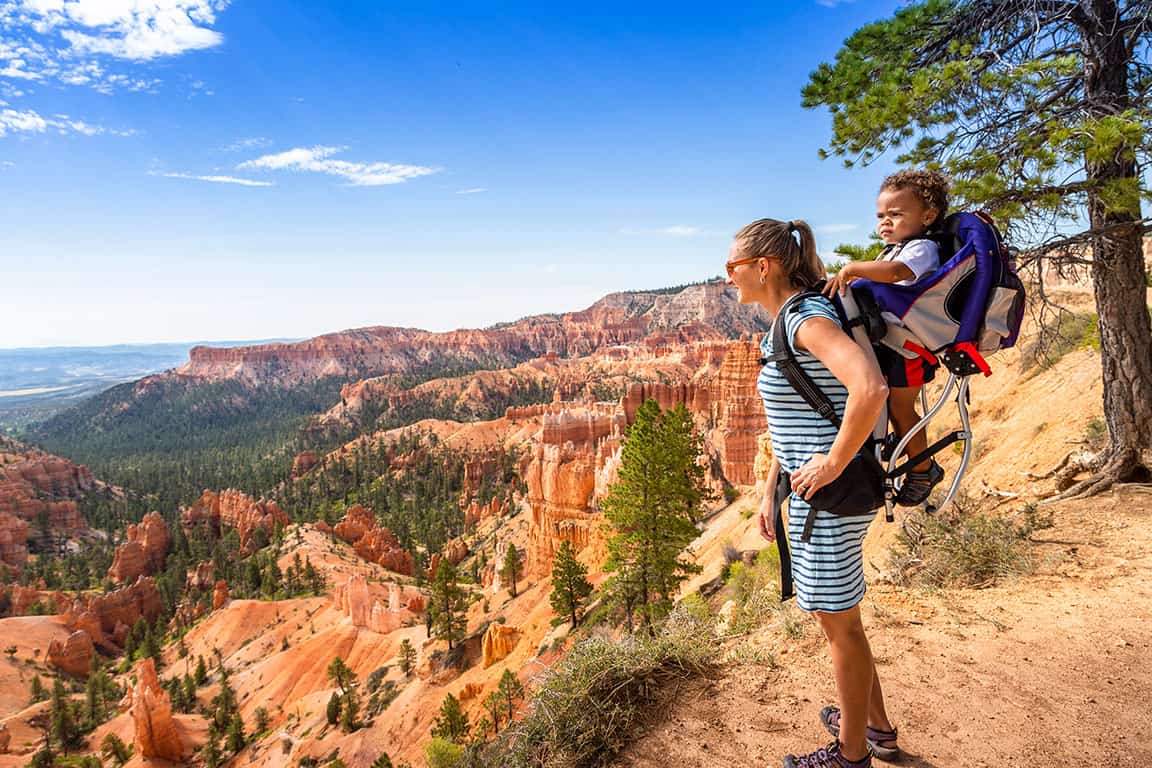 Adding a few accessories to help your adventure go even more seamless is always a good idea. While we might not think these items are essential, having them on hand in case of emergencies will make all the difference when out on the trail.
Whether you're embarking on a day hike or covering a long distance, here are a few hiking accessories we always bring with us when hiking with a baby.
Bug Repellent
Nothing can ruin your outdoor adventures like stings and bites from pesky insects. It's even worse when they attack your little one. You can never truly know what to expect when out on the trail, especially when brushing and hiking through less developed areas. This could mean more bugs waiting to get a nibble on you or your little one.
Good preparation will keep you and your baby happy and bite-free from critters like ticks (lyme disease!) and mosquitos. The best way to protect little ones from bugs is by dressing them in long sleeves and pants. You can also invest in baby-safe bug repellent that is gentle on babies' skin but gets the job done when it comes to bugs.
Search for a spray that is DEET free and made with plant-based materials and natural ingredients. We like Babyganics Insect Spray.
Grab Your Bug Repellent Here.
Dirty Diaper Bag
Diaper changes on the trail are inevitable when hiking with infants and toddlers. Dirty diapers can be awfully pungent and we recommend bringing bags to store the smelly diapers until you find a trash can. Dirty diaper bags are similar to doggy poop bags. They seal in the smell, are small and lightweight, and can be rolled up and stored anywhere.
We prefer the bags that are stored in a carrying case that can easily be clipped to our pack, like the J.L. Childress Bag 'N Bags. You can leave the bags clipped onto your daypack even when you're not hiking, so you never forget them when you're in a pinch. These bags work for disposable diapers and cloth diapers, alike.
Grab Your Dirty Diaper Bag Here.
Portable Changing Pad
A great way to change a diaper on the trail is with a portable changing pad. If you don't own one yet, we highly suggest getting one. They're a huge help when it comes to keeping baby comfortable.
These pads are compact and easily stored in a diaper bag or a daypack. Your baby will be protected from the ground and you can easily wash it when you get home from your hike.
You can find various changing pads with all the bells and whistles, but for a hike you want one that fold ups and is easy to clean. We like the Phoebus Baby Portable Changing Pad because it's small and compact, but comes with a little pillow for your baby.
Grab Your Travel Changing Pad Here.
Baby First Aid Kit
Packing a first aid kit for your baby is worth the extra weight. The right emergency gear like bandaids, liquid baby Tylenol, an emergency blanket, and gloves are all great to have on hand.
You can find a variety of first aid kit options, but we prefer the General Medi Store Mini First Aid Kit because it has all of the important items (110 pieces!) and is small enough to fit into your hiking pack without taking up too much room. The only thing you might need to add is baby Tylenol.
Grab Your Baby First Aid Kit Here.
Retractable Mirror
If your little one is in a hiking carrier on your back, a good way to check on them is with a portable mirror. Find a retractable mirror that has a carabiner that attaches to your pack and pull whenever you want a peek at the baby.
We love the LILLEbaby Clip-on Retractable Mirror. The retractable feature makes it easy to keep the mirror in place when not using it and we love that it is super lightweight.
Grab Your Retractable Mirror Here.
Toy Attachment
Let's be honest, small children love gravity and dropping their toys, pacifiers, and sippy cups whenever they feel like it. The good news is that the Lil' Sidekick Stop the Drop Game makes it simple to attach your babies' toys to your pack. We love the Lil Sidekick attachment because it's BPA, latex, and toxin-free, and easily attaches to numerous surfaces.
Grab Your Toy Attachment Here.
Hydration Sleeve
Drinking lots of water is a great way to stay hydrated on the trail. Hydration sleeves can be incredibly helpful on long or hot hikes. These sleeves slip seamlessly into your pack and can hold a few liters of water.
They're helpful for young children because you can offer them water without taking the pack off or carrying additional water for baby bottles.
We enjoy the Free Move Protective Cooler Bag because you can choose two or three liters and it's insulated to help keep your water cold.
Grab Your Hydration Sleeve Here.
Weather Protection
Even if you've checked the weather forecast, you can often be caught off guard when it comes to preparing for a hike.
We try to pack for every weather scenario. Items like sun hats, a nice base layer, shade covers for hiking carriers, and baby-friendly sunscreen like Baby Bum Mineral 50 sunscreen are always great options.
Items like booties, mittens, and beanies are great for cold weather and can be tied to your day pack. You can also grab hand warmers online to throw in your pocket or bag when it's chilly.
Pack Cover
If you think you'll be hiking in an area with a lot of dirt or rain, a pack cover might come in handy. A pack cover fits snugly over your day pack to help keep the bag and its contents protected when you're out on the trail.
The Sea to Summit Ultra-Sil is a great option when it comes to a cover.
Grab Your Pack Cover Here.
Aquaclip Kit
If you prefer to carry your water bottle with you and have enough space in your daypack, try out the Aquaclip. This clip attaches to the outside of your pack and can hold a water bottle by the neck. It's excellent for bringing additional water but doesn't take up space inside of the pack.
Grab Your Aquaclip Kit Here.
Shoulder Strap Pads
Carrying your baby can be a lot of stress on your body. You can help lesson the discomfort by adding a supportive shoulder strap to your baby backpack or carrier.
These straps easily attach to your carrier to help provide additional support when needed. Removing them allows you to wash them and then reapply when necessary.
Zpacks offers a comfortable two-pack that you can grab for your next hike.
Grab Your Shoulder Strap Pads Here.
Hip Belt Pocket
If you're carrier or pack doesn't come with a hip belt, you can always add one yourself. These are super helpful as they can hold your phone, pacifiers, teethers, snacks, and more.
The 4 Monster Hiking Waist Pack is the perfect option because it's lightweight and adjustable. When not in use, you can fold it up and store it in a small carrying case that fits perfectly into your daypack.
Grab Your Hip Belt Pocket Here.
All of the accessories mentioned are great on the trail and help take the stress out of hiking. It's like eating fries without ketchup, you could do it, but it's a lot better when you have ketchup.
These are a few of our favorite hiking options we couldn't live without on the trail. Which one are you most excited about?