Strollers, you love them, and you hate them. On the one hand, they make taking the kids anywhere simple, but on the other hand, they're heavy, bulky, and can get in the way.
The good news is stroller companies are realizing that parents need something that can get the kids from place to place, but is easy to store, collapsible, and even take on an airplane. If you see traveling in your future, you'll need an excellent travel stroller that can take the journey with you.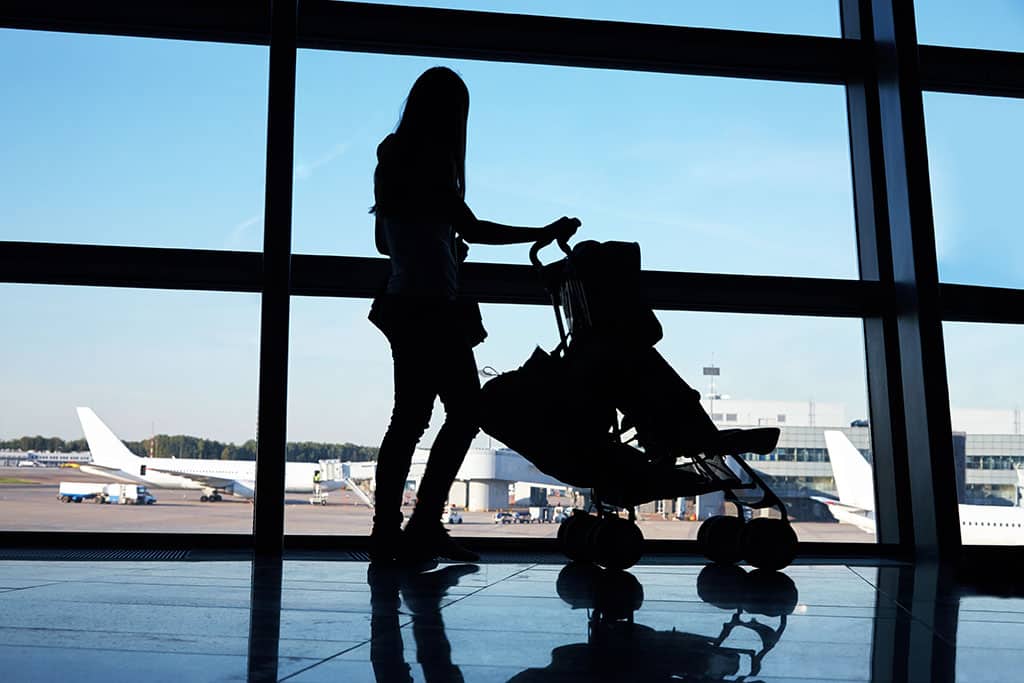 Best Collapsible Travel Strollers
Traveling with a baby can be a lot of work and stressful. Try to alleviate some of that stress with a stroller that works for the entire family and makes your travel time a little more enjoyable.
These are a few of our favorite collapsible travel strollers that are perfect to trek around. Want to bring your stroller on the plane? most will have to be checked at the gate, so read our guide on how to gate check your carseat and stroller on a plane.
Joolz AER Premium Stoller
Price: $450
Why we like it: Fits perfectly in an overhead bin
Alright, hear us out before you gawk at the $450 price tag. Yes, the Joolz AER Premium Stroller is costly, but if you know you're going to be flying with a baby, it's worth the price. With the press of two buttons, your travel stroller is easily folded or unfolded, and ready to do what you need it to. It maneuvers well and can smoothly walk-through gravel without hindrance. The shoulder straps for your children are well padded, and there is an elastic stretch for a good fit. The only downside is the weight coming in at 14 pounds. It's not super heavy, but also not light.
Babyzen YOYO2
Price: $530
Why we like it: Perfect for infants
You've seen it on the internet, and there's a reason why. The YOYO2 infant stroller is a dream when traveling with a newborn or infant. The stroller is small enough to wheel through the seats of an airplane and easily fits in an overhead bin.
The stroller has two options:
A newborn pack that is fully collapsible and gives your newborn a flat surface to rest. It's also compatible with a variety of infant car seats.
The second option is for six months and older and comes with a reclining seat. This stroller can quickly move around since it offers a one-hand fold and unfold feature. The only downside is the stroller can only hold up to 40 pounds.
GB Qbit+ All City Stroller
Price: $255
Why we like it: One hand fold option
Between the durability, one-hand fold option, and how easy it maneuvers, the GB Qbit+ Stroller is a fantastic option for traveling with your baby. It takes seconds to get the stroller unfolded and ready to go, which can be handy when you're in a hurry.
Other users also mentioned you could attach backpack straps to the stroller and easily wear it if you're with older kids that walk.
Mountain Buggy Nano V3 Stroller
Price: $200
Why we like it: Flat recline and large storage
The Mountain Buggy Nano Stroller is the perfect solution for a lightweight travel stroller. The stroller weighs 13 pounds and can hold a maximum weight of 44 pounds.
It can easily be converted for newborns and infants, plus you can add a cocoon accessory. The carry handle makes it easy to walk around with and has a shoulder strap and travel bag.
There is also a universal car seat adapter, and the large under-seat basket is perfect for holding a diaper bag.
Uppababy Minu Stroller
Price: $450
Why we like it: Perfect for all walking areas
If you know you're going to be on rougher terrain, think trails or cobblestone, the Uppababu Minu Stroller is perfect.
The smooth ride on any surface will make a parent breathe a sigh of relief when their child doesn't wake from a nap. It also offers a multi-position recline and can be stored in an overhead airplane bin.
We like that the stroller is a hybrid between a full-size stroller and an umbrella stroller with a trifold one-hand close option.
Silver Cross Jet Travel Stroller
Price: $400
Why we like it: Folds into a mini suitcase
This is by far probably one of the coolest strollers around. The compatibility is great since you can fold it into a small suitcase-style bag, perfect for airports.
We love that you can use it from birth until your baby is older, holding up to 55 pounds. The downside is you need two hands to close the stroller, so for a parent traveling alone, it can be a bit of a challenge to get it folded and hold the baby at the same time.
Peg-Perego Selfie Travel Stroller
Price: $400
Why we like it: Self-folding
What more do we need to say besides this stroller folds on its own and automatically locks into place. It's perfect for on the go, and the bumper bar can be used as a carrier. It's compatible with various car seats, plus the ball bearings and suspension make it great for trails and easy maneuverability.
Baby Jogger City Select Travel Stroller
Price: $270
Why we like it: Grows with baby
Most travel strollers work for either an infant, child, or toddler, not all three. The Baby Jogger City Select grows with your baby and can be used until age five.
It has adjustable calf support for your toddler, and you can buy a compatible newborn car seat. It provides a one-hand fold option and is easy to transport through the airport.
We also love that you can purchase accessories for it, like a glider board or a parent console.
Cybex Eezy S Twist 2
Price: $350
Why we like it: Rotates 360 degrees
The Cybex Eezy Twist stroller is awesome. The seat on the stroller rotates a full 360 degrees, allowing your child to face whatever way they want. The built-in seat is removable for car seats, and a zippered back pocket keeps items secure when on the go. The suspension creates a smooth ride for your baby, even on the roughest of terrains and hiking trails.
KolCraft Cloud Plus
Price: $80
Why we like it: Price
Most of the strollers we mentioned come at an eye-opening price, but if you need one to just to get by for a flight, try out the Kolcraft Cloud Plus Stroller. For $80, you get a stroller that easily folds with one hand and has a sizeable, expandable canopy with peekaboo windows.
The parent tray will hold all your necessities, and there is a large storage basket for blankets or a diaper bag. The stroller is also extremely lightweight, only 12 pounds, and the only downside is it doesn't recline flat.
Summer Infant 3D Lite Plus
Price: $100
Why we like it: Durability
Don't worry, newborn parents; we have an affordable option for you too.
The Summer Infant 3D Lite Plus stroller is great for newborns and infants on the go. The stroller easily folds and comes with shoulder straps for easy carrying.
The large basket makes storing things in the stroller simple, and its durability makes it a great companion on all your flights. It doesn't have all the bells and whistles other travel strollers do, but it does the job.
Joovy Kooper X2 Double Stroller
Price: $450
Why we like it: Lightweight
Parents of multiples, we got you. The Joovy Kooper double stroller is lightweight, but also compatible.
The one-fold technology is perfect, and it offers multi-position reclining with an adjustable three-position footrest. We love that the fabric on the stroller is removable and can be washed after every trip with kids, or you know, in case of accidents.