Tucked away on a peninsula near the west coast of County Galway, it would be very easy to skip Connemara National Park on your road trip and head straight toward Galway City.
Yes, it's part of the Wild Atlantic Way route that follows Ireland's western coastline, but this road trip takes in five out of six Irish national parks, including the Cliffs of Moher and Burren National Park.
If you're short on time, you might be tempted to keep driving. Don't!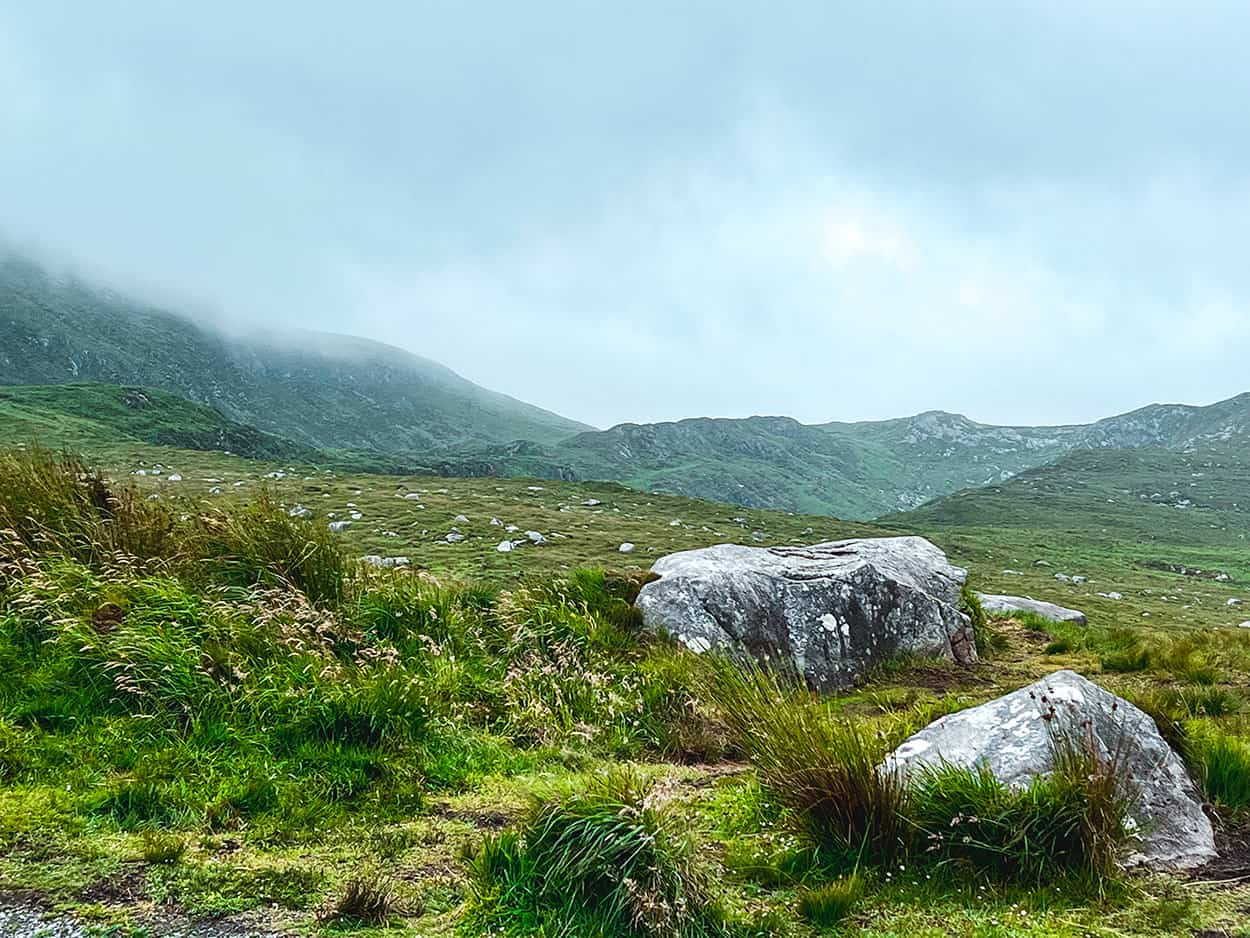 Despite being the second smallest in Ireland, Connemara National Park has so much to offer visitors.
Established as a national park in 1980, it boasts more than 7,000 acres of incredible scenery that includes mountains, expanses of bogs, four main walking trails and a loop trail, rare and native wildlife like red deer, beautiful historic buildings, and spectacular rugged wilderness.
Whether you're visiting Connemara, Ireland as part of a Wild Atlantic Way road trip or as a side trip from Galway or Clifden, you'll find plenty of things to do in one of the most beautiful places in western Ireland.
Let's dig in to start planning your trip to Connemara National Park.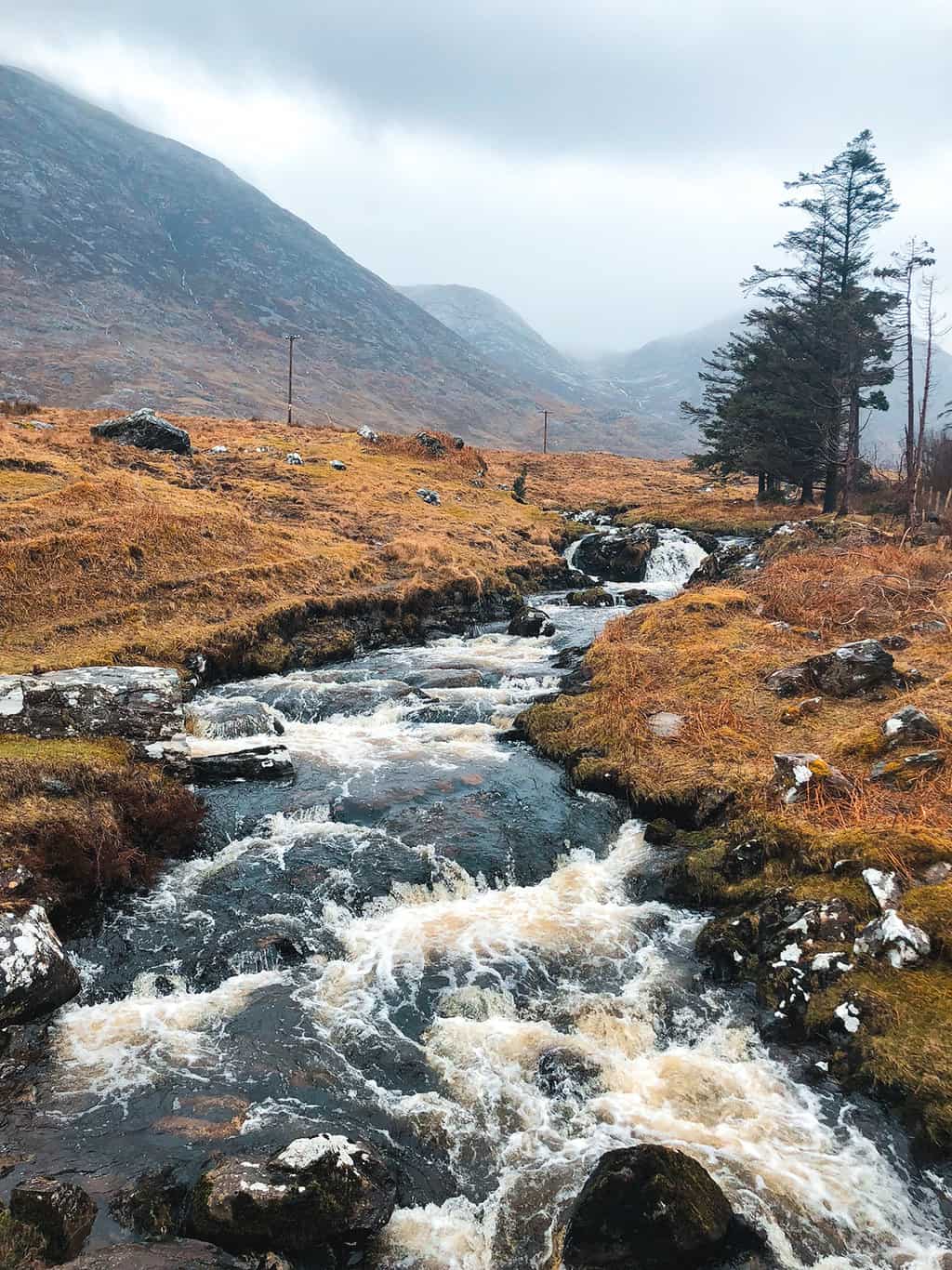 Plan a Trip to Connemara National Park
This post contains affiliate links, which means we may earn a small commission from your purchase. This adds NO extra cost to you.
Flying to Ireland?
Looking for the best flights to Ireland? We love to track flights via Expedia.com. Not only do we find great rates, but we earn points to use on future travel too.
You can also keep an eye on GOING deals, which is how we got to Ireland roundtrip from LAX for under $500 each. The free version is good, but the paid subscription will save you way more than the cost per year.
DON'T FORGET YOUR ESIM CARD!
We all love our smartphones, but we don't love those international roaming charges. Even if you have a travel pass, you could max out your service, which is why we always grab an eSIM card to pop into our phones. It's especially great for the kids, as it limits what they can do and how much data they can use, but still allows them to text friends back home.
Check out Airalo, our preferred eSIM card store for the best prices on eSIM cards and international data plans.
NEED A RENTAL CAR?
We use DiscoverCars.com to get the best rates and availability on rental cars. Find your car HERE, along with all of the extras you may need (insurance, car seats, ski racks, etc.)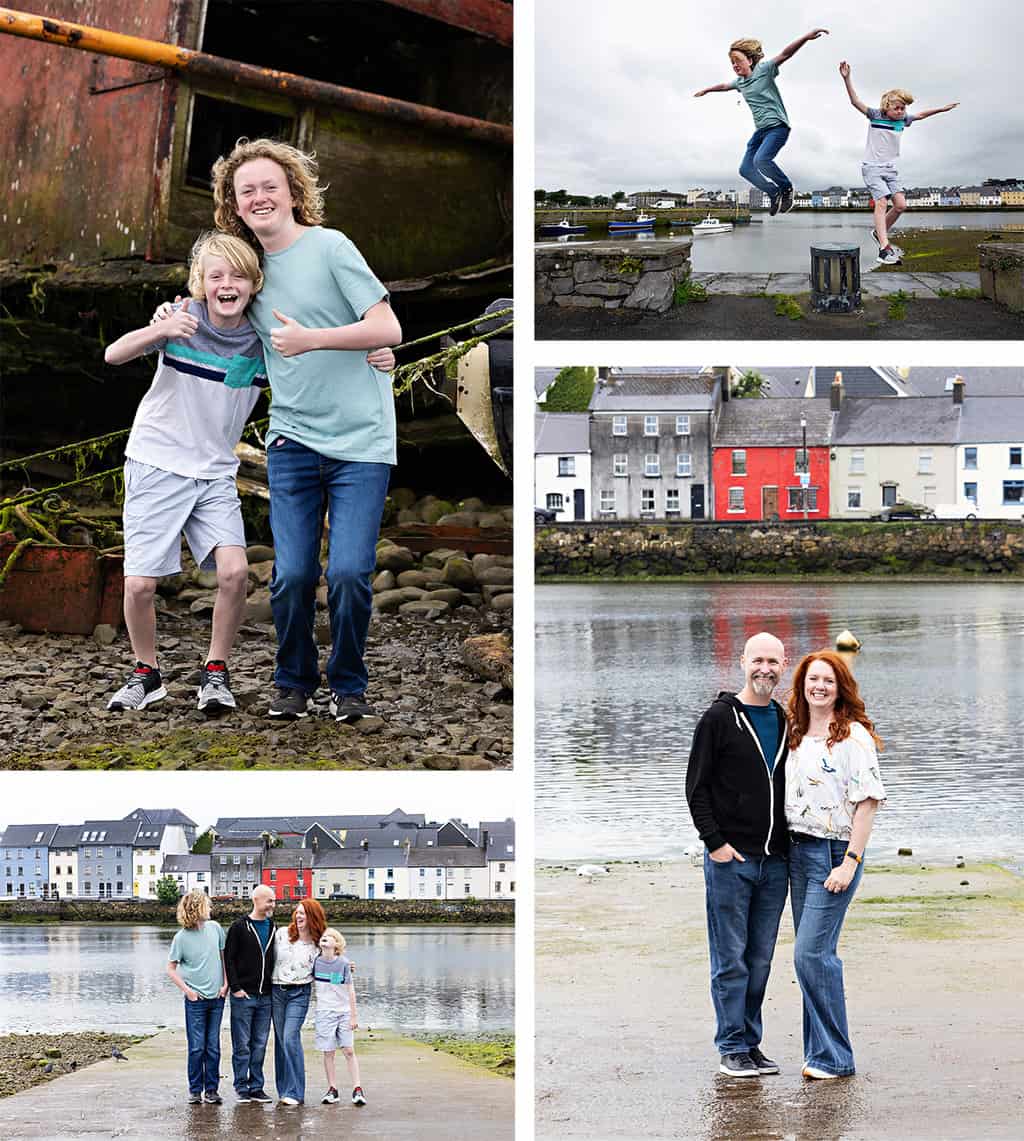 VACATION PHOTOS
Don't forget to book your Flytographer session to capture awesome memories from your trip. We do it as often as we can, even though I'm a photographer. Sometimes, this mom just wants to be in a few photos with her kiddos.
TRAVEL INSURANCE
Do NOT forget to buy travel insurance for your cruise, even if you booked through a travel agent. Things do and will happen and it's cheaper to buy travel insurance ahead of time instead of paying out of pocket later.
Check out Travelex for rates on a single trip or an annual plan that could be right for you if you take more than one or two trips a year. 
Hotels in Connemara Ireland
While we love these hotels, if you are looking for something a little different, like vacation rentals or alternate hotels, check out a full list of the best Connemara hotels HERE.
Find more hotels and vacation rentals in nearby Clifden and Galway.
Connemara National Park Tours
Find more tours of Connemara National Park and the surrounding area HERE.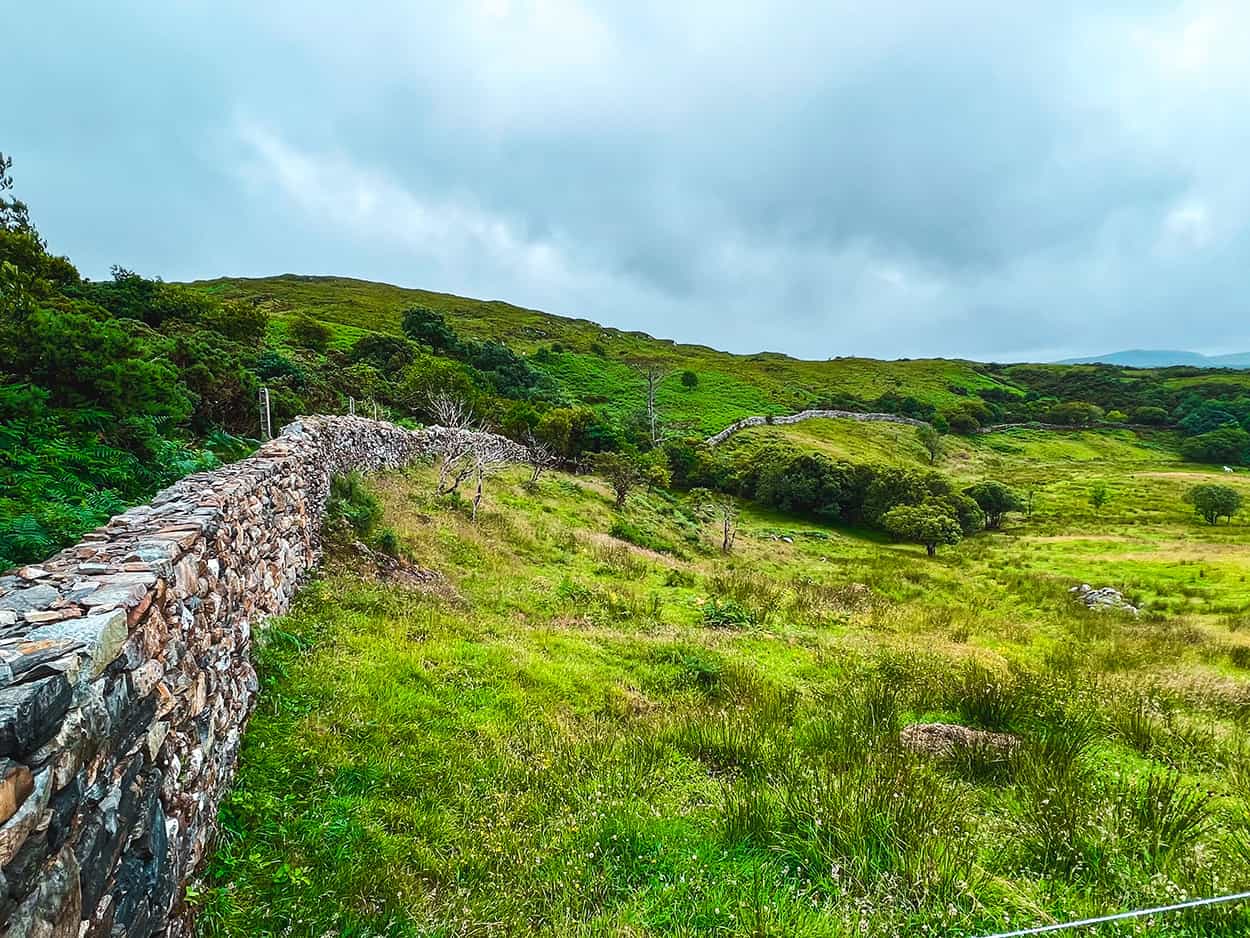 A Brief History of Connemara National Park
Connemara National Park is located in County Galway, Ireland, and it is one of the country's six national parks. The park's history is rich and intertwined with the region's cultural heritage and conservation efforts.
Early history
The Connemara region has a long history of human habitation dating back thousands of years. Prehistoric sites and artifacts found in the area indicate that people have lived here since ancient times. The landscape of Connemara, with its mountains, lakes, and bogs, has been shaped by human activities such as farming, fishing, and turf cutting.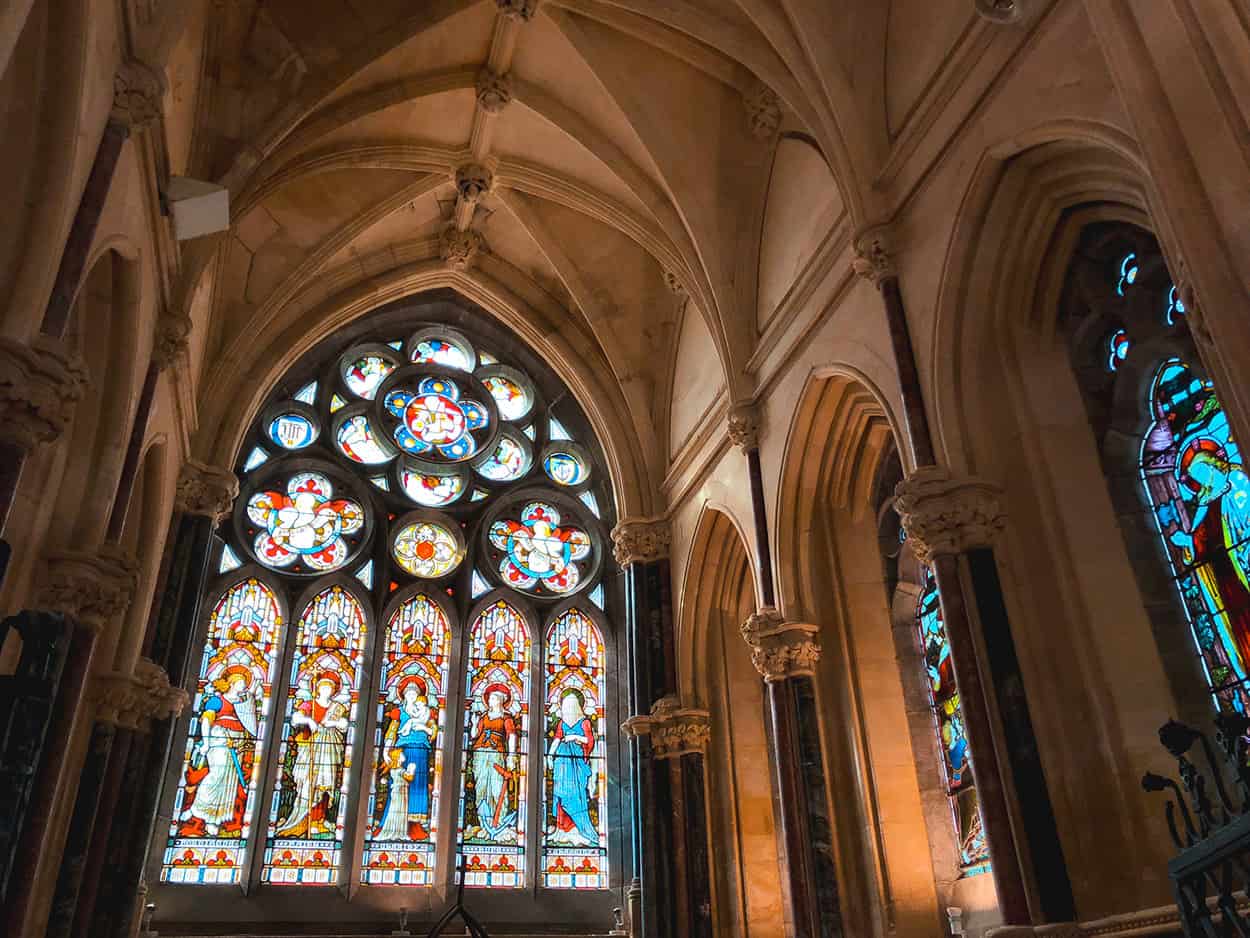 Kylemore Abbey
One of the most iconic features of Connemara National Park is Kylemore Abbey. The abbey was originally built in the late 19th century as a private residence for Mitchell Henry, a wealthy doctor and politician. The estate features a stunning Victorian walled garden and sits at the base of Duchruach Mountain, providing a picturesque backdrop.
Conservation efforts
In the early 20th century, there was a growing awareness of the importance of preserving Ireland's natural heritage. Concerns about habitat destruction and the decline of certain plant and animal species led to the creation of the park.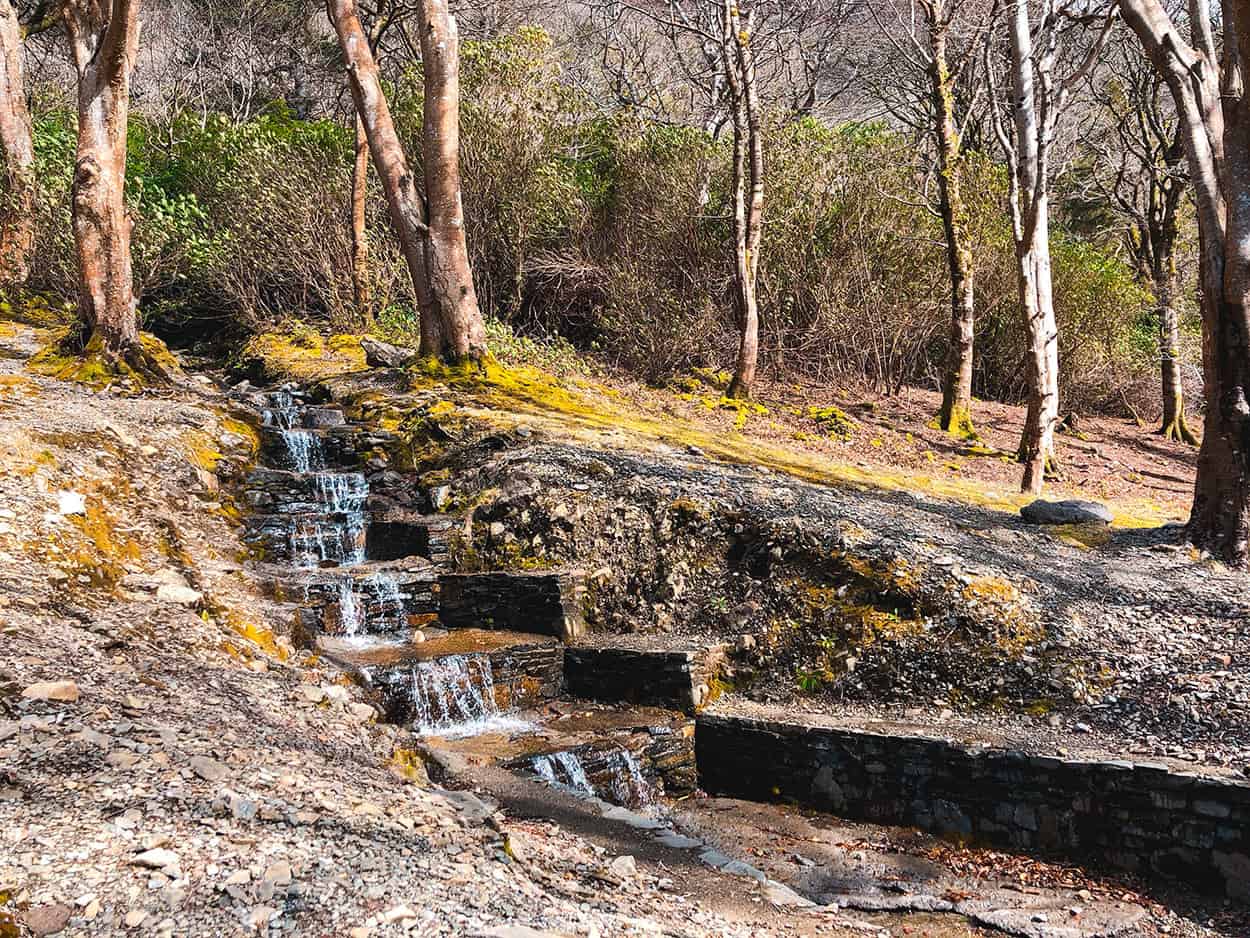 Establishment of Connemara National Park
Connemara National Park was established and opened to the public in 1980. It covers an area of approximately 2,957 hectares of scenic mountains (7,300 acres) and includes a variety of landscapes, such as mountains, bogs, heaths, grasslands, and woodlands. The park's main aim is to protect and preserve the unique flora, fauna, and geological features of the Connemara region.
Development and visitor facilities
Over the years, the park wildlife service has undergone development to enhance visitor experiences while maintaining its conservation goals. Visitor facilities, including walking trails, information centers, and picnic areas, have been established to allow visitors to explore and appreciate the natural beauty of the area, without causing too much disruption to the environment.
The park is also responsible for the management of connemara ponies found in Connemara National Park.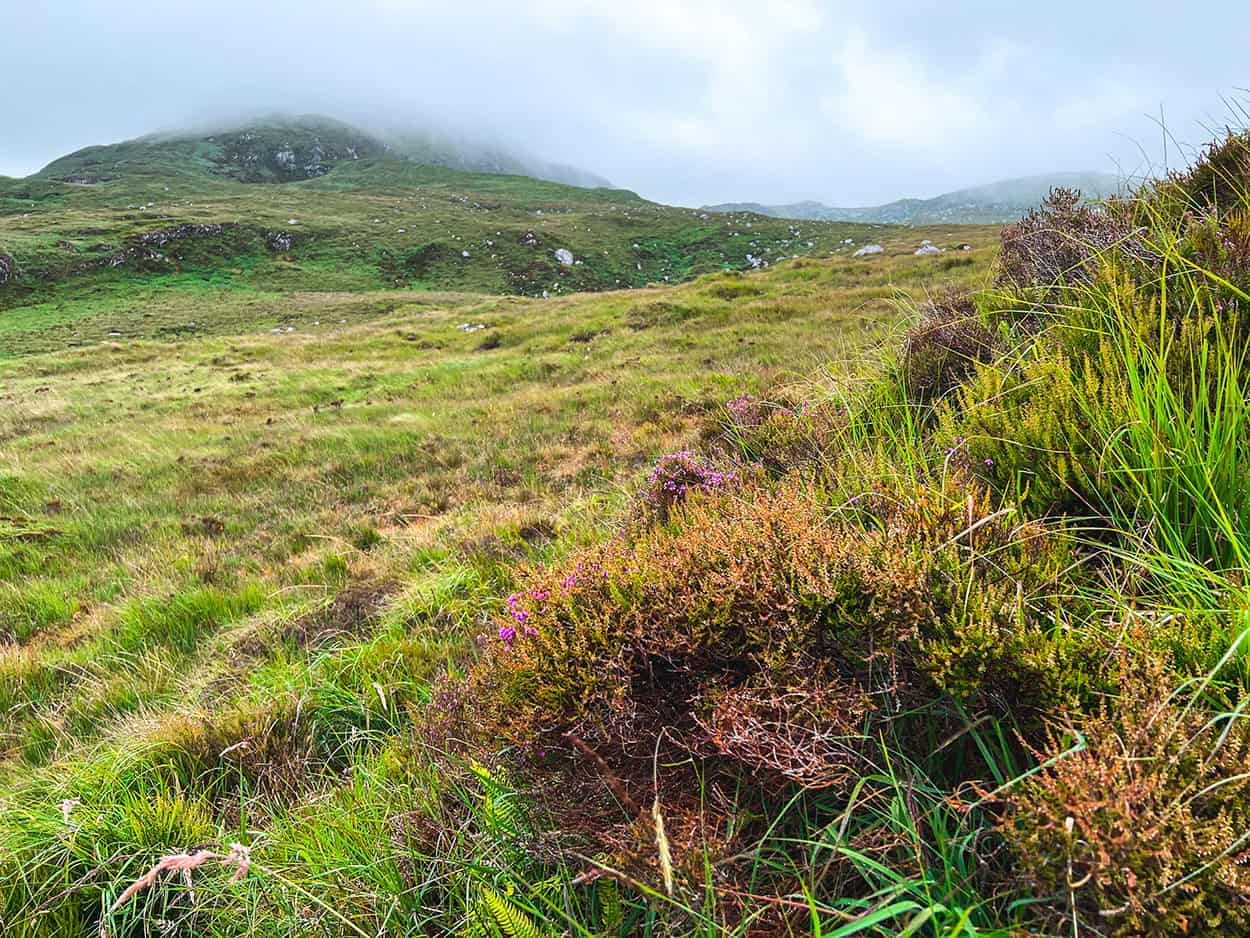 Biodiversity
Connemara National Park is home to a diverse range of wildlife, including several bird species, red deer, Connemara ponies, and a variety of plant species, some of which are unique to the region. The park's flora and fauna, including the purple moor grass, play a crucial role in maintaining the delicate balance of the Connemara ecosystem, as well as adding to the scenic beauty of western Ireland. Connemara's history and natural wonders make it an integral part of Ireland's national park system.
Animals of Connemara National Park
Peregrine falcons
Badgers
Foxes
Pine marten
Bats
Red deer
Otters
Hares
Stoats
Wood mice
Pygmy shrews
Connemara pony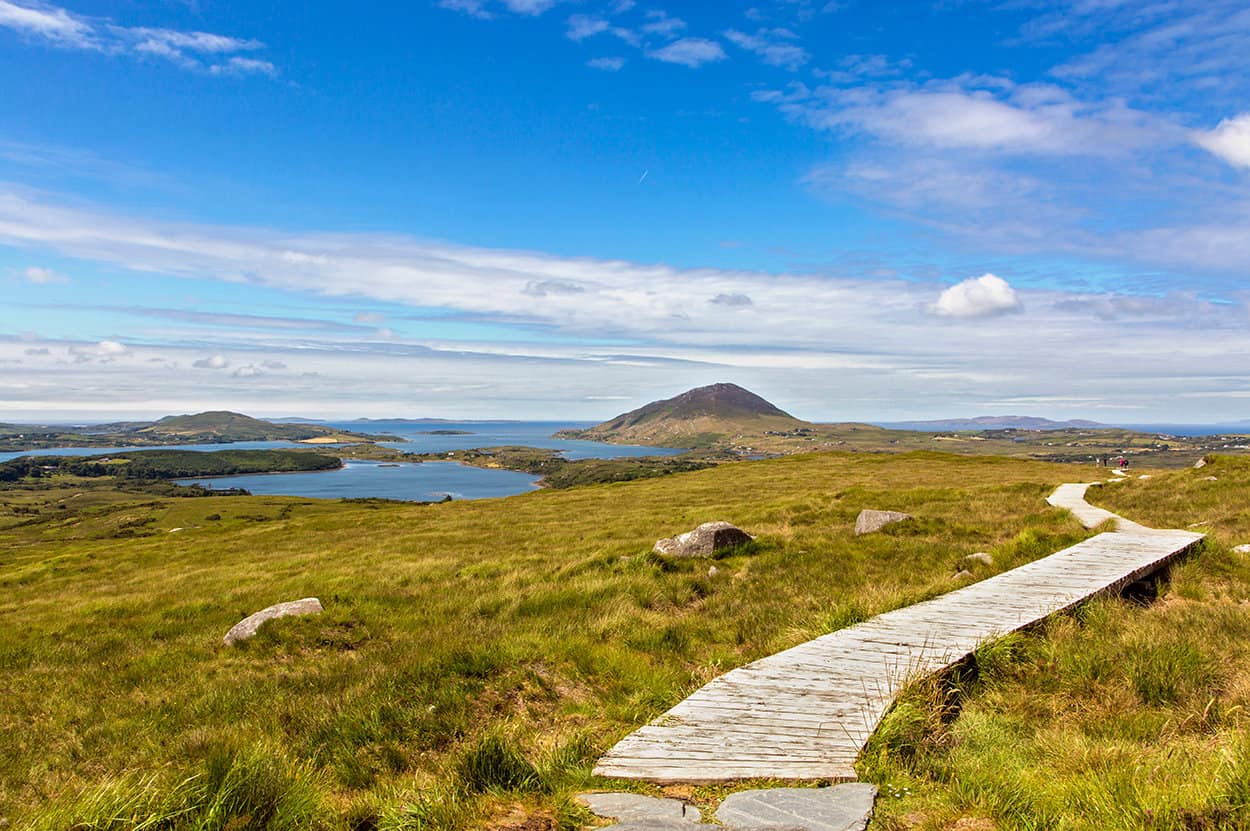 THINGS TO DO IN CONNEMARA NATIONAL PARK
Letterfrack Village
If Clifden is the gateway town to the Connemara region, the small village of Letterfrack is the front door. Letterfrack, located in the west of Ireland, sits on the Ballynakill Bay and is the entrance point to Connemara National Park, but that doesn't mean you should just drive by without stopping in this town on the edge of the national park.
Despite its natural focus, Letterfrack is also a haven of traditional Irish Music. Two festivals, including Bog Week and Sea Week, celebrate the tradition of music in Ireland, but you can catch live music throughout the year at Veldons Seafarer Pub and Restaurant.
And while the Letterfrack Industrial School Graveyard isn't a fun place to visit, but it is poignant and an important site to remember. It houses the graves of 78 young boys, most of whom died attending the old school opposite at the turn of the 20th century. These boys were subjected to physical and sexual abuse by the priests that ran the school, and the graveyard has recently been restored in their memory.
More things to do in Letterfrack Ireland
Diamond Hill: walk up to the summit of Diamond Hill and around this hill that gives you great views of the Twelve Pins (Twelve Bens) and the bay.
Check out the best beaches in Connemara: White Strand, Glassilaun Beach and Lettergesh.
The Clover Fox: shop for crafts made by local Connemara-based artists.
Books At One: shop for books, wine, candles, soaps and local honey.
Rosleague Manor: enjoy a meal at this historic regency hotel on Ballinakill Bay. It has it's own woodlands you can enjoy as a guest too.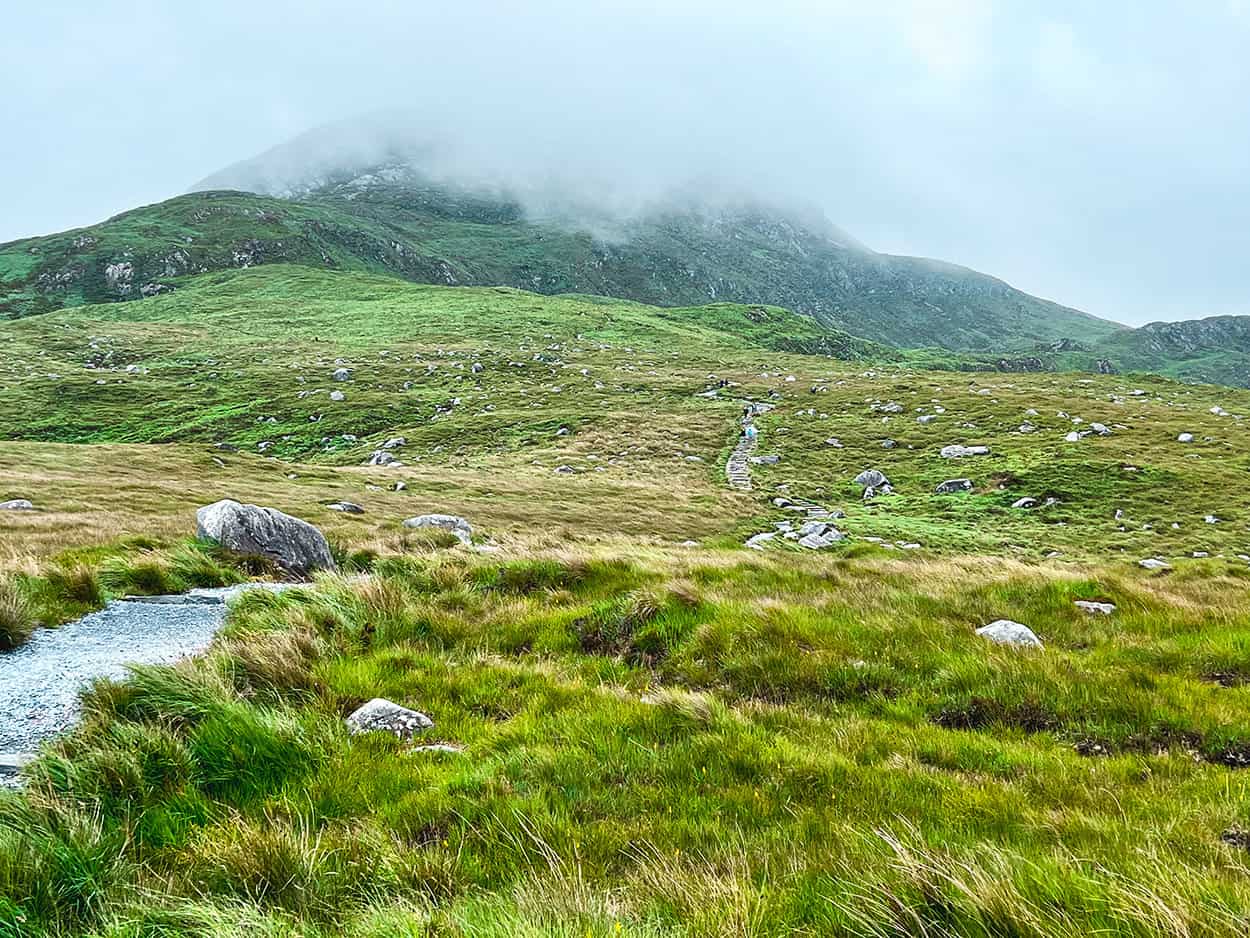 DIAMOND HILL HIKING TRAIL
Connemara National Park has four main hiking trails that are popular with day trippers due to their accessibility, ease, and scenery.
Lower Diamond Hill Walk (easy, 2.9 km circular trail)
Lower and Upper Diamond Hill Walk (moderate, 7.2 km circular trail)
Ellis Wood Nature Trail (easy and kid-friendly, 1.0 km circular trail)
Sruffaunboy Nature Trail (easy, 2.14 km trail)
The Lower Diamond and Upper Diamond combined trail is one of the popular trails in Connemara National Park. Most of the track is steady and lined with a cut stone path and only becomes steep as you get closer to the top. By that point, you're looking forward to reaching the top of Diamond Hill and seeing the spectacular views of the Twelve Bens mountain range anyway.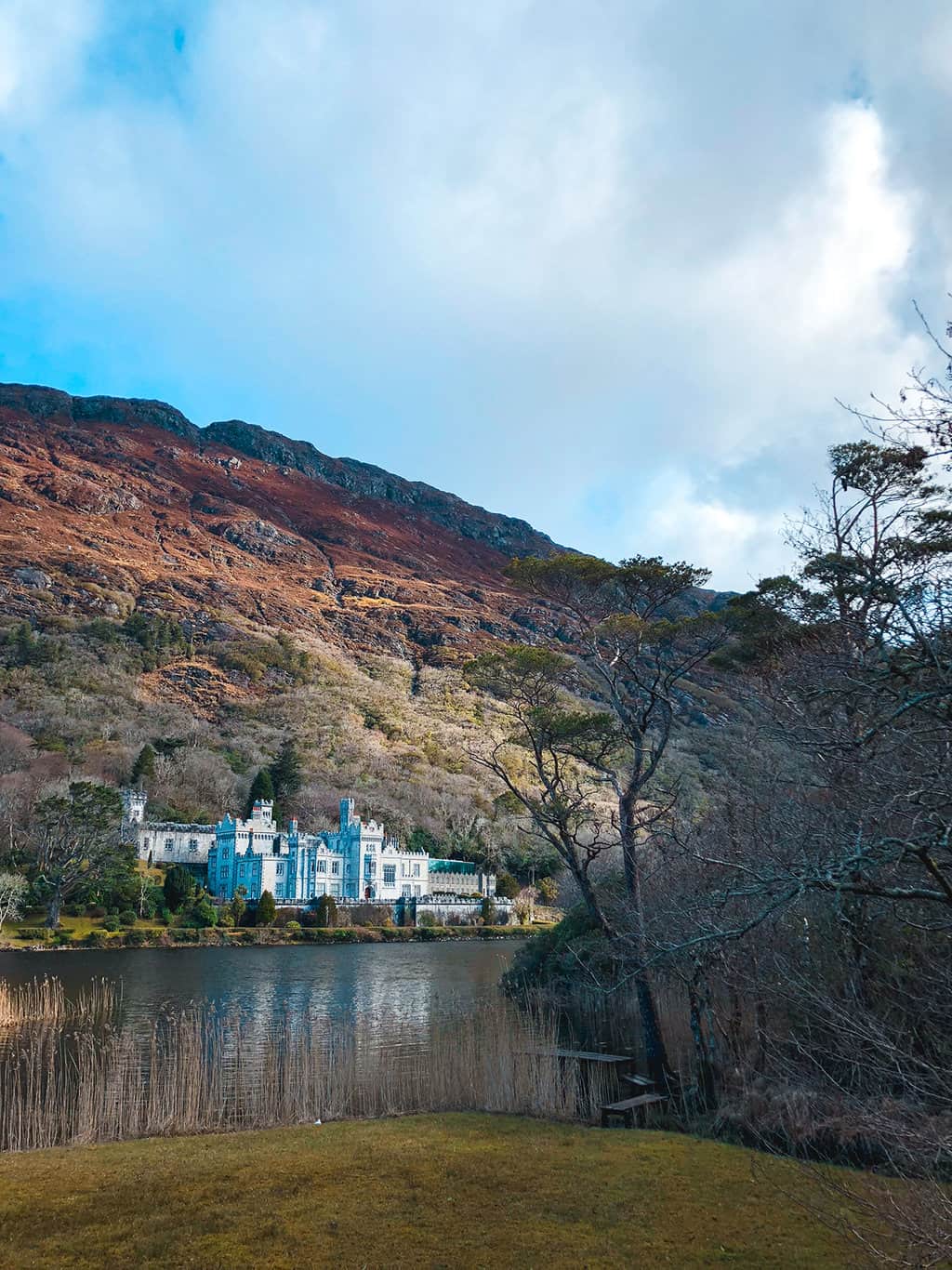 KYLEMORE ABBEY AND WALLED GARDEN
Ireland has many magnificent stately homes near national parks and areas of natural beauty, even before they were officially national parks! Kylemore Abbey, one of Connemara's most popular attractions, was built in the late 1800s by a wealthy Englishman. It ended up in the hands of Benedictine nuns in the 1920s after they fled Belgium in World War I.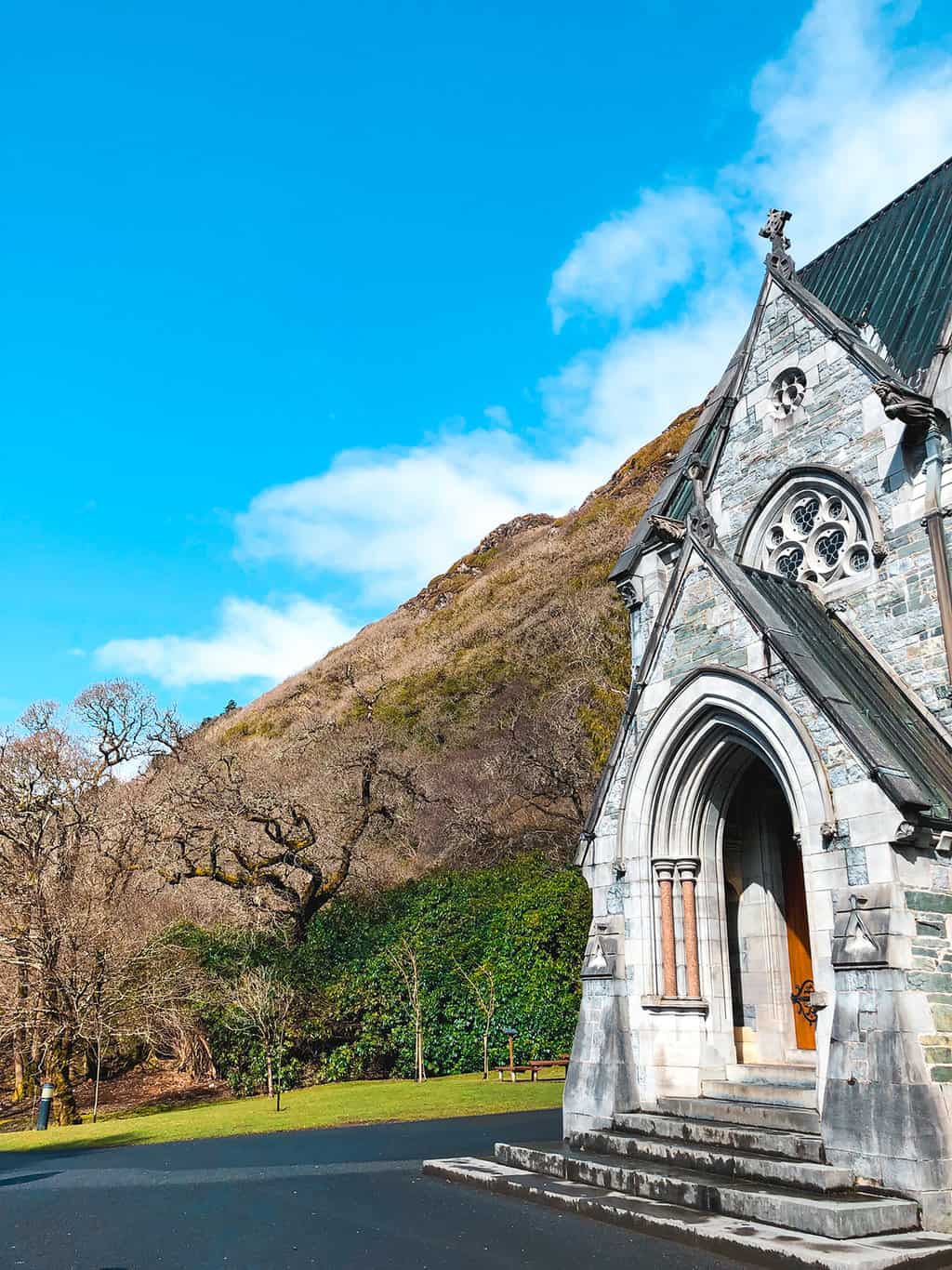 Around 100 years later, the famous Kylemore Abbey is still an abbey with some wings open to the public. It's an incredibly beautiful Victorian-style building with views over Pollacapall Lough with Victorian walled gardens and two churches on the grounds. While it used to be free to wander part of the Kylemore Estate, you will have to pay a fee just to enter the grounds nowadays.
Personally, even with kids, the park grounds, gardens and farm are worth visiting, which only make of part of the Kylemore Abbey Estate. You can also enjoy some of the best hikes in Connemara via the nature trails that will bring you past scenic bench overlooks, chapels and wild lands to explore.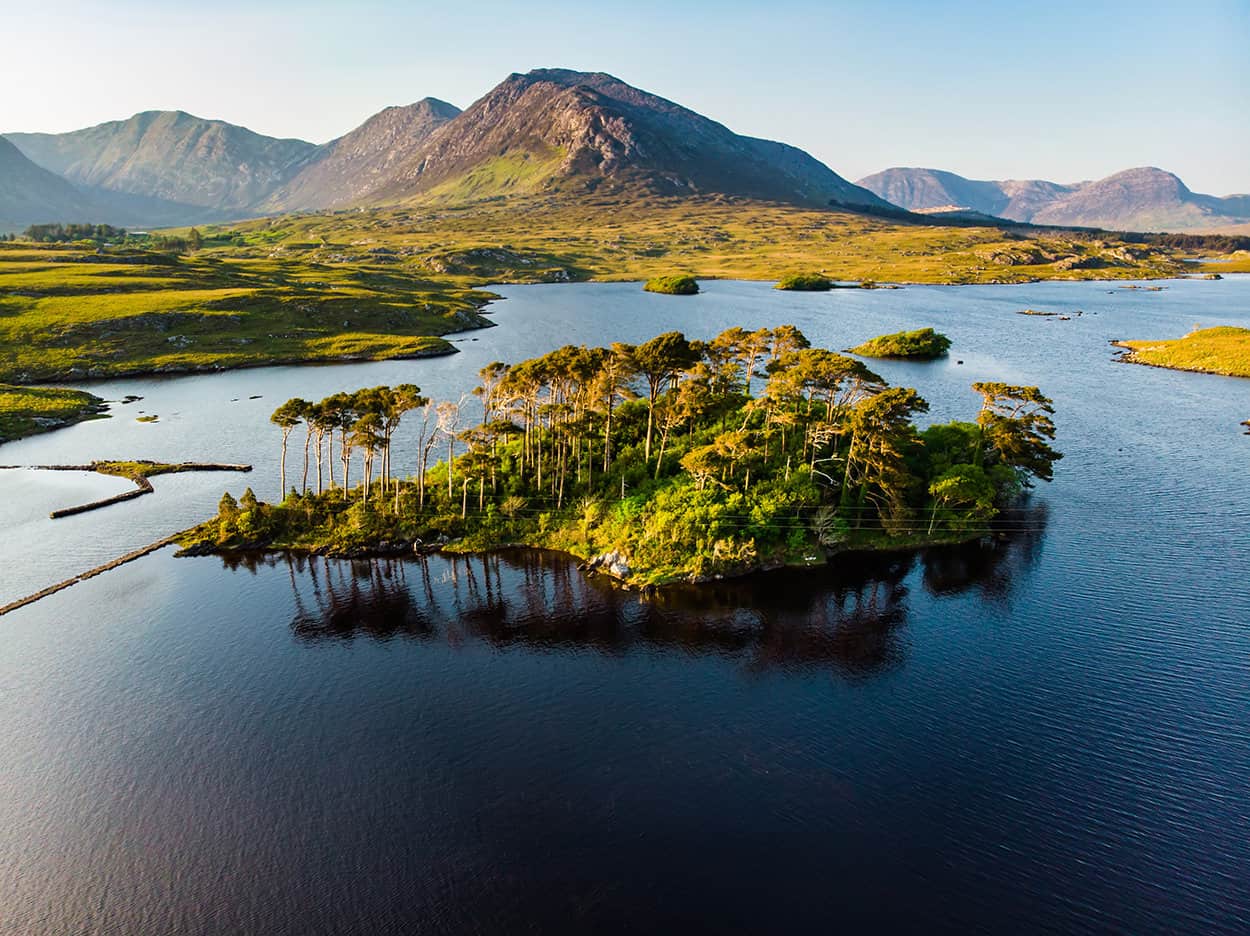 TWELVE BENS MOUNTAINS
Keen hikers might be interested in tackling one of the Twelve Bens (AKA Twelve Pins or Beanna Beola range), a mountain range that partly falls into the boundaries of the Ireland Connemara National Park. The hills that cross the border are Benbaun, Bencullagh, Benbrack, and Muckanaght. Benbaun is the tallest of the famous Twelve Bens at 2,392 ft., offering amazing views of this part of Ireland.
It's almost impossible and unwise to tackle several of the Twelve Bens in one day, but depending on your fitness and skill level you may be able to scale two or three. Consult the guides at Connemara National Park Visitor Centre about climbing in the Twelve Bens mountain range for specific, expert advice.
And whatever you do, make sure you bring the appropriate footwear. Here's a list of our favorite hiking shoes for women to help you out.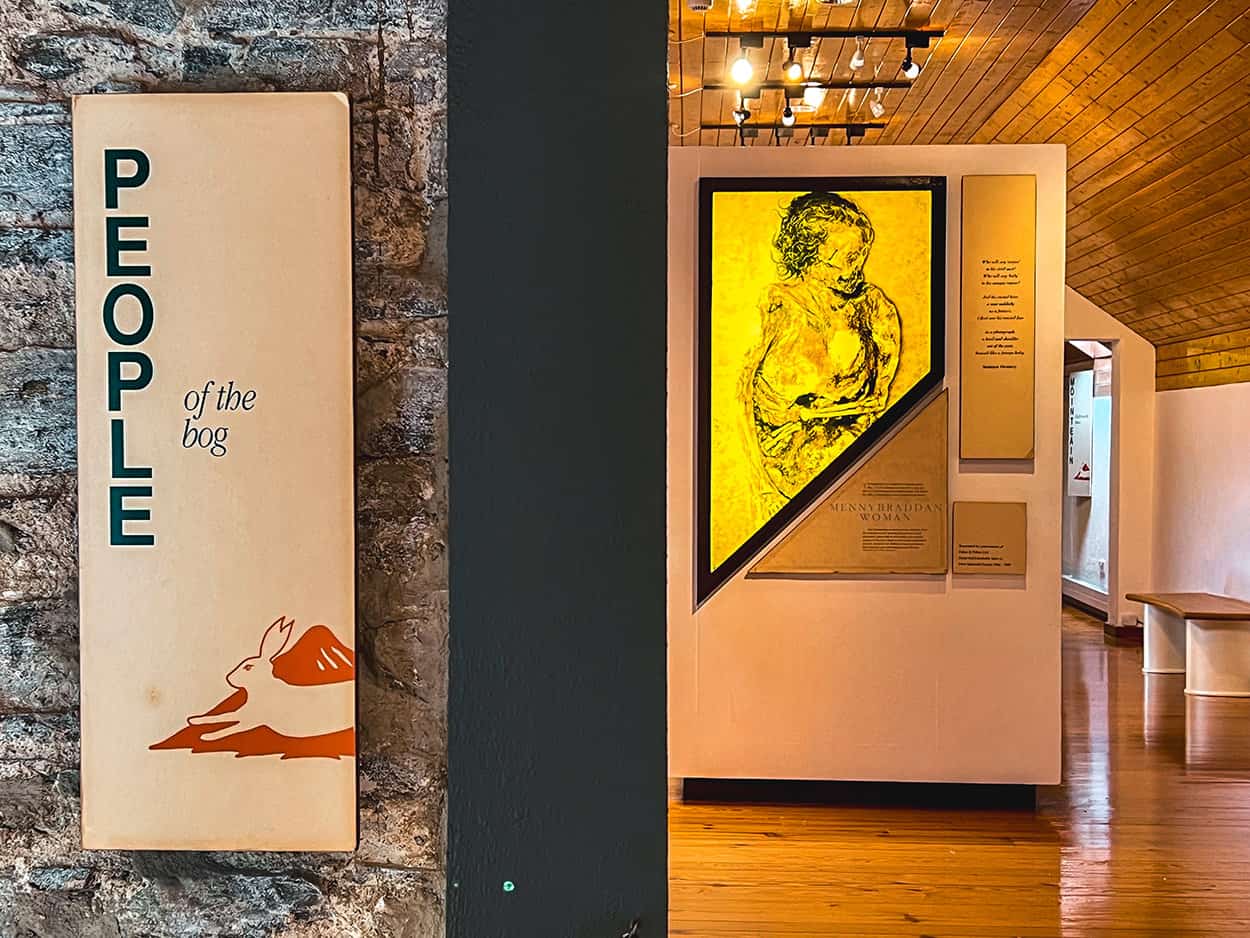 CONNEMARA NATIONAL PARK VISITOR CENTRE
Speaking of the Connemara National Park Visitor Centre, you absolutely should swing by here before heading into the national park. There's a free car park as well as The Hungry Hiker Cafe, which is the ideal place for lunch or a pick-me-up.
Connemara National Park Visitor Centre used to be a farm until the park officially opened over 40 years ago. It's not just a visitor center though, as it also has an exhibition on historic items that have been found in the park and its onsite bar has live music performances.
SKY ROAD DRIVE
Tackling the Wild Atlantic Way takes anywhere from one to three weeks, which you might not have time to do. Luckily, a scenic drive in County Galway near Connemara National Park called Sky Road Drive will satiate your desire for a fun road trip in Ireland.
The Sky Road Drive is around 12 miles long. It starts and ends in Clifden and takes about two hours to drive around the entire loop without stopping. But, of course, you will want to stop to admire the cliffs, the national park, and several other of County Galway's best sights.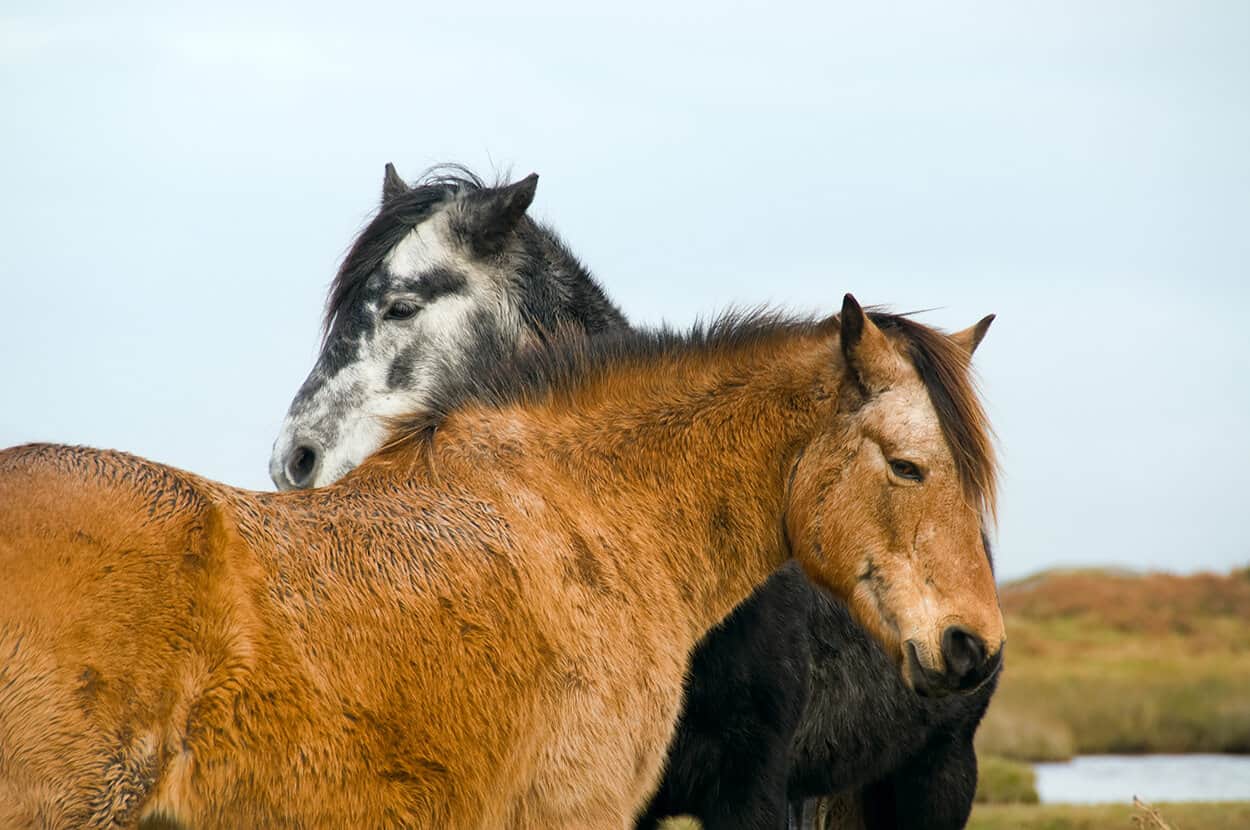 CONNEMARA PONIES
Connemara ponies are, as their name suggests, native to the Connemara region. They're known for their hardiness and good temperament. They are one of the larger pony breeds, maturing at five years old and living into their 30s.
There are several stables around the region where you can ride these beautiful ponies, whether you're a beginner or an avid horse rider. Some places to check out are Diamonds Equine Renvyle, The Point Pony Trekking & Horse Riding Centre, and Connemara Pony Breeders Society.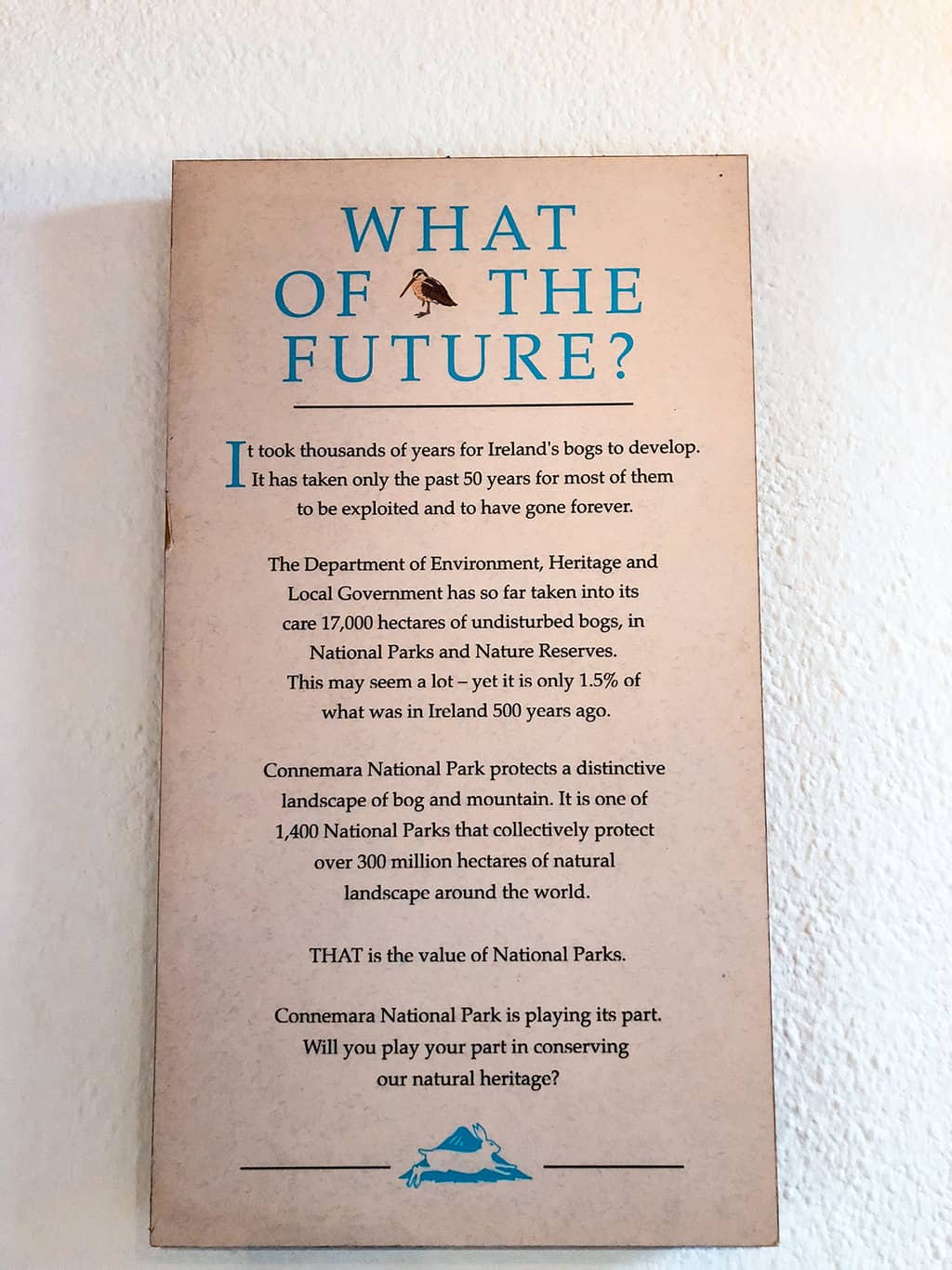 CONNEMARA HERITAGE & HISTORY CENTRE
Looking forward to exploring the natural landscapes of the Connemara region but also want to know more about the history? The Connemara Heritage & History Centre is the perfect place to do exactly that.
Formerly the home of a 19th-century farmer named Dan O'Hara, the center's interiors resemble how the house might have looked in the 1800s. Programming includes storytelling, turf cutting, and guided walks through the farm so that guests can more fully understand what life was like in Ireland centuries ago.
There's also an onsite café and gift shop.
GLENGOWLA MINES
The Gengowla Mines were only active for 14 years in the mid-1800s. Silver and lead were extracted here until 1865 when the mine remained closed for over 100 years. In 1999, it reopened as Ireland's only show mine.
Today, a farm sits on top of Glengowla Mines. You can watch sheep herding, turf cutting, and explore the abandoned caves in a "stylish" hard hat.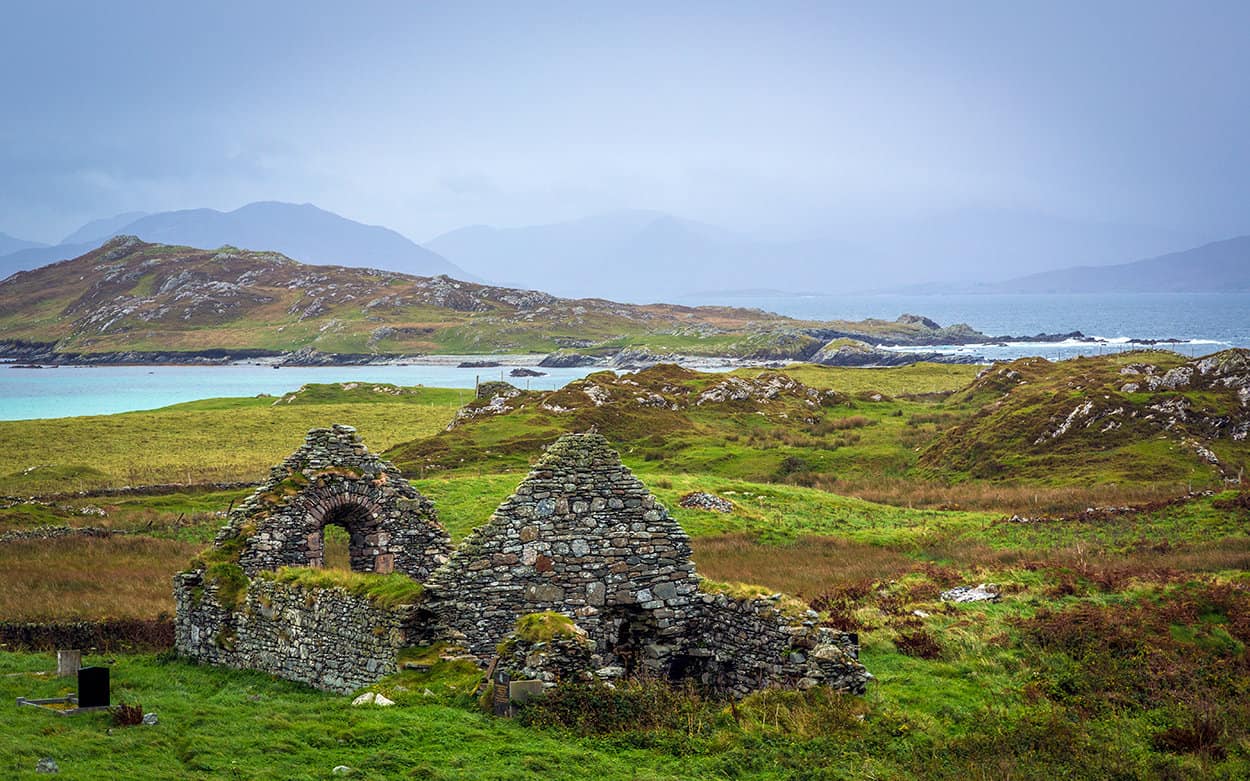 INISHBOFIN ISLAND
Ireland has thousands of islands with 80 of those islands being of a significant size. If you're near a coastline, you're never far from an island in this country! One of the best islands to visit near the Connemara region is Inishbofin Island.
To visit the island, head to Cleggan Pier just north of Clifden. Boats depart three times a day in peak season. On Inishbofin Island, you can explore beaches like East End Beach and historic ruins like St Colman's Church and Cemetery.
Want to check out another island in western Ireland? Read our guide to the best things to do on Achill Island.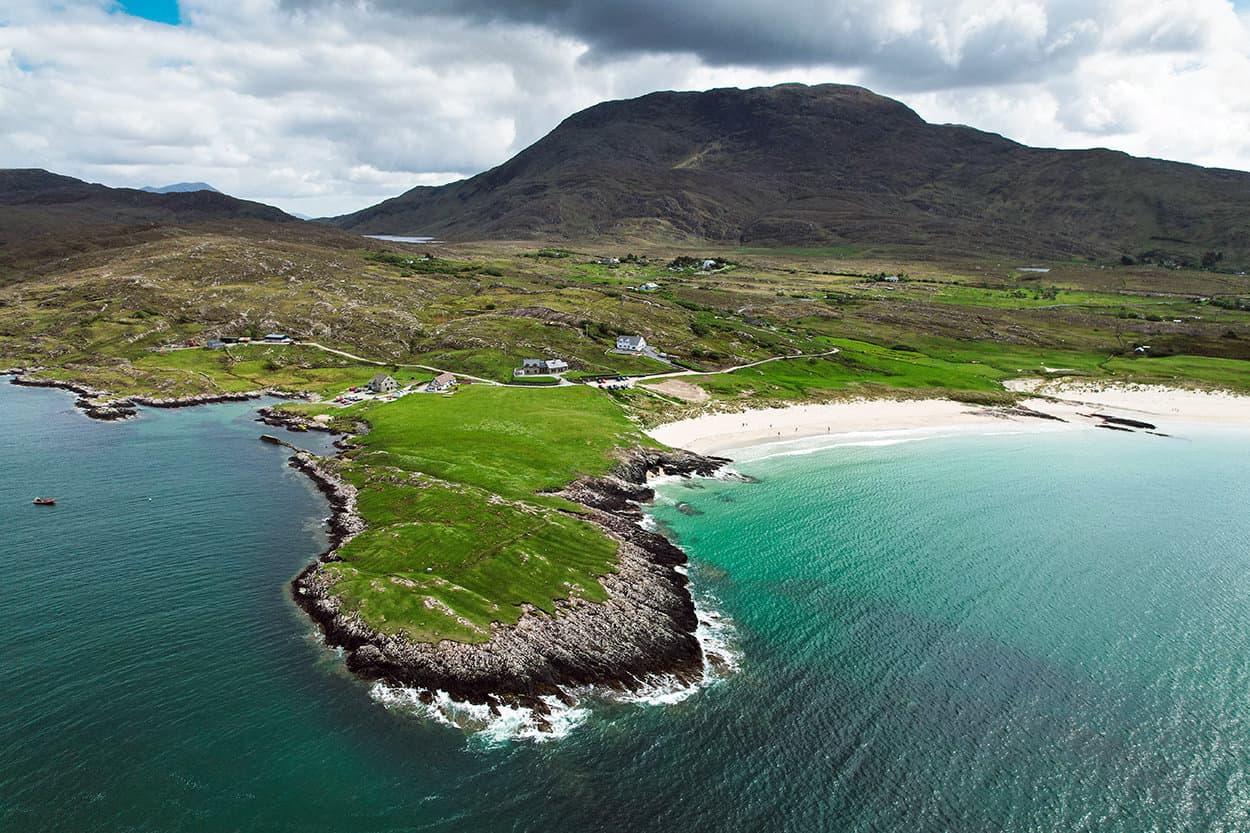 GLASSILAUN BEACH
One of the most spectacular beaches near Connemara National Park is Glassilaun Beach. It's down a narrow, country road where you'll have to give way to the local traffic (i.e. sheep), but it's worth the rocky journey.
This beach has some of the cleanest, turquoise waters and softest white sand that wouldn't look out of place in the Caribbean. Although the bracing winds from the Atlantic Ocean and the lush green grass of the rolling hills behind the beach will leave you in no doubt that you're still in Ireland.
PADDY COYNES PUB
You can find centuries-old Irish pubs in Clifden and Galway, but you can also find them in the smallest of villages dotted around the Connemara National Park region too. One of the best is Paddy Coynes Pub which dates back to 1811. It's decorated with historic artifacts from around the region and staffed with friendly locals who serve pints of Guinness and drams of Irish whiskey like any other.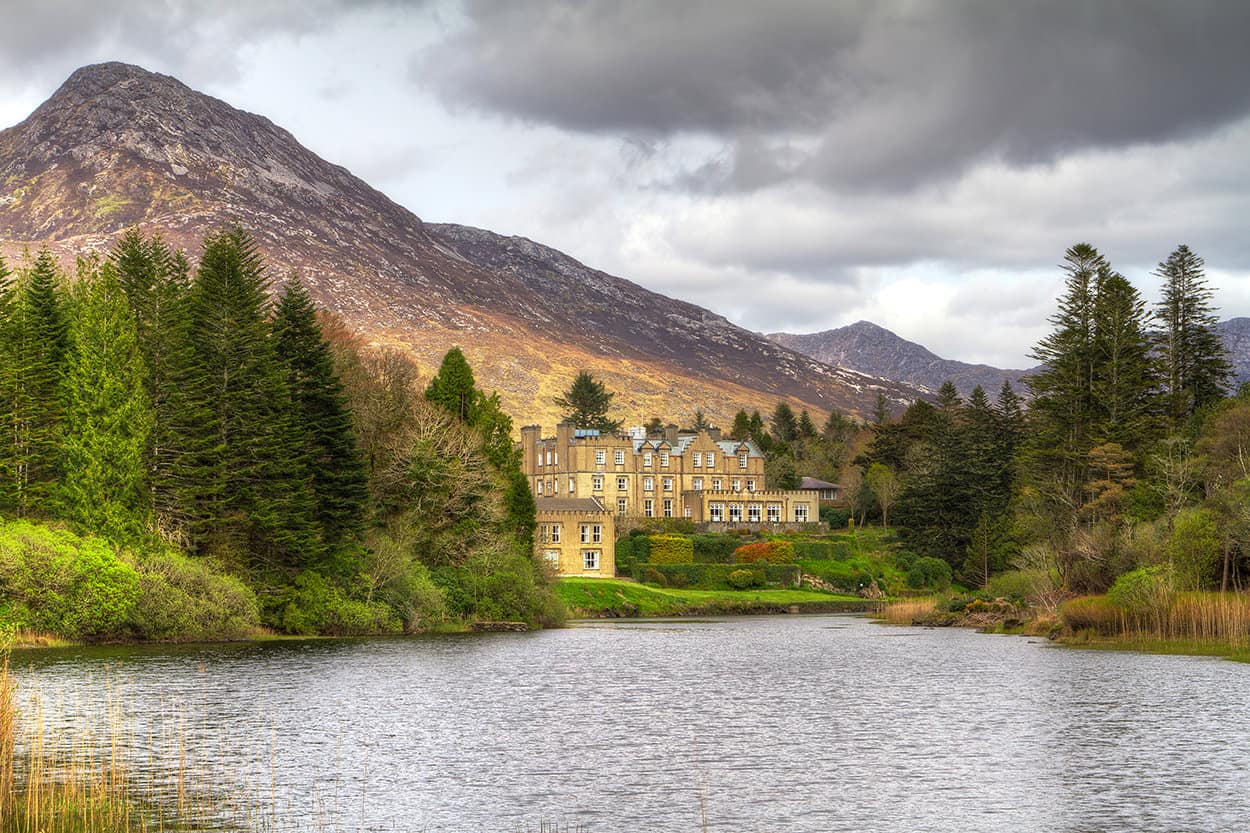 BALLYNAHINCH CASTLE HOTEL
Built at the turn of the 19th century as a private country house for the Maharaja of Nawanagar in India, Ballynahinch Castle is now an upmarket 4-star hotel. The castle hotel sits on the banks of Ballynahinch Lake with several smaller loughs (lakes), formal gardens, and thick woodland surrounding the estate.
Ballynahinch Castle Hotel also has a café and gift shop, so you don't need to be a guest to visit this beautiful place.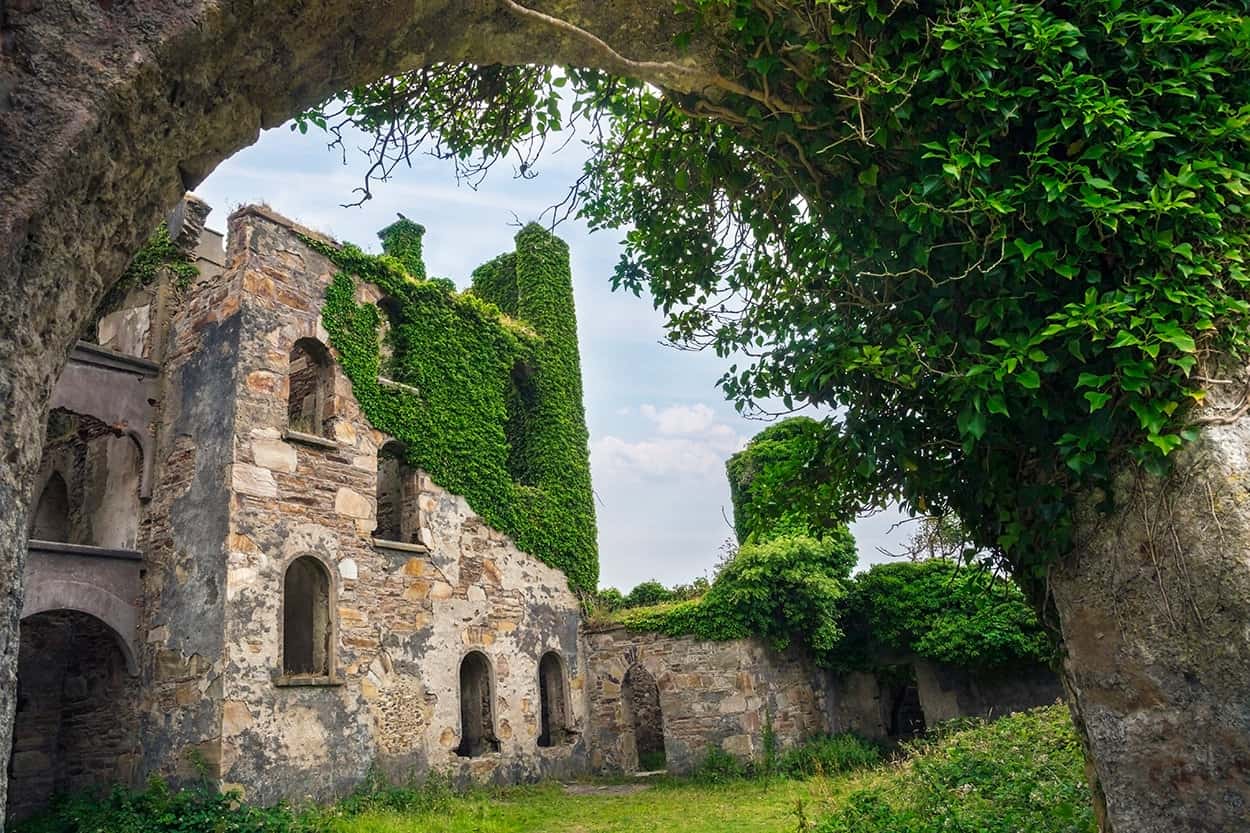 WHAT TO DO IN CLIFDEN
If you want to explore as much of Connemara National Park as possible, Clifden is the perfect place to base yourself for your trip. It might be a small town, but there are plenty of accommodations, restaurants, and traditional Irish pubs, like Lowry's Whiskey Bar, that will help you to wind down after a long day of hiking on trails.
There are also lots of cool things to do in Clifden too. Clifden Castle offers spectacular views of the Atlantic Ocean, and Omey Island is easily accessible by ferry. If you're interested in aviation, you can visit the Alcock and Brown landing site and memorial just outside of Clifden too. Those looking for archeological sites won't want to miss the Knockbrack Megalithic Tomb too.
Read our full guide of things to do in Clifden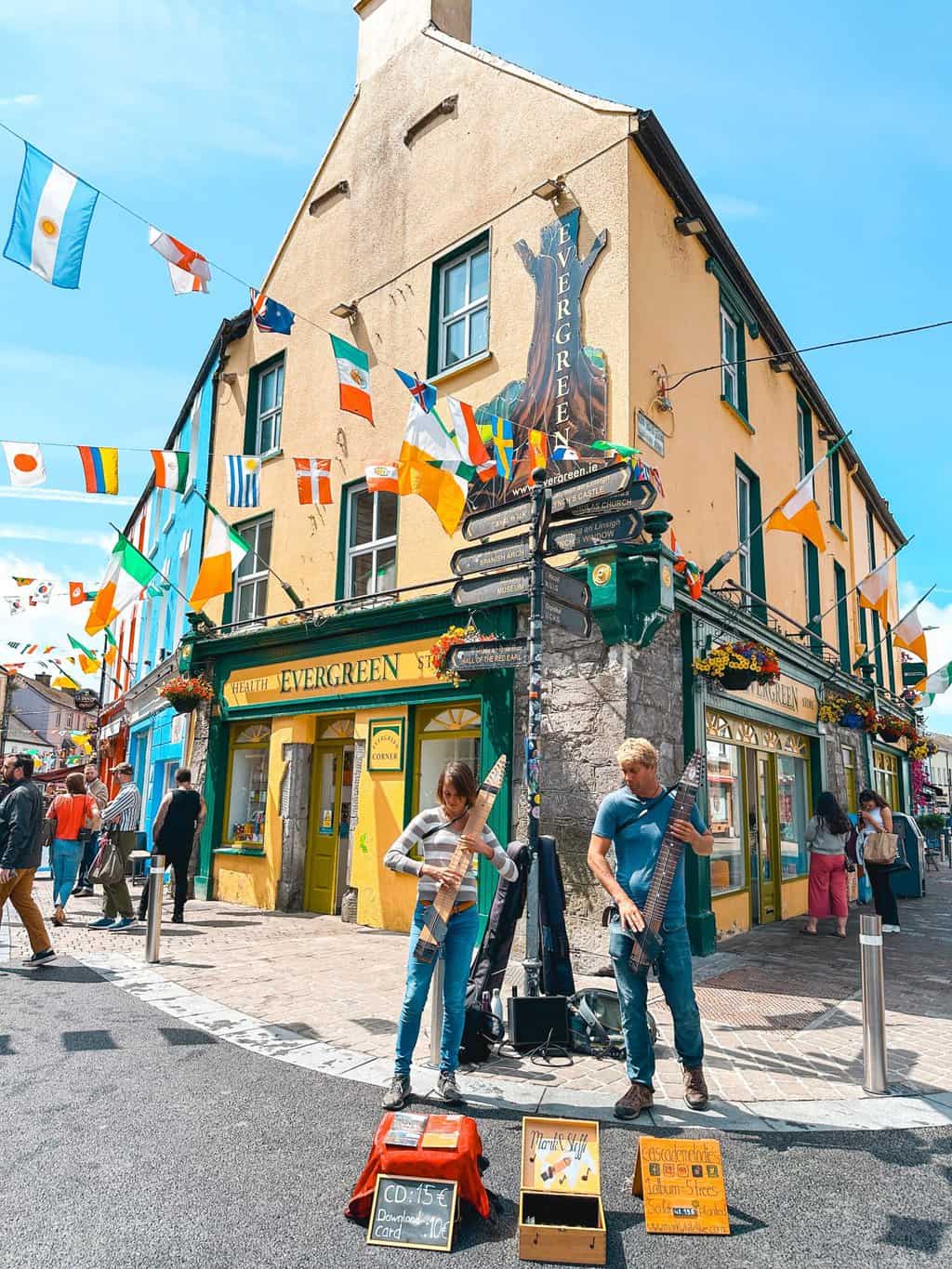 WHAT TO DO IN GALWAY
Galway City might be further away from Connemara than Clifden, but there's no denying it's a lively, thriving city that you must visit if you're in the area.
Galway's colorful, cobblestone Latin Quarter (especially Quay Street) is packed with restaurants, live music bars, and boutiques. Róisín Dubh is a great place to watch musicians.
There are tons of other great things to do in Galway besides eating and drinking. Galway City Museum will help you learn more about the city and County Galway in general. Galway Cathedral, the Spanish Arch and the harbor walk along Salthill Promenade are both fun too.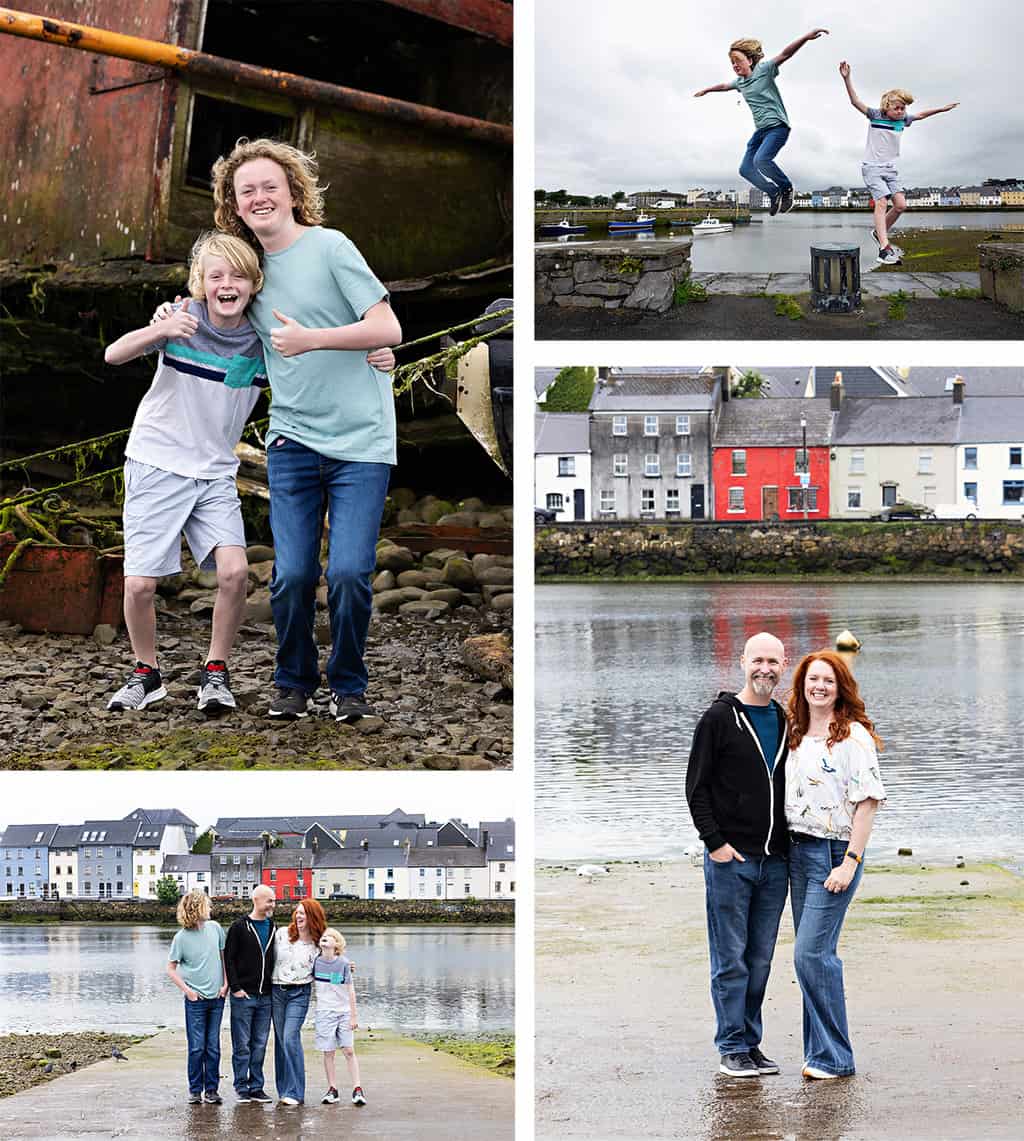 And don't forget to book a Flytographer photo session while you are in Galway to capture all of your vacation memories. We did one on our last visit and had a blast.
Read our full guide of things to do in Galway
CONNEMARA NATIONAL PARK FAQ
WHAT IS CONNEMARA NATIONAL PARK?
Connemara National Park is a national park in County Galway near the west coast of Ireland. This park covers 7.7 square miles/20 square km of land and is the second smallest national park in the country.
WHAT ARE THE MAIN ATTRACTIONS IN CONNEMARA NATIONAL PARK?
Some of the main attractions in Connemara National Park are the Diamond Hill trail and the famous Twelve Bens mountain range. Aside from its wild heaths and bogs, rugged mountains and mounatin peaks, native Connemara ponies and the Kylemore Abbey and Walled Gardens are also popular.
HOW DO I GET TO CONNEMARA NATIONAL PARK?
Connemara National Park is located approximately 15 minutes north of Clifden and 90 minutes northwest of Galway by car. It's on the Wild Atlantic Way coastal route.
There are no trains, but CityLink runs buses between Galway and Connemara (passing through Clifden) three times a day if you're taking a day trip.
IS THERE AN ADMISSION FEE FOR CONNEMARA NATIONAL PARK?
There is no admission fee for Connemara National Park. However, some of the attractions within the park, like Kylemore Abbey and Walles Gardens, have entrance fees.
WHAT ACTIVITIES CAN I DO IN CONNEMARA NATIONAL PARK?
There are many outdoor activities you have access to in Connemara National Park including hiking, cycling, wildlife watching, bird spotting, pony trekking, sailing, and wild swimming. You can also book a private or group guided tour with local mountain guides.
WHAT IS THE BEST TIME OF YEAR TO VISIT CONNEMARA NATIONAL PARK?
The best time to visit Connemara National Park is from May – September when the temperatures are warmer and the weather is more likely to be dry. These months also have the longest amount of daylight for you to enjoy the park. However, the park is open 365 days a year. Just remember, weather conditions will always change, so be prepared with your rain boots and rain gear.
CAN I CAMP IN CONNEMARA NATIONAL PARK?
Yes, there are some tent and RV camping sites located around Connemara National Park. However, there aren't many and they aren't big, so book ahead if you want to travel in peak season. Wild camping is permitted, but only in the most remote parts of the park.
Find more lodging options near Connemara National Park: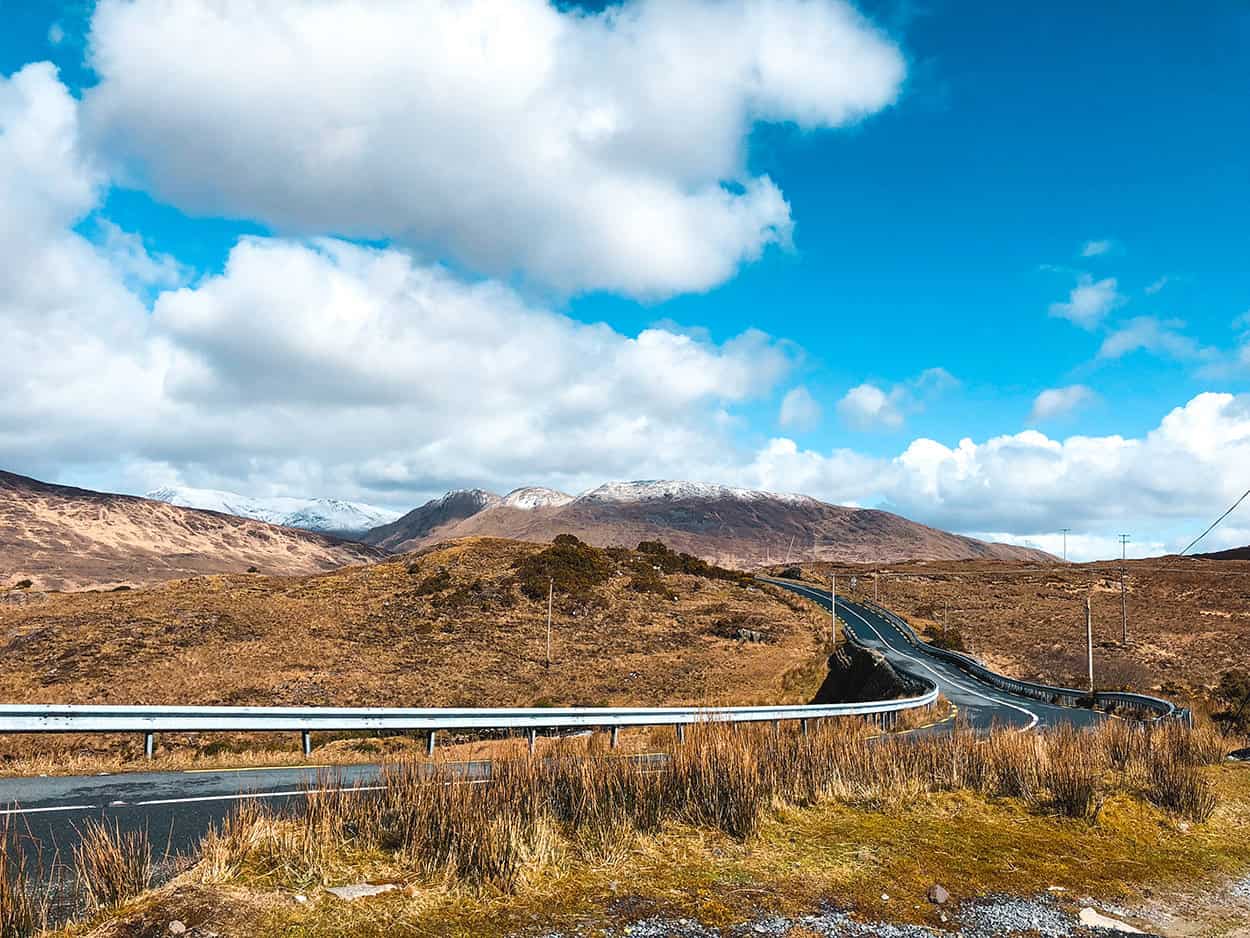 ARE THERE ANY GUIDED TOURS AVAILABLE IN CONNEMARA NATIONAL PARK?
Yes, there are lots of guided tours available in Connemara National Park. You can take a day tour from Galway to Connemara or a day tour from Dublin to Connemara. Hire a mountain guide for challenging hikes and booking coastal kayak tours and cycling tours are also possible.
Check out these tours of the park, which can be the quickest way to see part of the famous Twelve Bens and the most spectacular scenery while in the area.
Love it? Pin it for Later!