So, you're finally making the trip to the Emerald Isle? If you're visiting Ireland for the first time, read our vacation tips and hacks to make sure the hardest decision on your Ireland trip will be where to have your first pint of Guinness (or tea with the kids)!

What to pack for Ireland
It's always going to be slightly cool in Ireland, even in August. How cool or warm the temperature will depend on where you go.
Summer in Ireland
Certain days in the summer you may be fine in shorts and a T-shirt, but that can and does change quickly.
So, think layers, layers, layers! Pack long pants, sweaters and light jackets for times when the temperature suddenly dips. And always have a rain jacket with you. It will rain.
Winter in Ireland
Winters are fairly mild, but still cool. We suggest packing warm clothes like hats, scarves and other cold weather gear. You can leave the subzero parkas and ushankas at home though.
Also, keep in mind it tends to get dark earlier in the winter, around 4:30pm or 5pm. Be sure to dress warm for any late afternoon excursions. Rain gear is definitely essential.
Ireland Packing List
Whenever you travel to Ireland, whether you check bags or are carry on only, there are a few things you want to make sure you pack. Bring your rain gear, but also any travel guides you plan to use, extra memory cards for your camera, chargers, adapters, hiking shoes and toiletries you know you can't replace (like specific hair products or hair styling tools).
While you can pick up most of the things you forget in Ireland, place an Amazon order before you go for any essentials. Prices are generally a bit better in the USA, especially for electronics, because of the exchange rate.

Where to go in Ireland?
Let's get real for a moment- don't try to see the entire country in one road trip. Even though Ireland is only about the size of South Carolina, a few quality days in one or two places will result in a much more meaningful Ireland vacation.
Southern Ireland
If you're visiting Ireland for the first time, we love Western Ireland (Dingle, Doolin, Killarney).
Western Ireland
On recent trips, we have also been venturing north into Connemara and Mayo which have really different, yet beautiful scenery.
Dublin, Ireland
Loads of people like to start their trip in Dublin, where you can tour the Guinness Brewery, Saint Patrick's Cathedral and Trinity College, before heading south explore to the rugged coastline.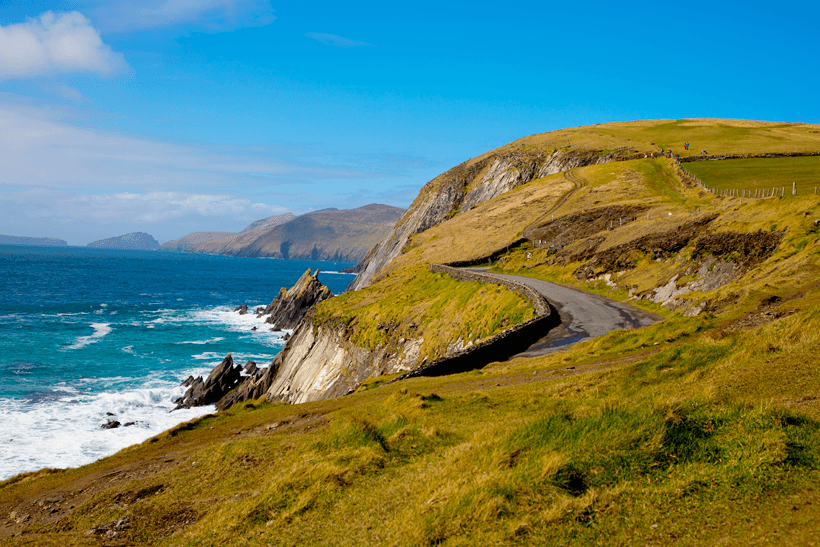 Building an Ireland Itinerary
Schedule a few towns, sites, or scenic drives you really must see and then leave the rest to chance.
Highlights for your Ireland travel checklist:
Cork
Blarney
Waterford
Aran Islands
Remember to Stay Flexible
Leave unplanned time to stroll through villages, grab a 99 with a flake (a ridiculously creamy vanilla cone with a chocolate flake sold at almost every gas station), check out a traditional music session, buy a hand woven hat, play a round of golf or take the unexpected hike.
Trust me, there are a lot of them just off the side of the road.

Where to stay in Ireland?
Consider a mix of B&B's, hotels, holiday rentals, or even nicer hostels (if that's your thing). One of the best Ireland travel tips I ever got was to try out a lot of different lodging types.
Even VRBO rentals are getting popular. If you are staying with a group it can safe you a lot of money.
Ireland Bed and Breakfasts
B&B's are abundant in Ireland and it's a great way to get to know local families and areas and have a home-cooked Irish breakfast every morning.
Ireland Hotels
Old Weir Lodge in Killarney and the Pax House in Dingle are two of our favorite properties in the south, but Expedia.com always has great options.
You can easily filter through accommodations based on the size of your group, what amenities you need and where on the map you want to stay. Give it a try.
What to Eat in Ireland?
Irish Breakfast
When visiting Ireland for the first time, I always recommend you stay at a B&B so you can enjoy a hearty breakfast. The first meal of the day will generally include eggs, scones, hot tea, and can get fancy with fruit, smoked salmon and other accruements.
Dinner in IReland
When you are out to dinner, try whatever is the special of the day. If you need an old standby, order the lamb stew. It has never done me wrong. As you travel along the coast, be sure to eat the local seafood. It is fresh, and always different in each town you visit.

Ireland Transportation Options
Rent a Car
I recommend renting a car in Ireland if you want to see the countryside uninhibited by schedules and tours. We always get a car rental so we can get off the main road and wander down the little lanes, and have even gone down a few tractor roads thanks to a crazy GPS route.
Bus tours
If coach (bus) tours are your thing, there are many available for day trips or your entire trip.
Private car hire
Hiring a private driver is also a popular option amongst tourists.
Rental Car Insurance in Ireland
When renting a car it used to be notoriously expensive, not because of the rental fee but because of the additional insurance cost that many credit cards were no longer covering.
Maybe it was the narrow roads, stonewalls, or Americans mistakenly putting gas into diesel engines and driving on the wrong side of the road on the WRONG side of the car (but no honestly, don't be afraid to rent a car!)
During that time, a few credit cards continued to offer CDW insurance and I'm happy to report many are picking it back up. Call your credit card company to see if they offer collision insurance or consider applying for a card that does as this insurance can be costly.
Also, most rental car companies will put a large hold on your account if you choose to go with your credit cards' CDW insurance. Make sure you have enough of a balance before the hold to enjoy your trip.
If you credit card does not cover you in Ireland, buy insurance ahead of time. If you wait until you get to the airport, it will cost you a pretty penny.

Traveling to Ireland
Airlines
Shannon and Dublin are the best airports to fly into if you are flying internationally. This is where most flights go in and out of.
If you know you will be spending most of your time in the south and on the west coast, fly into Shannon. You can always go to Dublin another time.
Deals pop up to Ireland frequently, especially on Aer Lingus, Norwegian Air and even British Airways. Set up a fare tracker using one of our favorite travel apps, so you'll be alerted when the price drops.
You can also use Skyscanner to search the dates that will give you the best fare. Try it out!

Passports
Yes, you do need a passport to travel to Ireland. If you have one, PLEASE make sure it is up to date and not due to expire within four months of your trip – you may not be allowed into the country.
If you need to renew your passport, do it sooner rather than later. Non-expedited passport orders can take up to 8 weeks to arrive.

Global Entry
Having Global Entry saved us from missing our last flight home from Ireland! We were running extremely late and were only able to get to our flight by bypassing the main line (and longer questioning) through U.S customs.
Remember, EVERYONE in your family needs to have Global Entry in order to use the service at the airport together. It's really handy if you are a frequent traveler or are planning an international trip because once you have Global Entry you qualify for TSA Precheck as well.
The fee is $100 per person and lasts for 5 years, you can take advantage of several credit cards that offer reimbursement for this fee.
Airport Lounges
While it's not necessary, having lounge access has made our international trips much more relaxing. Access gives you free food and drink, a place to get rest, charge your electronics, and more.
Priority Pass is pretty awesome. On our last layover we decided to do a "lounge crawl" and had drinks and food in each lounge we had access to.
My favorite card for their Priority Pass benefit is again, the Chase Sapphire Reserve, because the membership allows you and all of your traveling companions entry. It also covers your Global Entry fee.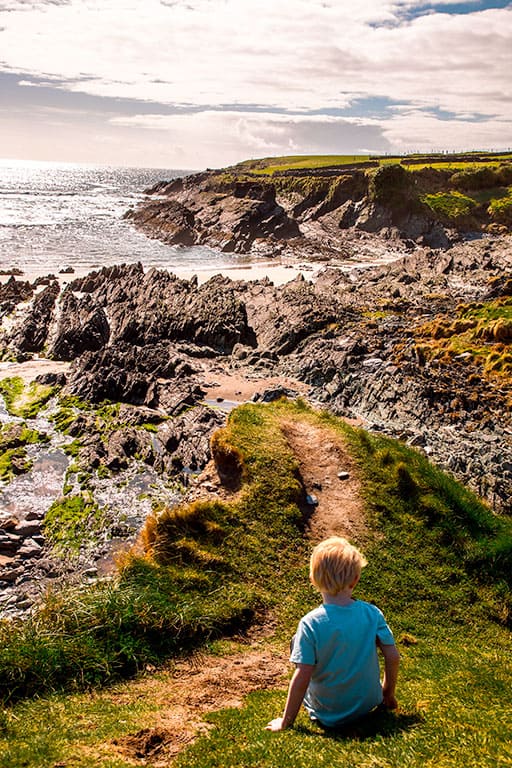 Travel Insurance
Anytime you travel, you should have travel insurance, but especially when you visit the Republic of Ireland. For the same reason you need rental car insurance, you want to make sure all of your medical needs, any thefts that occur and unexpected travel delays are covered.
We prefer Allianz Travel, and always get their annual plan for the entire family.

Jet Lag
US travelers will notice Ireland's time zone is five hours ahead of New York, therefore you may need to be prepared for a few days of adjustment.
Stay hydrated, eat nutritious meals, keep active and try going to bed just a few hours earlier the first night or two until your body adjusts.

Using Cash and Credit Cards in Ireland
Cash in Ireland
Ireland is on the Euro currency, while Northern Ireland uses the British Pound since it is still part of the United Kingdom.
Traditionally it is best to avoid airport currency exchange. I still like to exchange $50 dollars or so at home. This may not be the best exchange rate but since it's a minimal amount I'm OK with it and then I can have cash for snacks, parking garages or tips once I arrive.
Don't worry about bringing a lot of cash to exchange as long as you have cleared it with your bank and they participate internationally. Get cash straight out of the ATM as this is usually the lowest fee….there are certain bank accounts that charge 0% as well.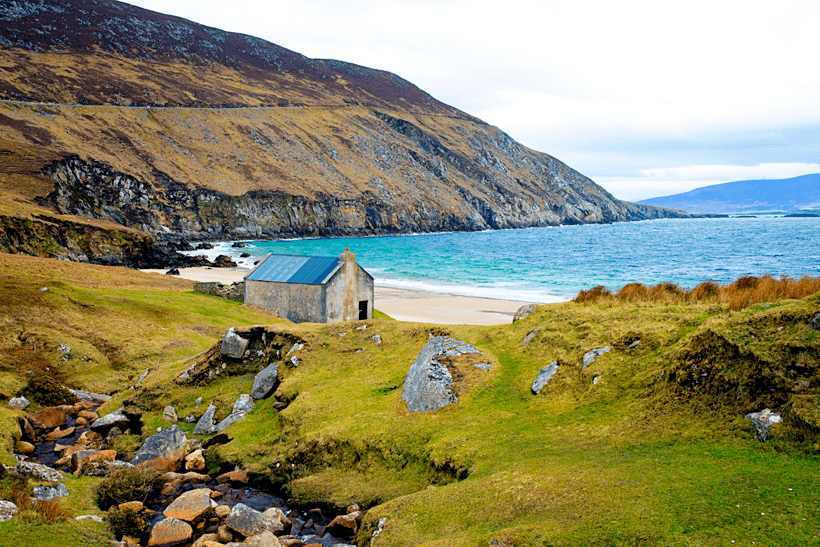 Travel with multiple Credit Cards and Cash Options
I cannot stress this enough, but always have an alternative cash source when traveling. Ideally two bank accounts and multiple credit cards (in case you lose a card, it doesn't work for whatever reason or you max one out. Kidding!).
I find that sometimes even when my credit unions have said I won't have an issue withdrawing cash from an ATM in Ireland, I still have had issues like my card not being recognized.
I like to have cash available in a larger bank account just for this reason.

Credit Cards
Call all of your credit cards to set up a trip alert. Also, make sure you have a NO FOREIGN TRANSACTION FEE credit card to use for your purchases.
I predominately use credit cards when I travel through Europe, the exchange rate is usually just as good, or better than getting cash out of the ATM. Always choose to pay in the currency of the country (e.g. euros) rather than dollars because an additional conversion fee is added if you don't.
Great no foreign transaction fee cards:
Chase Sapphire Reserve & Preferred Card

Citi ThankYou Premier

Barclaycard Arrival Plus World Elite Mastercard

Bank of America® Premium Rewards®

Capital One Venture Rewards
*Please use credit responsibly.

**This post contains affiliate links. If you make a purchase after clicking one of those links I will receive a small commission.
Ireland (Dublin) Destination Guide
This page contains affiliate links, meaning if you book or buy something through one of these links, I may earn a small commission (at no extra cost to you!)
Dublin Hotels
Looking for more? Search for the best Dublin hotel on Expedia.com.
Dublin Vacation Rentals
Need a car? Grab the best rates on rental cars HERE (and yes, we use this site for every trip).
Pin it and Start Planning!