Tis the season for traditions and celebration! While my family has its own set of unique Christmas traditions, I have always been intrigued by how other cultures and countries celebrate the Yuletide season.
From savory saffron rolls to helpful house elves, here are a few of the Scandinavian Christmas traditions that I'm excited to incorporate into this year's festivities.
Our Favorite Scandinavian Christmas Traditions
While we may not be having the Yule goat, we can celebrate with a Christmas ham, as many Nordic countries do. Leading up to Christmas, we'll be decorating Christmas trees, ringing in the Winter Solstice and eating a few saffron buns for St. Lucia Day on December 13.
This isn't the only way we will be celebrating the holidays though. Santa Claus may have to pop in to say hello to all of the children, but we hope the Yule Lads, mountain-dwelling characters and monsters who come to town during Christmas in Icelandic folklore, stay far, far away.
Try A hand at making Lussebullar
One of the many things Swedes do right is their tradition of fika. Fika is a Swedish coffee break that includes sweet pastries and socializing with friends. One of our favorite fika treats is lussebullar/lussekatter or Swedish saffron buns.
This saffron S-shaped sweet bun is a delicious Scandinavian Christmas tradition that can easily be made at home. These fragrant buns are baked with saffron and dried fruit (like raisins and currants). They are similar to a tea cake and are best enjoyed along with a cup of coffee and good company.
Lussebullar are traditionally enjoyed on St. Lucia Day.
Celebrate St. Lucia Day
December 13th marks a festival of lights that kicks off the Christmas season in most Scandinavian countries. The festival commemorates Saint Lucia, a young girl that was martyred for delivering food to Christians hiding from persecution. Today, young girls dress in white gowns with red sashes and don a crown of candles and lingonberry branches to represent the young Saint Lucia.
It's also tradition for the eldest daughter to dress up as Saint Lucia and hand out freshly baked lussebullar buns to her parents for breakfast.
Toast with Glögg
A seasonal favorite, Swedish glögg is a fragrant mulled wine made with red wine, brandy, whiskey or aquavit and flavored with spices like cinnamon, cloves, and cardamom. Traditional glögg is also mulled with an assortment of fruit (like diced prunes and dates) and almonds.
A glass of glögg will warm you from head to toe and is a perfect beverage to enjoy after being out in the cold. Be sure to serve your glögg in a mug accompanied by a small spoon in order to scoop out your soaked fruit and nuts.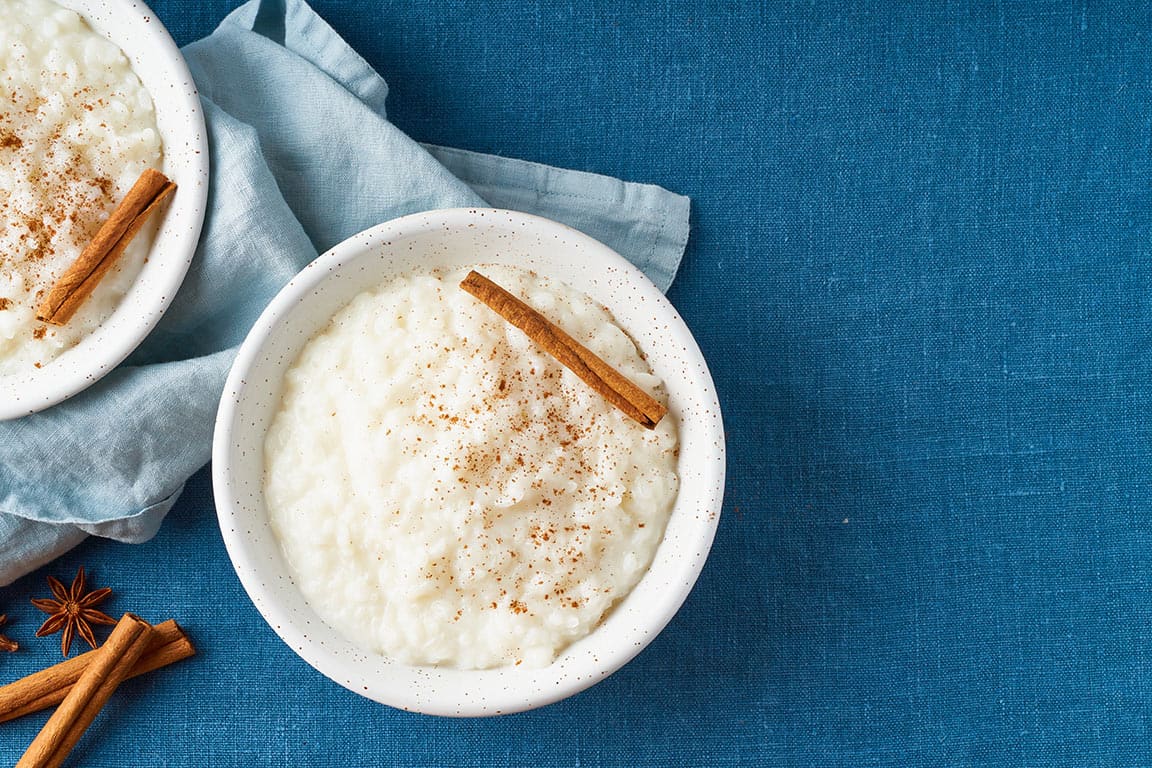 Serve up a hearty bowl of Yule Porridge
Another Scandinavian Christmas morning tradition that we can get behind is Yule porridge. Locally known as risalamande, this porridge is a rice pudding that's flavored with cinnamon and sugar.
A peeled almond is traditionally hidden in one of the served bowls. Whoever ends up with the almond is said to either have a year of good luck ahead or is given a special present.
Scandinavian families also offer a bowl of porridge to the family's Nisse or Tomte.
Honor the Nisse and Tomtes
One of our favorite Scandinavian Christmas decor and traditions comes in the form of little household helpers. In Scandinavian folklore, the tomte or nisse was a small gnome-like creature that lived alongside human inhabitants.
They are said to help maintain the home. Think of them like a house elf of sorts- but treated better than their Harry Potter counterparts.
Tradition dictates that families (specifically children) leave out a bowl of Yule porridge on Christmas to thank the tomtes for their work throughout the year. In return, the children are also given gifts from their tomte.
Don't yet own a nisse? No worries! Grab nisse for your household here.
Enjoy a Christmas Eve Smörgåsbord
Julafton, or Christmas Eve, is often a night when Swedes attend church service. They'll then return home to a multi-generations smörgåsbord or julbord dinner.
The menu will often include cold meats, pickled herring, hot dishes (like meatballs), and desserts. And you guessed it, the dinner is often accompanied by warm glasses of glögg.
Add Some Scandinavian Christmas Decorations
What's the holidays without some beautiful, minimalist Scandinavian Christmas decorations and the perfect holiday table. Bring natural elements, like pinecones, winter greens, stoneware and garland to your table and tree, keeping your colors a bit more muted with earth tones.
Here are just a few of our favorite items to add around the house and your Christmas table this year.