The first time you go to Greece you may think you have walked through a time warp. There are ancient monuments everywhere you look, but those modern touches right next door ground you in the present.
And with so many things to do in Athens, Greece, you don't have to go far from this capital city to see how history has intertwined with modern life.
The Capital of Ancient Greece
The capital of Greece is one of the world's oldest cities. It was the beating heart of the ancient world, boasting some of the greatest minds and most impressive temples of its time.
Athens, named after the Greek goddess Athena, is just one example of how deep Greek mythology runs throughout the dusty, labyrinthine streets of this Greek capital.
Head towards the bank and you may run into the Temple of Hephaestus.
Looking for some shampoo? Oh, look there's Acropolis Hill!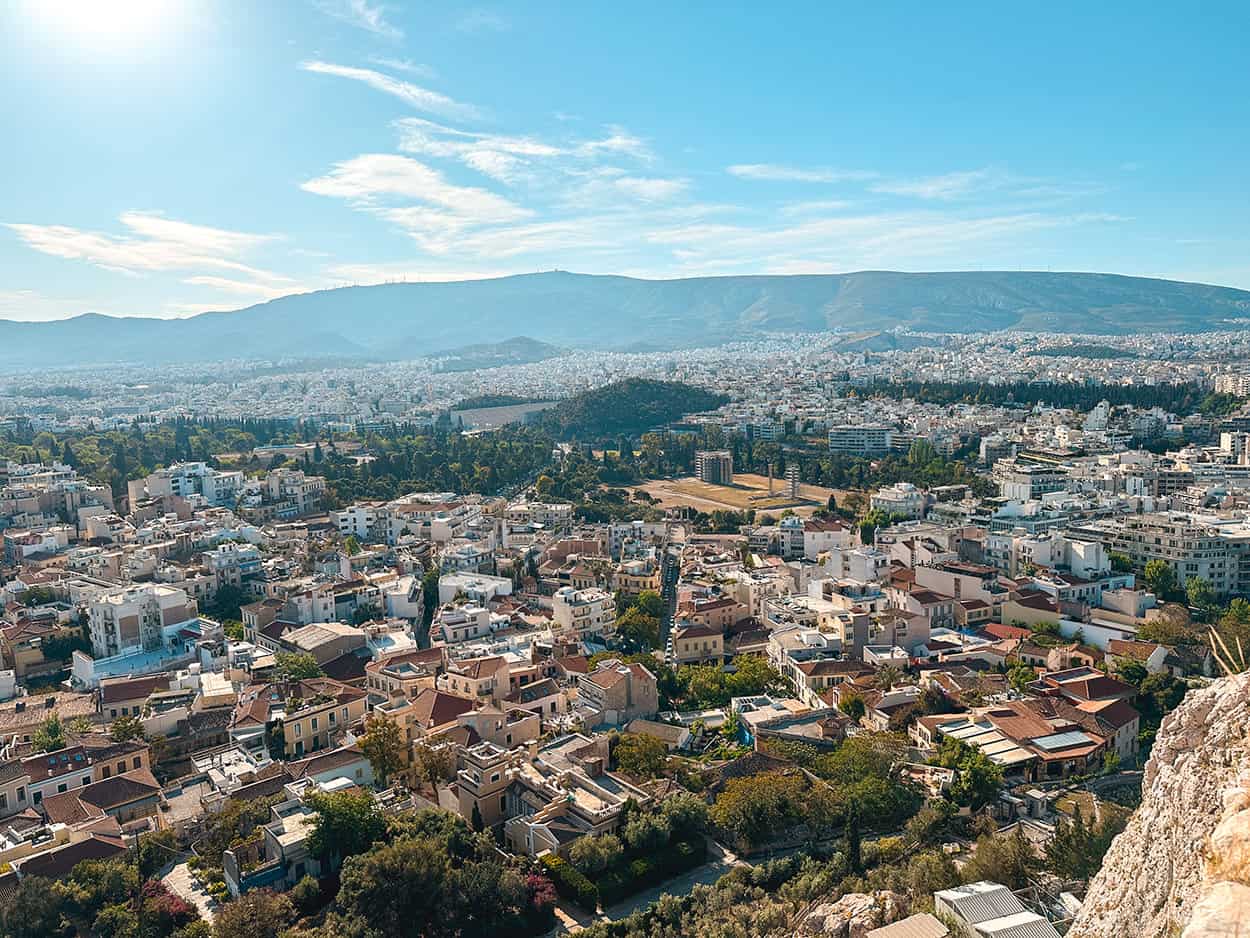 Due to the thousands of years of history, there are many, MANY things to do in Athens, Greece. All of the ancient sites along with the charming cafes, shops, urban street art, and street food could easily fill up any Athens itinerary, and several trips to Greece.
Why visit Athens?
Why is Athens the perfect place for first-time visitors to Greece? It'll offer you an introduction to the culture and cuisine, which is the best way to kick off any trip to Europe.
Spend a couple of days soaking up the history and understanding the people before heading to the Greek islands in the Aegean Sea for a relaxing beach vacation.
Check out our guide to Aegean Cruises with Celestyal Cruises if you want to do some island hopping!
Planning Guide for Your trip to Athens Greece
Flying to Greece?
Looking for the best flights to Greece? We love to track flights via Expedia.com. Not only do we find great rates, but we earn points to use on future travel too.
You can also keep an eye on GOING deals, which is how we got to Ireland roundtrip from LAX for under $500 each. The free version is good, but the paid subscription will save you way more than the cost per year.
Hotels in Athens Greece
Find more Athens Greece Hotels HERE
our Favorite Tours in Athens Greece
How to get to Athens
It's fairly easy to get to Athens, but like all things, it depends on where you are starting from when you travel to Greece.
By Air
The easiest way to get to Athens is to fly into Athens International Airport (ATH), also known as Eleftherios Venizelos Airport. There are loads of flights from international destinations, including major cities in Europe, Asia, Africa, and the Americas.
Many airlines offer direct flights to Athens, however, if you are coming from the West Coast of the USA, you will have to connect on the East Coast or in Europe in order to get to Athens, which can add significantly to your travel time.
By Train
Athens is connected to several European cities via train services. However, train travel to Athens is not as fast or common as air travel, and it may involve multiple transfers and longer travel times.
European rail networks like Eurostar and Intercity trains may be options to consider if you prefer train travel.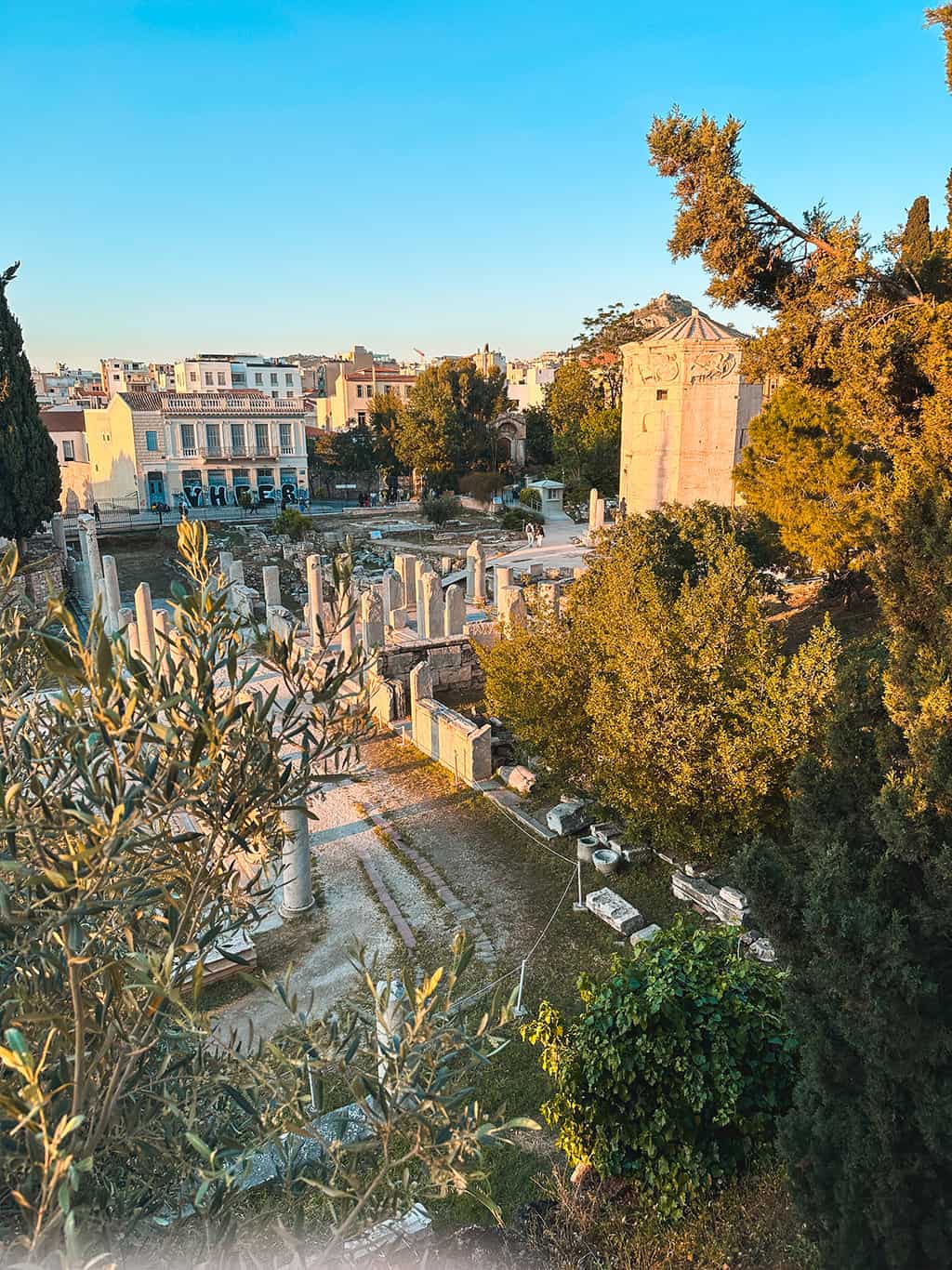 By Bus
Long-distance buses also operate in Europe, connecting Athens with various cities. This option can be more time-consuming than flying but can be more budget-friendly if you are traveling as cheaply as possible.
By Ferry
If you are coming from one of the nearby Greek islands or other coastal regions, you can take a ferry to Athens.
Piraeus, the main port of Athens, is well-connected to many islands in the Aegean Sea. Ferries are a popular way to travel, especially during the summer months, so make sure you grab your tickets ahead of time whenever possible.
By Car
If you are already in Europe want to tackle a road trip, you can drive to Athens.
Greece is accessible by road from neighboring countries, but keep in mind that it may involve crossing multiple borders and adhering to various traffic regulations.
If you aren't sure how to rent a car and drive across borders, ask your rental car agency before you book it.
A VERY Brief History of Athens Greece
The history of Athens, Greece is LONG and complex. It is one of the oldest cities in the world and has heavily influenced Western civilization.
In order to save a little time and brain cells, here is a quick look at the significant moments in Athen's history, which created the city you visit today.
Ancient Athens (Prehistoric to Classical Period):
Prehistoric Settlements
Athens has evidence of human habitation dating back to the Neolithic period (around 6,000 BCE). The earliest settlements were on and around the Acropolis hill.
Mycenaean Period
In the 2nd millennium BCE, Athens was an important Mycenaean city, and its kings played a role in the Trojan War.
Remember Helen of Troy… yeah, she caused some issues in Athens too. And no, Brad Pitt wasn't there either.
Dark Ages
After the decline of the Mycenaean civilization, Athens went through a period known as the Dark Ages, characterized by a loss of writing and cultural decline.
Archaic Period
Around the 8th century BCE, Athens experienced a revival and became a notable city-state (polis). It developed a system of governance, with an aristocracy at first and later evolving into early forms of democracy.
Golden Age of Athens (5th century BCE):
Persian Wars
Athens played a critical role in repelling the Persian invasion during the early 5th century BCE, notably at the Battle of Marathon in 490 BCE.
Athenian Democracy
In the mid-5th century BCE, Athens underwent significant democratic reforms under leaders like Cleisthenes, empowering its citizens to participate in decision-making through the Assembly and other institutions.
Delian League
Athens formed an alliance with other city-states to counter Persian threats and establish the Delian League. However, power is nice, so Athens gradually turned the league into an empire, exerting dominance over its allies.
Pericles' Leadership
The statesman Pericles led Athens during its Golden Age (460-429 BCE), promoting democracy, fostering arts, architecture, and philosophy, and patronizing intellectuals like Socrates, Plato, and Sophocles.
Building of the Parthenon
Under Pericles, the iconic Parthenon temple atop the Acropolis was constructed to honor the goddess Athena.
Hellenistic and Roman Periods
Peloponnesian War
Athens and Sparta, the leading Greek city-states, engaged in the Peloponnesian War (431-404 BCE), resulting in Athens' defeat and a decline in its power.
Hellenistic Period
After Alexander the Great's conquests, Athens became part of the Hellenistic world, influenced by Greek culture and the spread of knowledge.
Roman Influence
Athens came under Roman control in 146 BCE, but it retained its cultural significance, becoming a center of learning and philosophy in the Roman Empire.
The Romans took on many parts of Greek culture and society, including their gods, although they did rename them to be more "Roman."
Byzantine and Ottoman Eras
Byzantine Rule
With the decline of the Roman Empire, Athens became part of the Byzantine Empire. During this time, Christianity spread, and significant structures like the Church of the Holy Apostles were built.
Ottoman Rule
The Ottoman Empire captured Athens in 1458, marking the beginning of nearly four centuries of Ottoman rule. During this time, Athens' population and importance declined, but some Byzantine and Roman structures were preserved.
Modern Athens
War of Independence
In 1821, the Greek War of Independence began, leading to the liberation of Athens from Ottoman rule in 1833. Athens became the capital of the newly independent Kingdom of Greece.
Expansion and Urbanization
Throughout the 19th and 20th centuries, Athens expanded rapidly and underwent significant urban development.
2004 Olympics
In 2004, Athens hosted the Summer Olympic Games, showcasing its historical heritage and modern capabilities to the world.
The Greek Royal Family
OK, after watching "The Crown," we ALL know that Greece had a royal family. Prince Phillip, the late Queen Elizabeth II of England's husband, was the son of Prince Andrew of Greece and Denmark (1882–1944).
He renounced his rights to the the Greek and Danish thrones in 1947 when he became a British citizen and married Princess Elizabeth of the house of Windsor, the future Queen of England.
So what happened to the Greek royal family? We rarely hear about them anymore.
The modern royal family, known as the House of Glücksburg, originated in 1863 when Prince William of Denmark was chosen as the King of Greece, taking the name King George I.
The family ruled Greece until 1967 when a military coup led to the abolition of the monarchy.
King Constantine II, who became the king in 1964 after his father's death and was exiled in 1967, spent much of his life, along with his wife, Queen Anne-Marie, in exile.
Despite the end of their reign, the Greek royal family remains a respected and beloved symbol of Greece's historical heritage. The family continues to play a role in various charitable and diplomatic endeavors, and many Greeks hold a fond regard for their former monarchy, despite Greece still being a republic to this day.
The most we hear about the Greek royal family is when they get married or attend the wedding of other monarchs, but they are still a family to watch in today's modern society that is enamored with all things royal.
TOP THINGS TO DO IN ATHENS GREECE
ACROPOLIS HILL
By far one of the best things to do in Athens Greece is to visit Acropolis Hill. It's right in the center of Athens and is where you'll find the most important archaeological sites, temples, and museums.
Just some of the ancient monuments you'll find here include the Parthenon, Erechtheion, Acropolis Museum, Theater of Dionysus, and Temple of Athena Nike.
It's a UNESCO World Heritage Site for a very good reason.
Acropolis Tickets
If you want to visit lots of ancient ruins on Acropolis Hill and elsewhere in Athens, luckily there is a combination ticket for just €30. To put that into perspective, tickets to the Parthenon can cost €20.
It's a good idea to purchase it in advance to avoid the ticket office lines. You can also grab your tickets HERE, or one of these passes that cover most of the ancient sites and museums you will want to see.
Athens: Acropolis and 6 Archaeological Sites Combo Ticket
Buy your advance combo ticket HERE
Acropolis
Ancient Agora
Roman Agora
Temple of Zeus
Aristotle's School
Hadrian's Library
Kerameikos Ancient Cemetery
Athen City Pass: 30+ Attractions, Acropolis & Hop on Hop off
Buy Your Athens City Pass HERE
48-hour Hop on Hop off bus ticket
Acropolis with Parthenon and the North and South slope – skip the line entry ticket
Ancient Agora
Stoa of Attalos
Roman Agora
Hadrian`s Library
Temple of Olympian Zeus
Kerameikos
Lyceum
Arch of Hadrian
National garden & Diomedes Botanic garden
Athenian Trilogy
Museum and galleries:
New Acropolis Museum
Herakleidon Museum
Kotsanas Museum: Ancient Greece
The Origins of Technologies
Kotsanas Museum: Ancient Greek Musical Instruments and Games
Ilias Lalaounis Jewelry Museum
Museum of Illusions
Mount Lycabettus
Athens is actually a city of seven hills. Mount Lycabettus is the highest point and is covered in fresh-smelling pine trees, so it's a great spot to witness panoramic views over the entire city at sunset.
Don't worry about hiking up because you can take a cable car.
Here's a total list of hills in Athens you can check out if you have time:
Acropolis Hill
Philopappou or Mousson Hill
Lycabettus Hill
Ardittos Hill
Pnyx Hill
Areopagus Hill (Mars Hill)
Nimfon Hill
PARTHENON
One of the major sites you absolutely cannot miss in the Acropolis is the Parthenon. Built during the 5th century BC, it's a landmark of Ancient Greece and a monument to democracy with its iconic Doric columns.
Not only that, but the Parthenon took only nine years to construct, which was considered miraculously quick by the Ancient Greek people.
Because it's one of the top attractions in Athens, it's a must-see during your first visit to Athens. Head there early, because it can get crowded year-round.
Book your ticket HERE so you don't end up visiting on a sold out day.
HADRIAN'S LIBRARY
Roman Emperor Hadrian left his mark all over Europe from the UK to Rome and even Athens. Hadrian's Library is a 2,000-year-old educational center that is now one of the most important historical sites in Athens.
It's included in the combination ticket and many of the statues, columns, and walls are still standing.
PANATHENAIC STADIUM
One of the best gifts that Greek culture has given to the world is the Olympic Games. You probably already knew this, but what you might not have known is that the first modern Olympic Games were held at the Panathenaic Stadium in 1896.
You can take a guided tour of where they held the first modern Olympics and sometimes events and performances are scheduled here too.
TEMPLE OF OLYMPIAN ZEUS
Despite its notoriety, the Parthenon isn't the largest temple in Athens, it's the Temple of Olympian Zeus. You'll find it where you'll find most of the other famous Greek temples on top of Acropolis Hill.
Built during the 6th century, this temple is part of the combination ticket and is well worth visiting. It's located on the southern tip of the hill which has views over a different part of the city.
ODEON OF HERODES ATTICUS
In ancient times, the Greeks loved their theaters. The Odeon of Herodes Atticus on Acropolis Hill has been painstakingly restored so it can still host concerts and other performances just as it did 2,000 years ago during certain months of the year.
You have a good reason to visit Athens in June to catch opera season at the Odeon!
CHANGING OF THE GUARD IN SYNTAGMA SQUARE
One of the top things to do in Athens Greece during your first visit is to catch the changing of the guard ceremony in Syntagma Square outside the Hellenic Parliament. This square is right in the city center so it's only a short walk away from most of the other top sites in the city.
The presidential guard changes on the hour, every hour, but the most special ceremony is at 11 am on Sundays. It's unlike any other ceremony you've seen before as there is a lot of synchronized stomping, dancing, and drumming in traditional dress.
EDEM BEACH
Of course, Edem Beach doesn't beat the beaches on the islands but it's a favorite place for Athenian locals to cool off during hot summer days. It's right next to Alimos Marina and there's a promenade that stretches the entire length of this half a mile-long sandy beach.
STREET ART TOUR
Taking a free walking tour of any city is a great way to see the highlights, but when in Greece you should take a guided tour (like this one) of the best street art in Athens.
Psyri, Exarcheia, Metaxourgeio, and Omonoia are four neighborhoods that have been revitalized with colorful murals and you'll get to see a more modern side of the city than ancient Athens.
SHOP IN THE PLAKA NEIGHBORHOOD
Plaka feels more like a village than a neighborhood and you'll find lots of boutique shops down its cobblestone streets.
If you want to treat yourself to a pair of handmade Greek leather sandals, this is a great place to buy them. Kokka Shoes is one of the best stores.
You'll also find plenty of linen shops, restaurants and bars to explore.
TEMPLE OF HEPHAESTUS
Dating back to the 7th century, the Temple of Hephaestus sits atop the Agoraios Kolonos hill and is one of the most intact ancient temples. It's usually surrounded by cats, like the rest of Athens, but is worth the visit.
Your entry ticket gives you access to the Temple of Hephaestus, as well as the Ancient Agora.
MONASTIRAKI SQUARE
If you're looking for souvenir shops or just love visiting hectic markets when you travel, check out Monastiraki Square and nearby Ermou Street.
If you need a bite, head to the fruit stands in the square for a scoop of fresh strawberries (when in season). A massive scoop might set you back four euros, but every bite is worth it.
Just remember to wash your berries before you eat them.
Monastiraki Flea Market
I can never resist a flea market, especially in another country. I love to riffle through the junk and treasures being offered.
Stroll through the permanent shops, but also the weekend stalls that are set up all around Monastiraki.
The Monastiraki Flea Market is open every Sunday until late with antiques, artisanal crafts, and other trinkets in the shops, stalls and temporary tables.
KAPNIKAREA CHURCH
Whilst it isn't the oldest religious building (by a thousand years, give or take), the Kapnikarea Orthodox church is one of the oldest churches in the city.
Dating back to the 11th century, the ornate Kapnikarea is small yet mighty with its beautiful frescoes and Byzantine architecture which stands out in a neighborhood of modern buildings.
You are welcome to pop in to visit or simply watch the street musicians who set up outside of the church to play for the public.
NATIONAL GARDEN
Formerly known as the Royal Garden, the National Garden is a huge park with exotic plants, an outdoor cinema, ruins, and much more. The great thing about this park is that it's right in the city center so it's a good place to take kids or relax in the warm Greek weather.
STAVROS NIARCHOS FOUNDATION CULTURAL CENTER
Stavros Niarchos Foundation Cultural Center may not sound like one of the most exciting things to do in Athens Greece, but that's because you don't know what's there! It's a huge complex that includes the National Library of Greece and a huge landscaped park.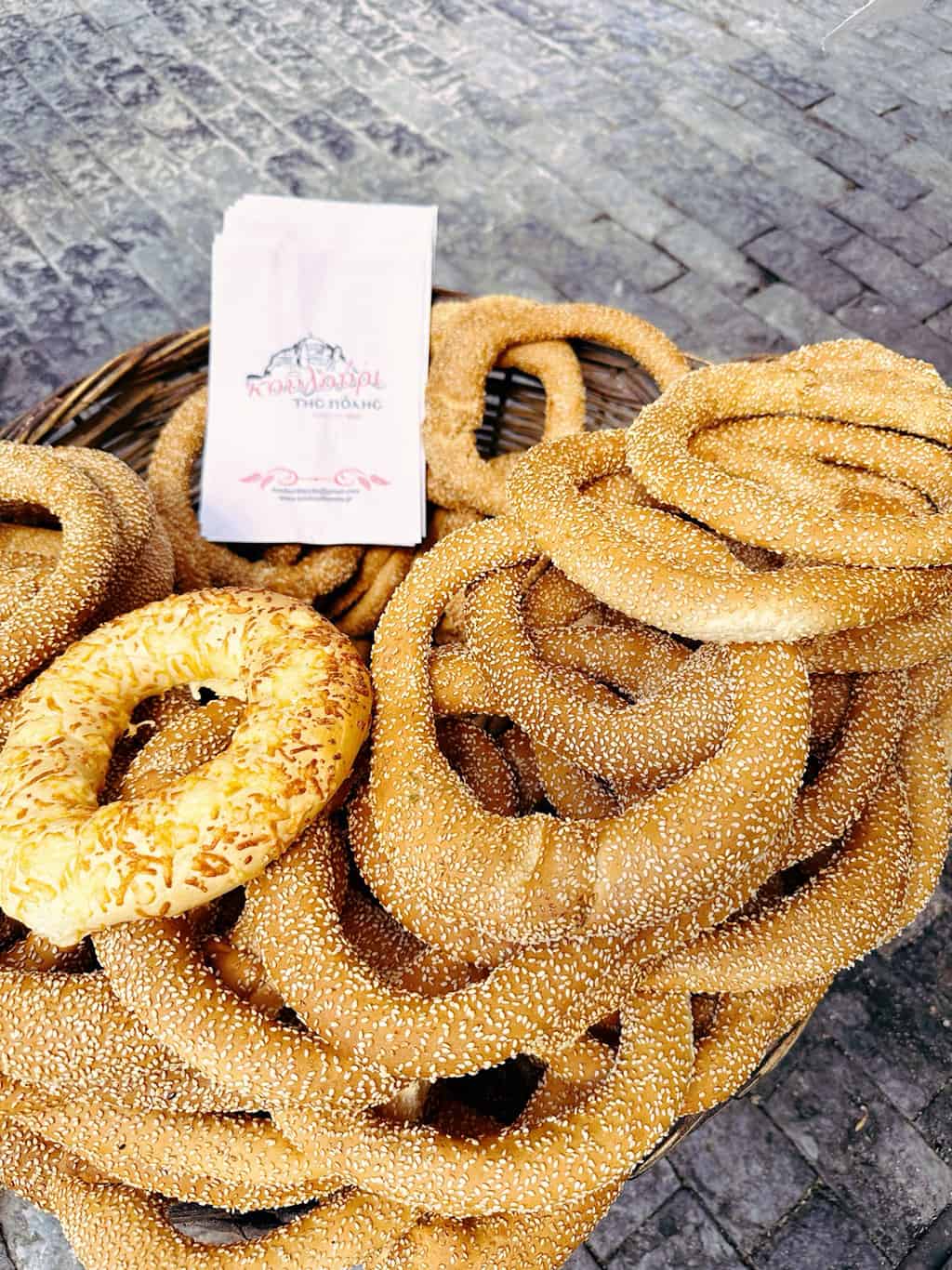 GREEK CUISINE FOOD TOUR
A type of Mediterranean cuisine, Greek cuisine and street food is some of the most-loved in the world. Some crowd-pleasing delicacies include Greek coffee, yogurt, gyros, souvlaki, and loukoumades.
Central Market in Athens is open Monday – Saturday and is a great place to find local delicacies. Or, take a food tour to learn about Greek food from a local.
Book a food tour HERE.
Getting a Massage in Athens Greece
After all of that walking, you may want a massage. We met two Americans while wandering around the Plaka one night who gave us a great tip on a dinner spot (see below) and a massage place that they had just visited.
Nuad Thai Massage Athens offers four-hand, 90-minute massages for under 100 euros, which is an absolute steal. If you don't want to commit to a full-body massage, you can also get a foot massage, or a more traditional massage with only one massage therapist.
Nightlife in Psiri
Psiri is the best neighborhood if you're looking to enjoy the nightlife and watch live music in Athens.
Crazy-Themed Experiences in Athens
Athens has had an explosion of themed restaurants since we were last in Greece. While spots like Little Kook have been around for ages, even this restaurant has embraced their theme and run with it, spilling out into the streets and adjoining shops.
Little Kook
Love Alice in Wonderland? Well, you don't want to skip a visit to Little Kook then. Show up day or night and you will feel like you fell down the rabbit hole into a psychedelic street that is bursting with flamingos, the Cheshire Cat, Queen of Hearts, the Mad Hatter, caterpillars, butterflies, and everything and anything else you can think of from the book, Disney cartoon or Tim Burton's "Alice in Wonderland."
While many restaurants would stop at the decor and serve mediocre food, Little Kook goes above and beyond to provide you with a wide range of sweet and savory dishes.
The desserts are insane, all with a quirky spin on Alice in Wonderland.
Order the Mad-Hatter Breakfast (similar to an afternoon tea tray minus the tea) that comes with little sandwiches, plenty of sweets and even tiny "drink me" bottles of a strawberry lemonade cordial (non-alcoholic).
Grown ups can indulge in a craft cocktail, while kids can have their own fun hot chocolates and iced beverages, like a super chocolate drink inspired by Humpty Dumpty.
Ellyz Cafe
Love pink? Then you MUST visit Ellie's. Not only is it an explosion of pink and purple flowers, but it also has pink drinks, purple desserts and… well… anything and everything pink.
The bartenders are amazing, creating unique cocktails on and off the menu depending on what you like. Come hungry though because you will want to try one of their specialty desserts or even a Kit Kat pancake stack while you are there.
There are plenty of seats outside, but we prefer to sit inside where we can talk to the staff, do some people watching, and be surrounded by the rich decor that this concept restaurant has embraced.
Oh, and if your server or bartender gives you a flower, it's free and enjoy it. Just a little gift of beauty from Ellyz to you to enjoy long after your cocktail or pink cappuccino are long gone (don't worry, you can get a non-pink/regular cappuccino too).
BEST MUSEUMS IN ATHENS GREECE
ACROPOLIS MUSEUM
Most of the top ancient artifacts in Greece can be found in the Acropolis Museum on the hill. It's one of the top state-of-the-art facilities covering Greece's ancient history and really isn't to be missed.
NATIONAL ARCHAEOLOGY MUSEUM
Almost everything from jewelry, sculptures, vases, and metal tools that have been found on excavations around the country is in the National Archaeological Museum. It's such a huge museum that there's no way you'll see everything, but you can give it a good try, right?
BENAKI MUSEUM
It's easy to forget that there's more to Athens than the Ancient Greeks. The Benaki Museum has exhibits from several historical periods ranging from prehistory to the modern ages.
It's housed in the former mansion of an art collector, so there's a heavy emphasis on costumes and paintings.
MUSEUM OF CYCLADIC ART
Speaking of art, the Museum of Cycladic Art just next door to the Benaki Museum is one of the best art museums in the city. It has a seemingly endless display of Cycladic sculptures, vases, and artworks dating from 3,000 to 1,500 BC originating in the Greek Cyclades.
TEMPLE AND MUSEUM OF ANCIENT AGORA
Yet another unmissable museum on Acropolis Hill is the Ancient Agora of Athens. Not so much a temple, the Roman Agora was more of a meeting place or gathering place during the 6th century BC. It's no less impressive than any of the temples and it also has a museum.
GREAT DAY TRIPS FROM ATHENS GREECE
If you don't have enough time for a side trip to the Greek islands, taking a day trip from Athens is one of the best ways to explore more of Greece.
Here are some recommendations for easy day trips from the Greek capital.
TEMPLE OF POSEIDON
Near the Cape Sounio Hotel overlooking the coast, the Temple of Poseidon is a little outside of Athens (roughly a one-hour drive) on the coastline. It's absolutely worth the trip to this 5th-century BC temple for the stunning sea views alone.
You can either rent a car to drive yourself out, or hop on a small group tour (which is usually a better deal).
HYDRA
From Piraeus Port, hop on a ferry or an island hopping tour that will take you to Hydra in about one hour for an €80 return ticket.
Hydra is a small and car-free island which makes it one of the best places to escape the crowds of Athens and enjoy a slower pace.
DELPHI
The Oracle of Apollo said that Delphi was the center of the world. While that's up for debate, the Archaeological Site of Delphi is a UNESCO World Heritage Site and is only 100 miles/162 km north of Athens.
Rent a car or join one of the many small group tours that leave Athens every day.
SAILING TRIP
While Athens might not be an island, it's still a port city so there's no better place to enjoy a sailing trip.
Book a catamaran and head out into the Aegean Sea where you can dive, snorkel, or lounge and relax with the rocking of the boat.
ANNUAL EVENTS IN ATHENS GREECE
Athens, Greece is always a lively city, but it's even more energetic during festivals and religious holidays. Here are some of the best annual events worth visiting in Athens and planning your vacation around.
Protohronia (New Year's Day)
Epiphany (January 6th)
Apokries/Carnival (February/March)
Tsiknopempti/Grilled Meat Thursday (12th Day of Carnival)
Greek Independence Day (March 25th)
Easter Sunday/Holy Week (April/May)
Athens City Festival (May)
Color Day Festival (June)
Jazz and Blues Festival (June)
Athens Epidaurus Festival (June – August)
Greek Festival (June – August)
Art Athina (October – November)
RESTAURANTS IN ATHENS, GREECE
Some of the best restaurants in Athens are small cafes and hole-in-the-wall takeouts. But it's nice to mix it up and you don't want to miss the opportunity to sit on as many rooftop terraces with beautiful views over Athens as possible.
GREEK COFFEE SHOPS IN ATHENS GREECE
Mokka Specialty Coffee, Athinas 44, Athina 105 51, Greec
Café Taf, Emmanouil Benaki 7, Athina 106 78, Greece
Da Capo, Tsakalof 1, Athina 106 73, Greece
4m (Rule of 4m), Agiou Spiridonos 5, Athina 116 35, Greece
BREAKFAST CAFES
Telaro, Romvis 13, Athina 105 60, Greece
Black Duck Garden, 5, loannou Paparrigopoulou 7, Athina 105 61, Greece
The Underdog, Iraklidon 8, Athina 118 51, Greece
Harvest Coffee & Wine, Αιόλου 64 &, Evripidou, Athina 105 60, Greece
GYRO EATERIES IN ATHENS GREECE
o Gyros Pou Gyrevis, Αθανασίου Διάκου 1 Ακρόπολη, Athina 117 42, Greece
Tylixto Greek Wrap, Aiolou 19 TYLIXTO, Aiolou 19, Athina 105 51, Greece
H PITTA TOY KARAFLA, Filolaou 142, Athina 116 32, Greece
Savvas Kebap Rooftop Garden, Ermou 91, Athina 105 55, Greece
LUNCH SPOTS
Psaras Tavern, Erotokritou 16, Athina 105 56, Greece
Avocado, Nikis 30, Athina 105 57, Greece
Milos Restaurant, 3-5, Kolokotroni Street, Athina 105 62, Greece
Agora Select, Χατζηγιάννη Μέξη 8 και, Kon/nou Ventiri 9, Athina 115 28, Greece
DINNER RESTAURANTS
Athénée, Voukourestiou 9, Athina 106 71, Greece
Karamanlidika, Evripidou 52, Athina 105 52, Greece
A Little Taste of Home, Astiggos 8, Athina 105 55, Greece
Diporto, Sokratous 9 &, Theatrou, Athina 105 52, Greece
Mironi Greet Restaurant, Meg. Alexandrou 7, Athina 104 37, Greece (like going to your family in Athens house for dinner)
Gelato in Athens
Le Greche, Mitropoleos 16, Athina 105 63, Greece (uses all natural ingredients, and many local flavors and ingredients to create beautiful gelatos and sorbets.)
ROOFTOP BARS IN ATHENS GREECE
MS Garden
Arrive early and definitely book a reservation if you plan on going to the MS Garden Rooftop Bar and Restaurant.
It is PACKED before sunset and by the time the sun goes down there is a long line at the hostess desk of people waiting to get into the elevator to take them to the top for drinks.
The crowd gets younger later in the evening, so plan accordingly if you don't want to hang out with the 18+ crowd (remember, it is legal to drink in Greece at age 18).
A is for Athens
While we wouldn't stay at the hotel again as guests (the rooms at the A is for Athens were stuffy, and not the most comfortable), we would recommend the rooftop bar that has one of the best, and most unobstructed views of the Acropolis that we found on our most recent trip to Athens.
Reserve a table if you want the best views, but if you show up they might be able to squeeze you in before sunset. The house white, red and rose are perfect to toast the end of another day in this ancient Greek city, but the cocktails and wine menu are definitely worth a look as well.
Savvas Kebap Rooftop Garden
If you want a rooftop view of the Acropolis all to yourself, and a restaurant that has been around since 1925, head to Savvas for lunch.
This is a massive restaurant on the main drag in Monastiraki, but most locals grab take out or sit outside on the street-side tables. If you go a bit before noon, you might just get the rooftop to yourself.
At night the crowds definitely show up, so if you want to hang out with a lot of people, plan for dinner, but we loved our quiet lunch on our "private" rooftop looking out at the Pantheon for more than an hour.
More Rooftop Bars facing the Acropolis
360 Cocktail Bar, Ifestou 2, Athina 105 55, Greece
Anglais Athens, Kirikeioi 6, Athina 105 55, Greece
The Artist, Kalamida 7, Athina 105 54, Greece
Attic Urban Rooftop, Ermou 86, Athina 105 54, Greece
BIOS Athens Rooftop, Pireos 84, Athina 104 35, Greece
Buena Vista Social Bar, Ἁγίου Φιλίππου 7, Athina 105 55, Greece
Couleur Locale, Normanou 3, Athina 105 55, Greece
Ermou 18 Beyond The Horizon, Ermou 18, Athina 105 63, Greece
Τhe Foundry Rooftop Garden, Sarri 40, Athina 105 53, Greece
Galaxy Bar, Stadiou 10, Athina 105 62, Greece
Manouka, Athens Utopia Ermou, Ermou 46, Athina 105 63, Greece
Olympias Athinas, Athinas 57, Athina 105 51, Greece
Retiré at the ERGON House, 23, Mitropoleos Street, Athina 105 57, Greece
Thea Terrace, Central Hotel, Apollonos 21, Athina 105 57, Greece
Tudor Hall, Vasileos Georgiou A 3, Athina 105 64, Greece
Vegan Options in Athens Greece
It's not all meat platters and gyros in Athens. We found several vegan spots that could easily accommodate vegan dietary restrictions, plus plenty of vegetarian options at almost every restaurant.
A favorite that we found in Plaka – the Amygdalo, which was hard to miss with its pink floral decor, outside swing, and stuffed figs with pistachios, cranberries and goji berries, and other nut-based snacks.
Even better, they had a persimmon sandwich with almond butter and maple syrup dipped in sesame seeds around the outer edge. Since I have four persimmon trees at home in California, I'm always looking for things to do with the thousand or so persimmons we harvest every autumn.
Pin it and Plan Your Trip to Athens, Greece
Athens Greece FAQ
What is the best time to visit Athens?
The best time to visit Athens is during the spring (April to June) and autumn (September to October) months. During these seasons, the weather is pleasant, and the temperature is mild, making it ideal for exploring the city's attractions.
Summer (June to August) can be quite hot, with temperatures often soaring above 30°C (86°F). However, if you enjoy warm weather and don't mind the crowds, summer is always a great choice. Just make sure you hit the beach at some point.
How do I get to Athens?
Athens is well-connected to major cities around the world through Athens International Airport (ATH), also known as Eleftherios Venizelos Airport. The airport is about 35 km (22 miles) from the city center, and you can reach downtown by taxi, bus, or the suburban railway.
What are the must-visit attractions in Athens?
Athens is filled with historical landmarks and iconic attractions. Some of the must-visit places include:
Acropolis: The ancient citadel featuring the Parthenon, Erechtheion, and other ancient temples.
Plaka: The oldest neighborhood in Athens with charming streets, shops, and tavernas.
Ancient Agora: A former marketplace with impressive ruins and the Temple of Hephaestus.
National Archaeological Museum: Home to a vast collection of ancient Greek artifacts.
Acropolis Museum: A modern museum displaying archaeological findings from the Acropolis site.
Panathenaic Stadium: A historic stadium made entirely of marble, where the first modern Olympics were held in 1896.
Temple of Olympian Zeus: A colossal temple dedicated to Zeus, partially preserved with its towering columns.
Is the Athens City Pass worth it?
If you plan to visit multiple attractions in Athens, Athens City Pass is 1000% worth it. The pass offers access to many popular sites, including the Acropolis and the Acropolis Museum, along with unlimited use of public transportation for a certain period.
The pass can save you both time and money, especially during the peak tourist season.
Buy yours HERE.
How is the local cuisine in Athens?
Greek cuisine is renowned for its delicious flavors and healthy Mediterranean ingredients. In Athens, you must try some traditional dishes like moussaka, souvlaki, gyros, spanakopita (spinach pie), and baklava (a sweet pastry).
Be sure to explore the local tavernas for an authentic experience and taste some locally produced wine and ouzo, a traditional Greek spirit.
What are the best areas for shopping in Athens?
Athens offers a variety of shopping experiences. For luxury shopping and international brands, head to Ermou Street, Kolonaki, and Golden Hall Mall.
For more unique and artisanal products, visit the Monastiraki Flea Market and Plaka, where you can find souvenirs, jewelry, handicrafts, and antiques.
How can I get around in Athens?
Athens has an extensive public transportation system, including buses, trams, the metro, and suburban trains. The metro is one of the most convenient and efficient ways to get around the city, especially for visiting major tourist attractions.
Taxis are also widely available and can be hailed on the street or booked through apps. We recommend booking through an app or asking the front desk at your hotel to book a taxi whenever possible.
Is English widely spoken in Athens?
Yes, English is widely spoken, especially in tourist areas and among the younger population.
Most signs and menus in popular areas are also available in English. However, learning a few basic Greek phrases is very helpful when you want to chat with the locals.
What are some lesser-known attractions in Athens?
While Athens has many famous landmarks, check out these lesser-known gems:
Mount Lycabettus: A hill with panoramic views of Athens; you can hike or take a funicular to the top.
Kerameikos: An ancient cemetery and archaeological site with interesting ruins.
Anafiotika: A picturesque neighborhood nestled under the Acropolis, with narrow streets and Cycladic architecture.
Benaki Museum: A lesser-visited museum showcasing Greek art and historical artifacts.
How safe is Athens for tourists?
Athens is generally a safe city for tourists. However, like any major city, it's essential to stay vigilant and take common-sense precautions.
Pickpocketing does occur in crowded areas, especially on the metro. Keep your belongings secure and switch your bags to your front when on public transit and in crowded spaces.
As with any city, avoid poorly lit or deserted areas at night and rely on licensed taxis or reputable ride-sharing services for transportation.
Additional reporting Rebecca Sharp