On the coast of County Kerry is the Dingle Peninsula known in the Irish language as Corca Dhuibhne. It's one of our favorite spots in Ireland, and a highlight of the Wild Atlantic Way– a coastal road trip route along the western coast of Ireland, but also a popular destination in its own right.
Found on the westernmost point of Ireland, Dingle is filled with some of the most beautiful places in Ireland, is an emerging foodie town, and offers ancient sites, national monuments, panoramic views, and a pub crawl that brings you into a hardware store, past world-class Irish dancers and into the bowls of some of the best music on Main Street.
There are many amazing things to do in Dingle, particularly if you love seafood, traditional Irish music sessions, a lively pub, and spectacular natural landscapes.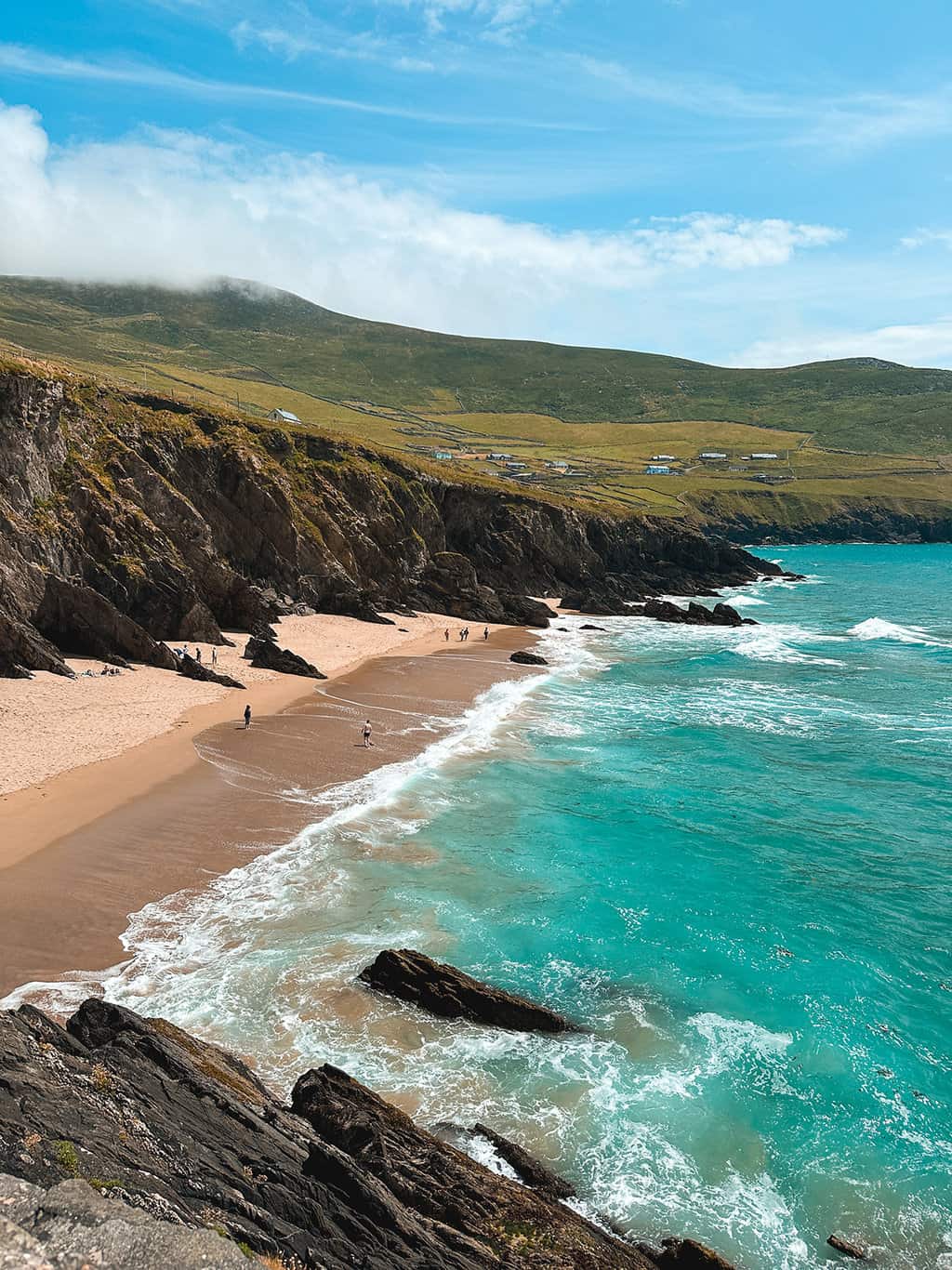 Why Visit Dingle Ireland
Dingle, Ireland (both the town and the peninsula) is known for its dramatic coastline. Its beaches and salty seas may never be quite warm or calm enough to swim in (although many people do surf and swim at Inch Beach and other beaches along the Slea Head Drive), but they sure do look beautiful and there are plenty of them.
It has traditional yet bohemian pubs, historic sites dating back thousands of years, and welcoming, friendly locals. These are only some of the reasons to take a trip to Dingle though.
Let's dig into the best attractions in Dingle Town and on the Dingle Peninsula, including the best natural spots, historic sites, Star Wars filming locations, cozy pubs with live Irish music, and the best restaurants and top travel tips for visiting Dingle.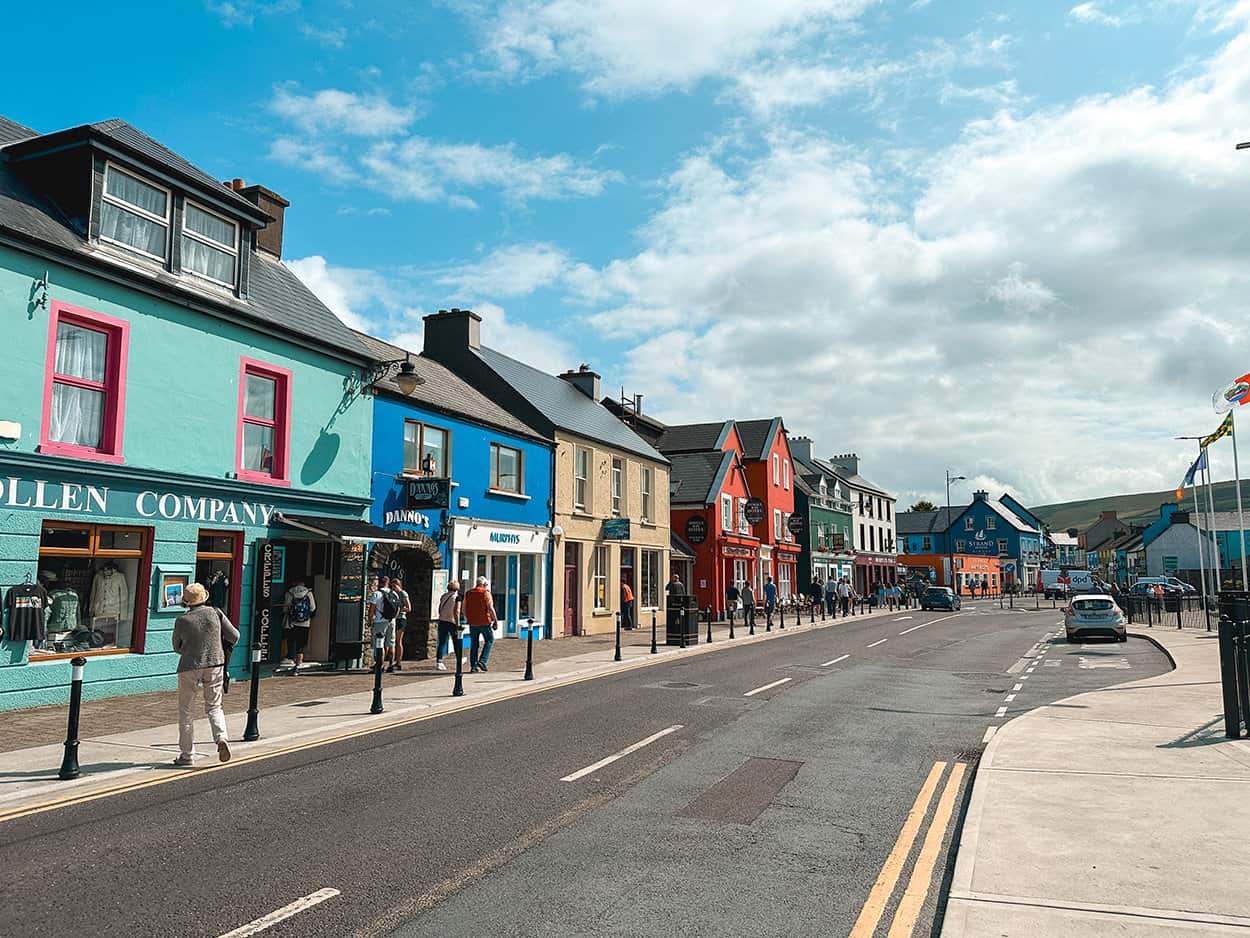 Dingle Trip Planning Guide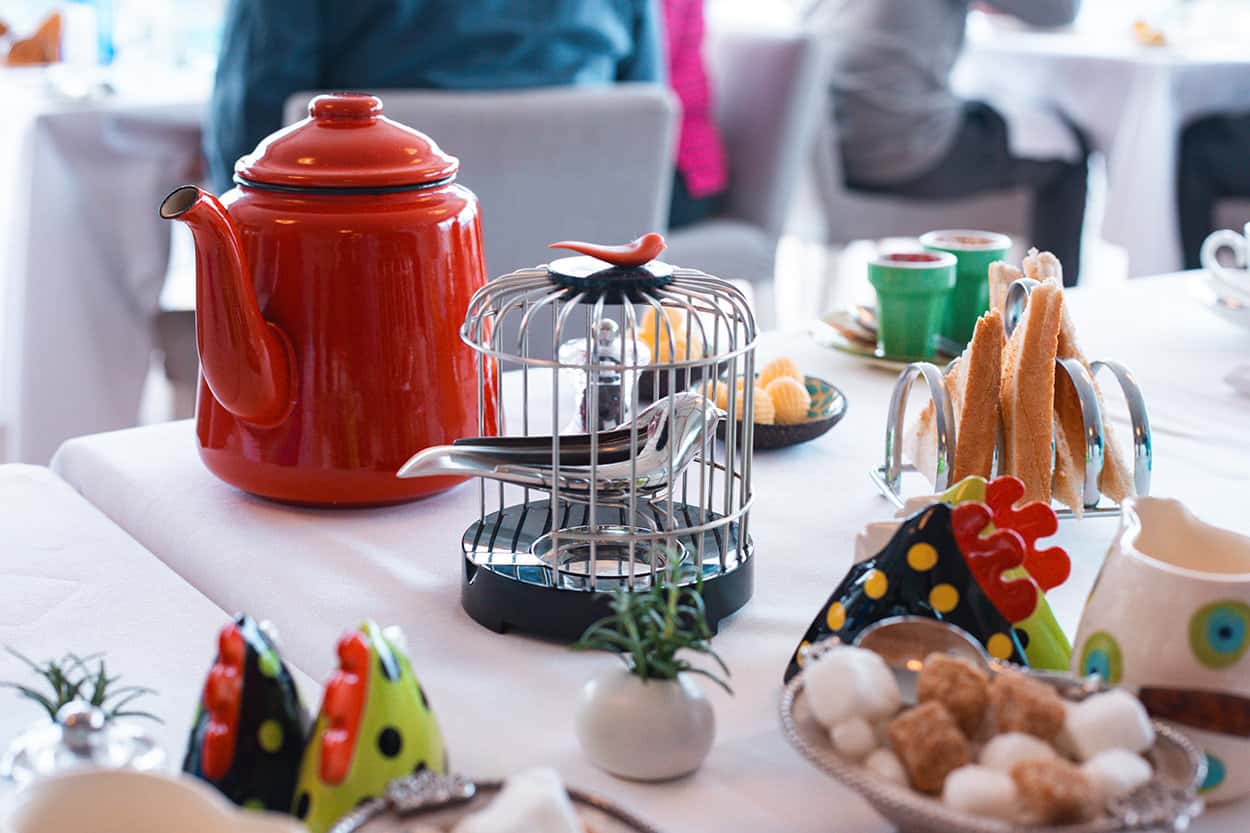 Hotels in Dingle
PIN IT AND START PLANNING YOUR EPIC TRIP TO IRELAND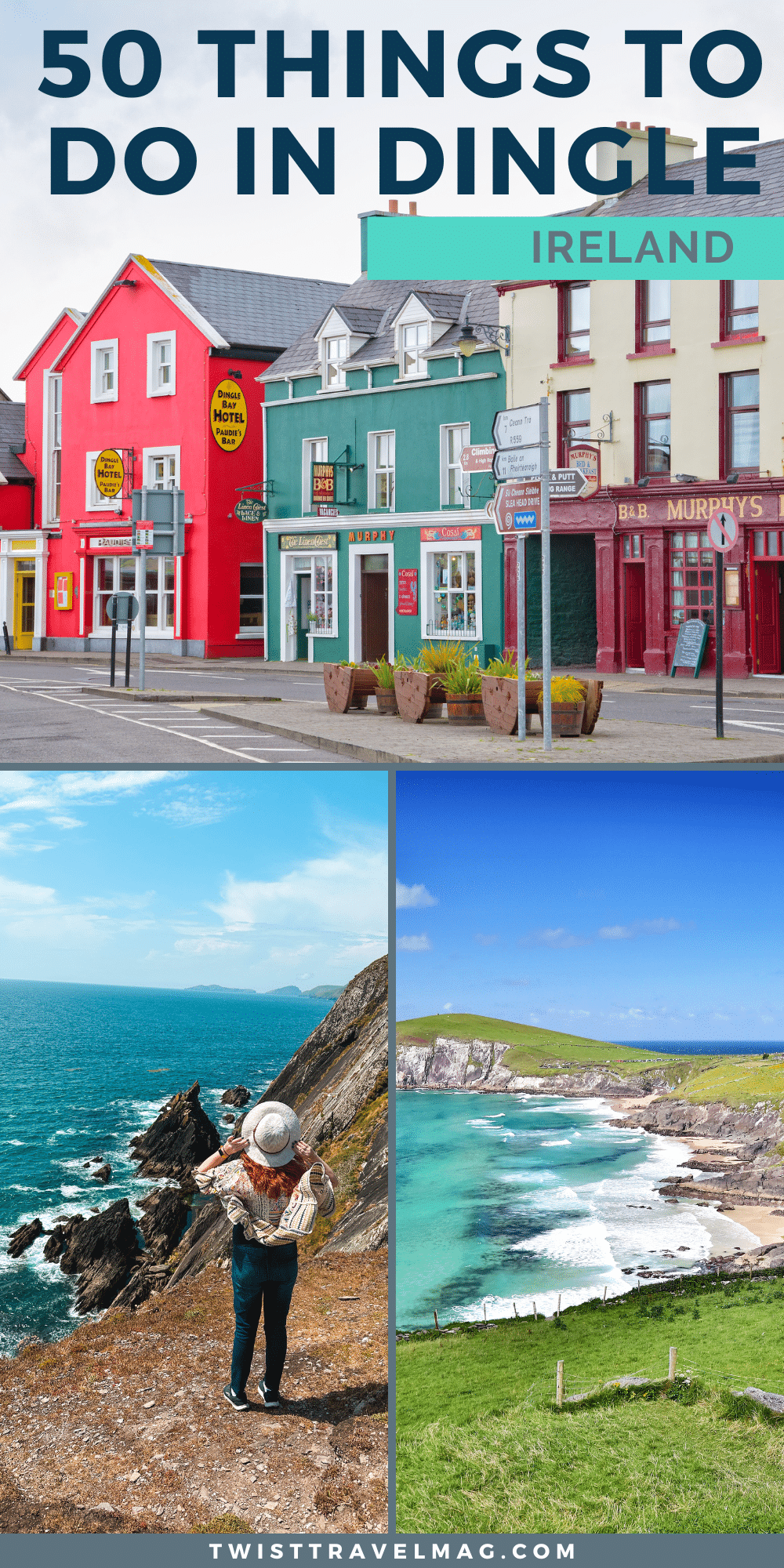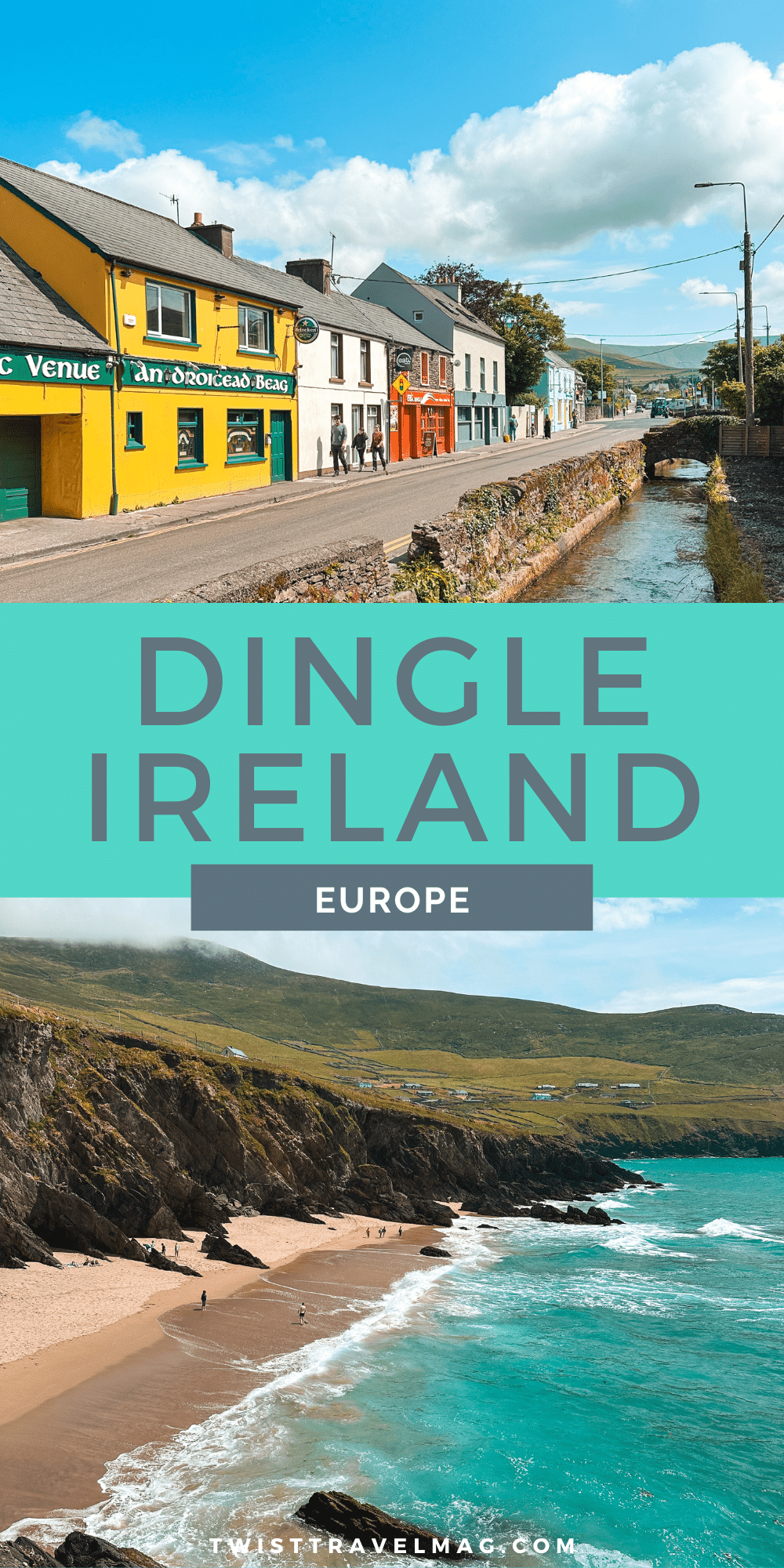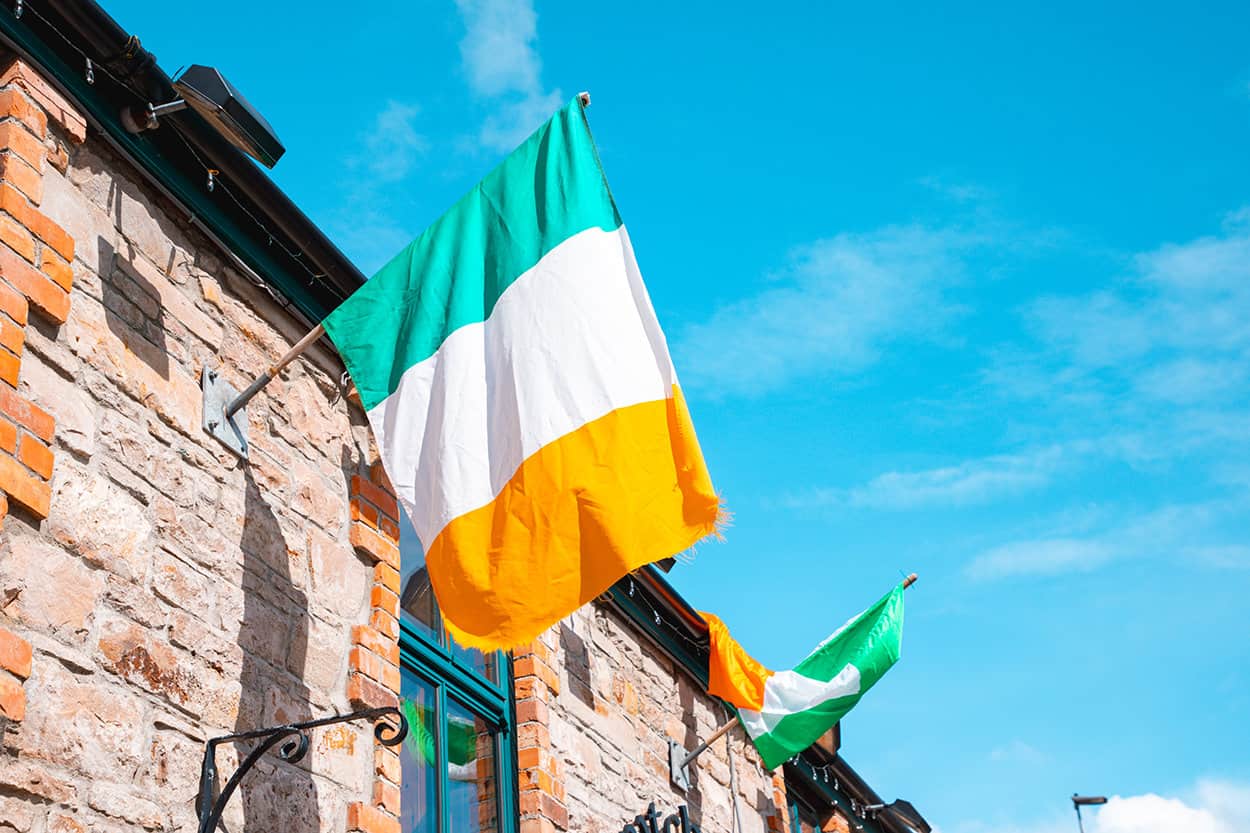 How to get to Dingle
To get to Dingle, Ireland, you have several options depending on where you start.
Travel to Dingle By Air
The nearest major airports to Dingle are Dublin Airport, Shannon Airport, and Cork Airport. From these airports, you can choose to rent a car and drive to Dingle or take public transportation.
From Dublin Airport
Rent a car at Dublin Airport
You can rent a car at the airport and drive to Dingle, which is approximately a 4 to 5-hour journey (if you land during rush hour, assume it could take longer to get around Dublin). Take the M50 motorway from the airport, then follow signs for the N7, N21, and N86 to Dingle.
Public transportation in Dublin
Take a bus or taxi from Dublin Airport to Dublin city center. From there, you can take a bus or train to Tralee, and then transfer to a bus that will take you to Dingle.
The total travel time by public transportation can vary, but it's approximately 6 to 7 hours.
From Shannon Airport
Rent a car at Shannon Airport
Renting a car at Shannon Airport is a popular option, and quite possibly the fastest. The drive to Dingle takes around 2 to 2.5 hours. Follow signs for the N18, N21, and N86 to reach Dingle.
Public transportation in Shannon
Take a taxi or bus from Shannon Airport to Limerick city center. From Limerick, you can catch a bus or train to Tralee and then transfer to a bus heading to Dingle.
The total travel time by public transportation is approximately 4 to 5 hours.
From Cork Airport
Rent a car at Cork Airport
Renting a car at Cork Airport is convenient, and the drive to Dingle takes about 2.5 to 3 hours. Follow signs for the N27, N40, and N22 to Killarney, then continue on the N72 and N86 to Dingle.
Learn more about a stop in Killarney National Park
Public transportation in Cork
Take a taxi or bus from Cork Airport to Cork city center. From there, you can take a bus or train to Tralee, and then transfer to a bus that will take you to Dingle.
The total travel time by public transportation is approximately 4 to 5 hours.
Travel to Dingle By Bus
Bus Éireann operates regular bus services to Dingle from various cities in Ireland. You can check their website for schedules and routes. Buses to Dingle usually depart from larger cities such as Dublin, Cork, Limerick, and Tralee.
The journey times can vary depending on the starting point but generally range from 3 to 6 hours.
Travel to Dingle By Car
If you are already in Ireland or have rented a car, driving to Dingle is a popular option. The main roads leading to Dingle are the N86 and the R559 (Slea Head Drive). Dingle is located on the Dingle Peninsula in County Kerry, and road signs will guide you to the town.
It's worth noting that Dingle's roads can be narrow and winding, particularly on the Dingle Peninsula. Take your time, follow road signs, and be cautious, especially when encountering oncoming traffic or driving in any type of weather (not just rain!).
Regardless of how you choose to travel to Dingle, you should definitely plan your transportation in advance, as trains sell out, and rental cars might be all booked up. Check for any road closures or public transportation schedules, and allow for extra time for delays so you never miss a thing. .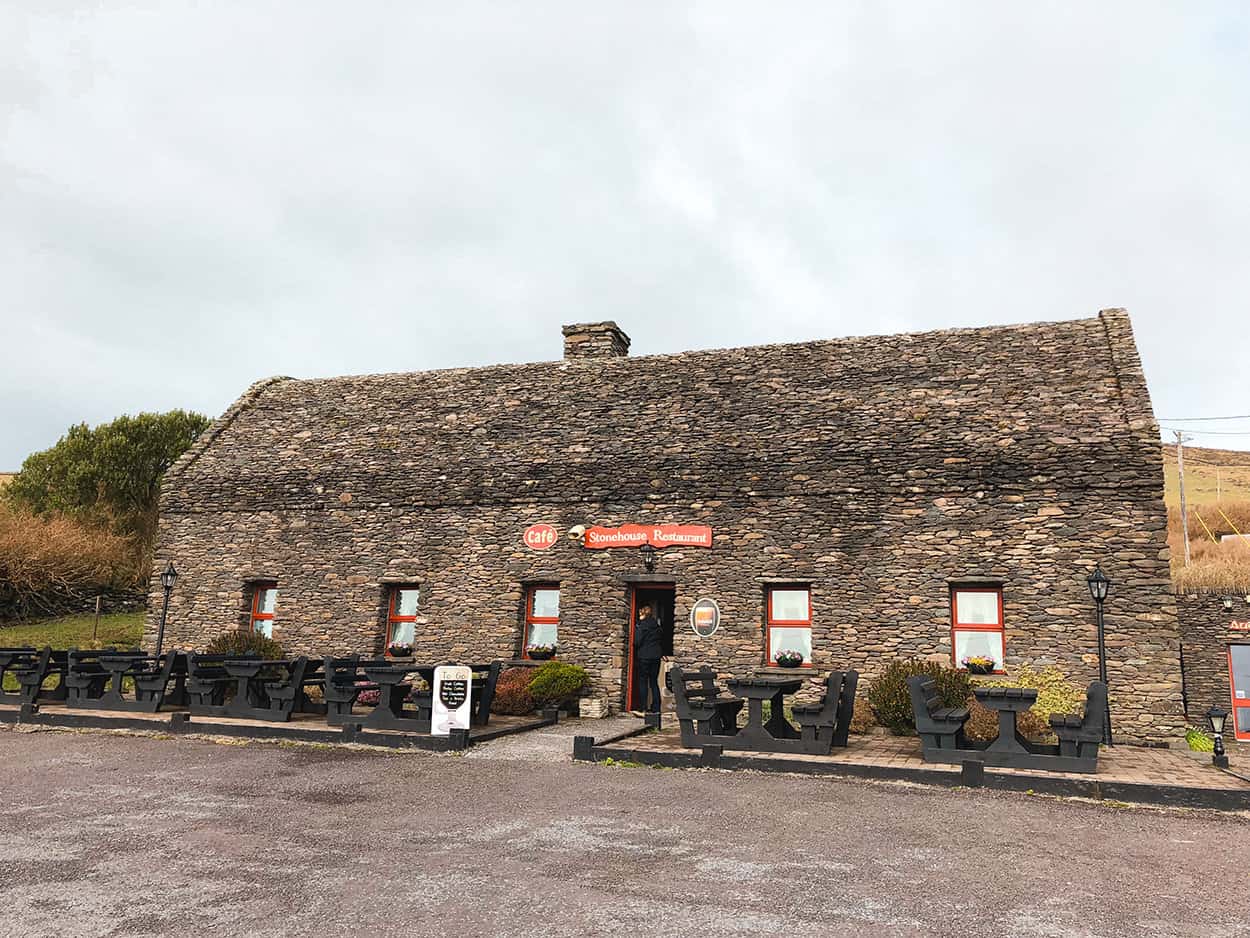 A Brief History of Dingle Ireland
Dingle, also known as An Daingean in Irish (meaning The Fortress), is a beautiful little town located on the Dingle Peninsula in County Kerry, Ireland, which we keep finding ourselves going back to again and again.
The history of Dingle stretches back thousands of years and is closely intertwined with the rich cultural heritage of Ireland.
Early History
The Dingle Peninsula has a long history of human habitation dating back to prehistoric times. Archaeological evidence suggests that people settled in the area as early as 4,000 BC.
Ancient forts and burial sites, such as the Dunbeg Fort and Gallarus Oratory, provide glimpses into the lives of the early inhabitants.
Viking and Norman Era
In the 9th and 10th centuries, Vikings began raiding the coasts of Ireland, including Dingle. They established trade routes and settlements, leaving their mark on the region.
However, the Vikings were eventually expelled by the Normans in the 12th century, who established their rule in Ireland.
Medieval Period
During the medieval period, Dingle thrived as a trading port. It became an important center for commerce, particularly in the wool trade.
The town grew steadily, and in 1207, it was granted a charter by King John of England, allowing it to hold markets and fairs.
Spanish Influence
Dingle's history took an interesting turn in the 16th century when Spanish traders and fishermen began arriving in the area. They established a strong connection with the local population and contributed to the town's economic and cultural development.
Dingle was also the launching point for many on their medieval pilgrimage to the shrine of St. James at Compostella in Spain. The parish of St. James was said to have been built by the Spanish as well, dedicating it to the patron saint of Spain.
If you walk down Green Street, you can still see some of the stone in the old spanish merchant houses with carvings of birds and even dates from the 1500s.
Great Famine and Emigration
The mid-19th century brought significant challenges to Dingle, as it did to the rest of Ireland. The Great Famine, which lasted from 1845 to 1849, caused widespread suffering and resulted in the death and emigration of millions of people, many to America where their descendants still live today.
Dingle, like many other towns, witnessed a decline in population and economic activity during this time.
Modern Era
Thankfully, in the 20th century, Dingle experienced a resurgence. Its stunning landscapes and coastal beauty attracted artists, writers, and tourists. The establishment of the Dingle Oceanworld Aquarium in 1996 further boosted tourism in the area, giving families and vistors of all ages a place to escape on a rainy day and learn about local (and exotic) aquatic life.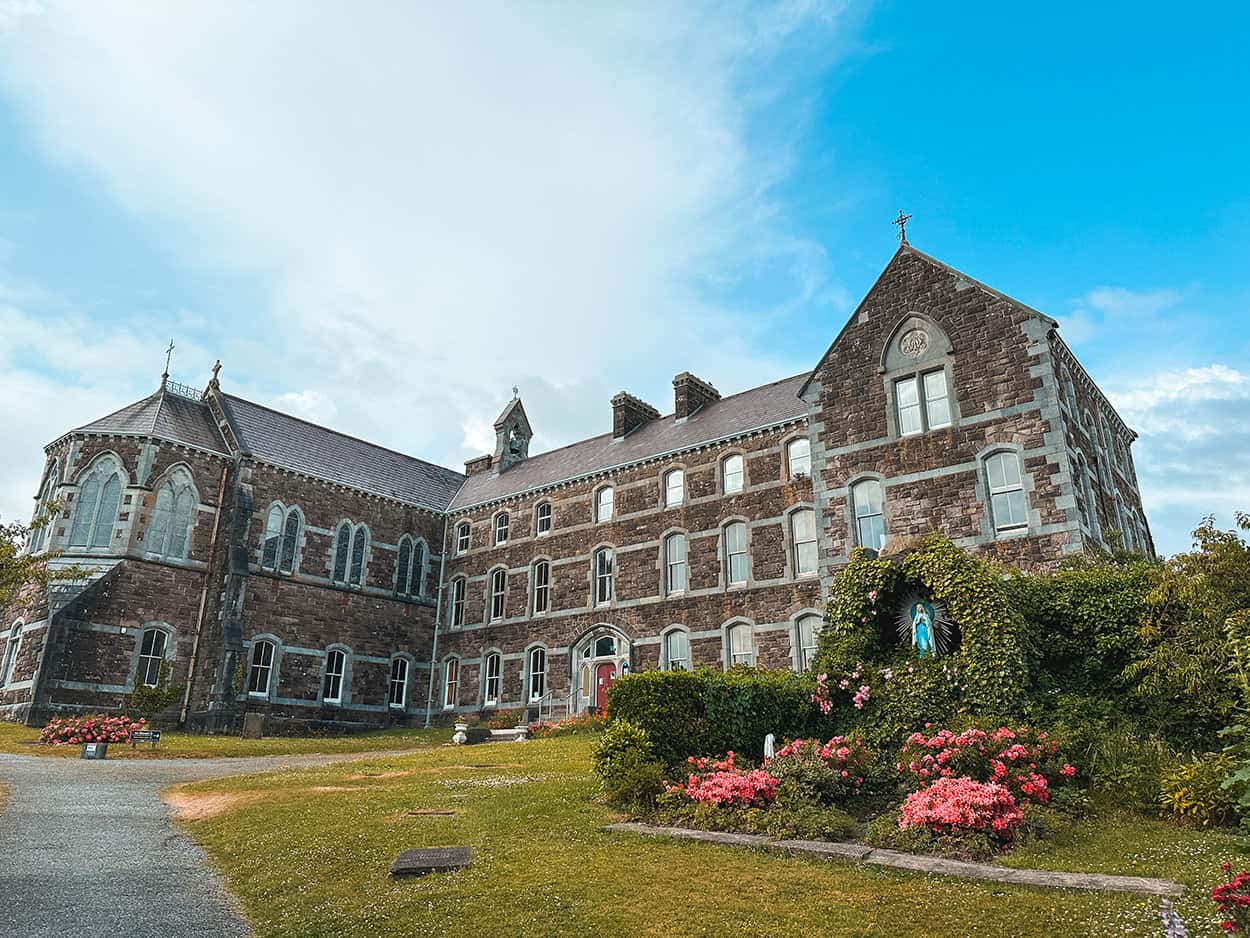 It's All in a Name
The town's official name was changed to An Daingean in 2005 as part of an Irish language initiative, but a local plebiscite in 2006 restored the name Dingle/An Daingean to reflect its historical and cultural significance.
Honestly, it also made it less confusing for travelers looking to visit.
Dingle continues to thrive as a hub of traditional Irish music, storytelling, and a gateway to the stunning landscapes of the Dingle Peninsula. Let's home it remains true to its traditional roots as more tourists flock to the best alternative to the Ring of Kerry in Ireland.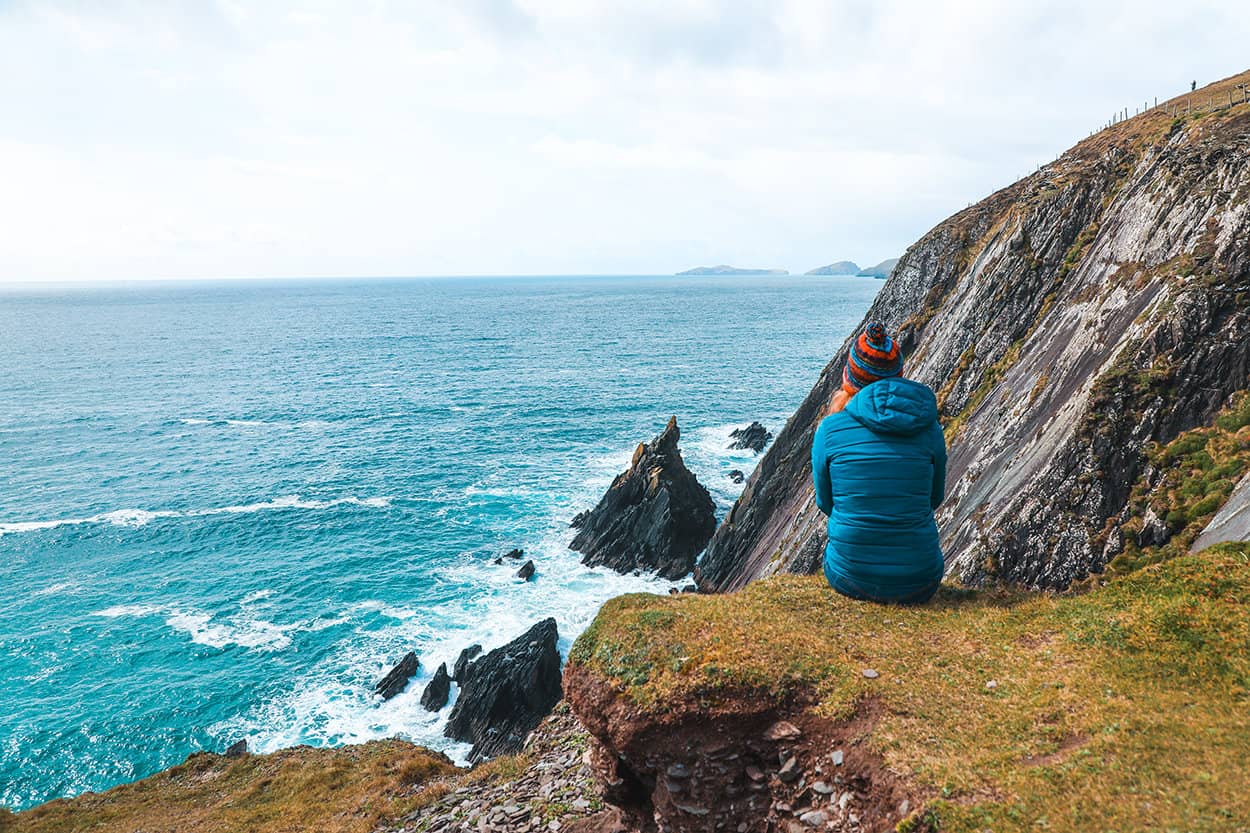 TOP THINGS TO DO IN DINGLE
SLEA HEAD DRIVE
There are a couple of road trips, many within the Dingle Peninsula, you can embark upon that will show you some of the highlights of County Kerry and also the Wild Atlantic Way.
One of the best, and most popular, is Slea Head Drive.
Another name for this road trip is the Slea Head Loop as it's a circular route starting and ending in Dingle, moving in a clockwise direction. It's only 30 miles long so you could easily tackle the Slea Head Drive in around an hour without stopping.
But you wouldn't want to do that! The scenic Slea Head is widely known as one of Ireland's prettiest drives which you can't appreciate from your car window.
Along the Slea Head Loop, there are lots of charming villages like Ventry, Dunquin, Ballyferriter, and Ballydavid. There are forts, viewpoints, and beaches along the Slea Head Drive that will make you instantly pull over.
And yes, there are baby lambs to snuggle.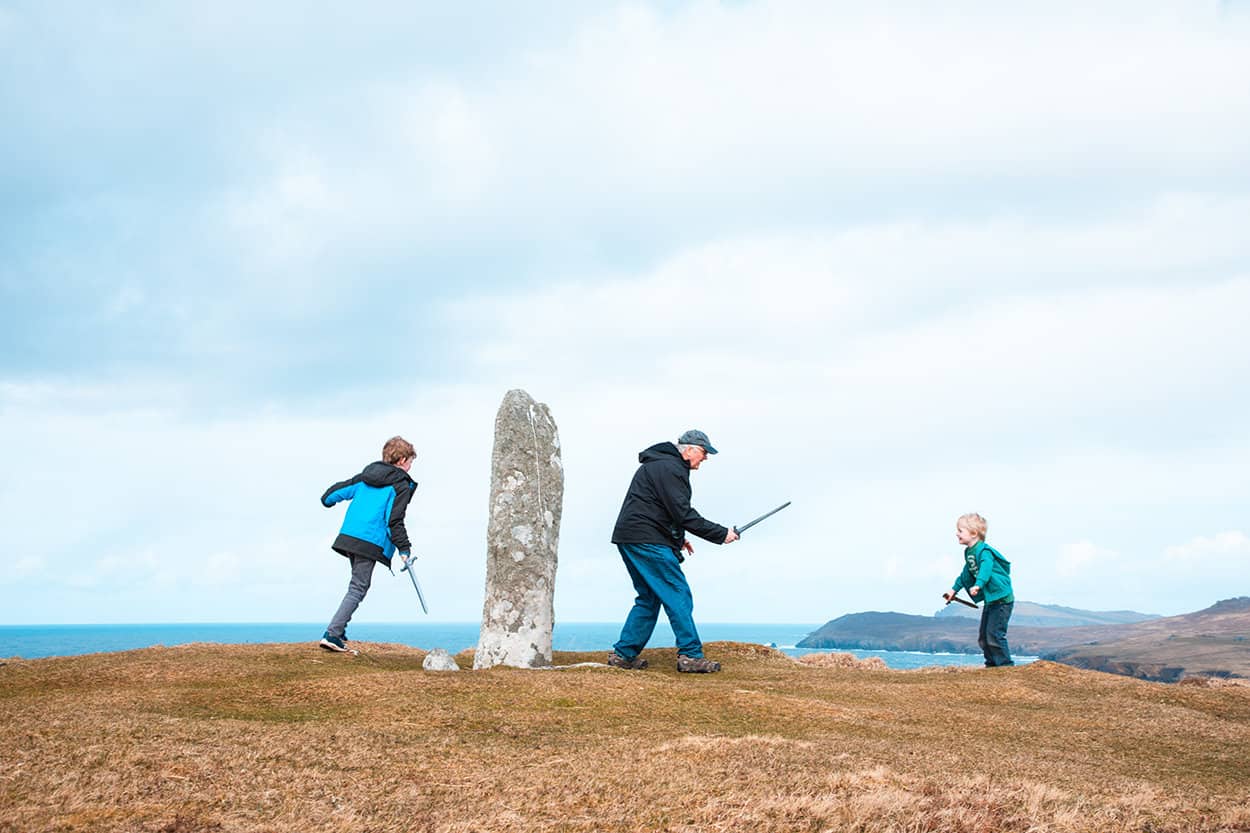 DINGLE PENINSULA DRIVE
One of the only things to do in Dingle that could rival Slea Head Drive is the Dingle Peninsula Drive. You can start this beautiful drive from wherever you are in County Kerry and head towards Inch Beach.
From there, follow the direction of Slea Head Drive towards the town of Dingle, Ireland. Loop back around and keep going past Dingle and travel over the Conor Pass. It's a much longer road trip and encompasses Slea Head Drive along with a few extra places.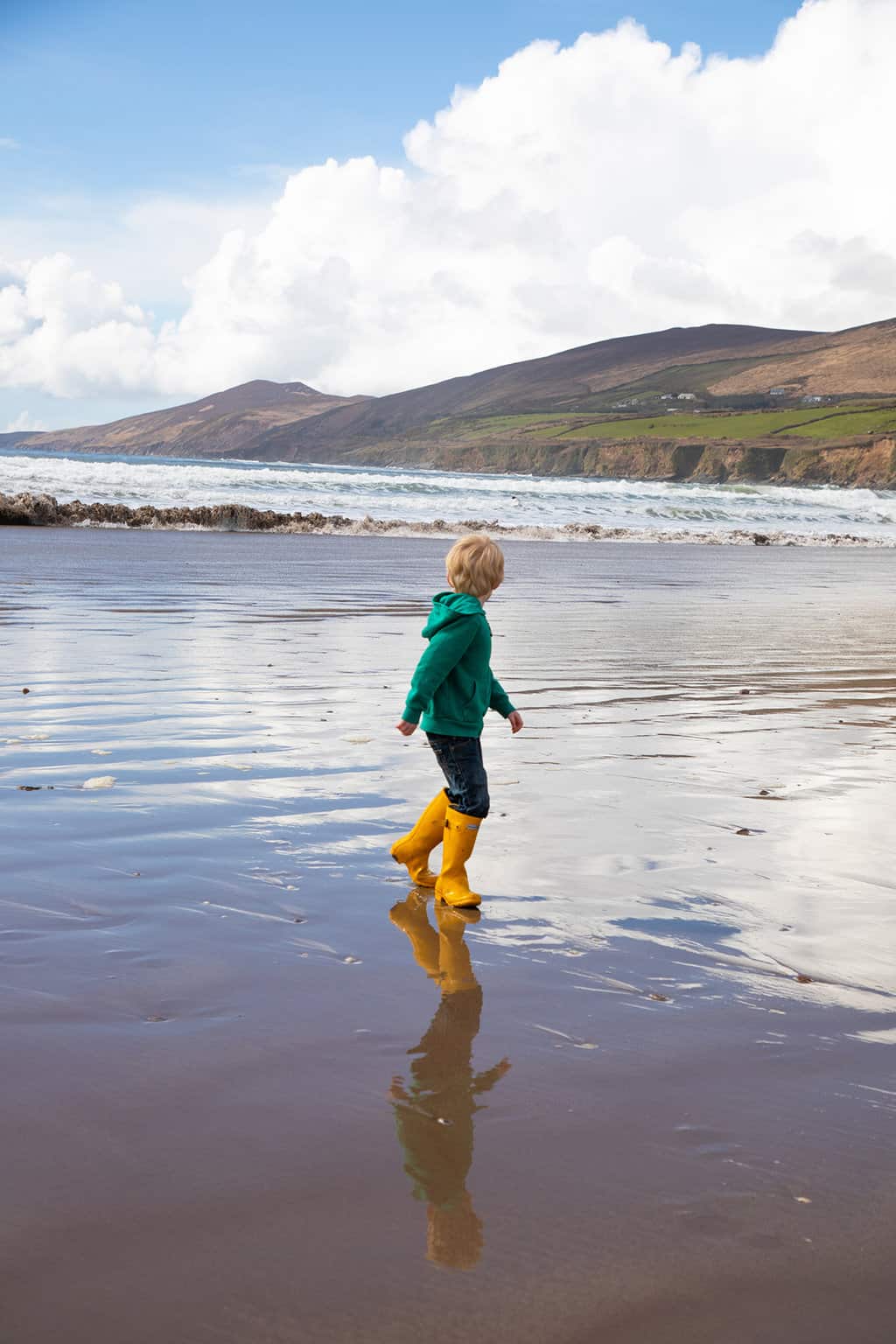 INCH BEACH
Inch Beach is one of the best places on the Dingle Peninsula Drive and one of the most beautiful beaches in County Kerry is Inch Beach. This three-mile, yellow sand beach is Blue Flag Beach, which means it meets high environmental and quality standards.
Locals and tourists alike love Inch Beach for its beauty, sunsets, and space.
Even on the busiest of summer days, you'll have no problems finding a spot on this beach to lay down your towel and read or people spot.
Don't be afraid to wade in a little, although it will be chilly. My kids have no problem splashing around, but if you want to submerge, think about renting a wetsuit for the day.
Surf Inch Beach
One thing Inch Beach is best known for is surfing. It's one of the best Ireland surfing spots, especially for beginners who want a great place to learn without being constantly pounded by the Atlantic Ocean. They have a great kids day camp you can sign up for if you are stay a week, or just grab a lesson for a few hours one day.
Check out Kingdomwaves Surf School – Inch Beach for surf lessons, surfboard rentals and wetsuit rentals. They are usually right there at the beach, so it's easy to pop over and grab your gear and get started.
You can also check out Dingle Surf Shop & School right in Dingle town for rentals and lessons. They also offer surf camps.
More Dingle Ireland Beaches Worth Exploring
Coumeenoole Beach
Blasket's View/ Radharc na mBlascaoidi
Clogher Strand
Fermoyle Strand
Kinard Beach
Cuan Bay Beach and Cuan Pier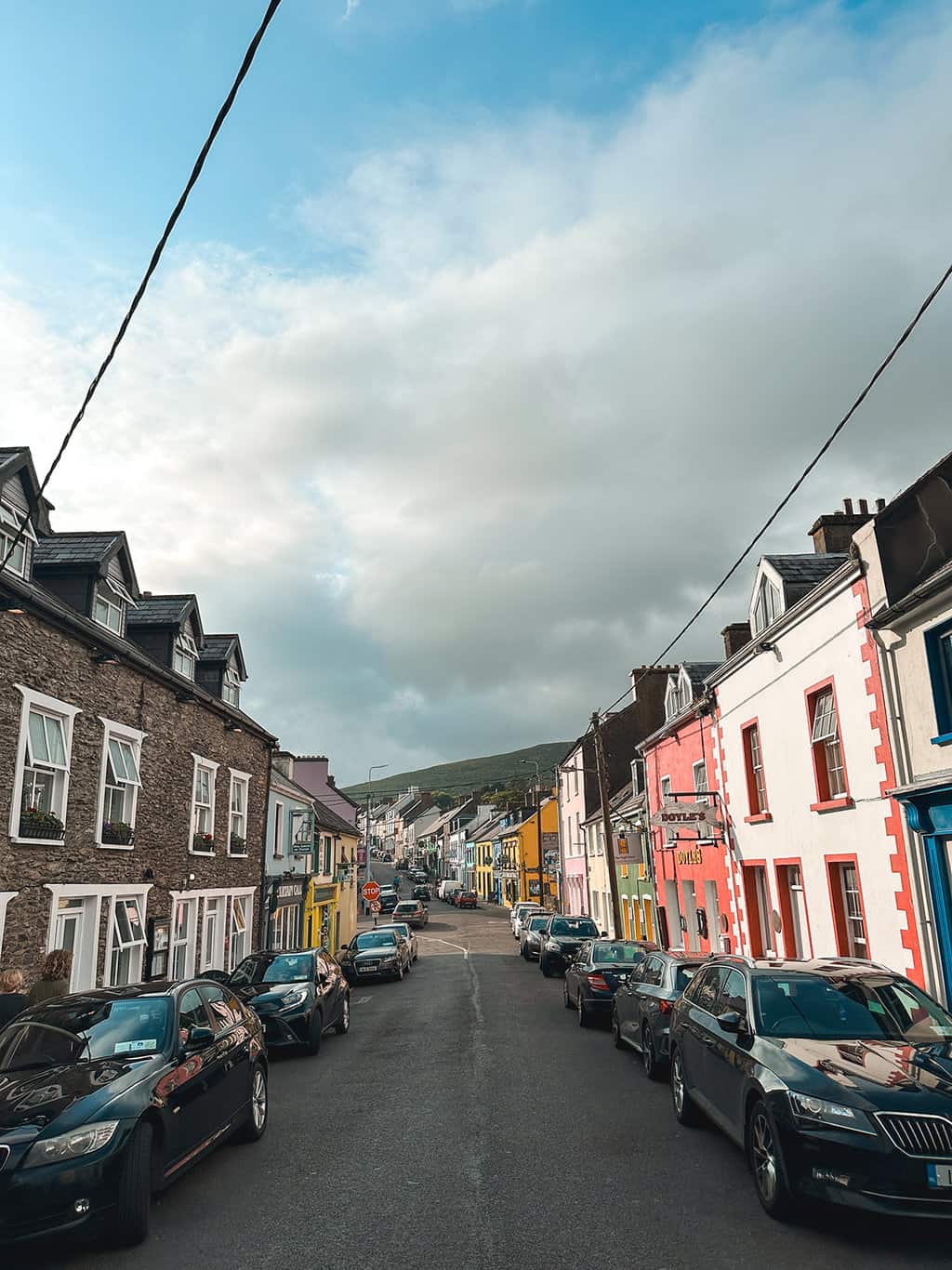 DINGLE TOWN
If you're passing the Dingle Peninsula while you travel along the Wild Atlantic Way route, you have to stop in Dingle Town.
This small port town is a great base if you want to explore different spots around the peninsula.
Dingle Town is packed with charming bed-and-breakfast guesthouses, rainbow-colored local pubs, and spectacular scenery.
We normally set up in Dingle town and explore out of there. Nighttimes bring pub culture,
Dingle Pub
While there are many (many!) great pubs to pop into for a pint or local Irish gin in Dingle, there is only one spot that offers Irish step dancing performances. Most summers, World Champion Irish Dancer David Geaney, performs at the Dingle Pub, which is owned by his family.
Don't be surprised if you don't recognize him, or your waiter turns out to be him. The first time we met David we had no idea who he was as he brought over our fish and chips. As it got later, I asked when the performace would begin because the kids were getting tired.
Next thing I knew, David was lacing up his step shoes and warming up outside. Cheeky boy had me fooled! He went on to put on a performance my kids are still talking about years later.
While in Dingle this past summer, we saw him perform again, and it was just as amazing… we just recognized him this time. Ha!
DINGLE DISTILLERY
One of the best reasons why you should stay in Dingle Town rather than pass through on a road trip is so you can legally and responsibly join a tasting at Dingle Distillery and take a tour of the distillery.
Dingle Distillery produces gin and vodka as well as Irish whiskey. Stop by their large facility in Dingle to sample their offerings and buy some as a souvenir to enjoy when you return home.
However, if you are like us and just can't tour one more distillery, brewery or winery, then head to the local pub and ask for a G&T with Dingle gin. This local gin is aromatic and so good we had to bring a bottle home. While bottles aren't cheap (about US$40), a G&T in Dingle was (weird, but true).
As I prefer gin, I was sure to see which bars carried Dingle gin in Dingle town, as well as along the Wild Atlantic Way. I'm thrilled to tell you most pubs in town carried it, the shops sold it, and I was even able to get it at Gus O'Connor's pub in Doolin, Ireland.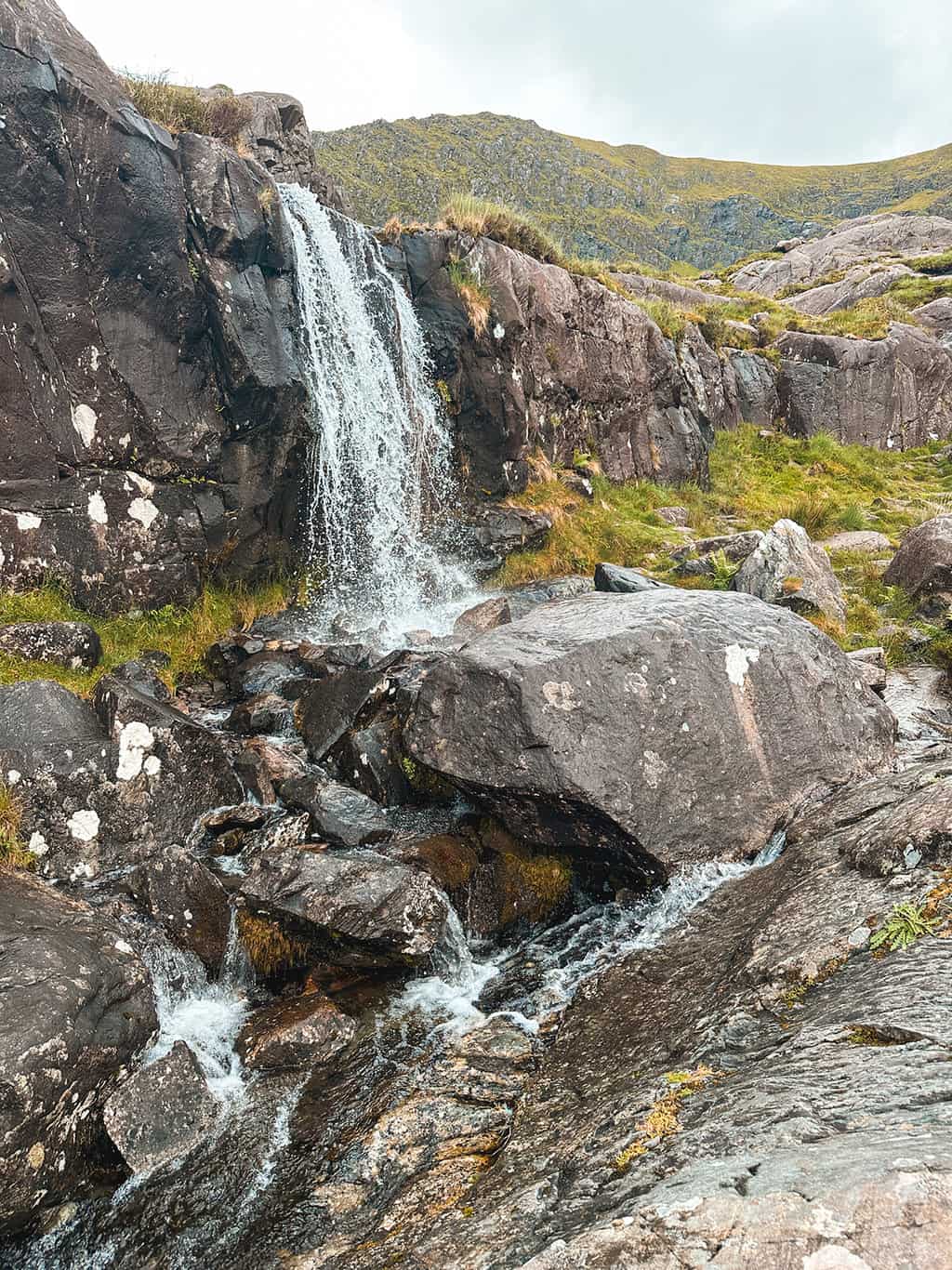 CONOR PASS
Ireland is full of winding mountain roads with hairpin bends and treacherous cliff edges, but Conor Pass may be the most thrilling of them all. At 1,496 ft tall, it's the highest mountain pass in the country.
If you dare drive over Conor Pass, you'll be rewarded with scenic views of waterfalls, lakes, and the most rugged natural beauty that the Dingle Peninsula has to offer.
Best of all, an entrepreneurial duo has opened a small coffee shop at the pass viewpoint, using an old horse trailer to brew up lattes, cappuccinos, and other hot beverages (needed, even in the summer thanks to the chilly winds blowing over the pass). There are also a selection of snacks if you are hungry after a hike.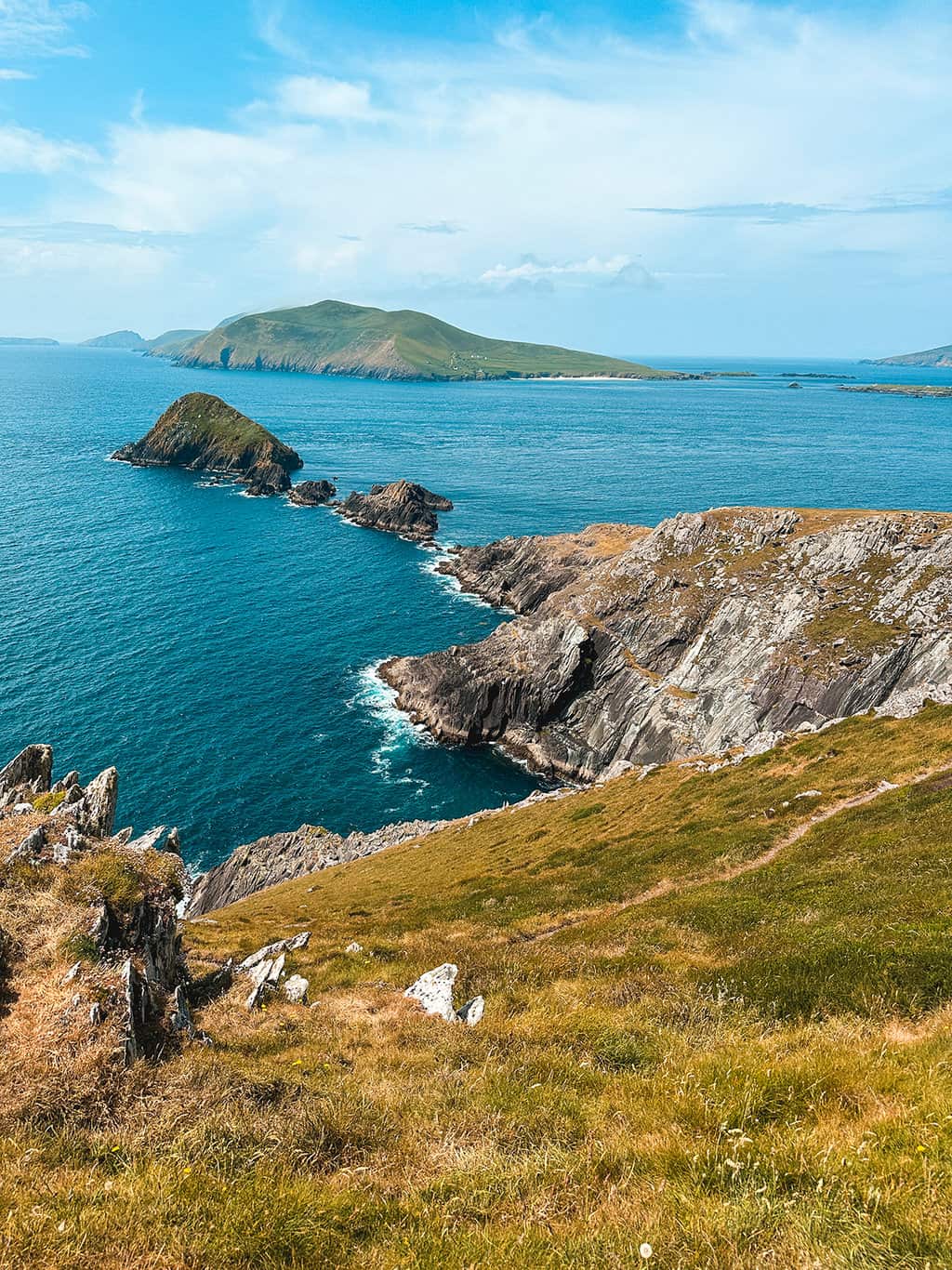 BLASKET ISLANDS
Many collections of islands hug the coastline of the Wild Atlantic Way and the Dingle Peninsula has its own set. The six main Blasket Islands are Great Blasket Island, Beginish, Inishnabro, Inishvickillane, Inishtooskert, and Tearaght Island.
You can easily tour the main island, Great Blasket Island, via ferry from Coumeenoole.
You'll enjoy hiking in completely unspoiled nature on the Blasket Islands, and you can even hire kayaks to explore some of the calmer inlets on the island's coastline. Keep a watchful eye on the water for dolphins and other local inhabitants.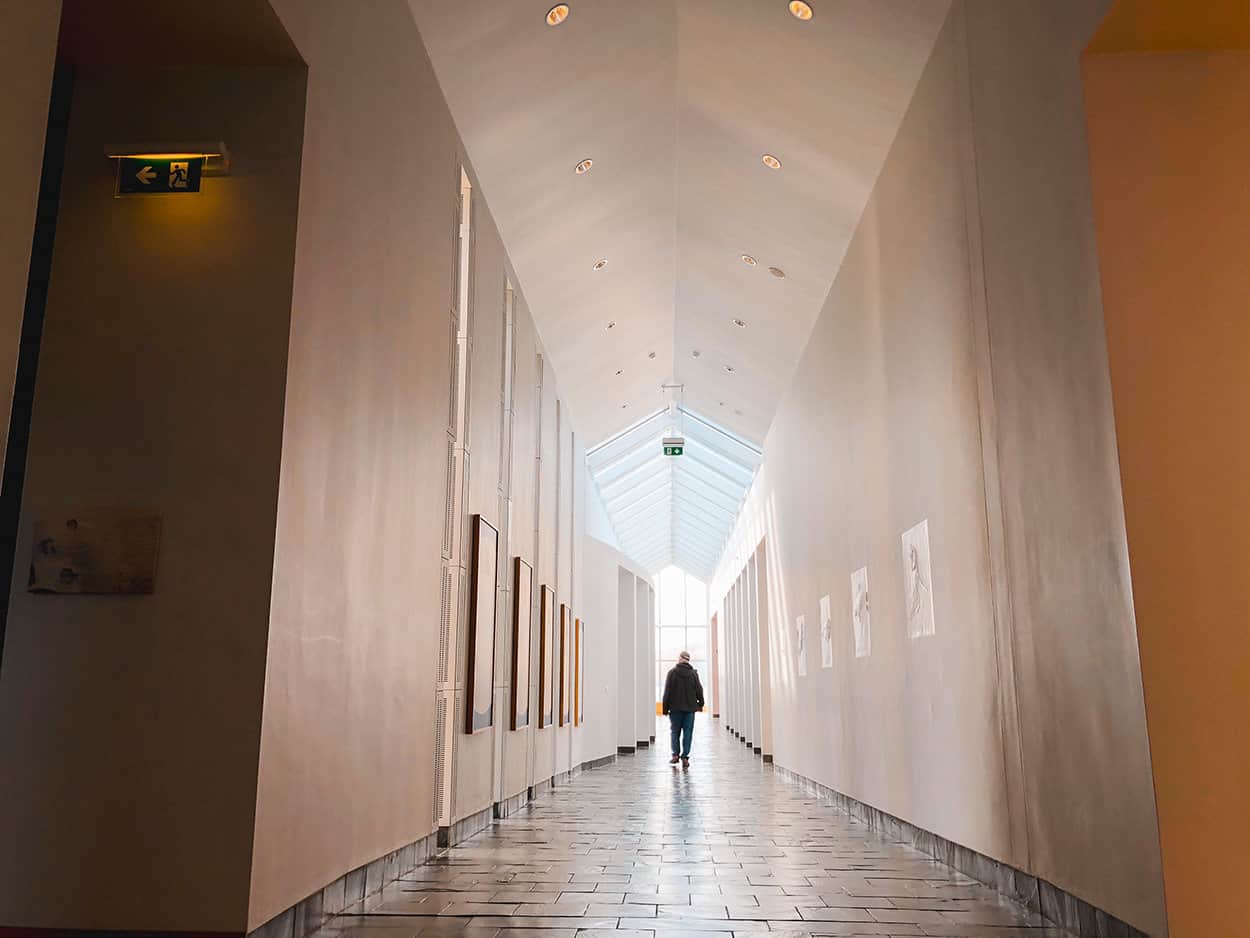 The Blasket Centre
Whether you go out to one of the Blasket Islands or not, you can still visit The Blasket Centre to learn more about the history of these islands through exhibitions and storytelling.
Add more info about the centre here.
DINGLE HARBOUR
One of the best things to do in Dingle is to walk along Dingle Harbor. You can catch boat tours where you'll be able to appreciate the coastline from a different angle and see Dingle Lighthouse.
There's also a statue on the harbor dedicated to Fungie, otherwise known as the Dingle Dolphin, which has become an icon of Dingle. Fungie was a common bottlenose dolphin who became separated from his pod and lived the rest of his life close to Dingle Harbor.
It's reported that he was over 40 years old when he died in 2020, but his spirit lives on in Dingle (and he is even featured in a mural and a statue along the harbor).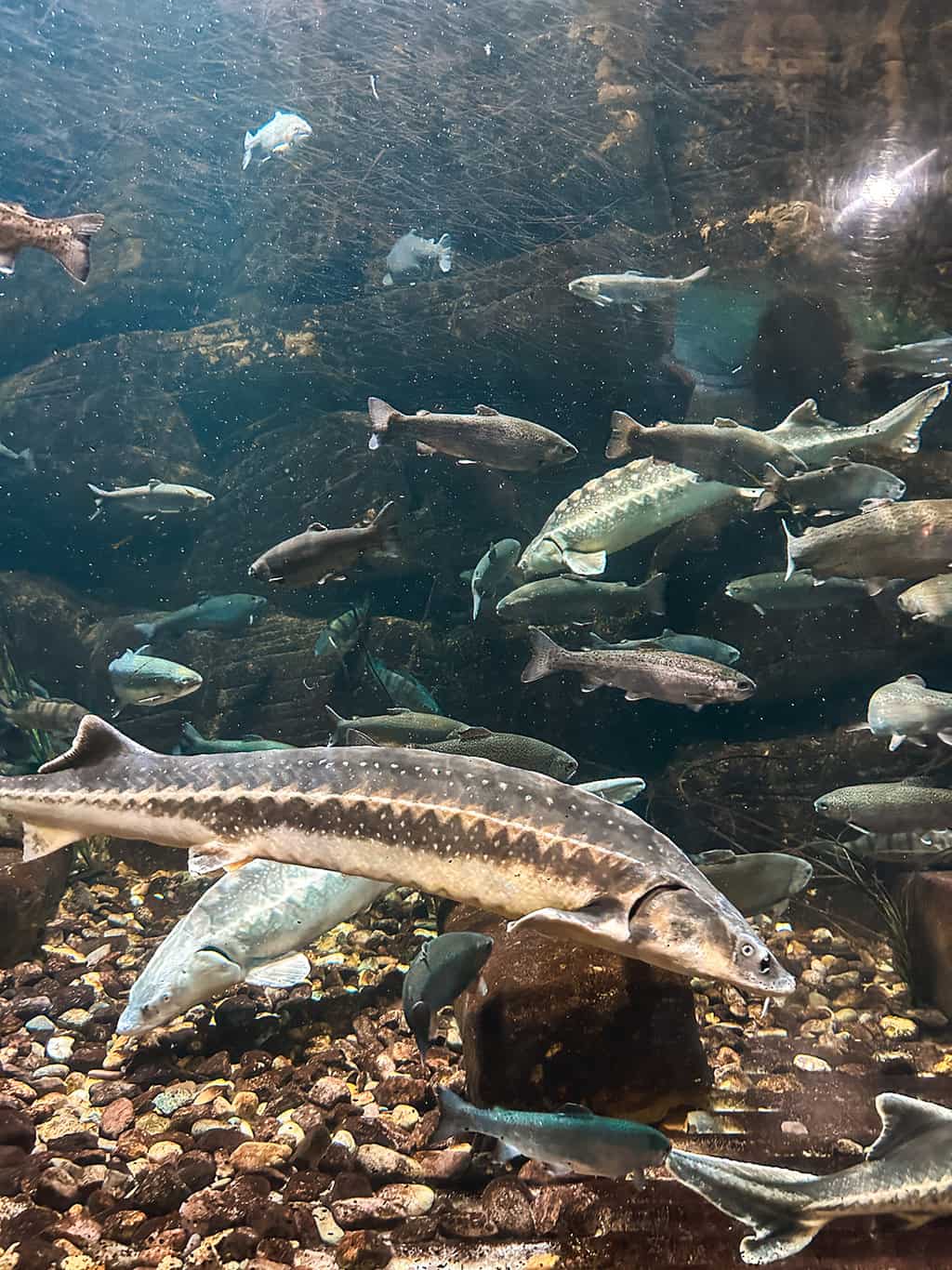 Dingle Oceanworld Aquarium
The Dingle Aquarium (aka Dingle Oceanworld Aquarium) is a great way to entertain the kids on a rainy afternoon, or when the adults just want to nap or sit at the pub.
Our favorite part of this small aquarium is the room with the touch pool, which features saltwater and freshwater creatures that are found in Dingle and County Kerry.
You will also see local sharks, a leatherhead sea turtle (the aquarium is part of the national rescue program), tropical fish, starfish, anemones, jellyfish, and teeny tiny seahorses.
Don't miss the penguin exhibits (there are two!) and otters either.
Keep in mind that the aquarium closes at 6pm sharp. The lights will go off and the doors will close, so buy your tickets in advance and arrive by 4pm or 4:30pm at the latest.
The aquarium is small, but if you want to do more than breeze through, you will want to give yourself at least an hour or more.
MOUNT BRANDON
Pack your hiking shoes and your raincoat (you always need one on a trip to the Irish countryside, so check out our full Ireland packing list) and prepare to tackle one of the highest peaks on the peninsula. Mount Brandon is 3,123 ft above sea level and in summer offers epic views across ridges, lakes, and the coastline.
Not only is it a challenging hike, but it's also a spiritual place of pilgrimage for Irish Catholics due to the name it shares with Saint Brandon.
Brandon Point
If you aren't quite up for the hike, you can drive out to Brandon Point for stunning views of the Atlantic looking north.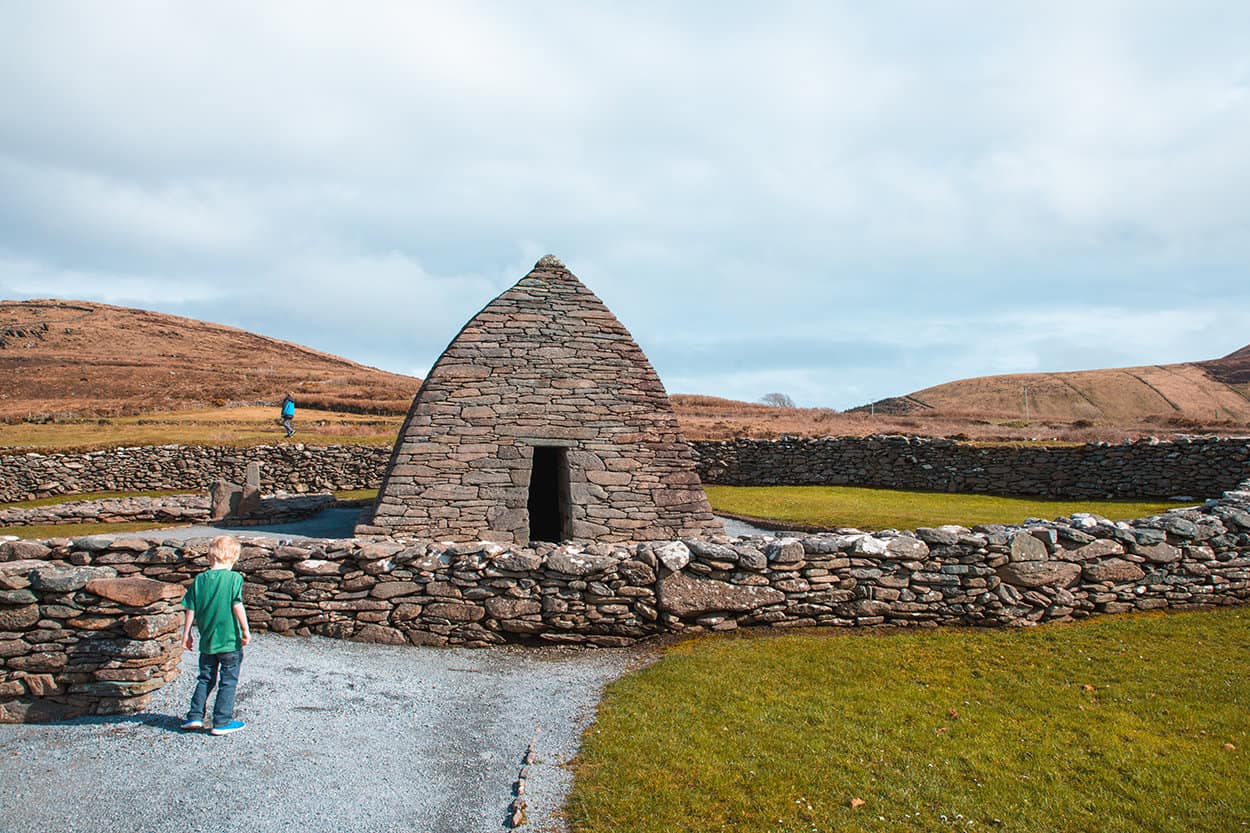 GALLARUS ORATORY
…Gallarus what?! Despite the lofty name, the Gallarus Oratory is simply the best-preserved early Christian church in Ireland. It dates back to the 7th or 8th century and this stone structure was built using techniques first noted in the Neolithic period.
It's amazing that the Gallarus Oratory has survived for so many years in such good condition. No wonder it's an official national monument of Ireland!
It's well worth stopping by as you drive along one of the Ireland road trips on the peninsula.
Ce Dhun Chaoin/ Dunquin Pier
Walk down the walk way to Dunquin Pier for a spectacular view of part of the Wild Atlantic Way, as well as the Blasket Islands and dolphins and whales playing in the waters off the coast. There is a very small section of off-road parking, so get there early (or late for sunset) if you want it to yourself.
CEANN SIBÉAL
Fans of star wars cannot visit Dingle Peninsula without visiting the location of the beehive huts in The Last Jedi.
Cean Sibéal (known as Sybil Head in English) is where the movie's production team built a replica of a monastic settlement that looks like beehives.
Unfortunately, the production team dismantled the beehive huts after filming wrapped but you can still enjoy the incredible scenery from this headland.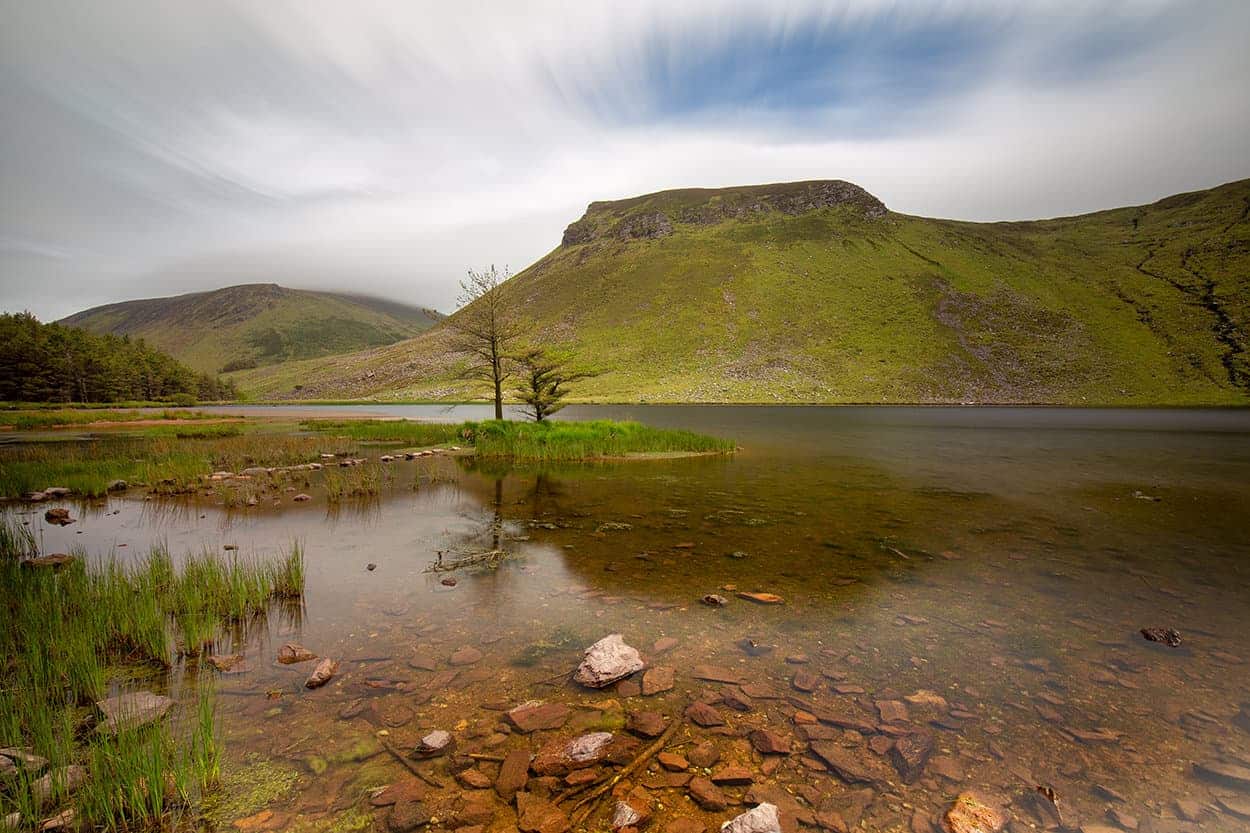 GLANTEENASSIG FOREST PARK
Mount Brandon might be a little too high and hazardous for some hikers who prefer to stay a little closer to sea level. Put Glanteenassig Forest Park on your itinerary if you love hiking or kayaking in thick, peaceful forests.
There are tons of trails in this 450-acre woodland. Even better, you might get them all to yourself. Glanteenassig is popular with locals, but most tourists don't know it's there so they skip past it and head to Killarney National Park instead.
Eask Tower
Take the Eask Tower path up the steep sheep field on Carhoo (Ceathru) Hill to Eask Tower to get views of Dingle town and Dingle Bay. This impressive historic tower was built in 1847 to guide ships into the harbor, and provided work to the locals during the Great Famine (a protestant priest commissioned it in hopes of winning over converts with the work).
On the way you can stop and see Raheenyhooig Burial Ground, where you will find a large mausoleum built by Dayrolles Blakeney de Moleyns, the 4th Lord Ventry, in an older cemetery that also has the remains of an early ring fort.
Minard Castle
What could be better than a castle ruin on a beautiful beach? Minard Castle isn't in the best shape, but it is amazing to dream about what it used to be like to live in a castle with views of the sea.
The walk down the hill to the sandy beach is pretty rocky, but if you have kids, they will love scrambling across boulders, searching for the perfect skipping stone and exploring what critters might be around.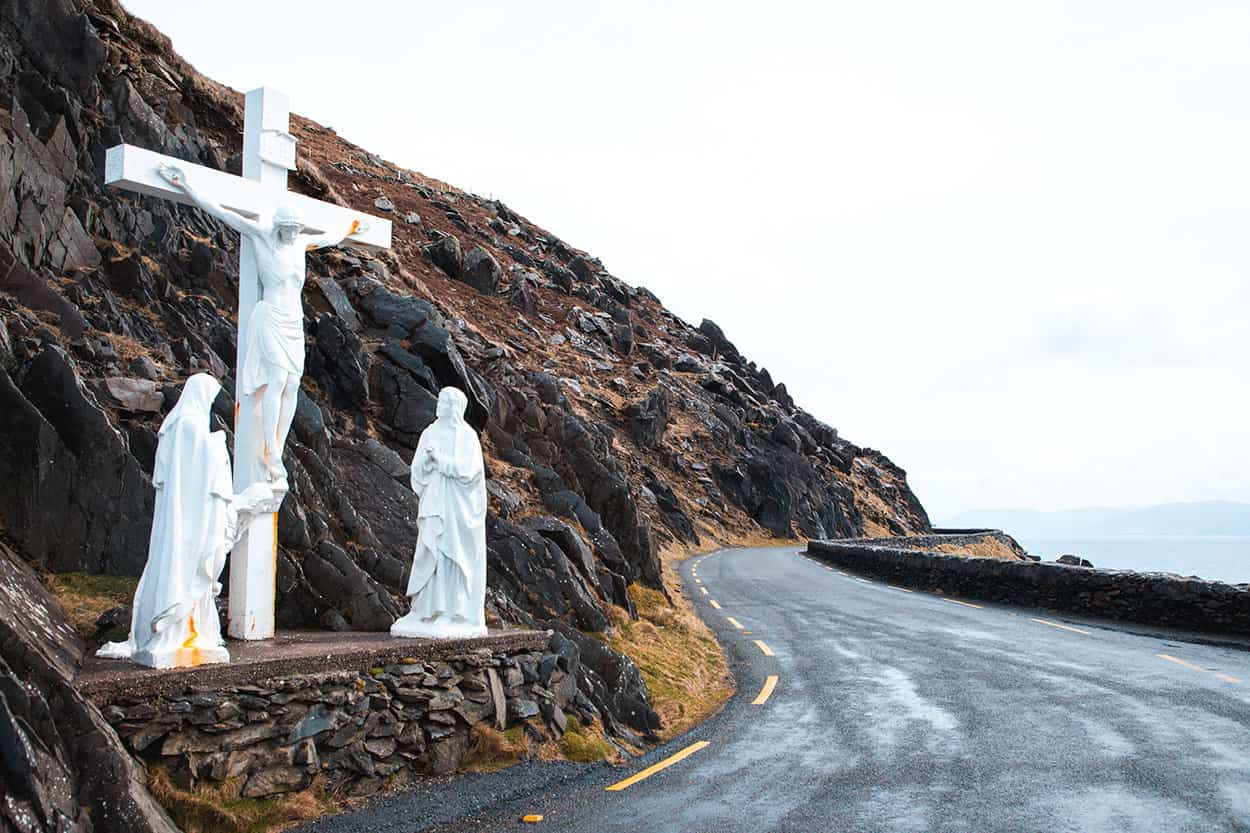 Cross at Slea Head
If you aren't religious, this stop might not be for you, but the Cross at Slea Head is pretty impressive. It can be hard to miss the pull off as it comes up quick as you turn a corner, so be on the look out.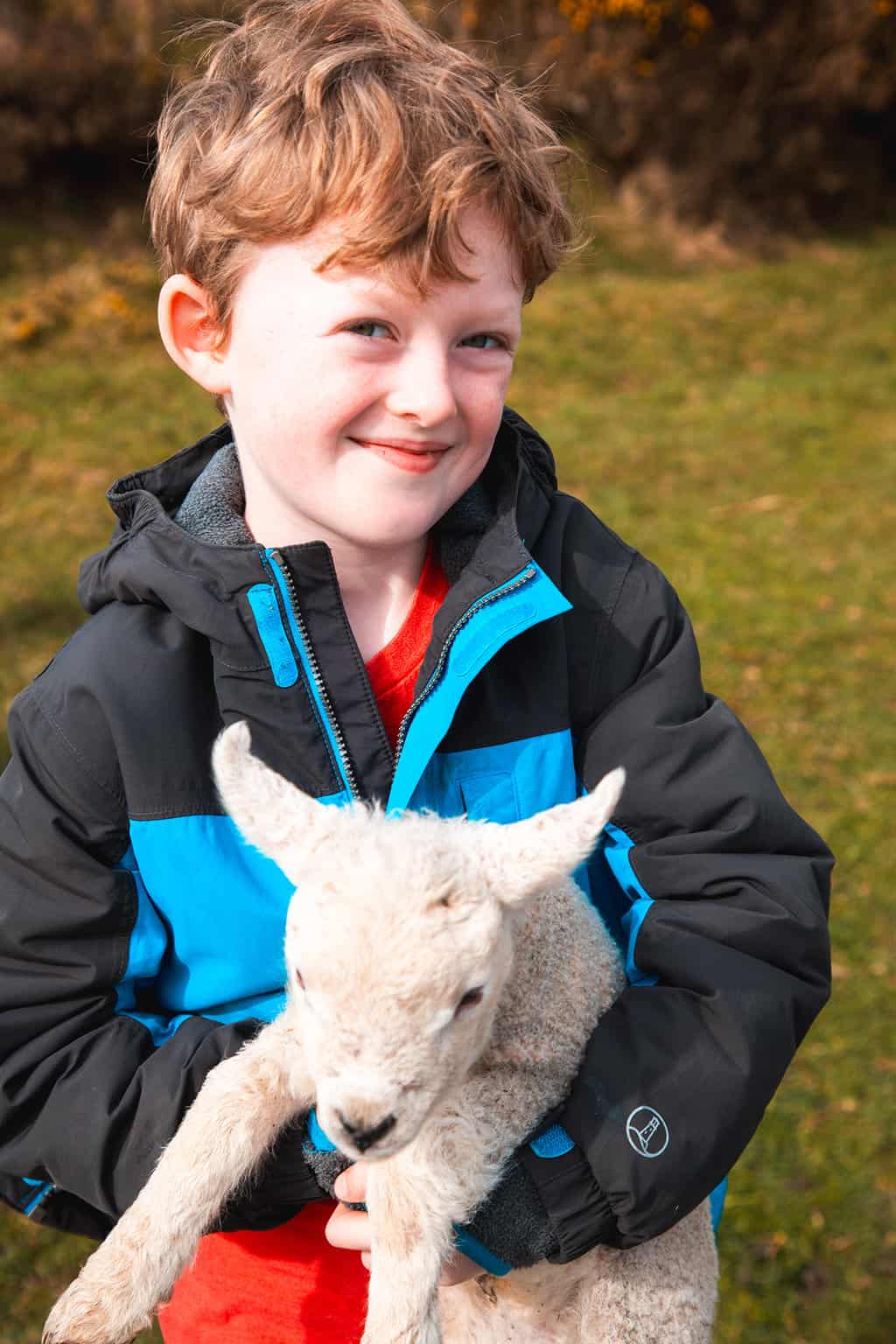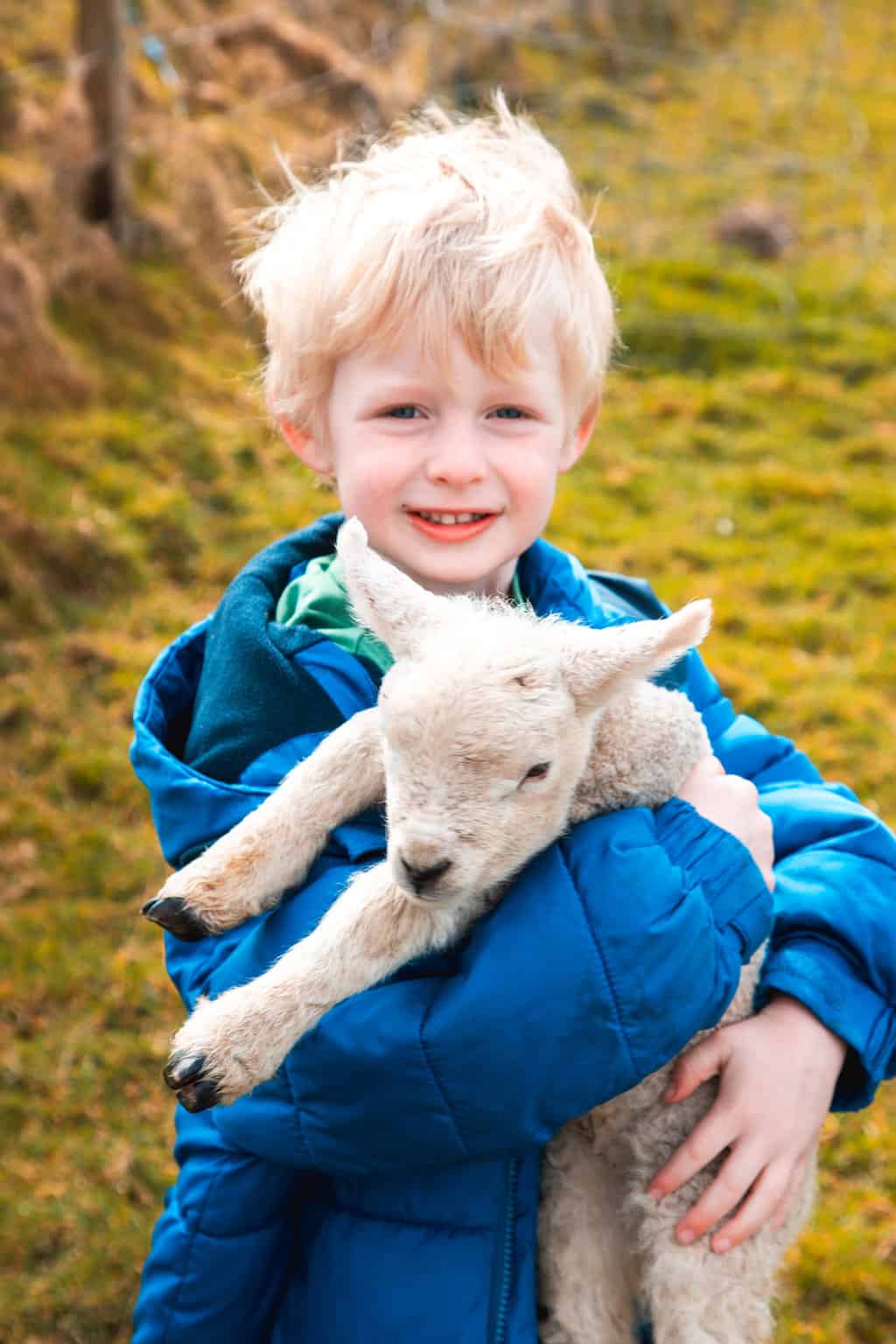 Dingle Sheep Dog Demonstrations
Located in the Slea Head Famine Cottages, you can watch a working sheep dog demonstration to experience how the dogs herd and move the sheep around a farm.
You must make an appointment to see a demonstration; this is not a walk up attraction. If you are looking for a taste of traditions passed down for generations on Mount Eagle, you won't find a better spot.
Oh, and you can hold baby lambs here too. The Famine Cottages to the public every day from early April to the end of October.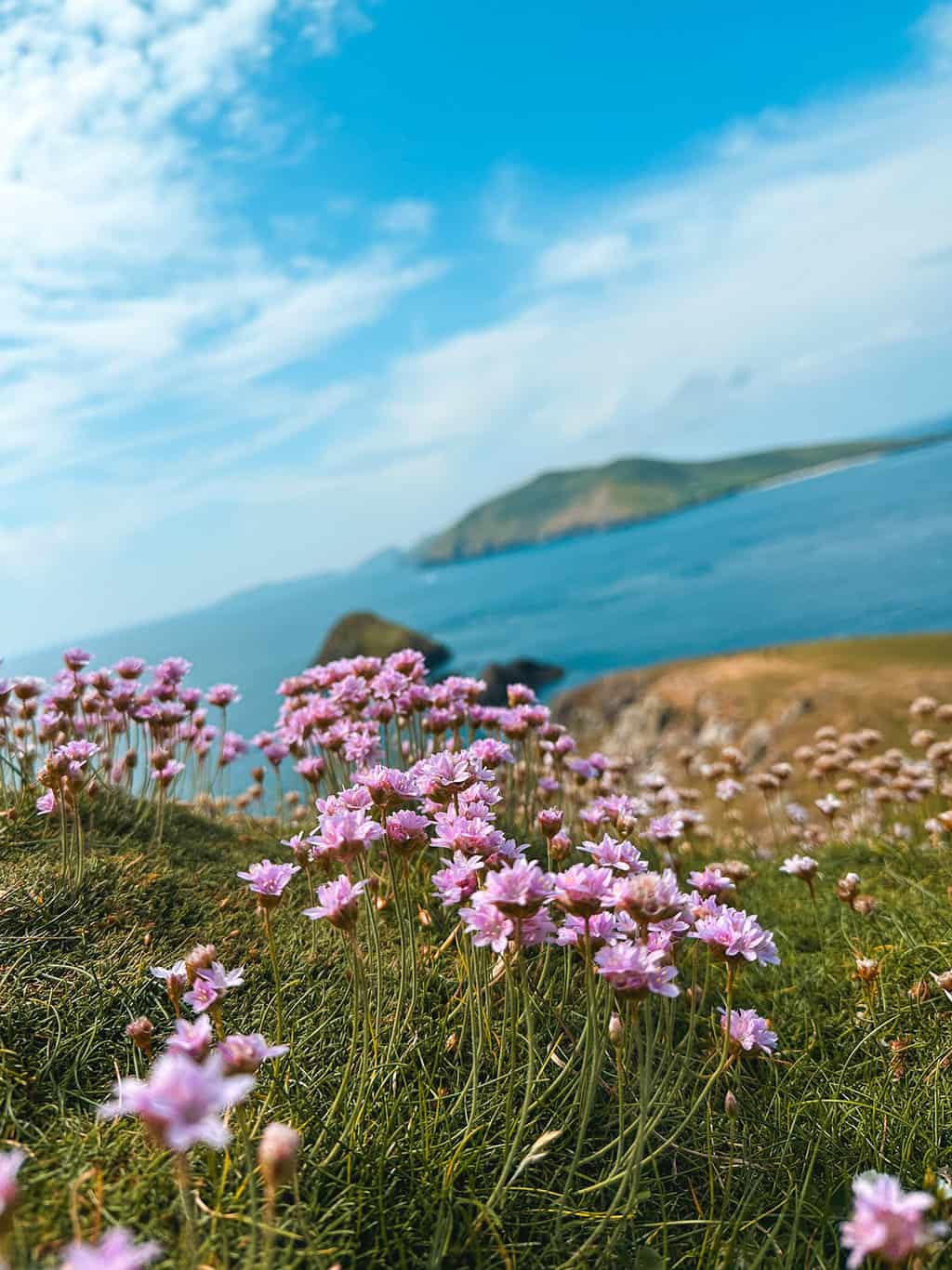 More Historic Places on the Dingle Peninsula
Dunbeg Fort
Cill Maoilcheadair
Arraglen Ogham Stone
Caherconree Promotory Fort/ Dun Cathair Conraoi
Hussy's Folly
FairyFort Ring Fort
Beehive Hut (Tóchar Maothaithe)
The Famine Cottages
TRADITIONAL IRISH MUSIC PUBS IN DINGLE
Whiling away your evenings in a centuries-old pub with a log fire listening to traditional Irish music is absolutely one of the top things to do in Dingle. There are tons of choices, even in a small town, but here are some great recommendations.
O'SULLIVAN'S COURTHOUSE PUB
Located just off Spa Road (one of the main roads in Dingle– there are only about three), O'Sullivan's is painted bright blue and even has a portrait of a fiddle player and flutist on its facade.
Inside, you'll find casks of Guinness, a coal fire, and a few musicians every night of the week playing a spontaneous folk music 'session'.
McCARTHY'S BAR
McCarthy's Bar is deceptively large with TVs positioned everywhere so locals can watch their home team play rugby or soccer (football to the Irish!). Professional Irish musicians tend to perform on weekend nights here when the place is packed out.
O'FLAHERTY'S
Close to Dingle Harbor is where you'll find O'Flaherty's pub. It has a dark stone exterior and a dark wooden interior that might not look particularly inviting.
Luckily, the company, the nightly folk music sessions, the drinks, and the local newspaper cuttings and postcards that litter the walls make it feel welcoming.
NELIGAN'S BAR
Neligan's is a quintessential Irish pub that you might expect to see in a Hollywood movie.
Spontaneous, improvised Irish music sessions at Neligan's involve everyone sitting around two tables and jamming out. There's also a pool table and plenty of seats at the bar if you're traveling solo.
NELLIEFREDS
Nelliefreds is the most Bohemian (and cheapest) of them all, and is a favorite amongst the younger crowds. They book professional, local musicians, which means the music you hear might not always be traditional Irish folk, but it will still be a good time.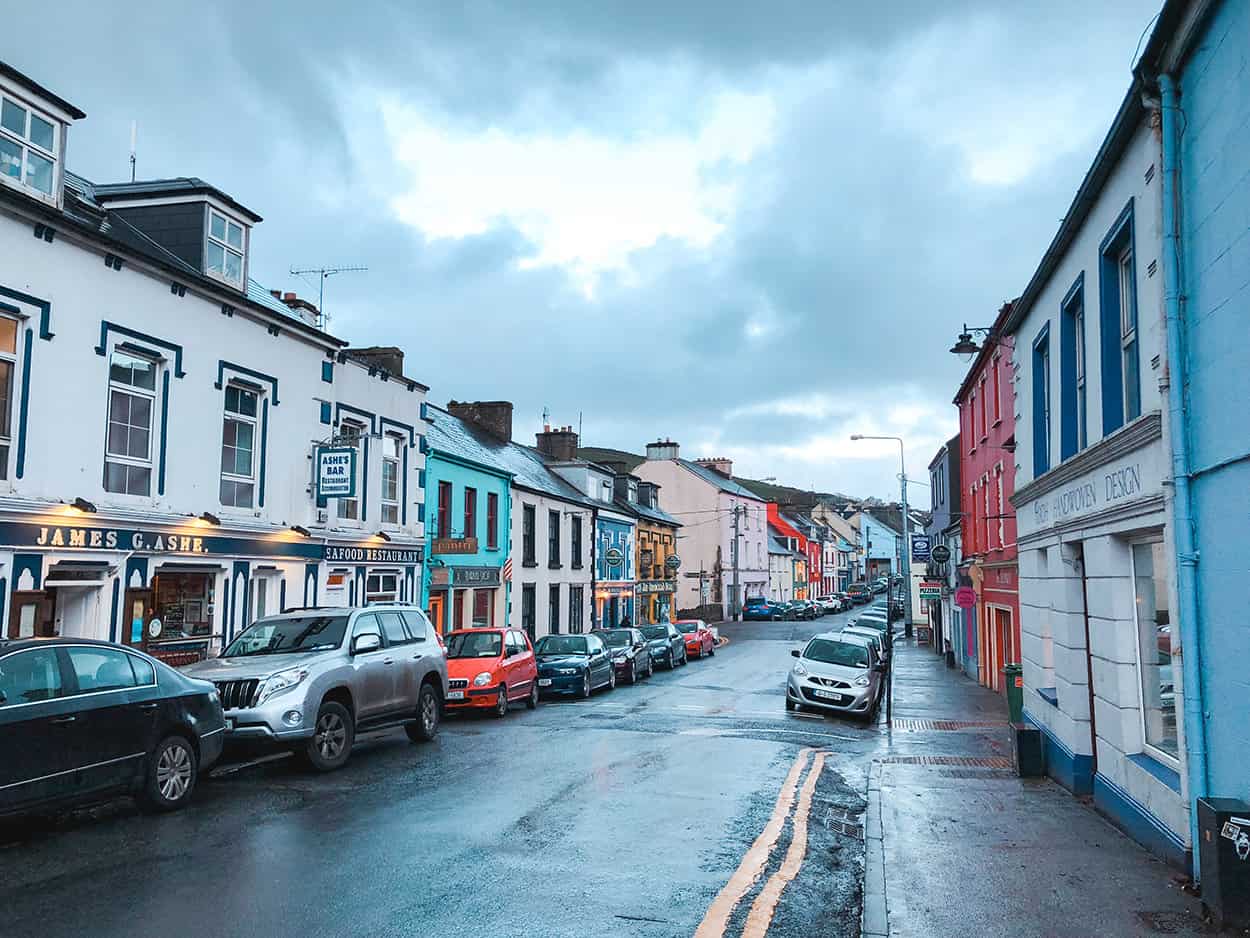 Things to do in Dingle in the Rain
If you find yourself faced with a rainy day, there are still plenty of things to do in Dingle in the rain.
Here are a just a few ideas to get you through the wet weather that so often comes to Dingle.
Visit the Dingle Distillery
Take a guided tour of the Dingle Distillery and learn about the process of whiskey and gin production. You can explore the facility, see the distillation process in action, and even sample some of their award-winning spirits.
Explore the Dingle Oceanworld Aquarium
Admire the diverse range of aquatic creatures, including sharks, penguins, sea turtles, and more. It's a great option for families and those interested in marine conservation.
Discover Dingle's Museums
Dingle has several small museums that provide fascinating insights into the local history and culture. The Dingle Historical Society Museum offers a collection of artifacts and displays related to the region's heritage. The Famine Cottages showcases the harsh realities of the Great Famine and its impact on the local community.
Enjoy Traditional Irish Music
Seek out one of the many cozy pubs in Dingle that often have live traditional Irish music sessions. These intimate settings provide an authentic experience of Irish music, allowing you to enjoy the tunes while sipping on a pint and escaping the rain.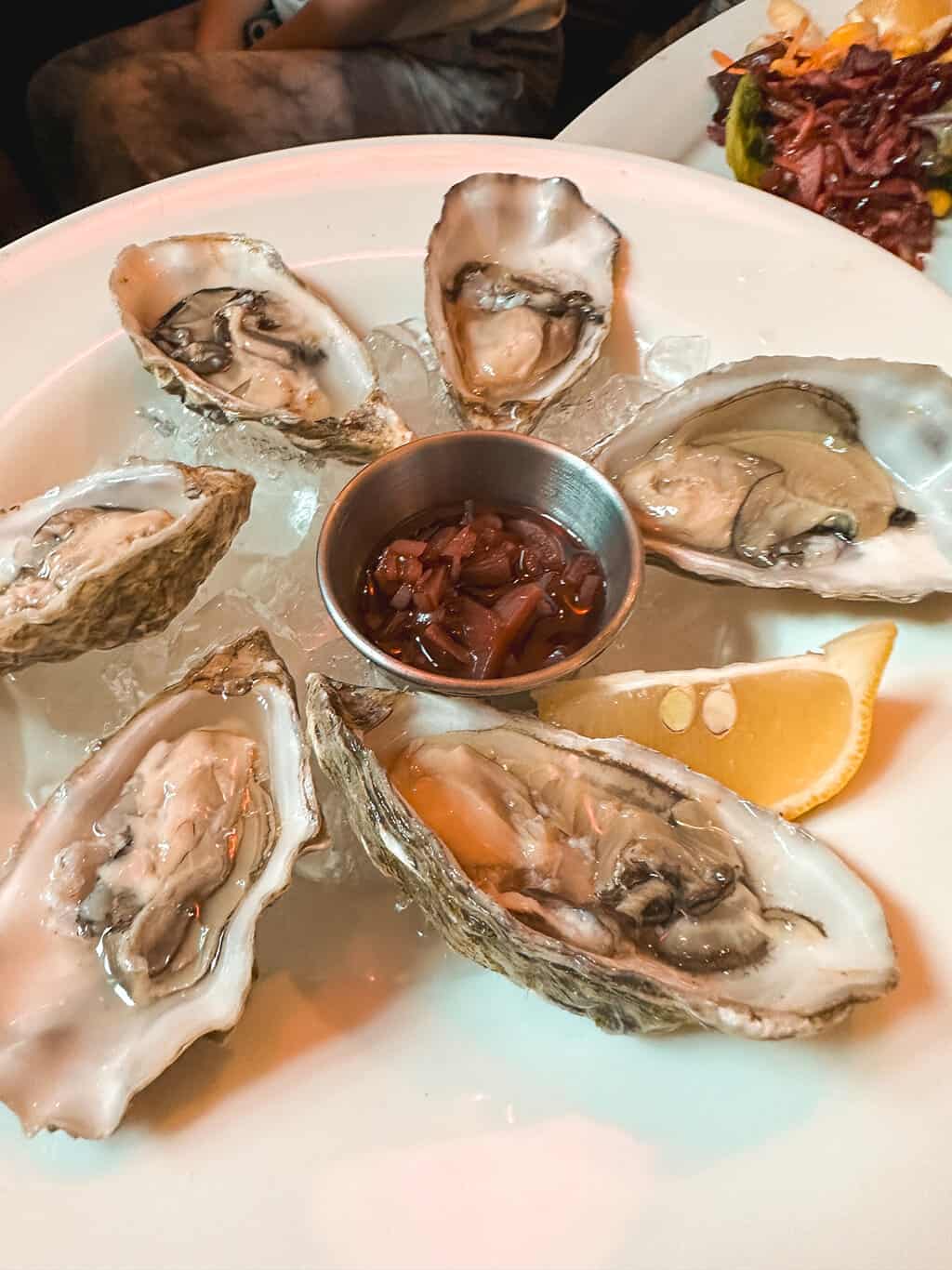 Indulge in Local Cuisine
Dingle is known for its delicious seafood and local cuisine. Take this opportunity to visit a cozy restaurant or café and savor some traditional Irish dishes, such as fresh seafood chowder or Dingle Bay crab. It's a perfect way to warm up and enjoy the flavors of the region.
Visit the Kerry Library
Keep an eye out for public readings, or simply walk into the library to check out the book collection and hide yourself a way in a corner.
Attend a Workshop or Class
Many local businesses and art centers in Dingle offer workshops and classes in various activities, such as painting, pottery, and traditional crafts. Check out any ongoing workshops and consider participating in a hands-on experience to learn a new skill or create a unique souvenir.
Explore Local Shops
Wander through the charming streets of Dingle and explore its boutique shops, art galleries, and craft stores. You'll find a variety of unique items, including handmade crafts, local artwork, traditional woolens, and Irish souvenirs. It's an excellent opportunity to find something special to take home.
And always remember, you will NOT melt in the rain. Throw on a pair of our favorite rain pants, rain boots and this rain jacket, and go out and explore Ireland the way it truly looks most of the year.
Grab our Ireland Packing List.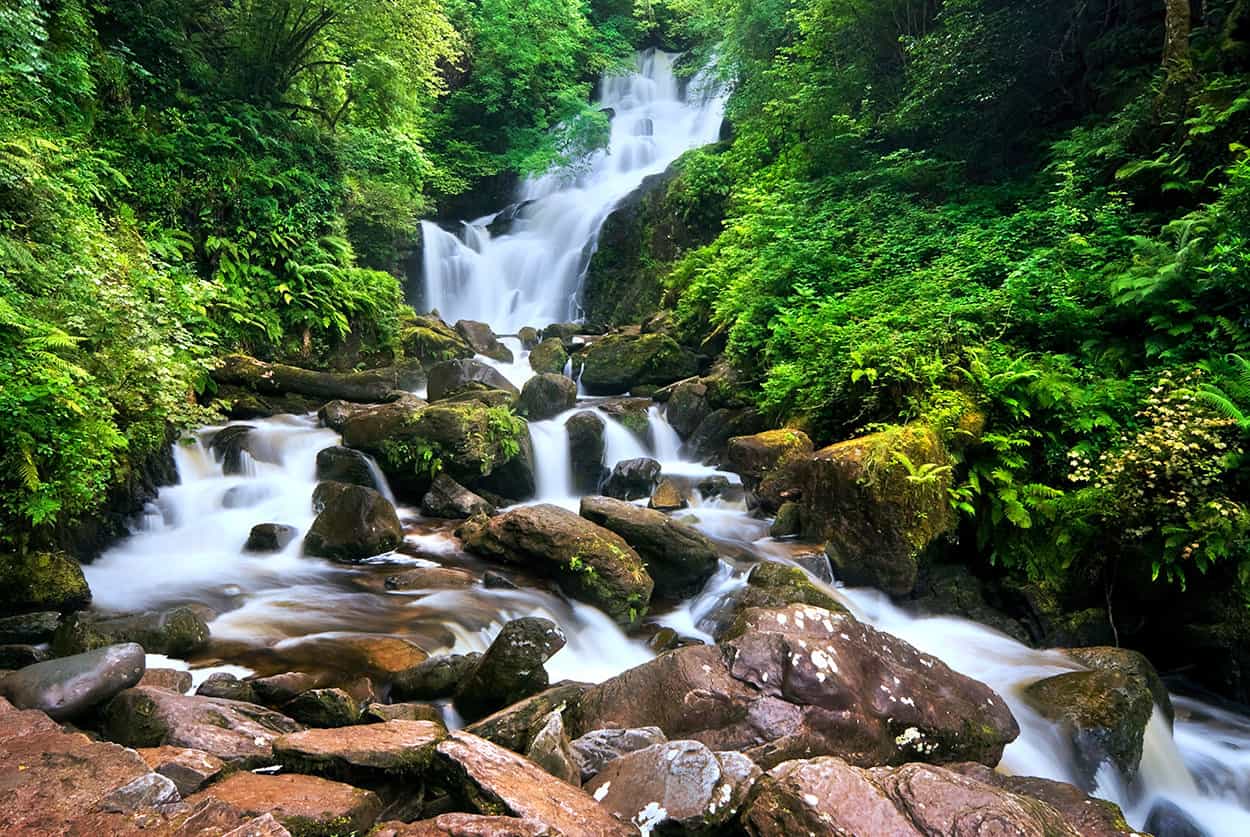 GREAT DAY TRIPS FROM DINGLE
KILLARNEY NATIONAL PARK
Less than a 90-minute drive from Dingle, the Killarney National Park is one of six spectacular national parks in Ireland. Check out the 15th-century Ross Castle on Lough Leane, hike to the Torc Waterfall, and pay Muckross House and Muckross Abbey Ruins a visit.
Read our full guide to Killarney National Park
SKELLIG ISLANDS
Are you a big Star Wars fan and want to see more of the filming locations in the area aside from Ceann Sibéal? If you wake up early enough, you might just have time to tour the Skellig Islands where Luke Skywalker lived in The Last Jedi in one day.
If you visit in late spring, you may even be able to see puffins on Skellig Michael which is also a UNESCO World Heritage Site.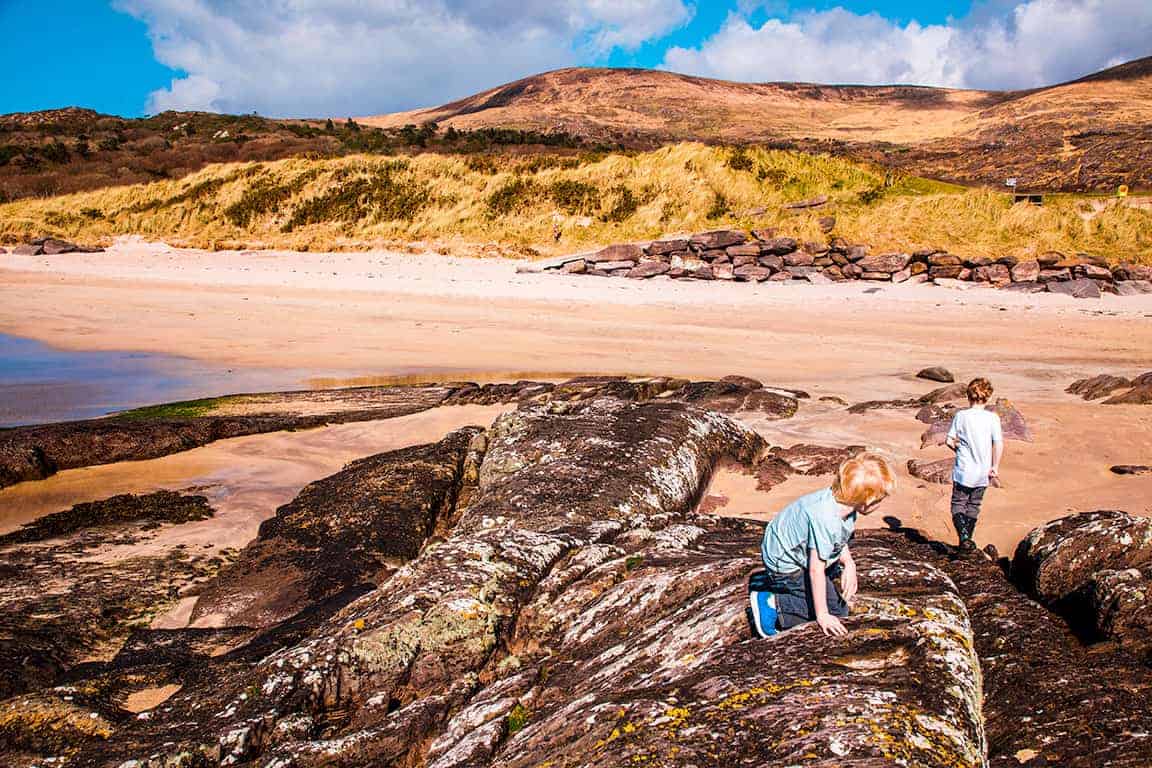 RING OF KERRY
Slea Head Drive and Dingle Peninsula Drive are two great road trips in County Kerry. But if you want to know which is the most epic road trip in the county, it has to be the Ring of Kerry.
Since this drive is only 111 miles, you can complete it on a day trip from Dingle. Of course, the more time you have to spare for detours and spontaneous stops, like the adorable Irish town of Kenmare, the better.
Read our full guide to driving around the Ring of Kerry.
ANNUAL EVENTS IN DINGLE
Of course, the biggest annual event in Ireland that travelers will be most interested in is St Patrick's Day. No matter where you are in Ireland, there will be people dressed in green and drinking Guinness and whisky in the streets on March 17th!
However, Dingle has loads of local cultural festivals and here are some of the top choices:
Dingle Film Festival (March)
St Patrick's Day (March 17th)
Easter Celebrations (March/April)
Féile Na Bealtaine Arts Festival (May)
The Dingle Races (August)
Dingle Regatta (August)
National Heritage Week (August)
The Food Festival (October)
Dingle Literary Festival (November)
RESTAURANTS IN DINGLE
For such a small town, Dingle has so many high-quality eateries from casual fish and chip shops to fancy seafood restaurants. You're spoiled for choice if you want to sample a big Irish breakfast, and locally-made ice cream at Murphy's is a popular snack in Dingle too.
Grab a list of our favorite Dingle Restaurants with Kids (and coffee shops too!)
IRISH BREAKFASTS IN DINGLE
My Boy Blue, Holyground, Dingle, Co. Kerry, Ireland
James Long Gastro Pub, 44 Strand St, Dingle, Co. Kerry, V92 WK49, Ireland
Murphy's Pub, Strand St, Dingle, Co. Kerry, V92 FX62, Ireland
Dingle Diner, Holyground, Dingle Town Centre, Dingle, Co. Kerry, Ireland
LUNCH SPOTS
Bean in Dingle, Green St, Dingle, Co. Kerry, Ireland
Danno's Restaurant & Bar, Strand St, Dingle, Co. Kerry, Ireland
Kanons Korner Green Street, Green St, Grove, Dingle, Co. Kerry, V92 NH72, Ireland
DINNER RESTAURANTS
The Half Door Restaurant, John St, Dingle, Co. Kerry, V92 AY98, Ireland
Land to Sea, John St, Grove, Dingle, Co. Kerry, V92 ET22, Ireland
The Boatyard Restaurant, Strand St, Farrannakilla, Dingle, Co. Kerry, Ireland
Fenton's of Dingle, Green St, Farrannakilla, Dingle, Co. Kerry, V92 YA72, Ireland
Out of the Blue, Strand St, Waterside, Dingle, Co. Kerry, V92 T181, Ireland
SWEET TREATS IN DINGLE
Murphy's Ice Cream, there are two locations on Strand Street
Kool Scoops of Dingle, Strand St, Dingle, Co. Kerry, V92 Y79T, Ireland
An Cupan Tae, Dingle Road, Cabra West, Dingle, Co. Kerry, Ireland
McCarthys Crepes, Strand St, Dingle, Co. Kerry, Ireland
Grocery Stores in Dingle
If you don't feel like going out for every meal, there are several grocery stores right in Dingle town where you can load up on breakfast, lunch and dinner items if you are in a Dingle Vacation Rental, and snacks if you just need some food for your Ireland road trip.
Dingle Ireland FAQ
Where is Dingle located?
Dingle is a small town located on the Dingle Peninsula in County Kerry, Ireland. It is situated on the southwestern coast of the country and is surrounded by stunning natural beauty, including mountains, cliffs, and sandy beaches.
How do I get to Dingle?
The most convenient way to reach Dingle is by flying into one of the major airports in Ireland, such as Dublin, Shannon, or Cork (Shannon is the closest). From there, you can rent a car and drive to Dingle. Alternatively, you can take a bus or hire a private transfer from the airport to Dingle.
What is the best time to visit Dingle?
Dingle can be visited year-round, but the best time to visit is during the spring and summer months (April to September) when the weather is generally milder and more pleasant.
However, keep in mind that Ireland's weather can be unpredictable, so it's a good idea to pack layers and be prepared for rain at any time of the year. We joke that you can have four seasons in one day in Ireland, but it's actually true!
Summers also bring the crowds, so if you want to avoid people, come in April or September/October.
What are some popular attractions in Dingle?
Dingle offers a wide range of attractions for visitors, including
Slea Head Drive
A scenic drive along the Dingle Peninsula with breathtaking views of the coastline, ancient ruins, and charming villages.
Dingle Oceanworld Aquarium
An aquarium that showcases a variety of local marine life, as well as sharks, penguins, and tropical fish.
Dingle Distillery
A whiskey and gin distillery where you can take a guided tour and learn about the whiskey-making process.
Gallarus Oratory
A well-preserved early Christian stone church dating back to the 9th century.
Can I go whale watching in Dingle?
Yes, Dingle is known as one of the best places in Ireland for whale watching. The waters around the Dingle Peninsula are home to a variety of whale species, including humpback whales, fin whales, and minke whales.
Several tour operators in Dingle offer whale watching excursions during the summer months.
Check out these tours for your next trip:
Are there puffins in Dingle?
Yes, puffins hang out on the Blasket Islands just off of the coast of Dingle, along with Storm Petrels, shearwaters, terns, gulls and auks.
The best time to see these adorable seabirds is in May and June. The puffins winter out at sea, but make their yearly sojourn back to the Emerald Isle in late spring.
Check out this tour that can get you up close to puffins, dolphins and whales.
Are there any festivals in Dingle?
You bet! Here are just a few that you might be able to experience.
Dingle Tradfest
A celebration of traditional Irish music, featuring concerts, sessions, and workshops, BUT check their website, as they haven't picked up again since 2021.
Dingle Food Festival
The Dingle Food Festival takes place on the first weekend in October every year (check specific dates on their website). Locals and visitors can experience the best of local and regional food and drink, plus live music, cooking demonstrations, wine tasting and kids entertainment.
Best of all, you can buy a booklet for the 'The Taste Trail' that gives you samples from more than 70 vendors around town, which is a bargain!
Dingle Film Festivals
There are actually two film festivals in Dingle: the Dingle International Film Festival and the Animation Dingle Film Festival.
Dingle International Film Festival
March isn't just for St. Patrick's Day in Dingle! Movie buffs flock to town for the annual Dingle International Film Festival, which attracts industry professionals, movie snobs and even casual lovers of film. According to their website, the festival mission is to "bring together diverse and creative minds to discuss and experience film. Films range from old to new, from documentary to feature film."
While there are plenty of screenings, ticket holders can also take part in workshops, masterclasses and even children's programming. I have a feeling my oldest son will be asking to go to this Dingle event once he finishes that film class he is taking at school.
Animation Dingle Film Festival
This is the number one animation festival in Ireland, which brings together the best Irish animated films, as well as long and short-form videos fron across the globe. Ticket holders can attend workshops, screenings and watch awards being given out. Best of all, this showcase promotes both student and professional works equally (50/50 split), as well as making sure there is a balanced ratio of male and female entrants.
A showcase of independent films and documentaries from Ireland and around the world.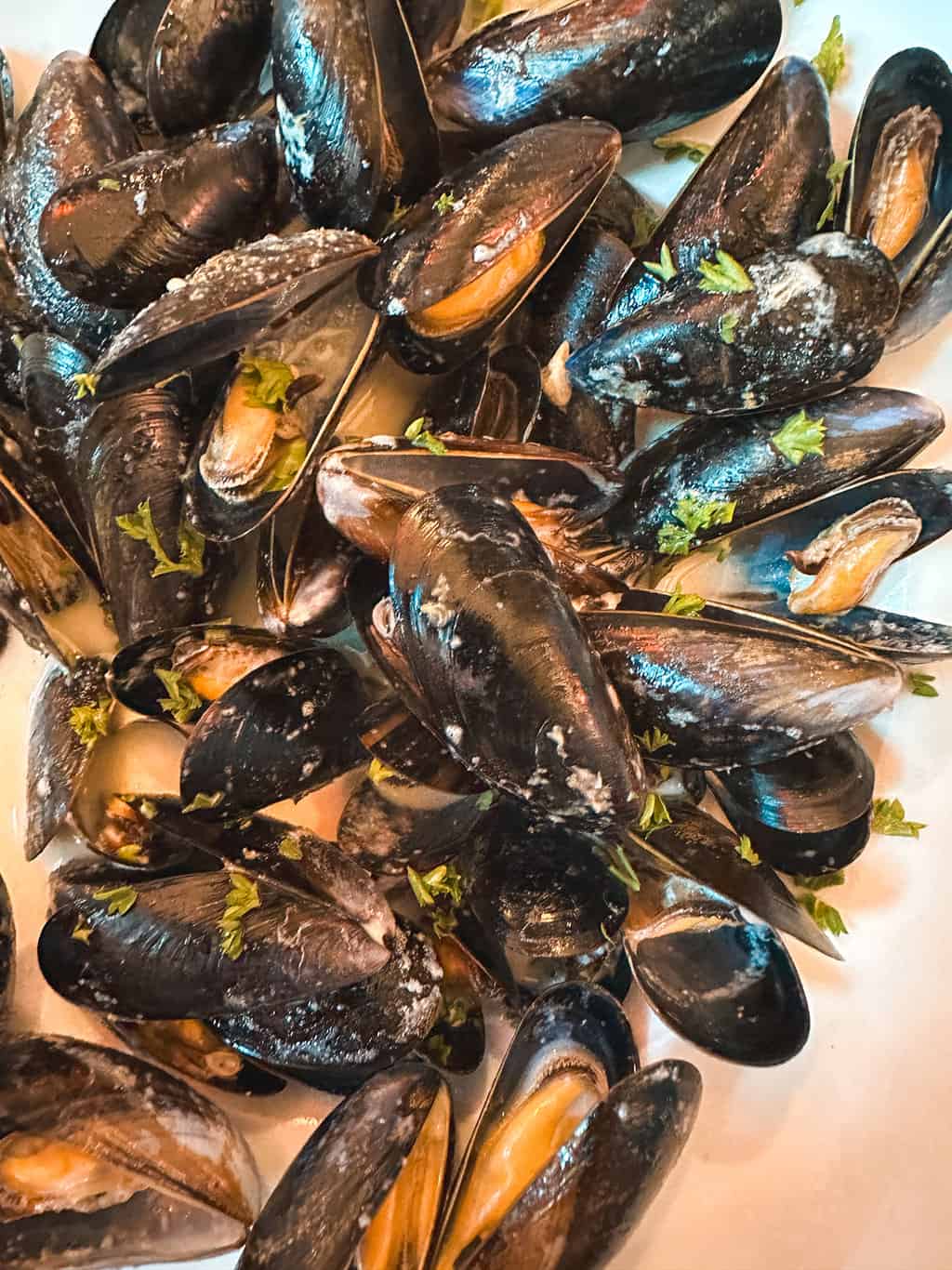 What is the local cuisine like in Dingle?
Dingle is known for its fresh seafood, and you'll find plenty of delicious options on the local menus. Some traditional dishes to try include Dingle Bay crab, (HUGE) local oysters, mussels, and of course, fish and chips.
Additionally, Dingle has a number of pubs and restaurants that serve hearty Irish stews, burgers, traditional Irish breakfasts (the Full Irish), and a variety of vegetarian and vegan options (thankfully, you don't have to look too hard to find vegetarian these days in Ireland).
Are there any hiking trails in Dingle?
The Dingle Peninsula offers a range of hiking trails that cater to different levels of difficulty and length. The Dingle Way is a long-distance walking trail that loops around the peninsula, covering about 179 kilometers (111 miles).
For shorter hikes, Mount Brandon, Conor Pass, and the cliffs of Slea Head are great options, especially if you have kids, that offer stunning views of the Wild Atlantic Way and Irish coast.
Can I learn the Irish language in Dingle?
Yes, Dingle is one of the Gaeltacht regions in Ireland, where the Irish language (Gaeilge) is still spoken as a first language. There are several language schools and cultural centers in Dingle that offer Irish language courses for beginners and more advanced learners.
And if you are staying at the Pax House in town, and Maggie is working the breakfast tables, she is happy to help you with your pronunciation (she helps my mom every visit).
What types of accommodations are in Dingle?
Dingle offers a variety of accommodations to suit different budgets and preferences.
You can find everything from luxury hotels and cozy bed and breakfasts to self-catering cottages and guesthouses.
It's advisable to book your accommodations in advance, especially during the peak tourist season (summer) to make sure you get a room. Dingle gets more popular every year, so the best accommodations do book out months in advance.
We always check Stay22 to see what's available, since it pulls together multiple sites, like Expedia.com, VRBO.com and Booking.com.
Can you camp in Dingle?
Of course! Ireland is very camping friendly, and also welcomes camper vans and RVs to many of its towns.
While you might not be in the heart of downtown Dingle, you will be on the peninsula amongst some of the most stunning scenery in the country.
When searching for a campground, look for the "Fáilte Ireland Approved Rating," which means they are registered with the tourism board and the government tourism board is keeping an eye on quality and conditions.
A few Dingle Peninsula campsites include:
Teach An Argail Campsite
Anchor Caravan Park
Green Acres Caravan Park
Dinge Gate Hostel (there are spots to pitch a tent or you can stay in the hostel)
Rainbow INdependent Hostel (with rooms or campsites to pitch a tent)
Can I visit the nearby Blasket Islands from Dingle?
Yes, you can take a boat trip from Dingle to the nearby Blasket Islands. The Blasket Islands were inhabited until 1953 and are known for their rugged beauty and rich cultural heritage.
Although the islands are uninhabited now, visitors can explore the remains of the old village and enjoy the stunning scenery.
Check out this Blasket Islands Tour for an easy way to get out to the islands.
Is Dingle pet-friendly?
Dingle is generally a pet-friendly destination, with many accommodations, restaurants, and outdoor areas welcoming well-behaved pets.
However, it's always a good idea to check with specific shops, restaurants, hotels and vacation rentals beforehand bringing your pet into the building. Accommodations can fine you quite a bit if you sneak a dog or pet into a non-pet friendly space.
Ready to plan your Ireland trip? Read This First!
Ireland Trip Tips
Things to do in Ireland
Ireland National Park Guides
Our Favorite Places to Visit in Ireland