Ireland may look like a small country, but if you really want to see AND experience the beauty of the Emerald Isle, you need to slow down a bit so you aren't overwhelmed.
The Wild Atlantic Way is one of those drives that EVERYONE should want to do, but it can't be rushed. You could spend a week just exploring the Ring of Kerry and Dingle Peninsula.
Trying to get to Doolin to see the Cliffs of Moher plus farther north to Achill Island, Sligo and Donegal during a 10-day Ireland itinerary would be a bit much.
Don't even try to add in a trip to Northern Ireland to see the Giant's Causeway on a 10-day tour of Ireland either.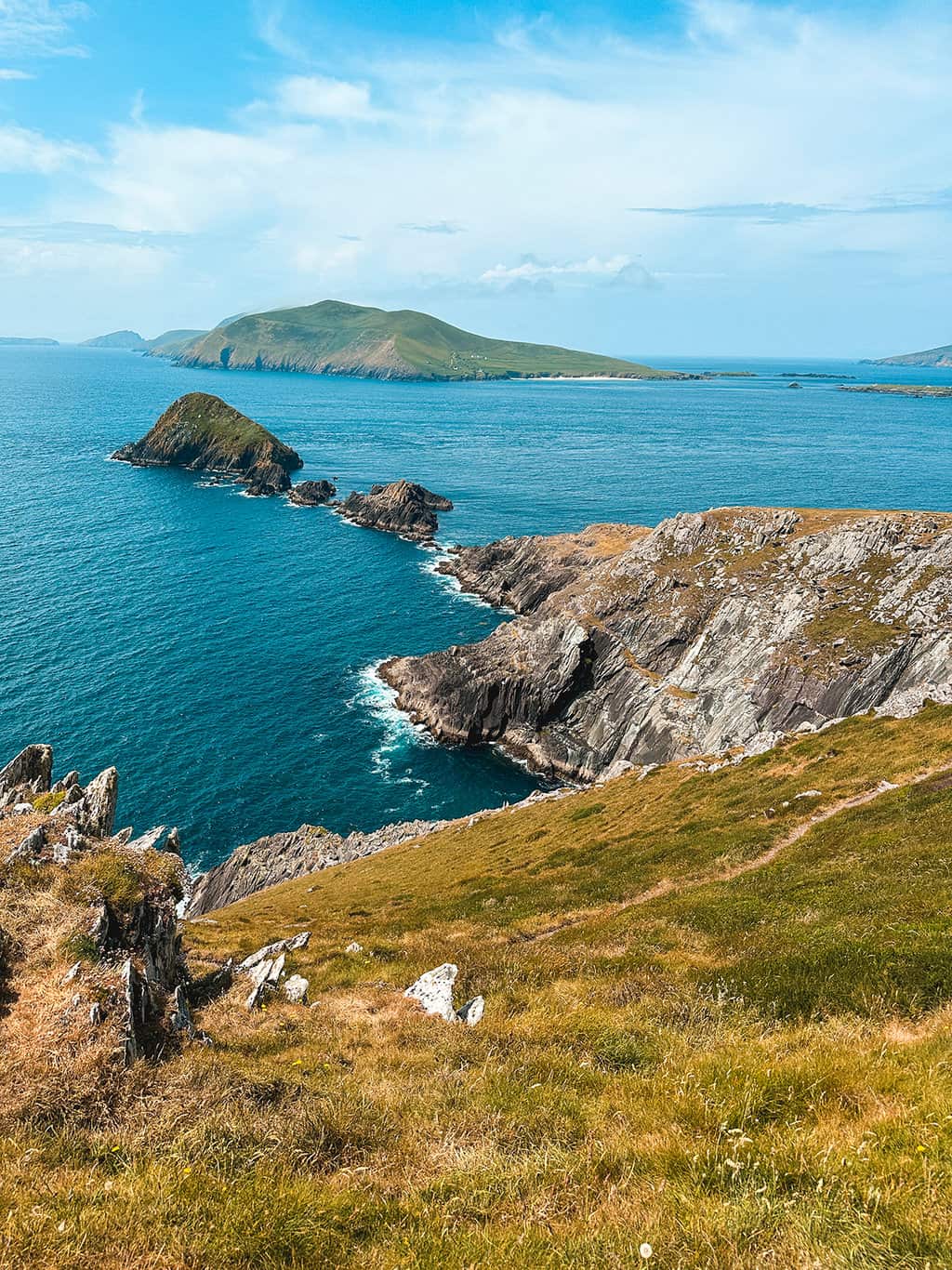 Having done the entire Wild Atlantic Way over two trips, we found it easier to split this trip up into two parts- southwest and northwest. While you could do a 10-day Ireland road trip of the Wild Atlantic Way, I don't recommend it. You won't see much and you will spend way too much time in the car instead of hiking and exploring the little towns along the way.
So, let's dig into the best of Ireland, the perfect Ireland itinerary, and how to build your 10-day Wild Atlantic Way itinerary.
Up first, the southwest section of the Wild Atlantic Way. If you want to hit the northwest section, check out our full guide to the Wild Atlantic Way- Northwest itinerary.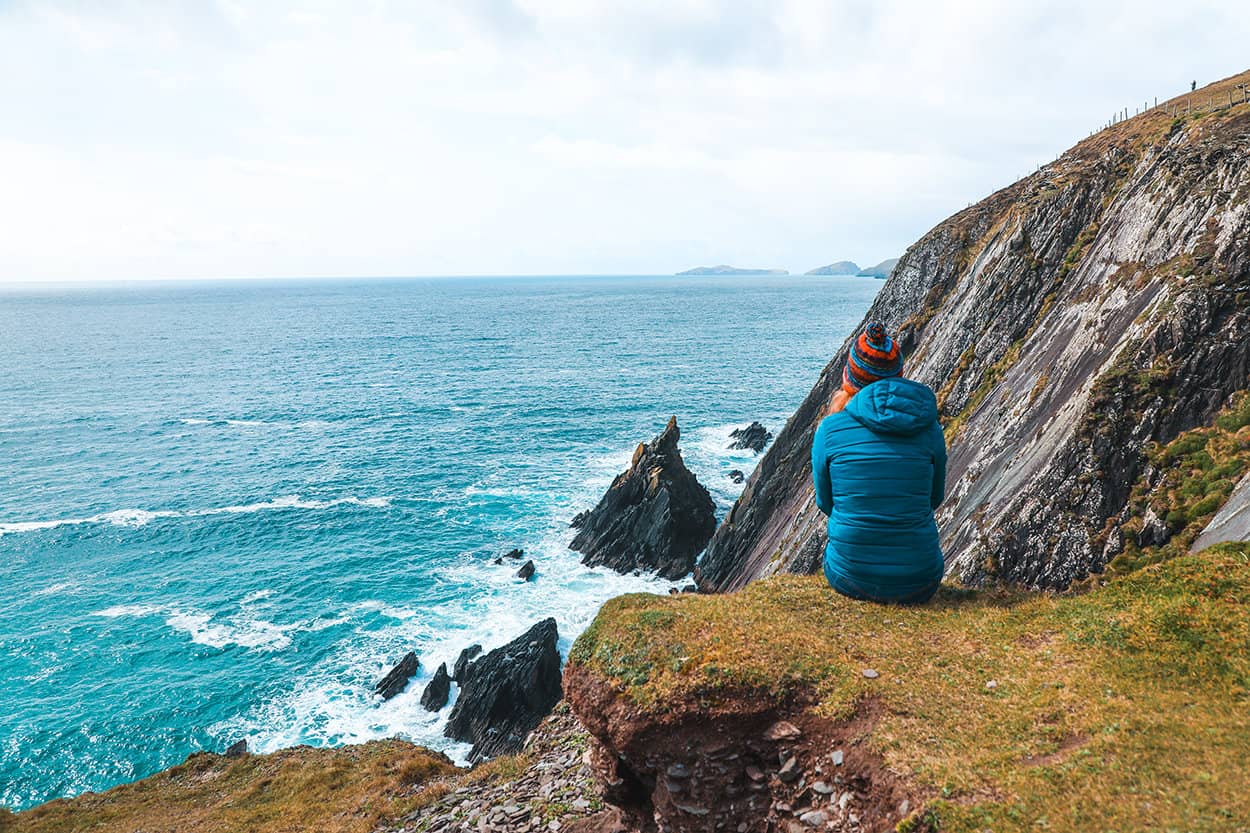 Wild Atlantic Way Itinerary at a glance: 10 Day Ireland itinerary
Day 1: Arrive in Dublin or Shannon, drive to Killarney
Day 2: Explore Killarney and Gap of Dunloe
Day 3: Ring of Kerry- Part 1 (overnight in Kenmare)
Day 4: Ring of Kerry- Part 2
Day 5: Drive to Dingle
Day 6: Slea Head Drive
Day 7: Drive to Doolin across Conors Pass
Day 8: Burren National Park and Cliffs of Moher
Day 9: Aran Islands
Day 10: Return to Dublin or Shannon to fly home or continue onto the Wild Atlantic Way Northwest itinerary
This post contains affiliate links, which means we may earn a small commission from your purchase. This adds NO extra cost to you.
Pin it and Start Planning Your Ireland Road Trip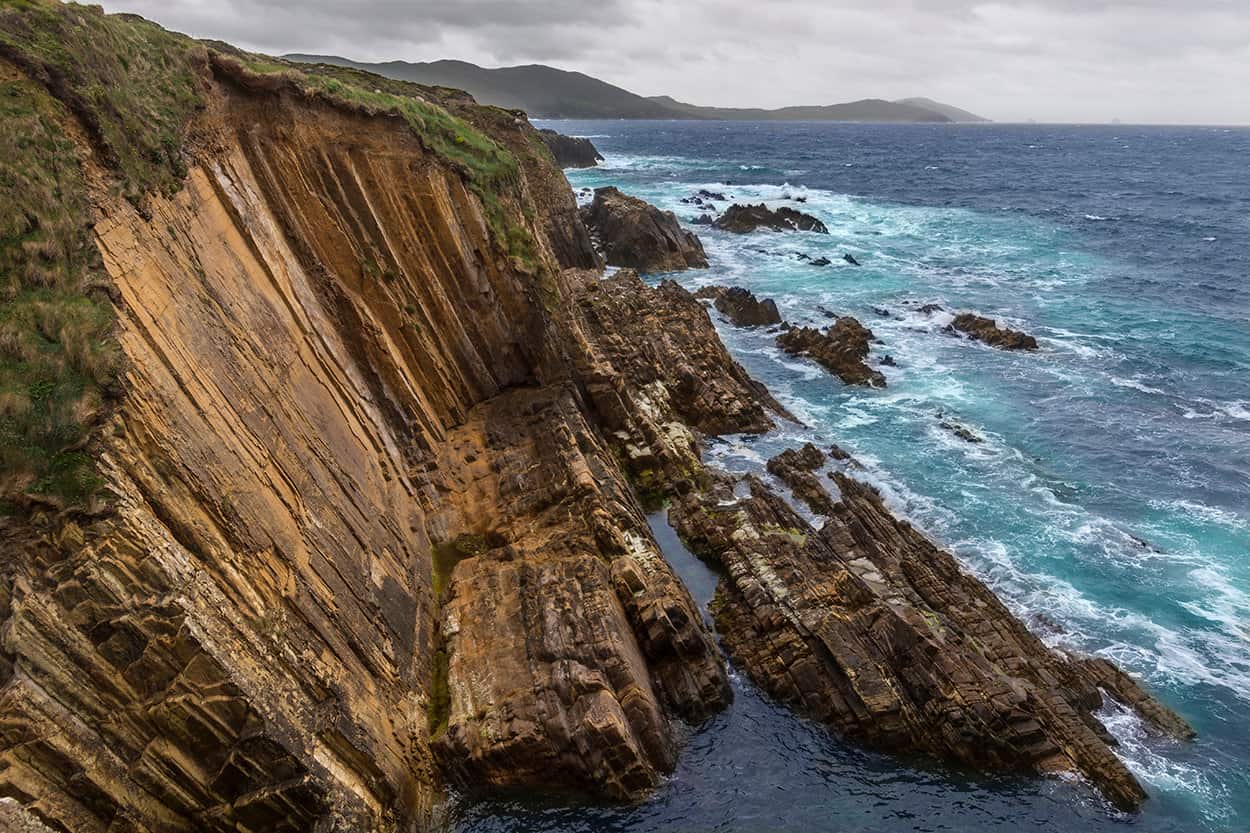 Why take an Irish Road Trip
Better question- why would you not plan an Irish road trip? A road trip around Ireland is just about the best way to explore the country. You will see way more than you could on a bus tour.
Being able to get down those little paths only a small car could fit down, or wandering along one-lane roads with pull offs so oncoming traffic can pass you is just about the best thing ever.
Yes, it's nerve wracking when you are an American driving on the left trying to tackle those narrow roads, but it's easier to do than you think.
Give yourself some credit- you figured out how to drive a vehicle when you were 16 (OK, I was 18), and you are still alive. Your brain can handle the switch for a week or two so you can explore Ireland's major cities and most beautiful places.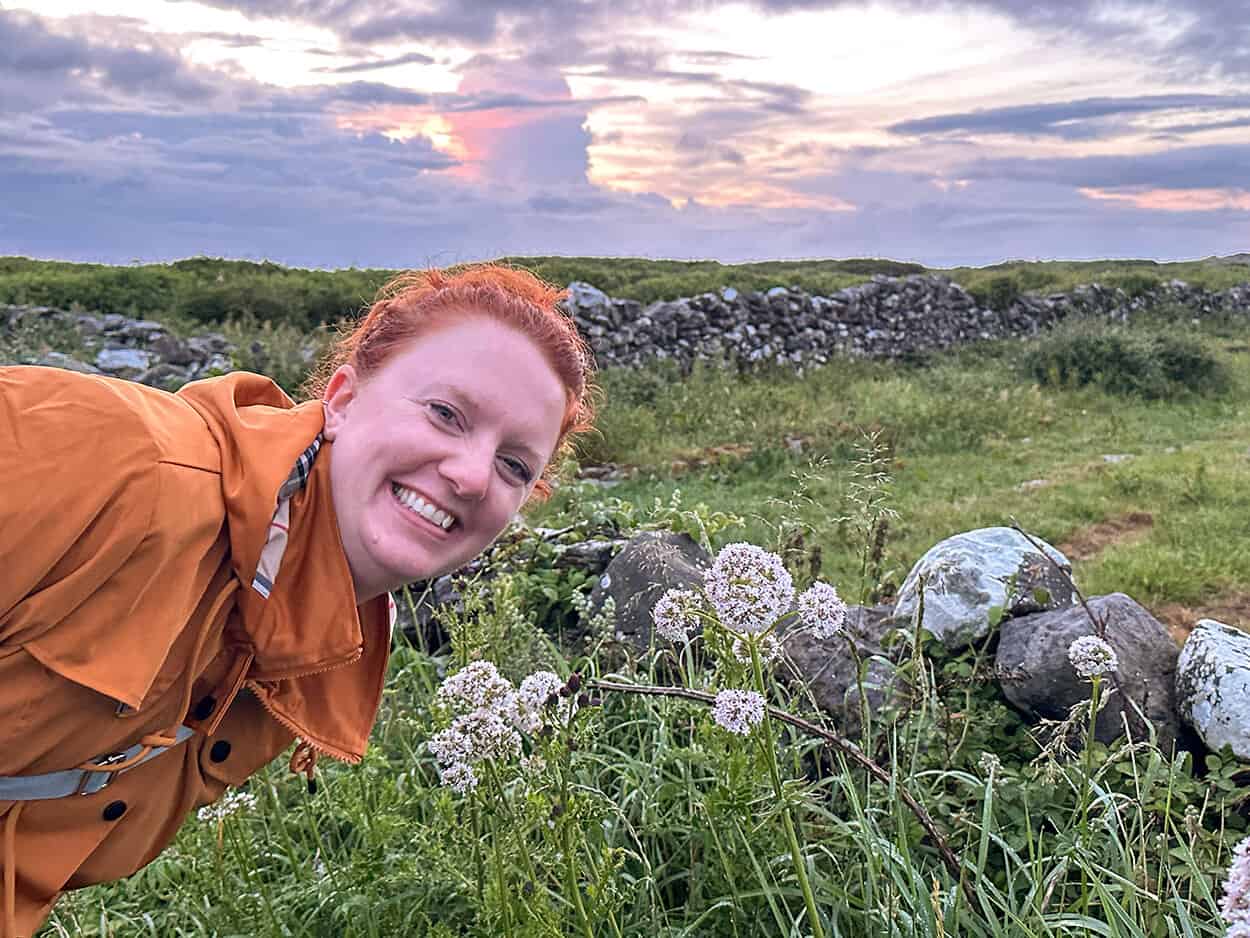 Best Time to Visit Ireland: Southwest
The best time to visit Ireland, at least as far as weather, is in the summer months. June is perfect, while July and August give you a slightly better chance of warmer temperatures and less rain. Keep in mind that Ireland will always get rain throughout the year, so you can't guarantee that you will have nothing but sun on your trip.
We also love late spring and early fall. The temperatures are still mild, so even if it does rain you won't freeze. Best of all, the Republic of Ireland is less crowded in the shoulder season, which means you could get sections of the west coast all to yourself to explore the natural beauty of the countryside and small towns.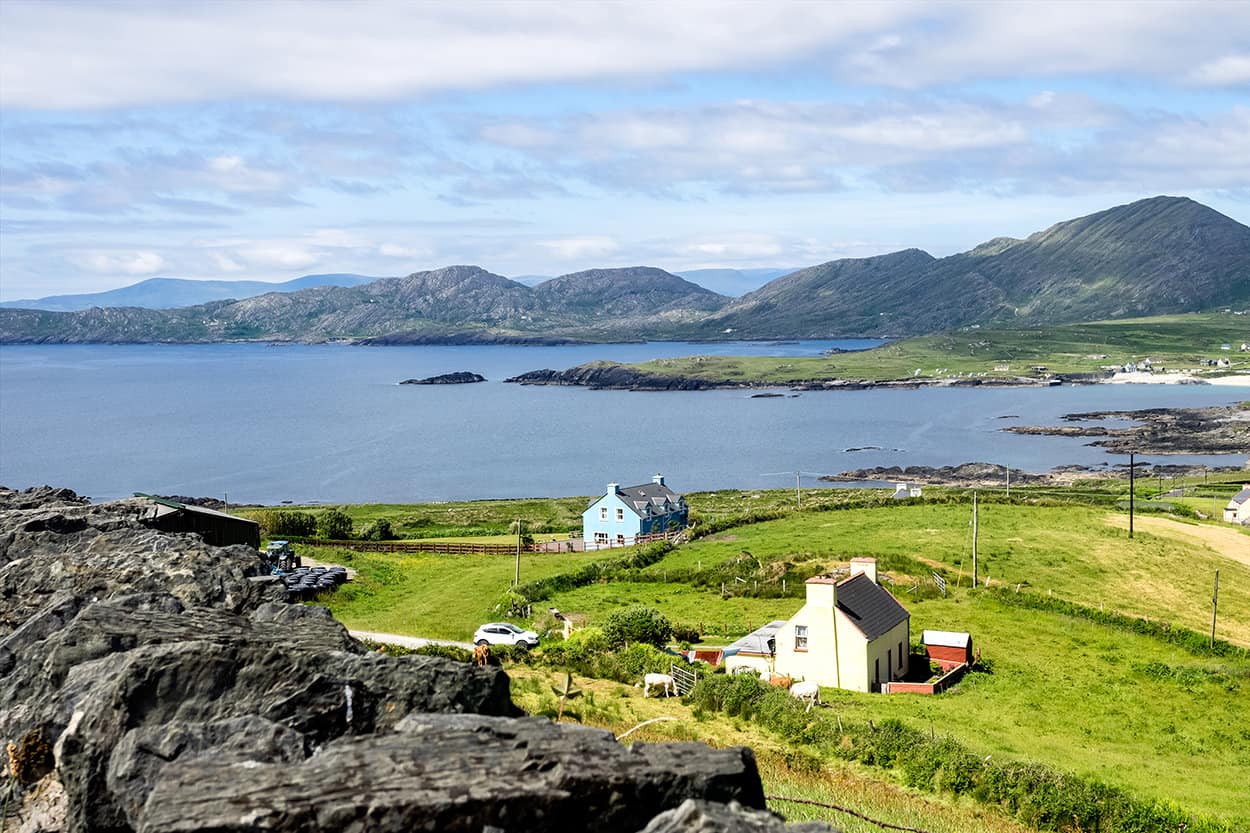 Average Cost of a Trip to Ireland
The average cost of a trip to Ireland all depends on your travel style, where you are visiting and when you are traveling. First class airfare and castle stays could cost you more than US$10,000 per person. Economy flights and vacation rentals could get you down to US$5000 per family.
Cost of Hotels in Ireland
Obviously, if you are looking to stay in castles and have a private driver, you will be on the higher end of things. If you are OK with hostels, B&Bs and small inns, you can save a ton of money, which is good, because rental cars in Ireland aren't cheap.
Castles can run you $500 or more per night (again, all depending on where and when you are traveling), while you could get a bed in a hostel for $20 a night.
For a family of four, we try not to spend more than US$150 per night when we can. Sometimes we will splurge for a unique property, or if we are traveling with extended family, we will get a larger Ireland vacation rental that brings the cost down significantly per person/ per family.
My sister and I recently rented a four bedroom, two bathroom house in Dingle, Ireland for about US$250 per night, which gave us tons of room and a full kitchen that saved us a lot of money on food (my kids can eat their body weight in cereal and milk, so every penny saved helps!)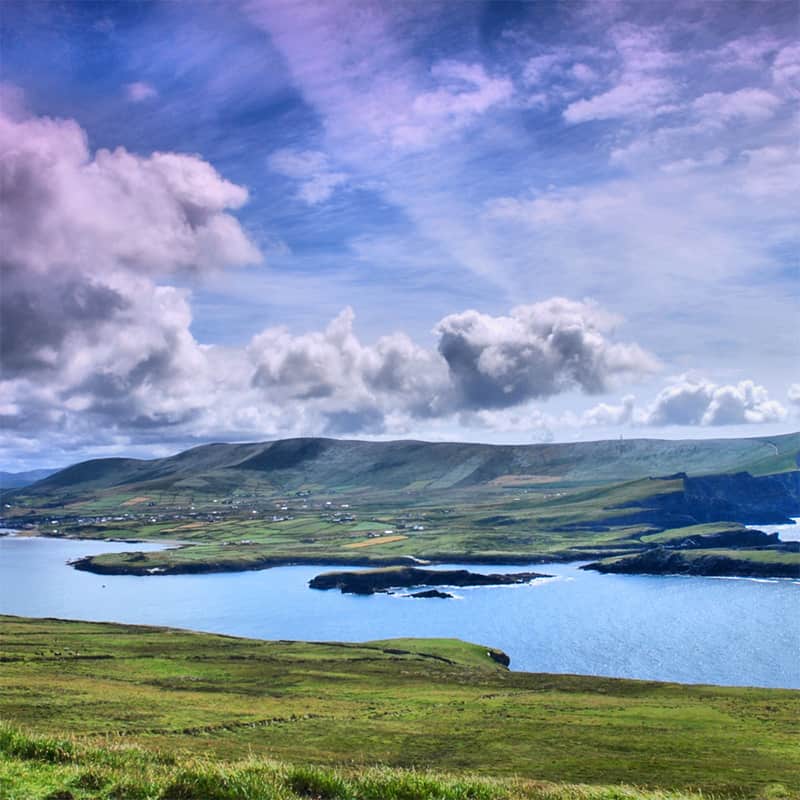 Cost of a Rental Car in Ireland
On average, for a 10 day rental car for a family of four with an automatic transmission, you can expect to pay about $2500. Why so much? Because you are required to have CDW (collision damage waiver) insurance.
This insurance can not be through your home car insurance, travel insurance or credit card. You must prove that it is a 3rd party insurance company who will pay out directly to the rental car agency in Ireland. If you do not have this insurance, you will have to pay a minimum of $100 per day extra to drive a car off the lot, or spend a lot of time on the phone getting the details you need to the local rental car agency in the Dublin, Belfast or Shannon airports.
Find the best rates and availability on rental cars in Ireland HERE.
Southwest Ireland Road Trip Itinerary Planning Guide
FLYING TO IRELAND?
Looking for the best flights to Ireland? We love to track flights via Expedia.com. Not only do we find great rates, but we earn points to use on future travel too.
You can also keep an eye on GOING deals, which is how we got to Ireland roundtrip from LAX for under $500 each. The free version is good, but the paid subscription will save you way
Don't forget your eSIM card!
We all love our smartphones, but we don't love those international roaming charges. Even if you have a travel pass, you could max out your service, which is why we always grab an eSIM card to pop into our phones. It's especially great for the kids, as it limits what they can do and how much data they can use, but still allows them to text friends back home.
Check out Airalo, our preferred eSIM card store for the best prices on eSIM cards and international data plans.
TRAVEL INSURANCE
Do NOT forget to buy travel insurance for your cruise, even if you booked through a travel agent. Things do and will happen and it's cheaper to buy travel insurance ahead of time instead of paying out of pocket later.
Check out Travelex for rates on a single trip or an annual plan that could be right for you if you take more than one or two trips a year.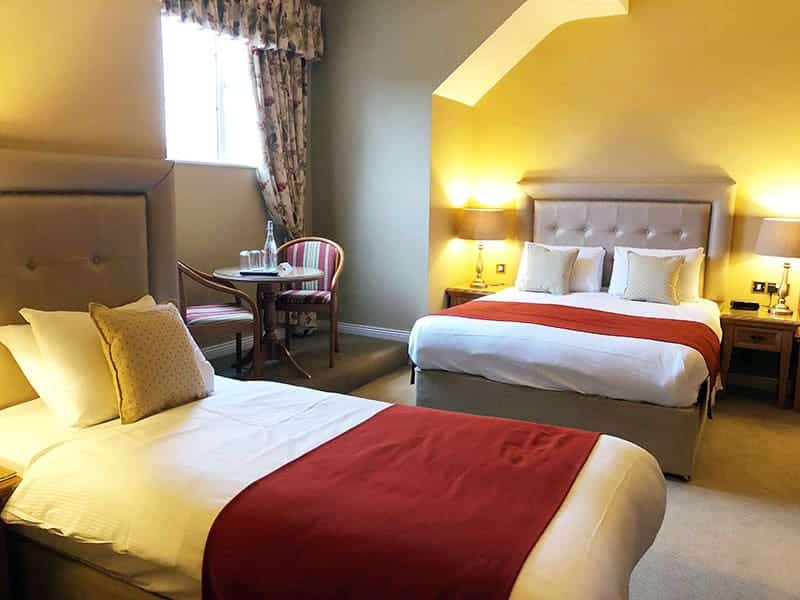 Ireland Road Trip Hotels
Hotels in Killarney
Get the Best Rates and availability on Killarney Hotel HERE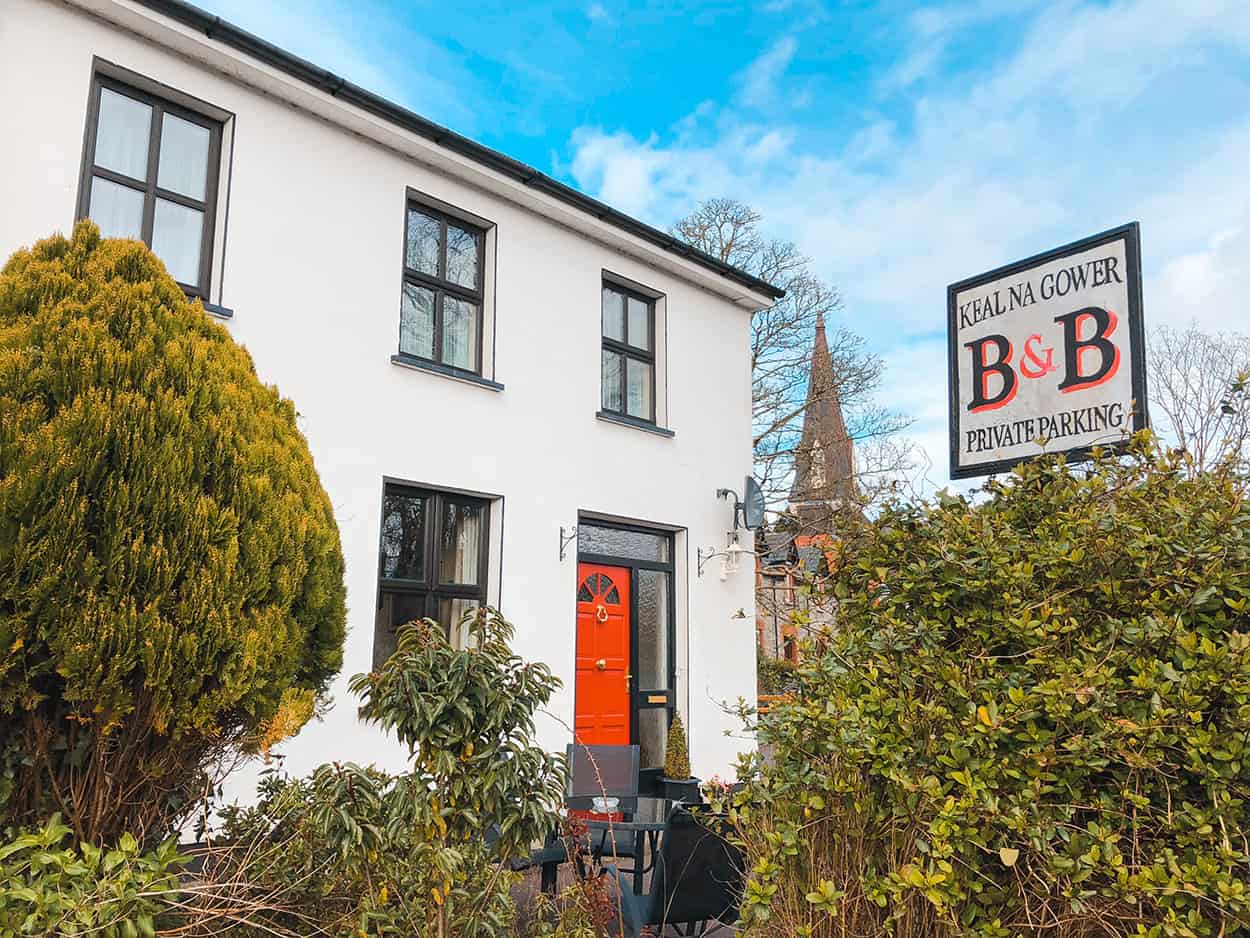 Hotels in Kenmare
Get the Best Rates and availability on Kenmare Hotels HERE
Hotels in Dingle
Get the Best Rates and availability on Dingle Hotels HERE
Hotels in Doolin
Get the Best Rates and availability on Doolin Hotels HERE
NEED A RENTAL CAR?
We use DiscoverCars.com to get the best rates and availability on rental cars. Find your car HERE, along with all of the extras you may need (insurance, car seats, ski racks, etc.)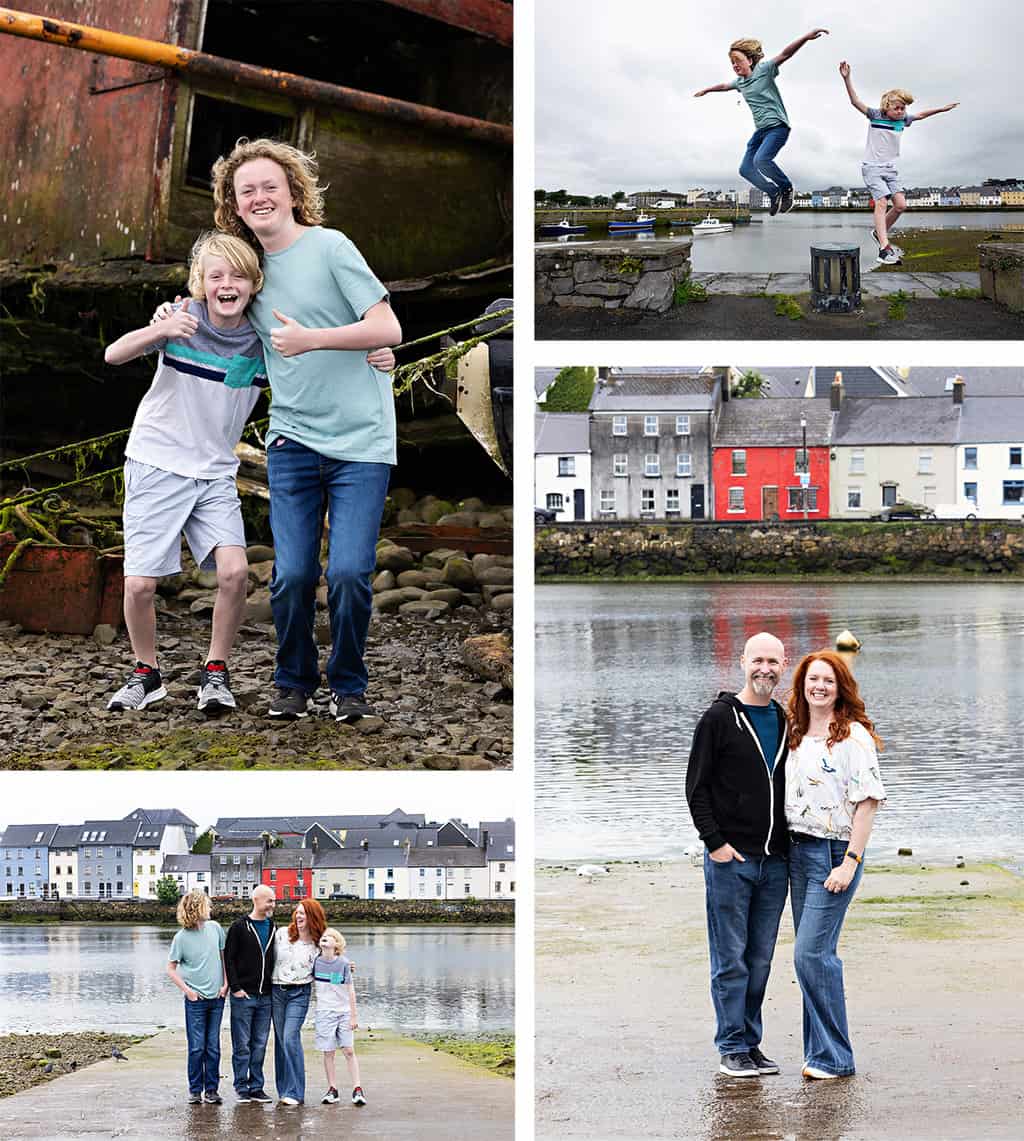 VACATION PHOTOS
Don't forget to book your Flytographer session to capture awesome memories from your trip. We do it as often as we can, even though I'm a photographer. Sometimes, this mom just wants to be in a few photos with her kiddos… and not be cut off at the feet in photos, which happens whenever my husband takes photos of me with our boys.
How to get to Ireland
Arriving in Ireland: Shannon vs Dublin
If you are only going to explore the southwest part of Ireland, I highly recommend you fly into Shannon airport if you can. It is sometimes hard to find direct flights from the USA, but they do exist.
Flying into Shannon means you only have to drive about two hours to Killarney, while flying into Dublin means you will have to drive a minimum of four hours after you land in order to start your trip in Killarney.
If you do have to fly into Dublin, Ireland's largest city, whether because you want to explore a bit more in town or it's cheaper to fly directly to Dublin than into Shannon, plan on spending at least a night so your body isn't totally wrecked from the long flight and jet lag.
Shannon Ireland
Distance between Killarney and Shannon: 134.5 km (about 84 miles)
Drive time from Shannon to Killarney: 1 hour and 45 minutes
Shannon Airport
Shannon Airport is small and a breeze to get through, whether you are arriving or departing Ireland. The lines are shorter at customs and security, and the rental car pick up is so much faster when you don't have several international flights all arriving at the same time with passengers wanting to get their plane.
Things to do in Shannon
If you arrive in Shannon and need something to do while you shake off a bit of that jet lag and grab a bite to eat.
Bunratty Castle and Folk Park
Knappogue Castle
Quin Abbey
Stops between Shannon and Killarney
If you are looking for stops between Shannon and Killarney as you drive down from the airport, here are a few spots we love to pop into for a bite to eat and some sightseeing.
Dublin Ireland
Distance between Killarney and Dublin: 314.6 km (195 miles)
Drive time from Dublin to Killarney: 3 hours and 30 minutes
Dublin Airport
Dublin Airport: airport code DUB
Dublin Airport is about 15km (9 miles) from the city center, and can take about 45 minutes to drive from the airport to any hotels and sights in town. There are several hotels close to Dublin Airport if you have an early flight back home or get in late when you arrive.
While Dublin has the largest airport in Ireland, you will also encounter more lines at customs, baggage and even when you check in. It's never been insane when we arrive, but unlike Shannon airport, you will have more domestic and international flights arriving at the same time, which can cause delays when you want to pick up your suitcases at baggage claim or pick up your rental.
Many of the rental car pick ups will not be in the terminal either. This can be confusing, because when you book your Ireland rental car you may be told to pick up in the airport.
Once you arrive, depending on your reservation, you may have to take a shuttle to grab your rental car.
My parents, who booked through the same company as we did, were able to take a short walk to the rental desk and then given their car at the terminal pick up, while my family had to take a shuttle to pick up our rental car.
It was weird, but there was nothing we could do.
Things to do in Dublin
Trinity College
Book of Kells
Dublin Castle
Guinness Storehouse
Temple Bar neighborhood
St. Patrick's Cathedral
Christ Church Cathedral
Read our guide to fun things to do in Dublin
Stops between Dublin and Killarney
What to pack for your Ireland Road Trip
The weather is a fickle beast in Ireland, even in the southwest part of the country. Always pack a rain jacket, rain pants and rain boots (these always work well for me!), unless you don't mind getting damp. If you are packing light, at least have a rain coat (this is my favorite in mustard yellow!) and umbrella (like this one) handy.
Grab our full Ireland Packing List and get ready to explore the Emerald Isle… without getting drenched.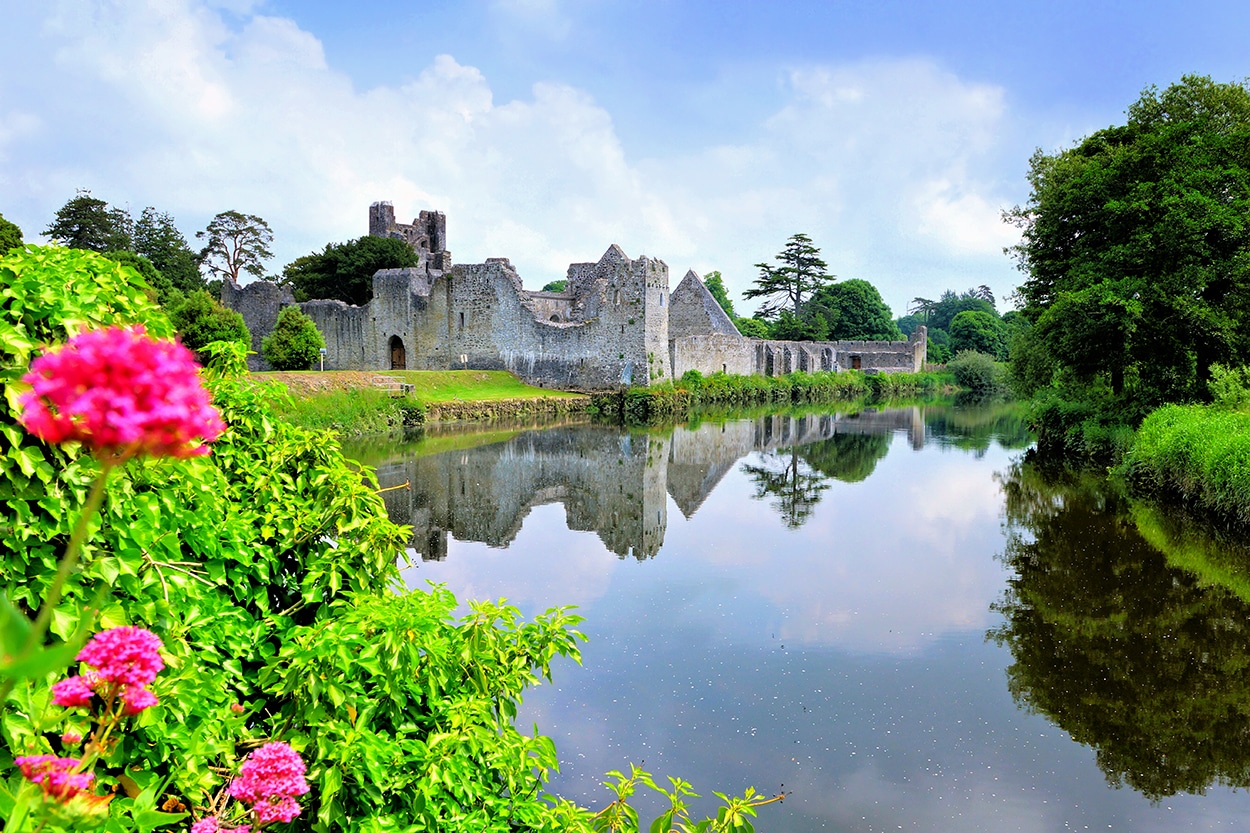 A Brief Guide to Irish History
In order to embark on a road trip in Ireland, you need to understand how this land was developed over the centuries.
There weren't any paved roads for most of Ireland's history, sheep outnumbered people (and still do in some parts), and migration and invasions have created a rich culture, filled with redheads, brunettes and blondes, that you will want to at least know the basics about before you start exploring.
So, here is the fastest crash course in Irish history that you will ever see.
Celtic tribes inhabited Ireland in ancient times, contributing to its unique culture.
Viking raids and settlements began in the 8th century, leaving a lasting impact on cities like Dublin.
Norman invasion in the 12th century introduced English influence and control.
Religious conflicts emerged in the 16th century, with tensions between Catholics and Protestants.
The Great Famine (1845-1852) caused mass starvation and emigration, reshaping Irish society.
The Irish Republican Brotherhood and the Easter Rising (1916) fueled the drive for independence (learn more in THIS BOOK).
The Anglo-Irish Treaty in 1922 led to the establishment of the Irish Free State.
Northern Ireland remained part of the UK after the partition of Ireland.
The Troubles (1960s-1998) saw sectarian violence in Northern Ireland (read THIS BOOK to learn more about the Trouble).
The Good Friday Agreement in 1998 promoted peace and a more cooperative approach.
Ireland is now an independent nation known for its vibrant culture and history.
Ireland Itinerary 10 days: Southwestern Wild Atlantic Way Route
You made it to Ireland- wahoo! Grab your bags and pick up your rental car because it is time to hit the road and start exploring the southwestern route of the Wild Atlantic Way.
If you haven't booked your Ireland rental car yet, do it HERE, which is the same site I use to book all of our rental cars, whether we are in the United States or abroad.
No matter where you start your journey, you should head to Killarney, Ireland, where we will begin our itinerary.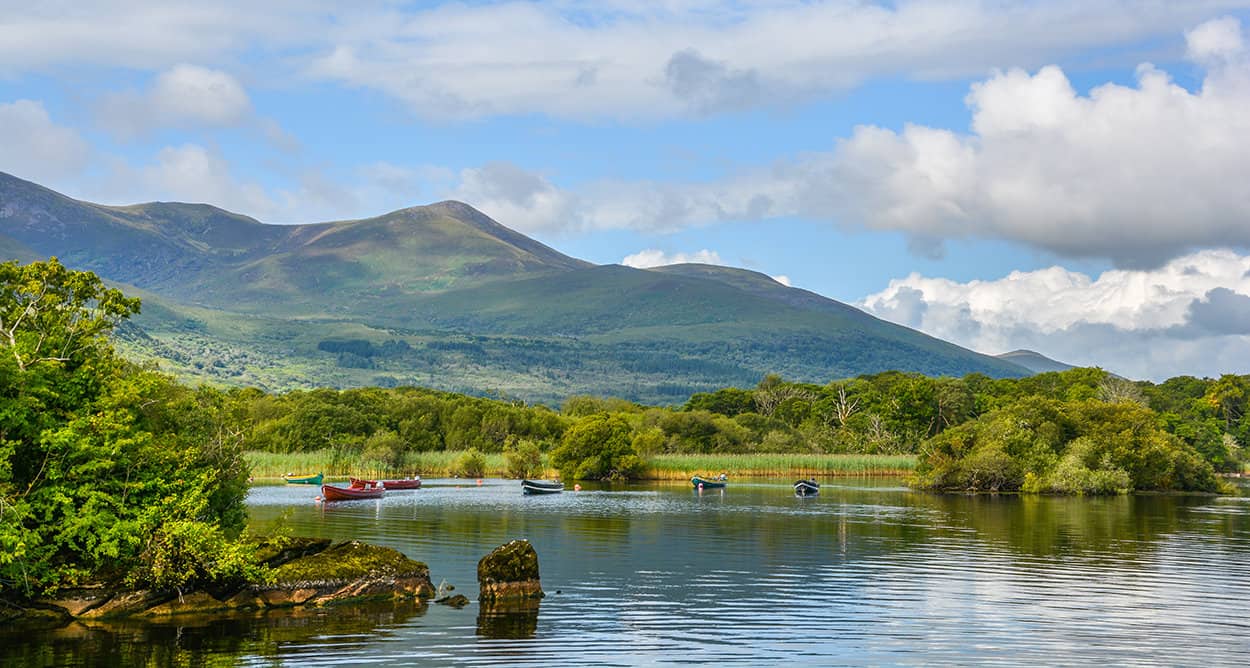 Killarney
You will begin your trip in Killarney town, which is a great spot to stay when you want to explore the Ring of Kerry. Spend your first day wandering the town of Killarney, popping into the shops and letting your body adjust to the timezone if you are coming from the USA or other parts of the world. 
If you are in need of some outdoor adventure, we love to go on a hike at the Gap of Dunloe (or book this boat and walking tour) or in Killarney National Park. The stunning mountain and lake areas just outside of the town Killarney are filled with greenery, water and epic mountains. 
Read more about all of the fun things to do in Killarney Ireland
More things to do in Killarney:
Killarney House and Gardens  
St. Mary's Cathedral 
Ross Castle
Jaunting car ride in Killarney National Park 
Lakes of Killarney Boat Cruise (book it HERE) 
Read our full guide to things to do in Killarney
Your Killarney Hotel Tonight:
Get the Best Rates and availability on Killarney Hotel HERE
Ring of Kerry
After a good night's sleep, it's time to hit the Ring of Kerry. You could drive the Ring of Kerry in a single day; it is possible, and this 111 mile (179km) route takes about three to three and a half hours if you don't stop.
Trust me, you will want to stop.
If you want more time to explore, spend the night in Kenmare, about a quarter of the way around the ring, which is what we prefer to do. A lot of the best things to do on the Ring of Kerry are between Killarney and Kenmare, so you will want to spend the day making multiple stops.
Read about the best things to do in Kenmare Ireland
You can also beat the crowds all piling on a tour bus if you start the next day in Kenmare to continue on.
We prefer to go clockwise around the Ring of Kerry, as the tour buses tend to go counterclockwise. You will get stuck behind fewer buses this way, and you won't have to worry quite as much about the crowds.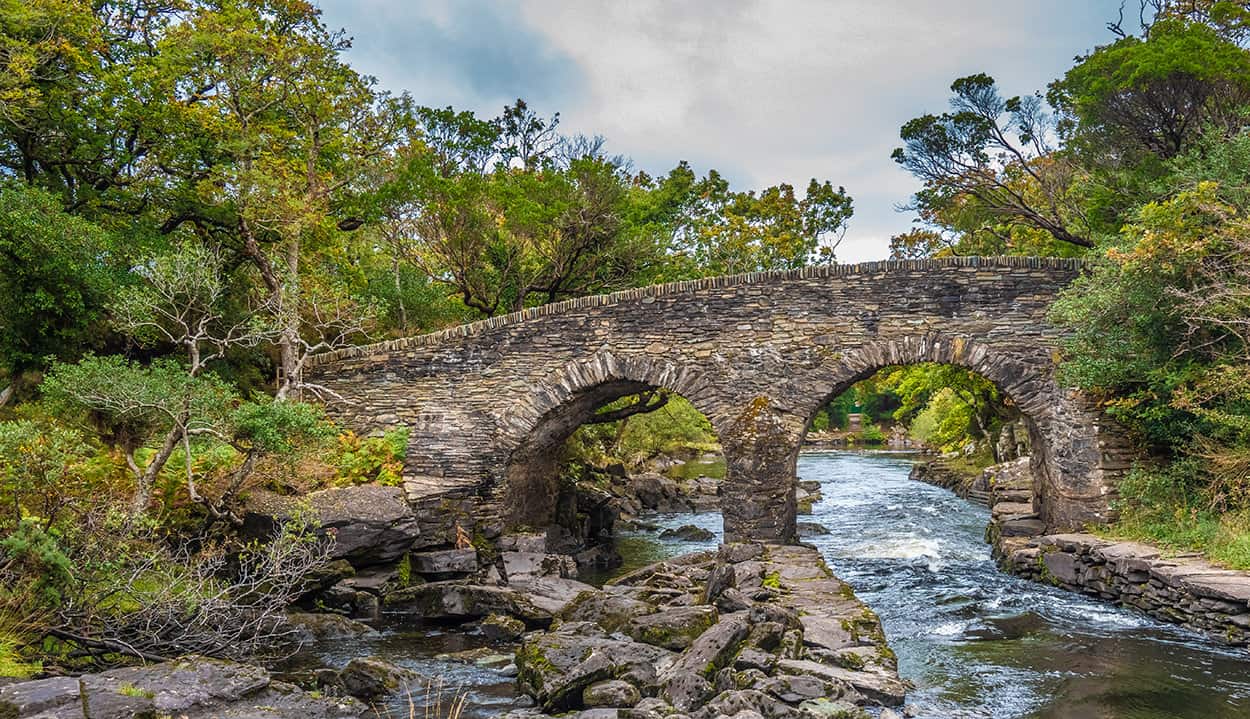 Stops along the Southern Ring of Kerry (Killarney to Kenmare)
Muckross Abbey: excellent example of early church architecture with views of Lough Leane
Muckross House: well-preserved 19th-century mansion with a shop, cafe and working farms
Torc Waterfall: easy hike to a beautiful waterfall
Old Weir Bridge: old twin arch stone bridge at the "Meeting of the waters," where the three Killarney lakes meet.
Muckross Lake: one of three well-known lakes in Killarney, it is also Ireland's deepest lake 75 meters
Derrycunnihy Falls: park at Derrycunnihy Church and then walk about 1km to these gorgeous waterfalls
Ladies View: nice little stop with a cafe and bar, plus gorgous views of the valley below
Looscaunagh Lough Viewpoint: great views of the southernmost of lake in Killarney National Park
Molls Gap: pretty mountain pass on the Ring of Kerry with views of the MacGillycuddy's Reeks mountains
Kenmare Stone Circle: one of the largest stone circles in south West Ireland
Your Kenmare Hotel Tonight:
Get the Best Rates and availability on Kenmare Hotels HERE.
Day Tours of the Ring of Kerry
If driving the Ring of Kerry stresses you out, there are plenty of guided tours, both big bus and smaller vehicle, that you can hop on to see the highlights of the Iveragh Peninsula. Here are a few worth checking out. Book ahead if you are visiting in the summer though, as these are popular for a reason.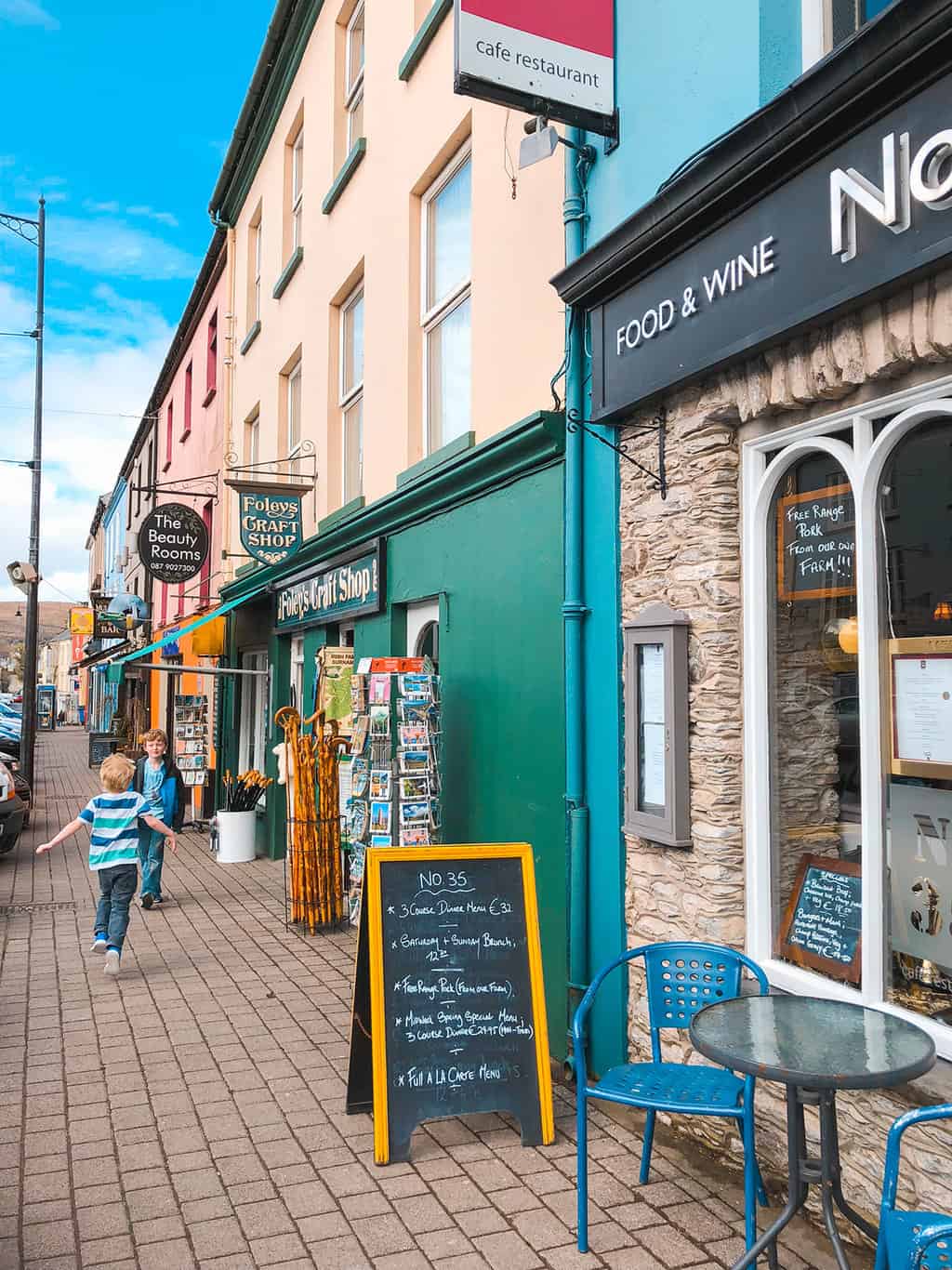 Kenmare
Wake up refreshed in Kenmare as you get ready to tackle the rest of the Ring of Kerry. Remember, you are traveling clockwise, so you will have a whole lot of the Ring to cover today. However, the top places to visit on the Ring of Kerry are a bit more spread out at this point, so you will have the time to wander your way back to Killarney.
Stops along the Ring of Kerry (Kenmare to Killarney)
You will not have time to stop at all of these, which is why I'm giving you a little description of what each stop is so you can pick and choose what interests you.
Blackwater Bridge: Double-arch rubble stone road bridge between Kenmare and Sneem that is pedestrian friendly.
Blackwater Pier: small pier that juts out into the lake where you can go fishing.
Helen's Secret Bay: beautiful spot in Derreenafoyle for wildflowers in summer and craggy rocks to scramble around (do not attempt in the rain!)
The town of Sneem: super cute stop for shopping and ice cream
Staigue Stone Fort: ancient fort that is a bit of a detour
Whitestrand Beach: one of Ireland's Blue Flag sandy beaches just 3 miles west of Cahersiveen Town. You'll get great views of Valentia Island and Begnis Island.
Paradise Found Beach: beautiful wide beach
Derrynane House: 19th century home of Daniel O'Connel
Derrynane Beach: white sand beach with dunes and the ruins of a medieval church on Abbey Island
Bealtra and Skellig boat tour: book this tour to get the best views of Skellig Michael and the coast
Loher Stone Fort: excellent example of a stone ring fort
Eightercua Stone Row: standing stones
Waterville: Charlie Chaplin Statue and a great area to stop for lunch near the Waterville Bay Beach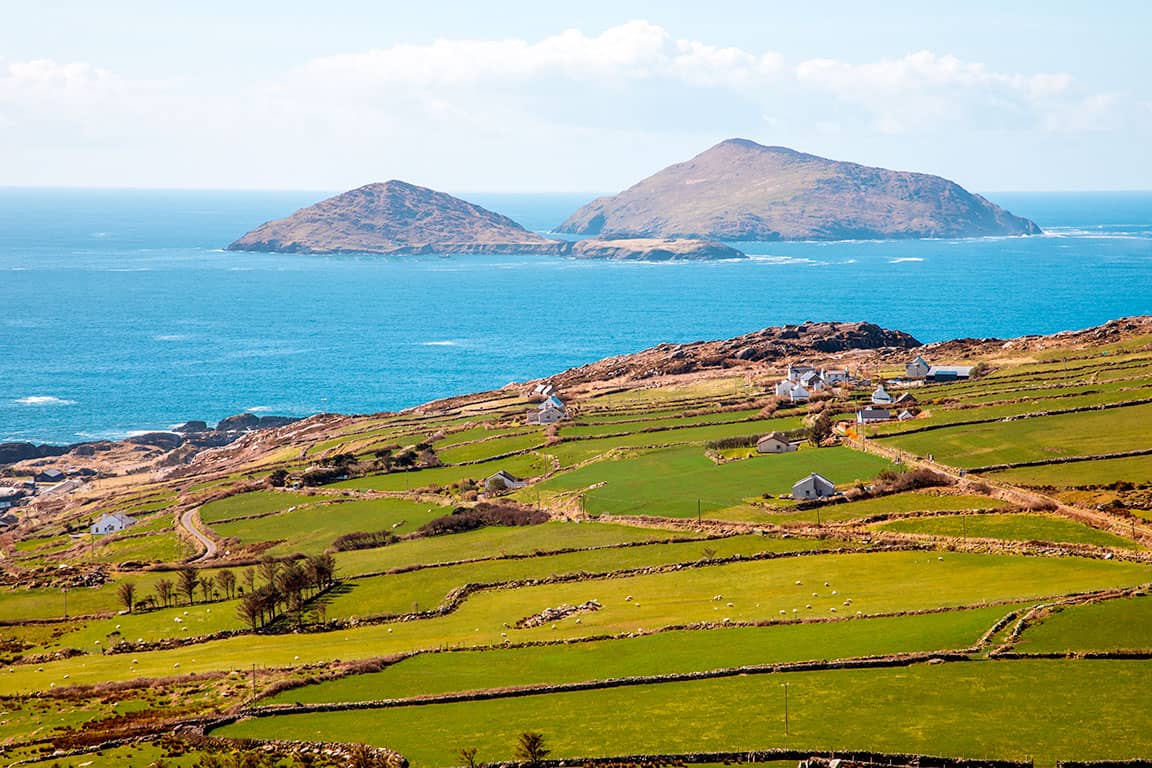 Skellig Ring
Just off of the Ring of Kerry, you can do the Skellig Ring drive, which takes you off the N70 and pops you back on after you complete the drive. Fans of Star Wars will definitely want to take this detour, as you can get great views of Great Skellig (Skellig Michael) in the distance, which is of course where Rey found Luke Skywalker at the end of "Star Wars: The Force Awakens."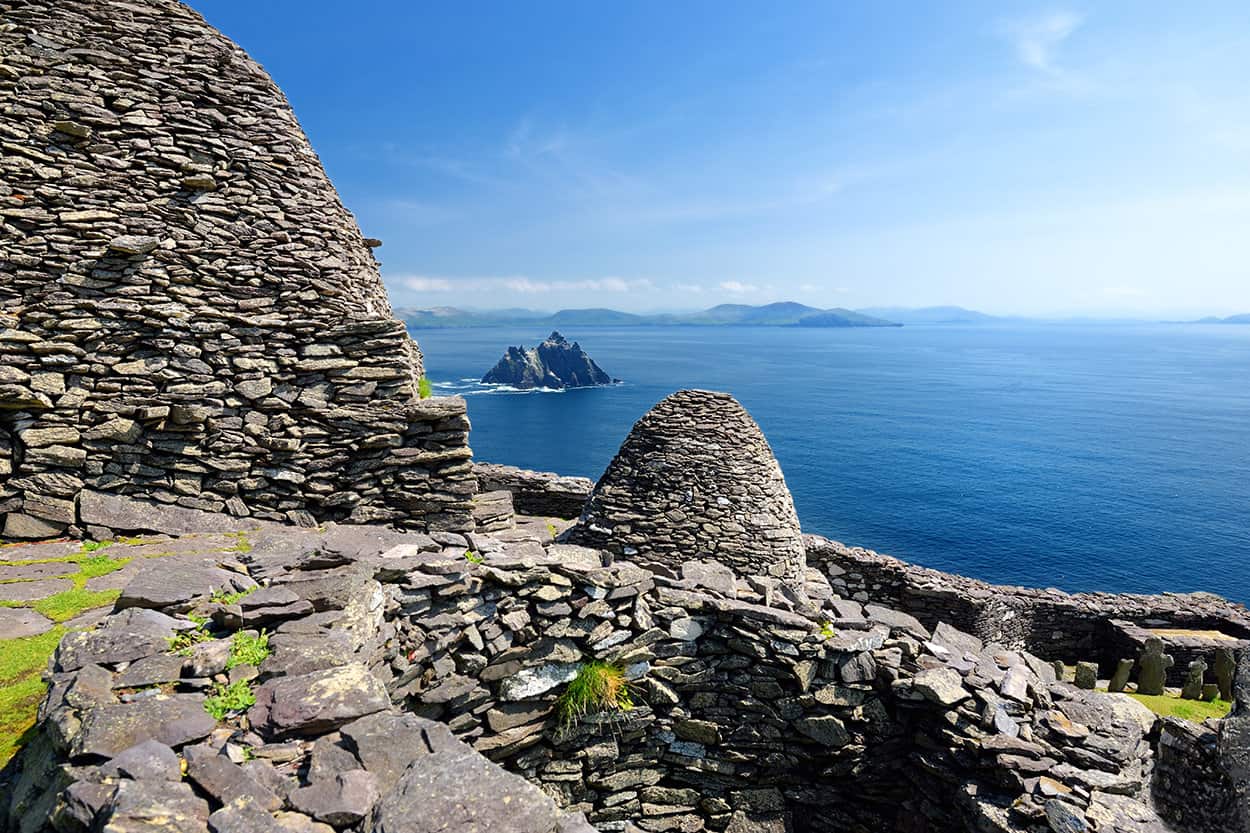 Highlights along the Skellig Ring
Ballinskelligs Beach: a favorite halfway stop for us, and you can walk over to the ruins of Ballinskelligs Castle and then down to Ballyskelligs Abbey
Village of Keel: there are a lot of "Keel" places in Ireland, but this one is a little town near St. Finan's Bay with a few amenities.
Skelligs Chocolate and Cafe: It's a chocolate shop— so you stop for chocolate of course!
St. Finan's Bay: nice spot for surfing and other water sports, as well as a launching spot for scuba dive excursions.
Cúm an Easpaig (Cliff View): Nice views, especially during the summer wildflower season.
Kerry Cliffs: this is a must stop, as these are the most dramatic cliffs in County Kerry. Next to the Cliffs of Moher in Doolin, these might be as good as it gets before you head into Northern Ireland and the northwest Wild Atlantic Way. It is on private land, so you will have to pay a small fee to make the hike out to the cliffs.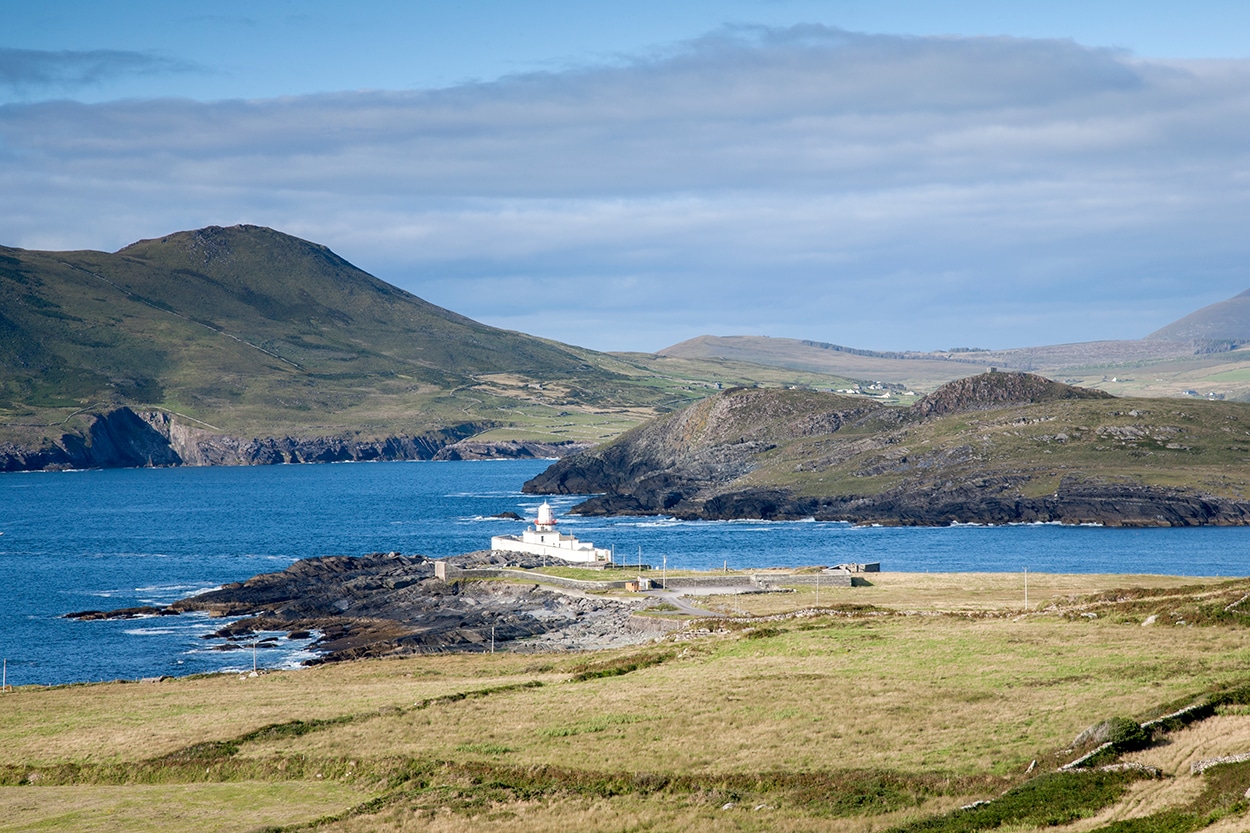 Valentia Island
If you want a further detour, you can take the bridge over to Valentia Island. You will need to backtrack a little to get back to the Skellig Ring and then onto the Ring of Kerry, but if you feel like you haven't gotten enough rugged views of the Atlantic Ocean, you can pop onto the island for an hour.
Highlights of Valentia Island
Geokaun Mountain and Cliffs
The Valentia Island Tetrapod Footprints
Valentia Island Lighthouse
Glanleam Beach
Valentia Transatlantic Cable Station
If you want to save a little time, you can take the ferry from Knight's Town (aka Knightstown) at the Valencia Island Car Ferry. This will drop you back onto the Ring of Kerry (N70).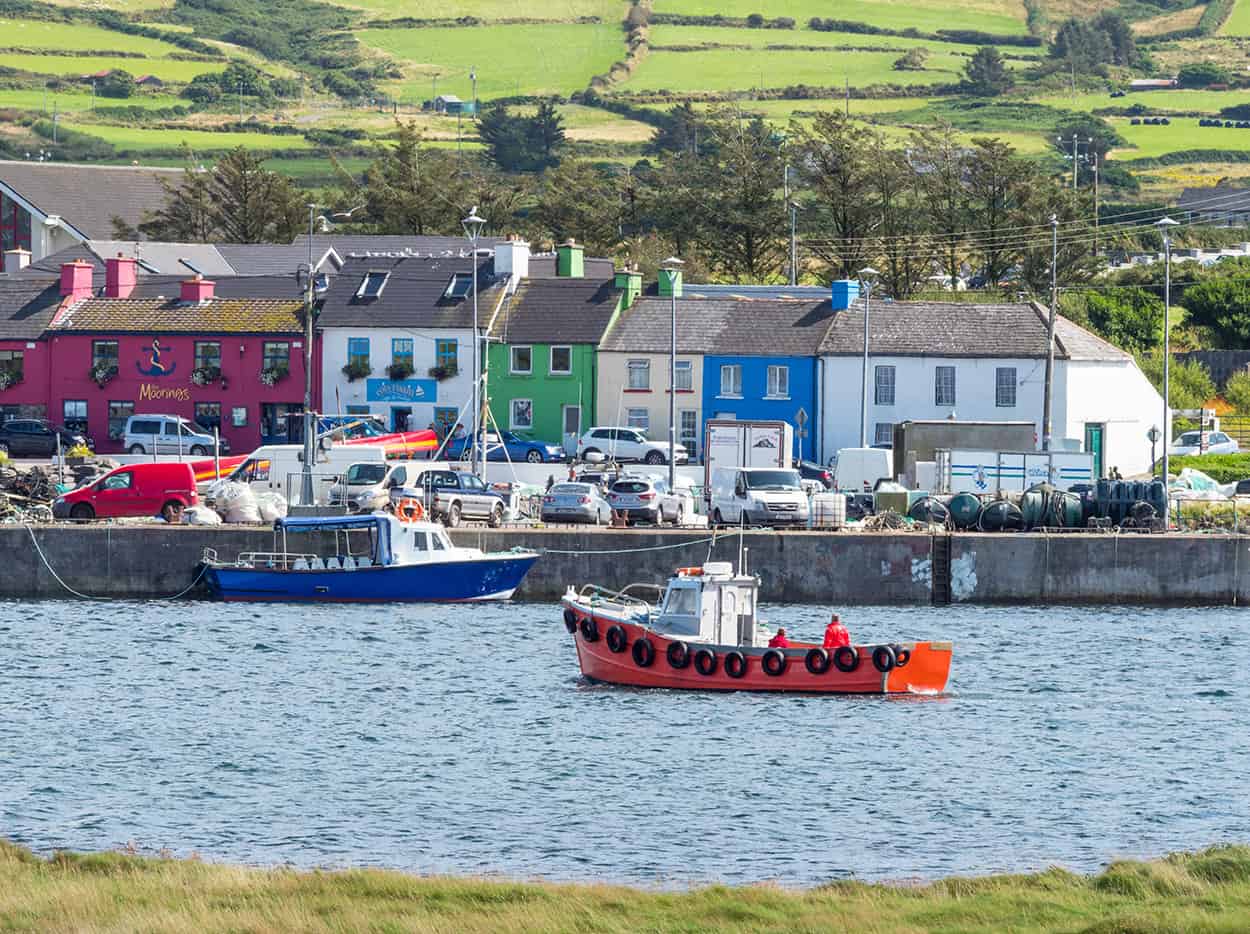 The ferry only costs about from €11.00 for a car (under €15 for campervans and mini-buses, and only €2 for pedestrians and bicyclists), and takes about 5 minutes to make the crossing. The extra few euros could be worth it as it shaves off some significant driving time when you want to go to the island, but complete the Ring of Kerry by dinner too.
Excursions and Guided tours to Valentia Island
Stops along the Northern Ring of Kerry
Whether you take the ferry or drive back through the Skellig Ring onto the Ring of Kerry, you still have a few more stops you can make.
Cahergall Stone Fort: stone ring fort
Cuas Crom Beach: pretty, out of the way spot for swimming and hiking
Cahersiveen Town: pretty little town if you need a bite.
Gleensk Viaduct: while it's not the Glenfinnan Viaduct (made famous by "Harry Potter and the Chamber of Secrets" film), it's still a pretty neat spot to stretch your legs for a bit.
Mountain Stage Viewpoint: great views of the ocean
Rossbeigh Mountain: enjoy a hike to the top for epic views of the town and water below.
Rossbeigh Beach Overlook: nice view if you don't feel like hiking a mountain
Behy Bridge: beautiful old stone bridge in Glenbeigh
River Caragh Viewing Point: nice views of the river and hills in the distance
The Kerry Bog Village Museum: one of the top stops on the Ring of Kerry, especially for tour buses. Since you will hit this later in the day, it is worth a stop to see how people in this part of Ireland lived in the past. There are resident Irish wolfhounds to pet and a few other live animals that are a must to visit, especially if you have kids traveling with you.
Town of Killorglin: if you happen to be visiting in August, check to see if the August Puck Fair festival is happening. They crown a goat, which is quite the sight to see!
At this point, you can pretty much high-tail it back to Killarney for dinner and a much deserved rest.
I know that this seems like a LOT to cover in one day, but it is doable. You will need to pick and choose which spots you stop at for a longer period of time, but many of these points of interest you can do as just quick photo stops and to see the views.
Your Hotel in Killarney Tonight:
If you stayed last night in Kenmare, you will need to check into a new hotel in Killarney. You could drive to Dingle, but after finishing up the Ring of Kerry you will be TIRED of driving.
Get the Best Rates and availability on Killarney Hotel HERE
Dingle Ireland
With the Ring of Kerry done and just enough time to poke around Killarney, it's time to drive over to the Dingle Peninsula, one of our favorite places in Ireland.
Drive Time to Dingle: 1 hour
As you drive from Killarney to Dingle (about an hour drive), you have a few stops you can make, including Inch Beach, which is a haven for surfers and beach bathers alike… well, sun bathing only in the summer months.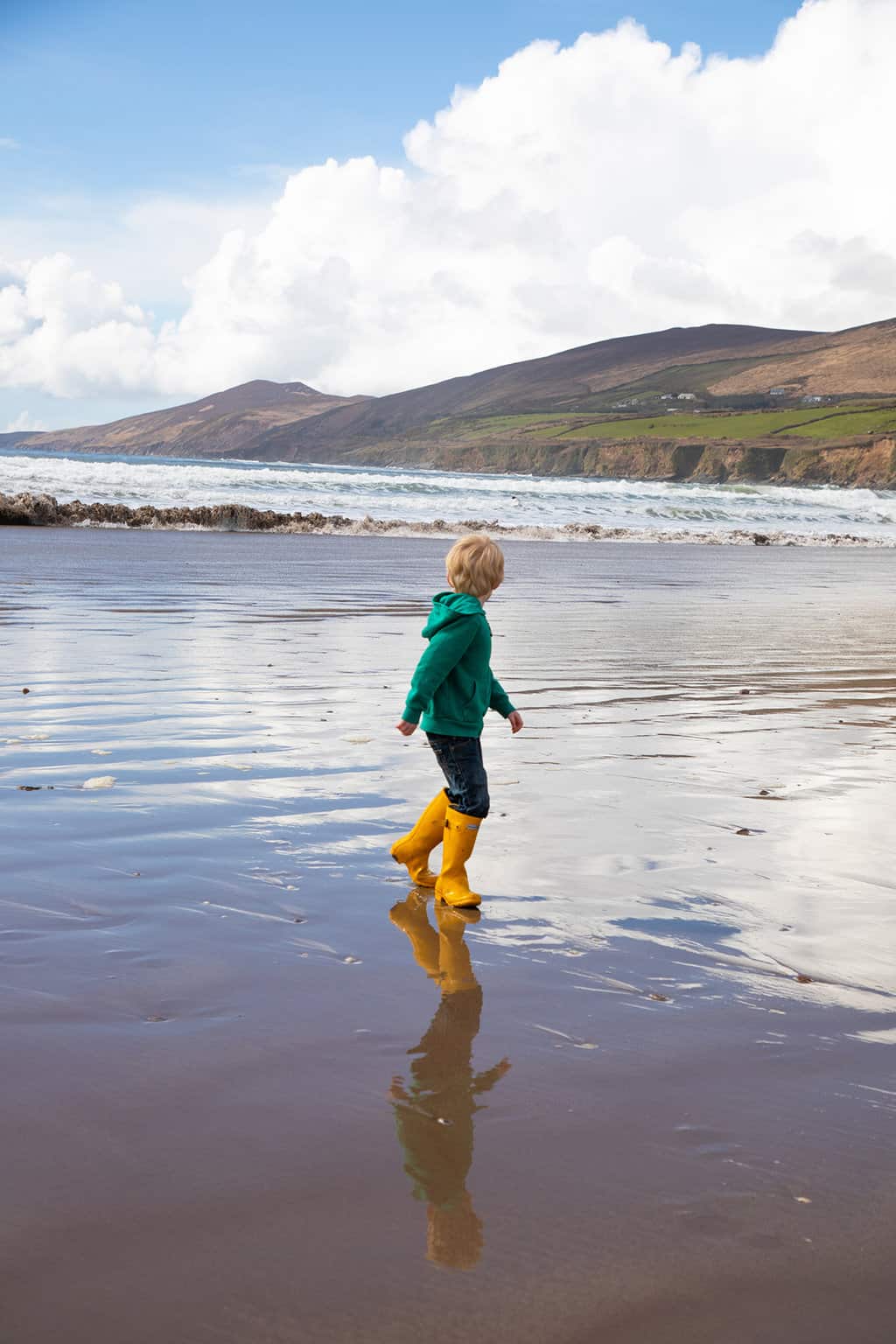 This three-mile sandy beach is a great place to take a stroll, let the kids splash around in the water (with rain boots, rain jackets and rain pants your kids can do just about anything in Ireland no matter the time of year), or rent a surfboard for a few hours to catch some waves.
There are rental shops right on the beach in shipping containers ready to provide you with wet suits (a must) and boards for any experience level. They even offer lessons.
Farther down you can stop at Minard Beach to take a look at Minard Castle. This castle ruin is set against a picturesque sandy beach with giant stones surrounding it.
Continue driving to Dingle, with stops at the Ardamore Standing Stone/Outlier and Kinard Beach if you need some more beach time or you found the other beaches too crowded (very rare to find a crowded beach in Ireland, but you never know)
Once you arrive in Dingle town, take a walk and hit the pubs.
You will find plenty of pubs offering live music and traditional Irish music, but Dick Mack's Pub and Brewery is probably the most famous bar in town. They have a great outdoor food court with food stalls and plenty of space to mingle.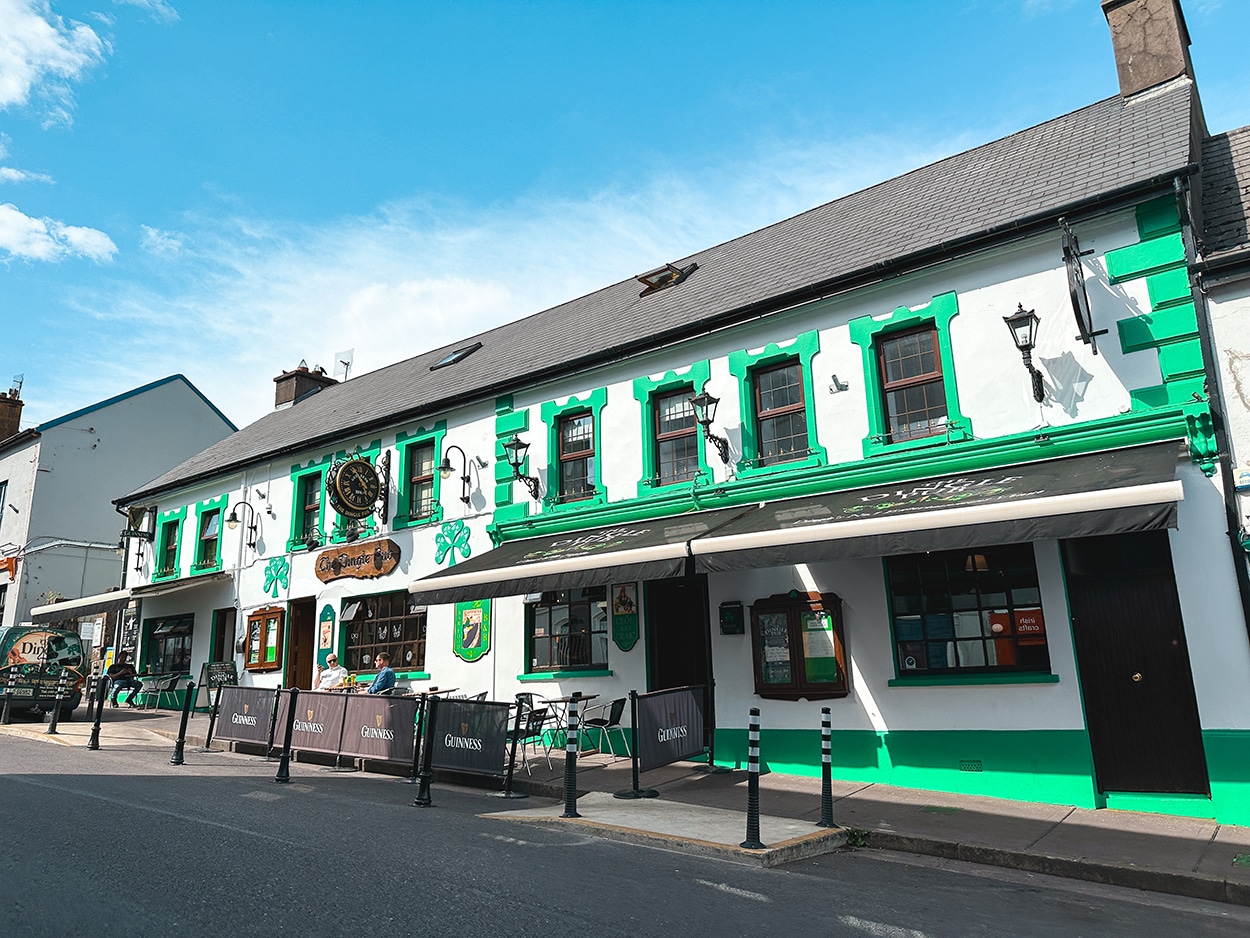 The Dingle Pub should be your next stop if World Champion Irish Dancer David Geaney is home at his family's pub. He tends to be around in the summer months when he isn't touring, so keep an eye out. Grab a pint and ask the bartender when David will be performing. He does a little show almost every night he is in town.
If you want something a bit out of the norm though, go to Foxy John's– a hardware store/pub that my brother-in-law LOVES.
Read our complete guide to things to do in Dingle, Ireland
More things to do in Dingle for the day
Dingle Distillery: check out how their amazing gin is produced, along with sampling their locally-made booze. Don't forget to bring a bottle home!
Murphy's Ice Cream: There are two boozy flavors on the menu (the rest are perfectly safe for kids), and I love to get the Dingle Gin ice cream with a scoop of raspberry sorbet in a cone. It's divine! But my kids will argue that the chocolate flavors are the best.
Dolphin and Whale Tours: Fungie the Dolphin may be gone, but you can still go on a boat tour to see migrating whales and dolphins (like this one).
Dingle Harbor: wander the harbor and The Strand for views of the water, or hop on a boat tour to see the Dingle Lighthouse
Dingle Oceanworld Aquarium: the aquarium is small, but worth a stop on a rainy day, especially if you have kids and want to teach them about the local sealife, as well as seeing some tropical fishy friends.
Eask Tower: If you need to stretch your legs, take a walk up to Eask Tower on the opposite side of Dingle Harbour for great views of the town and Dingle Bay.
Your Hotel in Dingle Tonight:
Get the Best Rates and availability on Dingle Hotels HERE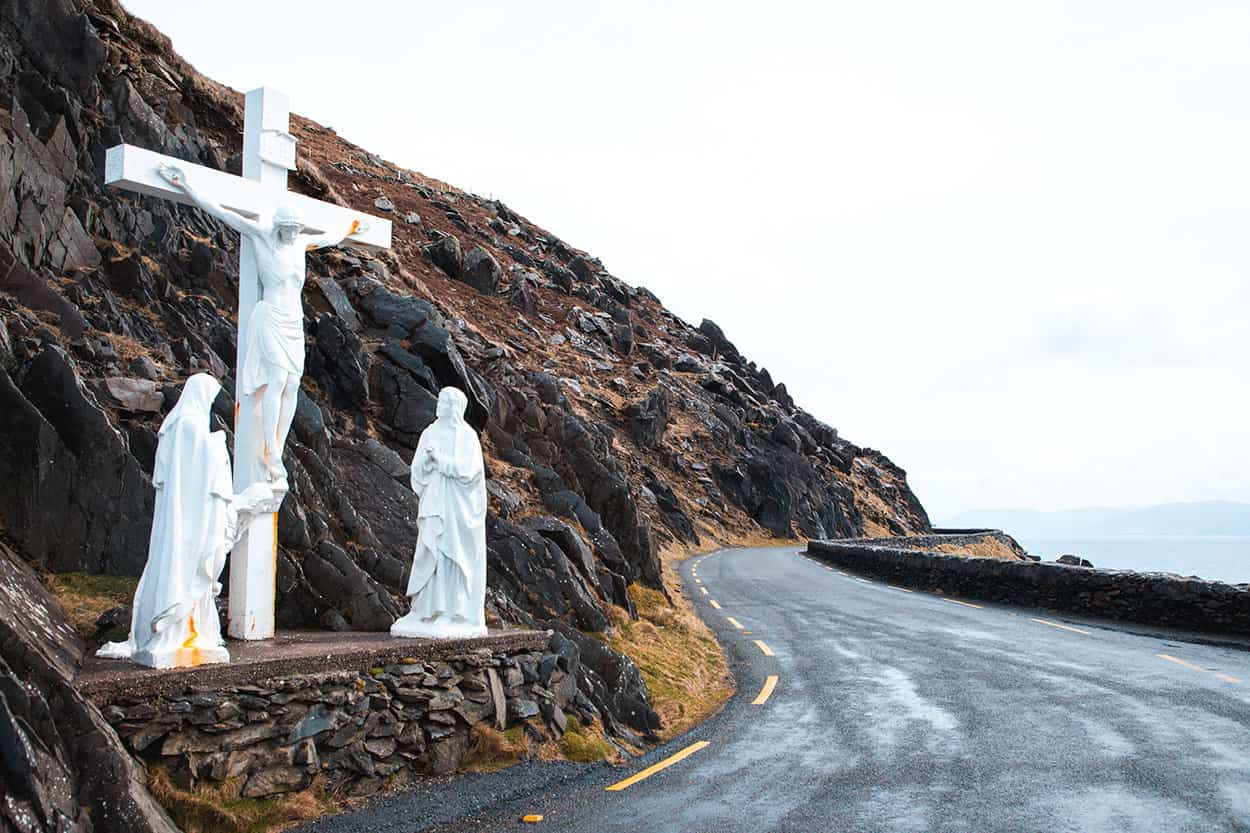 Slea Head Drive
Today's the day that you have been looking forward to on the Dingle Peninsula– it's time to tackle Slea Head Drive.
This much smaller ring road is way easier to tackle compared to the Ring of Kerry, but that doesn't mean it lacks epic views or stops along the way.
Head out of town to hook up to this circular route that begins and ends in Dingle town. Bring some small bills so that you have euros on hand to stop at some of the attractions along the way.
Most historical sites are on farm land that is still owned by local families. These families have gotten wise to the lore of their historical monuments and they are charging a small fee to see many of the ring forts, bee hives and even to pet baby lambs. This fee helps them maintain their lands and keep the property within the family.
Stops along Slea Head Drive
Cuan Pier: gives you great views of Carhoo Bay Beach and Fionn Tra Bay Beach
FairyFort Ringfort: known as a RATH, this ring fort is surrounded by a circular earthen bank and contains 3 or 4 huts.
Dunbeg Fort: promontory fort built in the Iron Age
Dingle Sheepdog Demonstrations: you must make a reservation to see a sheepdog demo.
The Famine Cottages: a striking look at life during the Great Faminie in Ireland
Beehive Hut: you can hold a baby lamb and/or check out the Beehive hut, similar to the ones seen in Star Wars films.
Cashel Murphy: excellent example of an ancient settlement in ireland and subterrain habitats
Ceann Sléibhe: beautiful overlook of the ocean
Cross at Slea Head: small pull off as you curve around Slea Head. A cross with Jesus crucified and Mary praying below.
Radharc na mBlascaoidí / Blasket's View: great pull off with views.
Coumeenoole Beach: there is a large(ish) parking lot here for people wanting to visit the beach or hike Dunmore Head.
Dunmore Head: do NOT skip this stop. It's one of our favorite hikes and has the best views on the Dingle Peninsula.
Dunquin Pier: Beautiful pier with great views and a winding pathway, but it can get crowded as it is so well known.
Blasket Centre: a heritage museum that tells the story of the people who once lived on the Blasket Islands
Tour the Blasket Islands: take a boat ride out to the Blasket Islands to see the remains of the villages and homes still left (this is one of the best tours of the islands).
Saint Gobnaits Church: ruins of an old church
Clogher Head: scenic views of Clogher Strand
Clogher Strand: nice beach stop for a picnic
Baile an Fheiritéaraigh/Ballyferriter: tiny town, but has some decent pubs to stop in for lunch.
Riasc Monastic Settlement: old monastery ruins
Tig Bhric & West Kerry Brewery: pet-friendly brewery if you need to stop for a pint (only if you have a designated driver though!)
Gallarus Oratory: thought to be the best preserved ancient church in Ireland, dating back at least 1000 years. You need to see this attraction (it's free) at least once in your life!
Cill Maoilchéadair: church ruins just off Slea Head Drive near the Oratory.
Read our full driving guide to Slea Head Drive
If you did Slea Head Drive right, you are exhausted and ready for a nice meal in a Dingle Restaurant. There are several to pick from, but here's a guide to our favorite restaurants in Dingle, Ireland to help you narrow down your search for a great meal.
Your Hotel in Dingle Tonight:
No need to jump hotels tonight if you booked two nights at a Dingle hotel, but if you do need lodging or want to experience something different, here's our top picks.
Get the Best Rates and availability on Dingle Hotels HERE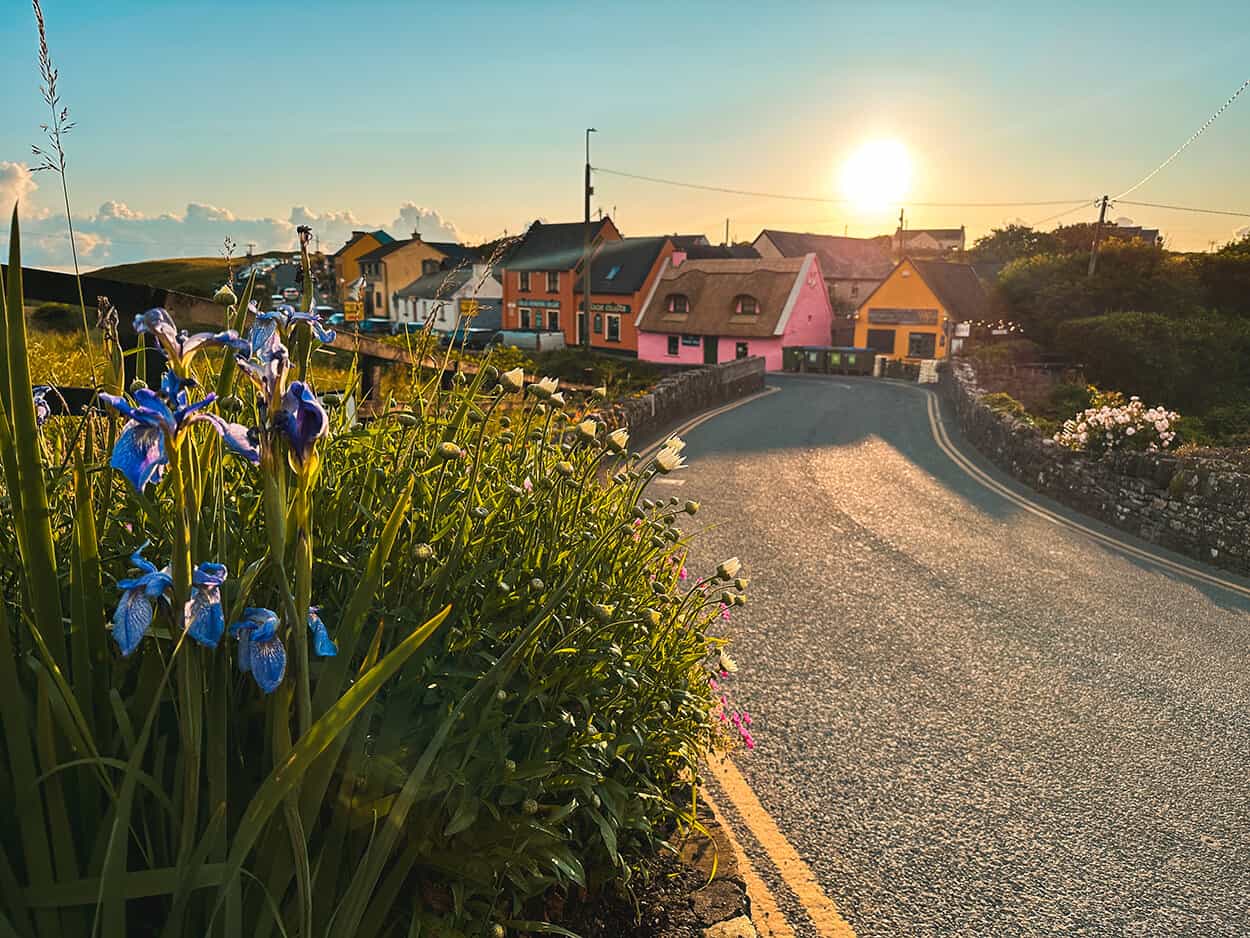 Doolin Ireland
Pack your bags! It's time to drive from Dingle to Doolin and there are a few great stops along the way.
Drive time: 3 hours (without stops)
Take the drive over Conor's Pass if you weren't able to squeeze it in when you drove Slea Head Drive. There are two guys who have a coffee cart up at the top of Conor's Pass some days, so you can head out before breakfast, grab a coffee and do a little hike before you continue onto Doolin.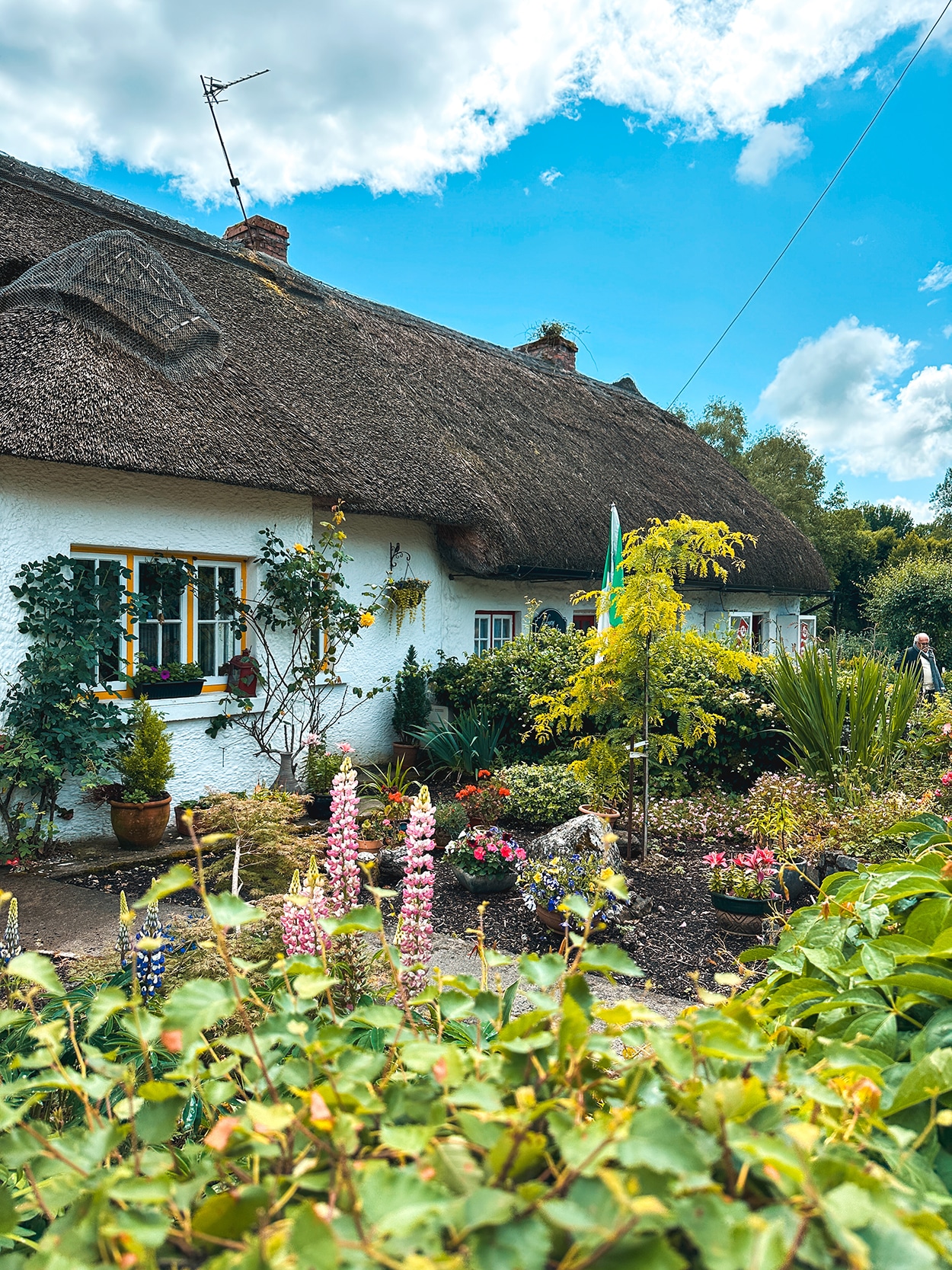 Stops between Dingle and Doolin:
Tralee: the county seat in County Kerry filled with beautiful churches, rose gardens, shops and coffee if you need a pick me up. Read more things to do in Tralee.
Adare: thatched-roof cottages are why most people stop. It's a great lunch stop and a place to pick up local crafts. Learn more things to do in Adare Ireland.
Limerick: If you want a REAL Irish experience, see if there is a Gaelic football match happening when you drive through. Limerick is also the largest town in the area, so load up on groceries and other necessities at a better price than the smaller towns.
Ennis: Cute little town with a grocery store and post office if you need to mail postcards home. There is no post office in Doolin.
Arrive in Doolin and check into your hotel. After you drop your bags, walk through town to Gus O'Connor's Pub. There are a lot of other restaurants in Doolin, but if you want a taste of what makes this town special, you will have your first meal at Gus's Pub.
Order the Guinness Ale and Steak Stew and a pint (or a Dingle Gin & Tonic), and you will thank me later. Their Eton Mess is also a dream if you have room for dessert.
Your hotel in Doolin Tonight
Get the Best Rates and availability on Doolin Hotels HERE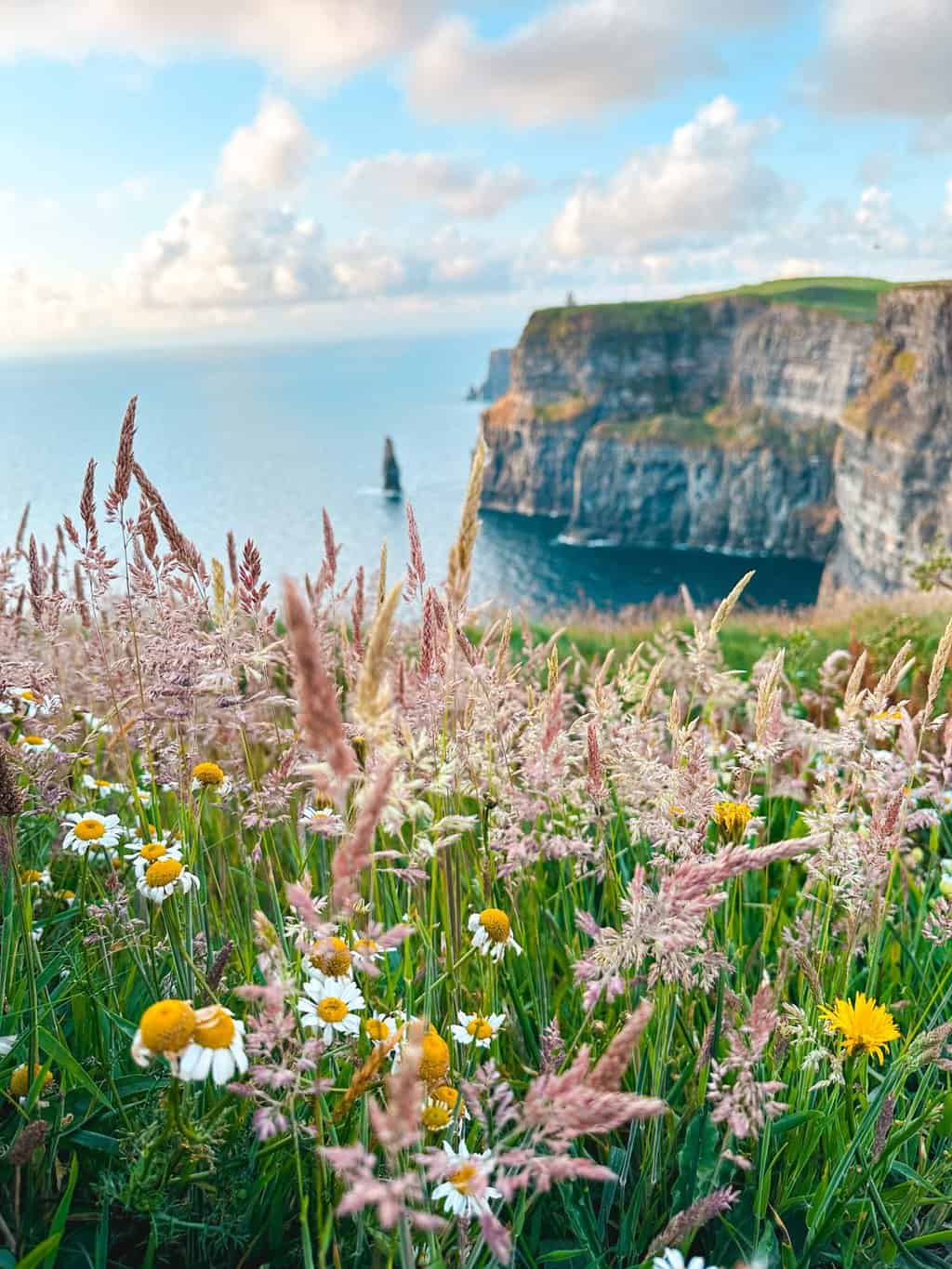 Cliffs of Moher and Burren National Park
Good morning! It's time to tackle two of the most stunning natural wonders of Ireland that make this the best Ireland itinerary– the Cliffs of Moher and the Burren. Each of these is considered a UNESCO World Heritage site with a UNESCO Geopark designation.
You can start your morning at either spot. If you want to avoid the crowds, go to the Burren first, as it is larger and more spread out. The tour buses only stop in so many places, so you will be able to find a few quiet spots in this vast landscape.
The Burren
Burren National Park is about seven square miles (1800 hectares) north of Doolin in County Clare. The (seemingly) endless limestone landscape is what sets this apart from other national parks in Ireland. Filled with acid-loving flowers and plants, it's one of the most beautiful places to be during the wildflower season in the summer.
Guided tours are available at the visitor center, which can help nature lovers see more than they would on their own, including those Burren orchids that like to hide.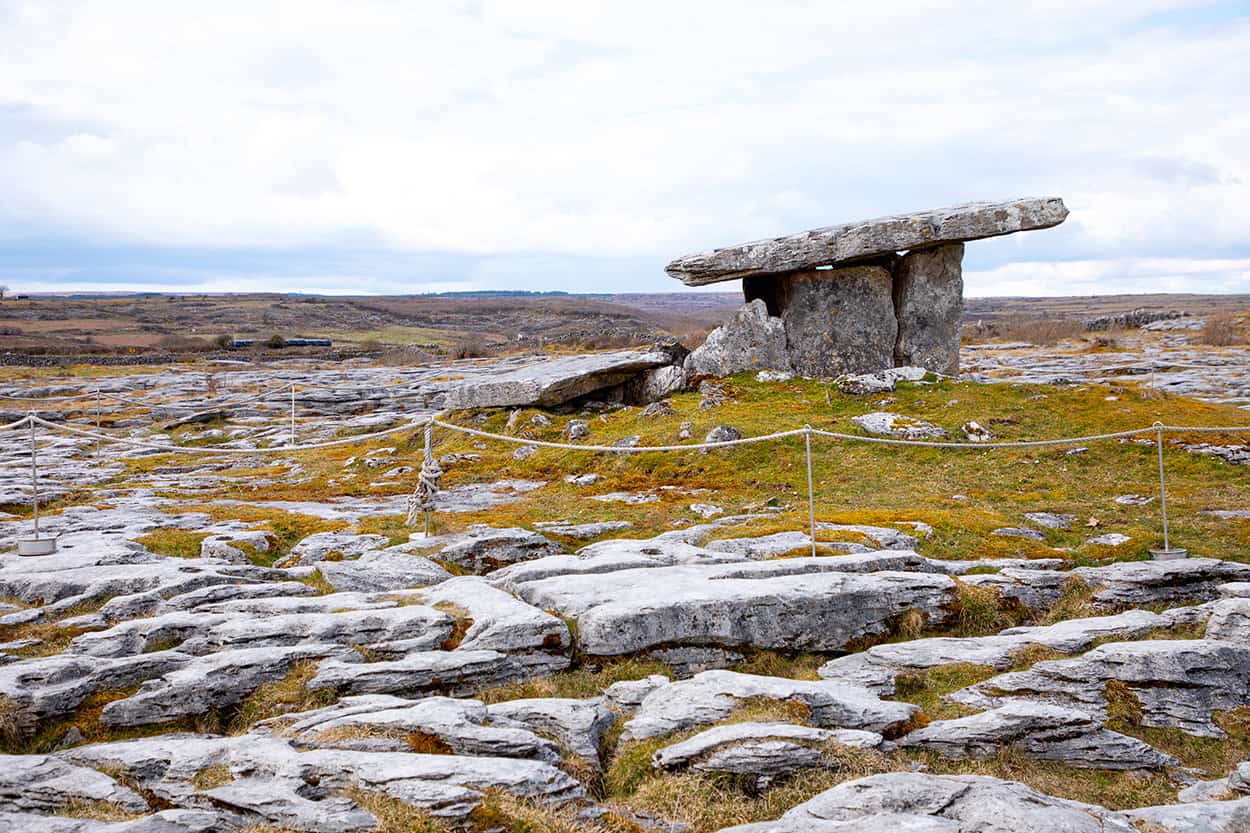 Aside from the landscape and hiking across the flat limestone "pavement", you can check out the visitor's center, as well as structures from prehistoric times to the present. The most famous would be the Poulnabrone Dolmen, a 5000 year old portal tomb.
You are allowed to walk around this portal tomb, but do NOT cross the barrier or climb on the tomb. Not only is it disrespectful, but somehow this ancient structure has survived for 5000+ years; don't be the one that destroys on of the best places to experience ancient Ireland.
Cliffs of Moher
My favorite time to visit the Cliffs of Moher is at sunset. The tour buses have pulled away, parking is free (unless it is summer, then you have to pay up until 9pm) and the light is just perfect for photos.
However, if you want to see the visitor's center and learn more about the Cliffs of Moher, make sure you arrive before closing time so you can wander the exhibits, check out the local artist shops outside of the center, and still have enough time to hike before restaurants stop serving dinner in Doolin.
NOTE: In the summer, you will have plenty of light to explore until 10pm, but that doesn't mean you should. Keep in mind that restaurants do stop serving food, so if you haven't made plans to feed yourself, you will need to be back before 8:30pm.
Arrive at the Cliffs of Moher, park your car (parking includes entry to the visitors center), and go explore. After you see the exhibits, head outside to the right towards the cliffs to see O'Brien's Tower. You will see the Cliffs of Moher trail head back towards Doolin, but we like to do things a different way.
Once you are done at the Cliffs of Moher Visitor's Centre, head left down the path along the cliffs. There are multiple barriers reminding you not to get too close to the cliff's edge, and you can not fly a drone anywhere near the Cliffs (the winds can be so strong, you wouldn't want to anyway).
Post-2020, the barriers were installed farther down the path than in previous years, but that is because people were still being dumb and getting too close to the edge, many falling over, the ground falling out from under them, or the wind pushing them over the cliffs.
That being said, if you continue walking, there are spots without barriers where you can at least get a better view… just PLEASE do not walk close to the edge. There is a worn-down walking path that you should stick to in order to stay safe. No photo is worth your life, but I do get that you want an unobstructed view.
If you still have time to explore after the Cliffs of Moher, or you want to see the Cliffs of Moher from below on a boat tour (you can book one of these tours that give you a unique angle of the cliffs or book this tour of the Cliffs of Moher by boat).
Check out our complete guide to the best things to do in Doolin Ireland
Aran Islands
On your last full day in Doolin, you will definitely want to hit the water to go to one of the Aran Islands.
Check the weather
This day trip from Doolin will depend on the weather; if the weather is bad, or will be turning bad, your ferry could get canceled. Keep an eye on the weather, as you may have to swap around your Cliffs of Moher day and your Aran Islands day.
Sometimes, if the weather looks good in Doolin, there may be high winds coming in that will affect your journey to or from the islands. So, if your ferry is canceled, that doesn't mean there will be hurricane winds and torrential rains all day for you– it just means that the ferry operators don't feel like they can get you to and from the islands safely that day.
Try to reschedule if you have the time as the journey is worth it.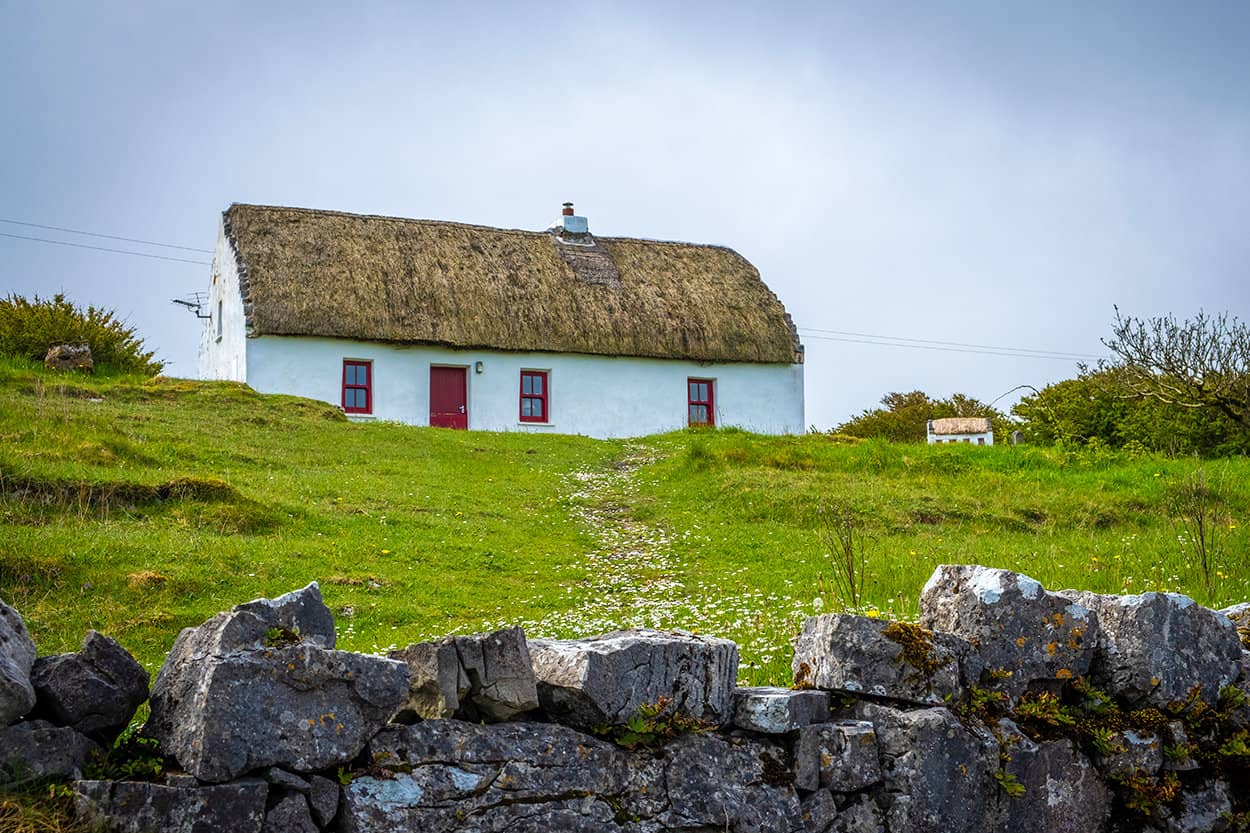 Which Island to Visit in the Aran Islands
Inishmore (Inis Mór in Irish)
Inis Mor is the big island, which will have more to do, more lodging options if you want to spend a night, but will also take a tad longer to get to if you are doing a day trip- about 35 minutes. You won't want to miss seeing the Worm Hole, Dún Aonghasa, Kilmurvey Beach, Na Seacht Teampaill (The Seven Churches), Dun Duchathair and Dun Eochla. Most of this is easy to do in a day, but if you want the unique experience of staying on the island, definitely book a night.
Inishmaan (Inis Meáin in Irish)
Inishmaan, meaning the middle island, takes about 30 minutes to get to by ferry. You can bike, walk the Lúb Dún Fearbhaí Looped Walk, check out the stone ring fort of Dún Fearbhaí and Conor's Fort (Dun Chonchuir), and enjoy a few tasty bites at the hotels and restaurants on the island.
Inisheer (Inis Thiar or Inis Oírr in Irish)
If you want an easy day trip from Doolin, then Inisheer/ Inis Oirr is where you should go. Honestly, we love this island, especially when traveling with kids. It's the smallest of the islands, and only takes about 15-20 minutes to get to by ferry. You may see dolphins, porpoises and even puffins along your journey.
Rent bikes (you can prebook your bikes here) to get around the island, which is much faster than walking, although the island is small enough that you could walk to most of the main attractions too. Visit the sunken church, the rusted out sunken ship, and the old castle on the hill. There is plenty of ice cream and a few pubs to keep everyone happy when it gets hot or the weather turns too.
No matter which of the Aran islands you visit, if you are there in the summer months bring your swimsuit so you can jump into the chilly waters. It's quite refreshing after a bike ride around the island and there are plenty of sandy beaches or rocky outcrops to hang out on for a bit. Just remember your sunscreen, as the sun will get you even when it is cloudy.
After the island, if you aren't spending the night, head back into Doolin to enjoy your last meal in this small town. Glas is always a great option (when it is open), along with the Ivy Cottage, and of course our favorite, Gus O'Connor's Pub.
Your Hotel in Doolin Tonight:
Get the Best Rates and availability on Doolin Hotels HERE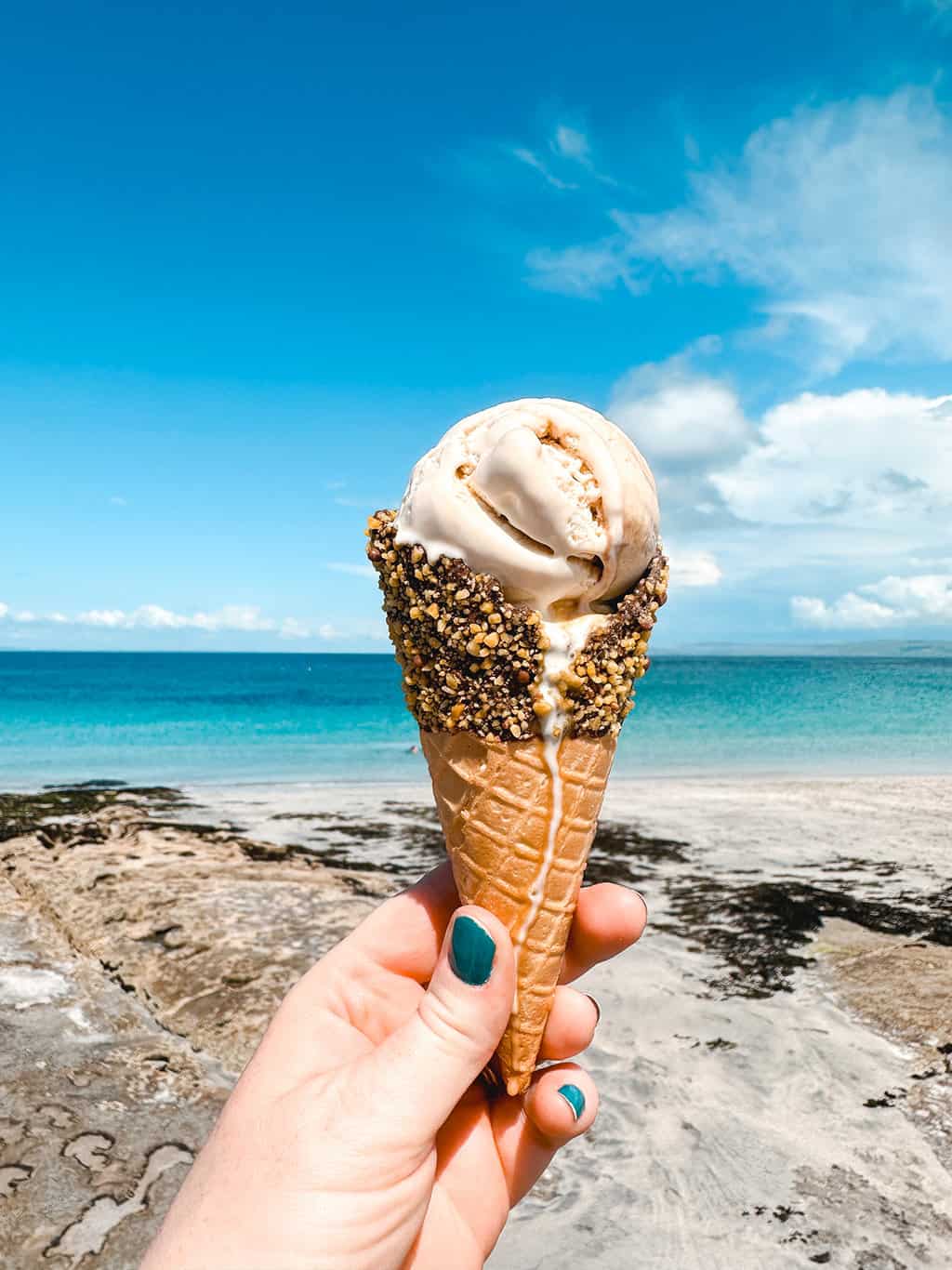 Wrapping up your Wild Atlantic Way (Southwest) road trip
At this point, you have ended your Ireland 10 day itinerary around the southwest portion of the Wild Atlantic Way. You can continue on from here if you have extra days, heading up towards Galway and Connermara National Park, and then into Northern Ireland, or you can head home from Dublin or Shannon.
If you want to continue your journey, you can check out our 10-day Wild Atlantic Way (Northwest) itinerary and our 5-Day Ireland Causeway Coastal Route Itinerary. These three itineraries are super easy to mix and match so you can visit what you want to see in the time that you have to wander.
As I said in the beginning, I don't recommend trying to see the entire island of Ireland in 7 days or even 10 days, but you can surely make a dent even if you only have a week.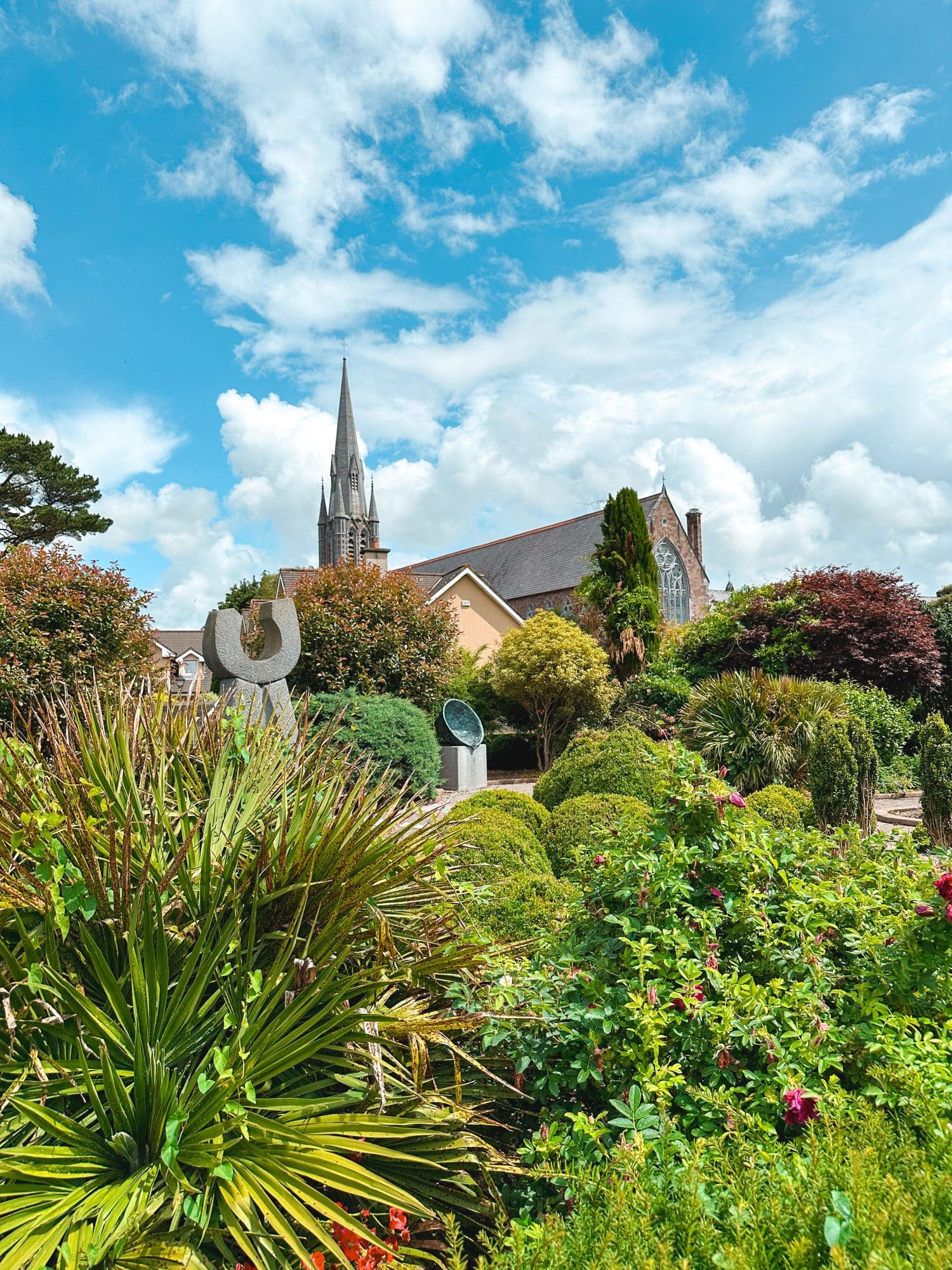 FAQ Wild Atlantic Way
What is the Wild Atlantic Way?
The Wild Atlantic Way is a scenic driving route along the western coast of Ireland, stretching over 1,500 miles (2,500 kilometers). It showcases the stunning natural landscapes, cultural sites, and coastal beauty of the region.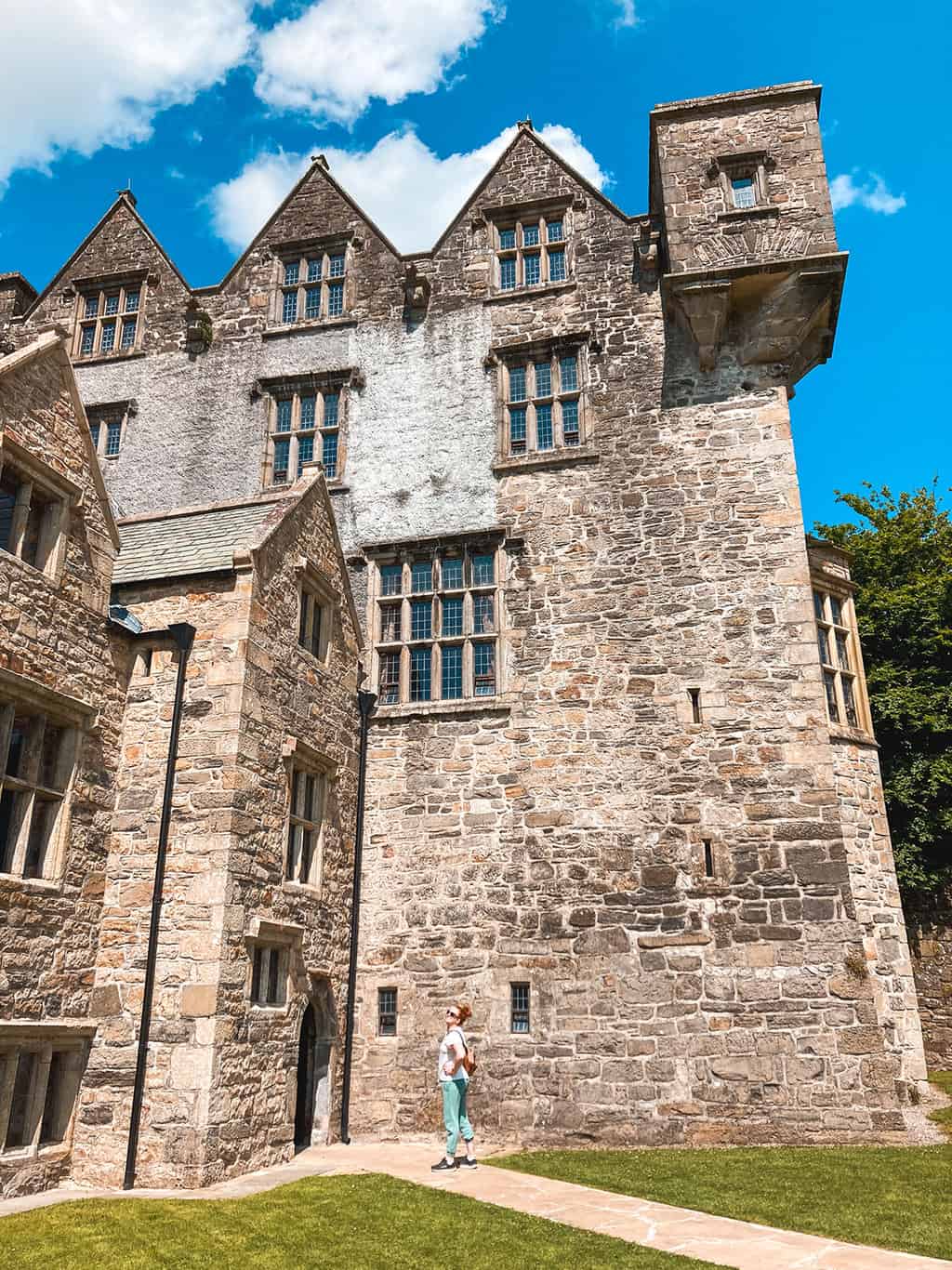 Where does the Wild Atlantic Way start and end?
The route starts at the Inishowen Peninsula in County Donegal in the north and extends to Kinsale in County Cork in the south. It covers multiple counties, connecting various towns, villages, and attractions along the way.
How long does it take to drive the entire route?
Driving the entire Wild Atlantic Way can take around two to three weeks, depending on your pace and the number of stops you make. You should definitely think about what you want to see, how long you want to explore each area, and what you will save for a later trip.
Does Google Maps work in Ireland?
Absolutely! You can download a driving map of Ireland so you can use Google Maps offline or simply run it through your data plan. If you don't want to risk a big bill by using your home plan, you can get an eSIM card that carries enough data to use throughout your trip. We use this eSIM card site to buy our cards in advance.
What types of landscapes can I expect to see?
The route showcases a diverse range of landscapes, including rugged cliffs, pristine white sand beaches, rolling hills, dramatic mountains, and adorable coastal villages. In other words- no matter where you stop, you will get to experience the dramatic Atlantic coastline of Ireland.
Are there specific attractions along the route?
Yes, there are numerous attractions, including ancient castles, monastic ruins, traditional Irish villages, historic sites, and cultural landmarks. Some notable spots include the Cliffs of Moher, the Ring of Kerry, and the Connemara National Park.
Can I hike or cycle along the Wild Atlantic Way?
Absolutely! The route is not limited to driving. Hiking and cycling enthusiasts can explore sections of the route on foot or by bike. There are designated trails and paths for these activities, allowing you to experience the scenery up close, but please do watch out for cars. Not all bike and walking paths are off the road.
What's the best time of year to visit?
The best time to visit the Wild Atlantic Way is during the spring (April to June) and fall (September to October) when the weather is generally mild and the crowds are smaller. However, you have a better chance of sun in the summer months.
Are there accommodations along the route?
Yes, there are a variety of accommodations available along the way, including hotels, bed and breakfasts, guesthouses, vacation homes, and self-catering apartment options. You should definitely book accommodations in advance, especially during peak tourist seasons.
Is there a fee to travel the Wild Atlantic Way?
No, there's no fee to travel the route itself. However, some attractions and sites along the way may have entrance fees. There is also a toll road if you are driving from Dublin to Killarney to start your journey.
Can I travel the route in a camper van or motorhome?
Yes, traveling the Wild Atlantic Way in a camper van or motorhome is very popular. Many areas offer designated camping and parking sites for these vehicles. Be sure to check local regulations, respect the environment, and book a campsite in advance (especially in summer) if you need hookups.
Are there guided tours available?
Yes, there are guided tours available for those who prefer a more structured experience. These tours provide expert insights, transportation, and often include visits to key attractions and hidden gems.
How can I find more information about the Wild Atlantic Way?
You can find detailed information, maps, suggested itineraries, and resources about the Wild Atlantic Way on the official website (wildatlanticway.com) or at local tourist information centers throughout the drive of this beautiful place in Ireland.